REVEALED: Thomas Heatherwick's $150M climbable Hudson Yards sculpture 'The Vessel'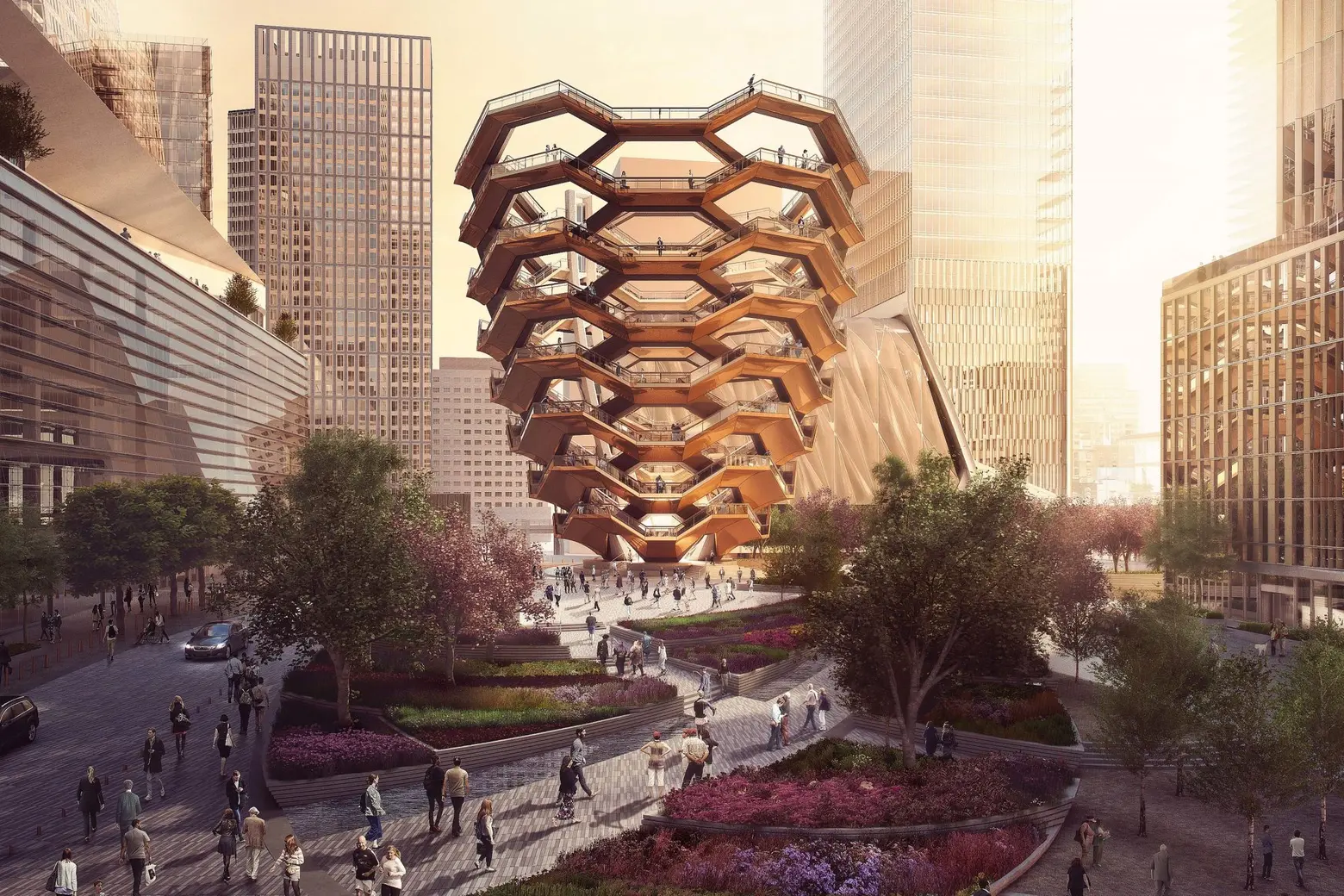 It was nearly three years ago that Related Companies chairman Stephen Ross boasted that Hudson Yards' public art piece would be "New York's Eiffel Tower," and after an unveiling today of the massive sculpture that will anchor the central public space, it seems he might not have been too far off.
British designer Thomas Heatherwick of Heatherwick Studio–who's also responsible for the futuristic Pier 55 offshore park–is behind the $150 million sculpture, which will be a 16-story web of staircases. Titled "Vessel," it will be 150 feet tall, 50 feet wide at its base, and 150 feet wide at the top. Its honeycomb-like body, made of concrete and steel, will consist of 154 interconnected staircases, roughly 2,500 steps, and 80 landings, all providing various views of the mega-development for 1,000 visitors at a time.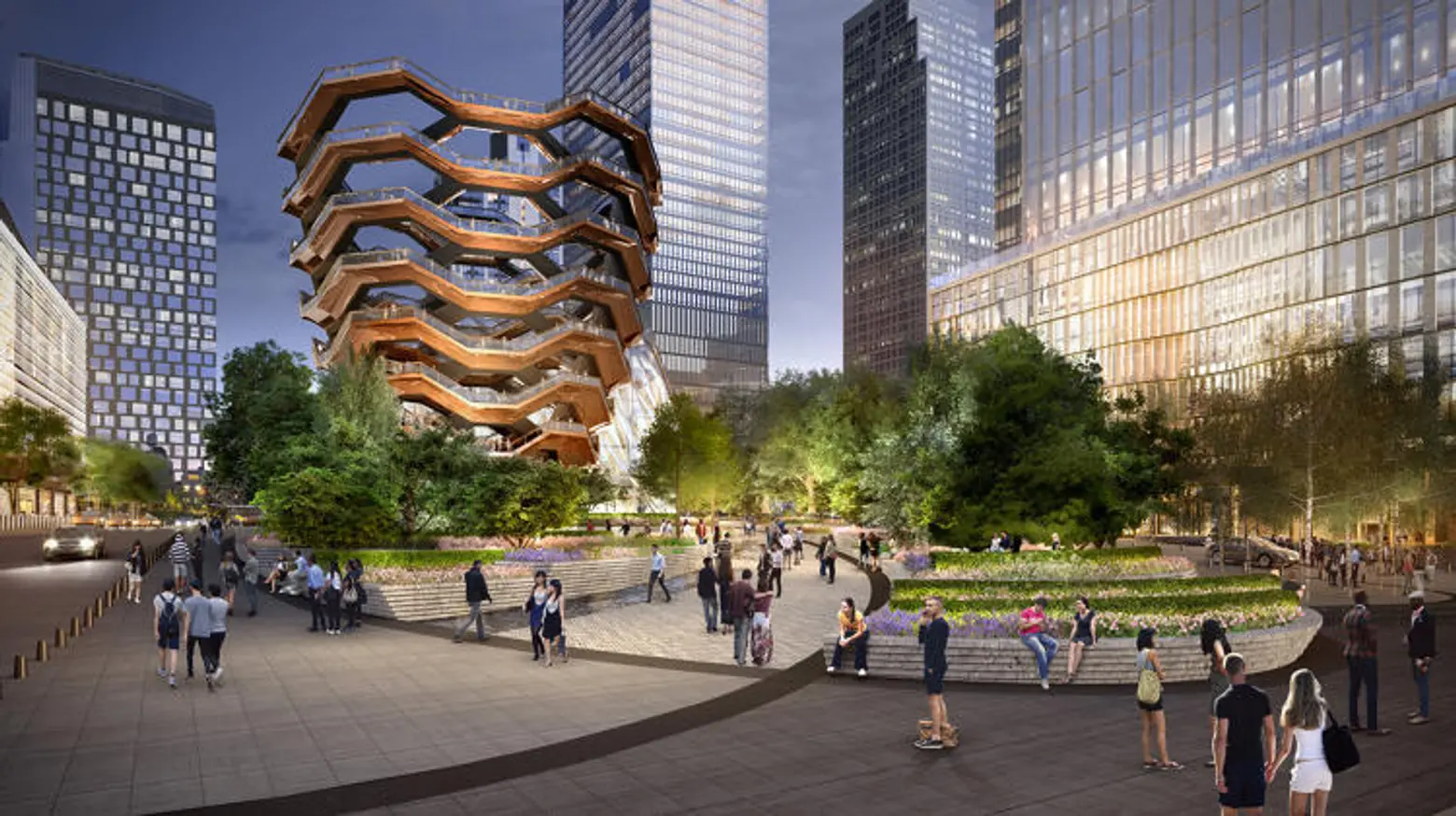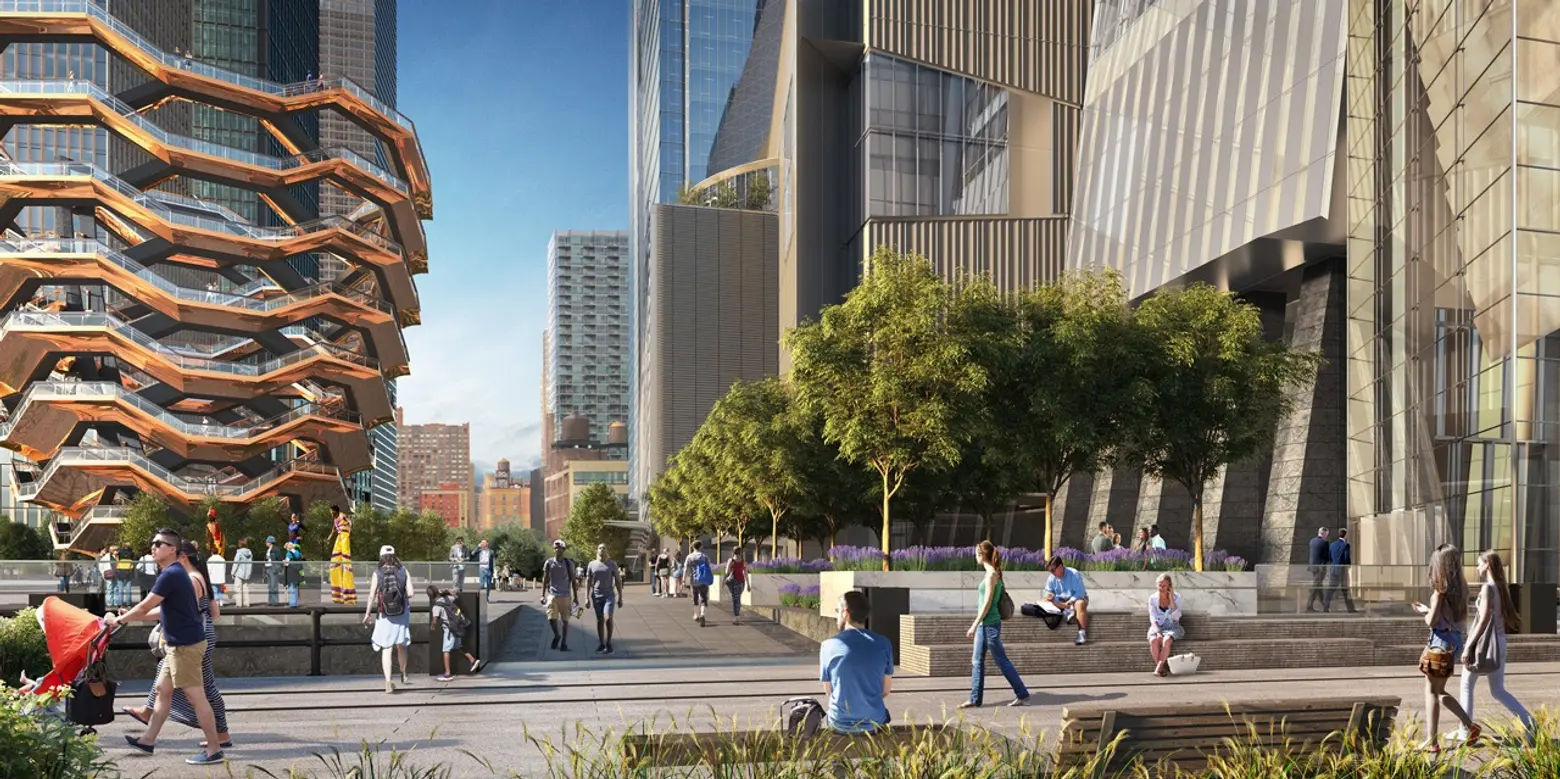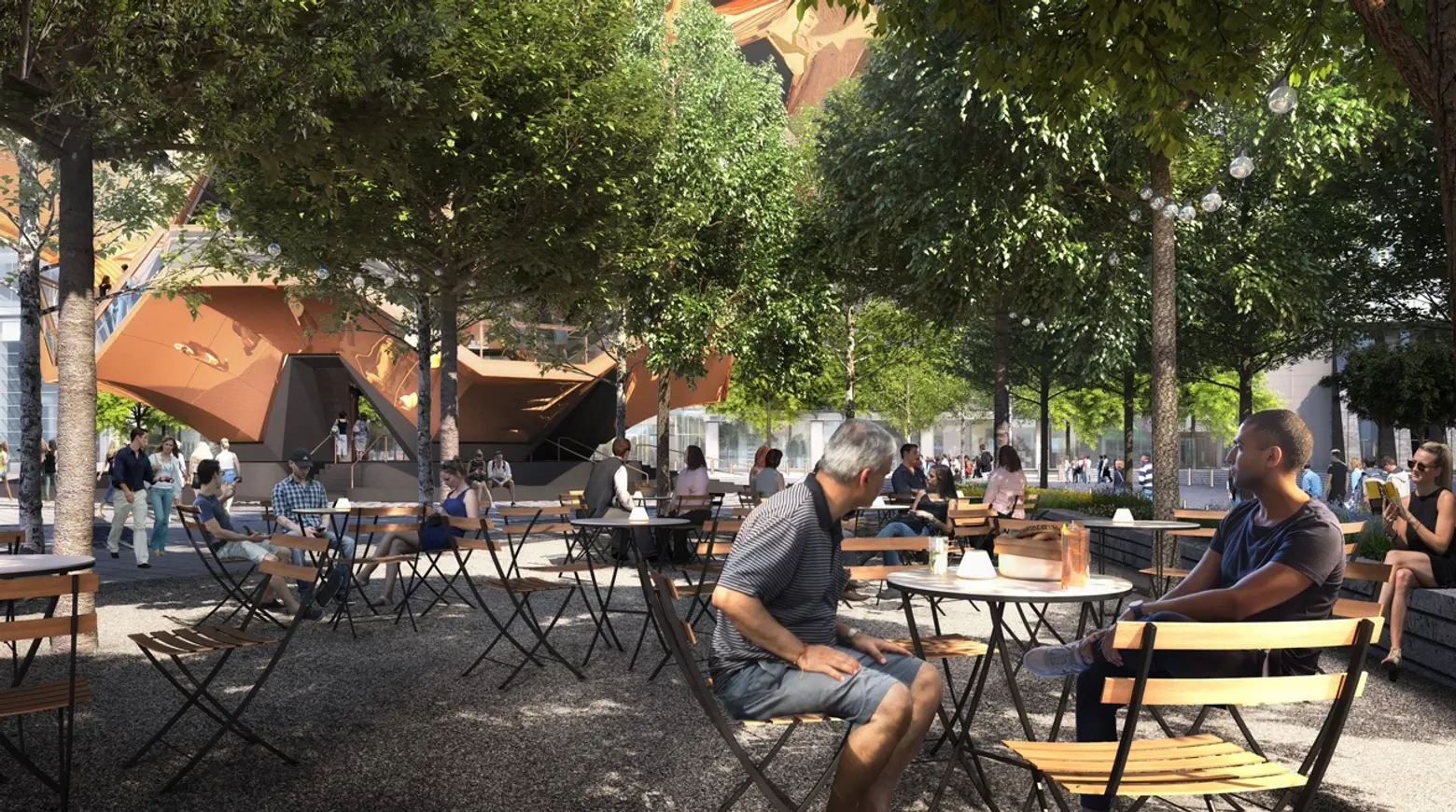 The five-acre courtyard will be an outdoor performance and art venue and will be landscaped with 28,000 different plants across three zones–plaza, grove, and garden. There will also be a 200-foot-long fountain that mimics a river. It's being designed by Nelson Byrd Woltz Landscape Architects in collaboration with Heatherwick Studio. Principal Thomas Woltz said of his firm's design:
Inspired in part by the grand piazzas of Europe, including Rome's Piazza del Campidoglio, our design uses the towers of hudson yards as anchors, the dense planting of trees as canopies to bring down the scale of the surrounding buildings and the garden landscape as the fabric that folds seamlessly into the edges of the park.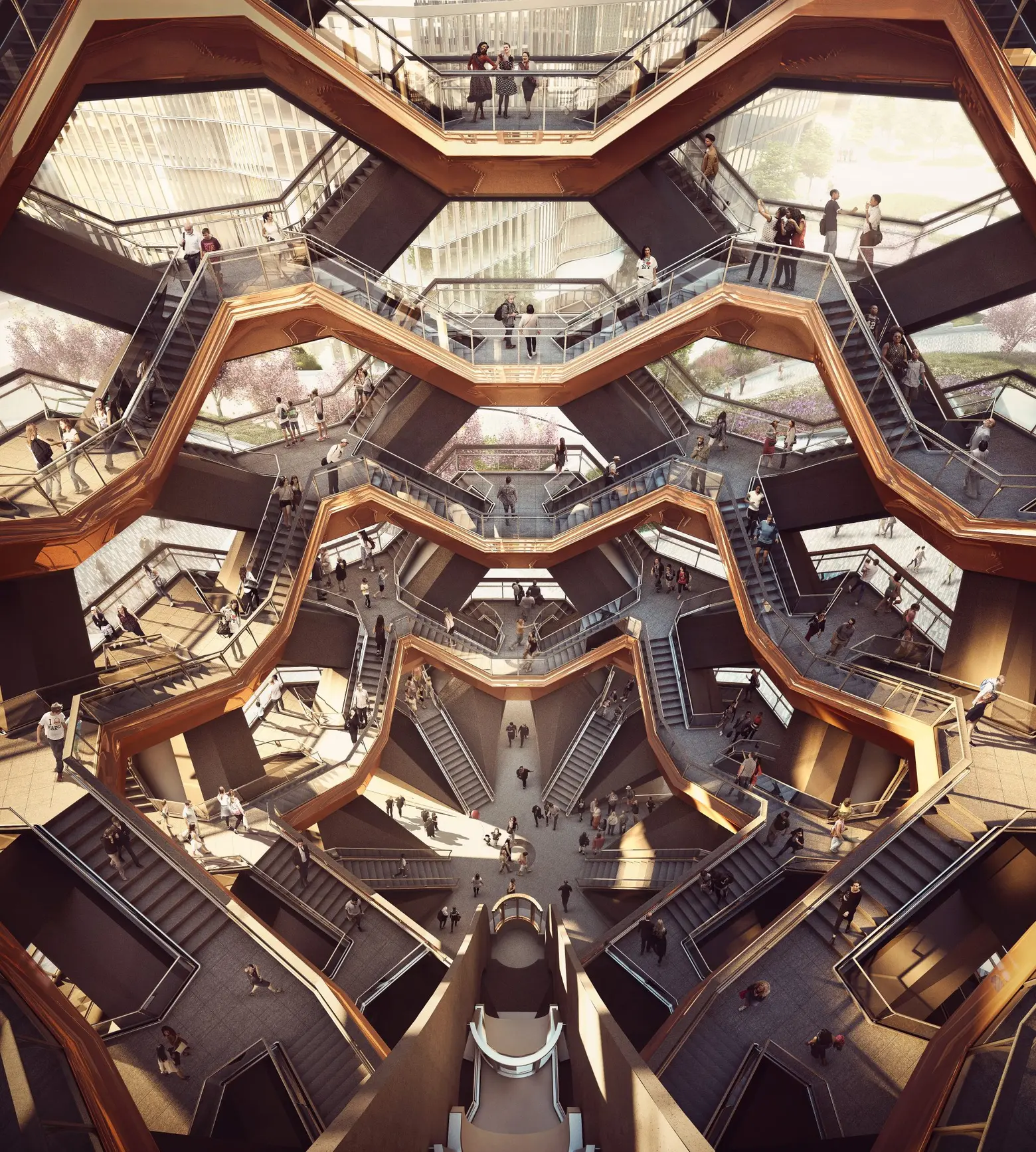 In total, the sculpture will offer over a mile of pathways. It shines thanks to polished copper-colored steel.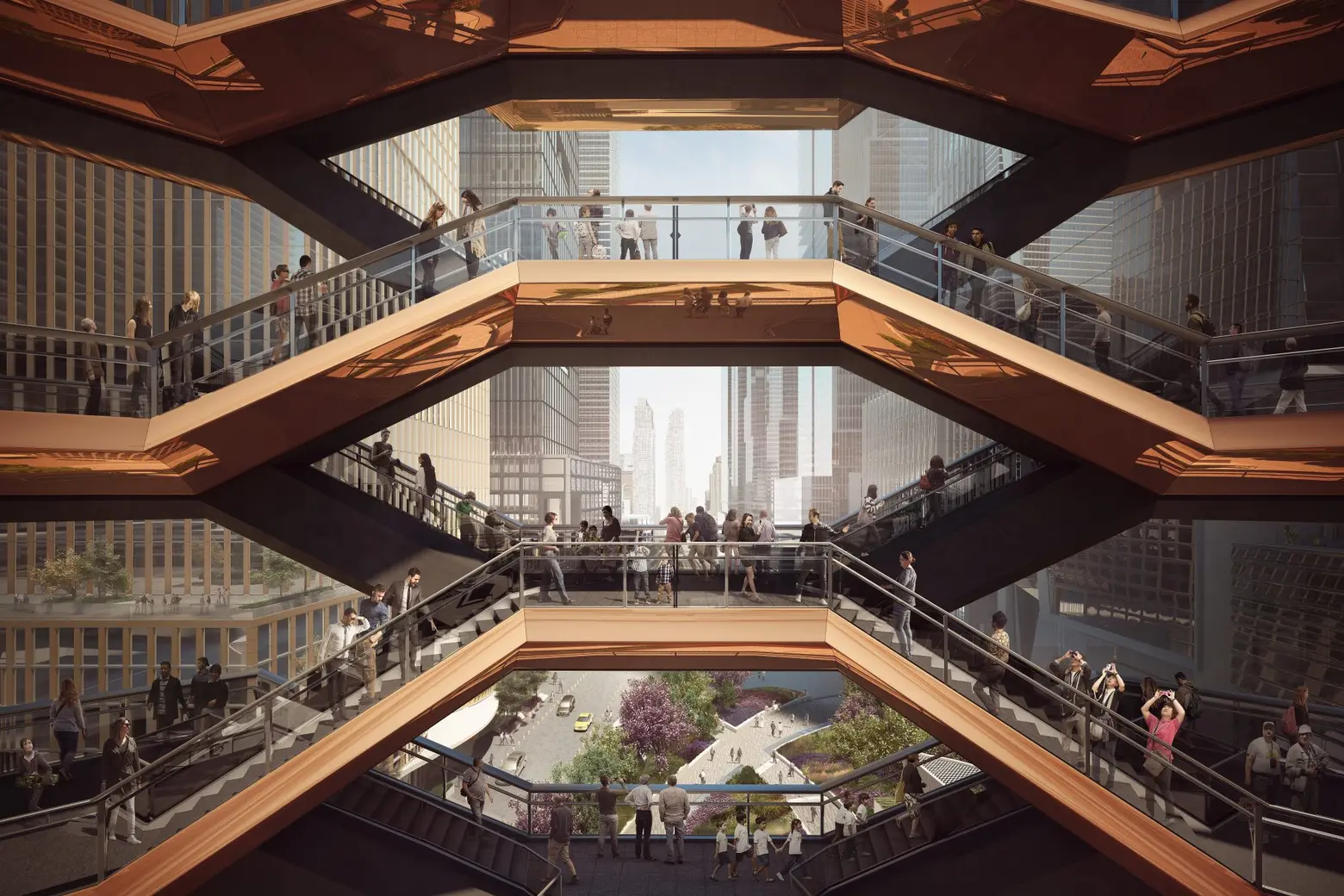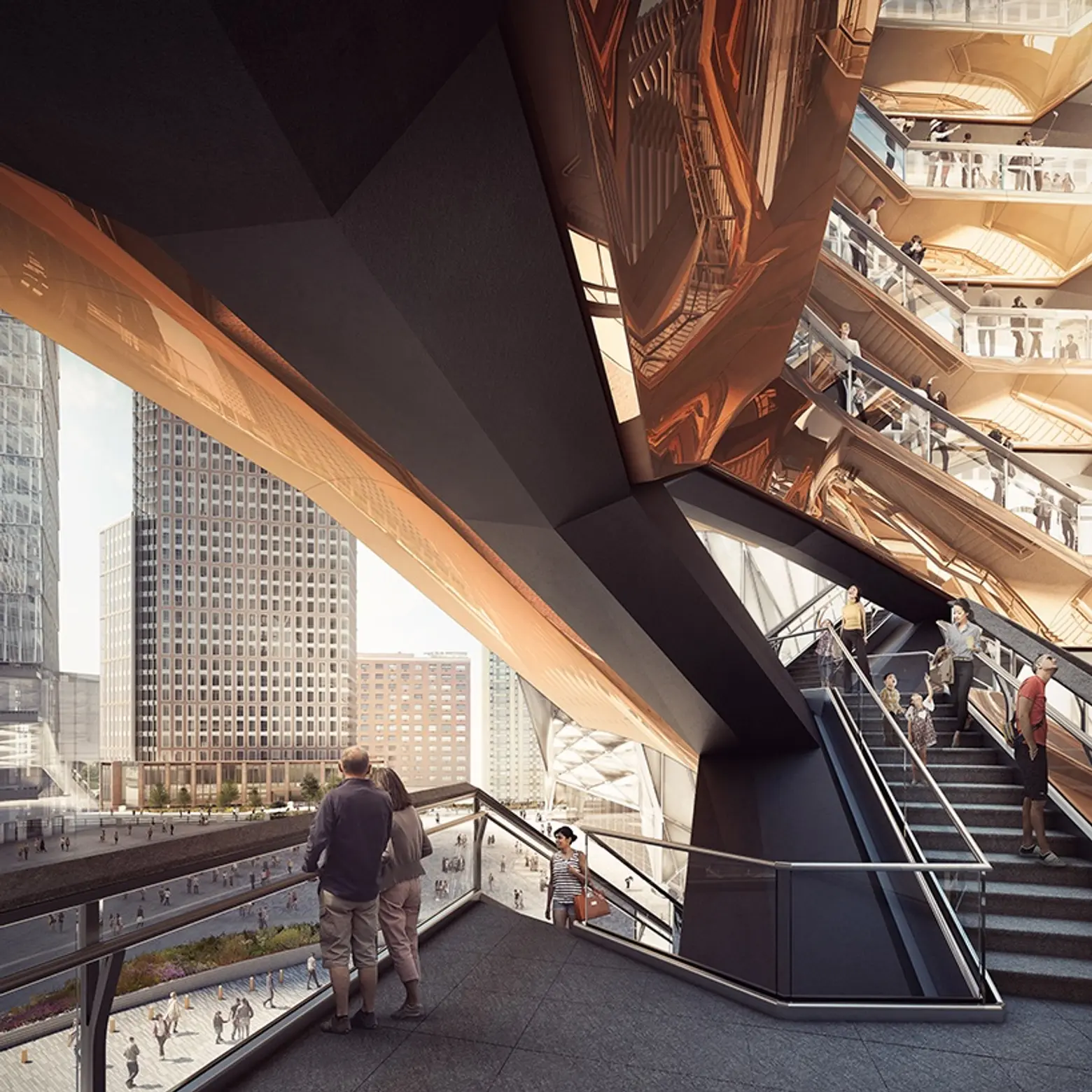 Heatherwick said:
In a city full of eye-catching structures, our first thought was that it shouldn't just be something to look at. Instead we wanted to make something that everybody could use, touch, relate to. Influenced by images we had seen of indian stepwells, made from hundreds of flights of stairs going down into the ground, an idea emerged to use flights of stairs as building elements.
Ross said that he "wanted to create a 365-day Christmas tree." Vessel is expected to open to the public in 2018, but construction of its components has already begun in Italy.
RELATED:
Sculpture images courtesy of Forbes Massie/Heatherwick Studio; Plaza images courtesy of Visualhouse/Nelson Byrd Woltz