REVEALED: New Renderings for Christian de Portzamparc's Riverside Center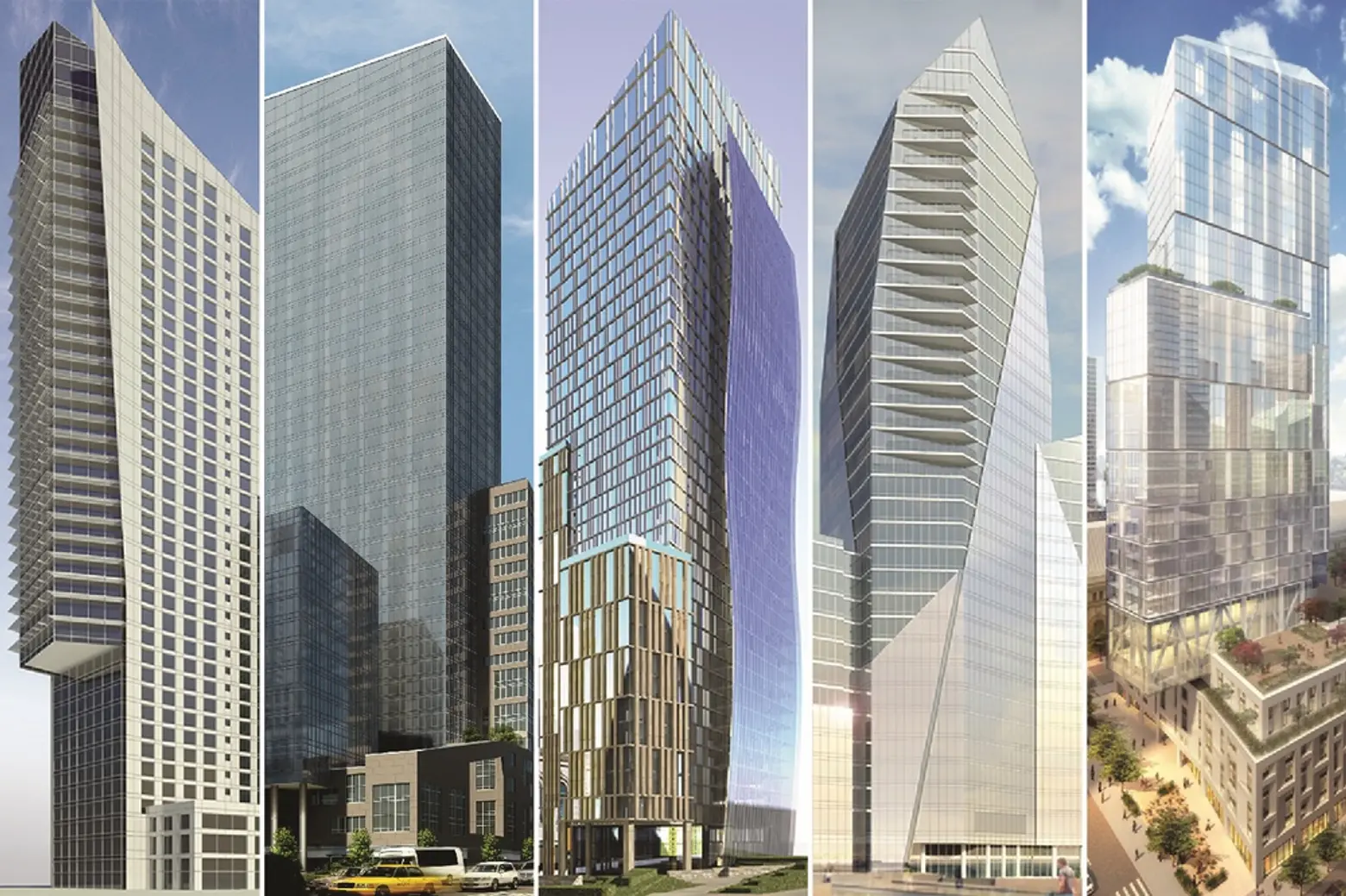 L to R: Building 1, Building 2 (21 West End Avenue), Building 3, Building 4, Building 5 (1 West End Avenue)
The final appearance of Christian de Portzamparc's Riverside Center master plan is coming into full view. A bevy of images depicting three never-before-seen crystalline towers have been released by Goldstein Hill & West Architects, giving us a more complete look at what the two-block site will ultimately look like circa 2018.
The city-approved plan will ultimately hold three acres of open space and five mixed-use buildings containing approximately 2,500 condo and rental units, a public school, a hotel, a movie theater and an auto showroom.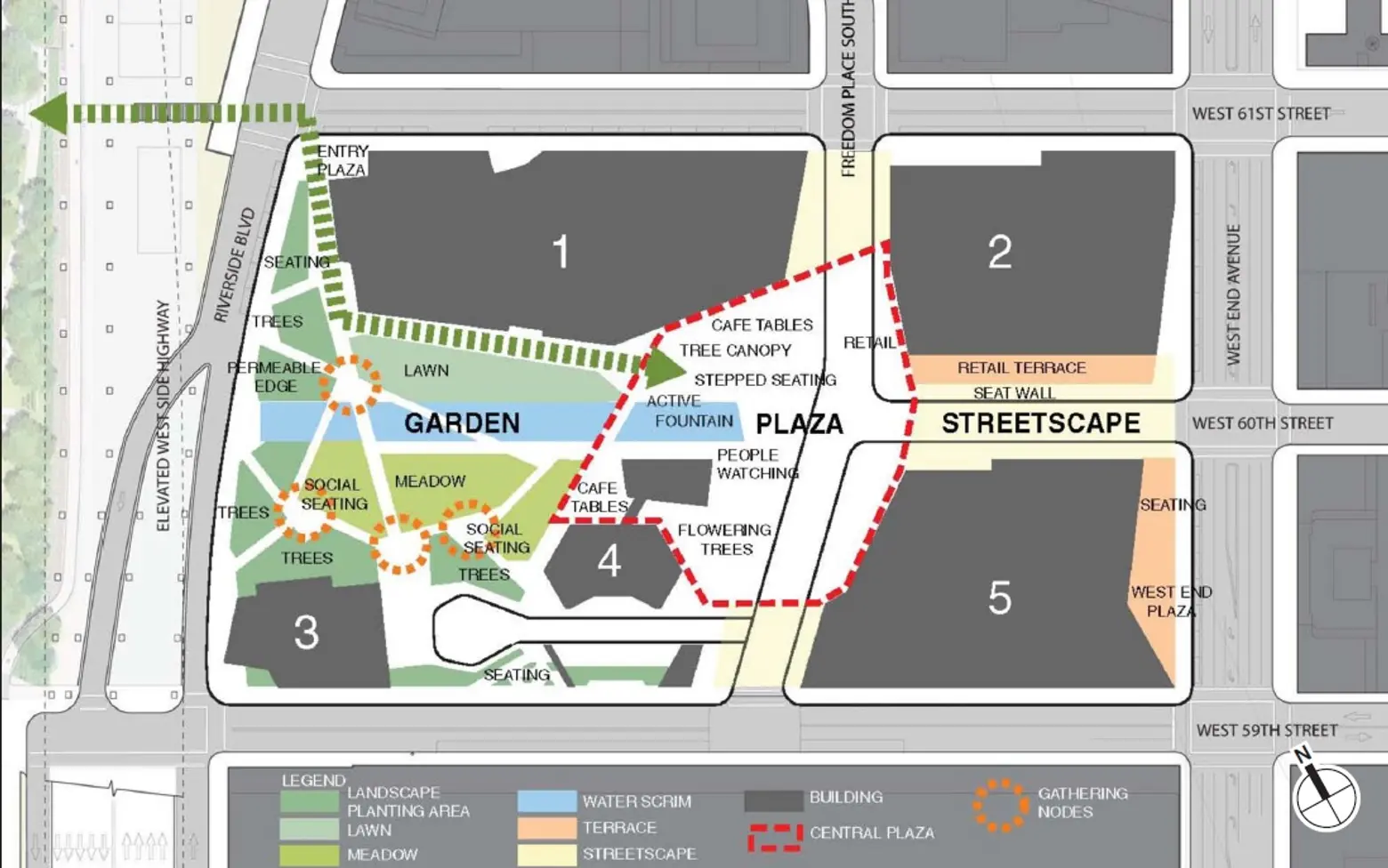 City-approved site plan of Riverside Center
The three towers unveiled on GHWA's website, situated at parcels one, three, and four, lie along the western portion of the site and will contain the bulk of the master plan's condominium units. The towers will reportedly be by the Carlyle Group and Extell Development and are seen as the most valuable of the lot due to their proximity to the Hudson River waterfront.
Like Daniel Libeskind's winning master plan for the World Trade Center, Christian de Portzamparc's Riverside Center will be far different from the unified vision intially unveiled to the public. However, because of city planning stipulations led by Amanda Burden, the integrity of de Portzamparc's vision remains with sloped and faceted sculptural forms.
After an onerous two-year review process, rezoning the eight-acre site to allow a larger number of residential units, which ultimately required the developers to add a school and 20% affordable housing to the plan, Extell sold the two eastern-most parcels fronting West End Avenue (sites 2 and 5) to the Dermot Company and Silverstein Properties / Elad Group . Those sites will contain the bulk of inclusionary housing units and the public school, but all five sites will still conform to de Portzamparc's master site plan and massing.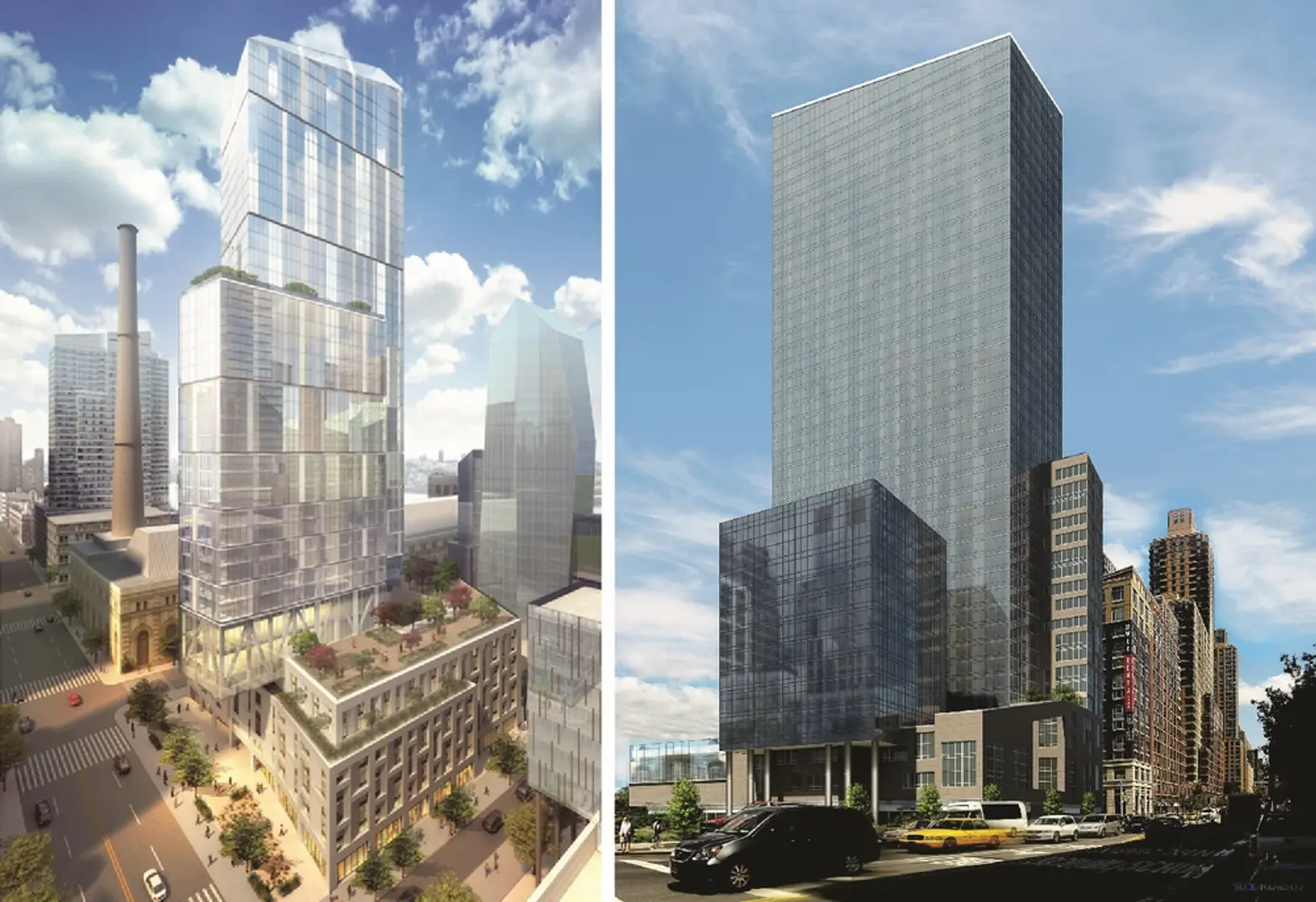 The Dermot Company acquired site 2 in 2012. Their 43-story rental tower at 21 West End Avenue is to contain 616 rental apartments and the four-story, pre-K through grade eight school. Silverstein Properties / Elad Group acquired site 5 in 2013. Their tower, dubbed 1 West End Avenue, is to hold 250 market-rate condos and 116 affordable units.

As per details and images released by Goldstein Hill & West, building 3 will rise 36 stories and contain 290 residential units. The parcel lies at the southwest corner of the superblock and will retain de Portzamparc's wavy north façade, which does not extend to the building's top, almost suggesting a glamorous lady showing off one of her lithesome gams in a checkered slit dress. The remainder of the tower is clad in a mix of facades with vertical mullions quite similar to those employed by Skidmore, Owings & Merrill's 101 Warren Street downtown.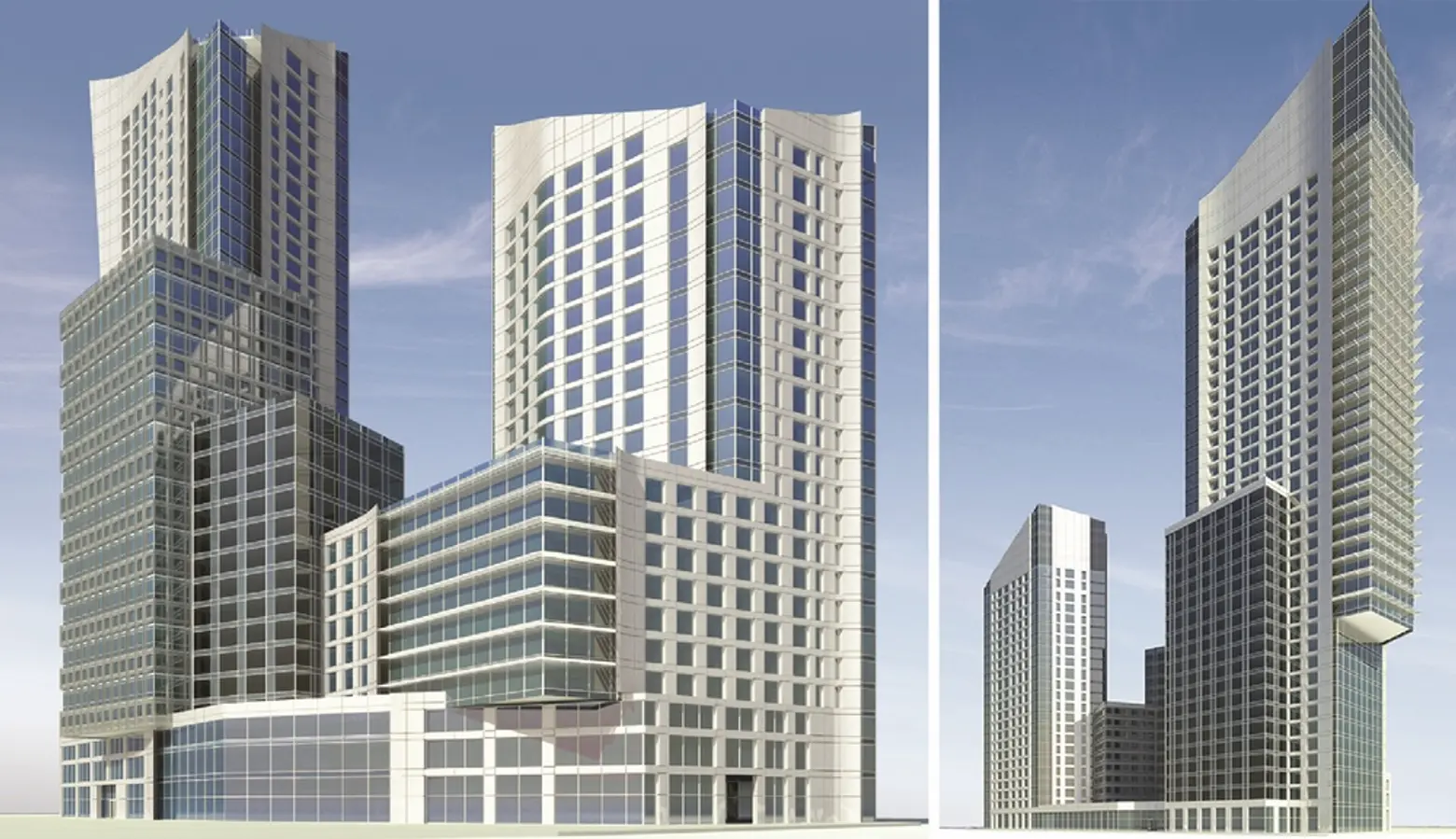 Rising from the master plan's largest parcel, building 1 is envisioned as a two-tower scheme over a shared podium containing 641 rental and condominium apartments, an elementary school, and retail. The towers feature a quilt of varying facades; some curling, some brise de soleils, and at nearly 500 feet tall, its swooping rooflines will be a prominent gesture in this section of the skyline.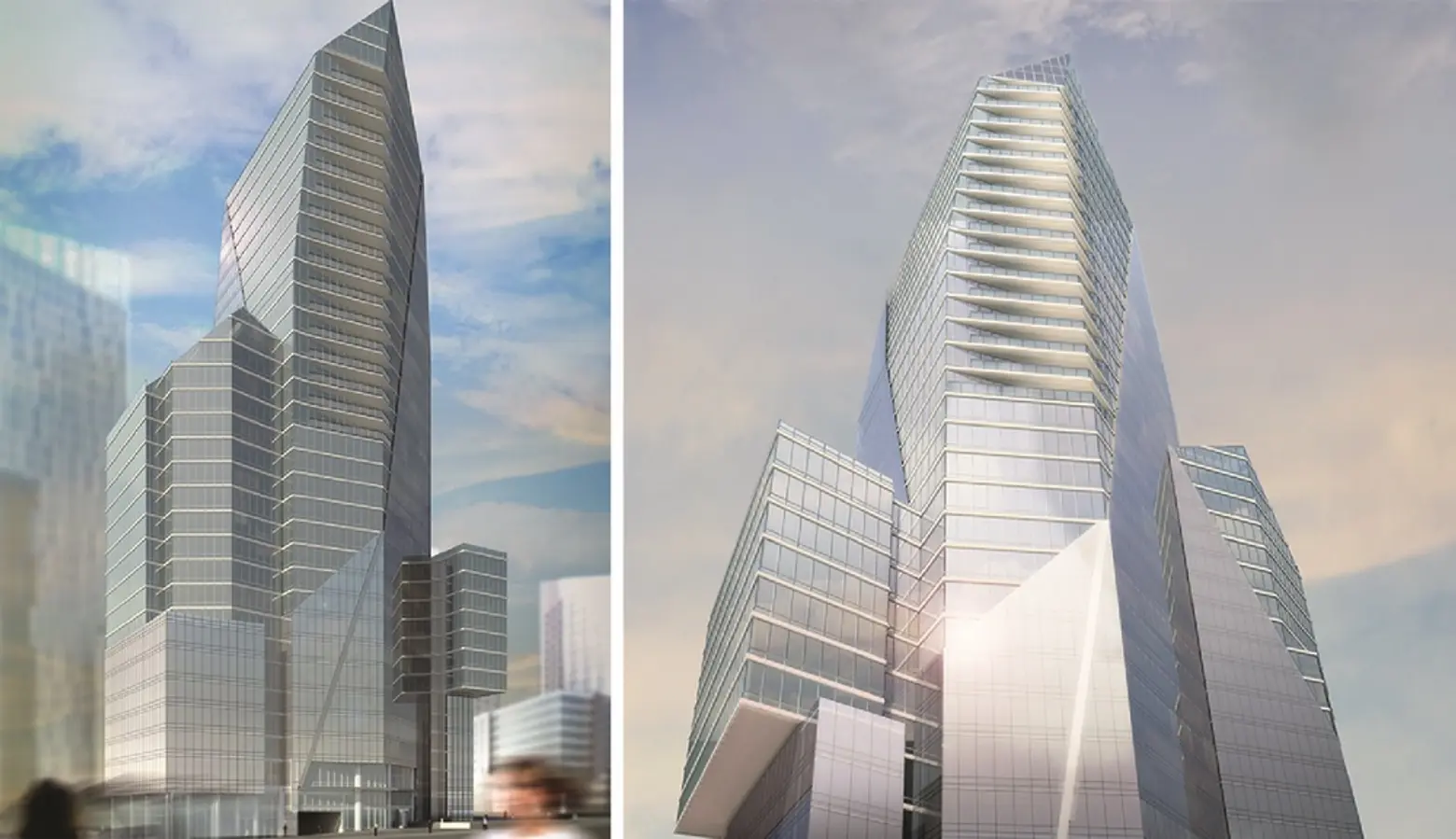 Building 4 will rise 34 stories and will contain 247 residential units and sits centered within the superblock's 3.4 acres of open space. The design remains truest to the crystalline Emerald City envisioned in de Portzamparc's initial renderings. Similar to the prismatic design of Toll Brothers' 400 Park Avenue South (Sky Couture), the prismatic design features angular accents on its facades, as well as angled balconies that extend around a slightly bent corner. A cantilevered seven-story "bustle" sits near the tower's base.
*Additional reporting provided by Carter B. Horsley
Renderings via Goldstein Hill & West Architects
Stay up to date on Riverside Center's buildings at CityRealty:
Riverside Center Building One
Riverside Center Building Two: 21 West End Avenue
Riverside Center Building Three
Riverside Center Building Four
Riverside Center Building Five: 1 West End Avenue