REVEALED: East River Skyway Will Bring Brooklyn Commuters to Manhattan in Under Four Minutes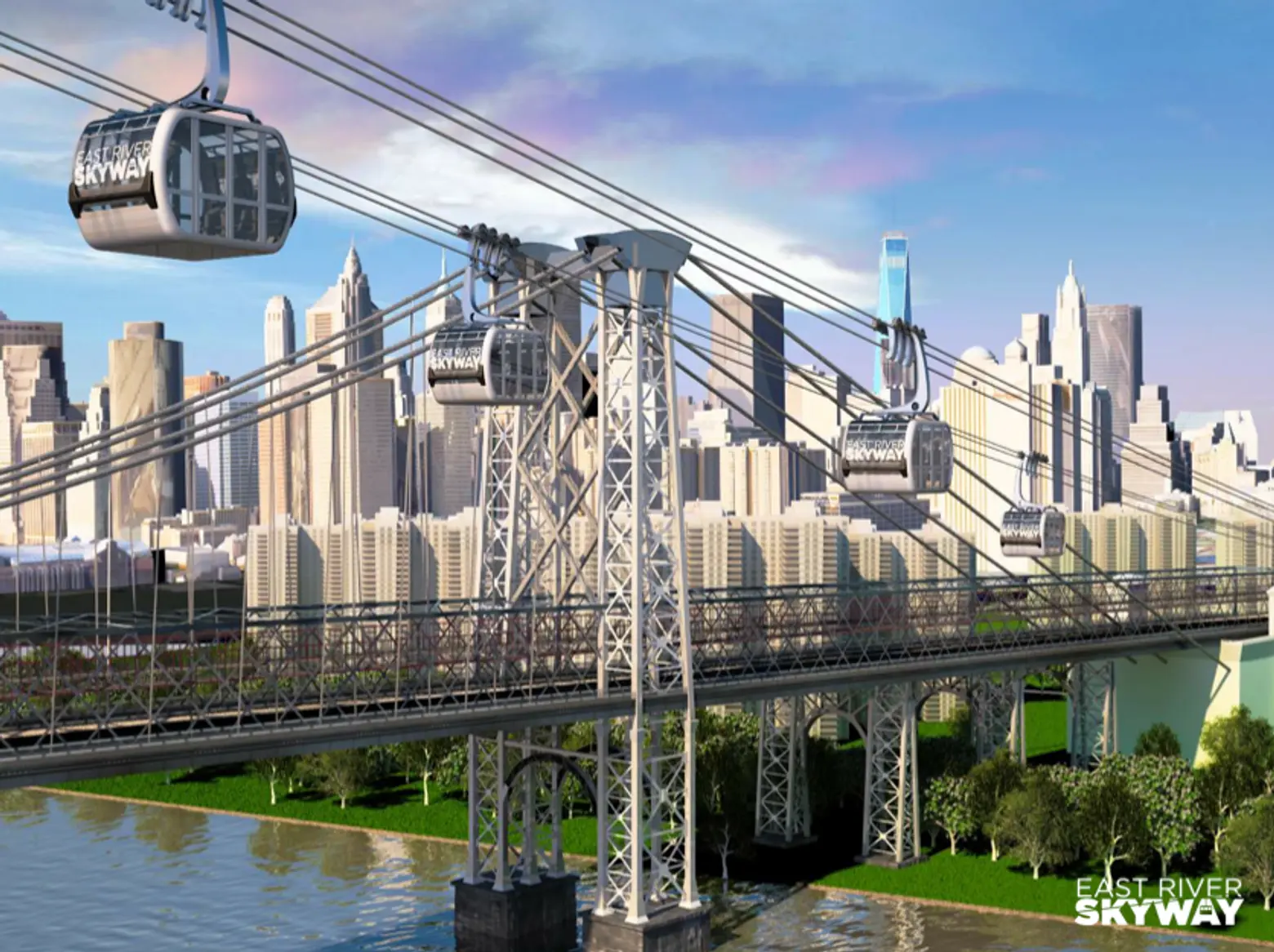 There's no stopping the Brooklyn development boom, but getting to and from the borough from Manhattan will increasingly become a nightmare with thousands of new residential units hitting the market in the coming years. If you've commuted from Brooklyn to Manhattan (and vice versa) you know that the subway system is already taxed. But as more and more homes are added throughout the borough, it's surprising that no plans have been made to alleviate the transportation stress that will soon come with it. Until now.
Today, Dan Levy, the president and CEO of CityRealty*, will present his proposal for the 'East River Skyway', an aerial gondola system that would run along the Brooklyn waterfront and into Manhattan, bringing commuters over the river in just 3.5 minutes.
Levy, who is also a Williamsburg resident, came up with the idea over two years ago on a ski trip when he observed not only how quickly the gondolas moved, but how comfortable they were. From there, Levy spent two years investigating the technology available and conducted several preliminary studies on what it would take to bring a comprehensive gondola system to a city like New York. What he found was that implementation would be relatively inexpensive and quickly deployable.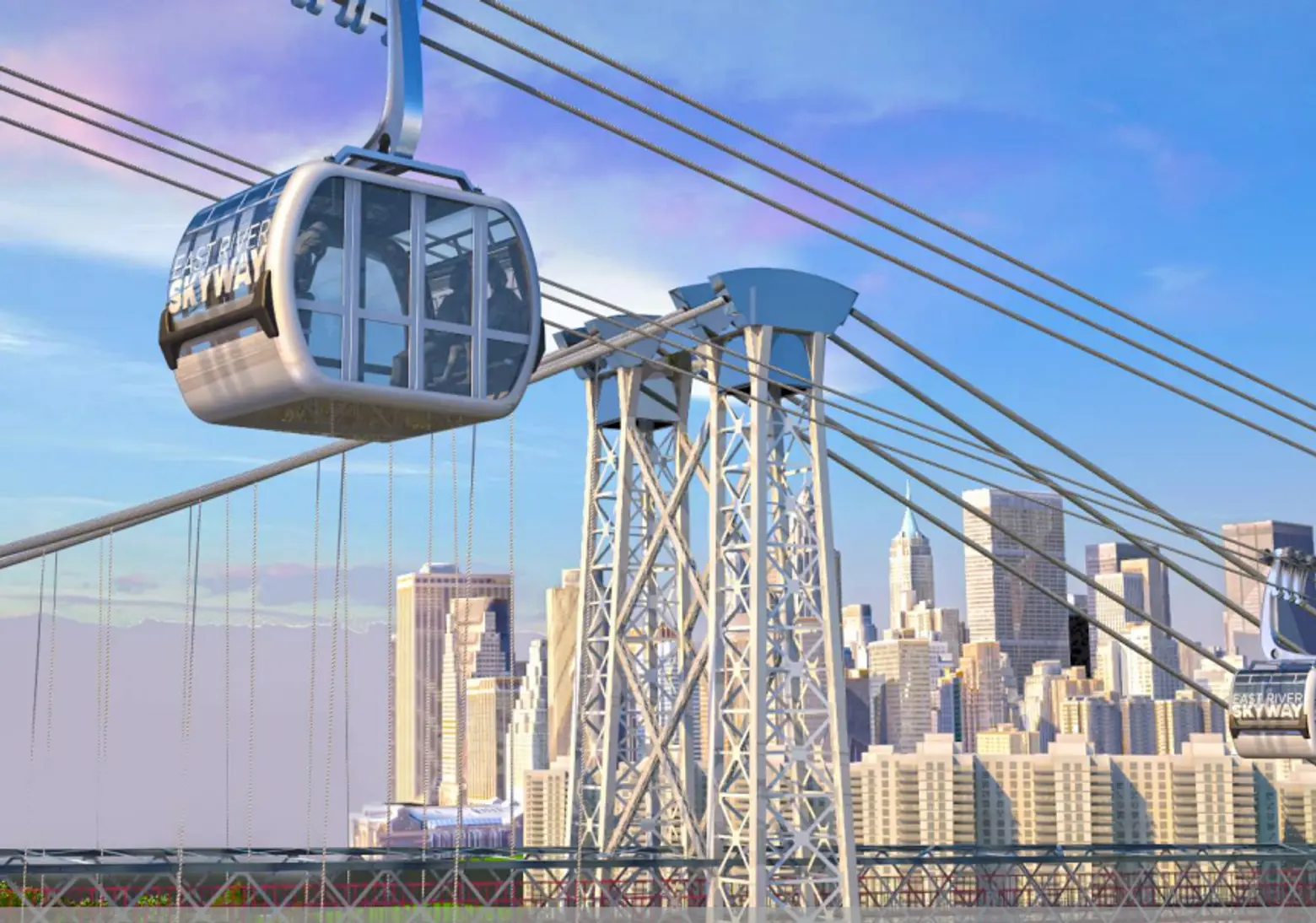 In addition to providing more elbow room and expansive city views along one's commute, the gondola cars are able to move considerable amount of people quickly and efficiently. Cars would be able to accommodate over 5,000 individuals an hour in both directions.
To give that number a bit more context: Before the L train added an extra ninety-eight weekly round trips in 2012, trains were filled to 116% of their stated capacity—that's about 1,345 people per train, with some cars packing in 32% more than the maximum. Fast forward to 2014, the MTA reports that ridership is at an all-time high, and the L line has had the largest percentage increase in the entire system (5.3% or more than 6,000 riders per weekday over the year). Ridership increased at every station on the line, including an 8.1% increase at the Bedford Avenue station. Weekday numbers have increased at Bedford Avenue alone by more than 50% since 2007. Additional cars were introduced this June accommodate new riders, but if you're a daily L rider, especially one that hails from Brooklyn, the difference has been negligible.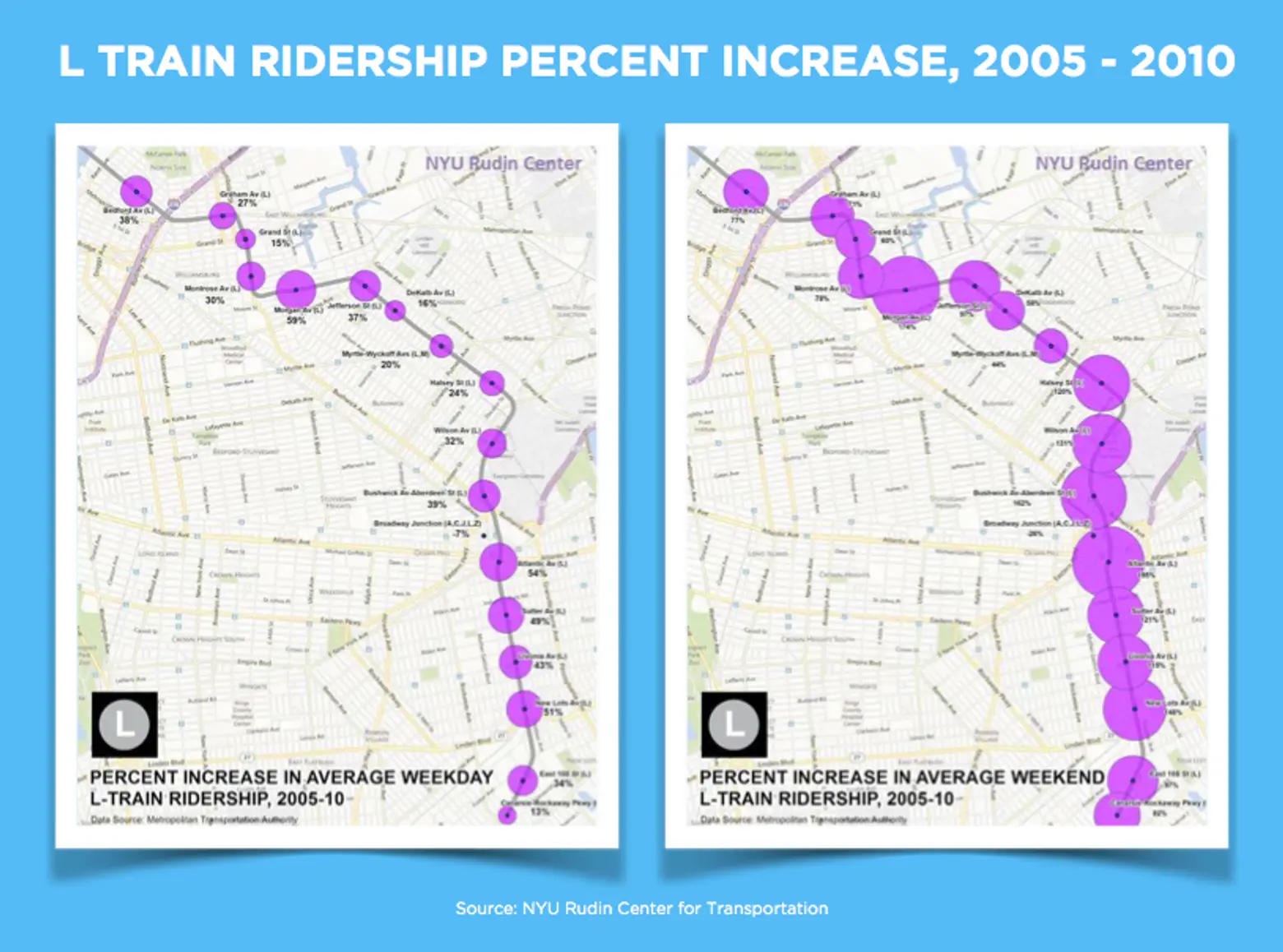 The idea of adding additional ferries has been floated around as a "low cost" solution, but gondolas have two major advantages over this mode: Unlike ferries, gondola stations can also be sited several avenues in and are much faster. For example, the Roosevelt Island Tramway dips into the city and stops at 60th Street and Second Avenue putting passengers closer to their destination as well as in reach of less taxed lines like the N, Q, and R.
But above all, implementation of a skyway system is dramatically less expensive than building a new bridge or new subway line. As we've seen with the Second Avenue subway, construction is costly, long and prohibitive. Levy's studies have turned out estimated costs of between $75 million and $100 million per phase—a number that includes stations.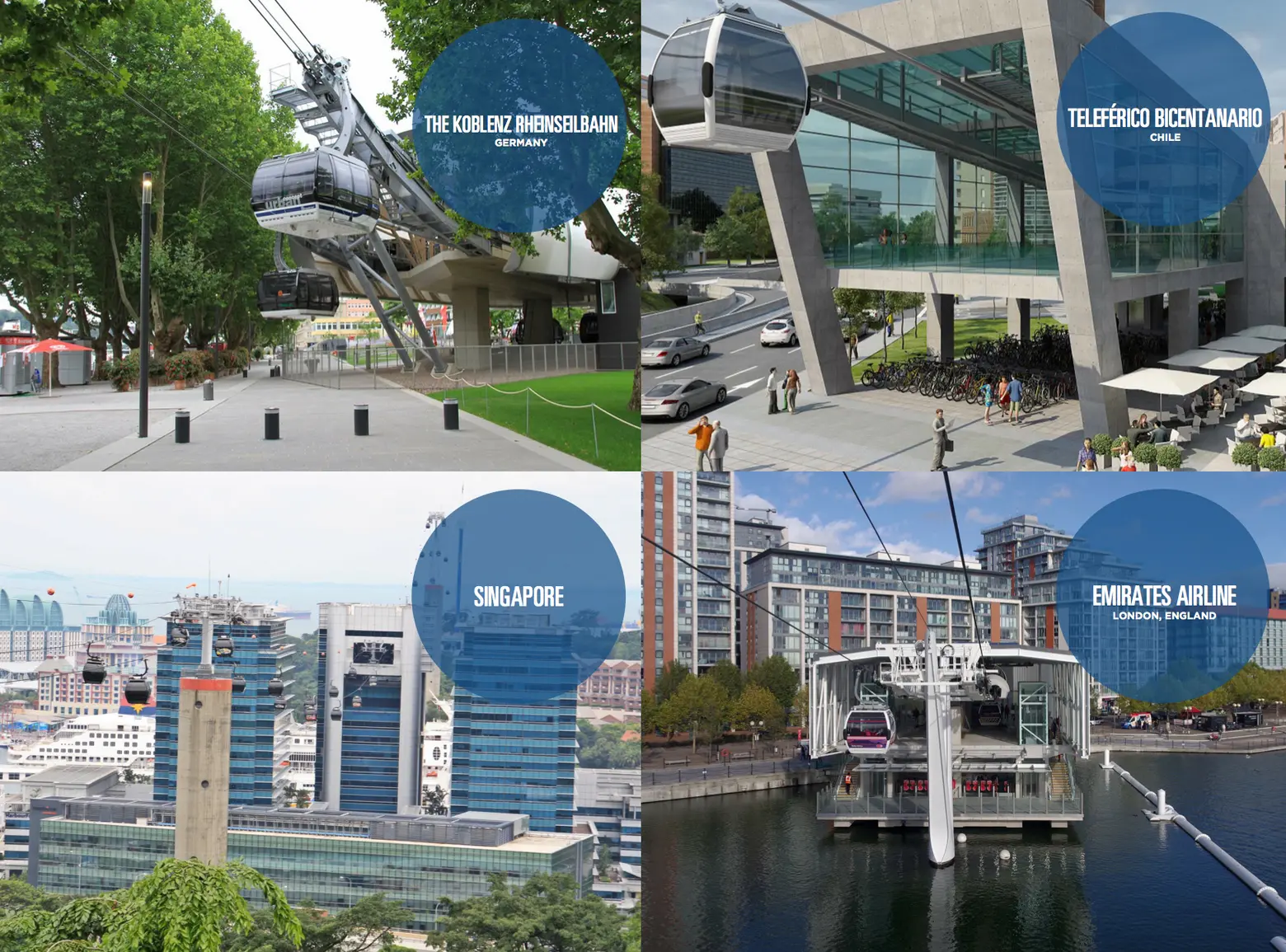 It's also worth noting that the idea is not new and has found success elsewhere. Similar schemes have been introduced, or are currently under construction, in cities such as Santiago, Chile, and Rio de Janeiro and areas in Singapore, Germany, and Portugal.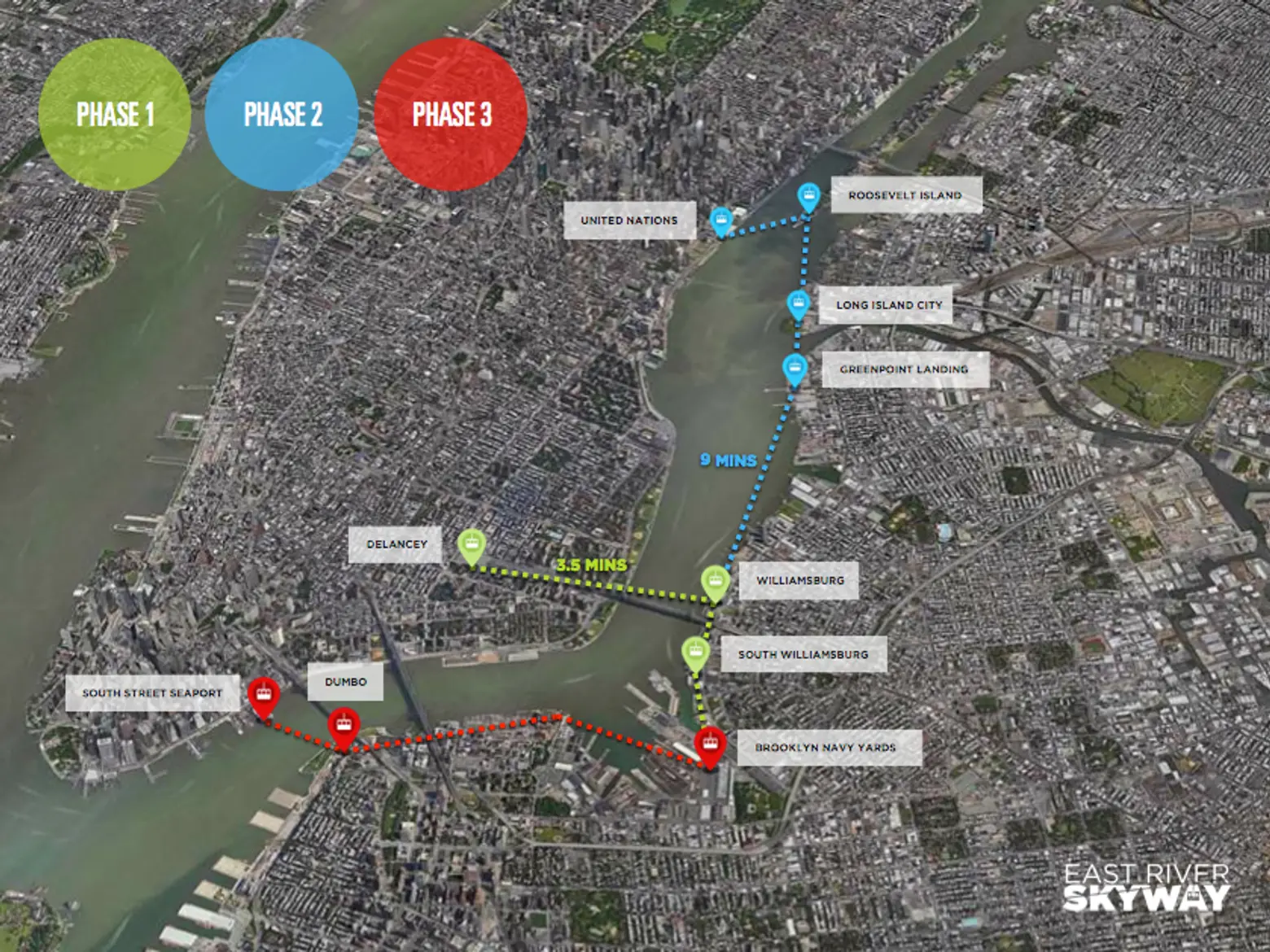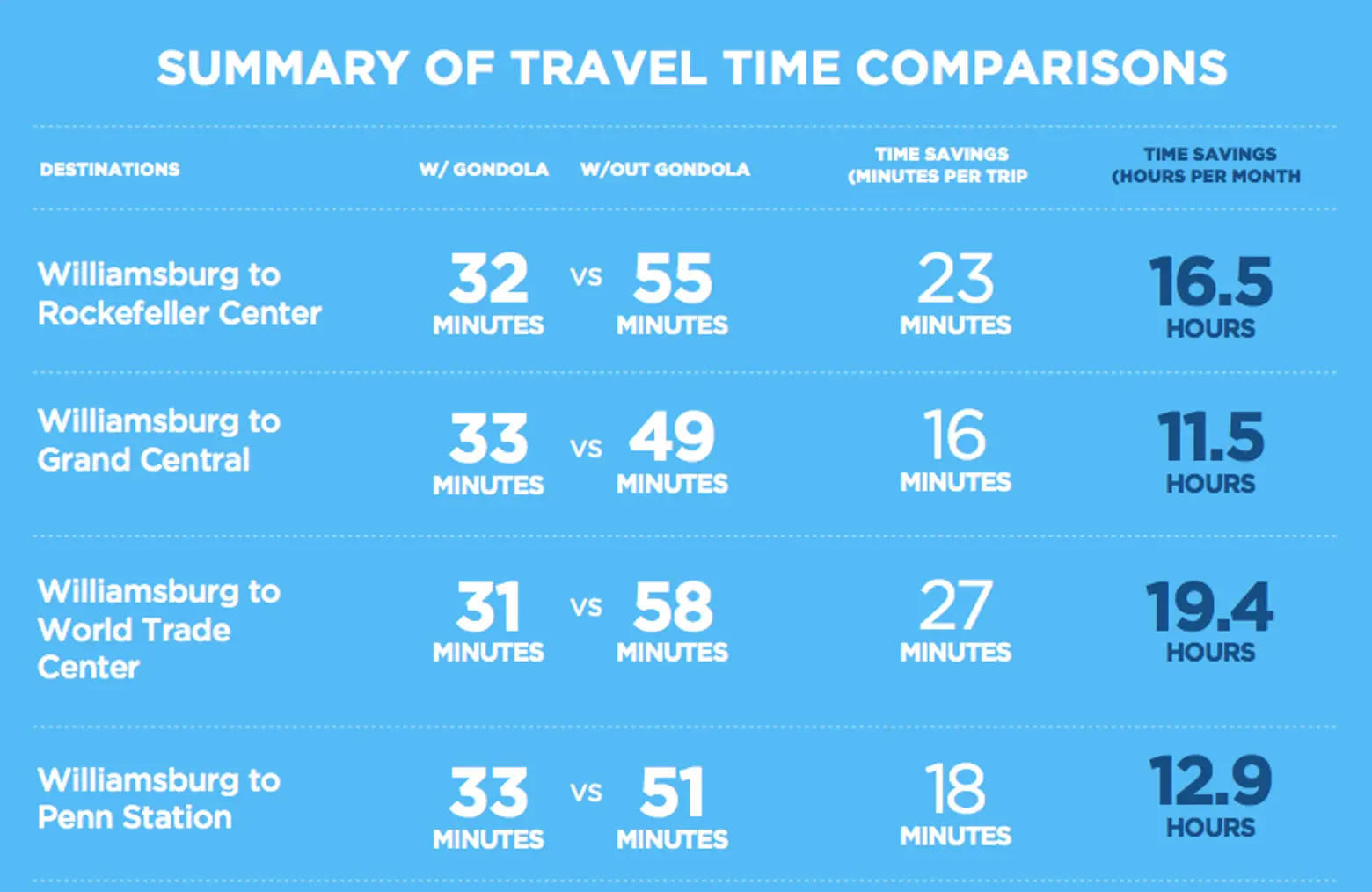 If the proposal moves forward, the plan is to implement the Williamsburg to Lower Manhattan lines first. Subsequent phases would connect DUMBO to the South Street Seaport, and Greenpoint, Brooklyn; and Long Island City, Queens, to Roosevelt Island where it would meet up with the existing tramway system. Brooklyn to Manhattan will be a short ride of 3.5 minutes, and Brooklyn to Queens will be a 3 to 12 minute commute depending on where you are going. The Brooklyn Navy Yards will also finally be easily accessible via Manhattan—a boon to the yard which is currently undergoing expansion.
Levy is presenting the project at today's Massey Knakal Brooklyn Real Estate Summit where hopes to drum up support for its realization.
More information on the project can be found here.
[East River Skyway official]
*Disclosure: CityRealty is 6sqft's publisher