Revealed: AB Architekten's 29 Clay Street to Bring Manhattan Modernism to Greenpoint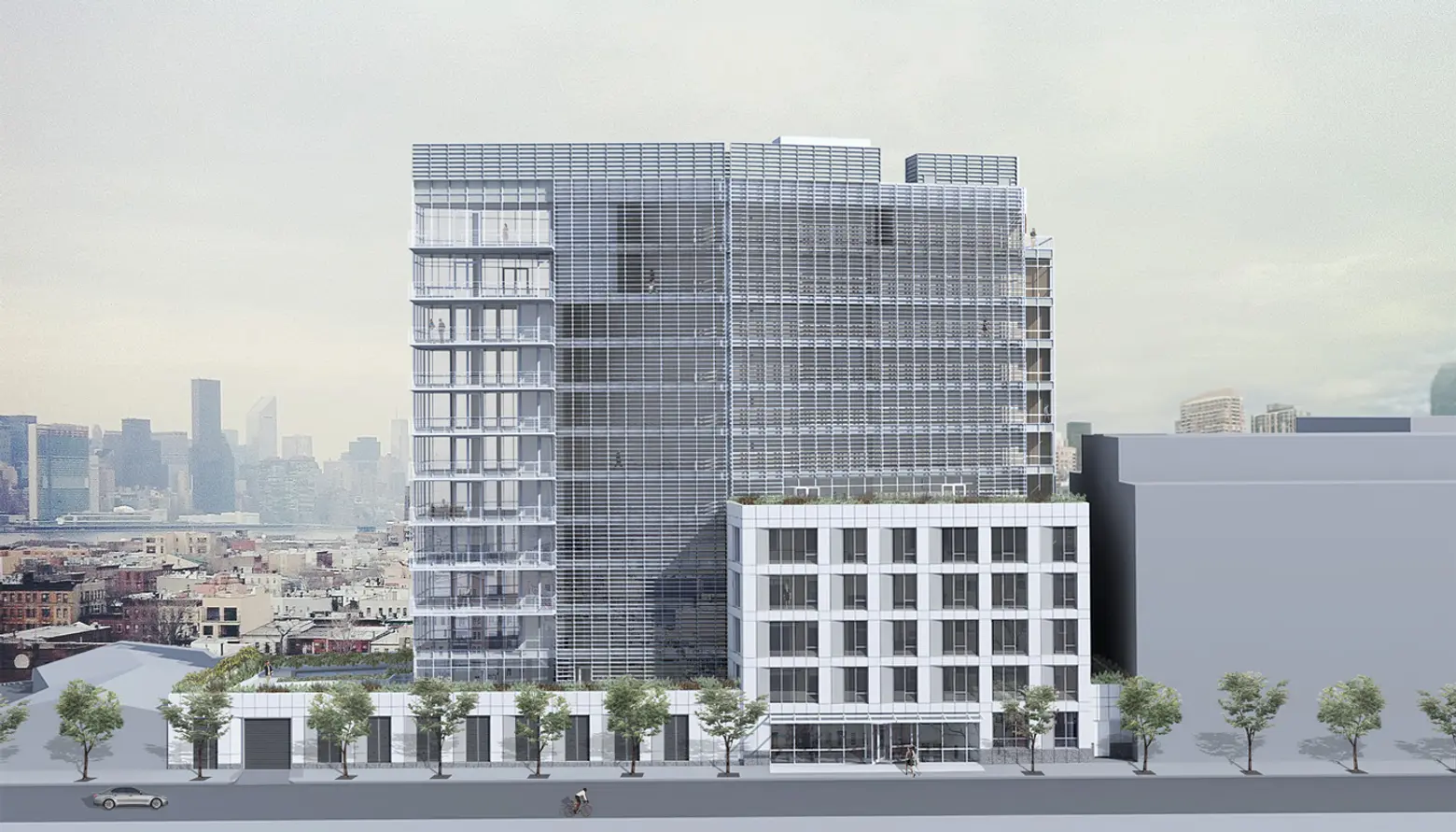 A proposed 12-story residential building near the mouth of Newtown Creek in Greenpoint may bring some avante-garde design to a neighborhood better known for its low-slung factories, unpretentious row-houses, hearty Polish community, and an immense wastewater treatment plant. Coming from the office of AB Architekten, led by Alexander Blakely, a 70,000-square-foot proposal at 19-29 Clay Street is envisioned to rise directly across from the long-promised Box Street Park, and it may be the first of a multitude of high-rises set to radically transform the neighborhood's waterfront.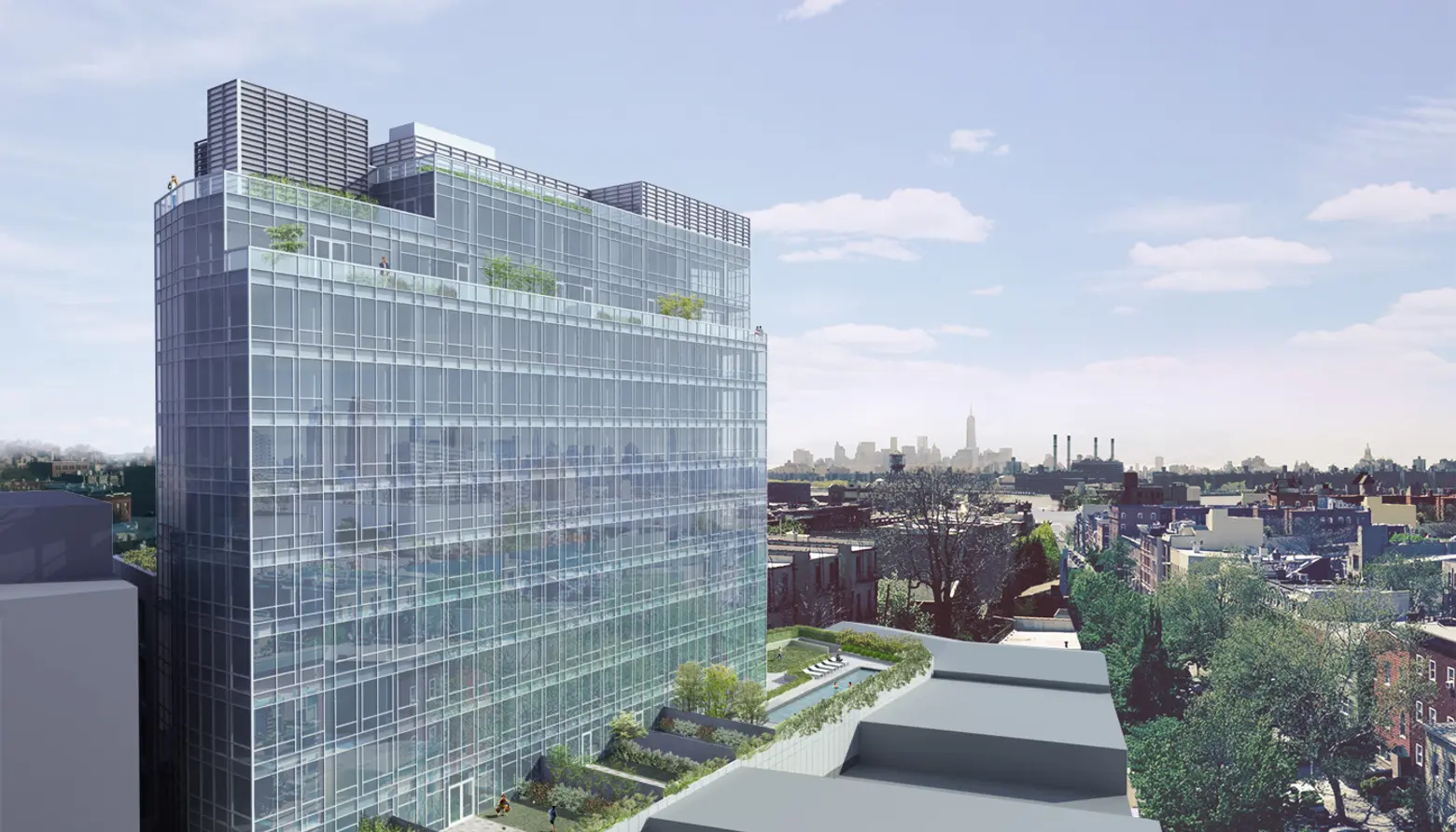 According to renderings posted on AB Architekten's website, the building will rise in three sensitively-scaled volumes from a 10,000-square-foot irregular lot near the intersection of Clay and Commercial Streets. The first level covers the entire parcel's footprint and is to scale with the sprawling two-story factory across the street. A stand-alone one-story section houses the entrance to the building's required parking garage, and its roof serves as a communal terrace equipped with an outdoor swimming pool. A mid-rise section is five stories, relating to the residential scale of the neighborhood. Directly adjacent to the site is the recently finished six-story 1133 Manhattan Avenue, where an incredible 60,000 people applied for its 105 below-market rate apartments.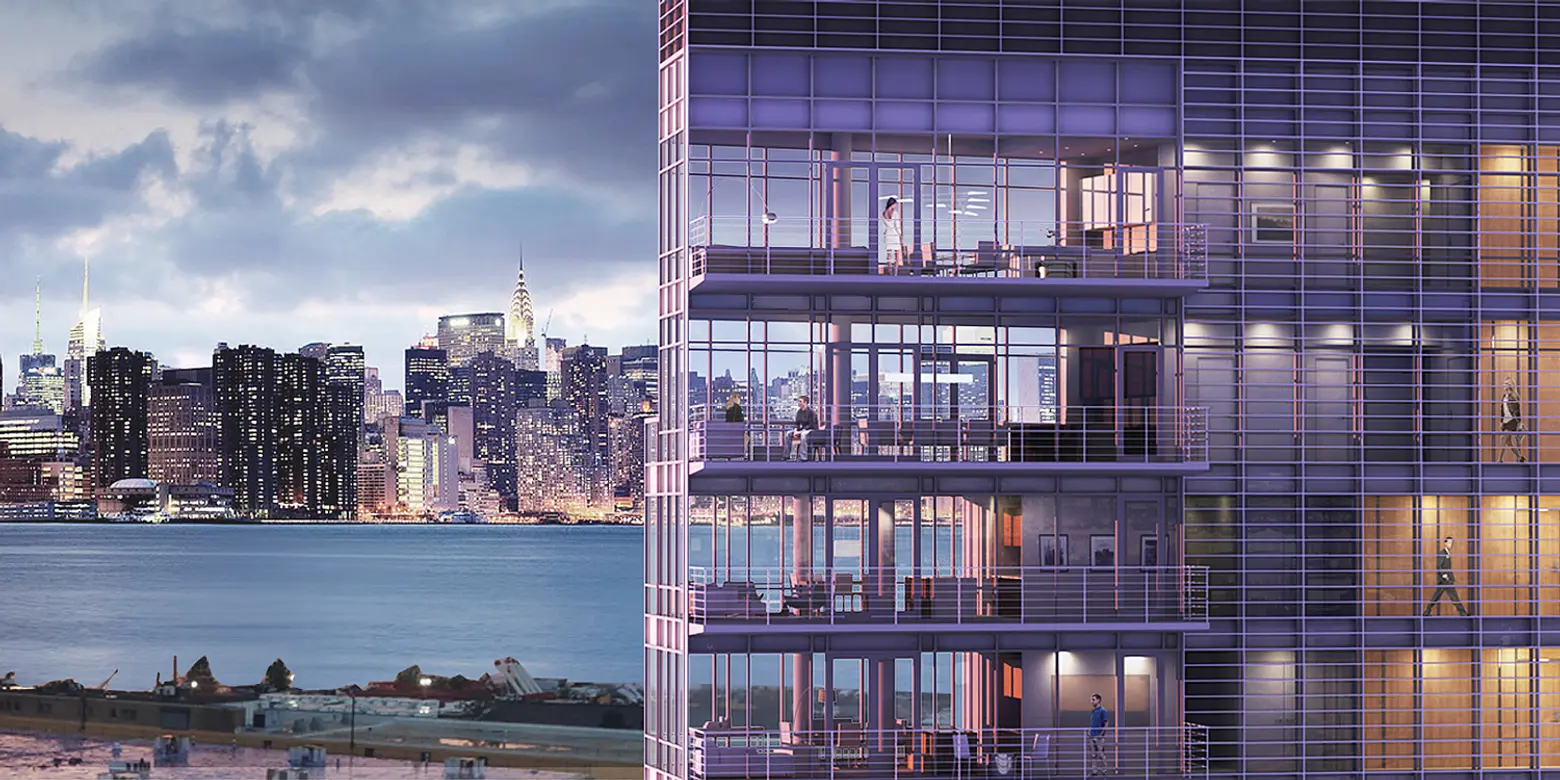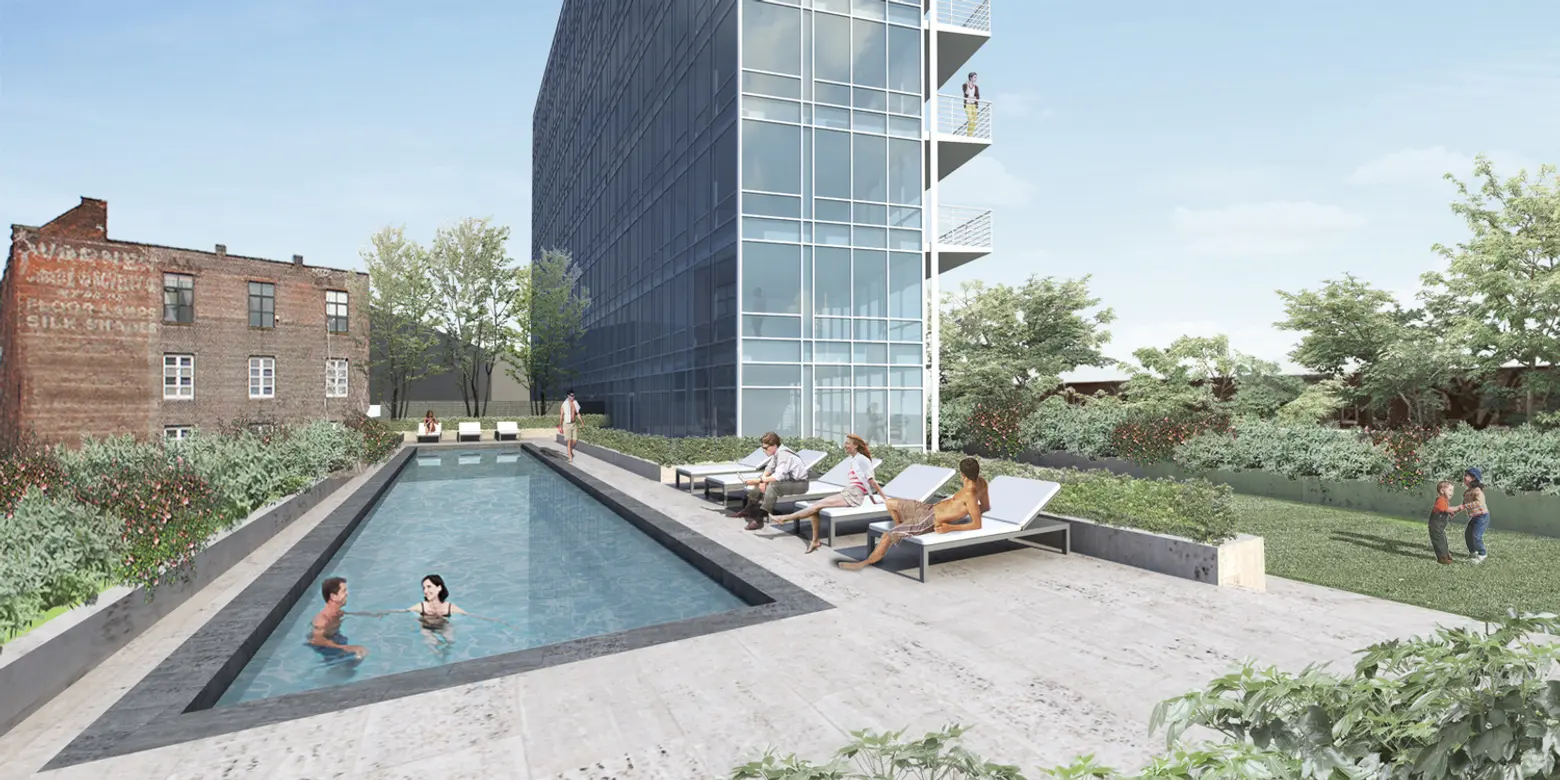 From the building's metal clad podium, a streamlined 11-story glass slab rises, narrowing in width like a ship's bow as one moves westward. The tower's southern, sunnier elevation is horizontally graphed with brise-soleil, most likely to deflect some of the solar heat gain from the all-glass facade. According to their website, "AB Architekten is committed to environmentally conscious building design with a focus on implementing solar energy systems." Within the building's "prow," glass-enclosed "peninsulas" provide incredible light-filled spaces, capturing sweeping views of the East River and the Manhattan skyline.


L to R: 40 Mercer, rendering by AMD Rendering; One York Street, rendering by DBOX; 19-29 Clay Street


L to R: 40 Mercer, rendering by AMD Rendering; One York Street, rendering by DBOX; 19-29 Clay Street
The design of the tower is reminiscent of two highly-successful Manhattan buildings of similar scale, One York Street by Ten Arquitectos and 40 Mercer by Jean Nouvel. Both condo buildings are situated within former manufacturing neighborhoods with plenty of context to call from and both provide airy, light-filled apartments with an abundance of outdoor spaces for their residents.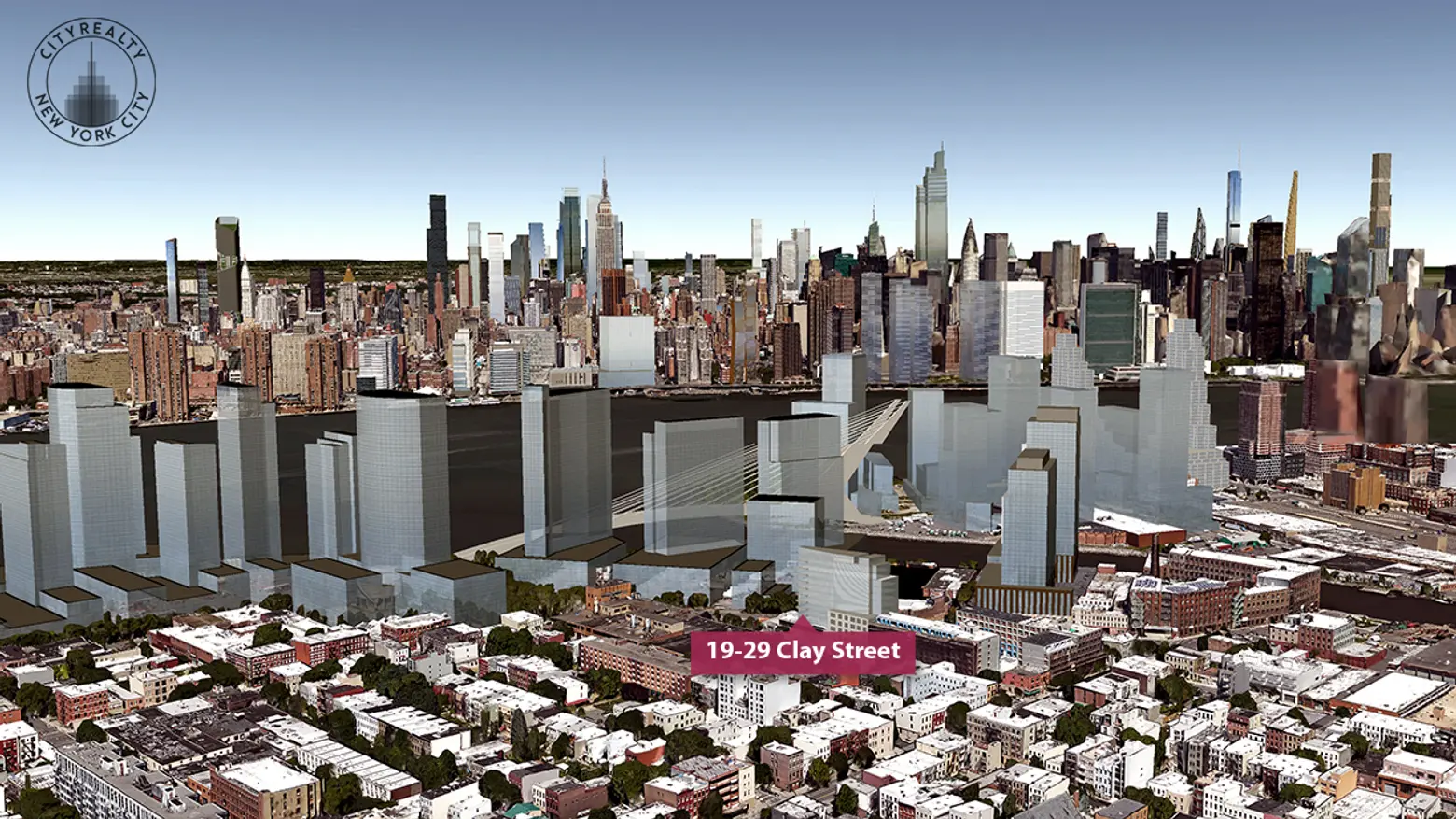 Via CityRealty
Despite the city's restrictive zoning laws and onerous land-use process, young and foreign architecture firms have taken the city by storm of late, bringing refreshing forms and building envelopes that are beginning to overshadow decades of bottom-line design. Incredibly, cutting edge design firms such as SHoP, SOMA, DDG and nearly every living Pritzker Prize winner all have condo buildings rising in Manhattan. Brooklyn and Queens have been slow to embrace the upgrade however, where structures designed by the likes of Karl Fischer and Bricolage Designs continue to pockmark cohesive blocks. Case in point, Greenpoint's tallest building, 200 Franklin Street, is a 16-story repetition of concrete walls, bay windows, and exposed floor plates that would turn any local into an anti-development NIMBY.
Nevertheless, AB Architekten's Clay Street proposal is a promising start for a neighborhood that will see an immense amount of development in the coming years. Our in-house modeler depicts 29 Clay and the dozen or so towers planned along the Greenpoint waterfront in the images above. The 5,400-unit Greenpoint Landing will rise west of Box Street Park with Joseph Chetrit's two-tower scheme at 77 Commercial Street to the east. Across Newtown Creek in Long Island City will be the mega-affordable-housing development, Hunters Point South. An early rendering of Greenpoint Landing called for a pedestrian bridge possibly designed by Santiago Calatrava connecting the two neighborhoods. Given the growing cultural reputations of the boroughs, we expect nothing less.
Stay up-to-date on 29 Clay Street on CityRealty.
RELATED:
Images via AB Architekten unless otherwise noted