Protected bike lane coming to Central Park West after community board approval
A community board on Tuesday approved a plan to build a new protected bike lane along Central Park West, about one year after a cyclist was killed by a truck there. As West Side Rag reported, Manhattan's Community Board 7 voted in favor of the city's plan, which consists of a northbound protected lane from 59th to 110th Street. Ahead of the bike lane's construction, 400 parking spaces will be eliminated on Central Park West.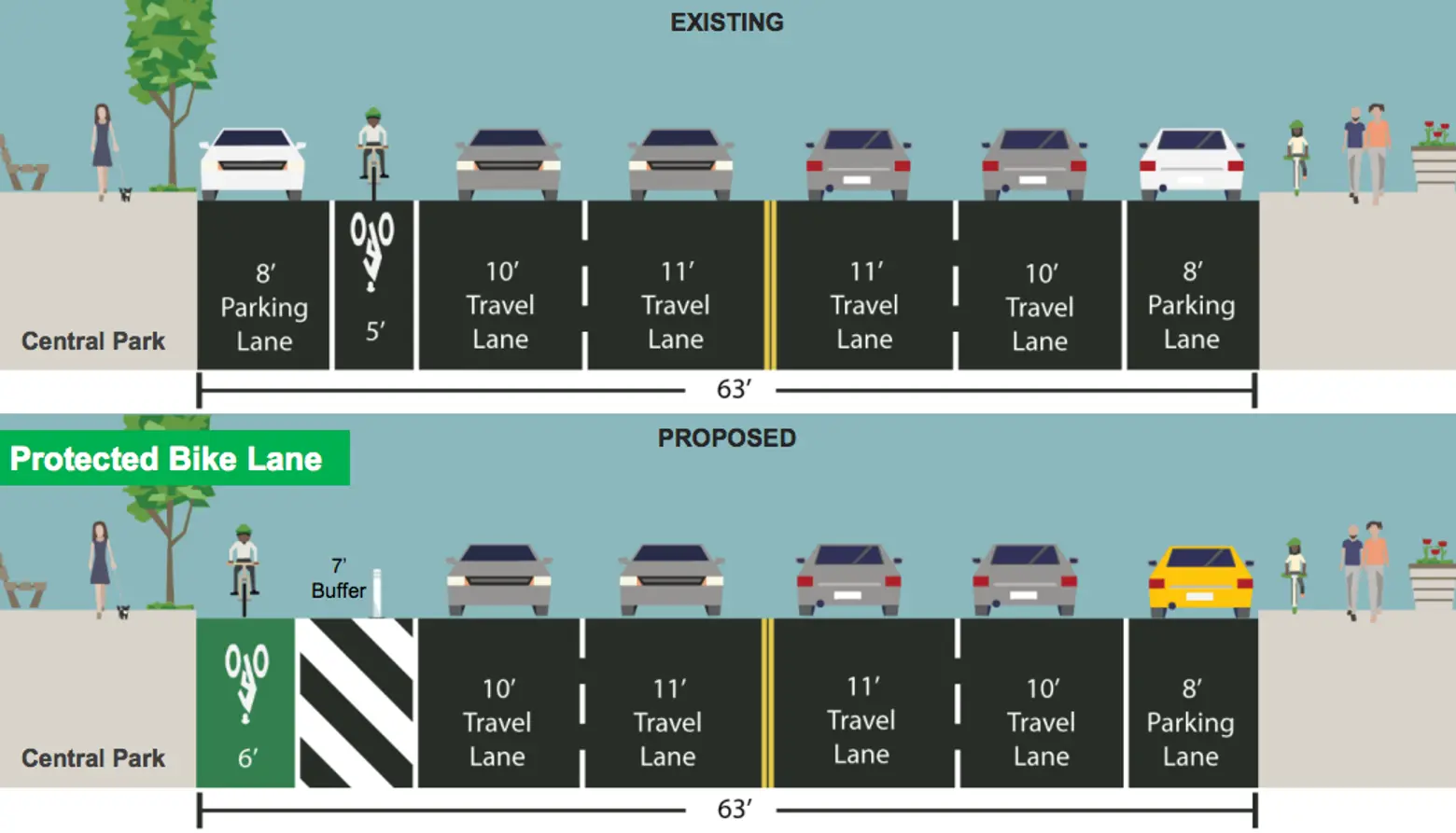 The northbound lane will run along the thoroughfare from Columbus Circle to Frederick Douglass Circle and physically separates cyclists from vehicles with a 7-foot buffer in between. Currently, the bike lane along Central Park West only separates cyclists from traffic with a painted line, with the parking lane on the other side.
Last August, 23-year-old Madison Lyden, who was visiting from Australia, was killed while biking on Central Park West when a cab pulled out of the parking lane, forcing her to swerve to avoid it. A garbage truck, whose driver was found to have been under the influence, hit and killed Lyden in the vehicle lane.
"This plan will make sure what happened to Madison Lyden will never happen again," Council Member Helen Rosenthal said during the meeting, according to the West Side Rag.
While the community board had previously asked the city to construct a protected bike lane on Central Park West, Lyden's death advanced the process. With the community board's approval, the Department of Transportation said it plans to begin work on the lane this summer.
The approval for the new bike lane comes as three cyclists were killed in just over a week this month across the city. According to officials, 15 cyclists have been killed so far this year, more than all of 2018. Mayor Bill de Blasio on Monday said the city will take action and he has directed the NYPD to launch a "major enforcement action" to crack down on dangerous driving. He has also asked DOT to develop a cyclist safety plan.
"No loss of life on our streets is acceptable," de Blasio said in a statement. "Last year was the safest year on record–and we have to keep pushing the envelope and increasing our efforts until we achieve Vision Zero."
[Via West Side Rag]
RELATED: