Octagonal 'periscope' tower proposed for Rafael Vinoly's 249 East 62nd Street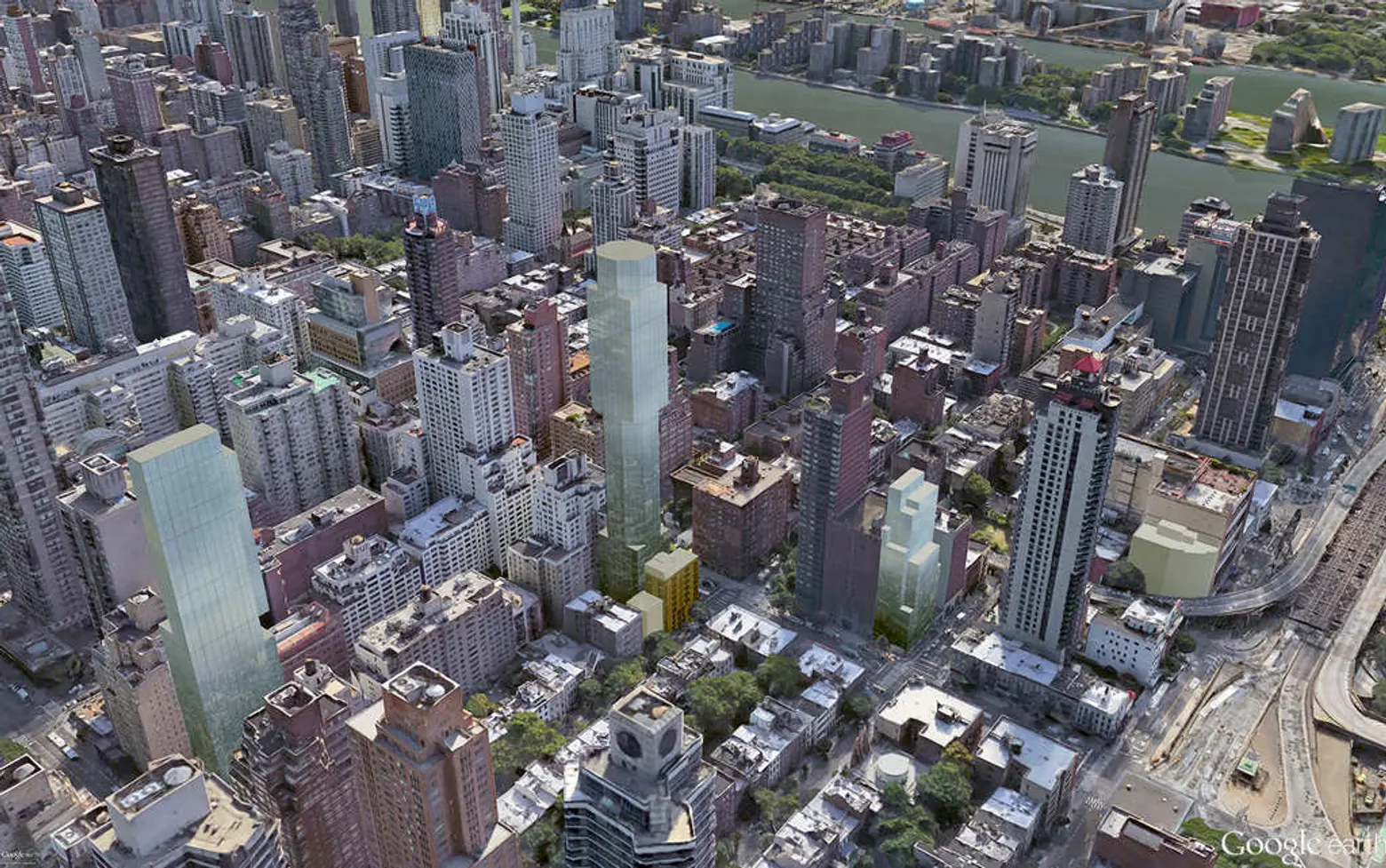 Google Earth aerial rendering of 249 East 62nd Street's proposed massing, via CityRealty
Real Estate Inverlad's in-the-works residential project at 249 East 62nd Street is now one less ZD1 diagram away from being a reality. CityRealty reports that the customary diagram is now on file, giving us a look at the tower's proposed bulk–and the Department of Buildings has found the project, even with a few clever tricks up its sleeve, compliant with the city's zoning laws. The diagram shows that the skyscraper will elevate a number of the units within by using  an octagonally-shaped core, periscope style, to peer out over their Upper East Side neighbors towards Central Park and the East River.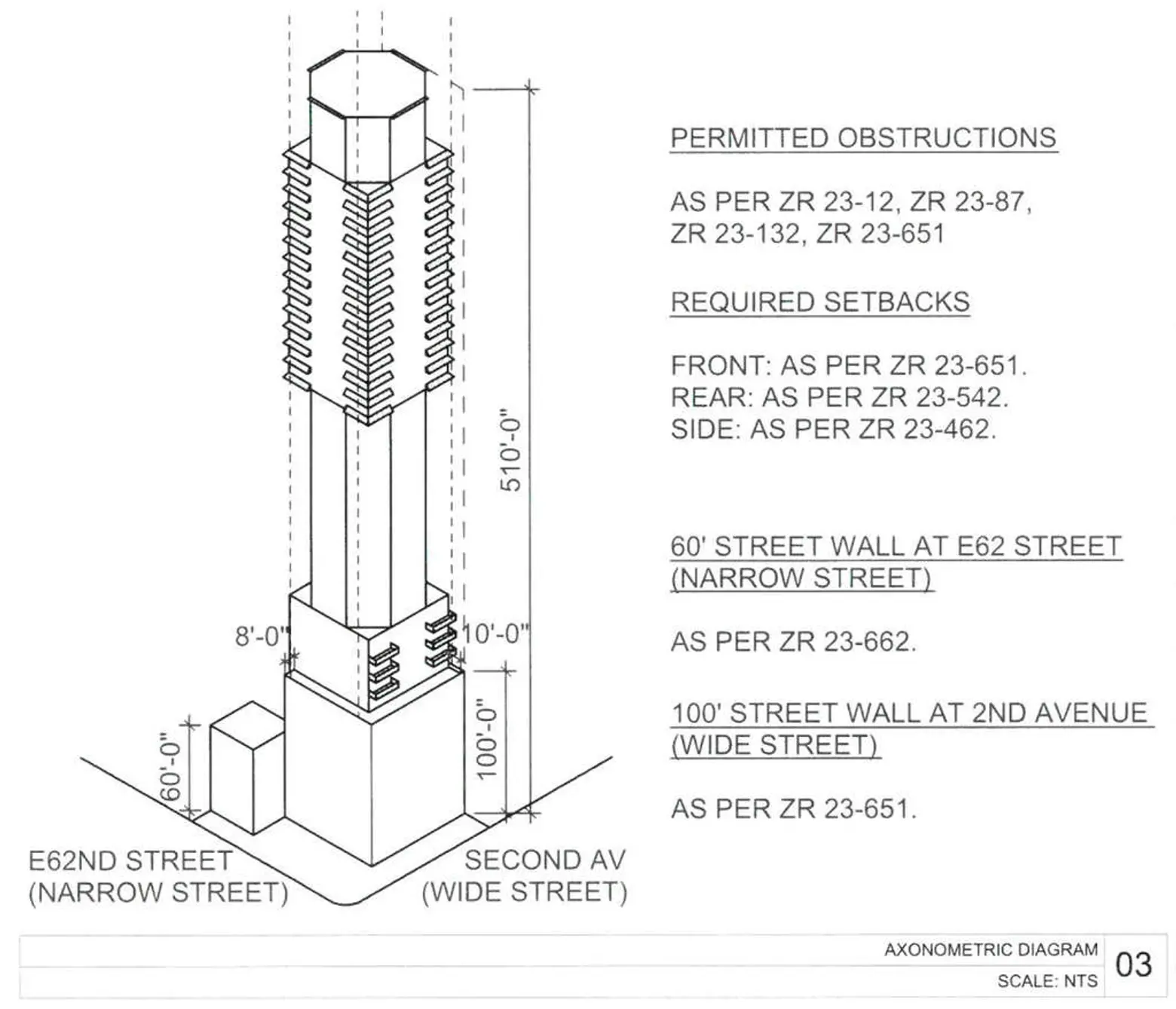 249 East 62nd Street via NYC DOB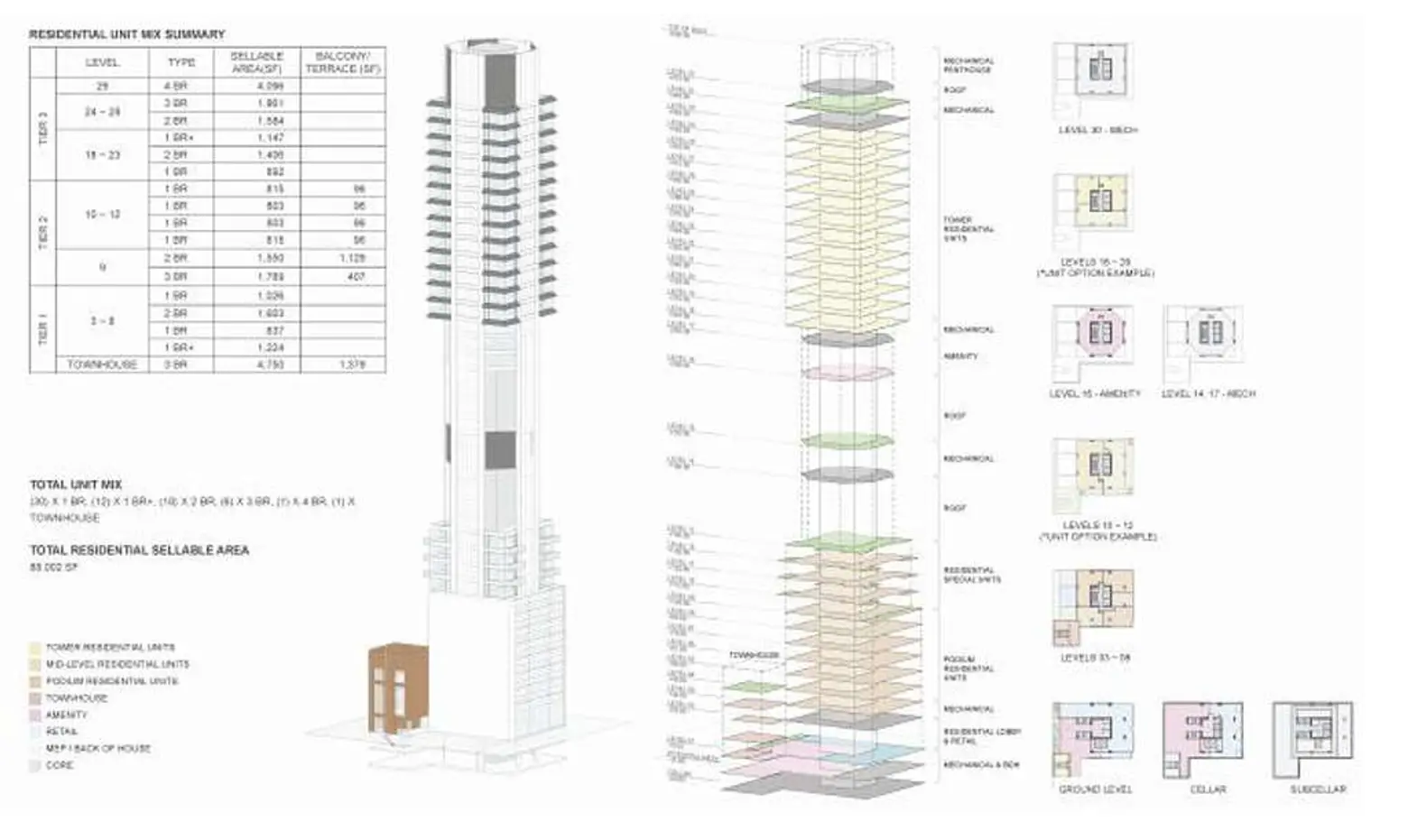 Image: RVAPC
The initial building application, filed in December by Chance Gordy's investment company (which just finished the nearby Clare) called for a 510-foot-tall tower with most of its bulk rising along Second Avenue. The building's East 62nd Street wing was shown holding one stand-alone townhouse. The firm of Rafael Vinoly Architects (432 Park Avenue, Three Waterline square) is listed as the building's architects.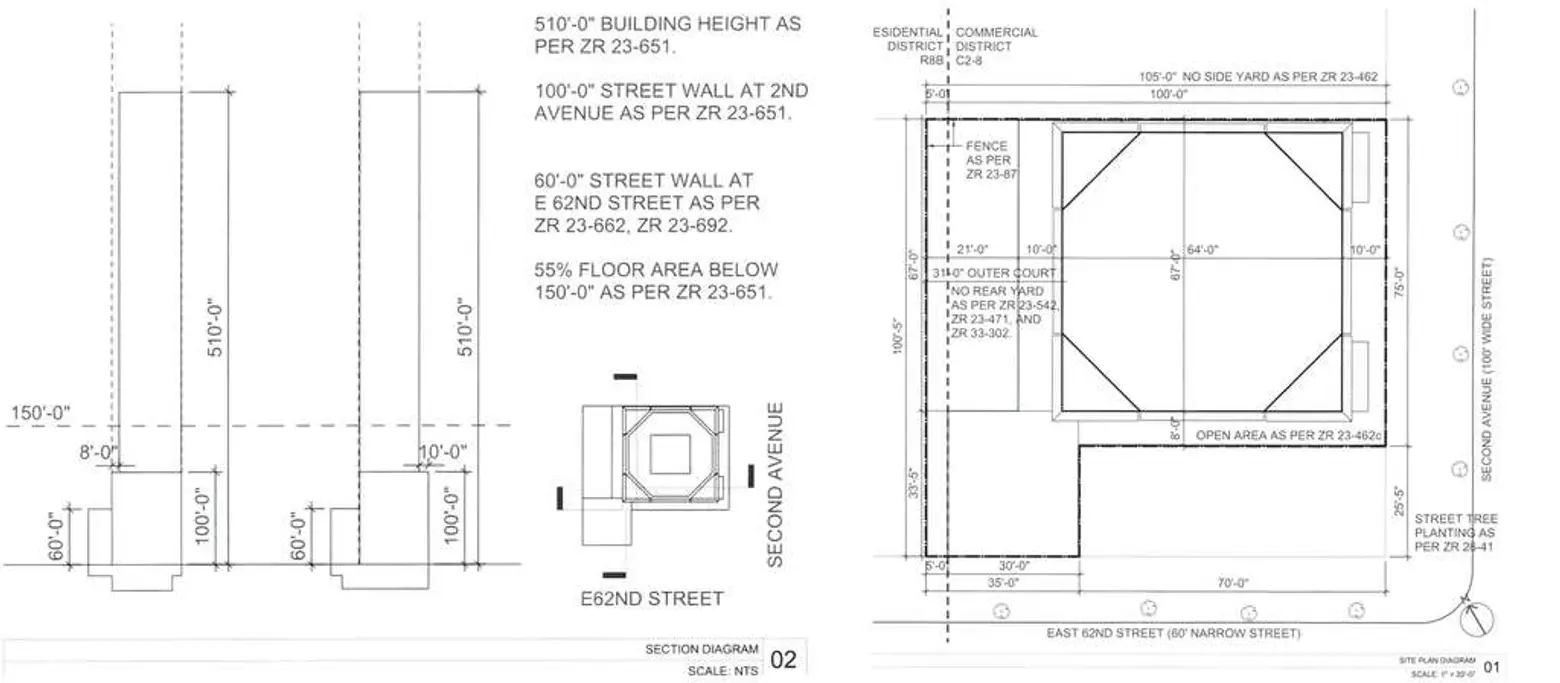 Site plan and elevation via NYC DOB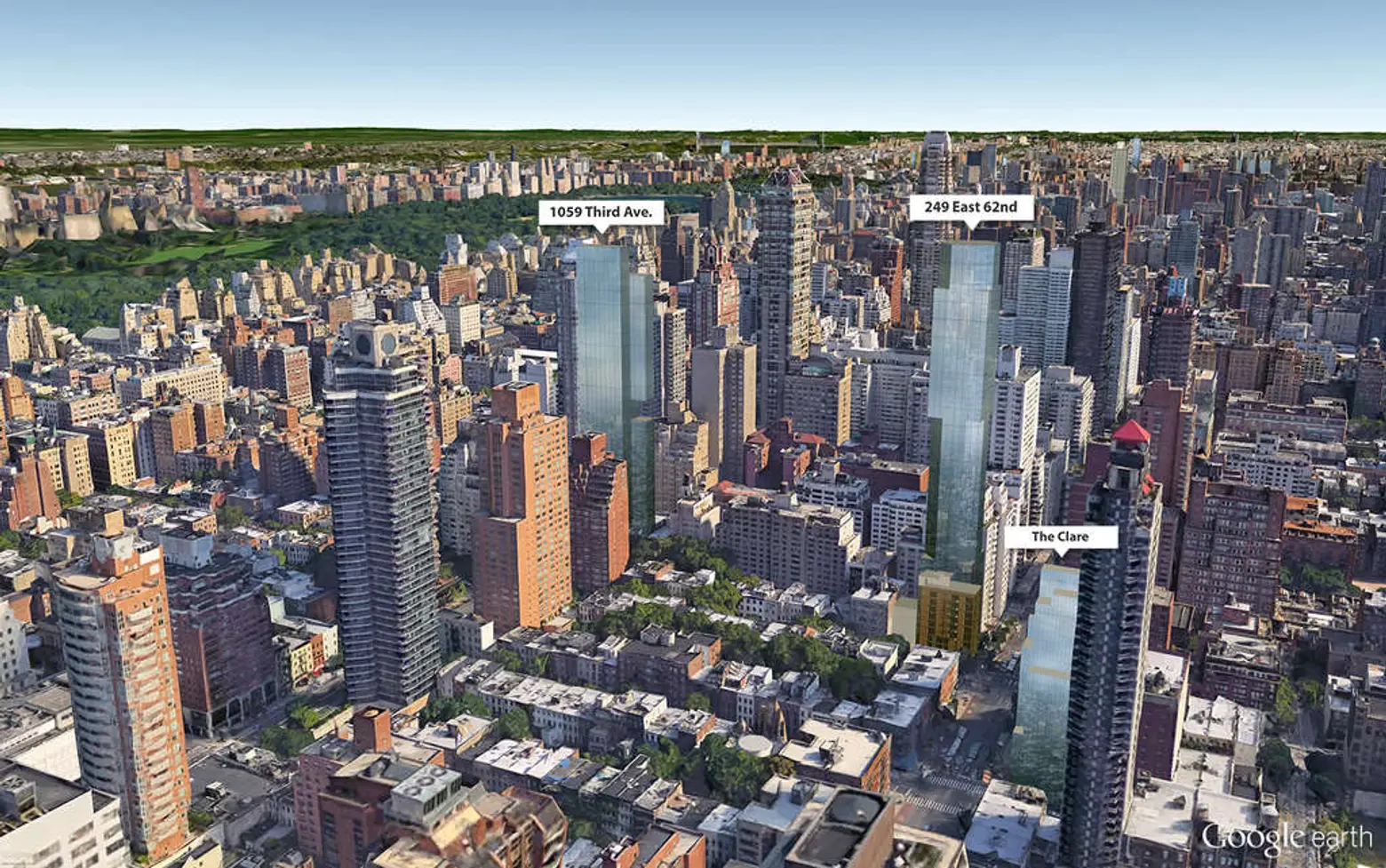 Google Earth aerial showing 249 East 62nd Street's proposed massing and other Real Estate Inverlad towers (CItyRealty)
You may ask: How could 32 occupied floors yield a tower more than 500 feet tall? The answer: It starts with a 12-floor podium with retail and 32 regular mortal units. Above this, an octagonal structural core will boost the remaining 16 apartments 200 feet above the floors below, giving lucky inhabitants unobstructed panoramas of Central Park, the East River and the Manhattan skyline.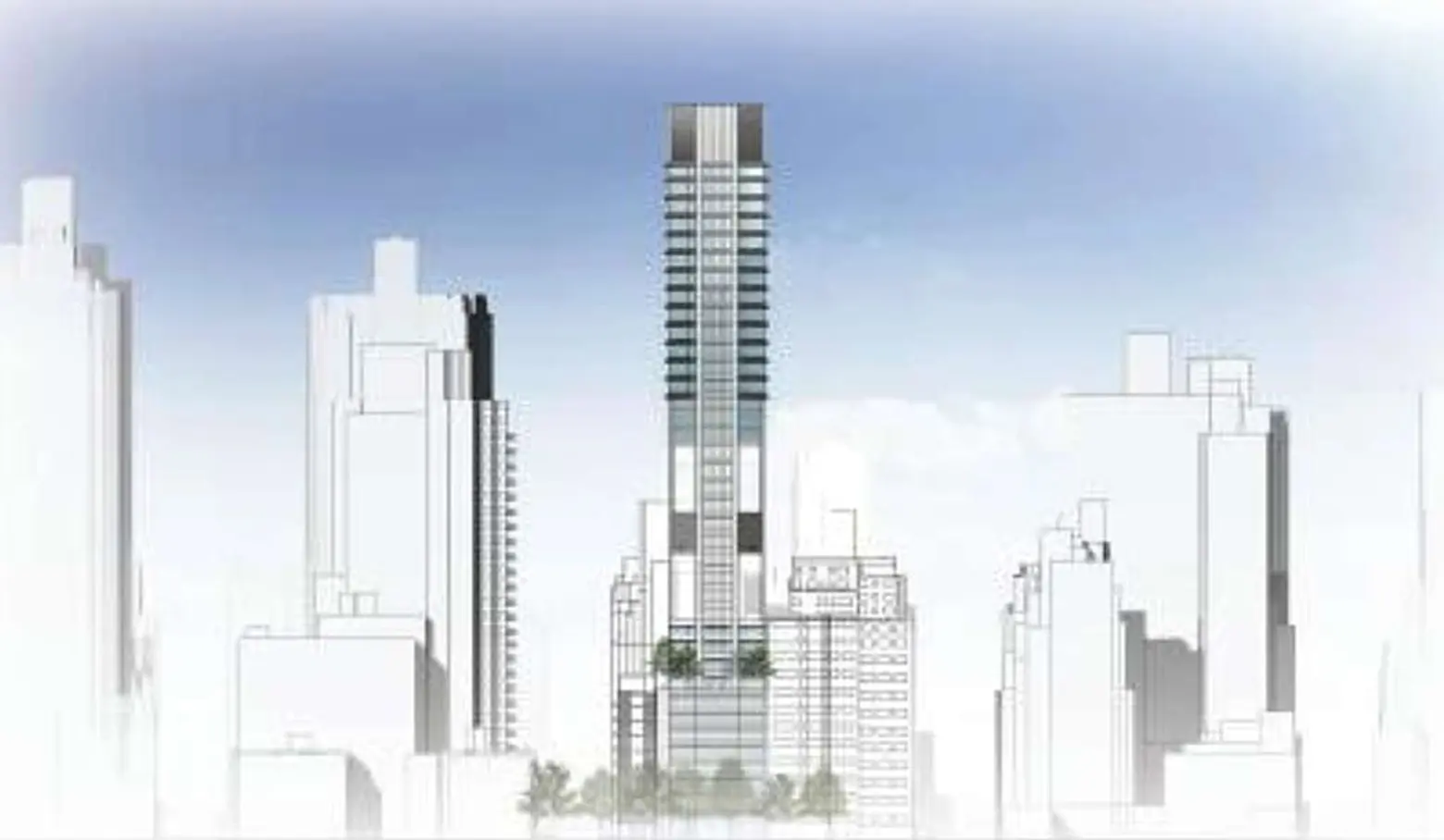 Image: RVAPC
The lowest rung of the "periscope" will be called floor 16 and will contain amenities like a bar and wine tasting room, private dining room, media lounge and a study. Floors 18 to 29 will offer three apartments per floor. This clever elevation strategy uses neighboring air rights to hoist the super-robust structural stem to new heights.
So will we soon see a landscape of periscope-like towers peering down at the city? Since most neighborhoods have height limits and zoning resolutions often require a percentage of floor area be contained below a certain height, it's unlikely. But as as views of the skyline, waterfront, and parks become more valuable, employing an observation tower-like core may become as ubiquitous as platform boots on the city's streets.
[Via CityRealty]
RELATED: