NYC's Governors Island will be open year-round for the first time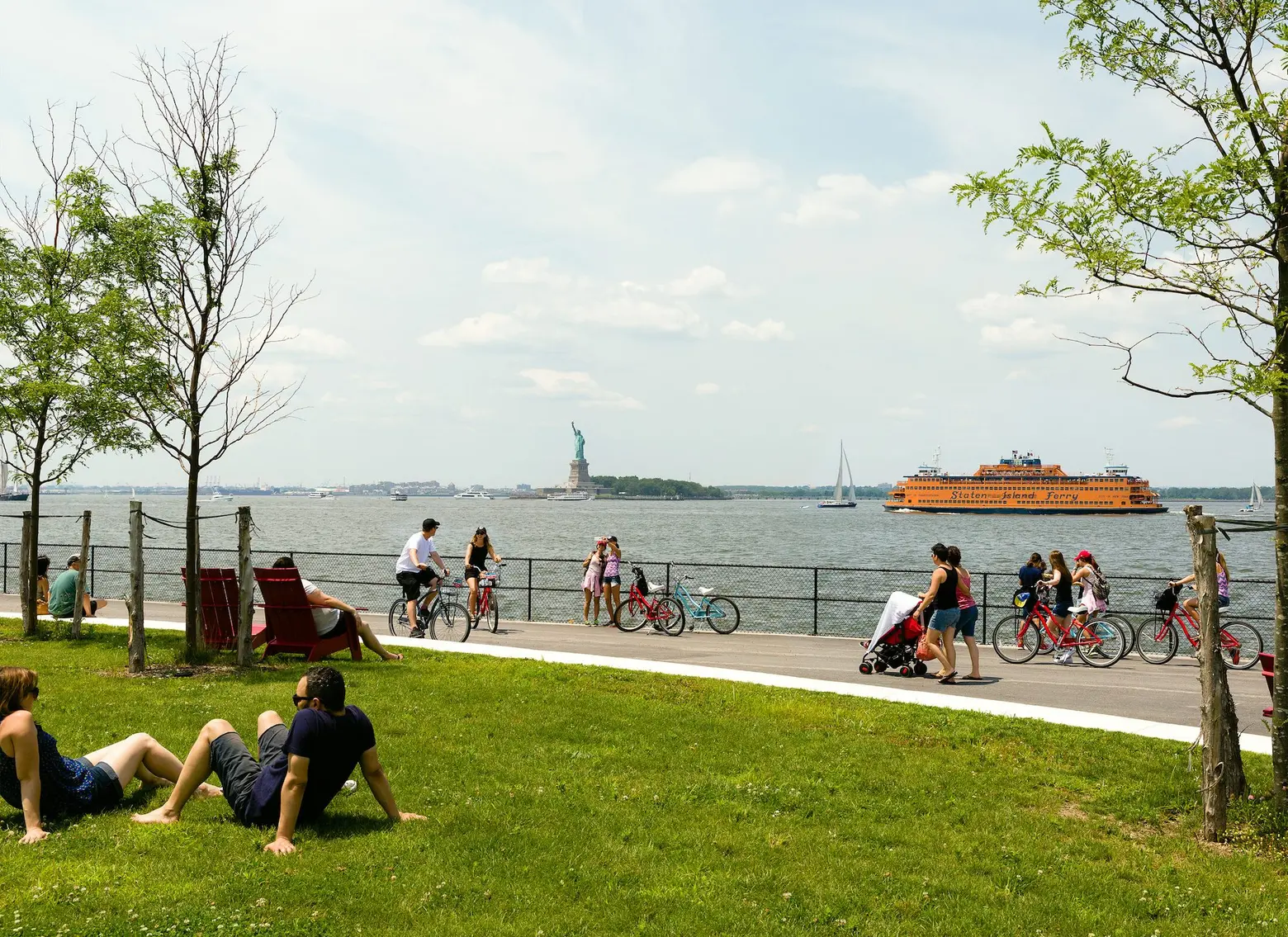 Starting November 1, Governors Island will be open to the public year-round for the first time in its history, Mayor Bill de Blasio announced Tuesday. Located in the heart of New York Harbor, the 172-acre island has typically had a limited season that ran between May and October but plans to make the site a 24/7 community have been in the works for nearly two decades. With the island open all year, the city also announced it will make Governors Island a daily stop on NYC Ferry, as well as launch a new route that departs from the Lower East Side.
First used by the Lenape Tribe of Manhattan for camping and fishing, Governors Island was later settled by the Dutch in 1624 and used for several centuries for military use. Using fill from the construction of the Lexington Avenue subway, the U.S. Army Corps of Engineers doubled the size of the island in 1912.
Nearly 100 years later, the federal government sold the remaining 150 acres of Governors Island to the people of New York, with a deed ensuring much of it be used for public benefit. The island officially opened to the public in 2005, with each year since seeing new parks, promenades, restored historic structures, arts and culture tenants, and vendors calling the island home and nearly a million visitors per year.
Most recently, de Blasio announced plans to develop on the island the Center for Climate Solutions that would serve as a global hub for fighting climate change.
"Governors Island is a great place to visit, a great place to spend time, but it's also a huge part of our future because that's where our new climate center is going to be," de Blasio said during a press briefing on Tuesday.
Starting November 1, Governors Island will stay open every day from 7 a.m. to 6:15 p.m. To accommodate the new year-round schedule, the NYC Ferry will be expanding service. The South Brooklyn ferry route will run on weekdays and non-summer weekends from Corlears on the Lower East Side with stops at Dumbo, Brooklyn Bridge Park, Red Hook, and Governors Island. More details are expected to be announced.
The island is already home to several year-round tenants, including the Urban Assembly New York Harbor School, the Lower Manhattan Cultural Council Arts Center, QC Terme, the Billion Oyster Project, Beam Center, the Institute for Public Architecture, and the Shandaken Projects.
RELATED: