One year after NYC's first Covid vaccination, 90% of adults have received at least one dose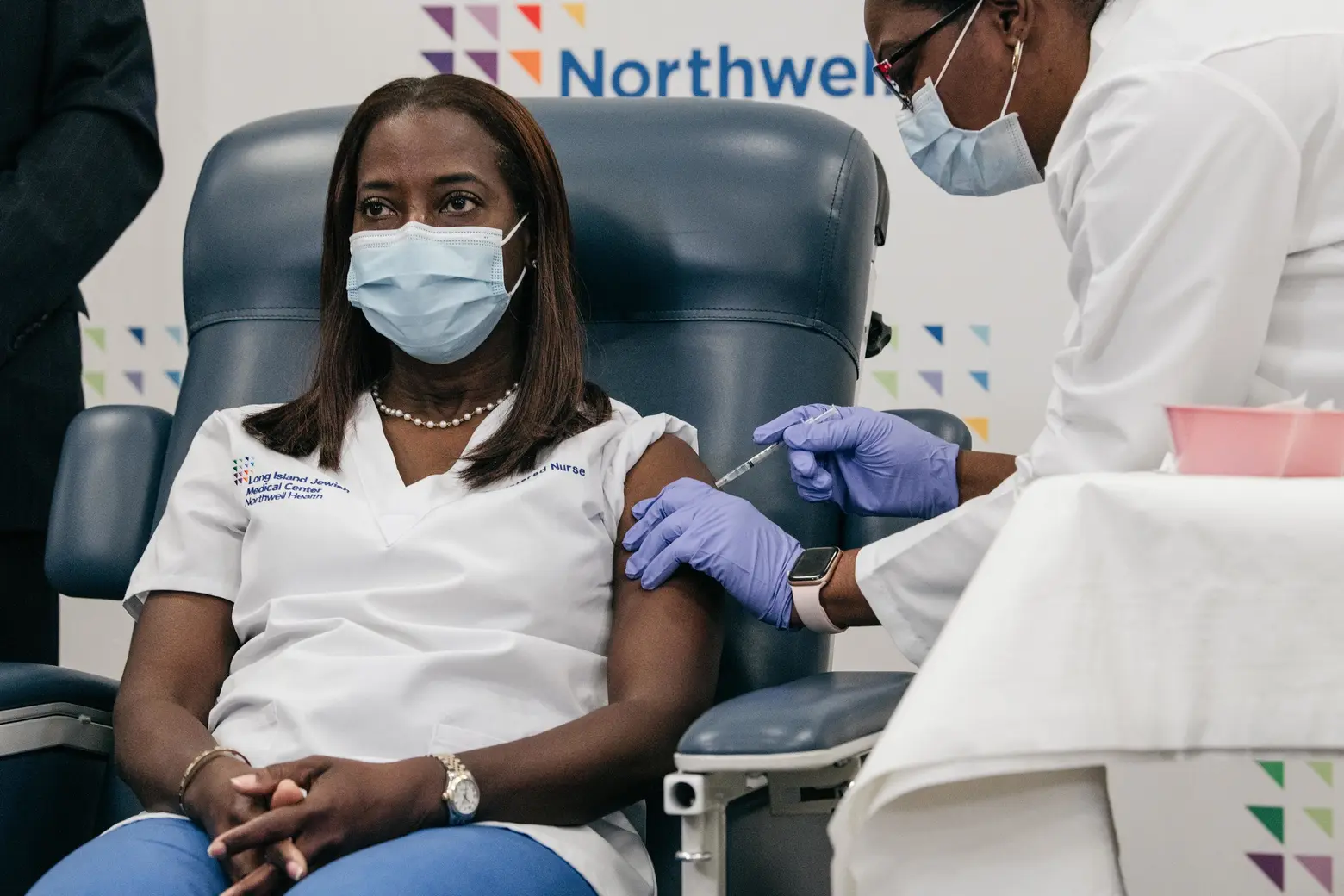 Photo Scott Heins/Office of former Governor Andrew M. Cuomo
On December 14, 2020, Sandra Lindsay, a nurse at Long Island Jewish Medical Center in Queens, received the first coronavirus vaccine in the country. One year later, New York City has hit a significant milestone in its fight against the virus: 90 percent of all adults in the city have received at least one dose of the vaccine. "We've come a long, long way," Mayor Bill de Blasio said during a press conference on Monday.
Lindsay, who received a Pfizer vaccine, was able to receive the vaccine first as a patient-facing healthcare worker. As part of the initial allocation of vaccines, the state of New York received just 170,000 doses. One year later, over 31,361,706 doses of the vaccine have been administered statewide.
"90 percent. Now that is an amazing figure," de Blasio said. "Our healthcare team, all through the COVID crisis, dreamed of that level of vaccination and said, that's when things change profoundly. When you can reach that thorough and extensive a part of your community, you can change everything and really put the COVID era behind."
Despite the progress in the vaccination effort, cases and hospitalizations are once again on the rise in the city and statewide thanks to a "winter surge." According to Gov. Kathy Hochul's office, since Thanksgiving, the statewide seven-day average case rate has jumped by 43 percent and hospitalizations have increased by 29 percent.
In response to the surge of infections, as well as the new Omicorn variant, Hochul announced last week a new mask mandate for all indoor places in New York that do not require proof of vaccination for entry. The statewide mandate took effect on Monday and will be in place through January 15, when it will be reassessed.
Last month, Hochul declared a state of emergency, allowing the Department of Health to stop non-urgent surgeries at hospitals with less than 10 percent of beds available.
RELATED: