All New York businesses will mandate masks indoors unless there's a vaccine requirement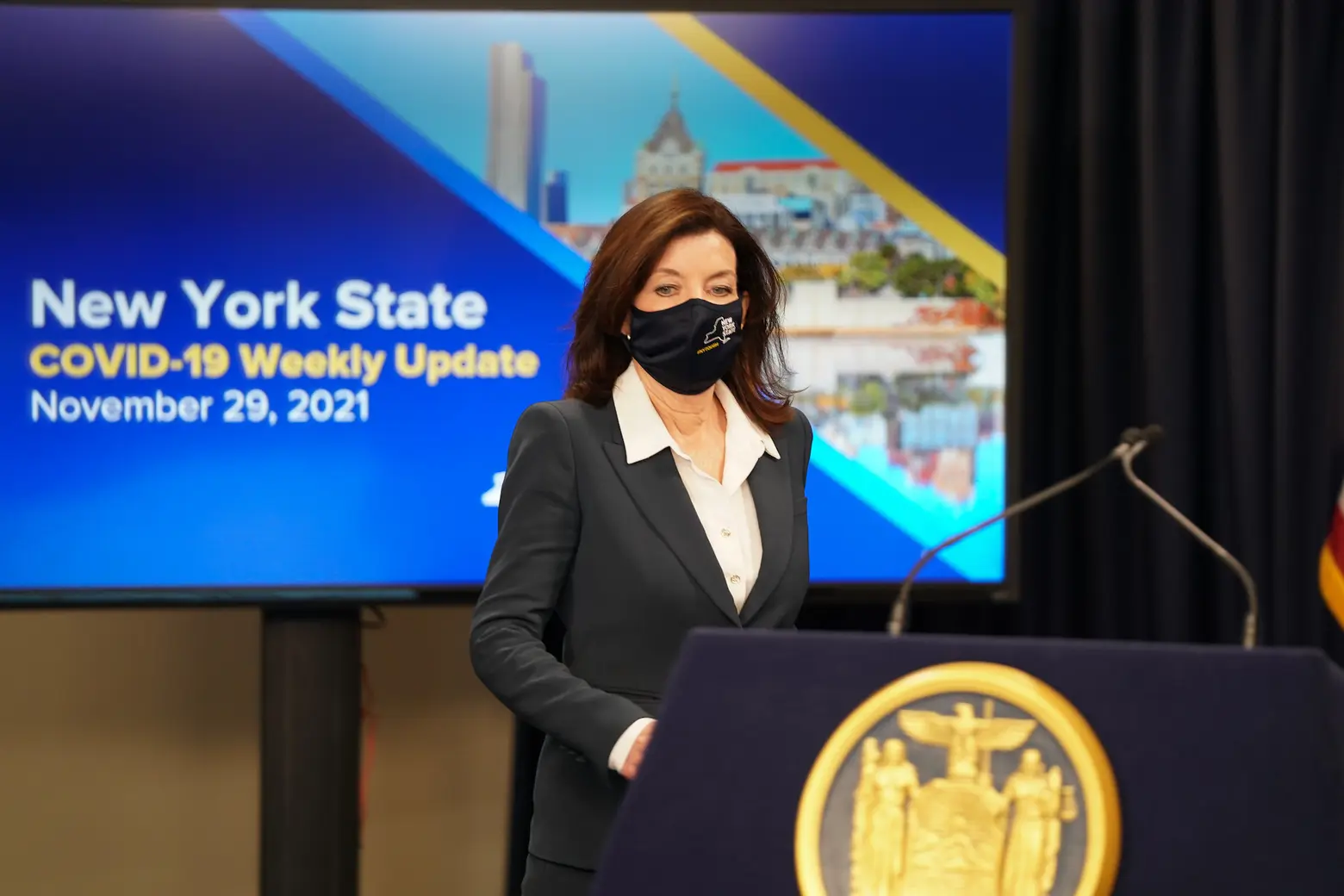 As coronavirus cases and hospitalizations rise statewide, Gov. Kathy Hochul on Friday announced a new mask requirement for all indoor public places in New York that don't require proof of vaccination for entry. The new measure comes as the state experiences a "winter surge." Since Thanksgiving, the statewide seven-day average case rate has jumped by 43 percent and hospitalizations have increased by 29 percent. "I have warned for weeks that additional steps could be necessary, and now we are at that point based upon three metrics: Increasing cases, reduced hospital capacity, and insufficient vaccination rates in certain areas," Hochul said in a statement.
The new measure applies to both patrons and staff of the business or venue. Businesses that do not comply are subject to a maximum fine of $1,000 for each violation; local health departments are being asked to enforce the new requirement.
The new statewide mask mandate will take effect on Monday, December 13 through January 15 of next year, seen as another protective measure as New Yorkers gather together during the holidays. After that, state officials will reassess the mandate.
"As Governor, my two top priorities are to protect the health of New Yorkers and to protect the health of our economy. The temporary measures I am taking today will help accomplish this through the holiday season," Hochul said in a statement. "We shouldn't have reached the point where we are confronted with a winter surge, especially with the vaccine at our disposal, and I share many New Yorkers' frustration that we are not past this pandemic yet."
"I want to thank the more than 80 percent of New Yorkers who have done the right thing to get fully vaccinated. If others will follow suit, these measures will no longer be necessary."
Since September, New York City has required proof of vaccination for most indoor activities, including dining inside restaurants, working out at the gym, and attending concerts and performances. The five boroughs continue to have the lowest rates of new cases and hospitalizations of most regions across the state.
While the new Omicron variant has been detected in New York, officials are attributing the rise in cases to the Delta variant. Last month, Hochul declared a state of emergency to prepare for the winter surge and the new variant. The order allows the Department of Health to stop non-urgent surgeries at hospitals with less than 10 percent of beds available.
Under the order, the Health Department can stop non-emergency procedures for hospitals or systems with limited capacity. These protocols will also be reevaluated by the state on January 15.
Roughly 90 percent of adults in New York have received at least one dose and just over 80 percent are fully vaccinated, according to the Centers for Disease Control and Prevention.
RELATED: