NYC to offer Covid vaccine at city schools for students ages 5 to 11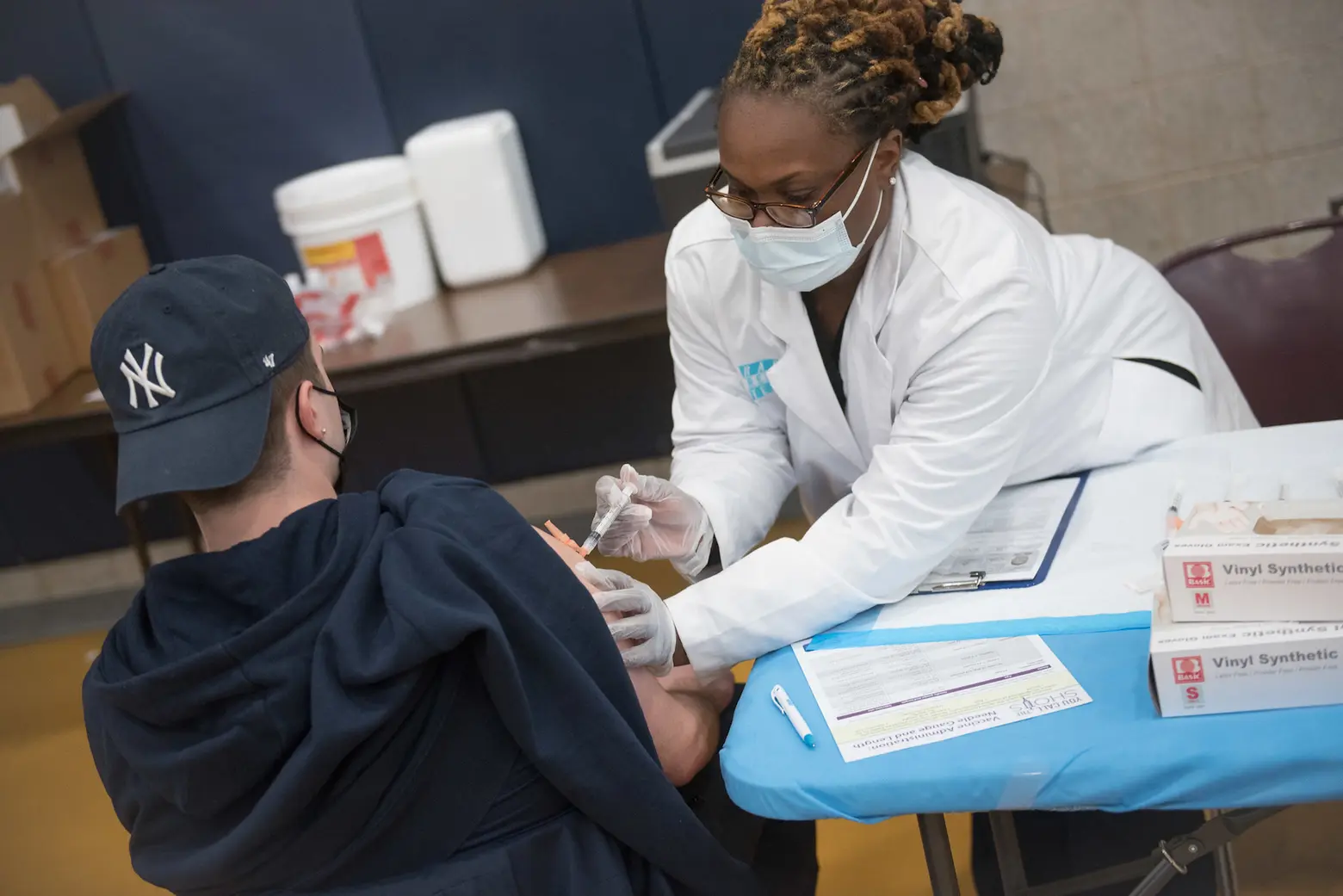 Photo: Michael Appleton/Mayoral Photography Office
With an official recommendation from the Centers for Disease Control and Prevention, children in the United States ages 5 to 11 can now get a Covid-19 vaccine. Mayor Bill de Blasio on Wednesday said the Pfizer vaccine will be available to young New Yorkers starting Thursday at city-run sites first, followed by other sites (like pharmacies and pediatricians' offices) in the coming days, pending final approval. To reach more children, the mayor announced some school sites will offer the first dose to eligible students during the month of November.
Starting Monday, November 8, some school buildings across the city will offer the first dose of Pfizer to students ages 5 to 11. There will be a day for each school to provide the vaccine beginning next week, with over 1,070 sites total. No appointment is necessary.
Students must be accompanied by a parent or legal guardian, or by an adult designated by the parent or guardian. Verbal consent from parents by phone at the time of vaccination will also be accepted.
The vaccines are free, do not require health insurance, and will be administered by trained medical professionals. The Pfizer vaccine dose, a third of the amount given to older children and adults, is a two-dose series given three weeks apart.
Find the list of schools, organized by borough, to find the location and date and time for getting students a vaccine here.
During his press briefing on Wednesday, De Blasio called it "a historic day in this city and our fight against Covid." The mayor said final approval is expected today, with vaccinations for children rolling out tomorrow.
Since September, 146 pop-up vaccination sites have opened as part of Gov. Kathy Hochul's #VaxtoSchool campaign to get more school-aged New Yorkers vaccinated. Find the current vaccination pop-up sites participating in the program here.
"Tonight's announcement is an important step in fighting this pandemic. New York State's Clinical Advisory Task Force unanimously agreed with the CDC. Next, the New York State Department of Health will issue guidance to the public," Hochul said in a statement Wednesday night following the CDC recommendation.
"I encourage parents to reach out to their pediatricians and prepare to get their children vaccinated. New York State has been making preparations for this moment, and we will waste no time to help get shots administered through all available channels so that we can protect our kids from COVID-19 and finally put an end to the pandemic."
For eligible New Yorkers, free booster doses are also available at state and city sites, as well as pharmacies, local health departments, clinics, and other locations across the state. To schedule an appointment or check a site's walk-in appointment hours, visit the state's Am I Eligible website or call 1-833-NYS-4-VAX. For city sites, head to vax4nyc.nyc.gov.
Third doses of Moderna and Pfizer vaccines have been available since mid-August for New Yorkers aged 12 and up who are immunocompromised.
RELATED: