New York City mandates Covid vaccinations for all public school teachers, staff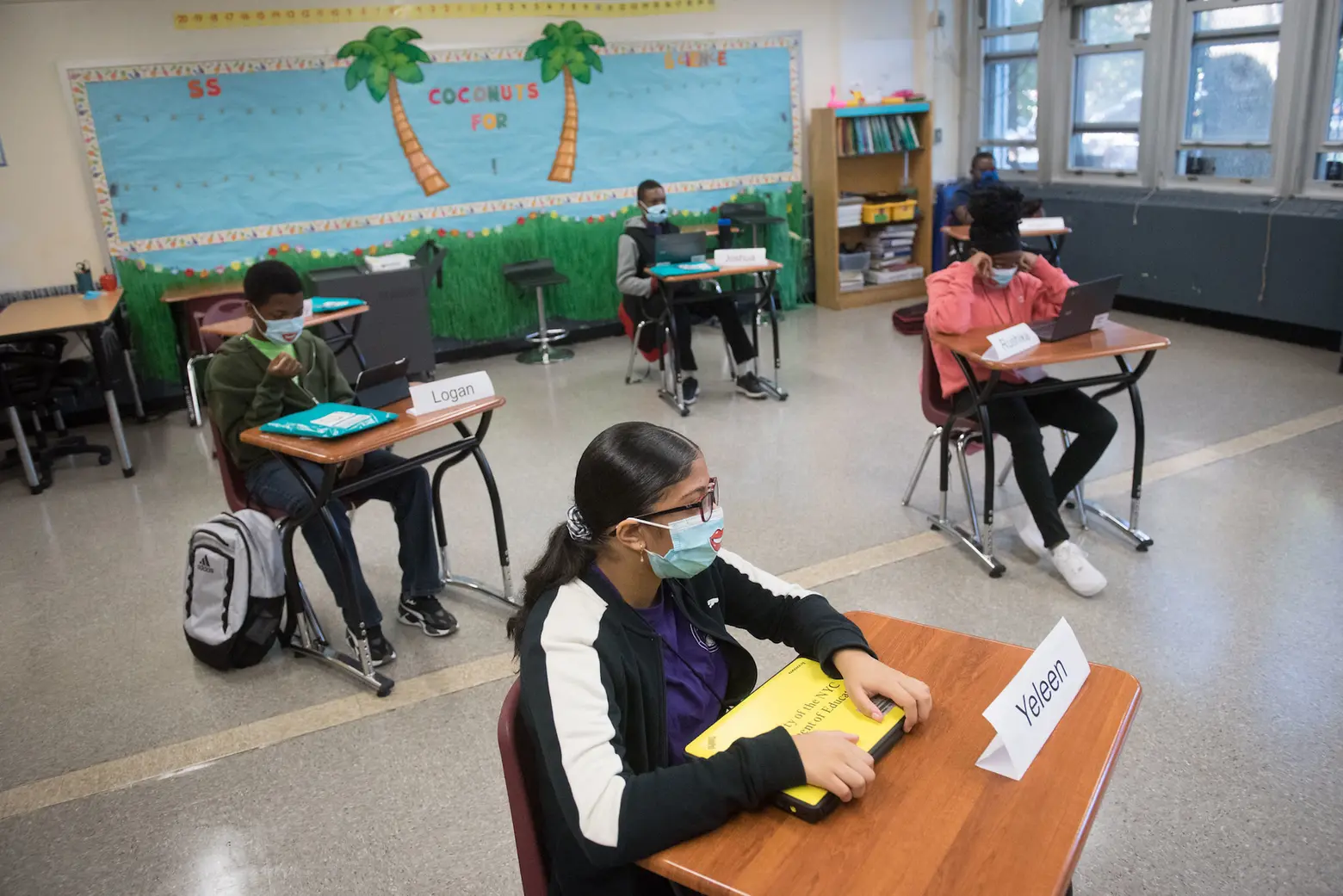 Photo: Michael Appleton/Mayoral Photography Office
New York City is requiring Department of Education employees to receive their first dose of the coronavirus vaccine by September 27, Mayor Bill de Blasio announced on Monday. The new mandate applies to the agency's 148,000 employees, including teachers, custodians, and central office workers and comes three weeks before the first day of school for the city's one million public school students. The policy takes away the option for DOE staff to submit for weekly testing instead of being vaccinated, which was part of a previous order announced last month.
According to NYC Schools Chancellor Meisha Ross Porter, 63 percent of DOE employees are currently vaccinated, although that figure does not include staff who received their shot outside of the city. Comparatively, over 75 percent of adults citywide have received at least one dose of the vaccine, as of last week.
The mandate comes as the U.S. Food and Drug Administration on Monday gave full approval to the Pfizer-BioNTech vaccine for individuals 16 years and older. The vaccine remains available under emergency use authorization for people 12 through 15 years of age and for third doses for certain immunocompromised individuals.
De Blasio on Monday said the city is now negotiating with the United Federation of Teachers about the implementation of the mandate as well as how this affects those with medical or religious exemptions and what the penalty will be for those who refuse to get vaccinated.
"Our first priority is keeping our kids safe and the schools open," Michael Mulgrew, president of the United Federation of Teachers, said in a statement. "The city's teachers have led the way on this issue, with the great majority already vaccinated. While the city is asserting its legal authority to establish this mandate, there are many implementation details, including provisions for medical exceptions, that by law must be negotiated with the UFT and other unions, and if necessary, resolved by arbitration."
The mayor has been committed to opening schools for all in-person, full-time instruction, despite the rise in the number of new Covid cases due to the contagious Delta variant. No remote option will be offered this school year.
On Friday, de Blasio announced there will be a vaccine mandate for all public high school athletes of high-risk sports and their coaches, with a first dose required by the first day of "competitive play." Sports included in the mandate include football, volleyball, basketball, wrestling, lacrosse, rugby, and bowling.
In addition to the vaccine mandate, other Covid safety measures include universal mask usage, physical distancing, health screenings, testing, and enhanced ventilation and sanitization of classrooms. The mayor on Monday said more details about the school's reopening will be released over the course of this week.
The DOE is the first city agency with a vaccine mandate, but de Blasio on Monday said there's a possibility a requirement could be in place for all city workers. Last month, he announced a new policy that requires all city workers would have to be vaccinated or submit to weekly testing. According to the New York Post, just 47 percent of NYPD employees are fully vaccinated as of this week.
RELATED: