New York rolls out Covid-19 booster shot plan, launches new website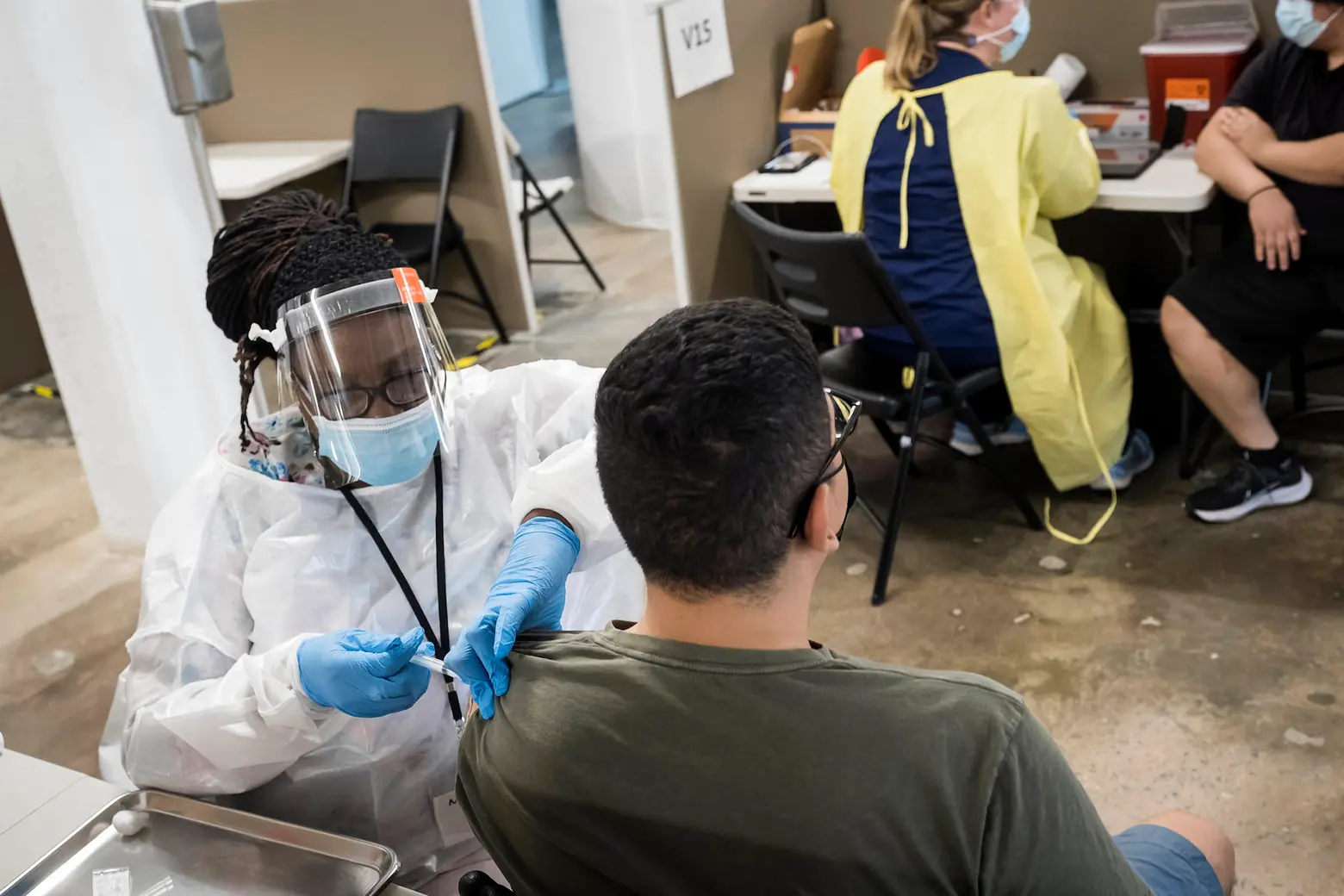 Credit: Ed Reed/Mayoral Photography Office
With an amended emergency use authorization from the U.S. Food and Drug Administration last week, certain groups of people are now eligible for a booster dose of the Covid-19 vaccine. On Monday, Gov. Kathy Hochul announced a plan to vaccinate New Yorkers who qualify for a booster dose and rolled out a new website with dedicated information about the additional dose. Booster doses are currently only approved for those who received the Pfizer-BioNTech vaccine and should be administered at least six months after their second dose.
A booster shot is recommended for New Yorkers who received the Pfizer vaccine at least six months ago and who are:
65 years and older or residents in long-term care settings.
50 to 64 years of age with underlying medical conditions.
18 to 49 years with underlying medical conditions.
18 to 64 years and are at increased risk for COVID-19 exposure and transmission because of your occupational or institutional setting (this includes frontline workers like public transit workers, grocery store workers, teachers, first responders, U.S. Postal service workers, and others)
Those who got either the Moderna or Johnson & Johnson vaccine are not yet eligible for a booster shot, but will likely be in the near future.
"As we've heard from our federal and State medical and health experts, as with many other vaccines, the protection from the COVID-19 vaccine can wane over time. A booster dose of the COVID-19 vaccine will help particularly at-risk New Yorkers stay protected from the virus for longer," Hochul said in a statement.
"While the focus of our vaccination effort remains ensuring all unvaccinated New Yorkers get vaccinated, those who are booster eligible should waste no time receiving maximum protection from COVID-19 as soon as possible."
On Monday, Hochul launched a new website that lays out what you need to know about booster doses, third doses, who qualifies, frequently asked questions, as well as an option to book an appointment at a state site. The state will also be reaching out to booster-eligible New Yorkers through email, text, and other marketing methods.
According to the state, you should bring your original CDC Covid-19 vaccination card to your appointment so the booster dose can be recorded.
All state mass vaccination sites and city-run hubs are open for free booster shots for those eligible. Doses are also available at pharmacies, local health departments, clinics, and other locations across the state. To schedule an appointment or check a site's walk-in appointment hours, visit the state's Am I Eligible website or call 1-833-NYS-4-VAX. For city sites, head to vax4nyc.nyc.gov.
Third doses of Moderna and Pfizer vaccines have been available since mid-August for New Yorkers aged 12 and up who are moderately to severely immunocompromised.
New Yorkers with the following conditions or treatments qualify for a third dose now:
Active treatment for cancer
Received an organ transplant and are taking immunosuppressive therapy
Received a stem cell transplant within the past two years
Moderate or severe primary immunodeficiency
Advanced or untreated HIV
Active treatment with a high dose of corticosteroids or other drugs that moderately or severely weaken your immune system
As of Monday, over 80 percent of adults in the state of New York have received at least one dose of the vaccine, compared to 77 percent nationally. President Joe Biden received his booster shot publicly on Monday and pushed for those who remain unvaccinated to get their shot.
"Please, please do the right thing," Biden said before getting his booster shot. "Please get these shots. It can save your life and it can save the lives of those around you."
RELATED: