NYC sues illegal Airbnb operator who earned $2M and deceived thousands of guests since 2018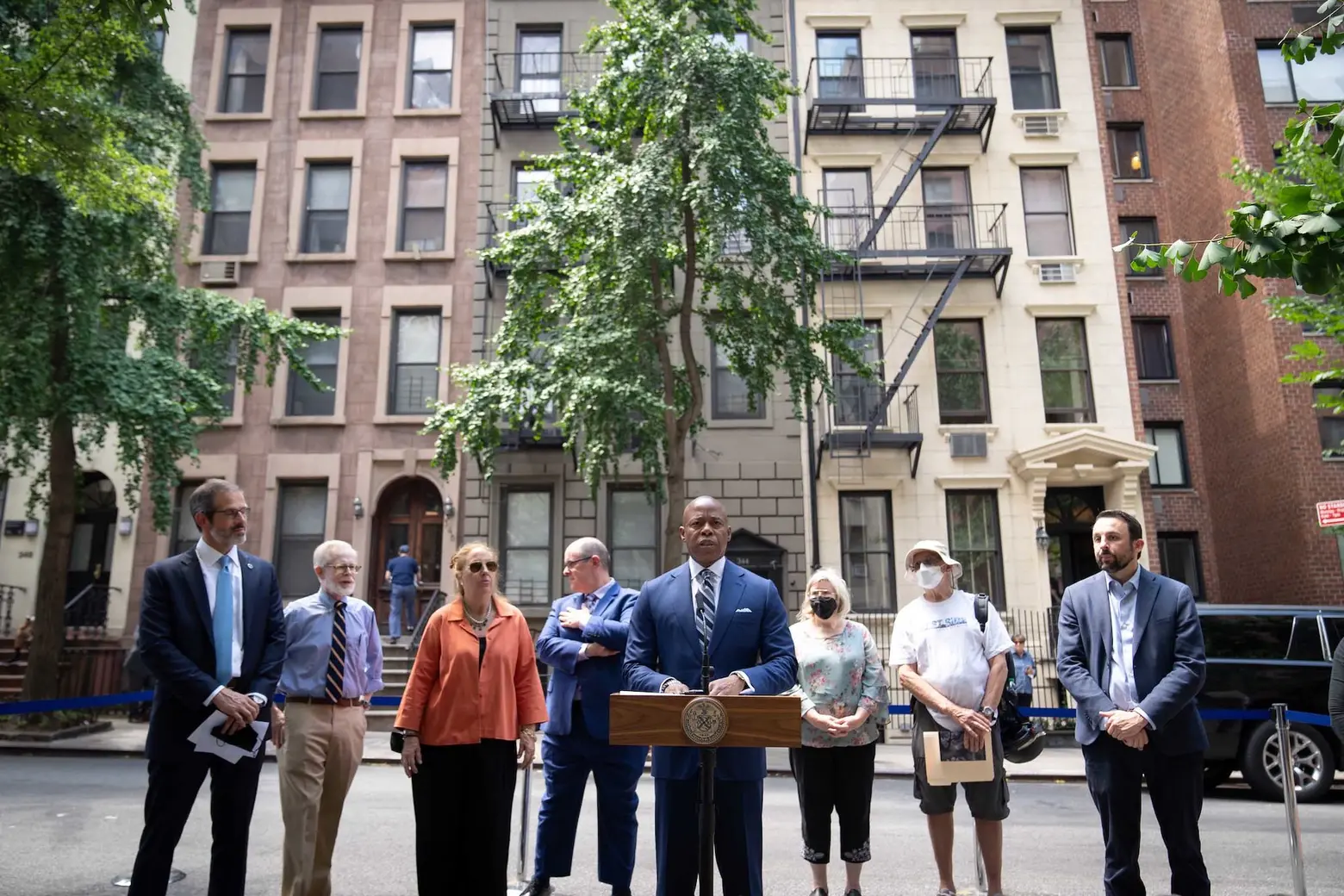 Photo Credit: Ed Reed/Mayoral Photography Office on Flickr
New York City is suing an operator of an illegal short-term rental in Midtown East who officials say ran more than 78 Airbnb listings and "deceived more than 6,500 guests." According to the lawsuit, announced on Tuesday by Mayor Eric Adams, Arron Latimer, a licensed broker, Apex Management, and Esther Yip, used several limited liability corporations to run a short-term rental operation at 344 East 51st Street in Turtle Bay. The lawsuit is the first under a new city law that requires short-term rental platforms to regularly report data on listings and their hosts.
According to the city, Airbnb disbursed $2 million in payments to Latimer for short-term rentals at six buildings throughout the city between January 2018 and March 2022. Latimer earned $987,729 from the East 51st Street building targeted in the lawsuit.
Over the four-year period, the operator used more than 26 different host accounts, operated more than 78 listings, conducted more than 2,200 transactions, and "deceived" more than 6,500 guests.
The lawsuit, which seeks a court injunction to shut down the operation, also alleges Latimer intentionally misled guests, potentially violating the city's consumer protection law, and did not keep rentals clean, with reports of "mold, soiled linens, and blood stains."
For years, the city has attempted to crack down on short-term rentals that operate for 30 or fewer days without a permanent tenant present, claiming these listings take rent-regulated and long-term rentals off the market because landlords can profit more from short-term rentals.
A law signed by Mayor Bill de Blasio in 2018 required Airbnb and other home-sharing sites to provide data on the listing, the transaction, and information on the host. Airbnb sued the city over the new law shortly after, claiming it is an "extraordinary act of government overreach." A settlement was reached in June 2020. A separate law requiring hosts of rentals to register with the city will take effect in January.
"For years, Arron Latimer and the other defendants used fake host profiles on popular sites like Airbnb to deceive and lure unsuspecting guests into paying for substandard lodging at illegal rental listings. Not only did they unlawfully pocket millions, but they endangered guests and deprived New Yorkers of an entire building's worth of long-term housing," Adams said.
"Today, we are sending a clear message that this kind of lawlessness will not be tolerated in our city. We are not going to stand by while shady brokers use illegal listings and fake host accounts to skirt the law and defraud consumers."
According to a spokesperson for Airbnb, the platform previously sent a cease and desist letter to Latimer and removed all associated accounts.
"Airbnb banned the Host in question months ago, and we commend Mayor Adams for taking swift action on illegal hotel operators who flout the rules," Nathan Rotman, Airbnb Public Policy Regional Lead, said in a statement provided to 6sqft.
"Airbnb currently shares information with the City, and looks forward to working with the City and State to build an effective and transparent regulatory framework to differentiate between the responsible Hosts who should be protected under the law and operators of properties like this who have no place on our platform."
More lawsuits filed by the city against illegal hosts are likely on the way, Adams said. As the New York Times reported, the city's Office of Special Enforcement estimates about 13,000 Airbnb listings were for illegal short-term rentals that were regularly rented.
Stopping illegal hotel operations is one way the Adams administration is addressing the city's current housing crisis. Early this year, Adams announced plans to convert a former illegal hotel on the Upper West Side into housing for homeless and low-income residents. And last month, a hotel that also operated illegally opened a housing lottery for 53 affordable homes for seniors.
"During the present housing crisis of both limited stock and increasing rents, we applaud the mayor, the administration, and OSE for their tireless work to maintain and support vital housing for New Yorkers," Tom Cayler, chair, Coalition Against Illegal Hotels, said.
"Both the reporting law of 2018, and the yet-to-go-into-effect registration law of 2021 will help the city return apartments previously used as illegal hotels. The mayor's commitment to this vital work should be a bellwether to all illegal short-term operators: Stop breaking our laws!"
Editor's note: This article has been updated to include a response from Airbnb regarding the lawsuit.
RELATED: