De Blasio's open street pilot gets extended through Sunday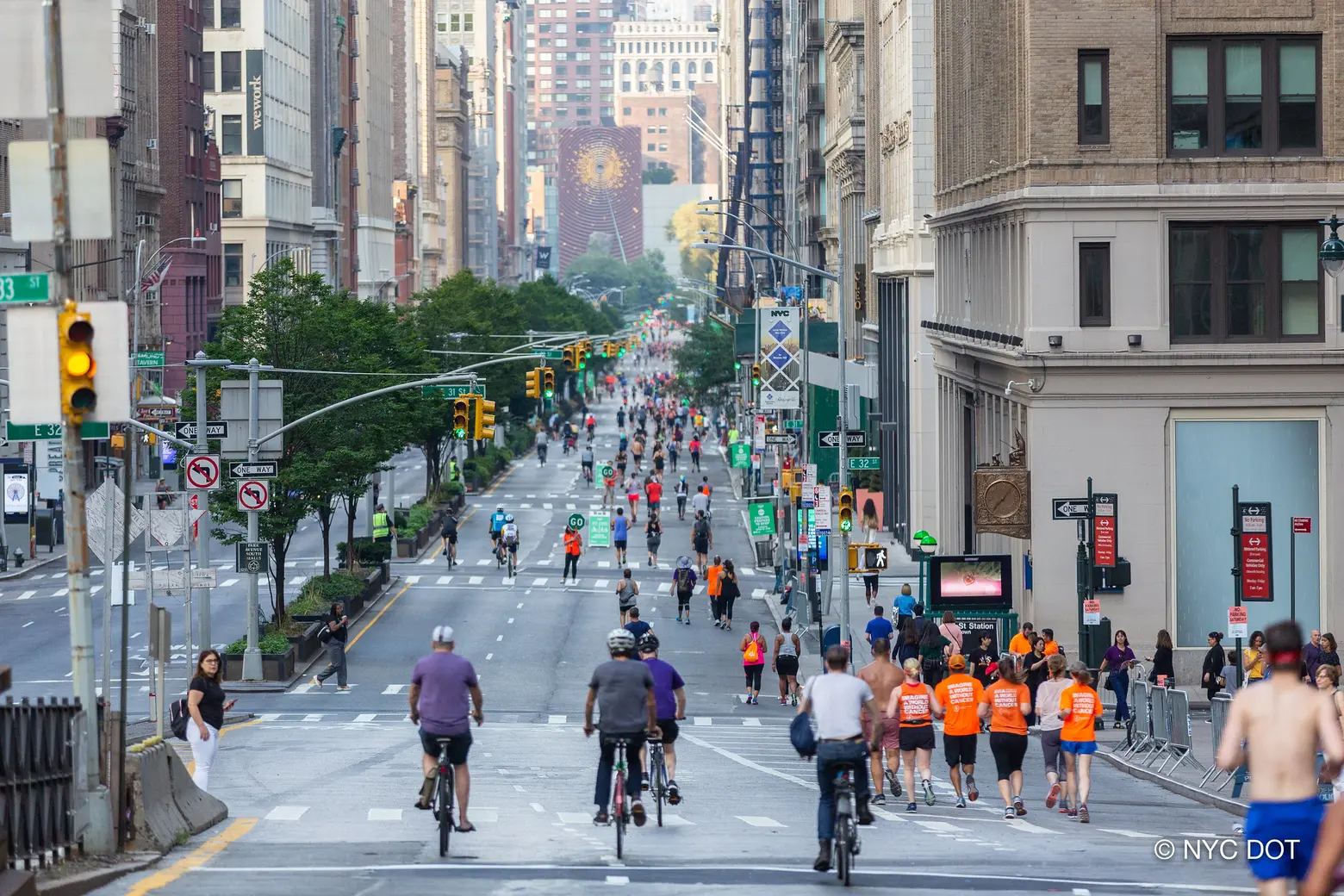 After receiving pressure from both Governor Cuomo and City Council Speaker Corey Johnson to close some streets to vehicular traffic in an effort to give New Yorkers more outdoor space to exercise, Mayor de Blasio finally launched a Safe Streets pilot from Friday, March 27, to Monday, March 30 that included a roughly six-block stretch in Manhattan, Brooklyn, Queens, and the Bronx, totaling 1.6 miles of the city's 6,000 miles of roads. Today, the Mayor's office announced that they'll be extending the pilot program through Sunday, April 5th with the same hours of 10am-7pm.
Two weeks ago, City Council Speaker Corey Johnson first floated the idea of closing some NYC streets to cars in order to create more available open space for New Yorkers during the coronavirus crisis. And after witnessing far too many New Yorkers ignoring social distancing rules in parks, Governor Cuomo called on Johnson and Mayor de Blasio to deliver him a plan within 24 hours that outlined how they'd curb this public density. The Mayor remained curiously cavalier on the subject, but on last week, he finally agreed to close "up to two streets" per borough, which is not quite what Speaker Johnson and transportation advocacy groups had called for.
In an earlier Tweet, Speaker Johnson said, "Parks should only be used for exercise. Playgrounds, volleyball courts, basketball courts, handball courts and other similar spaces should be closed. We must identify streets to close to cars ASAP to reduce density and use for exercise like we do for Summer Streets Program."
In a press conference last Tuesday, Mayor de Blasio said, "Everyone wants to make sure there are spaces for folks to get their exercise, to get fresh air… Every site can and will be enforced by the NYPD and other agencies. That obviously underlies our entire approach."
His pilot program closes the following stretches every day from 10 a.m. to 7 p.m.:
Manhattan: Park Avenue, between 28th Street and 34th Street
Brooklyn: Bushwick Avenue, between Johnson Avenue and Flushing Avenue
Queens: 34th Avenue, from 73rd Street to 80th Street
The Bronx: Grand Concourse, between East Burnside Avenue and 184th Street
The short swaths and omission of Staten Island come as a surprise as the Mayor had earlier this week said he was considering "up to two streets" per borough. In an email to the Post after the initial announcement, mayoral spokeswoman Jane Meyer said, "Additional sites are being considered for this initial pilot and will be announced when details are finalized. These current locations will be re-evaluated for continued public access."
According to Streetsblog, the Mayor was reluctant to expand the program too soon because it was all dependent on the NYPD officers monitoring the streets and enforcing social distancing.
Editor's Note: This story was originally published on March 24, 2020, and has been updated with new information.