NYC public libraries reopen 22 branches for grab-and-go service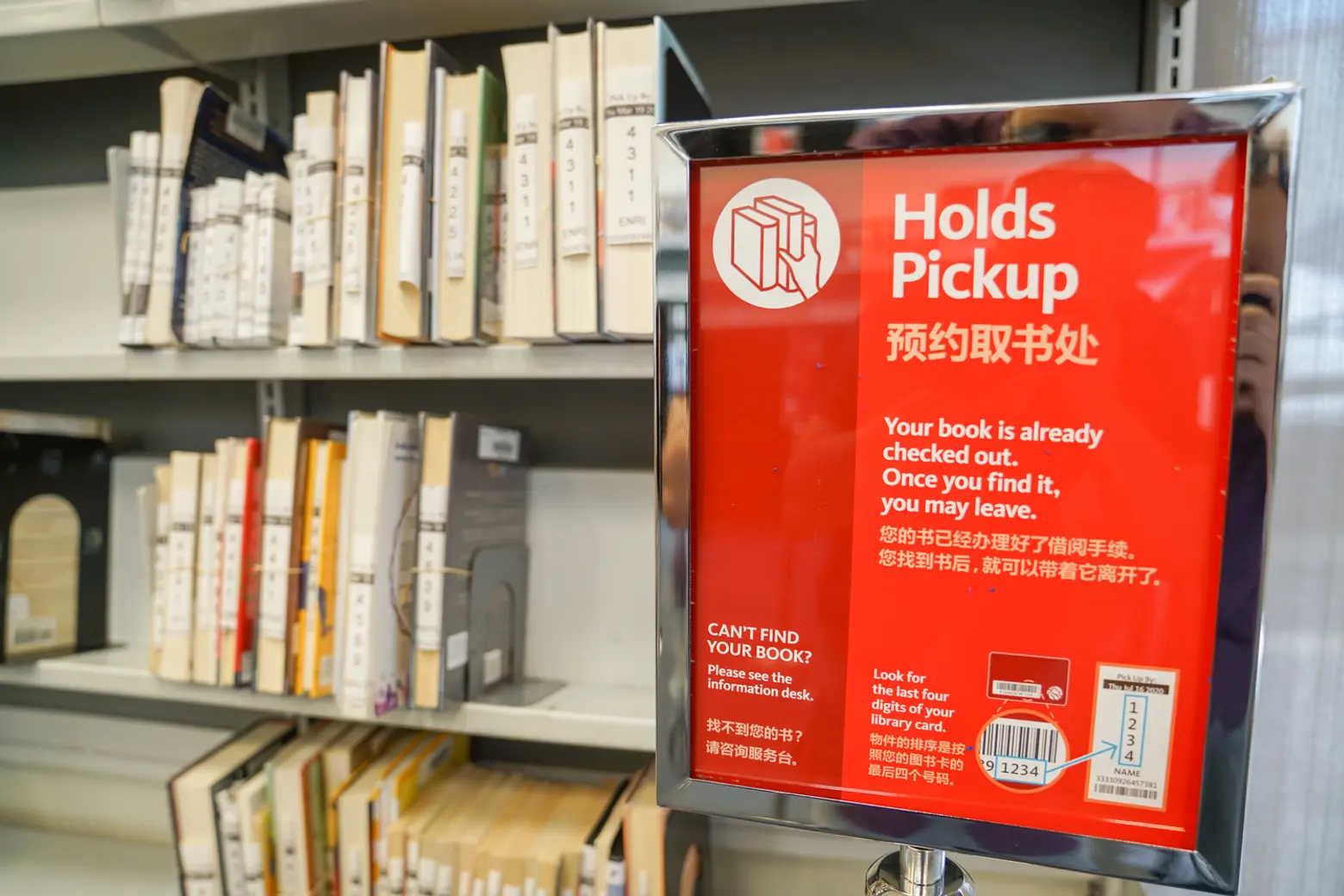 Photo of Todt Hill-Westerleigh branch; credit: Jonathan Blanc / NYPL
New York City's public libraries on Monday opened 22 branches for limited grab-and-go service as part of a phased reopening process. The joint plan involves a gradual reopening of physical locations in stages, with seven to eight branches opening for contactless pickups and book returns to start. All libraries were forced to close in March because of the coronavirus pandemic.
In the first phase of reopening, library patrons will be able to access lobbies for contactless pickups of holds and book returns. Patrons and staff members at all opened libraries must wear face coverings and maintain distance from others. All branches have been thoroughly cleaned prior to reopening.
The Brooklyn Public Library will also offer "on-demand book service," where a staffer will retrieve a book from inside for checkout if available. According to an update from BPL, the next phase includes giving patrons access to the first floor for browsing, self-service kiosks, restrooms, and the census computer terminal. Following that, the first and second floors would be able to open, as well as regular check-outs and returns. There are no set dates for when these second phases are expected.
Hours at the Brooklyn libraries will be 10 a.m. to 4 p.m. on Monday, Wednesday, Friday, and Saturday, and 1 p.m. to 7 p.m. on Tuesday and Thursday. The BPL branches opening on July 13 include the following: Bay Ridge, Bushwick, Kings Highway, Central, New Lots, Flatbush, and Red Hook.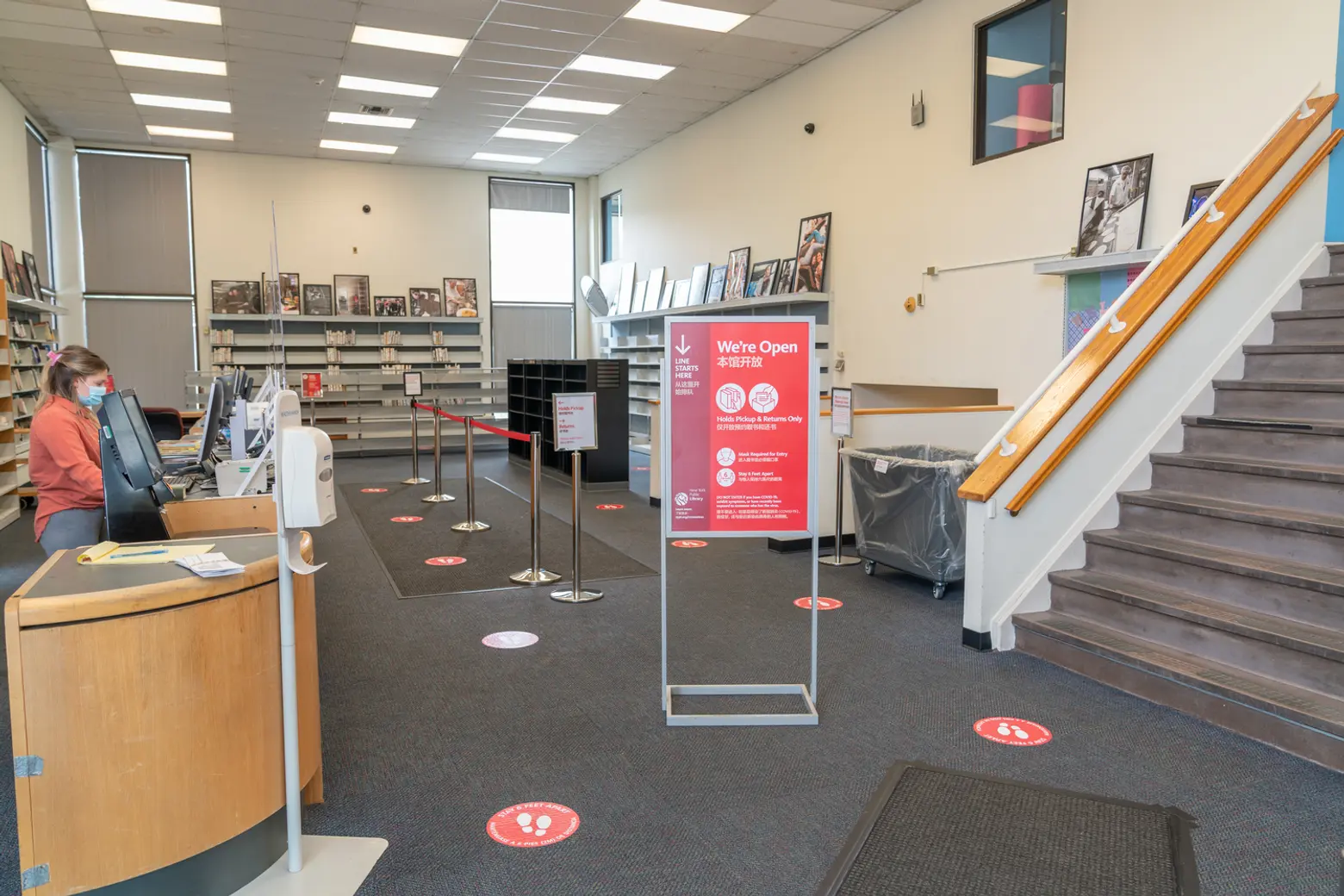 Photo of Todt Hill-Westerleigh branch; credit: Jonathan Blanc / NYPL
New York Public Library will open with eight branches to start with curbside book pickup only. Patrons can place holds online and then pick them up and return them at open locations. Additional branches will be gradually opened, with eventually more "on-site use," like computers, allowed to restart.
Patrons of NYPL can find step-by-step instructions on how to place holds for books online and details on what to expect when picking them up at a branch, here.
NYPL branches (which includes the Bronx, Manhattan, and Staten Island) hours will be 11 a.m. to 6 p.m. on Monday, Tuesday, and Thursday, 12 p.m. to 7 p.m. on Wednesday, and 11 a.m. to 5 p.m. on Friday and Saturday. The Stavros Niarchos Foundation Library will be open 10 a.m. to 6 p.m. Monday through Friday, and 11 a.m. to 5 p.m. on Saturday.
The NYPL branches opening on July 13 include the following: George Bruce, Epiphany, the Stavros Niarchos Foundation Library, Belmont, Francis Martin, Parkchester, Richmondtown, and Todt Hill-Westerleigh.
Queens branches will follow similar guidance, reopening seven branches for to-go service at designated areas in each building. Nine additional locations (Astoria, Cambria Heights, Central, Flushing, Jackson Heights, Queensboro Hill, Rego Park, Ridgewood, and South Ozone Park) will accept returns around the clock, seven days a week.
Hours at QPL will be 10 a.m. to 5 p.m. on Monday, Wednesday, Friday, and Saturday, which will close from 1 p.m. to 2 p.m. for cleaning, 1 p.m. to 5 p.m. on Tuesday, and 12 p.m. to 7 p.m. on Thursday, with another one-hour closure from 3 p.m. to 4 p.m. for cleaning.
The QPL branches opening on July 13 include the following: Bayside, Bellerose, East Elmhurst, Kew Gardens Hills, Laurelton, Long Island City, and Peninsula.
Libraries will follow safety guidelines from the Center for Disease Control and Prevention and the American Library Association regarding the handling of materials. Returned books will be quarantined off-site for 72 hours before reentering circulation, staff members will be provided gloves and masks, and EPA-certified cleaning products and hand sanitizer will be available at all branches.
Plus, floor decals and signs will be installed to provide guidance on social distancing for upcoming reopening phases. Desks and tables will be set up to allow patrons to maintain distance.
RELATED: 
Editor's Note 7/13/20: This story was originally published on June 4, 2020, but has been updated with information on the libraries' reopening plans.