NYC's proposed outdoor dining rules ban enclosed structures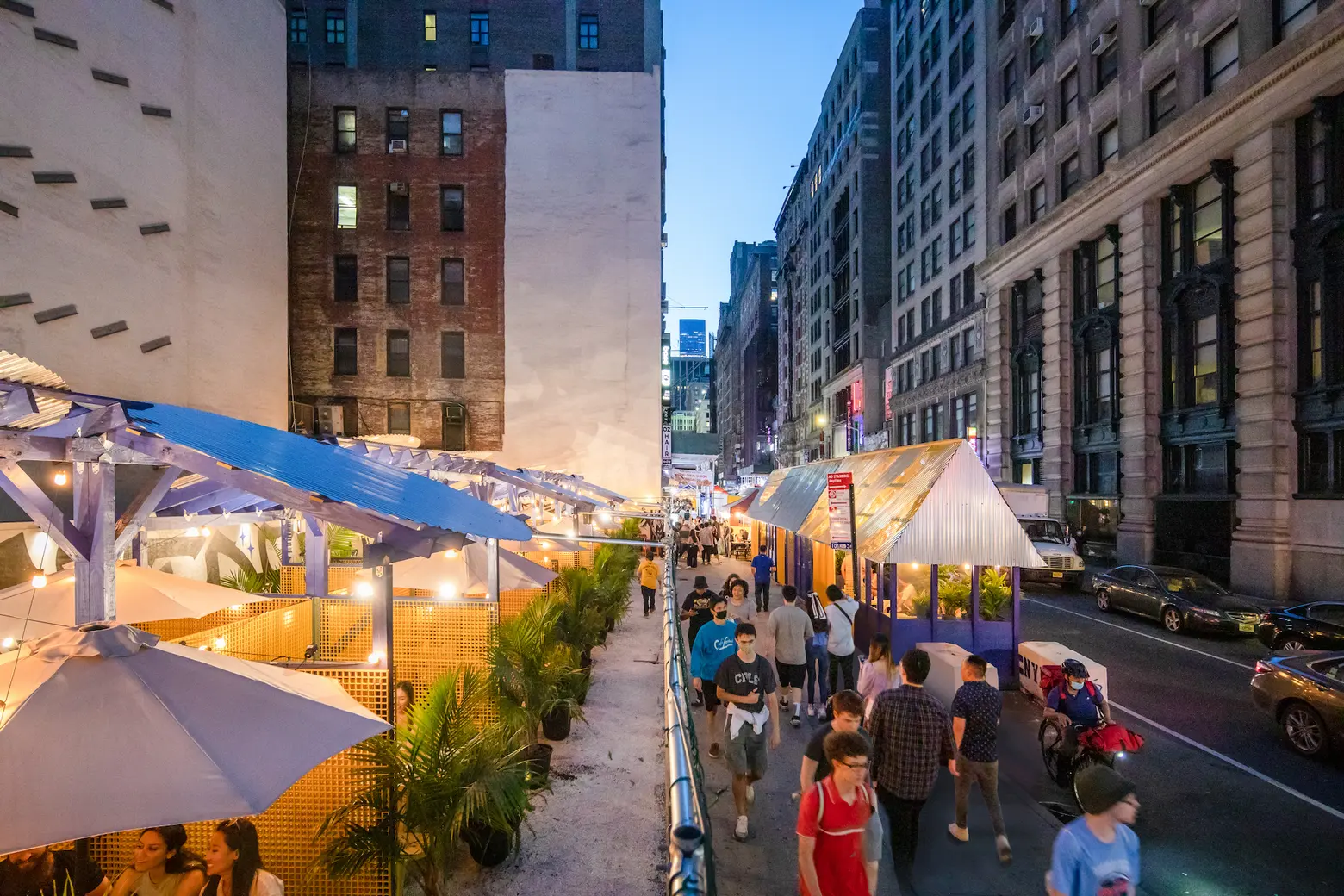 The outdoor dining shed at Maiden Korea, 316 5th Avenue, in 2021. Photo courtesy of Alfresco NYC.
The city wants to shed its outdoor dining shacks. Under draft rules for the permanent outdoor dining program released by the city on Thursday, fully enclosed "streeteries" would no longer be permitted. Instead, structures on roadways can have umbrellas, awnings, or some other covering that can easily be removed. The city on Thursday launched a 30-day comment period to get feedback from restaurants and the public on the proposed rules. The first approved outdoor dining setups are expected to be installed in spring 2024.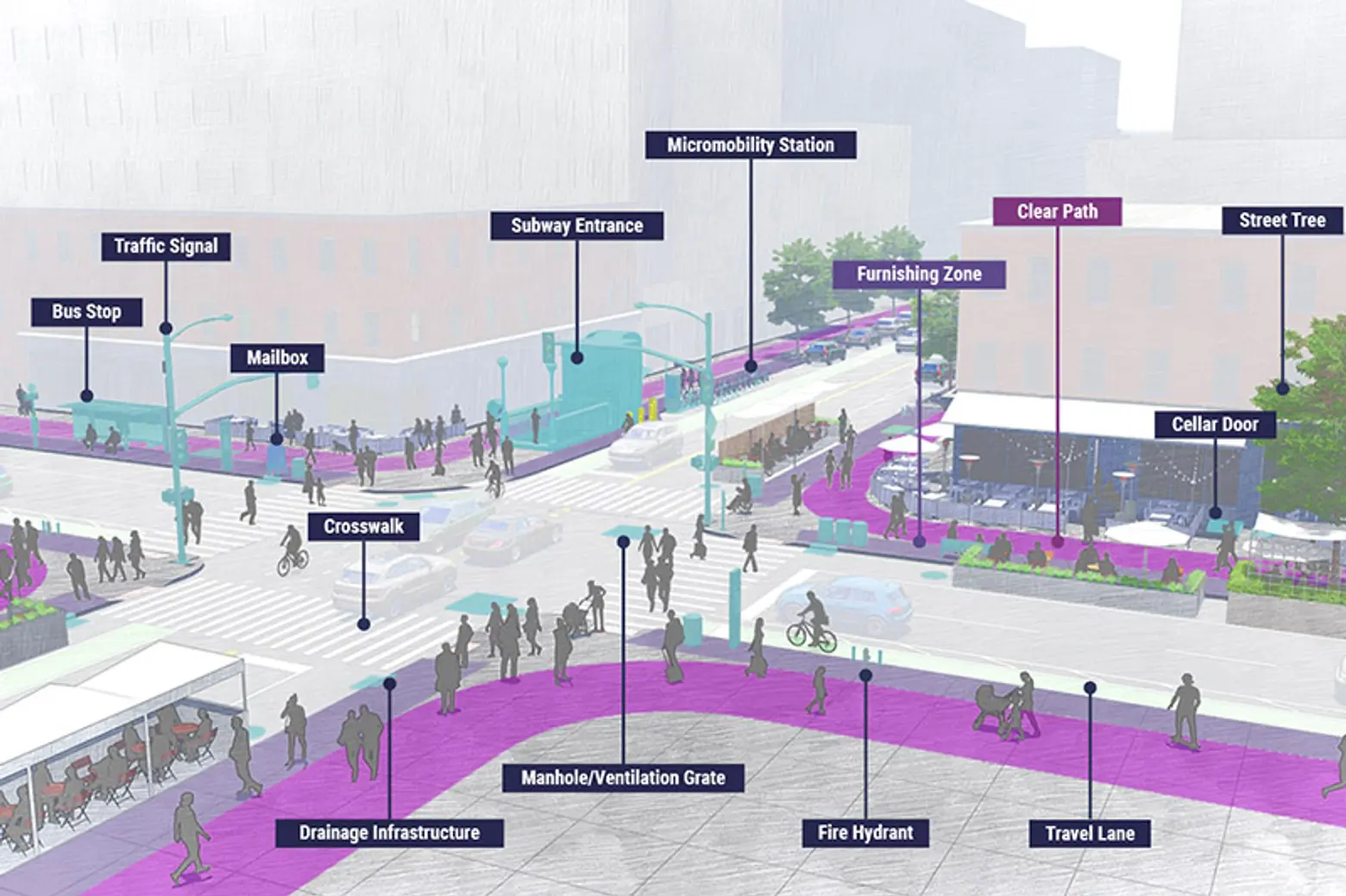 In May, Adams and the City Council reached a deal on legislation that would make outdoor dining a permanent fixture of city life following its success as a pandemic-era measure.
"Outdoor dining saved 100,000 jobs in New York City during the pandemic and gave the five boroughs something New Yorkers had been craving for a long time, and now, thanks to this program, it is here to stay," Mayor Eric Adams said.
"Our vision for the program will be developed in close partnership with restaurant owners, diners, and communities, and I am confident it will be a win for our entire city. We are taking the lessons of the temporary pandemic-era program – what worked, what didn't, and what we can improve – and assemble the ingredients for the nation's largest and best outdoor dining program. This public engagement period will allow us to refine the recipe and deliver a delicious final product."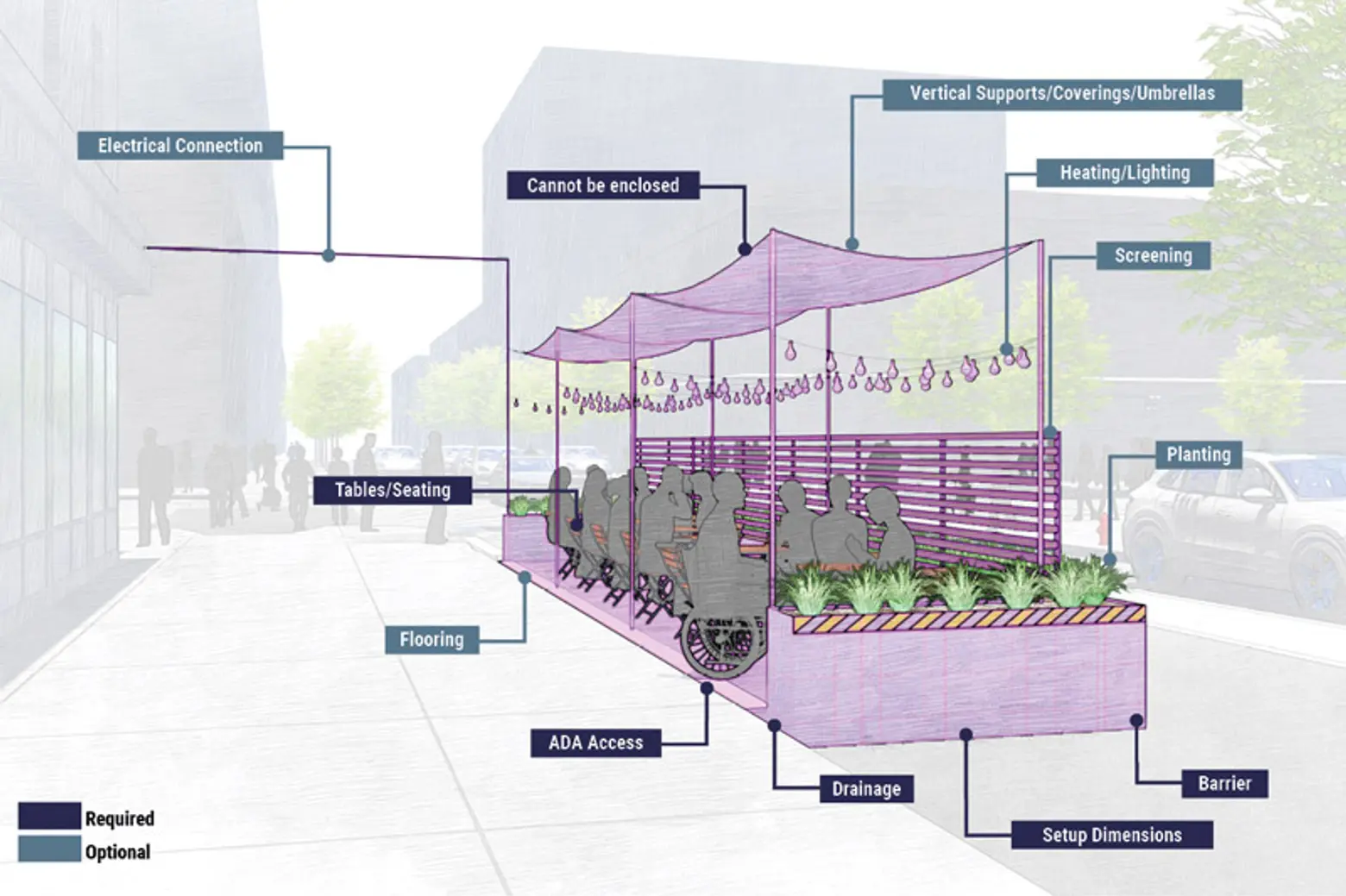 Under the new program, the dining structures on city streets will be prohibited between November 30 and March 31. The program established in 2020 did not have any seasonal restrictions. Dining set-ups on sidewalks will be allowed all year.
The draft rules released this week set clear guidelines for how dining sheds should look and where they should be installed in relation to sidewalk fixtures like fire hydrants, street plantings, bus stops, mailboxes, drainage infrastructure, and subway entrances. The city also wants to require outdoor dining setups on streets to have a water-filled, rat-resistant protective barrier to prevent rodent infestations.
The guidelines are designed to create a significantly more lightweight dining shed. Outdoor dining areas will longer be able to have enclosed roofing, and all sheds must use easily moveable furniture and coverings.
In an interview with Streetsblog, Jim Morrison, the owner of The Exley bar in Williamsburg, expressed concern over how inclement weather would affect outdoor dining under the new rules. "These are going to be ramshackle things with crappy tops on them, which are going to be as unsightly and as rat filled as anything that was before," Morrison told the website.
"They're going to be stuff that blows around in the storm. What's that going to look like with a tarp or an umbrella?"
Restaurant owners will have to pay a fee to install dining infrastructure, with rates varying based on location and size. However, the costs will be lower than they were during the city's previous program.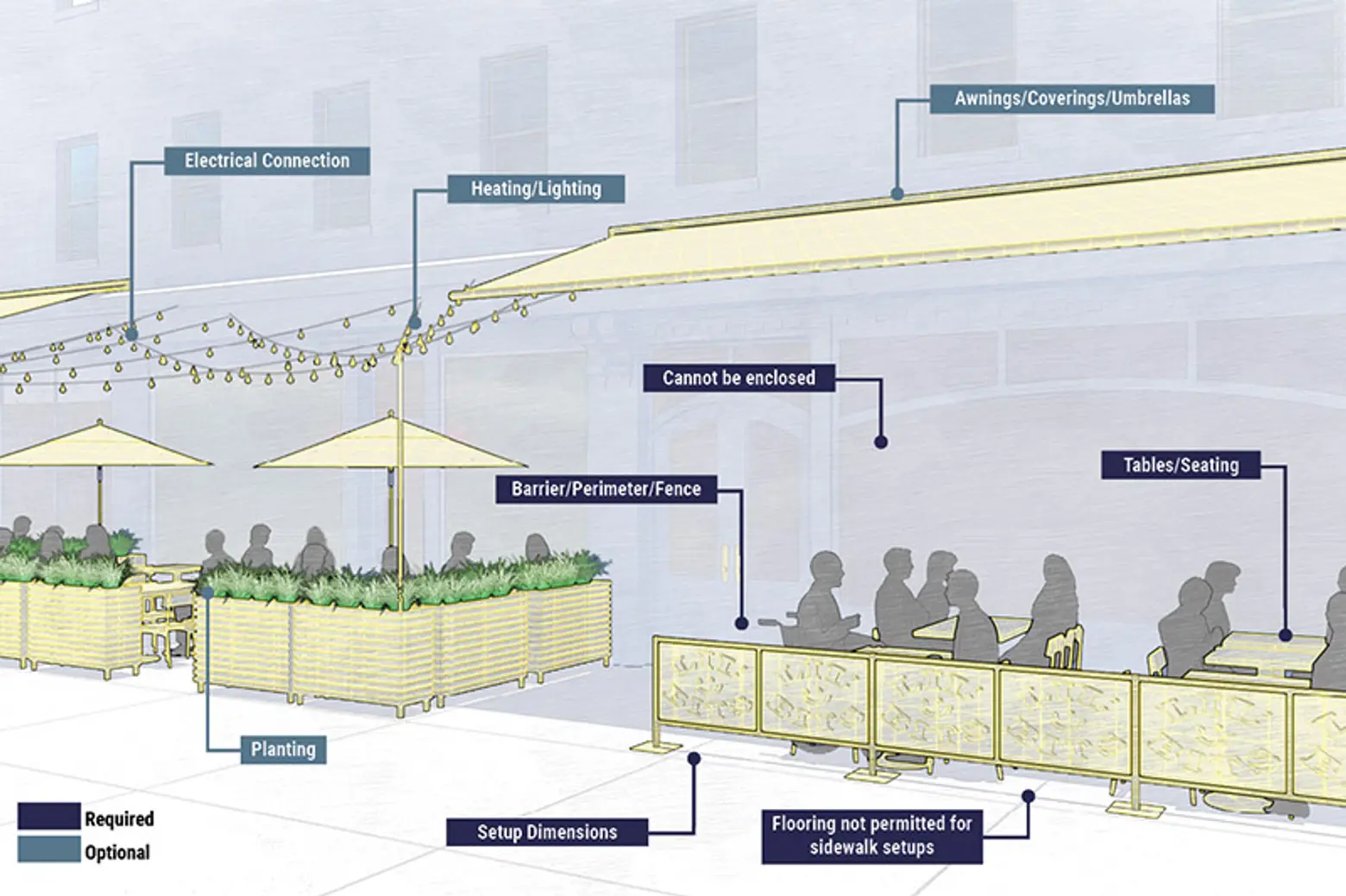 A 100-square-foot sidewalk cafe in Lower Manhattan will cost about half as much on a yearly basis as it would've cost during the city's previous programs, according to an official press release.
The public can provide written comments on the proposed rules online or attend a virtual public hearing on Monday, November 20, 2023, at 10:00 a.m. To sign up to speak at the hearing, email [email protected].
Once the new rules are established, DOT will launch an online application portal where restaurants can apply to the program. A restaurant's setup will need to comply with the new rules within 30 days of their application's approval.
RELATED: