The NYC Marathon returns this November at 60% capacity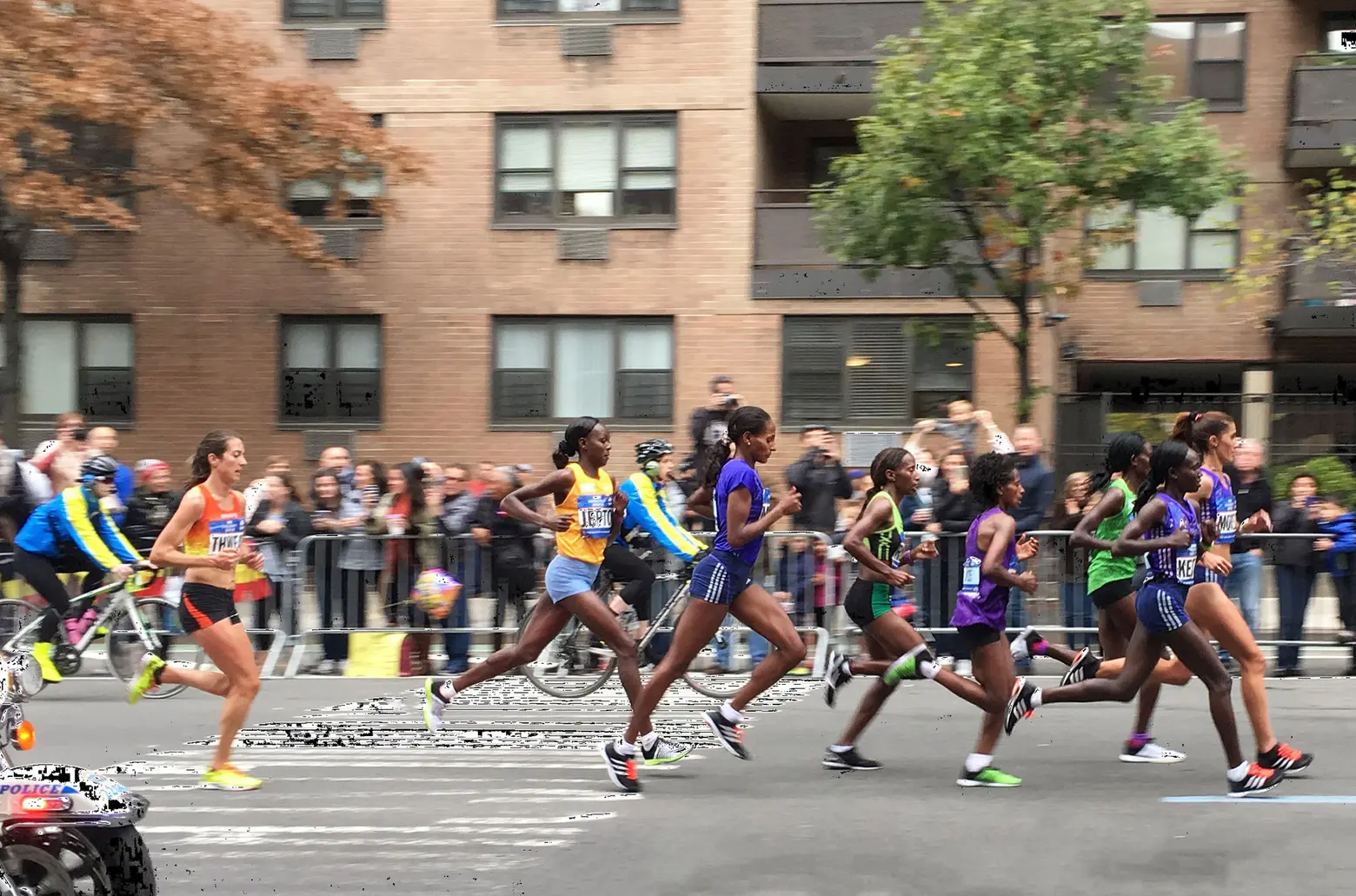 The lead female runners at 81st Street and 1st Avenue in 2015, photo © 6sqft
Runners, take your mark. The annual New York City Marathon will be held this fall after last year's event was canceled because of the coronavirus pandemic. Gov. Andrew Cuomo on Monday announced the world's largest marathon will take place on November 7, the 50th running of the race. Participation will be limited to 60 percent capacity, or 33,000 runners, according to the governor.
"The Marathon is back," Cuomo said during a press briefing on Monday. "That is a great, great New York event that excites people all across the globe."
Health and safety guidelines will be in place, including social distancing and the elimination of touchpoints. Runners should also be "prepared to provide a negative COVID-19 test result or proof of a complete vaccination series prior to running in the marathon," according to a press release from New York Road Runners.
When registration opens on June 8, only 33,000 runners will be allowed to sign up. However, according to Cuomo, the capacity restrictions could change before the race, allowing more participants to register.
Runners who registered for the 2020 marathon were given the option to receive a full refund of the entry fee or a complimentary entry for the 2021, 2022, or 2023 NYC Marathon. According to the NYC Marathon, 54 percent of the 30,000 runners who registered for last year's event prior to the cancellation chose to run this year's race.
What began in 1970 as a race of about 100 runners in Central Park, has grown to become the largest marathon in the world, with 50,000 runners from around the world participating. As 6sqft previously noted, the event generates over $400 million for New York and is a huge boost for tourism.
"This will be an unprecedented and historic year for the TCS New York City Marathon as one of the most iconic New York sporting events makes its return," Ted Metellus, Race Director, TCS New York City Marathon, said in a press release. "As we stage a safe and memorable race for the 50th running, this year's marathon will showcase our great city's strength, inspiration, and determination."
RELATED: