New York City buys Downtown Brooklyn's abolitionist rowhouse for $3.2M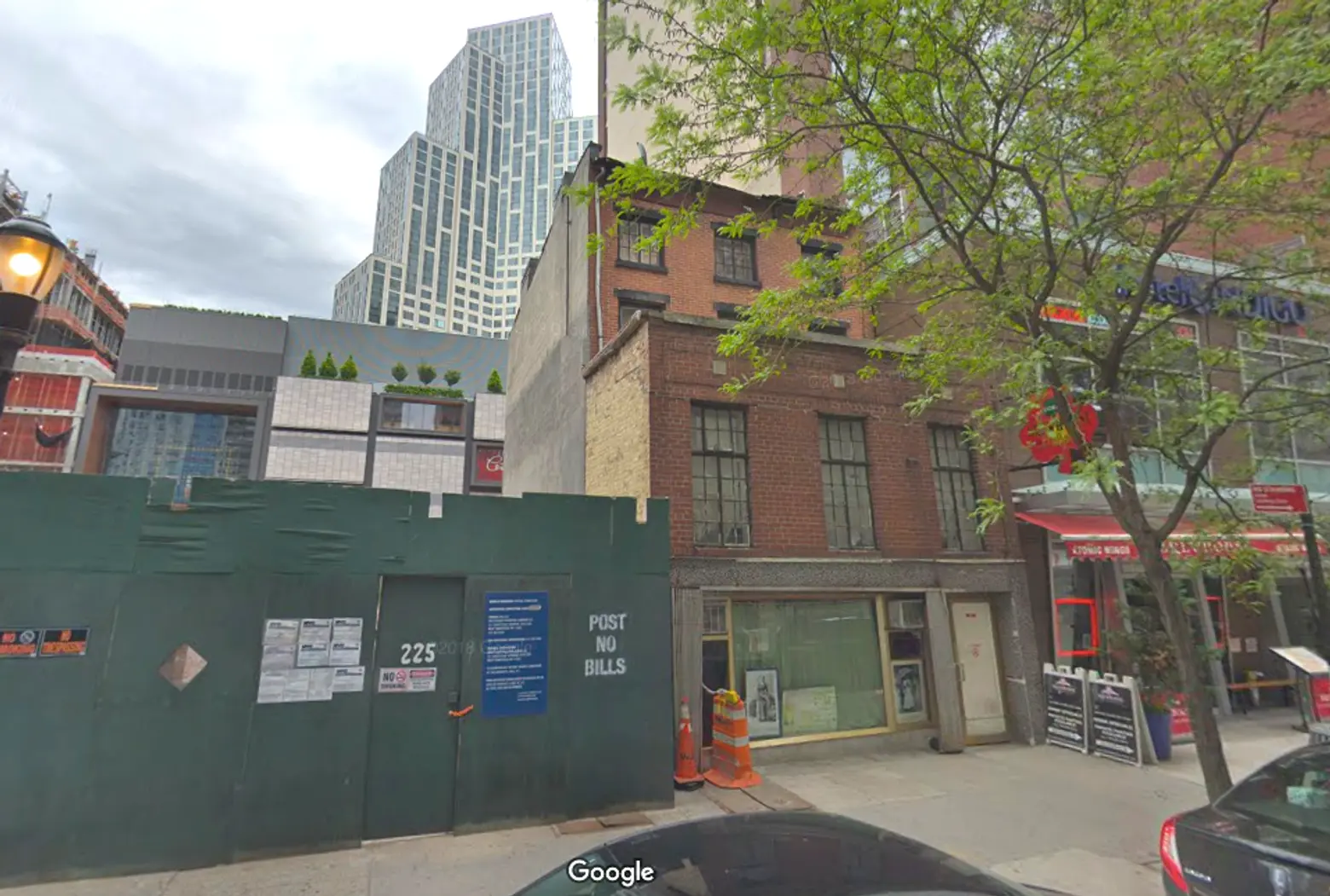 New York City has officially purchased the property at 227 Duffield Street, a 19th-century rowhouse in Downtown Brooklyn recently designated as a landmark for its ties to the abolitionist movement. The Landmarks Preservation Commission last month granted landmark status to the home, occupied by known abolitionists Harriet and Thomas Truesdell from 1851 to 1863, after years of advocacy and a threat by a developer to raze it and build a mixed-use building in its place. First Lady Chirlane McCray, who has been a vocal advocate for the preservation of the site, announced the purchase during Mayor Bill de Blasio's briefing on Monday and said the deal ensures the property will be "protected and celebrated for a very long time."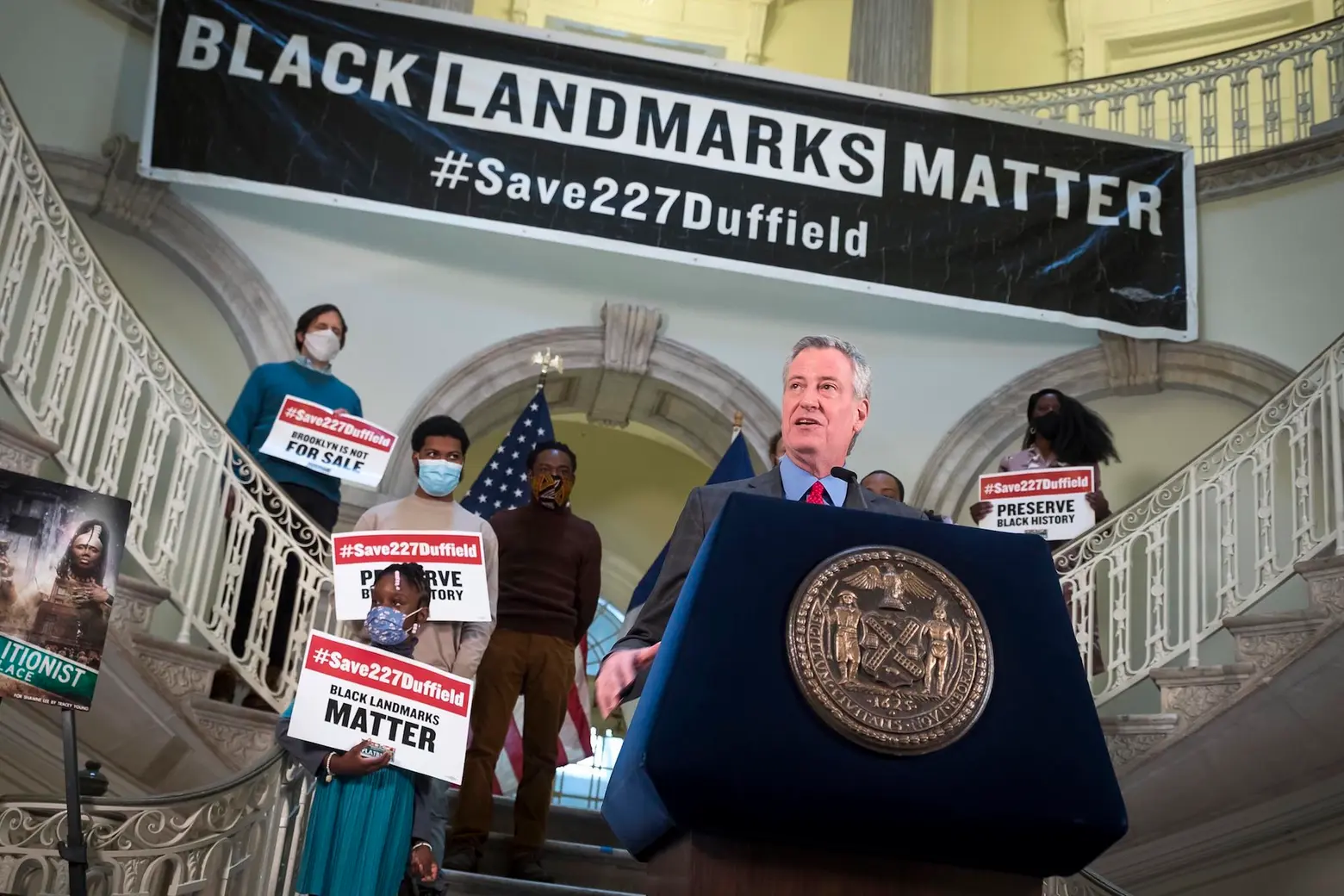 Mayor Bill de Blasio and First Lady Chirlane McCray joined community advocates and the LPC to celebrate the designation of the Harriet and Thomas Truesdell House at 227 Duffield Street in Brooklyn as an individual landmark. February 2, 2021. Credit: Ed Reed/Mayoral Photography Office on Flickr
The city purchased 227 Duffield for $3.2 million, as first reported by Brooklyn Paper. Property owner Samiel Hanasab, who in 2019 filed a permit to raze the site and construct a 13-story building with office space and apartments, said landmarking caused a drop in property value.
"After much wrangling and consideration and considering the value of the property automatically plummeted after landmarking, we had no choice but to sell the property," Garfield Heslop, Hanasab's attorney, told Brooklyn Paper.
The city also almost seized the home by eminent domain as part of the 2004 Downtown Brooklyn Redevelopment Plan. But a lawsuit filed by South Brooklyn Legal Services on behalf of former owner Joy Chatel, who passed away in 2014, forced the city to agree to a settlement. In September 2007, the city renamed Duffield Street between Willoughby and Fulton Streets, Abolitionist Place.
During a meeting last month, the LPC voted to landmark the three-story Greek-Revival rowhouse because it represents a rare surviving home to known abolitionists, while also marking the borough's greater role in the abolitionist movement.
Although some accounts of the house list it as a stop on the Underground Railroad, the commission said they could not confirm this. The danger and secrecy of housing fugitive enslaved people during this time makes Underground Railroad activity difficult to confirm.
The house remained in the Truesdell family for about seven decades until 1921. Alterations were made to the property, including a two-story commercial extension and the removal of the front and rear porches, but the facade, window surrounds, and cornice remains original.
"The city has a painful, sad role in the history of slavery, but it also has a very powerful and good role in the history of the abolitionist movement," de Blasio said on Monday. "That history hasn't been told enough and needs to be preserved and action needs to be taken."
City Hall has not revealed any plans for 227 Duffield yet, but McCray on Monday called the purchase a "first big step" in learning the full history of the Underground Railroad in New York City.
RELATED: