New Jersey's largest resiliency park can hold up to 2 million gallons of stormwater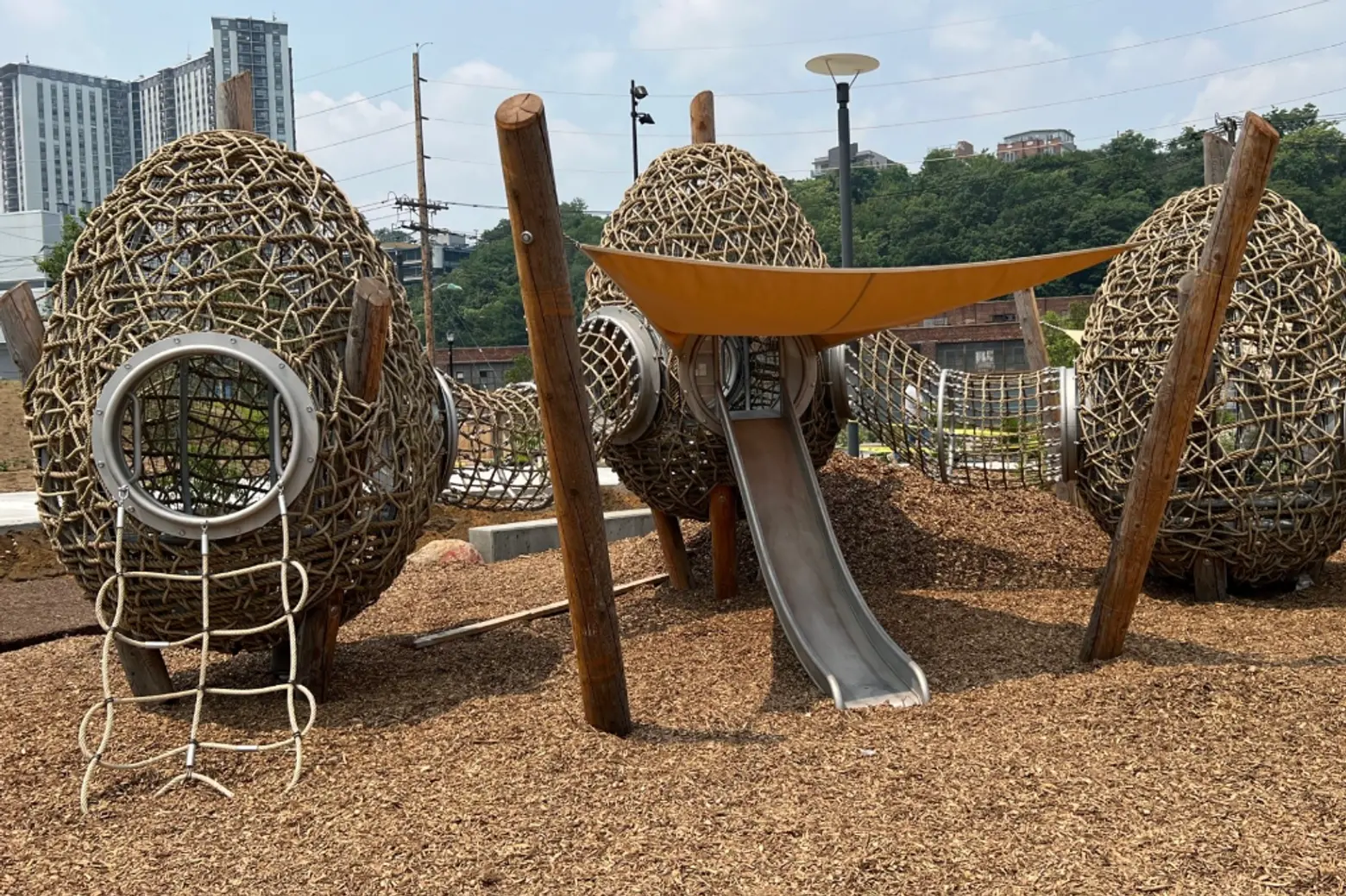 Photos courtesy of the City of Hoboken
A brand new park in Hoboken will also work to prevent flooding during storms. Located at 12th and Madison Streets, ResilenCity Park includes five acres of public open space, basketball courts, and athletic fields, and has the ability to detain up to two million gallons of water. Considered the largest resiliency park in New Jersey, the new park is part of a broader effort by Hoboken to build more resilient storm infrastructure after Hurricane Sandy flooded most of the city in 2012.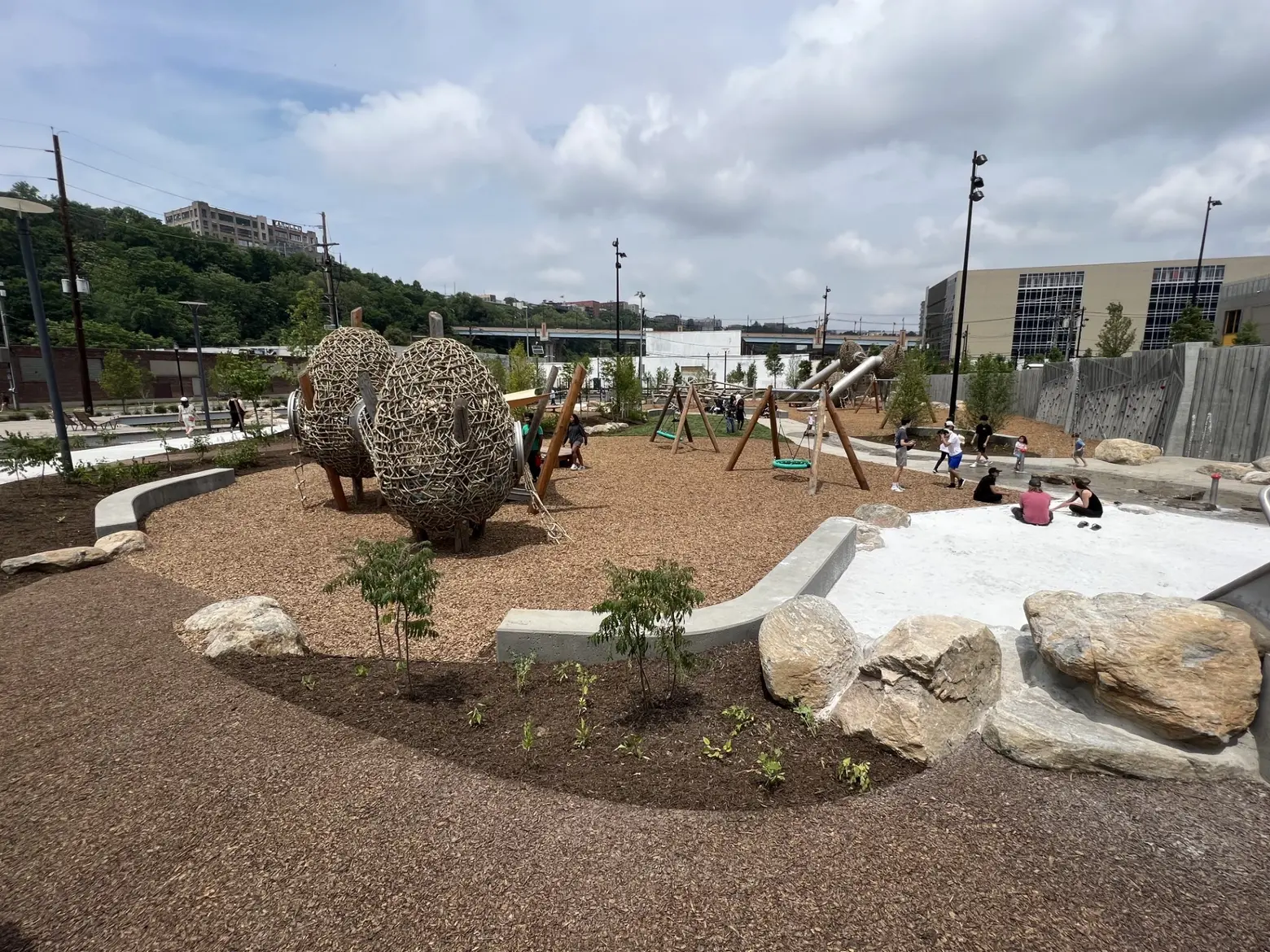 The new park is part of the State and U.S. Department of Housing and Urban Development-funded Rebuild by Design project, which combats flooding caused by heavy rain, a phenomenon becoming more frequent due to climate change.
According to the city, ResilienCity Park can detain up to two million gallons of stormwater through a stormwater detention tank located below ground and through green infrastructure like rain gardens and a tank for on-site irrigation.
The public space includes a multi-use athletic field, a basketball court that doubles as a stormwater detention basin, a playground, a water spray area, open lawn space, and a terrace pavilion that will include a cafe and community center this fall.
"This park opening is a significant milestone in our ongoing efforts to create a sustainable and resilient community, serving as the largest resiliency park in our great state and a model for the rest of the county," Mayor Ravi S. Bhalla said.
"Not only does this park provide much-needed, state-of-the-art open space amenities, it will also provide a critical defense against rainfall flooding, two critical quality of life improvements for our residents."
Since 2017, Hoboken has opened two other resiliency parks: the Southwest Resiliency Park and the 7th & Jackson Resiliency Park. Together, the two parks detain a total of 670,000 gallons of stormwater which would otherwise flood city streets and residential basements.
Hoboken is set to begin an expansion of the Southwest Resiliency Park before the end of the year, doubling its size from one to two acres and increasing its stormwater capacity from 200,000 gallons to 510,000 gallons. The city is also conducting a planning process for the design of a fourth resiliency park at 800 Monroe Street.
"The ResilienCity Park – the largest of its kind in the state – will connect New Jerseyans to green, open space while offering our children and families a host of recreational activities. Just as importantly, amid the increasing intensity and frequency of storm events due to climate change, this resiliency park will help protect Hoboken's residents and properties from extreme flooding," Murphy said.
Built on what was formerly a vacant industrial lot, ResilienCity Park was funded by a $10 million grant from the Federal Emergency Management Agency's (FEMA) Building Resilient Infrastructure in Communities (BRIC) program, $2 million in principal forgiveness through the NJ Infrastructure Bank, and $1 million in grants from the Hudson County Open Space Trust Fund.
According to Gothamist, during the park's inauguration ceremony, activists from the Food & Water Watch disrupted Murphy's speech and spoke out against two proposed gas-fired power plants by the Passaic Valley Sewerage Commission in Newark and NJ Transit in Kearney, both of which are just a few miles from the park.
RELATED: