New Historic District more than doubles the landmarked buildings in Boerum Hill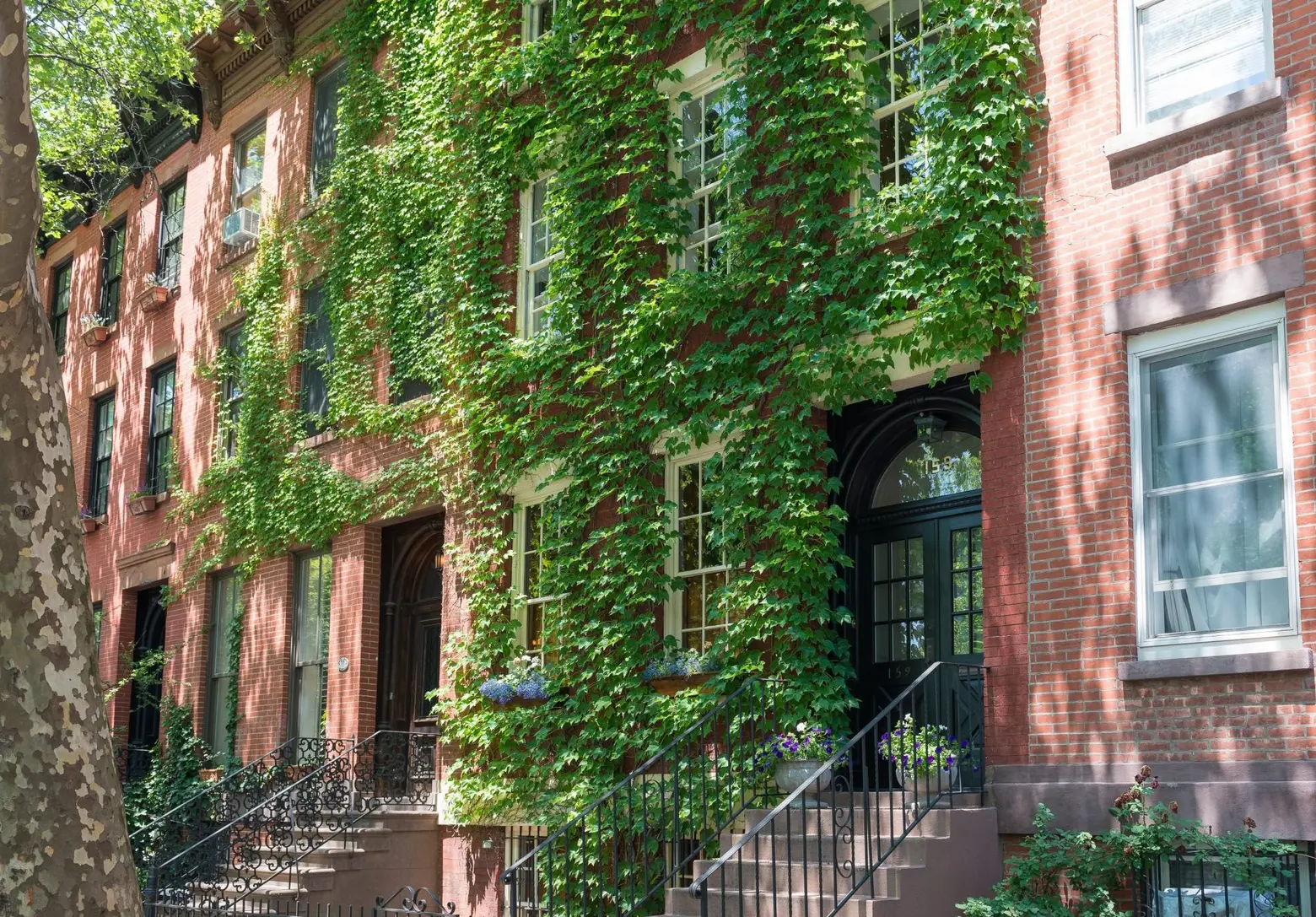 In a vote today, the Landmarks Preservation Commission designated the Boerum Hill Historic District Extension. The 288-building district is split into three distinct sections, all adjacent to the existing 250-building Boerum Hill Historic District that was designated in 1973. According to an LPC press release, the extension "represents the diverse cultural and economic history of Boerum Hill, as well as its largely intact 19th-century architecture." It's mostly residential blocks, made up of late 19th-century brownstone and brick townhouses, along with a block-and-a-half commercial stretch of Atlantic Avenue.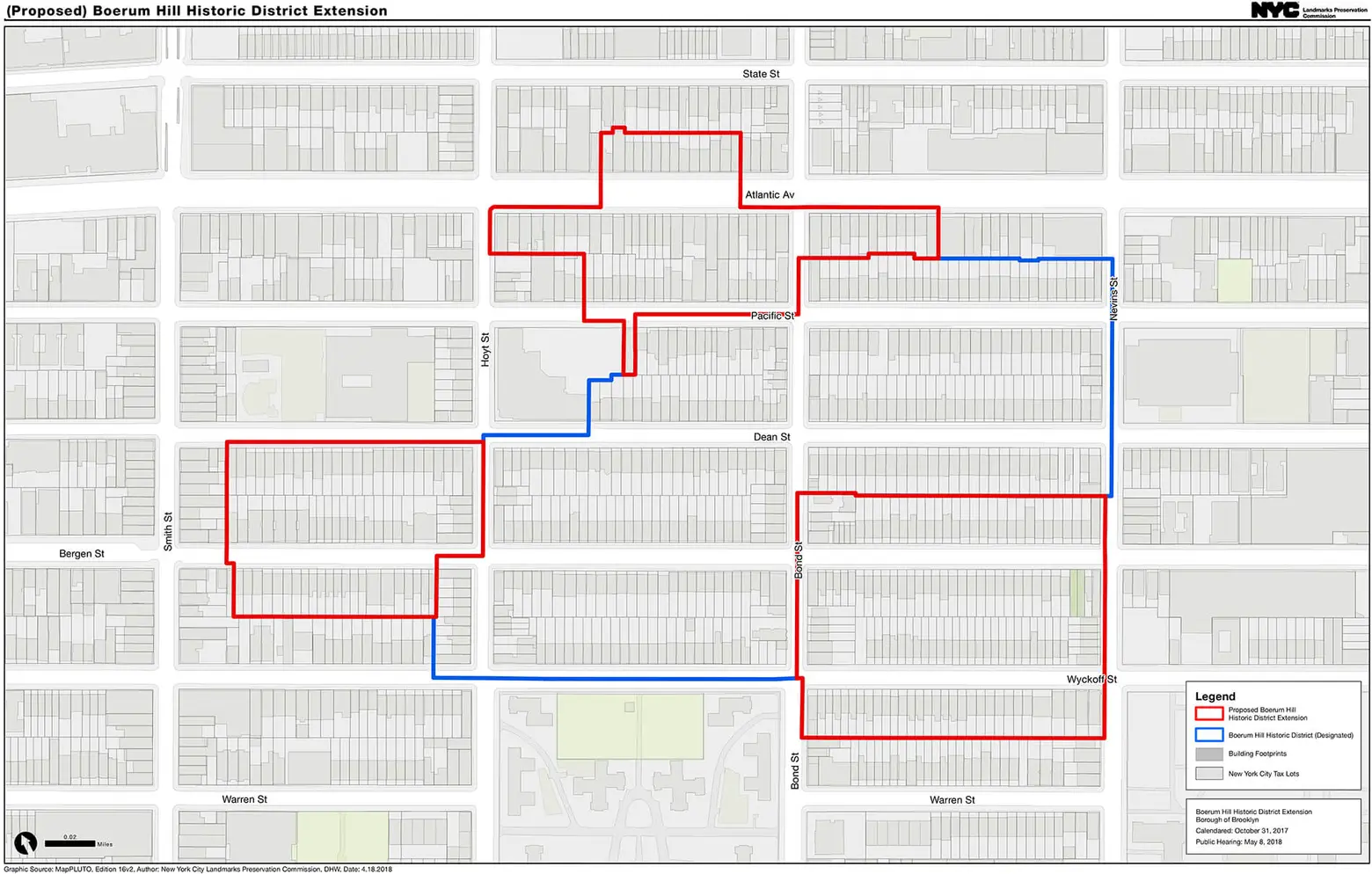 As seen in the map above from the LPC, the western section includes the blocks of Dean and Bergen streets between Smith and Hoyt streets; the northern section includes the portion of Atlantic Avenue between Hoyt and Nevins streets, and Pacific Street between Hoyt and Bond streets; and the eastern section includes blocks of Wyckoff and Bergen streets between Bond and Nevins streets.
The extension was first proposed way back in 1977 and then modified and re-presented to the LPC in 2016 by the Boerum Hill Association. Howard Kolins, president of the Boerum Hill Association, said today, "By adding more residential streets to our current district and also a portion of Atlantic Avenue, a very special commercial zone, we will further protect our neighborhood's historic character."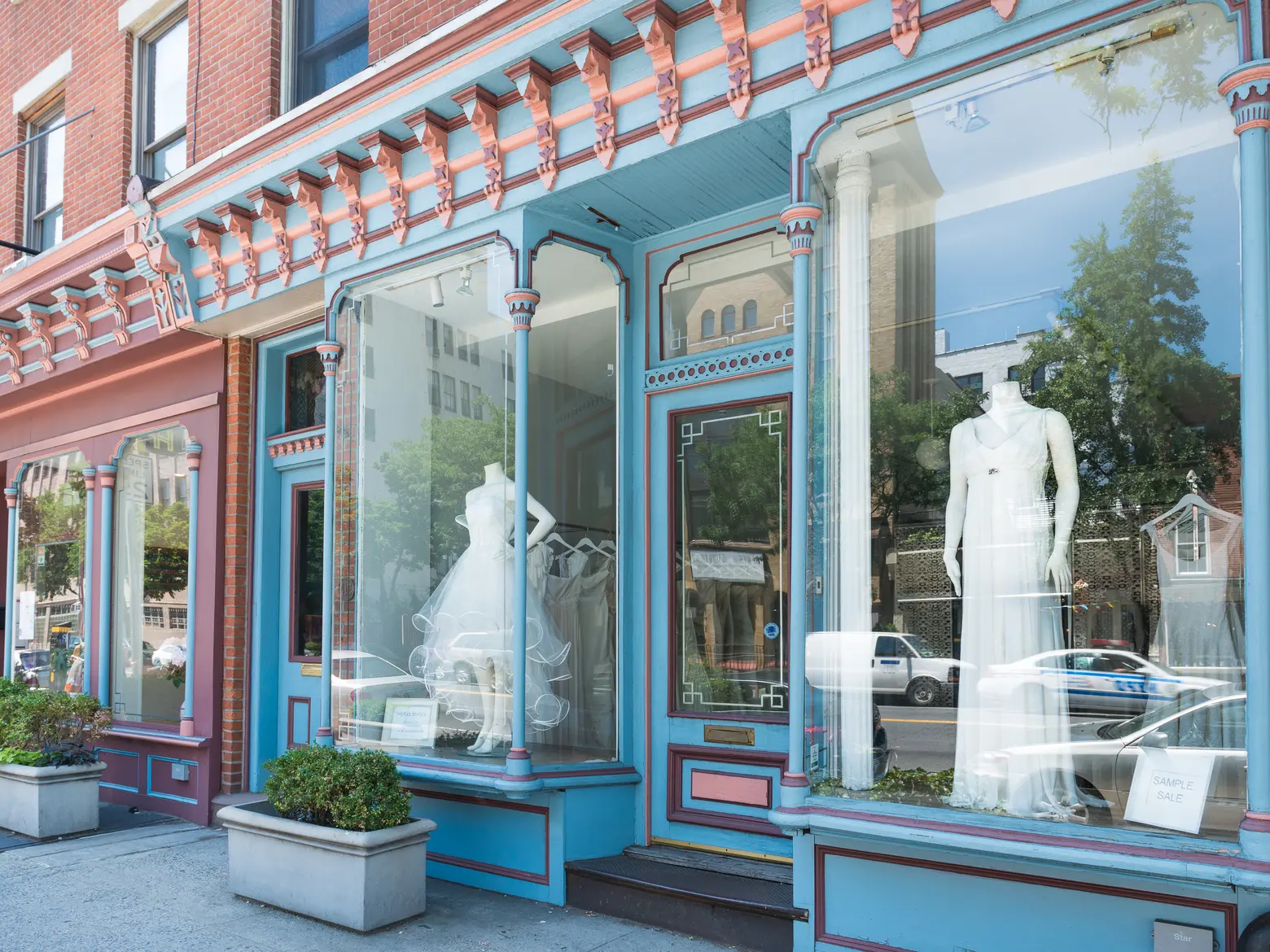 412 Atlantic Avenue, one of the retail storefronts included in the Extension. Photo by CityRealty. 
However, as Brownstoner reported last month, a group of building owners along Atlantic Avenue opposed the designation. One of the six who spoke out against the proposal at the public hearing, Maureen Lynch of 382 Atlantic Avenue, said, "We fear that as small-time landlord owners we will be forced for economic reasons to accept chain store tenants who have the deep-pocket resources to deal with landmark restrictions."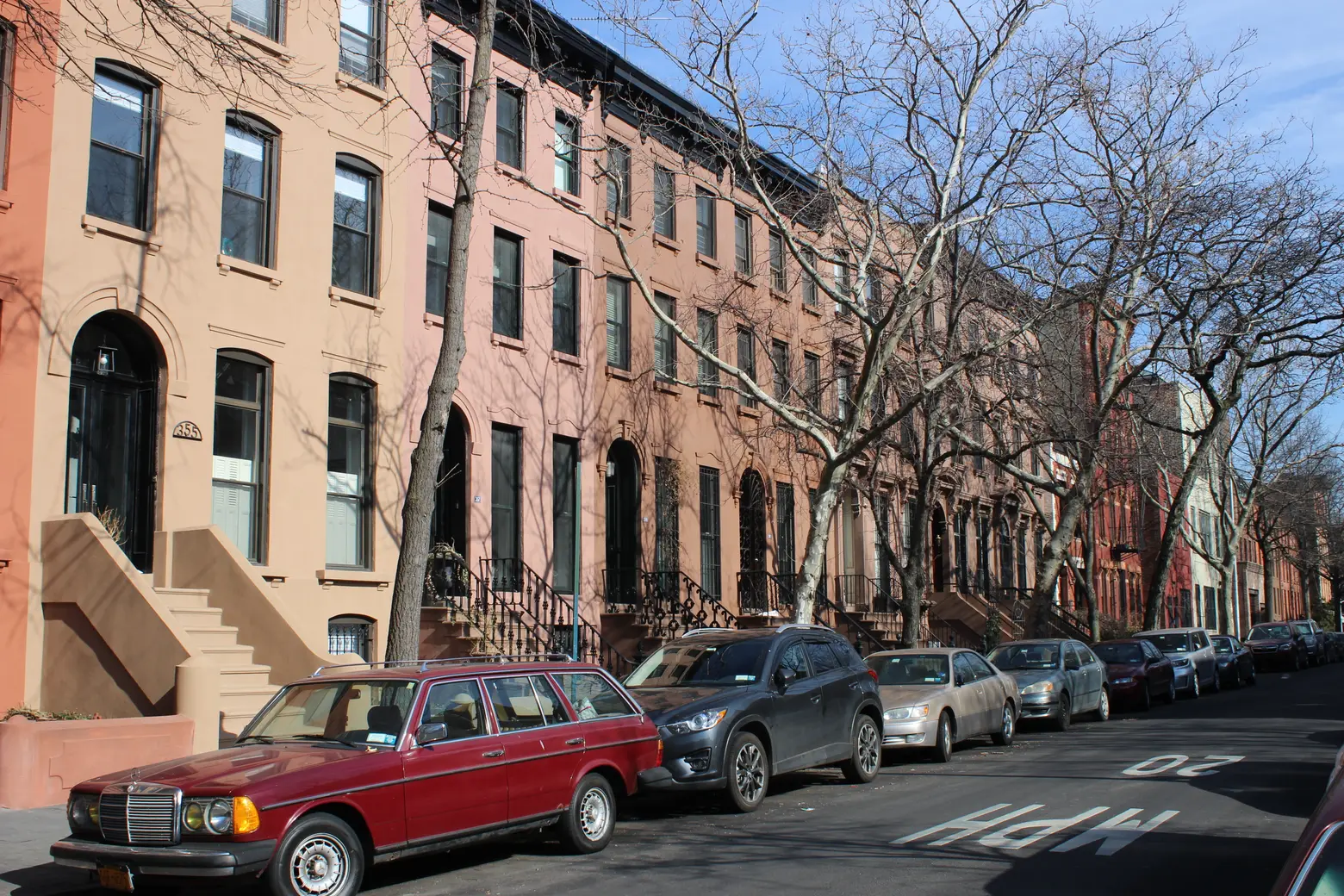 Courtesy of the LPC. 
Nevertheless, the landmarking moved ahead and the new blocks share greater Boerum Hill's history. The neighborhood was developed from roughly the 1840s to 1870s as a residential enclave for laborers, merchants, and commuters, thanks to its proximity to the South Brooklyn waterfront, Gowanus Canal, and commercial corridor of Atlantic Avenue. During this time, the area's Greek Revival and Italianate single-family rowhouses were built. Later, in the 1880s, more eclectic styles of homes were built, "including a row of Second-Empire-style houses on Bergen Street, and neo-Grec-style apartment buildings scattered throughout the District Extension."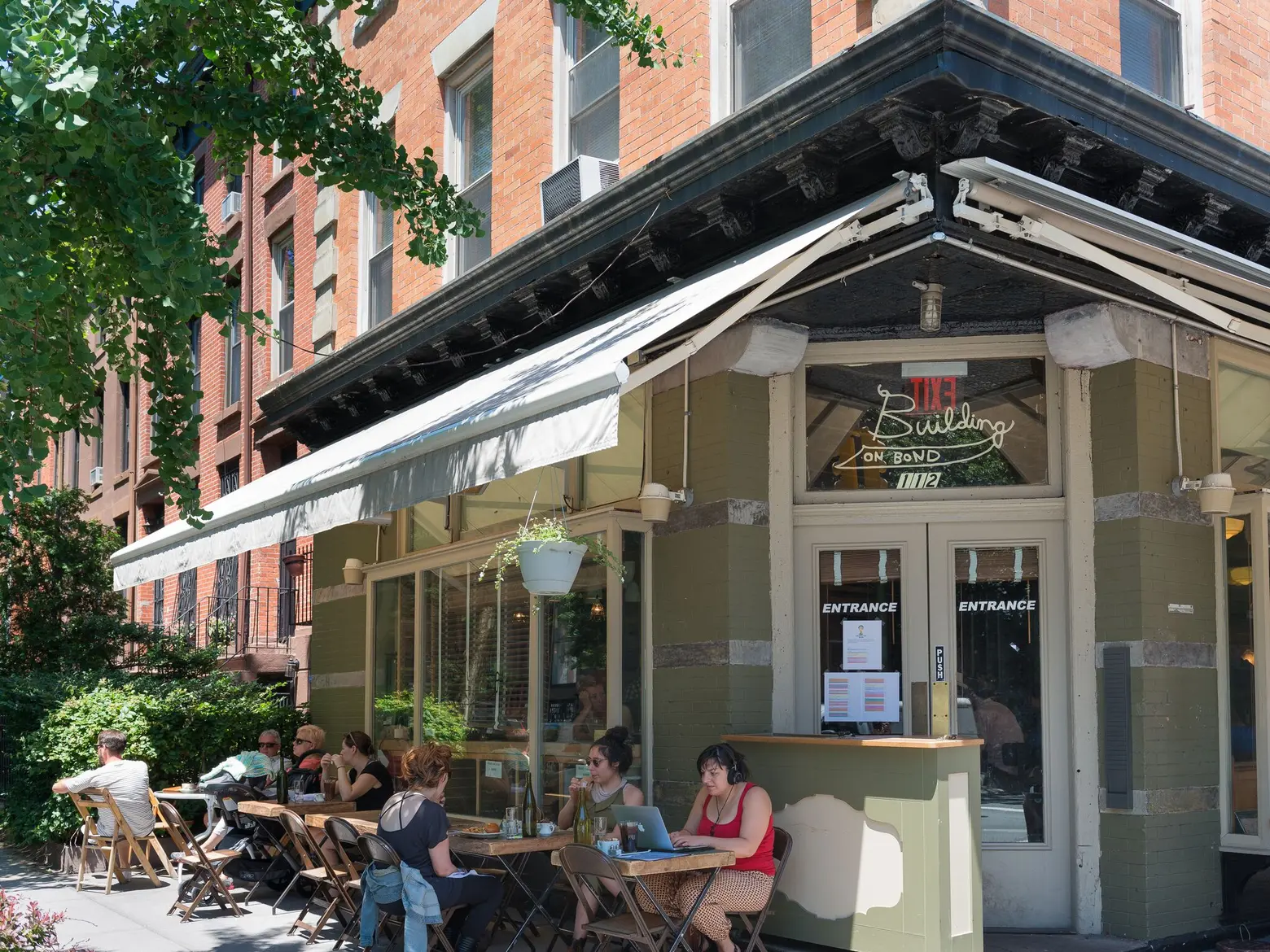 A stretch on Bond Street below Atlantic Avenue included in the Extension. Via CityRealty. 
"I am delighted the Commission designated the Boerum Hill Historic District Extension," said Landmarks Preservation Commission Executive Director Sarah Carroll. "These streetscapes are characterized by wonderful rows of intact mid-19th-century buildings that are cohesive and consistent in style, materials and typology, and complement the historic character of the Boerum Hill Historic District."
RELATED: