Nearly 100 NYC streets will go car-free for safe trick-or-treating this Halloween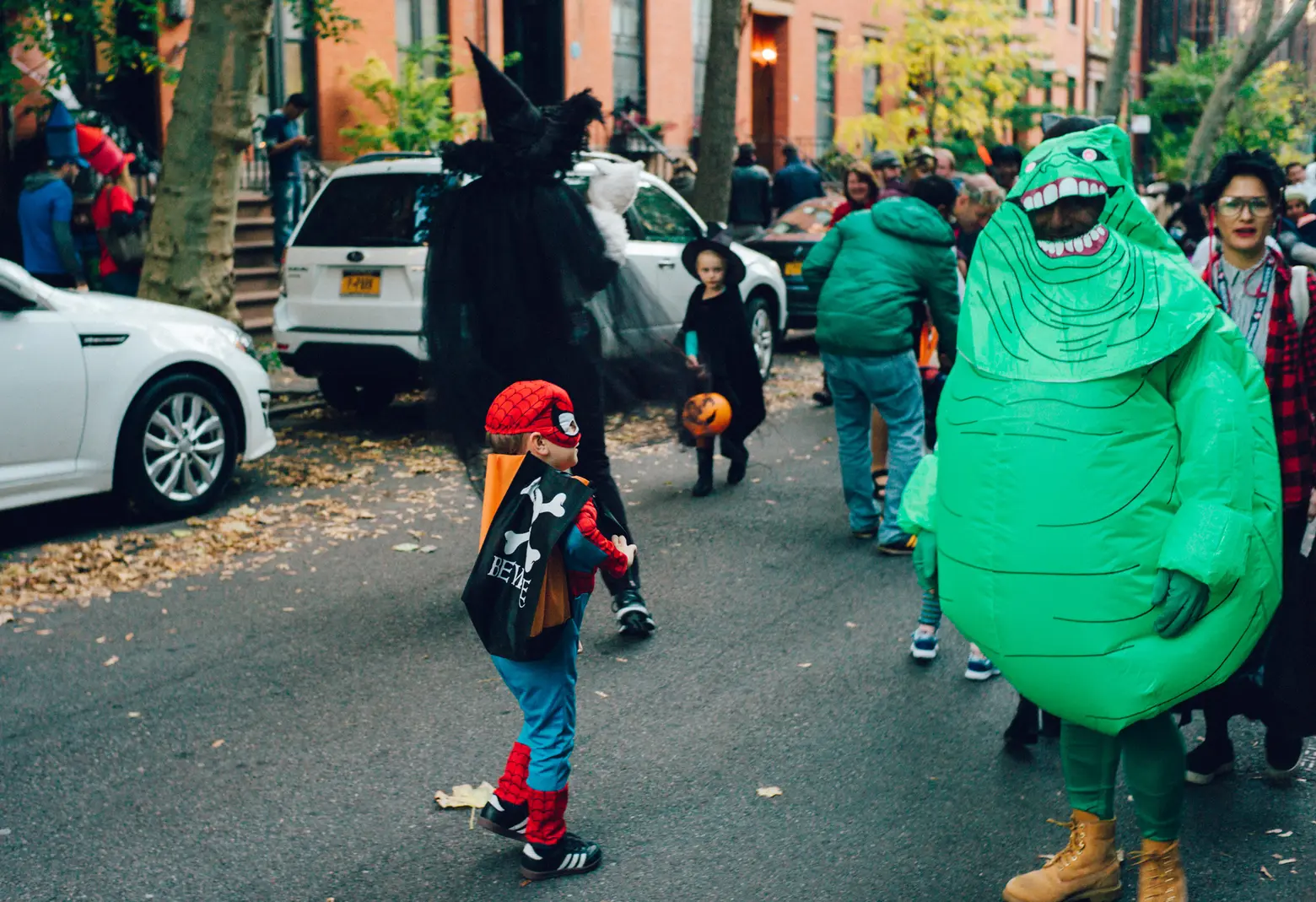 For the first time, dozens of New York City's "Open Streets" will expand operating hours on Halloween to make trick-or-treating safer for young New Yorkers. As part of the Department of Transportation's "Trick-or-Streets," nearly 100 streets, plazas, and other commercial corridors across the city will be closed to cars on October 31 from 4 p.m. to 8 p.m.
In addition to announcing the new expanded Open Street hours on Halloween, DOT on Monday cut the ribbon on the 34th Avenue Open Street redesign in Jackson Heights, which transformed the busy roadway into space for pedestrians and cyclists.
"It is thrilling to build on the triumph of our thriving Open Streets this Halloween by providing greater access to safer, shared community spaces," DOT Commissioner Ydanis Rodriguez said. "And as a bonus, we are celebrating Trick or Streets with all who have made the 34th Avenue Open Street possible."
Here is a list of select locations across the city:
Bronx
Jenning Street, from Prospect Avenue to Chisholm Street. Hosted by the Caldwell Enrichment Program Inc.
Willis Avenue, from East 147th Street to East 148th Street. Hosted by the Third Avenue Business Improvement District.
Decatur Avenue, from East Fordham Road to East 193rd Street. Hosted by the 10th Annual Ms. Abbies Children's Halloween Extravaganza.
Brooklyn
Berry Street, from Broadway to North 12th Street. Hosted by the North Brooklyn Open Streets Community Coalition.
Beverly Road, from East 2nd Street to Church Avenue. Hosted by NYC DOT.
Chauncey Street, from Howard Avenue to Saratoga Avenue. Hosted by the Chauncey Street Block & Tenant's Association.
Hall Street, from Park Avenue to Myrtle Avenue. Hosted by the Hall Street Block Association.
Howard Avenue, from Macon Street to Halsey Street. Hosted by the Friends of Saratoga Park Bed-Stuy + LLTCRN.
Albemarle Road, from Argyle Road to Rugby Road. Hosted by the Prospect Park South Annual Halloween Celebration.
Manhattan
Avenue B, from East 6th Street to East 14th Street. Hosted by the Loisaida Open Streets Community Coalition.
Avenue Of The Americas, from Spring Street to Dominick Street. Hosted by the Hudson Square Business Improvement District.
Bond Street, from Lafayette Street to Bowery. Hosted by il Buco.
Broadway, from West 25th Street to West 27th Street. Hosted by the Flatiron NoMad Partnership.
Broome Street, from Allen Street to Ludlow Street. Hosted by the Lower East Side Partnership.
East 10th Street, from 1st Avenue to 2nd Avenue. Hosted by the Village Halloween Costume Ball.
Queens
31 Avenue, from 33rd Street to 35th Street. Hosted by the 31st Avenue Open Street Collective.
34th Avenue, from 69th Street to Junction Boulevard. Hosted by 34th Avenue Open Streets Coalition.
Barton Avenue, from 149 Place to 150th Street. Hosted by the Asian American Federation.
Murdock Avenue, from 180th Street to Dead End. Hosted by the Addisleigh Park Civic Association.
Woodside Avenue, from 76th Street to 78th Street. Hosted by the Thai Community USA NYC.
Hollis Avenue, from 211th Street to 212th Street. Hosted by A Haunting in Hollis.
There are also a number of special Halloween events at select Open Streets locations:
Dumbo Arch Way, Pearl Street between Water Street and Anchorage Place in Brooklyn. At 4 p.m. the annual March to the Arch will commence. The parade marches through Dumbo and Brooklyn Bridge Park led by brass bands and puppets. From 4:30 p.m. to 7 p.m., the Dumboween Party will feature live music, arts and crafts, a photo booth, and a costume contest for both humans and pets.
12th Street Plaza, 12th Street between 44th Avenue and 43rd Road in Queens. From 4 p.m. to 6 p.m. families are welcome to trick-or-treat at storefronts around the 12th Street Plaza. Guests will be able to partake in arts and crafts, eat candy, and more.
Myrtle Avenue Plaza, Myrtle Avenue from Grand Avenue to Emerson Place in Brooklyn. From 4 p.m. to 6 p.m. the annual Myrtle Avenue Monster Mash dance party will welcome back guests with games, treats, dancing, a live DJ, and a special Thriller dance-off.
Quisqueya Plaza, Dyckman Street between Broadway and Seaman Avenue in Manhattan. A Halloween Parade will begin at 3 p.m., with appearances by Congressman Adriano Espaillat, Councilwoman Carmen De La Rosa, and Assemblyman Manny De Los Santos.
A full list and interactive map with all Halloween Open Streets locations can be found on the NYC Department of Transportation's website.
RELATED: