My 1,680sqft: Artist Anne Peabody Invites Us Into Her Landmarked Clinton Hill Carriage House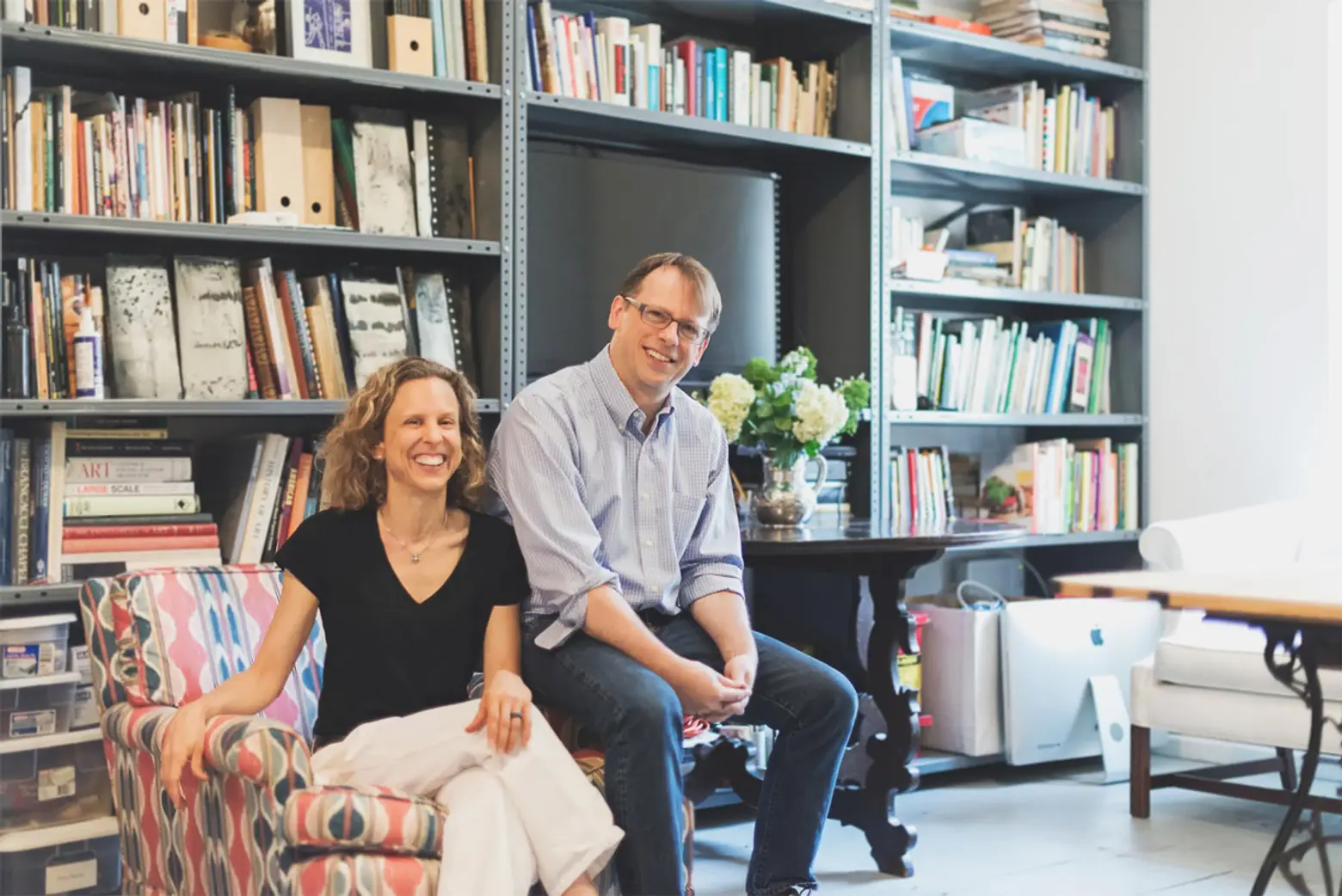 Our ongoing series "My sqft" checks out the homes of 6sqft's friends, family and fellow New Yorkers across all the boroughs. Our latest interior adventure brings us to Clinton Hill. Want your home to be featured here? Get in touch!
Anne Peabody is no stranger to turning the completely ordinary into something extraordinary. As an artist she creates elaborate and beautiful works with pieces of glass sized as small as a grain of rice to sheets as large as doors; as a preservationist, she's restored many a home in both her native Kentucky and New York City (her last featured in the Wall Street Journal).
Two years ago, Anne and her husband Tony purchased a landmarked home in Clinton Hill. She had long dreamt of owning one of the neighborhood's historic carriage houses, and when one came to the market she immediately jumped on it. Unfortunately, it wasn't in an ideal state at signing—the previous owner had 20 cats and no litter box and the floors were soaked in pee—but she knew exactly what she was getting into.
We recently visited Anne to have a look at her house before it goes under renovation this fall—a project that will entail restoring the exterior to its original late 1800s glory and the addition of an art studio and glass extension at the back of the home—and to hear why she's always stuck so close to this particular neighborhood. Though the current space is sparse, it's easy to see the potential that lies within.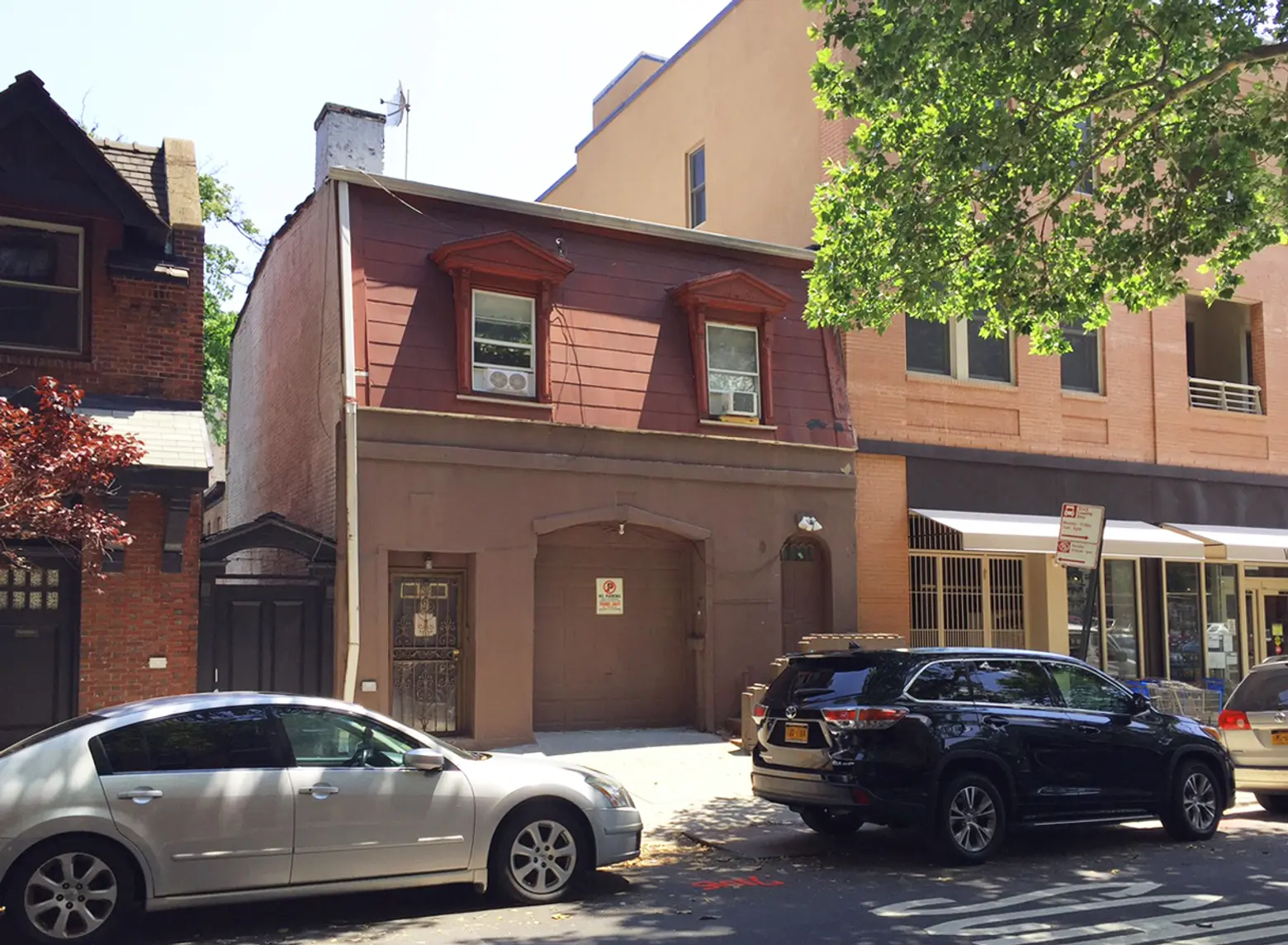 The exterior of Anne and Tony's home. They plan on restoring the exterior to reflect the original, historic facade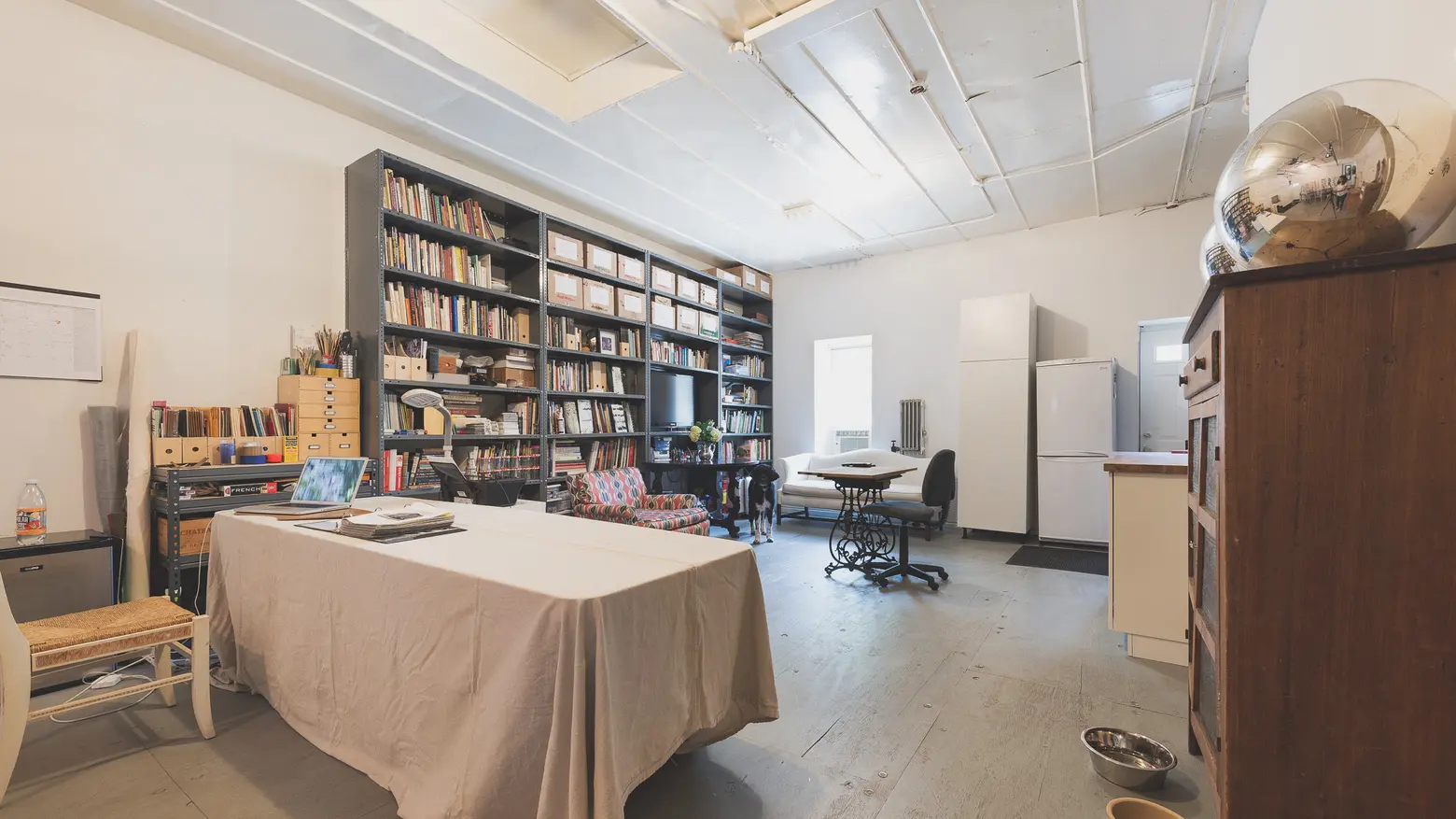 The main space; Anne plans to turn it into a garage/art studio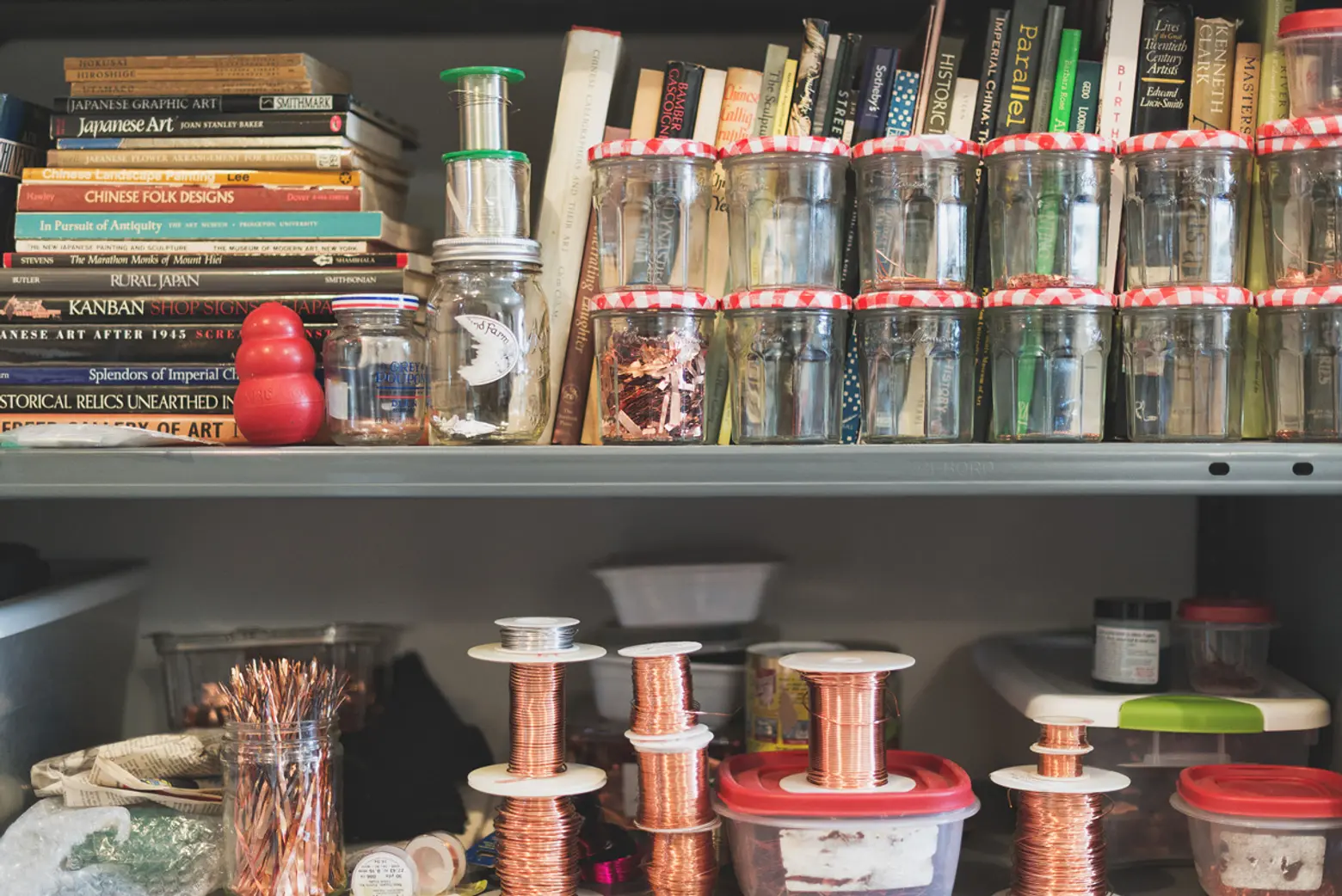 Anne's art supplies
Where are you originally from, and why did you decide to move to New York?
We are originally from Kentucky and were married there. I supported our family painting murals and restoring houses while Tony was in law school and when he graduated, we decided to move to New York so that I could go to graduate school at SVA.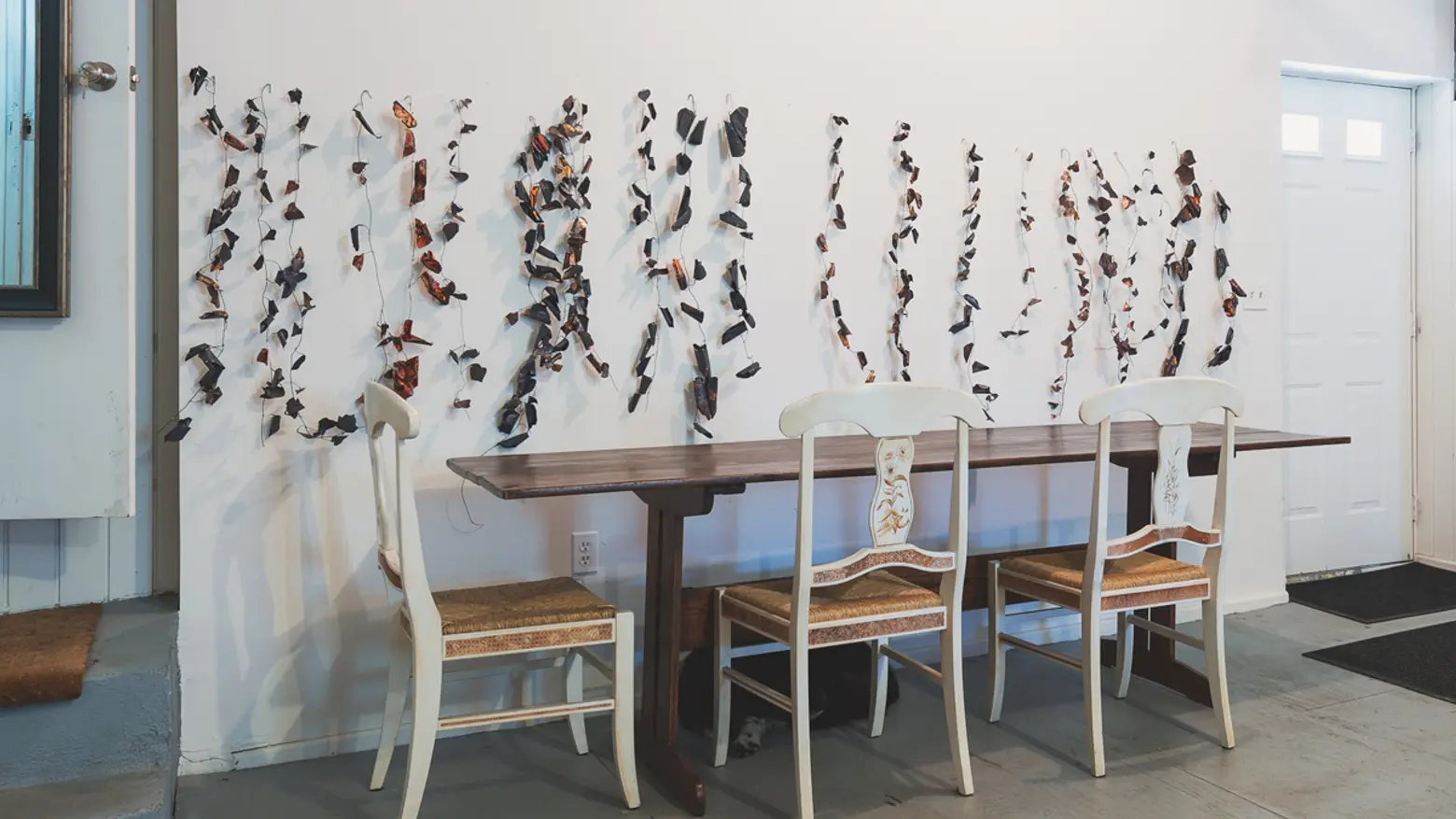 A glass project that Anne is working on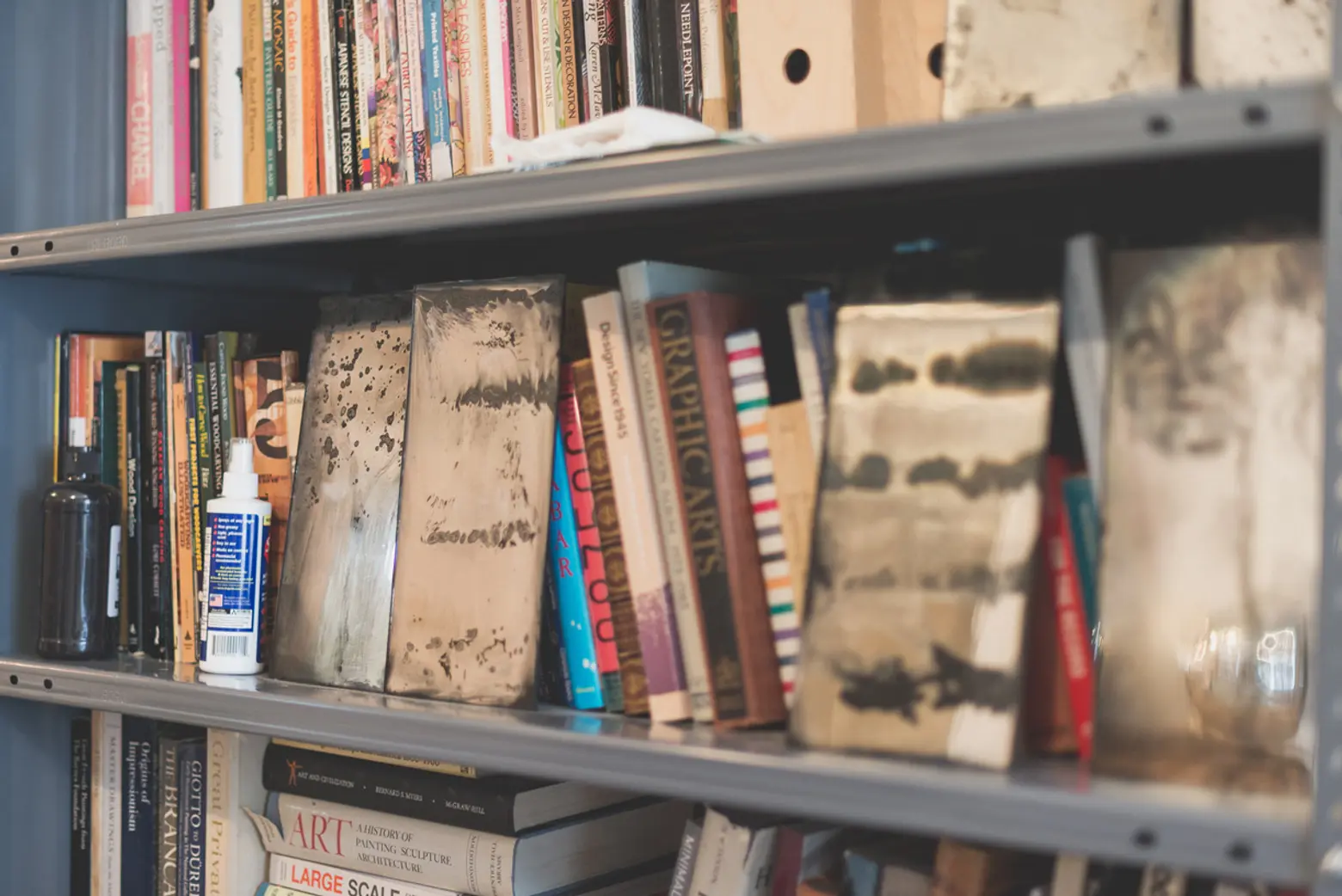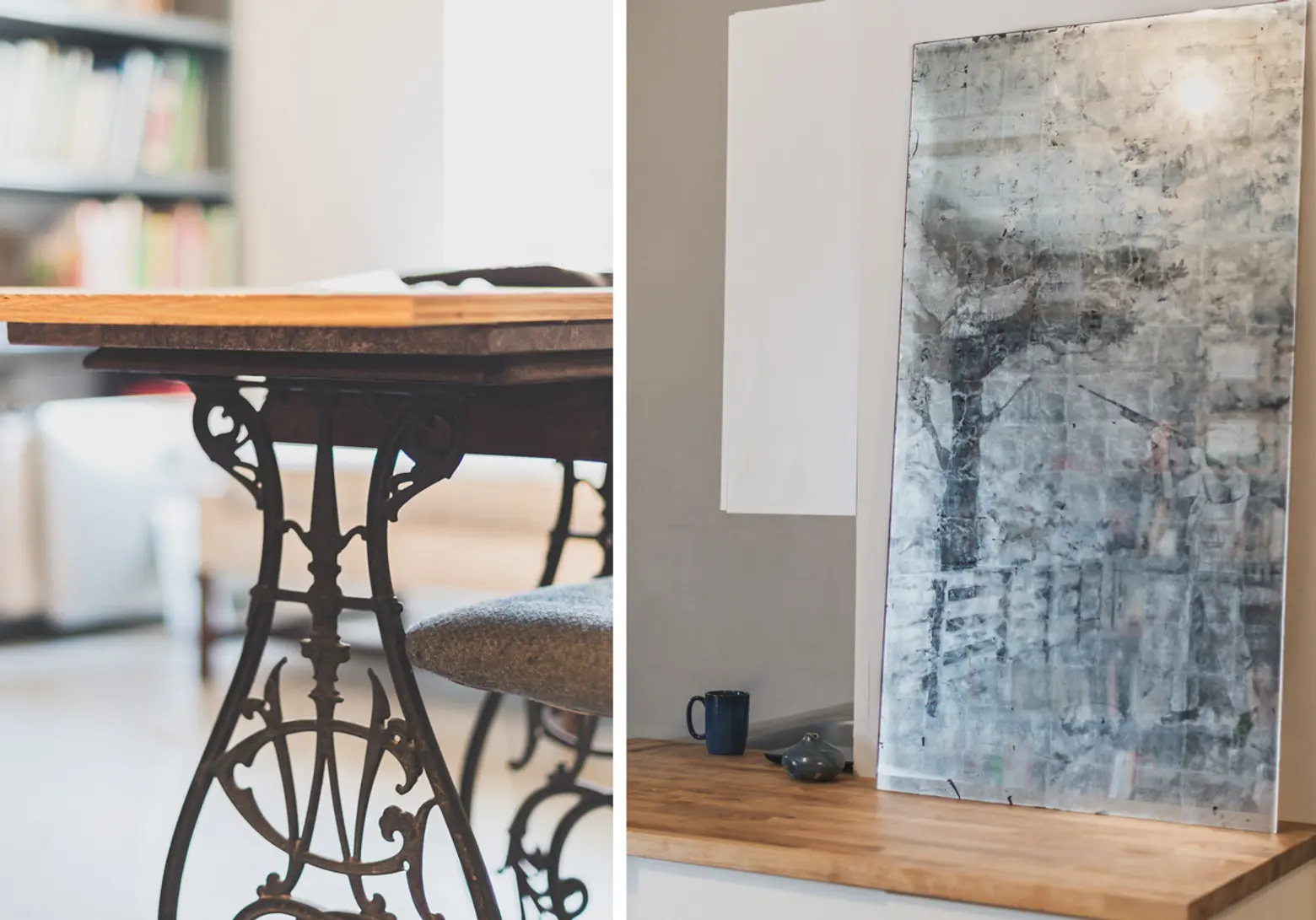 The desk (L) was soldered by Anne. She used it to create her art project now on display at Wave Hill in the Bronx. The legs are from an old sewing table, the topper is a wood plank (L); The mirror features an etching by Anne. The scene is her grandfather in Kentucky shooting an owl that took his Jack Russell Terrier. He killed the bird with a shotgun (R)
You've mentioned living in several places around Clinton Hill and Bed-Stuy, what's attracted you to this area?
When we moved to NY in 2001, we had a few friends living in Fort Greene and Clinton Hill. We had three very large dogs and one small dog at the time. Our first landlord (at 181 Greene Avenue, a few blocks away) not only allowed us to have the dogs, he wanted them! He told us if they barked he wouldn't have to buy an alarm system. We were the first residents in the then newly constructed townhouses on Greene between Washington Ave and St. James Place. We and our landlords were alone in that big block of buildings for about a year.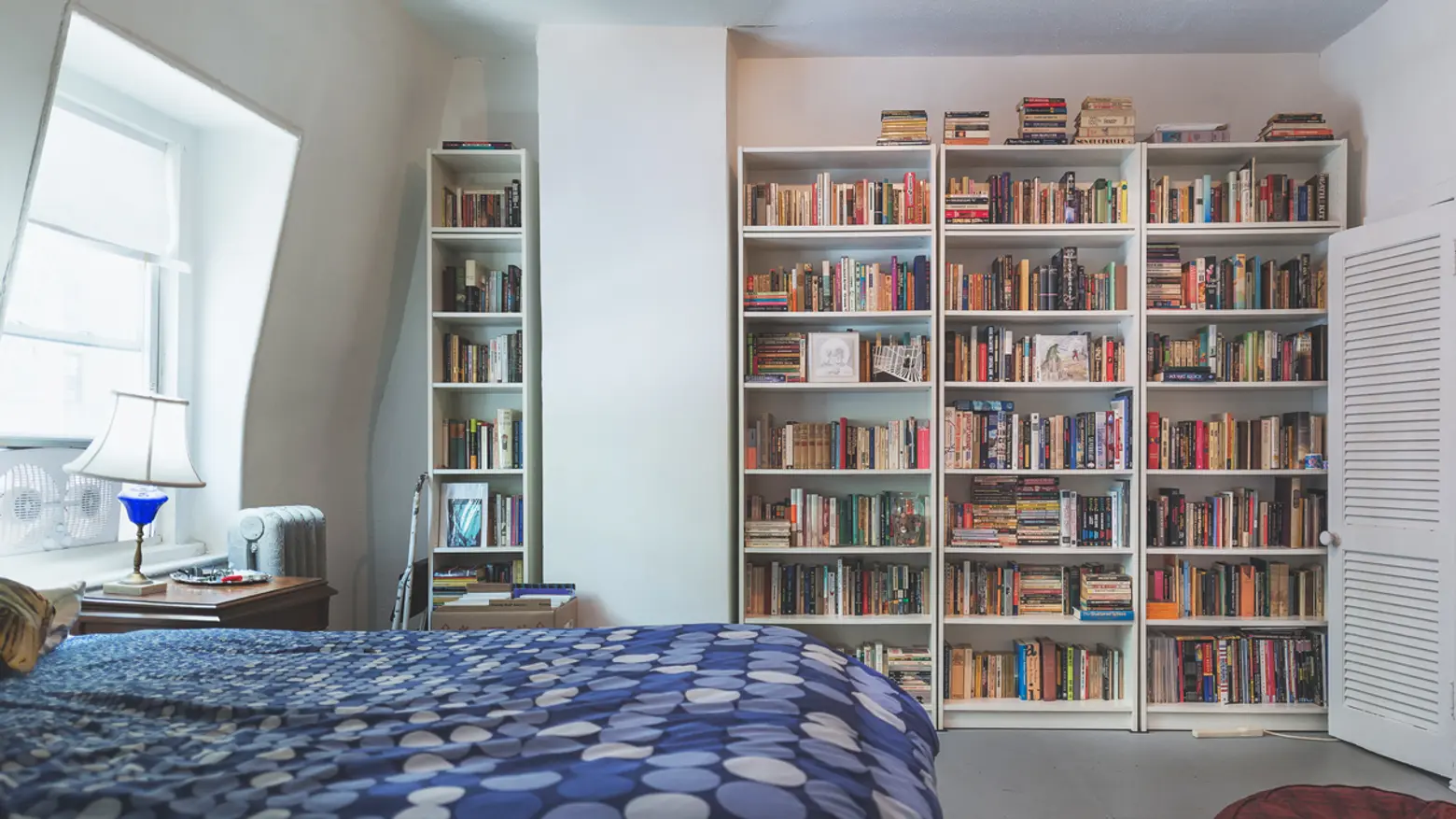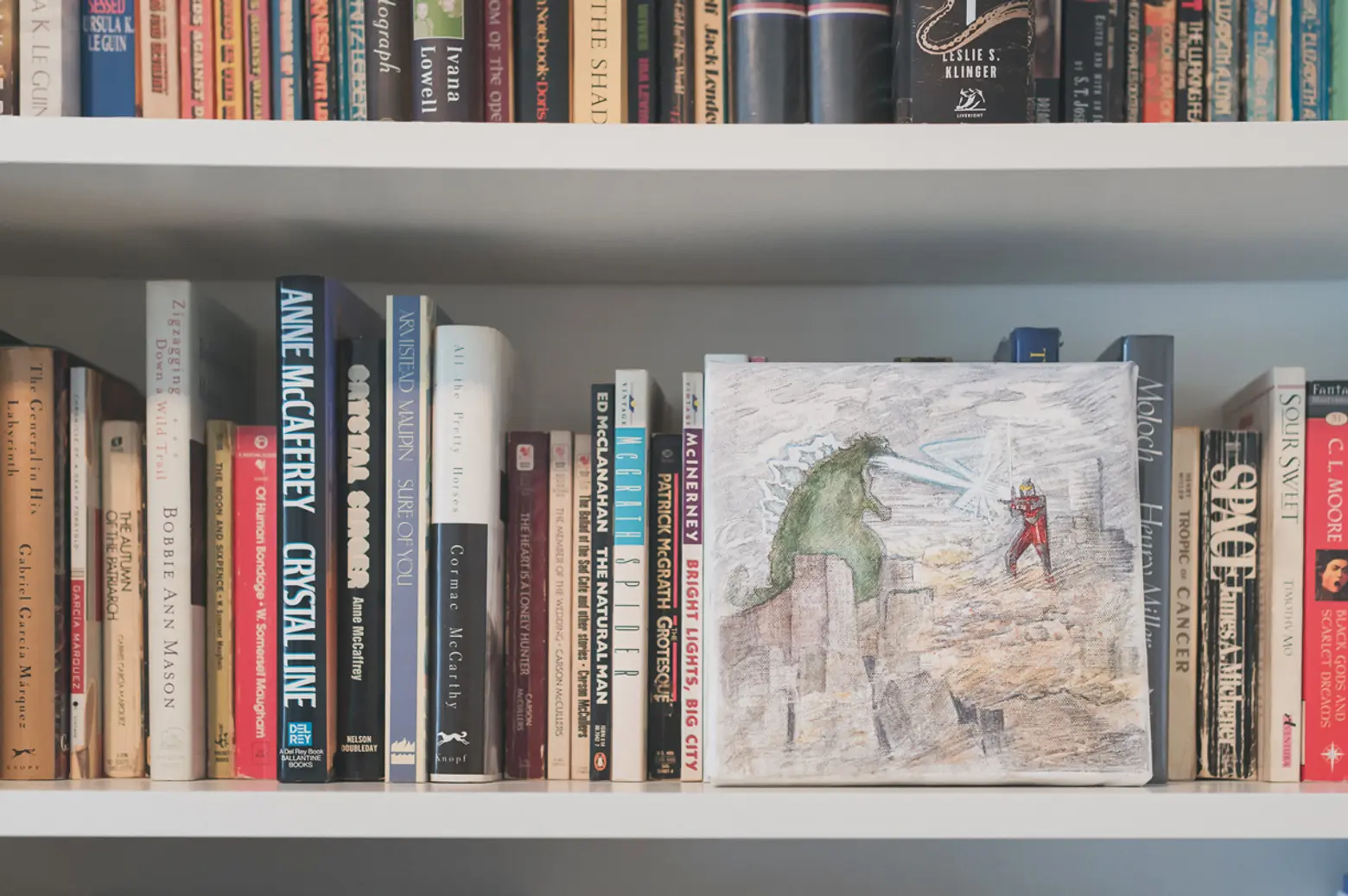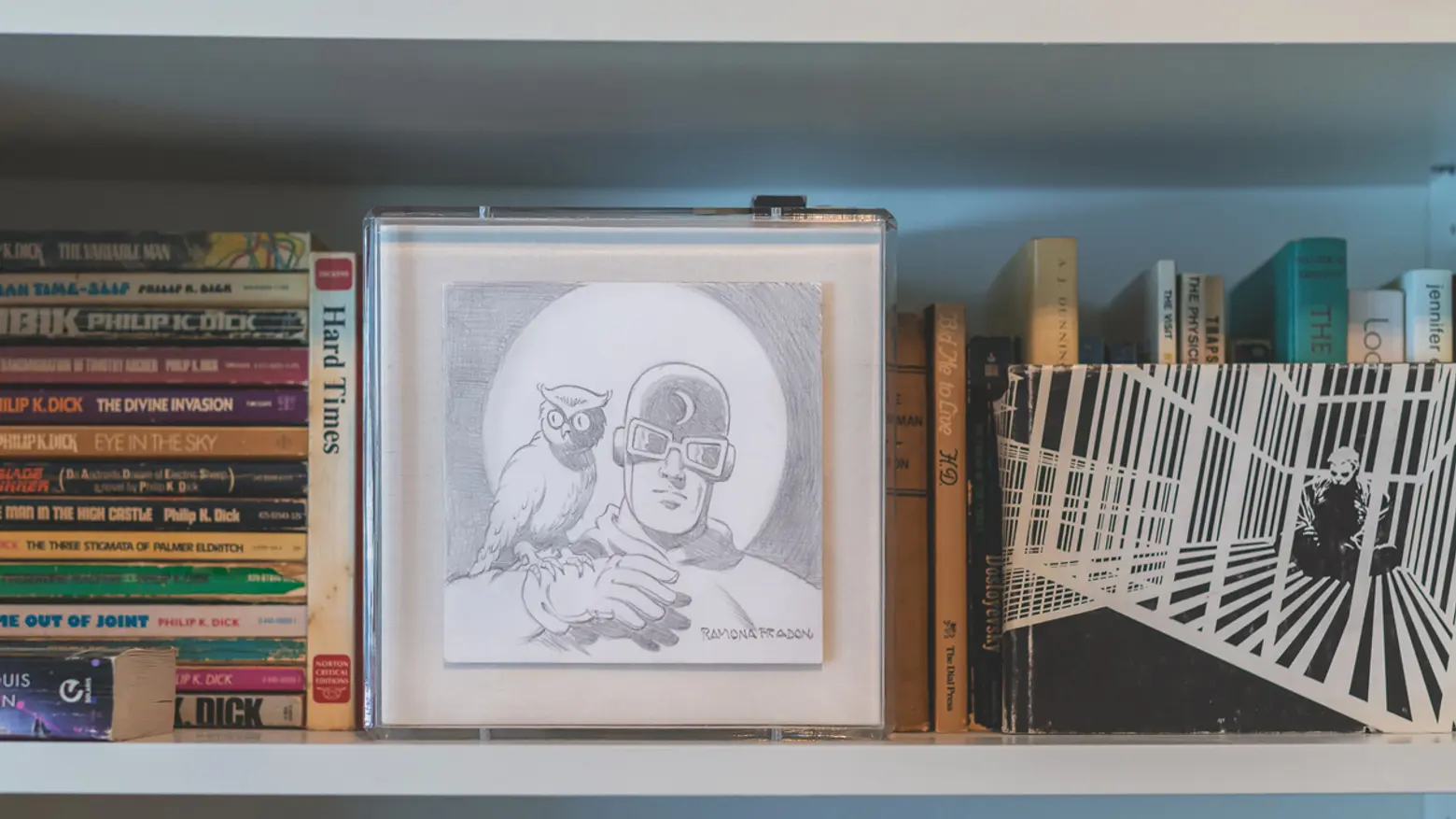 Tony collects art by comic book artists. The above Godzilla piece was a gift from his mom
How did you find this home?
We sold our apartment at 93 Lexington Avenue and rented a place on St. James while we looked. I spent nine months looking for houses online, making offers and getting outbid. A friend called and told me that this house was for sale and we immediately called the sellers agent and made an offer. I had been looking at carriage houses on Waverly and wishing for one, almost since we moved to NY.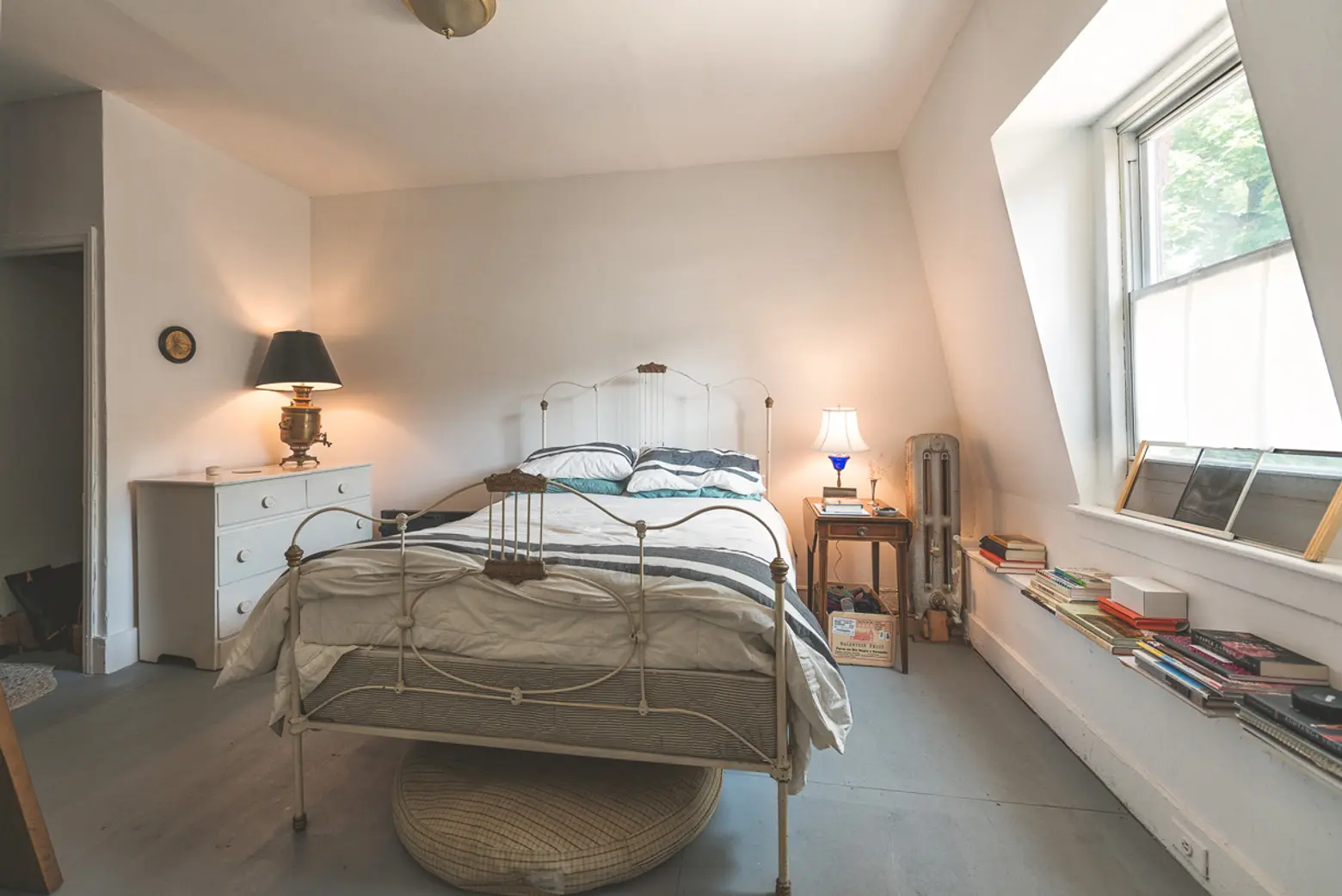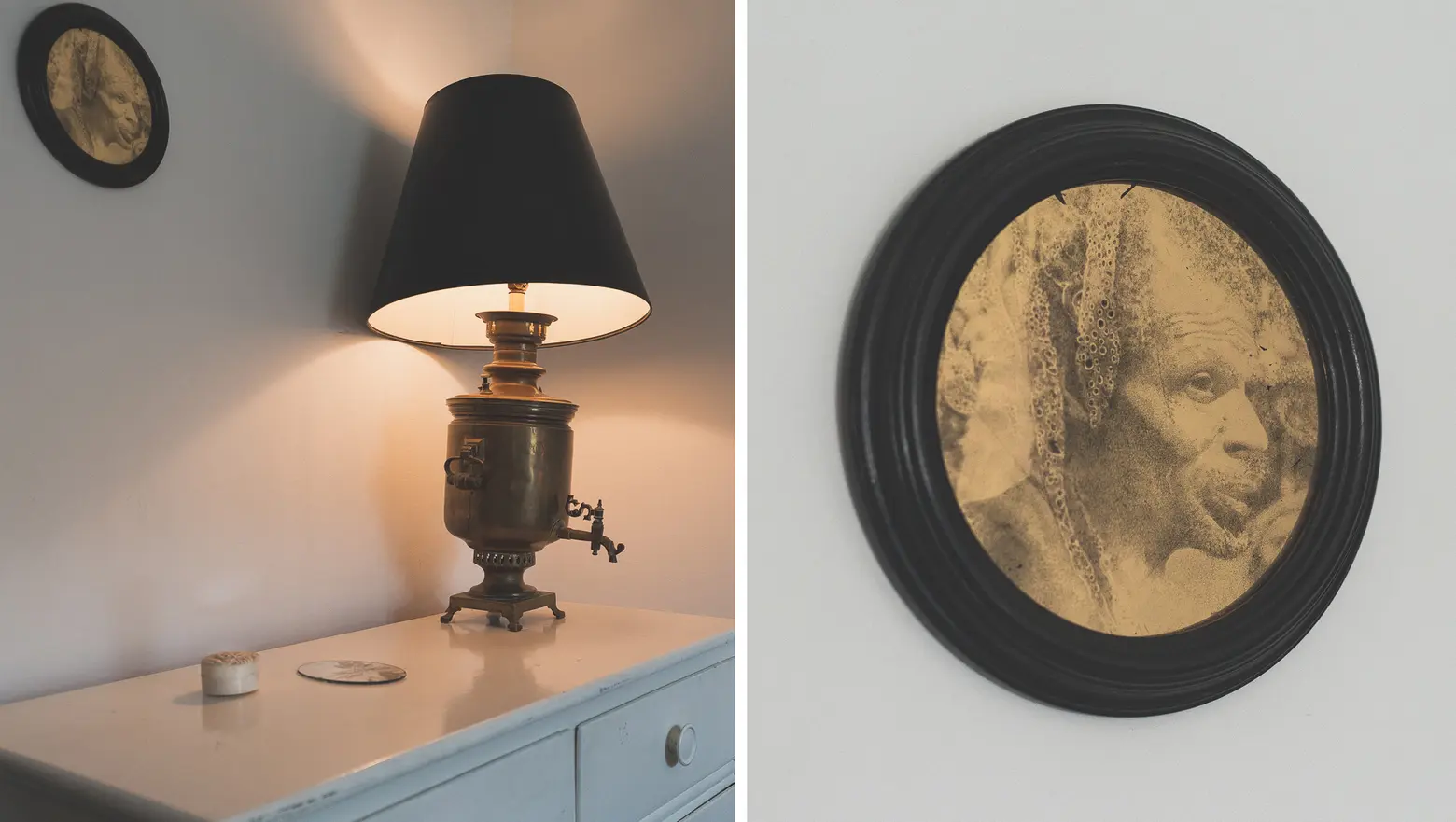 The punch server came from Russia and was a gift from Anne's grandma. Anne turned it into a lamp at the suggestion of her mother (L); An etching of Gilbert Kelly, a local homeless man and fixture of the neighborhood who was shot at 65 years old by a teenager early last year. Ann made the piece for his memorial (R)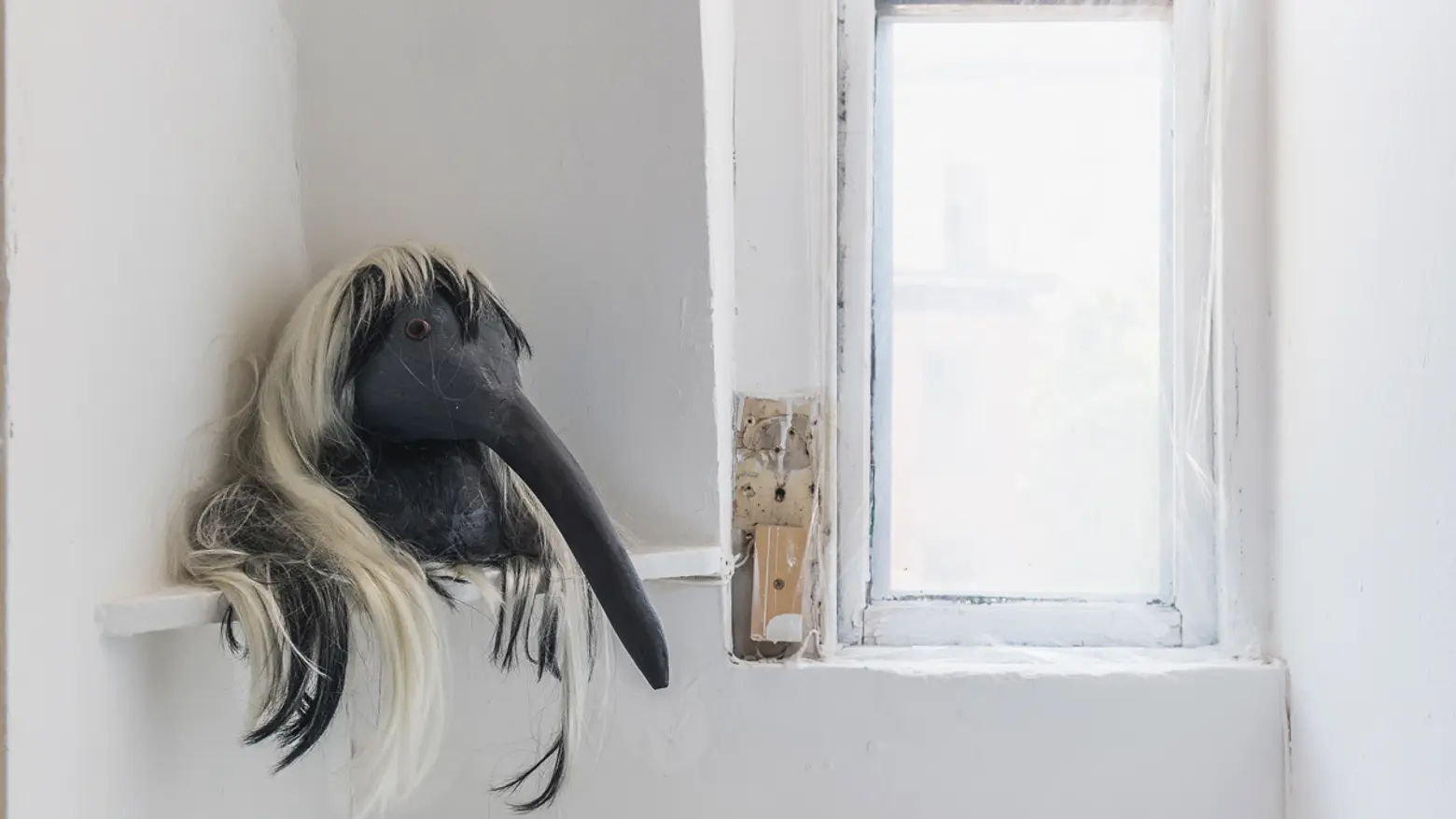 Anne made the bird headpiece for Tony — he often plays rock music at art shows
What are some of your bigger design plans for the renovation? How do you think your art/artistic style will influence the design?
We would like to add a two-room glass extension to the back and reinstall the current garage, which has been sealed shut, but the garage door opener is still installed. We would like to make it historically accurate on the exterior and would like the inside to reflect the history and original use of the building. We're starting renovations in November and our architect says things should be done July 2016.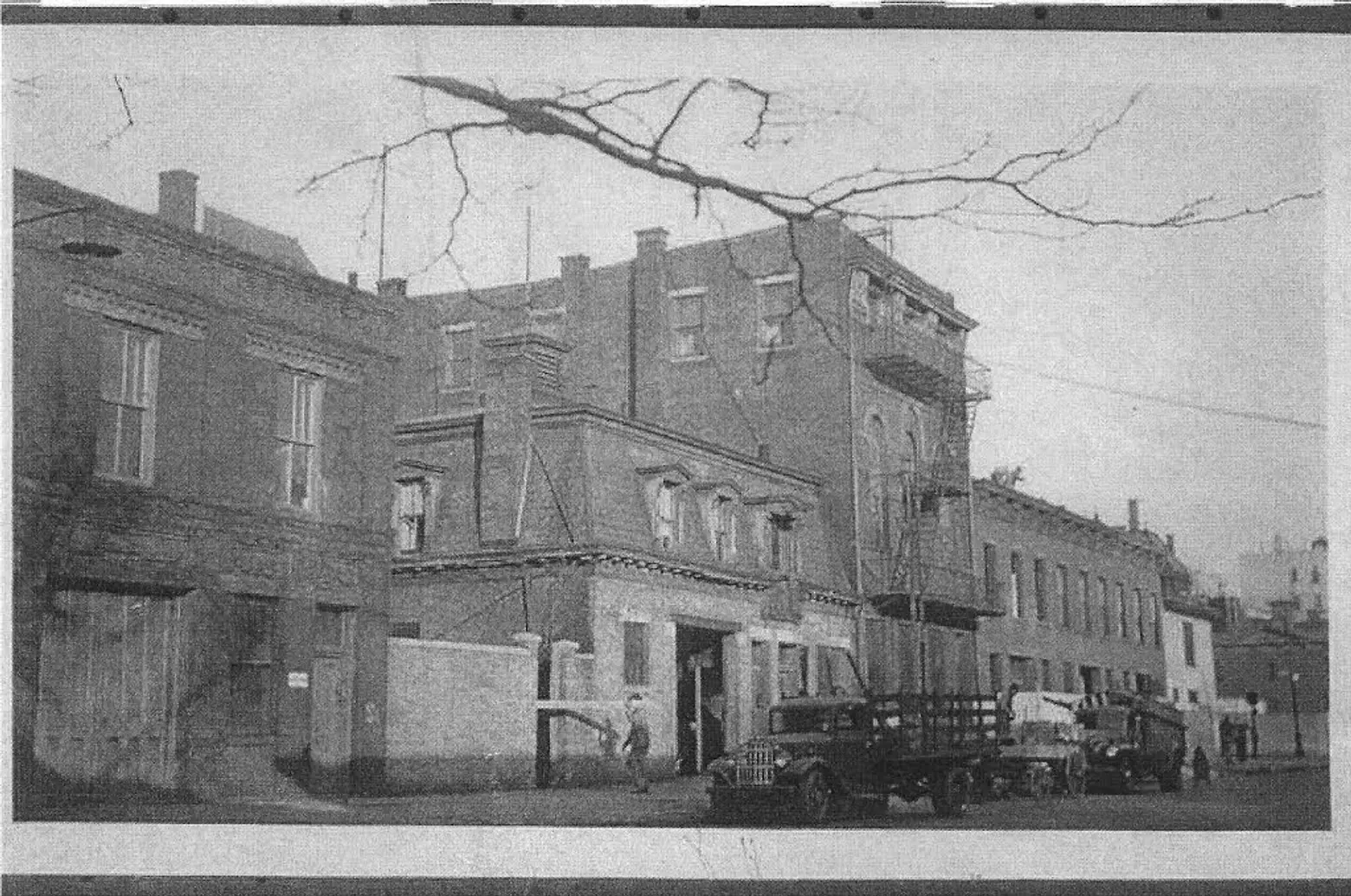 The home as it originally looked back in 1878
What have been some of the challenges approaching a renovation of a historic home that's also landmarked? You've been at it for about two years now?
Before we moved in, we had the whole thing stripped and gutted just to get a feel for the building, where the light falls at different times of day, what sounds we could hear from the outside and when. When we bought the house, the ceilings had been lowered to 8 feet (they are 10 feet, 6 inches). Maybe this was to hide the existing garage door opener and lower heating costs? And there was a lot of cat pee. The floors were all pretty soggy and had to be removed. Walls too, they were filled with roaches. Interestingly, at one point the space was used to sell cars, and at another, there was a laundromat here. The plumbing actually dates back to 1878.
Finding historic pictures of the house has been a challenge. Since it was built in 1870s as a stable for the house behind us, it was never photographed for tax records. We have made a lot of trips to the library, the Brooklyn Historical Society and the Department of Records in Manhattan to clear things up for landmarks. The closest we have come to a photo is one of a similar carriage house across the street that has since been destroyed.
We have found 11 letters to the Brooklyn Daily Eagle from a Marion Carmine who lived in the upstairs as a 10-year old in 1930 with her family. They are all really adorable. Most are contest entries and she almost always won!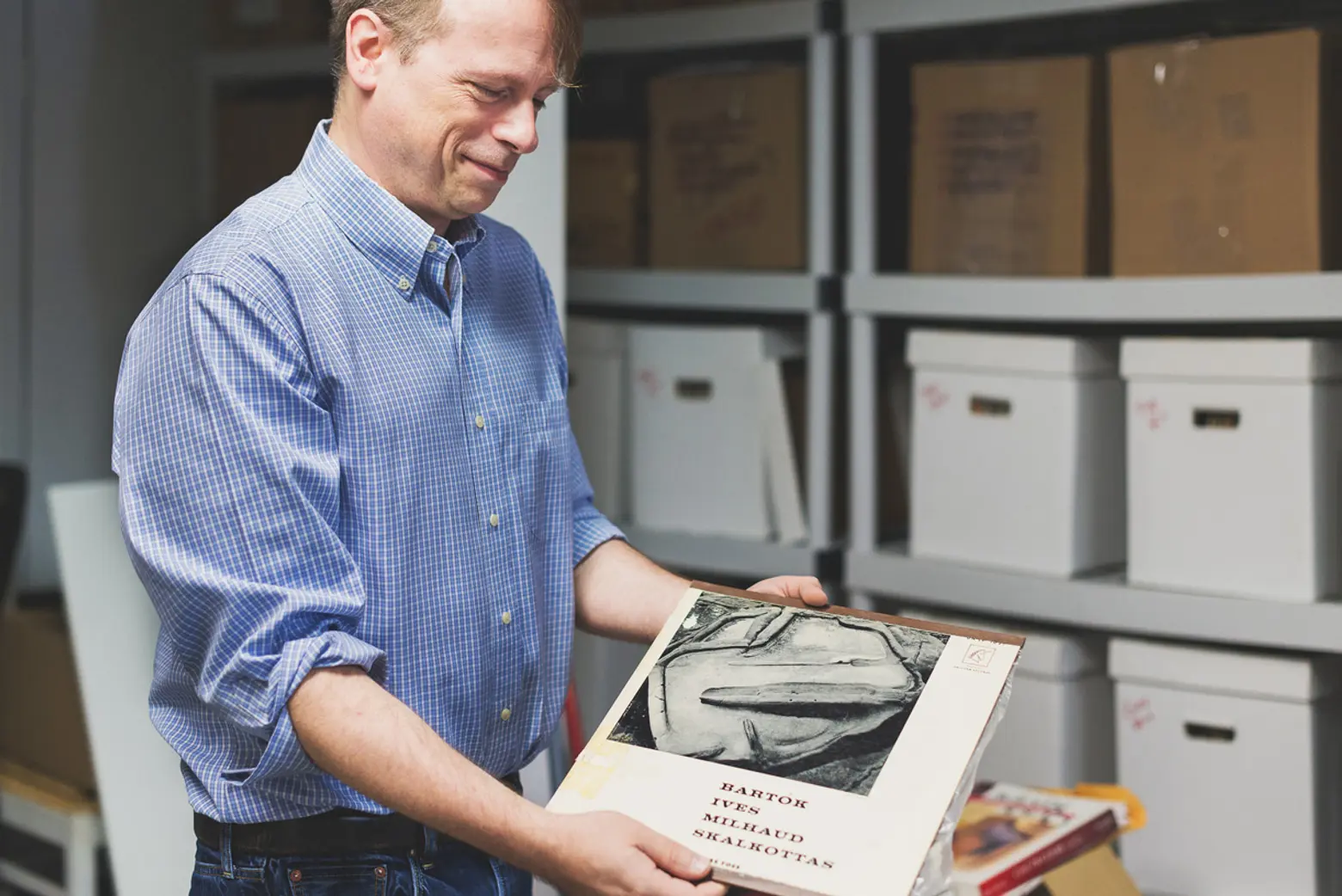 Tony is also a record collector. A quarter of his collection are from Gilbert Kelly who found them around the neighborhood thrown out with the trash. Kelly would deliver what he found for Tony with a shopping cart. Above he's holding his favorite record: "Early 20th Century Avant Garde"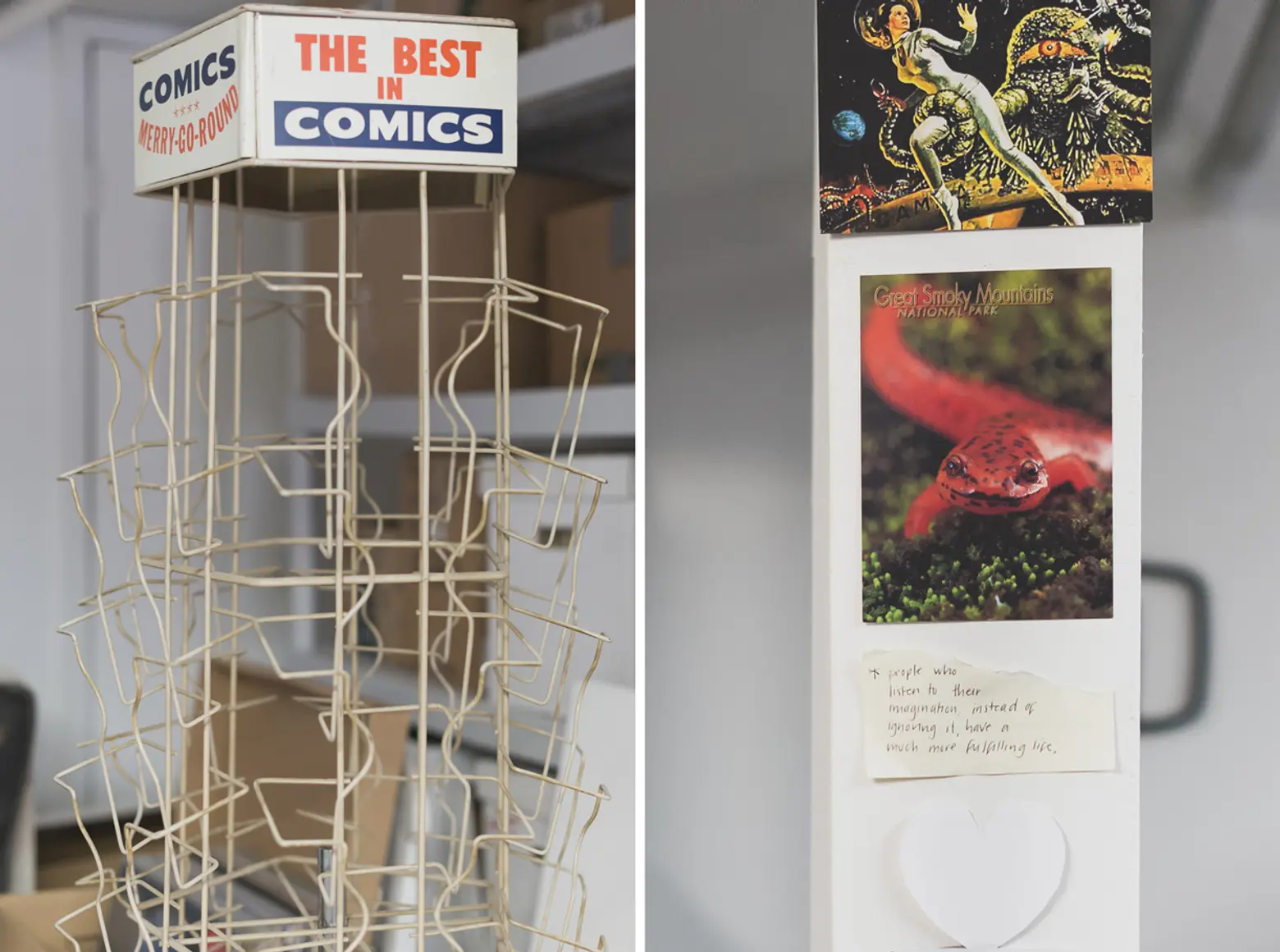 What are a few of your favorite places in the neighborhood? What do you love most about it?
We have always loved the neighborhood and seeing it change over the past 14 years has been really exciting. The things that drew us here and still remain are its physical beauty, such as the architecture and number of trees, the diversity of inhabitants and its dog-friendliness.
Some of our favorite businesses include New Hong Cheong, where we have eaten at least once a week since day one, Waverly Wu is the best laundromat, Castros for Mexican. All three of these have been here since we arrived. We like some "new" places–Choice and Primrose for coffee, Clementine Bakery for cake and sweets, and Mayflower is hands down our favorite bar!
What we love most: The people. Our neighbors are the best. That's really why we've stayed.
Is there anything else about the house we should know about this house?
Pedestrians note: If you are arguing with your spouse in front of the grocery store, we can hear every word you say! Which is awesome!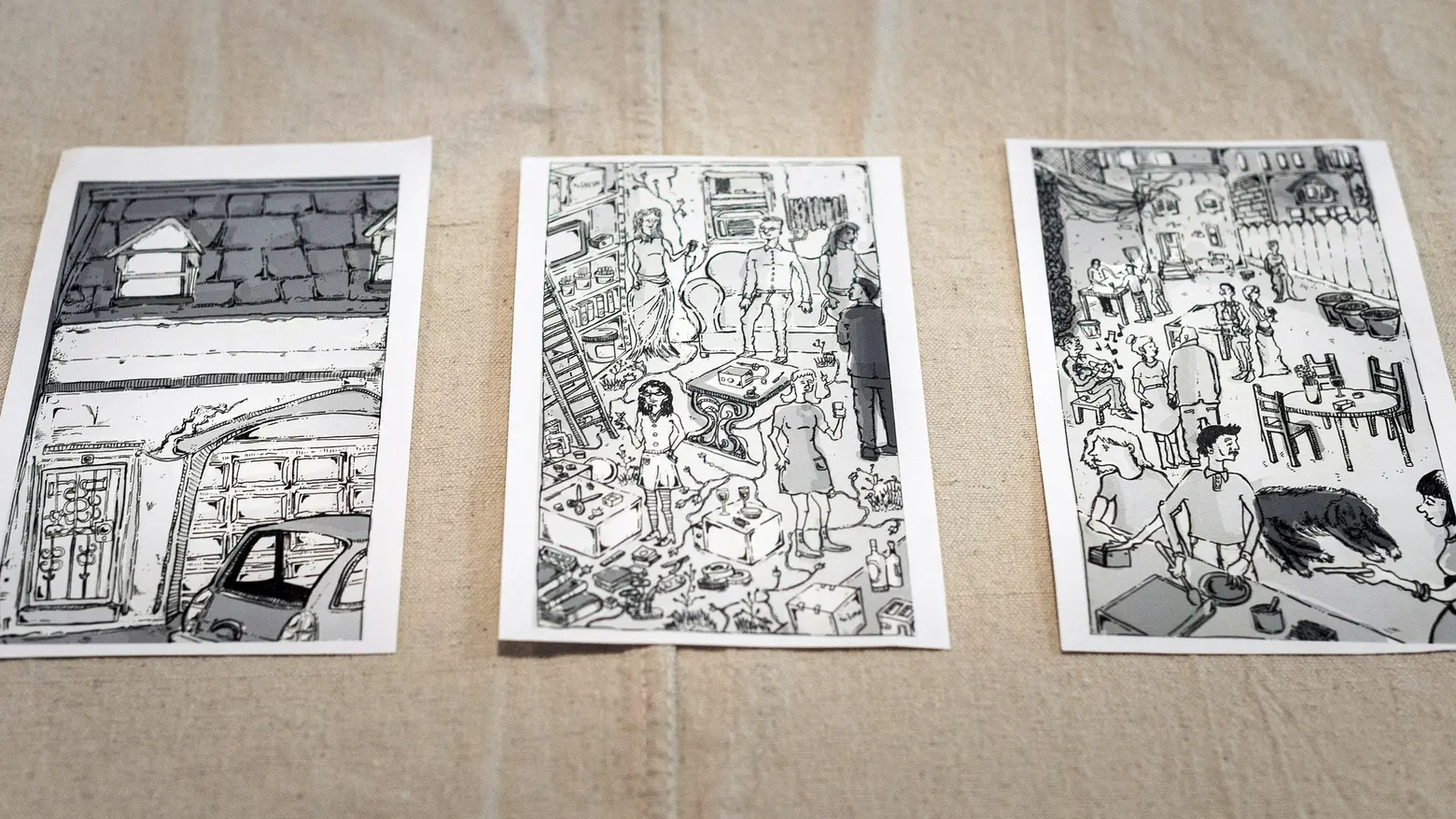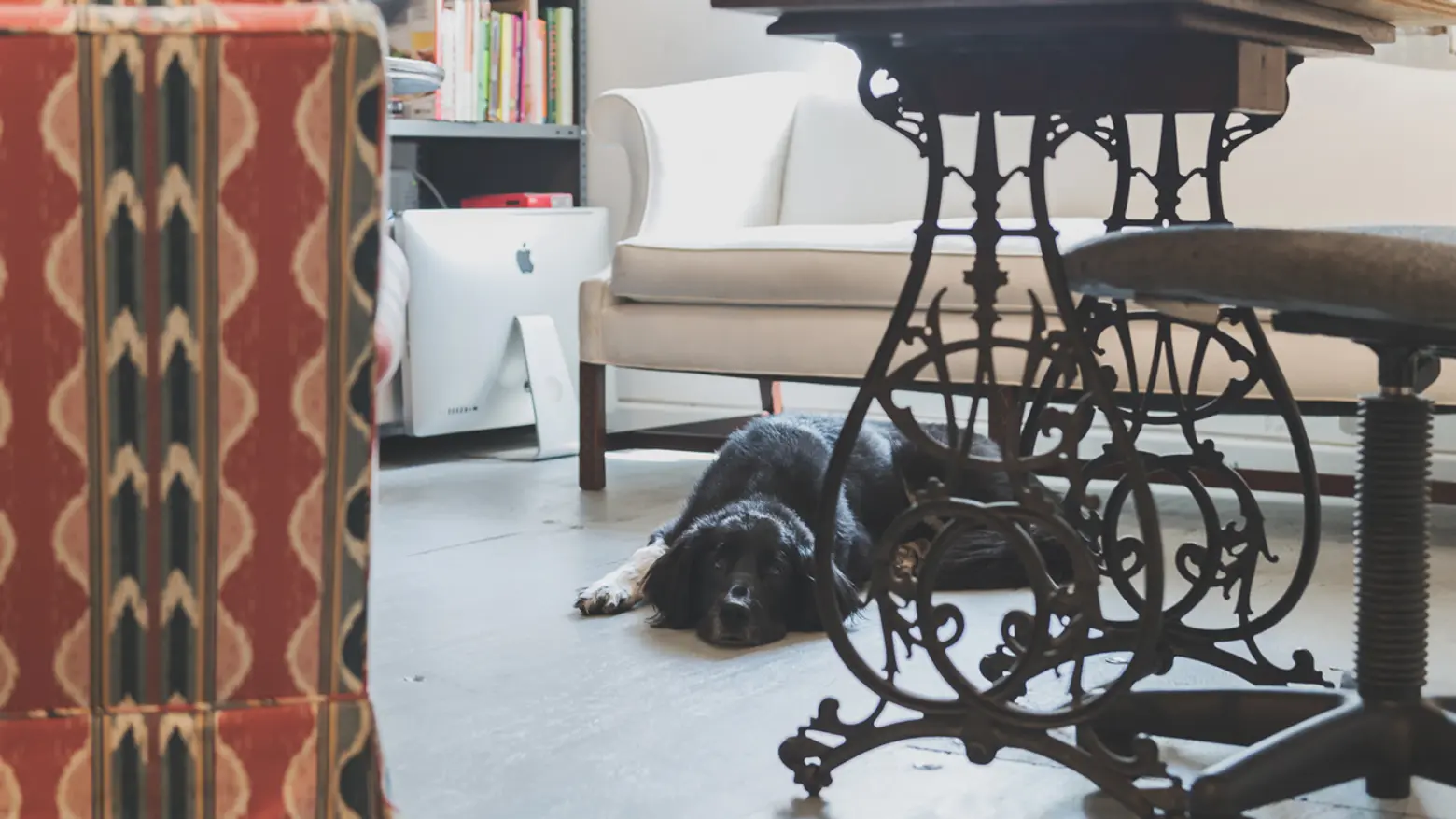 The illustration above is for a party Anne and Tony are throwing for their neighbors. The picture shows a before, the party, and party in the yard (top); Their dog Ida (bottom)
+++
We'll be making a return visit to Anne's house next summer to see what's been done post-renovation. Stay tuned!
RELATED:
All photos taken by Angelica Vasquez exclusively for 6sqft.
Photos are not to be reproduced without written permission from 6sqft.