MTA approves $17B budget that includes controversial addition of 500 more subway cops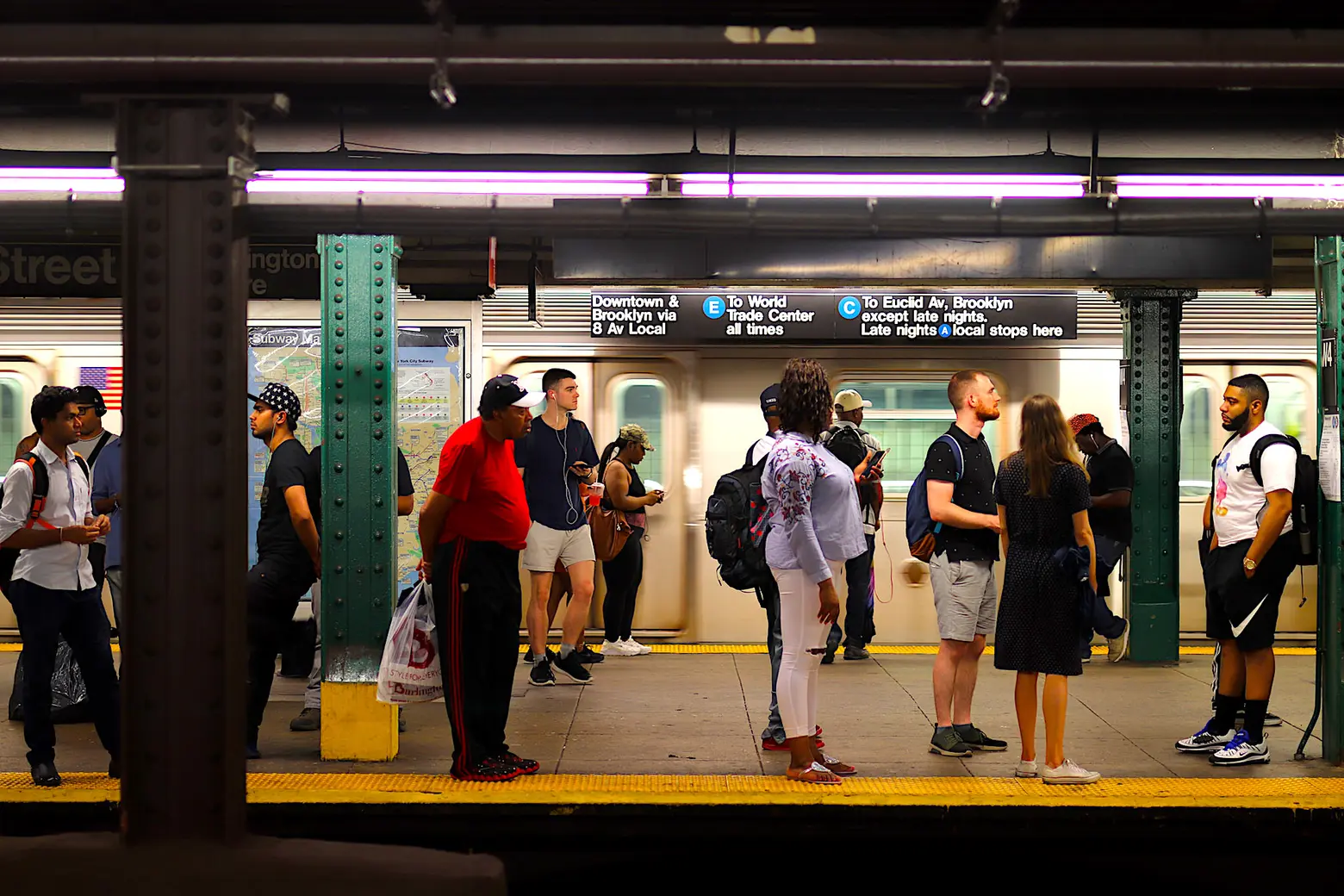 When the MTA unveiled its proposed $17 billion 2020 budget and four-year financial plan in November, one of the biggest takeaways was a proposal conceived by Governor Cuomo to increase the number of MTA police officers in subway stations by 500–a 20 percent increase–over the next four years. Though he said it was necessary to address "quality of life" issues such as homelessness, panhandling, and fare evasion, those in opposition pointed to its $249 million price tag, which will only add to the MTA's projected operating deficit of $433 million by 2023. In the lead up to the plan being approved yesterday, elected officials also expressed concern over how the plan will affect low-income New Yorkers. "Arresting hard-working people who cannot afford a $2.75 fare is, in effect the criminalization of poverty," wrote Rep. Alexandria Ocasio-Cortez in a letter to the Governor.
Ocasio-Cortez's letter was also signed by Rep. José E. Serrano, Rep. Jerrold Nadler, as well as Senators Michael Gianaris, Luis R. Sepúlveda, Jessica Ramos, Julia Salazar, and Alessandra Biaggi. "In our view, desperately needed resources would be better invested in subway, bus, maintenance, and service improvements, as well as protecting riders and transit workers from assault rather than in the over-policing of our communities," the letter states. It also points to the fact that communities of color have historically been most affected by such over-policing, and it will also be these communities hit hardest if "the subway system is bankrupt or if there are additional route cuts."
In a statement obtained by the New York Times, MTA chairman and chief executive Patrick J. Foye responded to the letter: "We will not engage in politics when it comes to public safety. New Yorkers deserve to have reliable service and feel secure on our system. Adding additional uniformed police officers across the M.T.A. will help ensure safety and quality of life for our eight million daily customers."
Governor Cuomo and the MTA argue that the plan is necessary due to an increase in hate crimes, robberies, aggravated harassment, and assaults on transit workers. Though there has been an uptick in these categories, overall violent crime is down. And as 6sqft previously reported, "videos have [recently] surfaced of police officers using excessive force and arresting food vendors."
When the plan was released, the MTA argued that the four-year, $249 million cost to hire the 500 police officers would pay for itself, partially since they estimate a loss of roughly $300 million from train and bus fare evasion this year, as Vox recently reported. But according to MTA data collected by the Citizen' Budget Commission, when all costs are factored in–salaries, raises, overtime, benefits, pensions–there will be a net cumulative 10-year cost of nearly $866 million.
In addition to combatting fare evasion, for which offenders currently pay a $100 fine, ending homelessness in the subways is another priority of the new cops, which, it should be noted, will not be part of the existing 2,500 NYPD officers who patrol the subways, but rather state police officers working directly for the MTA. This initiative will be in addition to the Mayor's recently unveiled $100 million plan to end long-term street homelessness, which includes an expansion of the Subway Diversion Program that asks officers to refer homeless individuals to support programs instead of issuing them summonses. De Blasio's plan, however, also includes a controversial initiative to monitor homeless persons via a new video surveillance system.
Other components of the MTA budget include laying off 2,700 workers whom the agency says hold "primarily administrative"  positions and raising fares four percent on two occasions over the next four years. They claim these two measures will save them $1.6 billion over the four-year plan.
RELATED: