Moving Day: When ALL New Yorkers moved on May 1st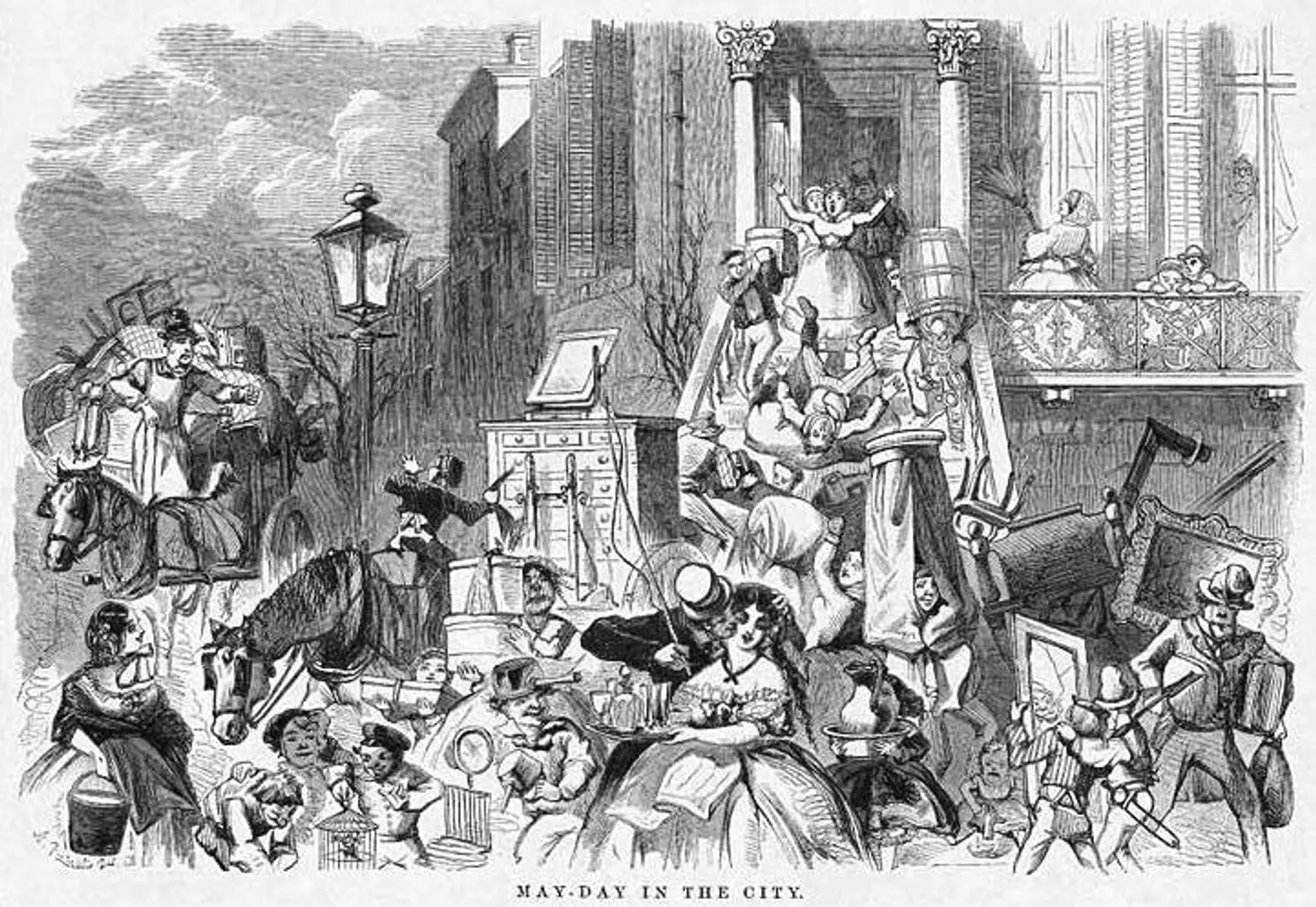 Moving is certainly stressful right now, but imagine dealing with that headache along with every other New Yorker moving on the same day? Believe it or not, this is how it used to be. From colonial times up until WWII, May 1st was Moving Day, the one day a year when people in New York City moved. It's said that the tradition came from the Dutch, who set out for Manhattan on May 1st and therefore celebrated each year by swapping homes on this day. Later, landlords had to notify their tenants of rent increases on February 1st, which would take effect three months later at 9am. Tenants waited until May 1st to move, and the streets would be filled with "moving vans," Long Island farmers' wagons led by horses, clogging up the city streets and creating complete pandemonium.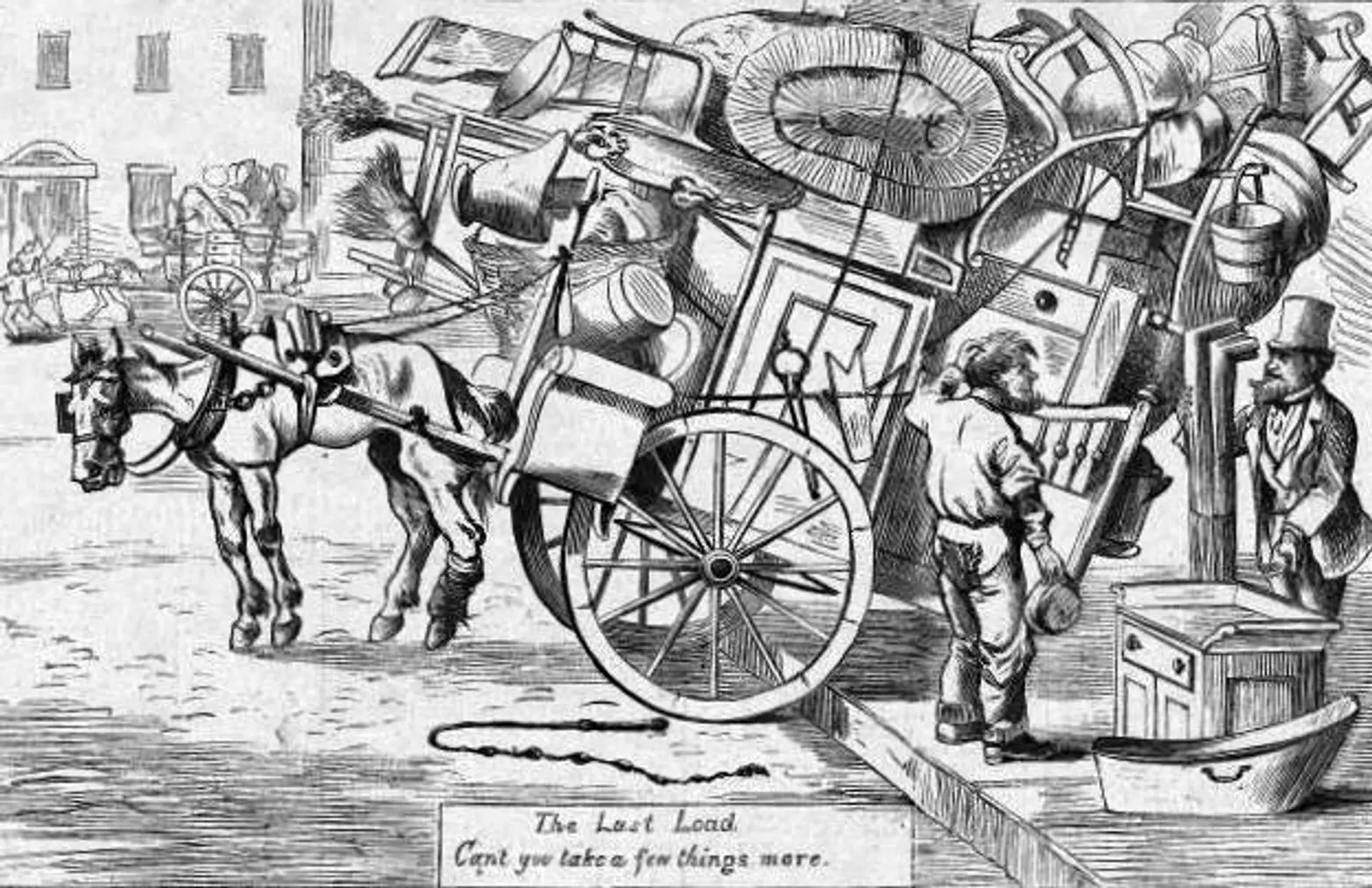 A Cartoon depicting Moving Day in New York City in 1869, via Wikimedia Commons
Now it's a hassle to move on the 1st of a given month rather than somewhere in the middle, but in the time of Moving Day, or "Rent Day" as it was sometimes called, it was all left until May 1st (and in later years, the days leading up to the 1st). Therefore, cartmen would raise their prices as high as they liked. But in 1890, the city started to regulate moving rates. As Apartment Therapy found in an historic New York Times article, "it cost $2 per one-horse truckload within two miles and a whopping 50 cents per extra mile."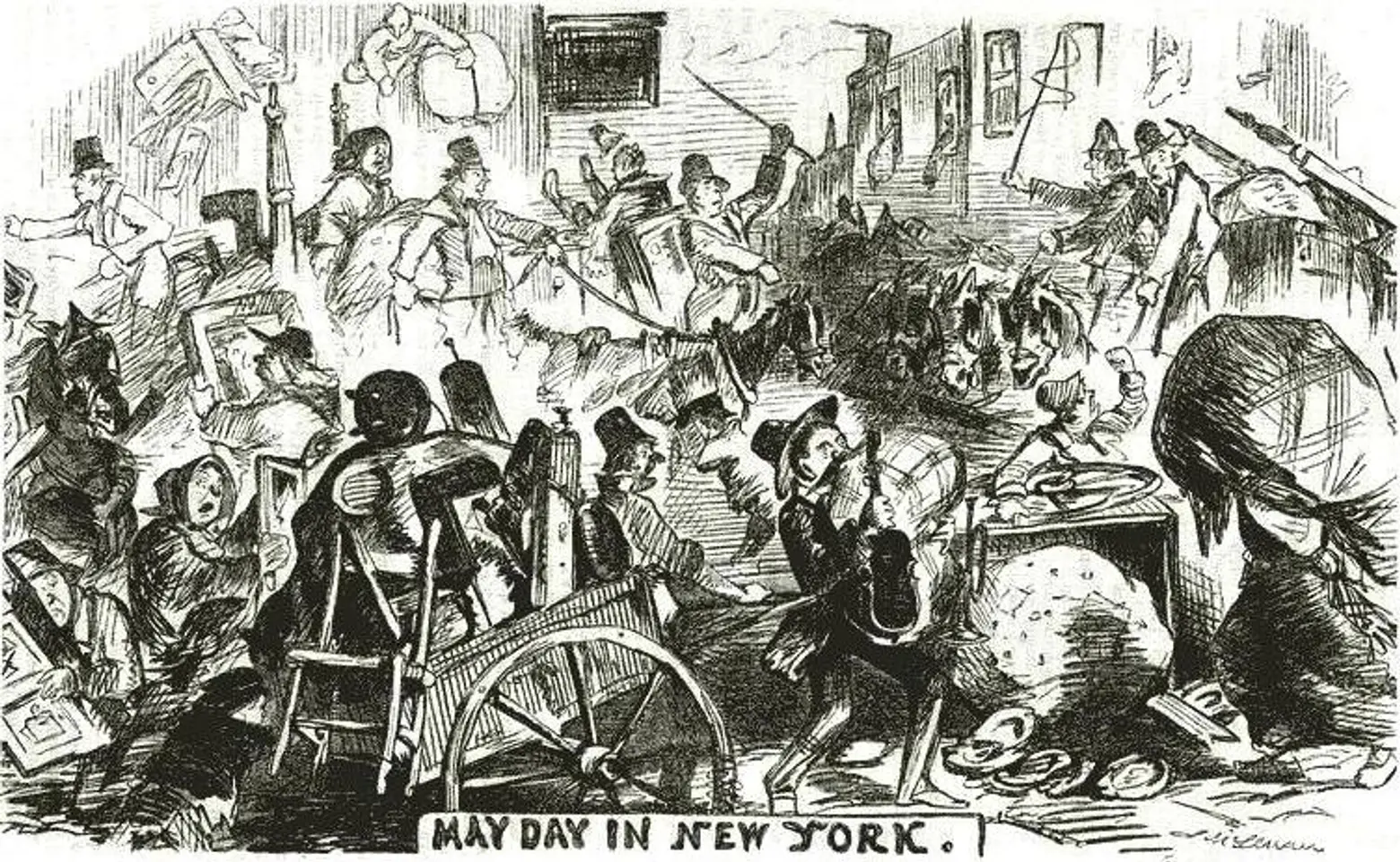 The chaos of Moving Day in 1856, via Wikimedia Commons
And aside from the cost, it was utter chaos. Ephemeral New York quotes an 1885 Times article about the day: "Everybody in a hurry, smashing mirrors in his haste, and carefully guarding boot boxes from harm. Sofas that go out sound will go in maimed … bedscrews will be lost in the confusion, and many a good piece of furniture badly bruised in consequence." Even schools were closed on May 1st, as it was estimated that a million people moved simultaneously at the height of Moving Day.
By the end of the 19th century, many New Yorkers spent their summers in the suburbs and moved upon their return, making October 1st a second Moving Day. When WWII began, it was nearly impossible to find enough moving men on one day, so the tradition began to lose steam. And once rent control went into effect shortly after, the custom was erased completely.
Editor's Note: This story was originally published on May 1, 2017.
RELATED: