Modern-spotting: The lost Eichlers of Rockland County, New York
Yes, there are Eichler homes in New York! They are sometimes called "lost Eichlers," as most of noted mid-20th-century developer Joseph Eichler's homes exist in Northern and, to a lesser degree, Southern California. Three custom-built Eichler houses were constructed (and still stand) in the Rockland County, New York community of Chestnut Ridge, just north of Eichler's hometown of New York City.
Joseph L. Eichler, whose modernist tract homes can be found throughout the Bay Area in Northern California as well as the Greater Los Angeles area, was one of the most celebrated residential homebuilders of the mid-20th century. His homes are enthusiastically "collected" by modern design buffs, and their renovations appear on the covers of design and home decor magazines like Dwell and Metropolitan Home.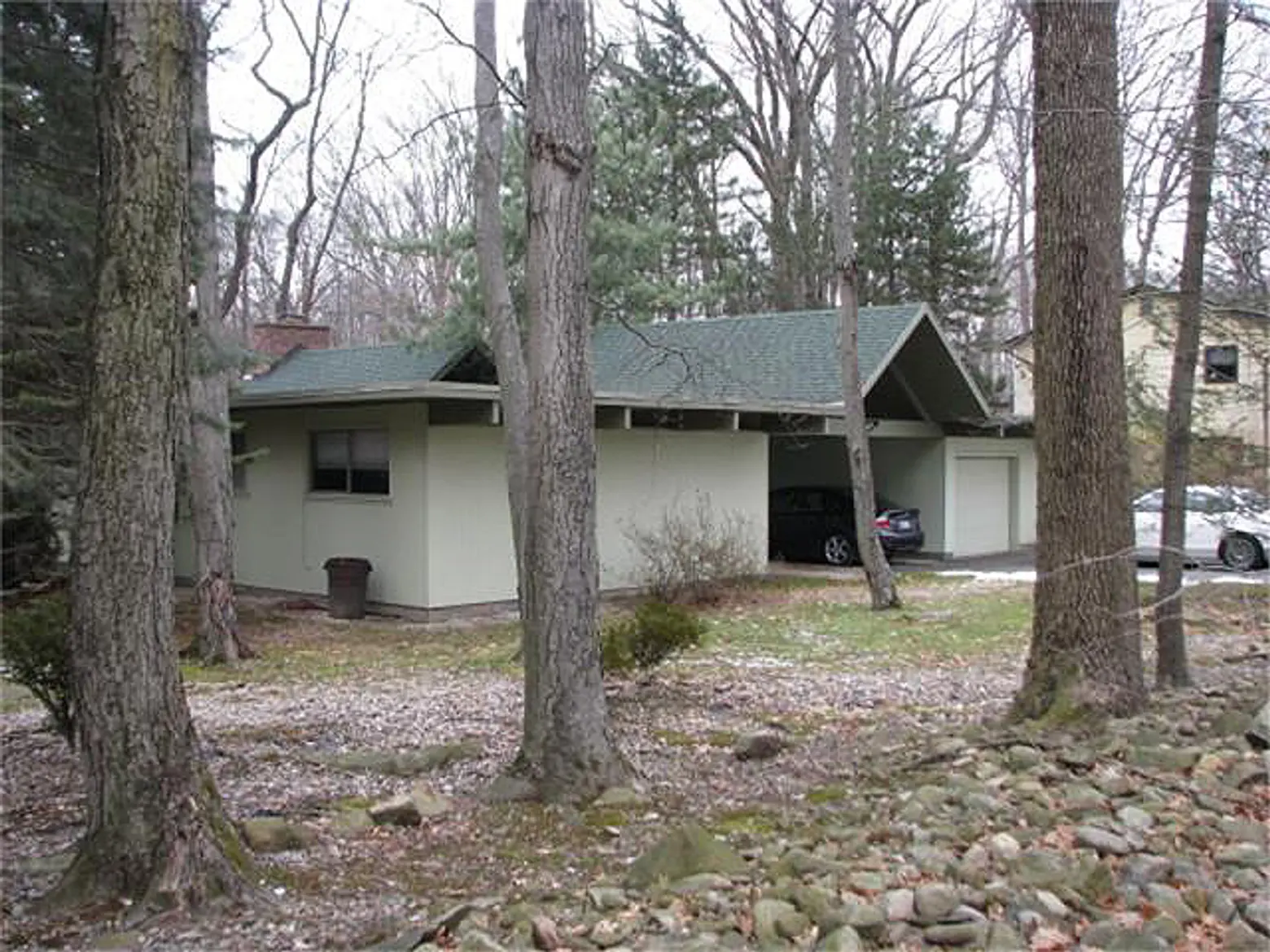 This Eichler house in Chestnut Ridge, NY is one of only three. Photo:Baer & McIntosh Real Estate.
The Bronx-born New York City native moved to the West Coast in 1940, where he worked as an executive in his family's wholesale dairy business. In his mid-40s, he found himself in need of a new vocation when the business closed its doors. He had rented a Frank Lloyd Wright-designed "Usonian" house known as The Bazett House for himself and his family. Deeply inspired by the home and by his admiration for European modernist architects like Mies Van Der Rohe, he hired young architect and Wright enthusiast Robert Anshen. At the time, thousands of young veterans were returning from WWII and starting families; the suburban housing boom had begun. In 1955 the company expanded into San Mateo, Walnut Creek, and Sacramento.
Making use of locally-sourced materials—like Redwood in Northern California—and a post-and-beam construction method, Eichler homes (many don't realize that he was not an architect himself, but collaborated closely with a select group of his favorite architects) were built with walls of glass and open, inviting interior spaces. Like Wright's houses, Eichler's homes conveyed a sense of harmony with the natural environment and blurred the boundaries between indoor and outdoor living. Interiors offered a unique feeling of comfort, spaciousness, and privacy while also embracing practical design. Communities of Eichler homes became known for offering a unique level of community spirit and a commitment to neighborhood preservation. With other modernist builders of the era, Eichler's style came to be known as "California modern."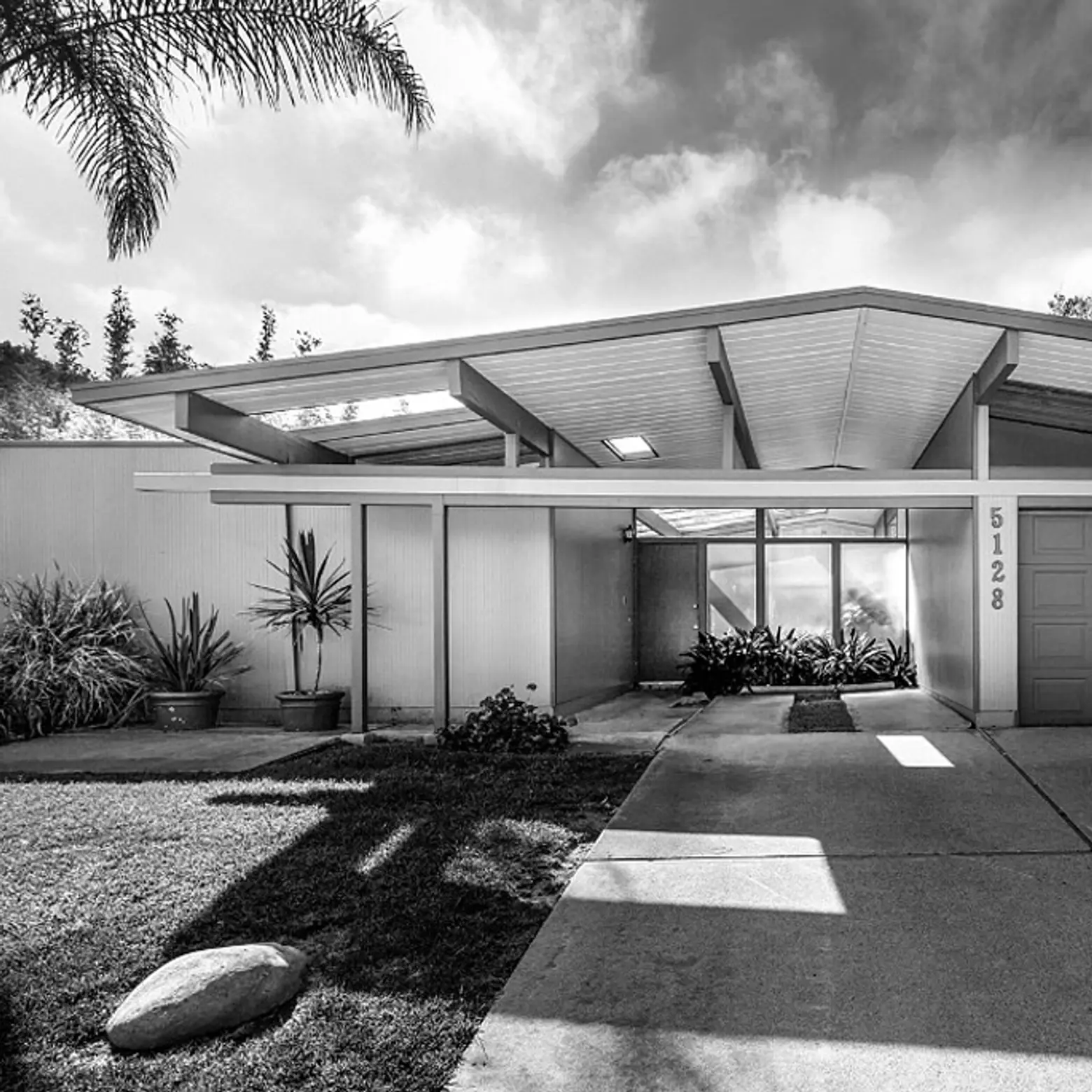 Eichler home in the Southern California community of Fairhaven © Darren Bradley/Modernist Architecture
Between 1949 and 1974, Eichler's company built 11,000 homes—more than any other US tract home developer. His insistence on quality for middle-class housing was unrivaled in that era. Eichler homes received countless design awards. Eichler sold his company in 1966 but continued to build homes until his death in 1974.
Eichler was also one of the only American home-builders of the 1960s who felt strongly about social equality. At a time when most developers wouldn't do business with African Americans, he sold his homes to anyone who was able to buy one. Eichler buyers tended to be professionals of a more progressive nature, and Eichler communities were more diverse than many suburban tract home communities of the time.
Residents in places like Marin County and Palo Alto have continued to treasure these unique and forward-thinking houses. With their reputation as "anti-McMansions," these iconic homes have continued to grow in popularity in the 21st century. Organizations like Eichler Network advise homeowners on how to renovate while adhering to original construction standards and the developer's vision. Showcase houses like X100 in the San Mateo Highlands and the Life House (commissioned by Life magazine in 1957) two blocks away draw architecture enthusiasts from around the world. Their owners welcome the attention and admiration. Living in and restoring an Eichler is seen as a lifestyle, embraced with passion.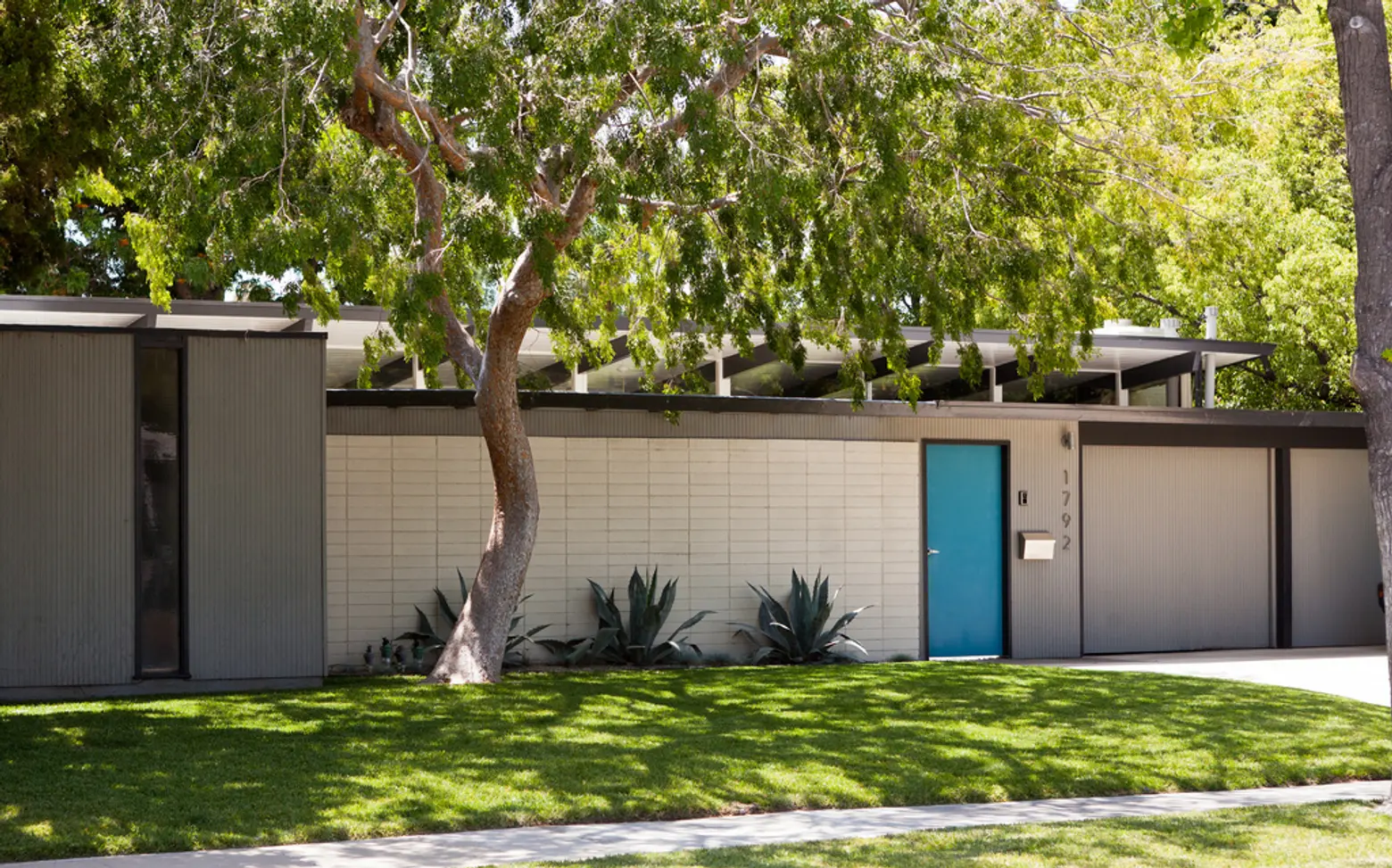 A home in the Fairmeadows Eichler community in Palo Alto, CA. © Darren Bradley/Modernist Architecture
The wooded, hilly village of Chestnut Ridge in the town of Ramapo, New York is home to many commuters who work in nearby New York City. Surrounded by the greenery of Hudson Highlands and Harriman State Park, the three East Coast Eichlers—the homes are designed by architects Claude Oakland & Associates and Jones & Emmons—fit right in against the forest idyll. Many of the community's homes are mid-century-modern-style ranch houses. But it was the Eichlers that attracted all three current owners.
The homes were not as easy to construct as Eichler had hoped. Their signature flat rooftops and glass walls didn't do well in the slush, snow, and chill winds of the American Northeast. Instead of building the 216 homes originally planned for the area, he stopped at three custom-built homes. But, like most Eichler communities, their unique charms are not lost on the people who own them.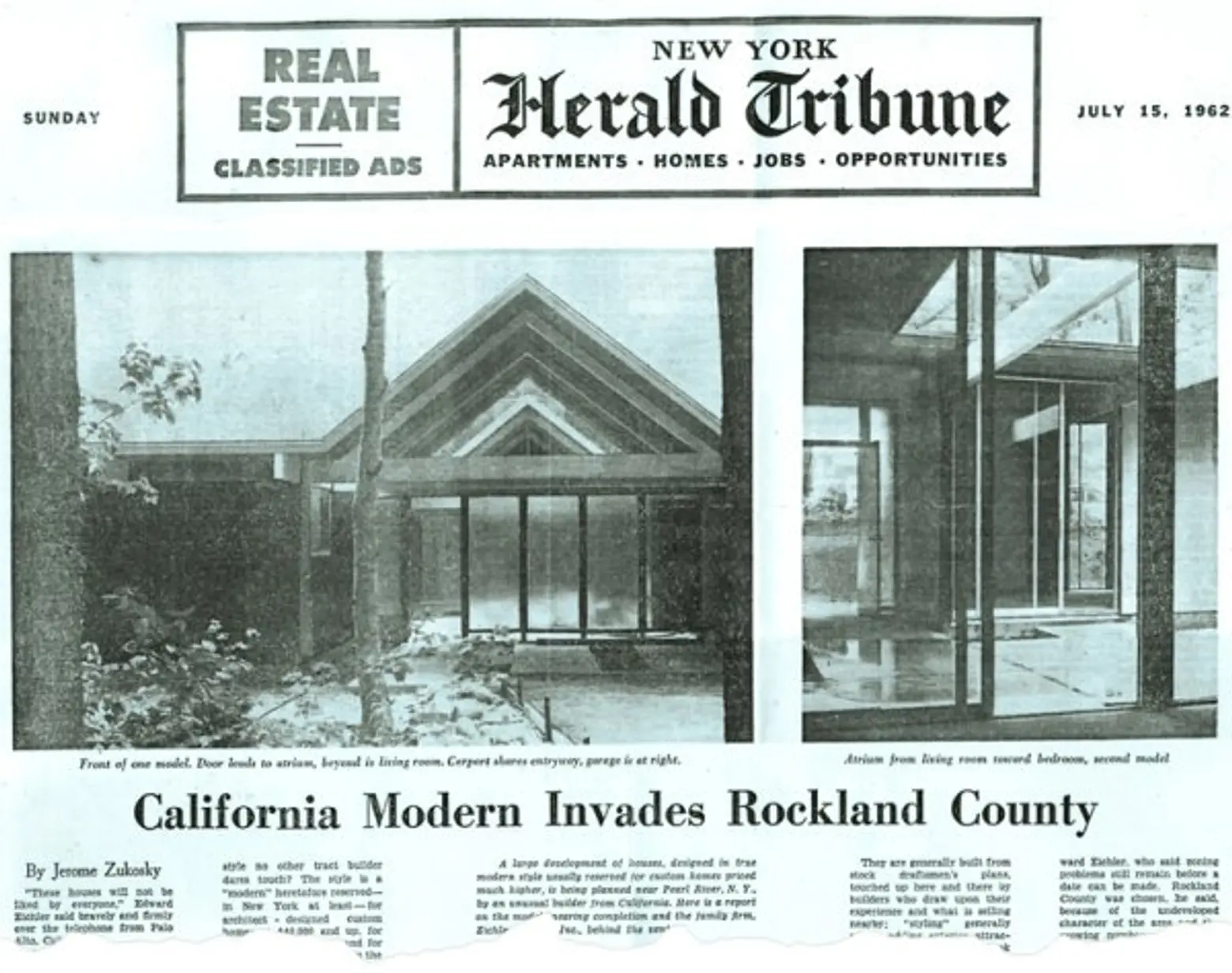 Two of the homes have atriums; one has a courtyard. Two homes have flat roofs. One boasts rare steep central gables. The original exteriors remain visually unchanged and the homes are structurally intact. Residents include a German-born designer—she and her husband are self-professed "Bauhaus design freaks" who loves living in an Eichler neighborhood for much the same reason her West Coast counterparts do. They fell in love with and bought their house for $475,000 at the peak of the market, then began restoring its interior to accommodate modern life while preserving its architecture.
Their neighbors have also restored their home after diligently studying the many Eichler house plans available online in a five-year project whose goal was to create "a New York version of Palm Springs." Though New York doesn't have the network of contractors and suppliers available to East Coasters who want to live the Eichler lifestyle, the Eichler neighbors share knowledge and collaborate on restoration efforts. One of the homes isn't just a modern icon, it's a "smart house," with heat, lighting, and electronics controlled wirelessly using a remote or mobile phone—convenient for a vintage hard-to-wire Eichler home. This latter work is also currently for sale, asking $490,000.
Homes designed for California weather–constructed with very little insulation just as their West Coast counterparts had been—do present a challenge on the East Coast. Residents bear the burden of sky-high heating bills in winter (though they still eschew double-glazed windows, fearing they would ruin "the whole Eichler look").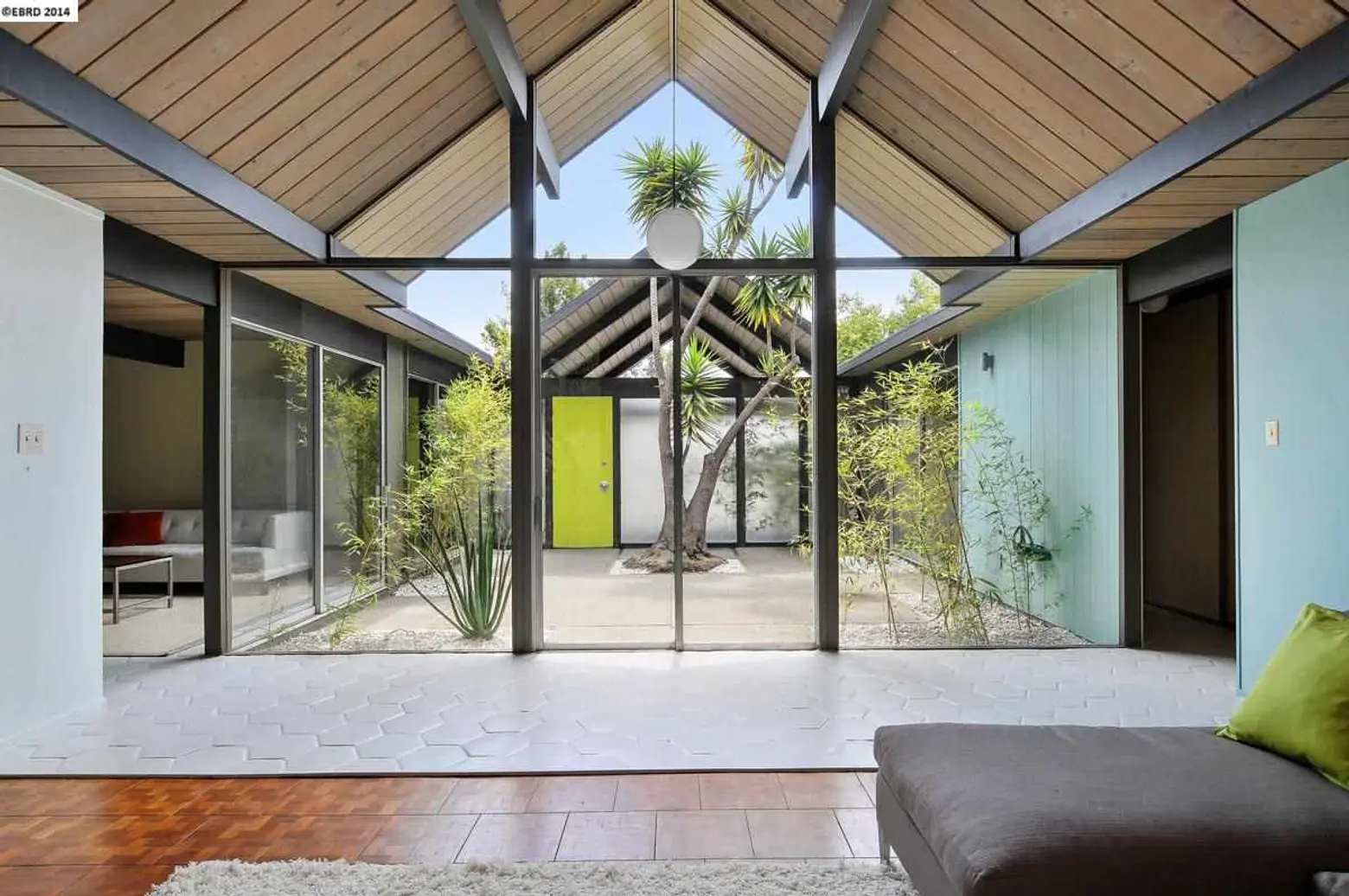 An Eichler home at 8199 Hansom Drive in Oakland, California
Find out more about these timeless modern icons:
Reference, NY Eichlers: "Eastward Ho," Eichler Network/CA Modern
A documentary film by Monique Lombardelli, "People in Glass Houses–The Legacy of Joseph Eichler," profiles the Eichler story and interviews residents of Eichler homes in communities like Walnut Creek and Palo Alto. The film features rare footage of Joseph Eichler and his architects as well as interviews with his son, Ned Eichler.
If you're looking for your own Eichler, one of the three rare Rockland County homes is currently for sale.
Eichler Network offers resource lists for blueprints and construction professionals who work on Eichler homes as well as forums to discuss ways to restore, modernize and rebuild.