Iconic Bronx Kosher deli Loeser's faces an uncertain future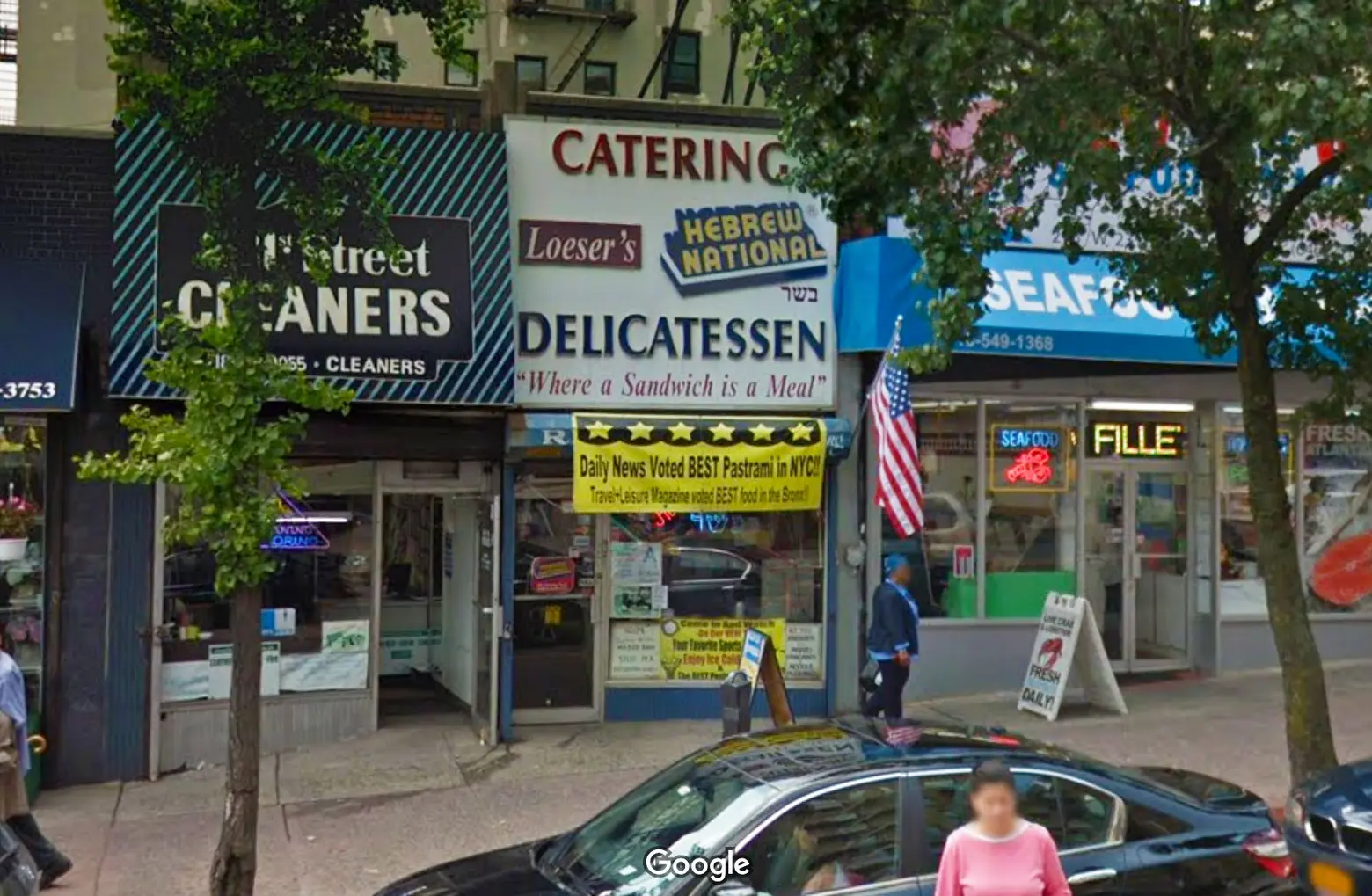 Street View of Loeser's in August 2017; Map Data © 2019 Google
Street View of Loeser's in August 2017; Map Data © 2019 Google
Usually, when we talk about historic mom-and-pop businesses closing up shop, it's due to a rent increase. But in the case of Loeser's Kosher Deli, the issue comes down to a potentially faulty gas pipe. As the Riverdale Press tells us, the Department of Buildings issued a violation to the 60-year-old Bronx establishment and a shutdown notice as of November 20th. Now, facing high repair costs and loss of business, the fate of Loeser's seems uncertain.
The unraveling of events began when the city was called to inspect an adjacent deli for gas piping installed without permits on November 14th. Since it's in the same building as Bunny Deli's Cold Cut City (which received four violations), Loeser's was also inspected and received one violation for "failure to maintain the building in a code-compliant manner." Department of Buildings spokeswoman Abigail Kunitz told the Daily News that they found "illegal, unpermitted and potentially dangerous gas work… which poses a fire hazard to the building occupants and their neighbors."
In turn, they instructed ConEd to shut the gas and hot water heater off, but co-owners and sisters Pamela Loeser Halpern and Lisa Loeser Weiss kept things running with a smaller menu and by using electric hotplates to boil water to sanitize equipment. However, when the Health Department paid them a visit six days later, they were shuttered for having no hot water for sanitary purposes.
The deli was opened by Fredy Loeser on West 231st Street in Riverdale in January 1960. At just 17 years old, he used his Bar Mitzvah money to open the business with his father and ever since, has become well known for his involvement with the local Bronx community and for Loeser's overstuffed pastrami sandwiches and homemade knishes. It is the oldest sole-proprietorship kosher deli in The Bronx, and in September, the New York City Council unanimously approved the renaming of West 231st and Godwin Terrace as "Loeser's Deli Place."
The city says they are in contact with the family to help them with compliance and the repairs. But it would cost the Loeser family at least $100,000 and a three-month shutdown to get everything up to code, after already losing their Thanksgiving business.
Bronx borough president Ruben Diaz Jr. and local Councilman Andrew Cohen have spoken out in support of Loeser's, but Cohen told the Riverdale Press, "I'm certainly worried about losing a business that's been here for so long. But also, at the end of the day, as loyal as I am to Loeser's, it's important that we have safe gas in the community. I don't want to put anybody's safety at risk."
Though some loyal customers have suggested starting a crowdfunding campaign, Fredy said he doesn't want that. "He just keeps saying to me, 'Pom-Pom, I don't understand why they won't just let me fix it. I'll do whatever they say. I have to pay all these fines and permits, and they said I still may not be able to open,'" said Pamela Loeser Halpern.
[Via Riverdale Press]