Hochul's sweeping New York recovery agenda addresses affordable housing crisis, homelessness
In her first State of the State address Wednesday, Gov. Kathy Hochul announced a sweeping agenda that would address housing affordability, equity, and stability by growing the state's affordable housing stock and expanding the housing supply. She also proposed a set of initiatives to address homelessness and housing instability. Hochul called the state's housing needs "a complex challenge that requires an all-levers approach."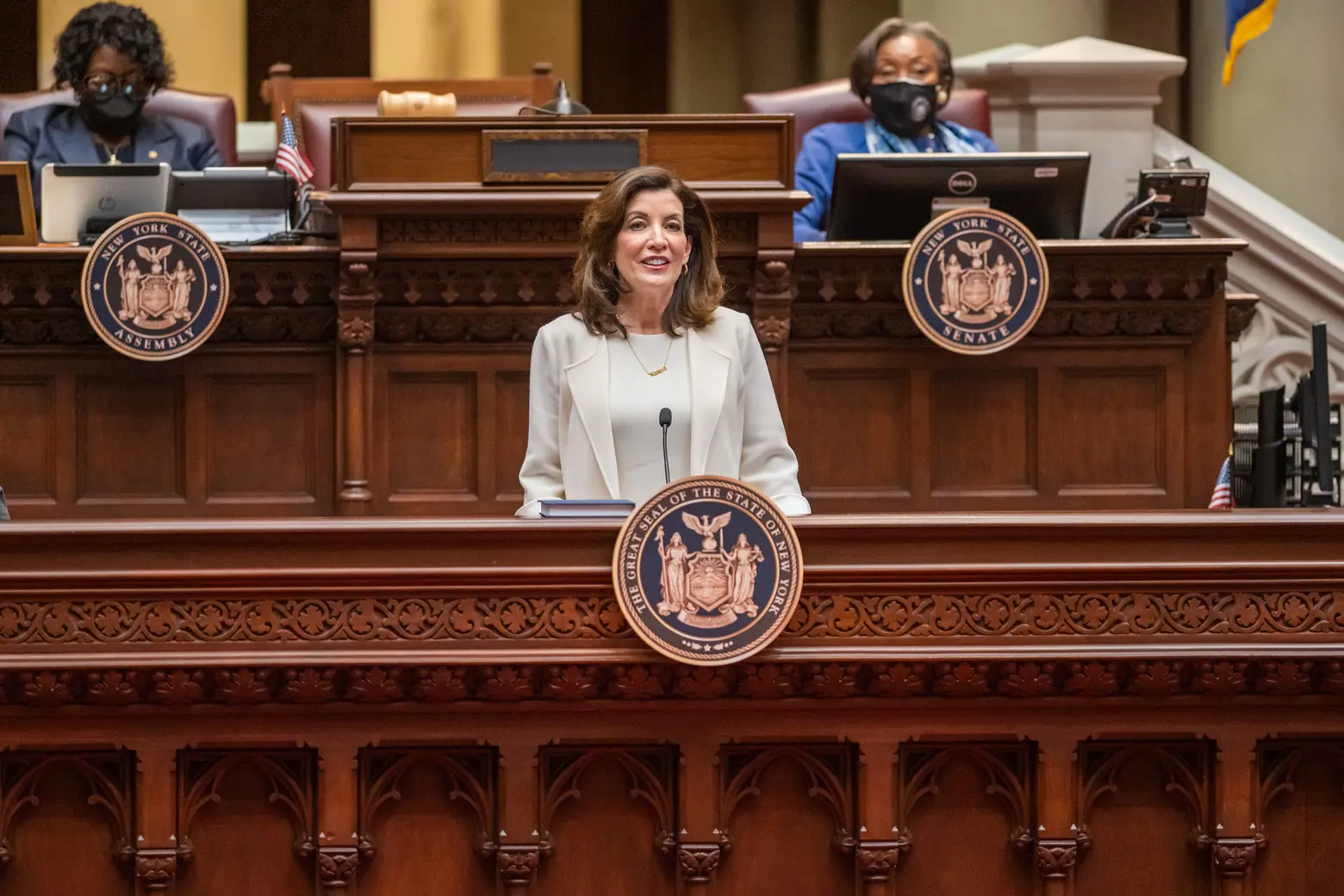 Governor Kathy Hochul delivers her 2022 State of the State Address in the Assembly Chamber at the State Capitol. (Mike Groll/Office of Governor Kathy Hochul on Flickr)
"In the wake of the pandemic, it's crucial that we tackle the housing crisis and make New York a more affordable place for all," the governor said. "These bold steps are a major step forward in transforming our housing market, protecting affordability and increasing the housing supply."
Hochul's hefty list of policy initiatives aimed at creating affordable housing, offering tenant relief, and mitigating the pain caused by Covid is headlined by a proposal to preserve and create 100,000 affordable housing units in urban and rural communities. The three-part strategy includes the implementation of a comprehensive $25 billion five-year housing plan which will draw on existing state programs and create new ones. The plan would:
create and preserve 100,000 low-income rental and co-operative housing units in both urban and rural communities.
create and preserve 10,000 supportive housing units.
build and preserve senior housing across the state.
weatherize and electrify New York's housing stock.
pilot a program to create affordable homeownership projects that prioritize.
resident control and permanent affordability.
spur innovation in affordable housing by initiating a pilot program supporting projects that take a dramatic new approach to construction in an effort to reduce costs, such as modular net-zero housing production, multi-family buildings using mass timber framing, and construction utilizing 3D printing, among others.
improve the housing stock of rural rental properties.
Hochul addressed the issue of expanding the housing supply to promote affordability with initiatives that would
encourage the creation of legal and safe Accessory Dwelling Units (ADUs), like basement apartments.
spur transit-oriented development; a significant portion of Hochul's overall agenda emphasizes the importance of public transportation to the state's well-being. As it pertains to housing, Hochul will propose legislation to foster multifamily construction in zones drawn by municipalities around rail transit stops within commuting distance to New York City.
give the City of New York authority to encourage densification. Hochul proposes to amend the state law that limits the maximum density of residential floor area ratio to 12.0 in New York City, returning it to local authority, which will give municipal leaders the autonomy to allow for denser residential development where appropriate.
ease restrictions on converting hotels and offices to residential uses
end the 421-a tax abatement and establish a new program that more effectively uses public dollars to drive affordability.
Hochul proposed to expand housing access and equity to keep more New Yorkers in their homes by
improving housing access for renters with justice involvement or negative credit histories
creating an eviction prevention legal assistance program to improve housing stability
making financing more accessible and affordable for manufactured homes
creating permanent disaster recovery and resiliency unit to help rebuild homes
In addition to the housing plan, Hochul's plans for addressing the homelessness crisis include
creating and preserving 10,000 supportive housing units.
establishing Safe Options Support (SOS) teams to move people from street homelessness to shelter and housing.
launching a targeted plan to support populations at risk of homelessness.
addressing poverty to prevent homelessness statewide.
Additional proposals that address housing policy and affordability include middle-income property tax relief in the form of a $1 billion property tax rebate for more than two million New York families. Over two million New Yorkers will be eligible for the rebate, which they will receive in 2022. Low-income homeowners and seniors will receive higher benefits.
Hochul did not address the state's eviction moratorium, which has been in place by executive order since the start of Covid and which will expire on January 15. THE CITY reported this week the governor is considering letting the pause on eviction lapse.
Instead of an extension of the moratorium, tenant advocates are pushing for the passage of the good cause eviction bill, which would prevent no-fault evictions and ensure a tenant's right to an automatic lease renewal. While landlords can evict tenants under certain circumstances under the bill, a steep increase in rent, defined as a 3 percent increase or 150 percent of the Consumer Price Index, is a defense against eviction for nonpayment.
Housing Justice for All, a coalition made up of 80+ organizations representing tenants and homeless New Yorkers, called Hochul "Cuomo 2.0" when it comes to housing policy.
"On housing, Governor Hochul is continuing the worst of Cuomo's legacy. Amid a surging COVID-19 pandemic that left New Yorkers drowning in rental debt, Hochul is ignoring the eviction crisis, revamping corporate giveaways to developers, and providing no real solutions to housing affordability," Housing Justice for All said in a statement.
"This failure is an unconscionable abdication of responsibility on the part of the Governor of New York. New Yorkers deserve much better."
RELATED: