Here's what closed in NYC due to unhealthy air quality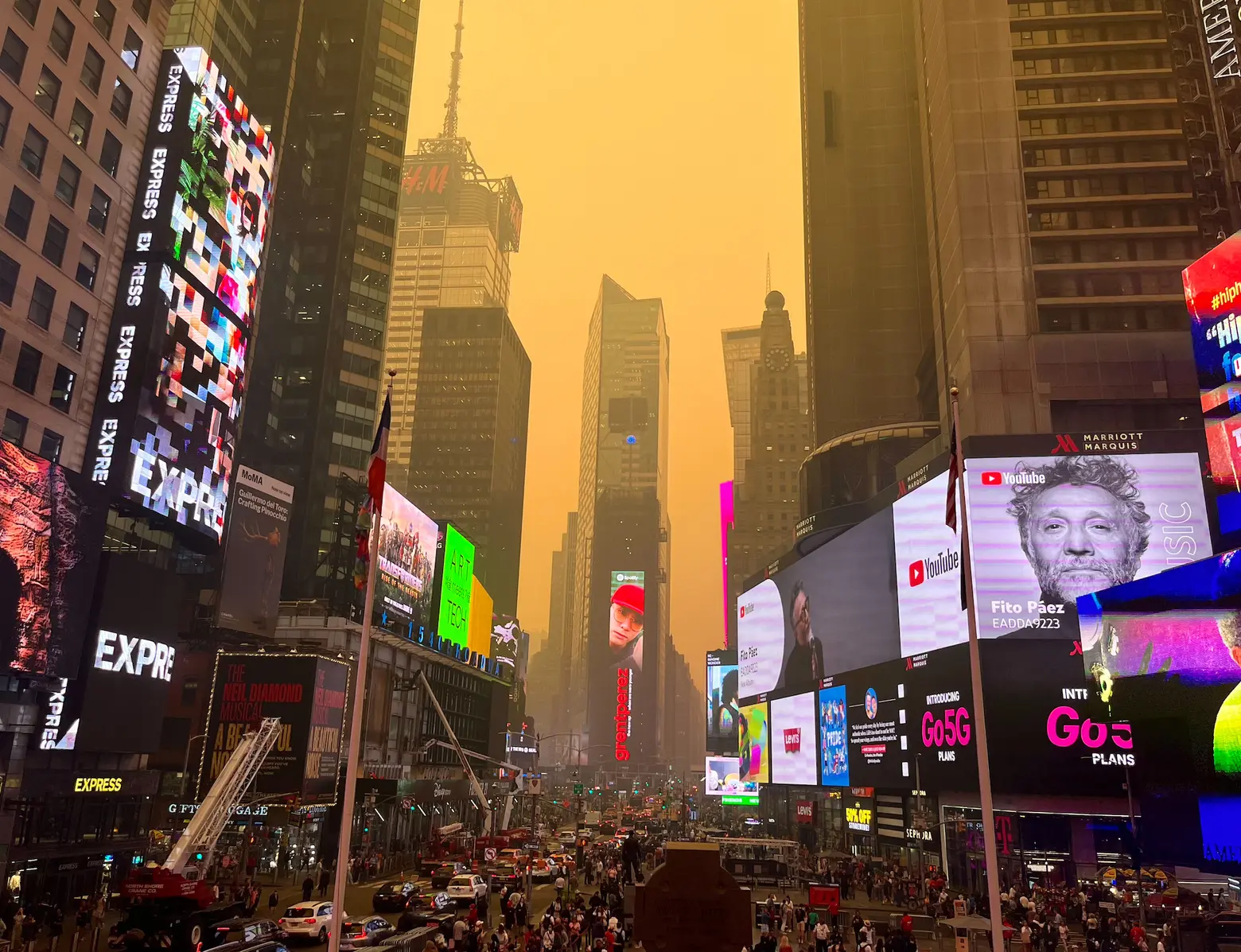 As the smoke from the Canadian wildfires continues to blanket New York City with unhealthy air, many events and activities, especially those planned for the outdoors, have been canceled. The city broke its air quality index (AQI) record on Wednesday, hitting 405 out of 500, the highest record since the city started collecting air quality records in 1985. City officials have advised New Yorkers to stay indoors, and if they must go outside, to wear a high-quality mask. Ahead, find some of the places across the five boroughs that have announced closures and cancellations due to the air quality.
Events
Bryant Park Picnic Performances has postponed Thursday night's performance by Robin Dunn and Friends and The Lite with LayeRhythm. Bryant Park will continue to monitor air conditions before deciding on whether or not to cancel Friday's performance by Dance Heginbotham, Jennifer Muller/The Works, and the Joffrey Concert Ballet Group.
BRIC Celebrate Brooklyn! has canceled their Wednesday night opening concert at the Lena Bandshell in Prospect Park. The show, which was to feature blues legend Taj Mahal, singer-songwriter Corinne Bailey Rae, and the Harlem Gospel Travelers, will not be rescheduled due to scheduling commitments, according to Gothamist.
The Times Square Alliance announced that a free performance by the Bill T Jones/Arnie Zane Company that was supposed to end the company's 40th anniversary season has been canceled. No rescheduled date has been set so far.
The Uptown Night Market, an outdoor dining and shopping event in Harlem that was scheduled for Thursday, has been rescheduled for Thursday, June 15.
The Hudson Classical Theater Company canceled its performance of Oscar Wilde's "The Importance of Being Earnest" which was set to take place at the Soldiers' and Sailors' Monument in Riverside Park on Thursday at 6:30 p.m. The company will decide on whether to cancel additional performances on Friday morning.
Shakespeare in the Park's first two performances of their production of "Hamlet" on Thursday and Friday night has been canceled. The Public Theater will continue to monitor the situation and hopes to begin performances this weekend.
Parks, beaches, and zoos
Prospect Park's Carousel, LeFrak Center at Lakeside, Audubon Center, and Yoga on the Long Meadow have all been closed on Thursday due to the air quality.
The Bronx Zoo, Central Park Zoo, Queens Zoo, Prospect Park Zoo, and the New York Aquarium are all closed on Thursday.
The Brooklyn Botanic Garden, New York Botanical Garden, and Queens Botanical Garden are all closed.
NYC Parks on Wednesday said that any event that cannot be moved indoors, which includes fitness classes, nature programming, and movie screenings, will be canceled.
NYC Parks on Wednesday afternoon shut down all city beaches and installed red flags to let beachgoers know swimming is prohibited. As of Thursday, the beaches are still closed and swimming is prohibited, according to NYC's emergency notification Twitter page.
The city's health department on Wednesday issued a work suspension for carriage horses and other working horses.
Airports
Due to low-visibility conditions caused by the smoke, flights to and from JFK International Airport, Newark Liberty International Airport, and LaGuardia Airport were disrupted on Wednesday. After flights to LaGuardia airport from the Northeast, Ohio, and Mid-Atlantic regions were paused on Wednesday due to low, visibility, the Federal Aviation Administration has lifted the stop and has delayed some of the flights on the ground, according to CNN.
Sports
Wednesday night's Yankees vs. White Sox game was rescheduled to Thursday as a single-admission doubleheader starting at 4:05 p.m., according to the Yankee's Twitter page.
The New York Liberty postponed their game against the Minnesota Lynx on Wednesday at the Barclays Center. The game will be rescheduled for a later date, according to the team.
Alternate side parking
Alternate side parking was suspended on Thursday, but parking meters will stay in effect.
Schools
All New York City public schools have canceled outdoor activities. City schools were already scheduled to be closed Thursday and Friday.
RELATED: