NYC's free Shakespeare in the Park program returns this week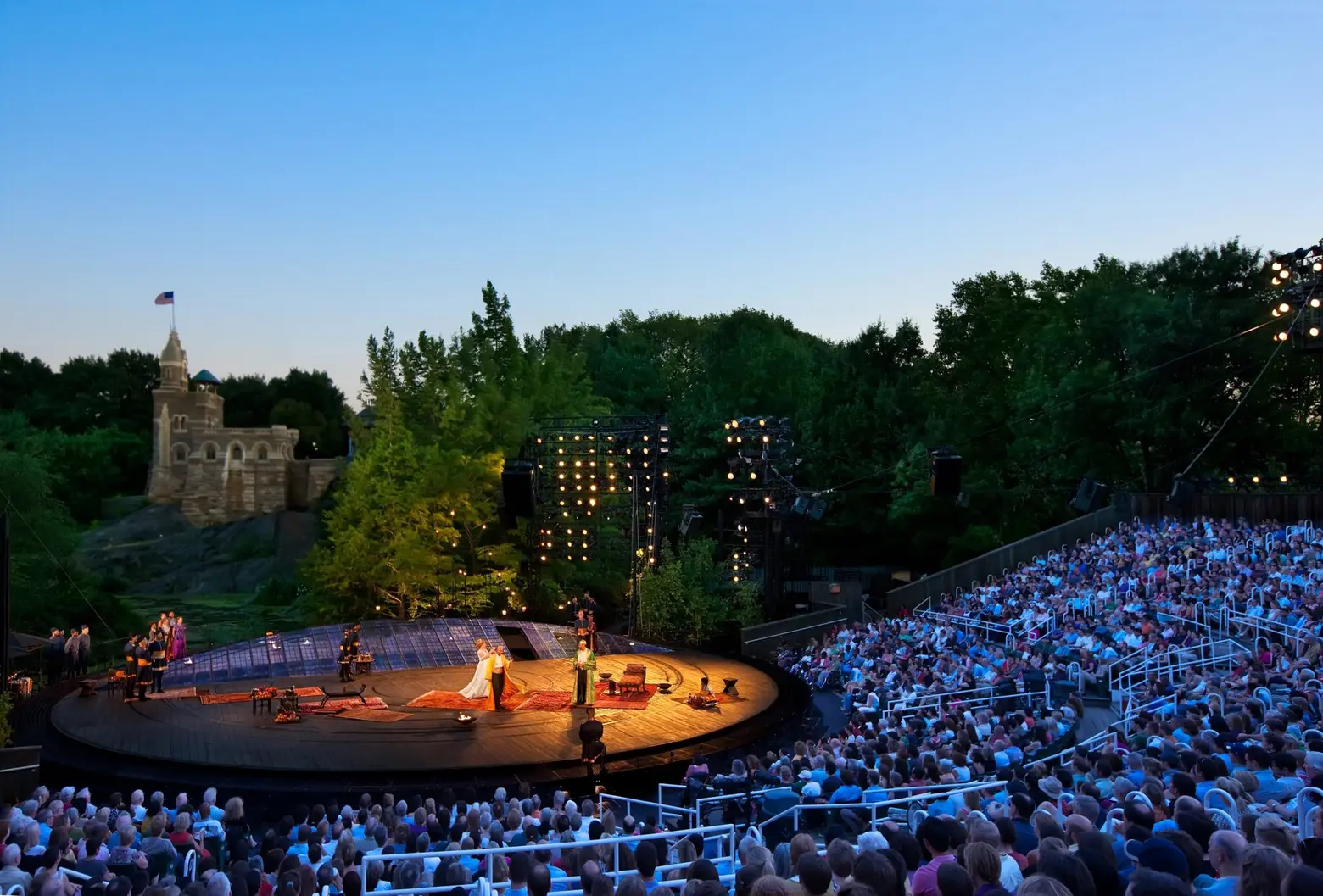 The Delacorte Theater. Photo credit: Joseph Moran
Shakespeare in the Park, the Public Theater's beloved free program in Central Park, returns to the Delacorte Theater this week. Directed by Tony Award winner Kenny Leon, the Public will present one performance of "Hamlet" for an extended nine-week run from Thursday, June 8 until Sunday, August 6. A production of "The Tempest" will be presented from Sunday, August 27 through Sunday, September 3 before the Delacorte Theater closes for renovations.
Directed by Kenny Leon, this year's production of "Hamlet" features Ato Blankson-Wood as Hamlet, Solea Pfeiffer as Ophelia, John Douglas Thompson as Claudius, and Nick Rehberger as Laertes. The production features scenic design by Beowulf Boritt, costume design by Jessica Jahn, lighting design by Allen Lee Hughes, sound design by Justin Ellington, and projection design by Jeff Sugg.
"Hamlet" has been staged at the Delacorte Theater four times in Shakespeare in the Park's 61-year history. Its last production was put on 15 years ago in 2008 featuring Michael Stuhlbarg as Hamlet, Lauren Ambrose as Ophelia, Andre Braugher as Cladius, and David Harbour as Laertes.
To increase accessibility to tickets, the Public will be offering in-person distribution of free tickets this summer. Free tickets to "Hamlet" will be given out through an in-person lottery at the Public Theater at 425 Lafayette Street on the day of the performance or through a digital lottery on the TodayTix mobile app. Find more details on this year's ticket distribution here.
Public Works' production of "The Tempest" will kick off on August 27 and feature a diverse cast of both professional and community members from across the five boroughs. The play will include a new musical adaptation with music and lyrics by Benjamin Velez, choreography by Tiffany Rea-Fisher, and direction by Obie Award winner Laurie Woolery.
Approved by the city's Landmarks Preservation Commission in January 2022, the Delacorte Theater's renovation is the first major renovation since the open-air theater was built over 50 years ago. The $77 million renovation project includes accessibility upgrades, improvements for the audience's comfort, and back-of-house operations, and a restoration of the facade using reclaimed wood from around New York City, which will reduce the carbon footprint of the project.
Shakespeare in the Park is expected to return to the newly-renovated Delacorte Theater in 2025.
RELATED: