Grave Concerns: Do Cemeteries Affect Real Estate Prices in New York?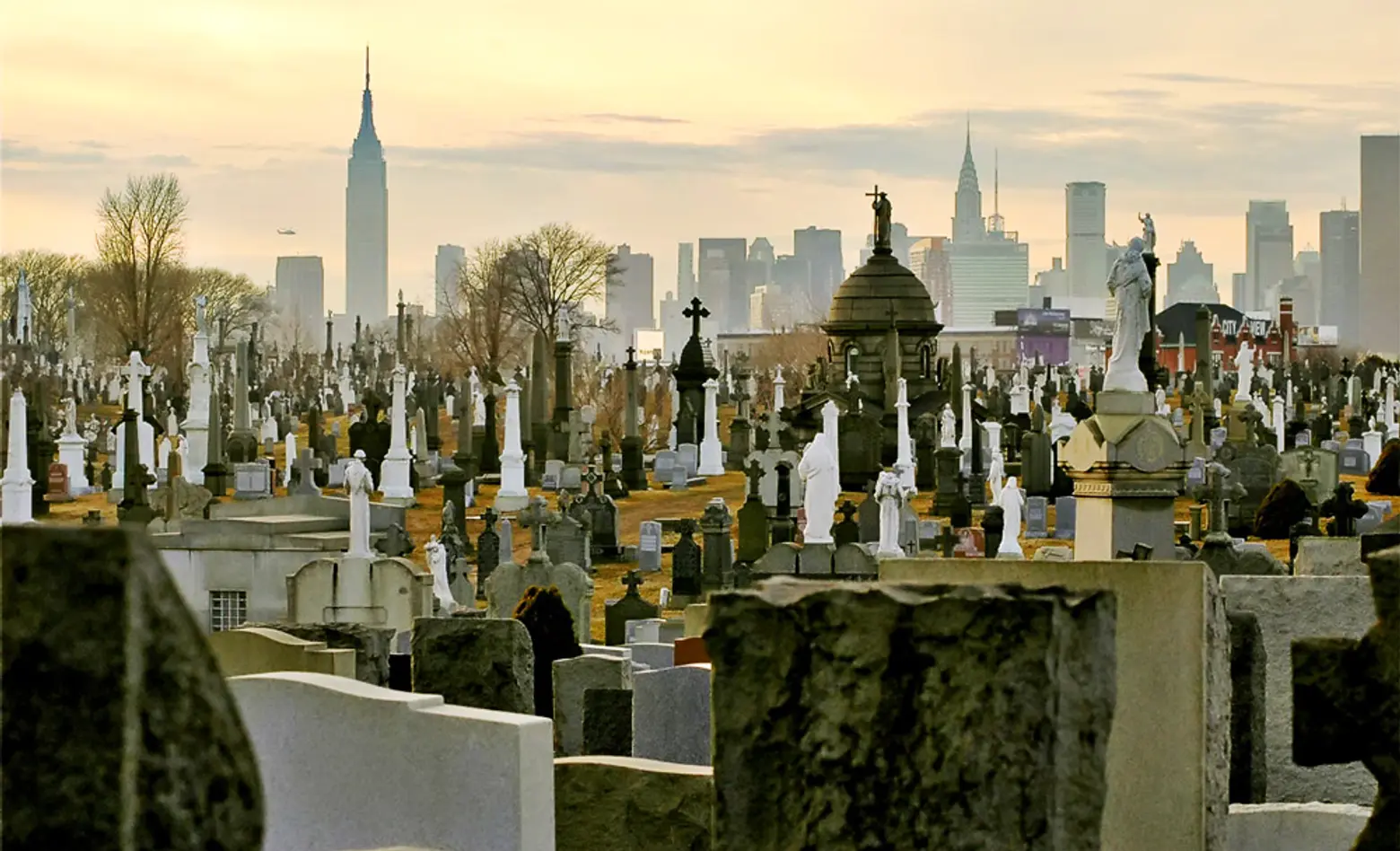 Not so surprisingly, Manhattan has a slew of cemeteries, graveyards and built-over potter's fields (for unclaimed bodies). Madison Square Park was originally used as a potter's field, as was Bryant Park. And though these swaths of land served many purposes over the years, it took an eternity before they were lovely public parks. From the late 1600s, burial grounds were generally confined to what would now be just south of City Hall, but more began popping up further uptown during the 1800s as the city's population grew in leaps and bounds.
With Halloween upon us, tis' the season for checking out if living near one might give a buyer a bit of a ghostly scare or whether it takes an eternity to sell when the living room window overlooks tombstones marking coffins buried six feet under.
Hear what experts say, and then learn about the city's most notable graveyards.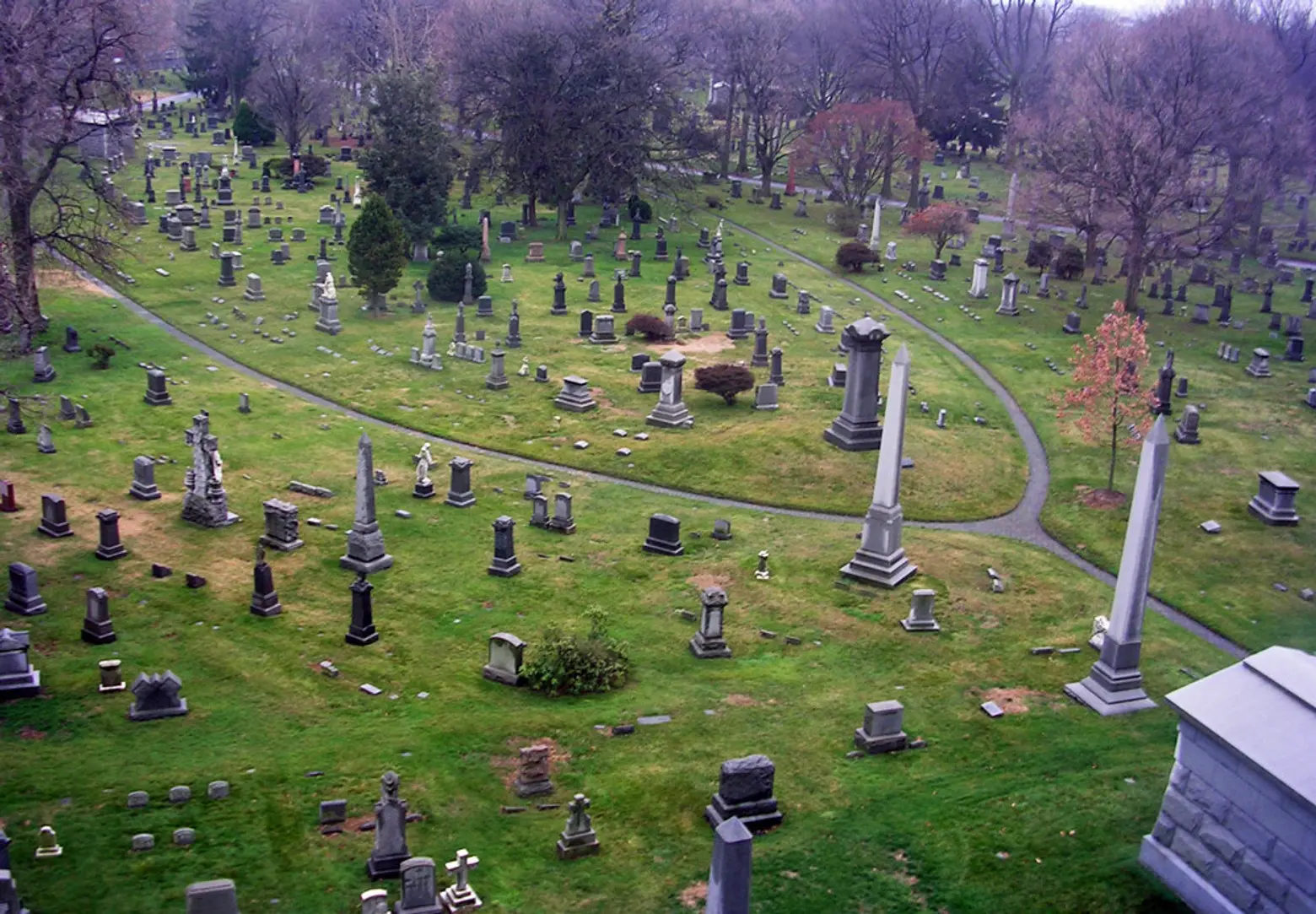 Green-wood cemetery in Brooklyn. Image via Wiki Commons
Manhattan's limited housing market is scary enough, and as most know, the three rules of buying real estate is location, location, location. So, depending on your point of view, living near a cemetery can be the answer to a "wish list" of amenities, or an aversion to what you think is a rather a gloomy location. Further, under the heading of taking something one step more, some buyers actually purchasing mortuary chapels or graveyard keeper's lodges in order to convert them into single-family homes inside what would then be their very own gated community. There are downsides for these folks, be it whether it is nearly impossible to get Chinese take-out delivered and worse, running into a brick wall when waiting for a package from, say, FedEx, or scaring off the much-needed cable guy.
Redfin, a nationwide real estate company, analyzed the prices of homes less than 50 feet from cemeteries last October and compared them to the price of homes further away—100, 200, 500 and even a 1,000 yards. Results indicated that, on average, homes rather close to cemeteries were slightly smaller, but sold for more due to a higher cost per square foot.
That said, New Yorkers wouldn't even say boo if an apartment they loved was in close proximity to one. Jonathan Miller, president and CEO of Miller Samuel Inc., the New York-based appraisal and consulting firm, tells us that living near one in New York is really no longer taboo and has no bearing on the value of the house and little to no leverage in getting a discounted price.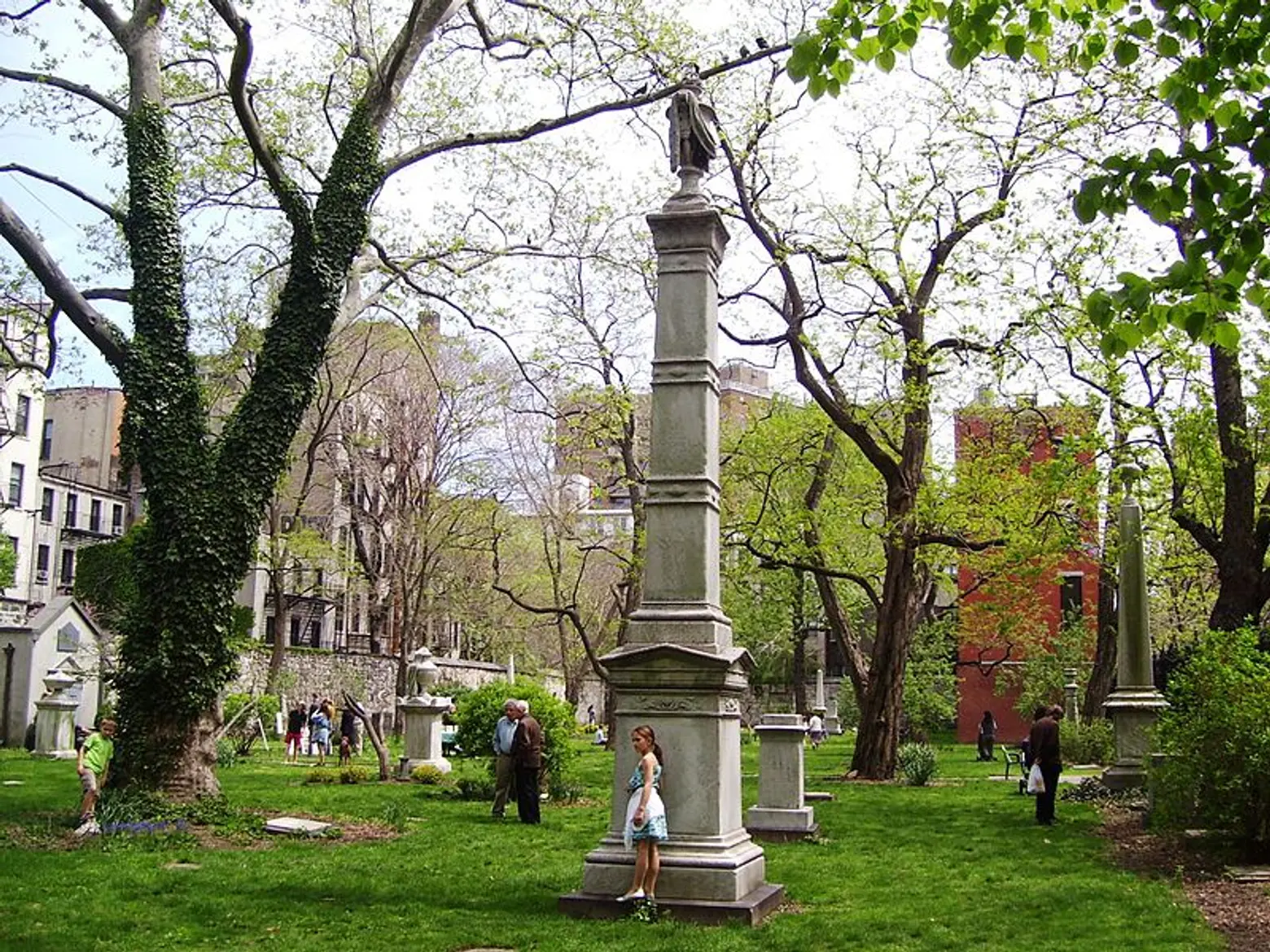 The New York Marble Cemetery at 52-74 Second Street. Image via WIki Commons
Upside: Buyers are guaranteed quiet neighbors, never worry about all-night keggers or loud jackhammers pounding away during new construction. They also enjoy unobstructed and often protected verdant views. Actually, some cemeteries can boast the most extraordinary gardens and monuments and many are on the list of National Historic Places. Examples of this include Green-Wood Cemetery in Brooklyn, Woodhaven Cemetery in the Bronx, Manhattan's Trinity Church Cemetery, the African Burial Ground National Monument and the First Shearith Jewish Cemetery, the latter two also in Manhattan.
Downside: Buyers can be superstitious and, hence, find the idea of living near one downright spooky. And quite a few may actually believe in ghosts because, oddly enough, 42 percent of Americans do believe spirits roam the earth, according to a 2013 Harris Poll. Then there are buyers who seek out a feng-sui lifestyle, which means living near a cemetery is completely unacceptable.
Historic Burial Grounds Around the City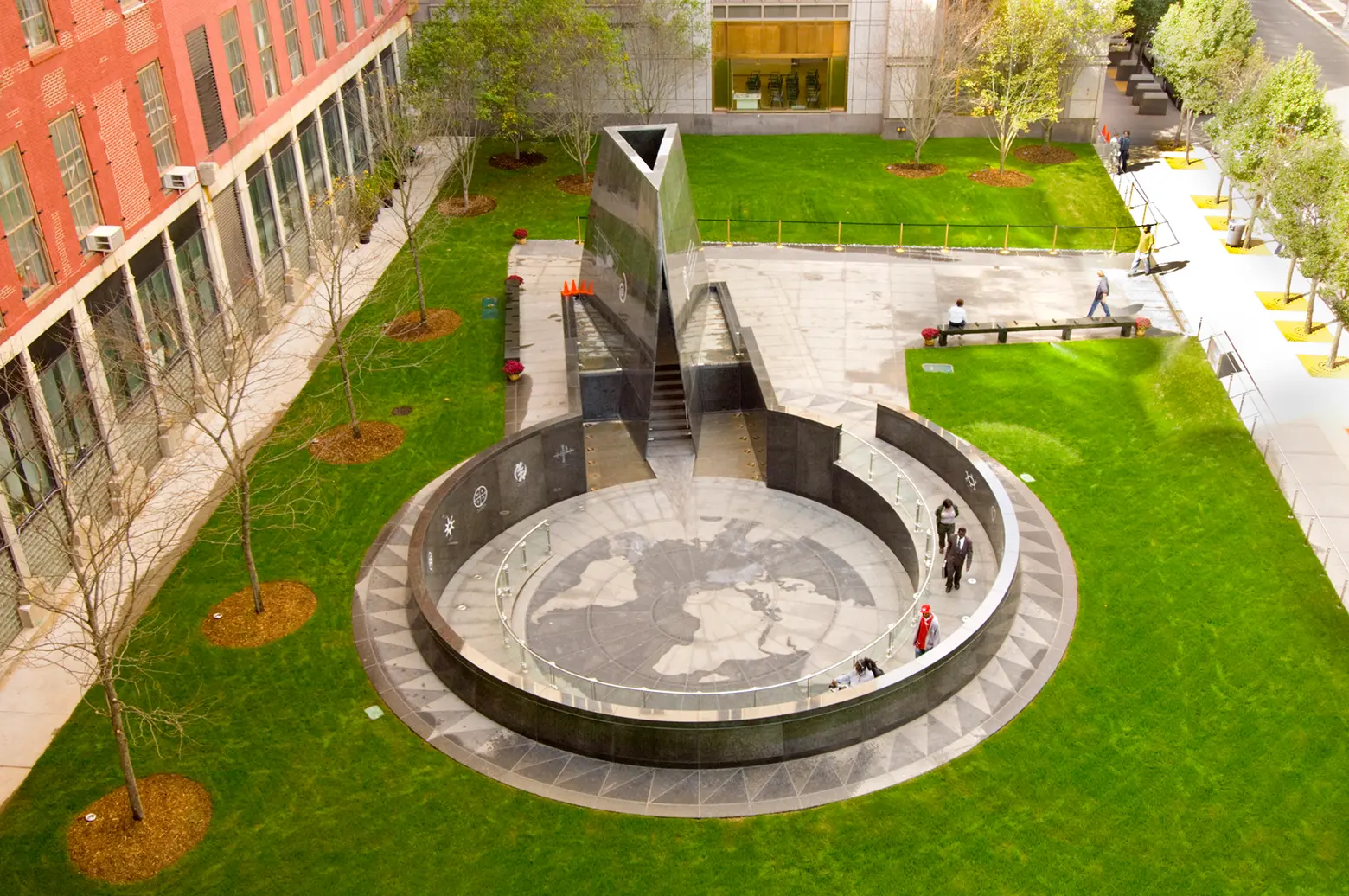 The African Burial Ground National Monument. Image via Columbia University
The African Burial Ground National Monument at 290 Broadway near Foley Square is a monument containing the remains of more than 400 of some 20,000 Africans buried under it in the 17th and 18th century, known then as the Negros Burial Ground. When the site was excavated, it was considered the most important archeological project in the US. Interestingly enough, as the American Revolutionary War continued, New York City had the second largest population of slaves in the US (Charleston, South Carolina took first place). A National Historic Landmark, it is also National Monument.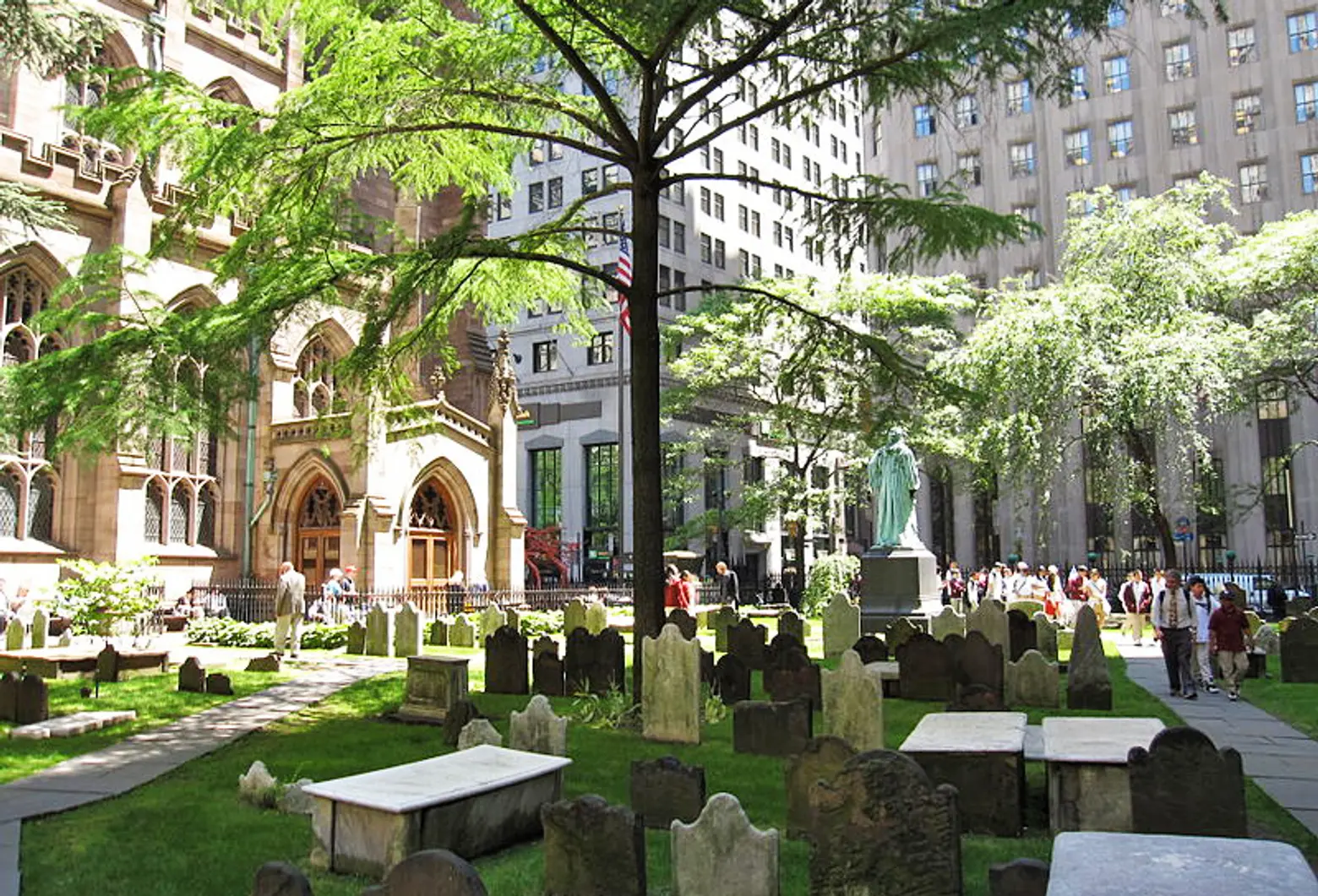 The Trinity Church Cemetery. Image via Wiki Commons
The Trinity Church Cemetery consists of three separate burial grounds. The first was established in the late 17th century on the church grounds on Trinity Place near Wall Street. In 1842, due to lack of room, the Trinity Church Cemetery and Mausoleum was established in Upper Manhattan between Broadway and Riverside Drive. The third one, which is listed on the National Register of Historic Places, is in the churchyard of St. Paul's Chapel, on Broadway between Vesey and Fulton Street.
The 1766 chapel, built by Trinity Church, is the oldest public building (and only remaining colonial church) in continuous use in Manhattan and has earned fame for a pew set aside in 1789 for President George Washington when Manhattan served as the nation's capitol. He continued to worship there until 1790, when the capitol was moved to Philadelphia. Very close to the World Trade Center site, the church (covered with dust and debris when the towers fell) served as a place of rest, sleep and respite for recovery workers.
These non-denominational burial grounds have been the final resting place for many well-known individuals, including steamboat inventor Robert Fulton, Alexander Hamilton, a founding father of the US and chief of staff to General George Washington, the very wealthy John Jacob Astor and a good many of his family members, former Mayor Ed Koch, naturalist James Audubon, Revolutionary War hero Major General Richard Montgomery, famed author Charles Dickens' fourth son, Alfred D'Orsay Tennyson Dickens, and actor and veteran Broadway star Jerry Orbach. However, there is one grave dating back to 1681, making it the oldest carved gravestone in New York City. Marking the burial of a five-year-old child, the gravestone is only rare because it is two-sided. One side is carved epitaph text and the other exhibits a three-dimensional flying hourglass and skull and cross bones.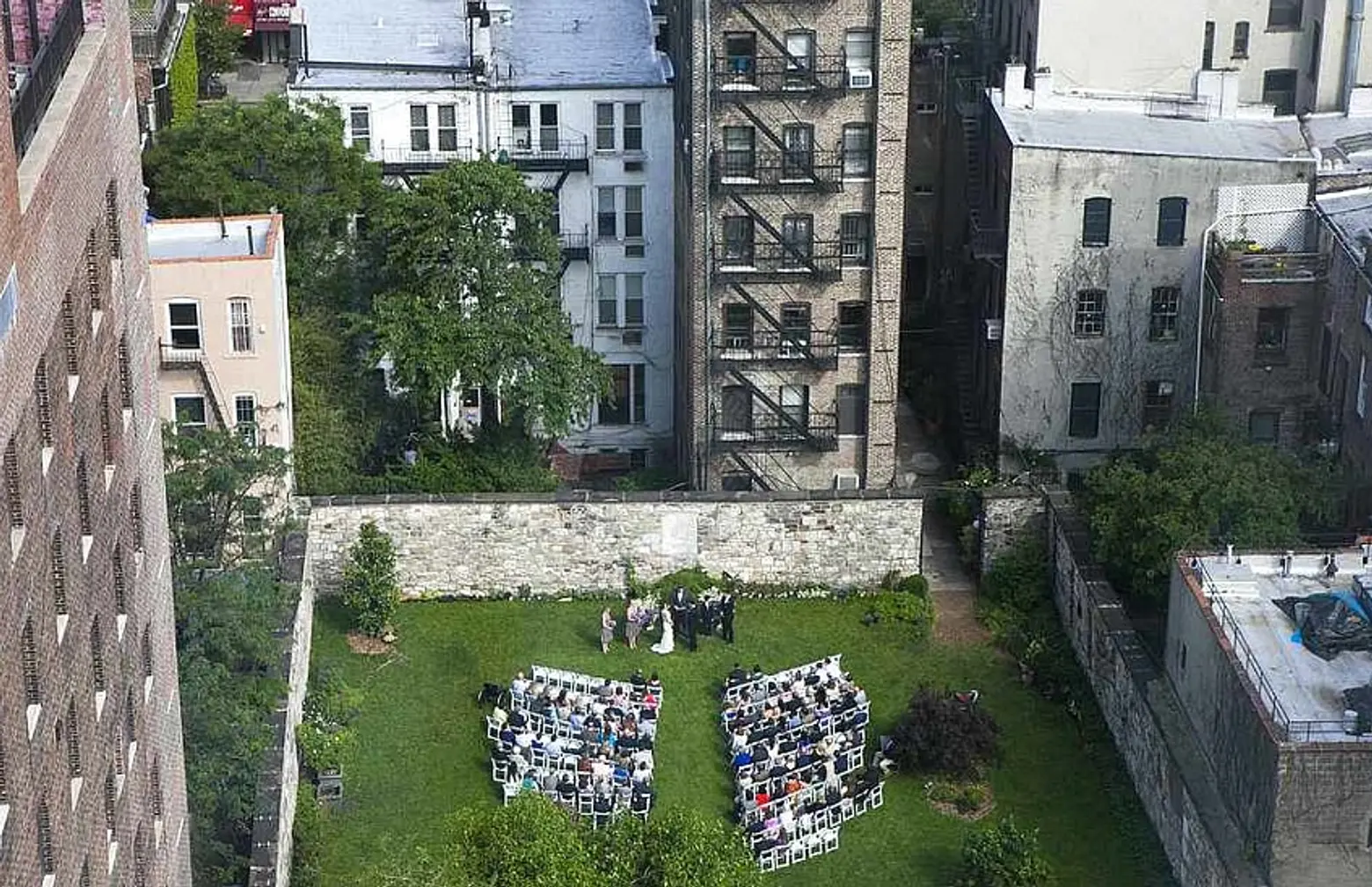 A wedding taking place in the New York Marble Cemetery
Behind a locked gate, the New York Marble Cemetery is known as Manhattan's oldest public non-sectarian cemetery. Between 1830 and 1870, more than 2,000 bodies were interned in 156 solid white Tuckahoe marble vaults under the ground. Located between 2nd and 3rd Streets, close to Second Avenue in the East Village—its last internment was in 1937. You won't see actual gravestones, but most of the names are found on inlaid plaques on the surrounding walls. James H. Roosevelt, the third cousin of President Theodore Roosevelt's grandfather who left most of his estate to found Roosevelt Hospital (which opened in late 1871) was buried here in 1863. Open to the public during specific periods, the grounds are available as a venue for small private parties, including weddings, and have been used as a location for films, fashion shows and photo shoots.
Not to cause confusion, but there is another Marble Cemetery, which has no connection to the aforementioned. Referred to as the New York City Marble Cemetery, this one, also listed on the National Register of Historic Places, is at the corner of East 2nd Street between First and Second Avenues in the East Village and cannot be seen from the streets. Former President James Monroe was initially buried here in 1831, but was re-interred in 1858 to a cemetery in Richmond, Virginia.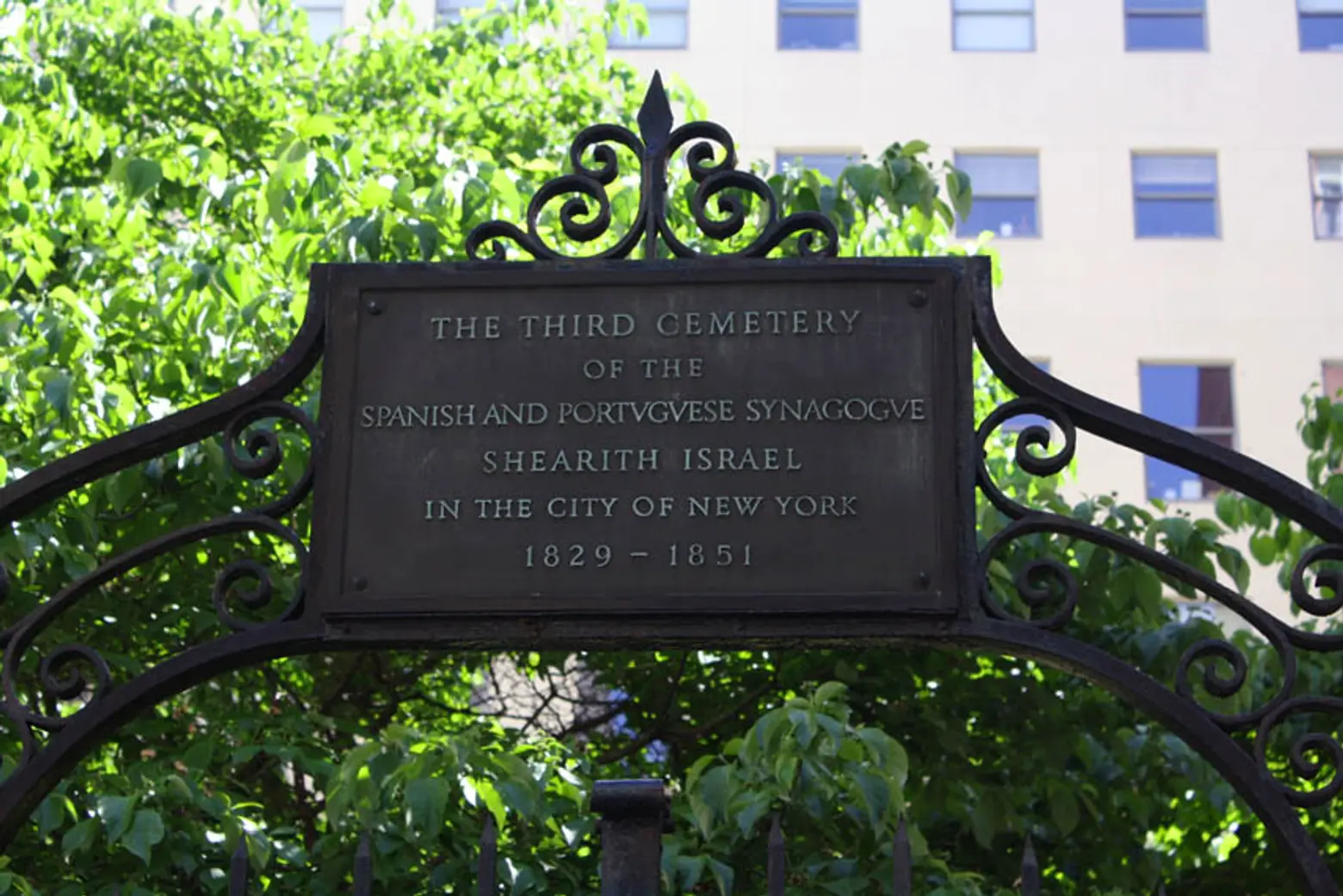 A sign marking the entrance to the third cemetery of the Shearith Israel Synagogue. Image via Manhattan Sideways
The oldest cemetery in Manhattan belongs to the Shearith Israel Synagogue. Founded in 1652, the synagogue was North America's first Jewish congregation—and New York's only one until 1825. Throughout the centuries, Shearith Israel established more congregations to keep pace with New York's increasing Jewish population. Among them was a small synagogue that opened in 1730 on Mill Street (now known as South William Street) near Wall Street. By 1818, Mill Street's synagogue was too small, so a second Mill Street synagogue was established on the same site. But for those residing in what is now considered Greenwich Village, congregants felt it was too long a walk to the Wall Street neighborhood on the Jewish Sabbath (sundown to sundown, Friday through Saturday), so a new one was built on Crosby Street between Brook and Spring Street in 1834. Some remnants of the second Mill Street Synagogue still exist today, including the Perpetual Lamp and marble plaque of the Ten Commandments.
Among the four cemeteries established by Shearith Israel, the one found at Chatham Square in Chinatown was the first created. However, it's their second oldest cemetery at St. James Place on 11th Street, between Oliver and James Street in Greenwich Village, that really catches the eye with its unusual triangular shape. Originally running across long gone Milligan Street, 50 percent of the burial grounds were lost to the extension of 11th street to Sixth Avenue. Today, behind a tiny gate, there are perhaps 30 graves framing a mossy brick path, including some above ground tombs and a monolith. The two other cemeteries of the Shearith Israel can be found at West 21st Street and Queens.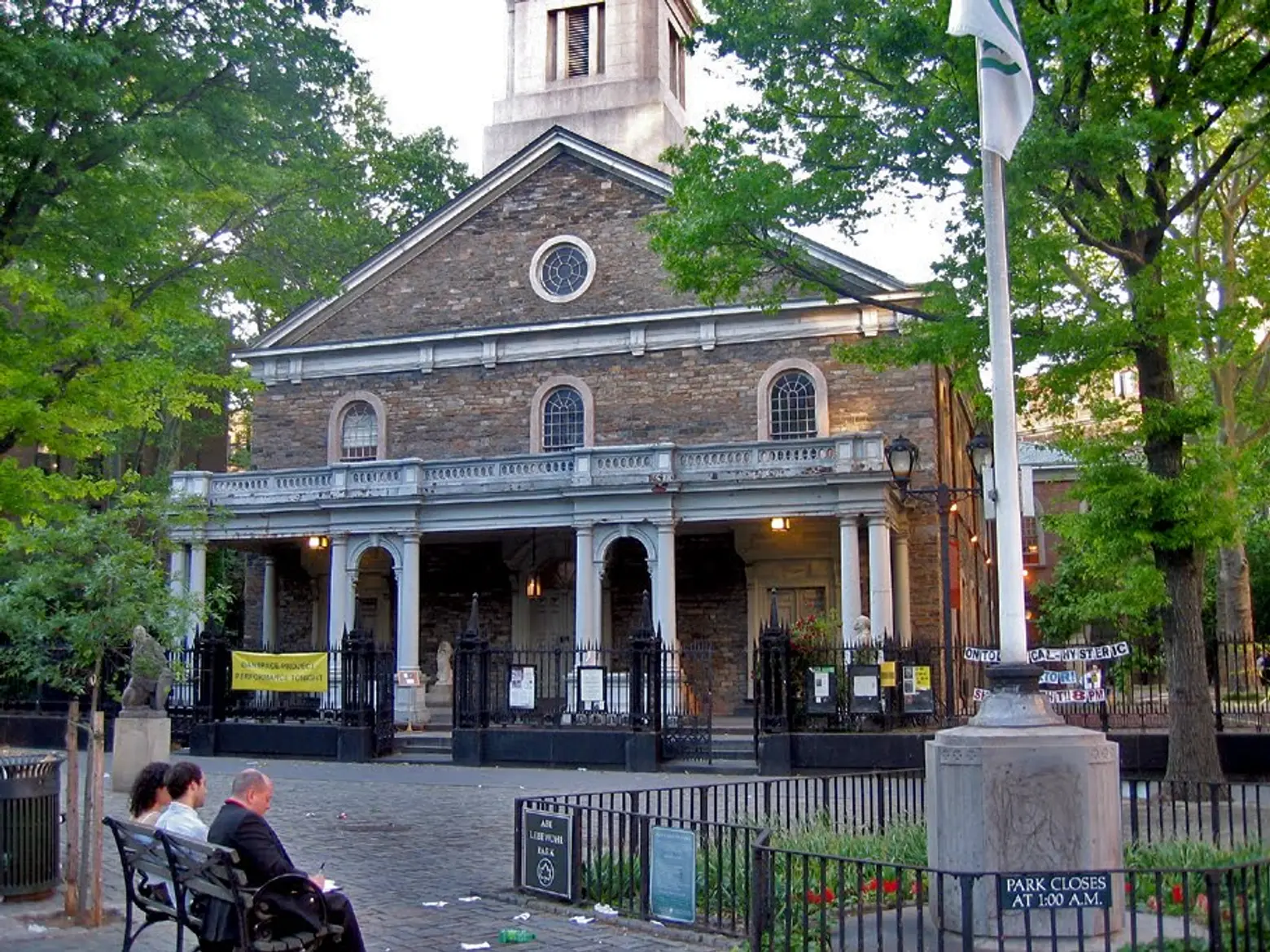 Image via New York Daily Photo
The St. Mark's Church-in-the Bowery at 131 East 10th Street between Second and Third Avenues is said to be New York's oldest church in continuous use and all the caskets are buried underneath the building itself. Many of the city's most famous politicians are found here along with Peter Stuyvesant.
For Home Hunters Who Aren't Easily Unnerved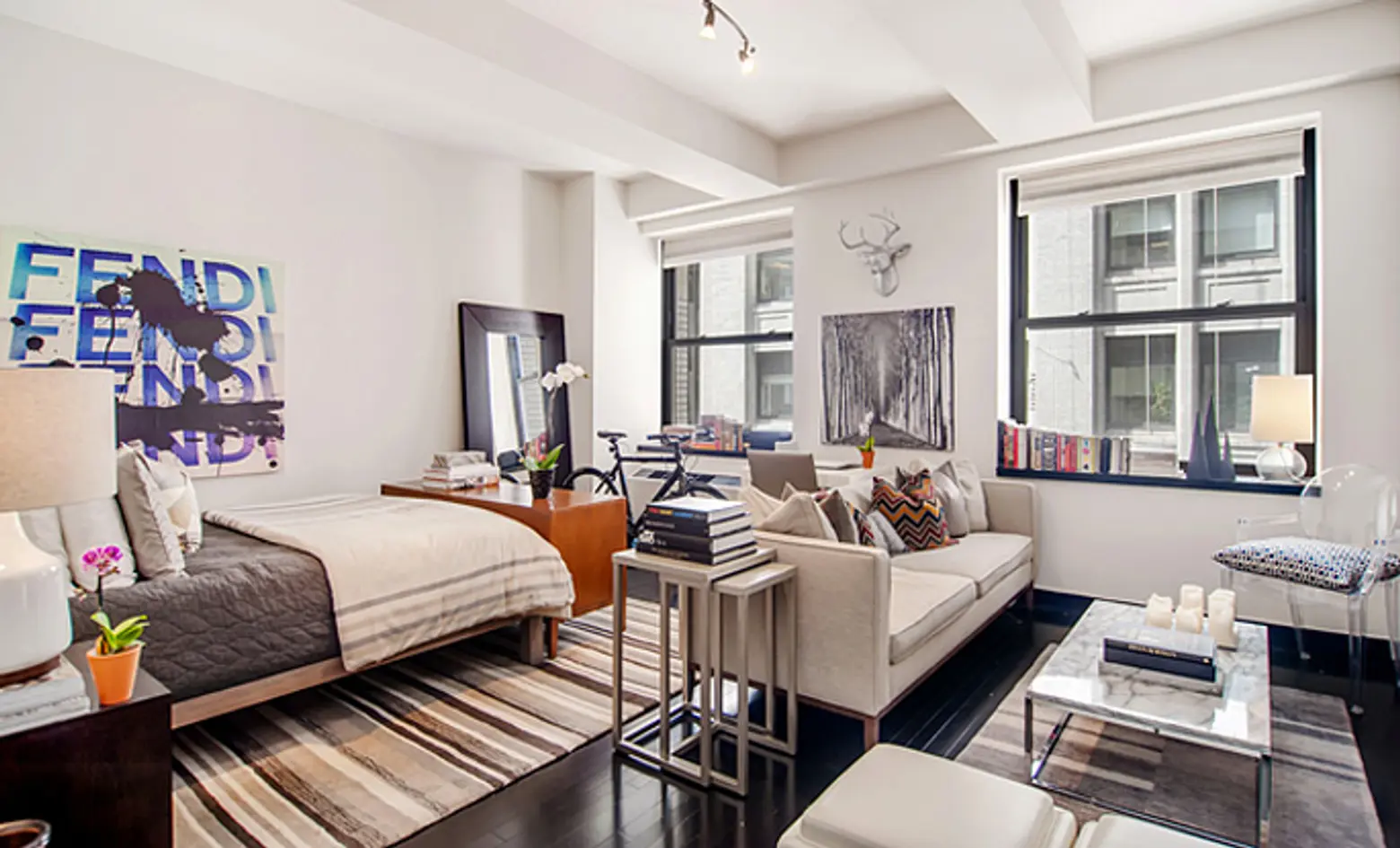 A 20 Pine Street studio near the graveyards of Trinity Church and St. Paul's Chapel
At the Armani/Casa-designed 20 Pine near the graveyards of Trinity Church and St. Paul's Chapel, there are several units available. One is a wonderful alcove studio on the 16th floor. Listed with Urban Compass, communal pleasures include a sun terrace with a reflecting pool and cabanas, lap pool, a fitness center, a spa, a billiards rooms, a library and of course top-dog doorman and concierge services 24/7. Priced at $770,000, it offers about 660 square feet of living space.
There's a brand new curtain-wall development marketed exclusively through The Marketing Directors. LEED registered, 50 West is now one of the tallest residential towers in the Manhattan. It's unit mix ranges from one- to five-bedrooms, including a duplex penthouse and square footage ranges from about 1,045 to 9,000. With floor-to-ceiling windows and views as far as one can see, buying here will provide buyers with the opportunity to see some of Lower Manhattan's most historic burial sites. Slated for occupancy in 2016, pricing begins at under $2 million.