Governors Island will reopen on July 15 with limited capacity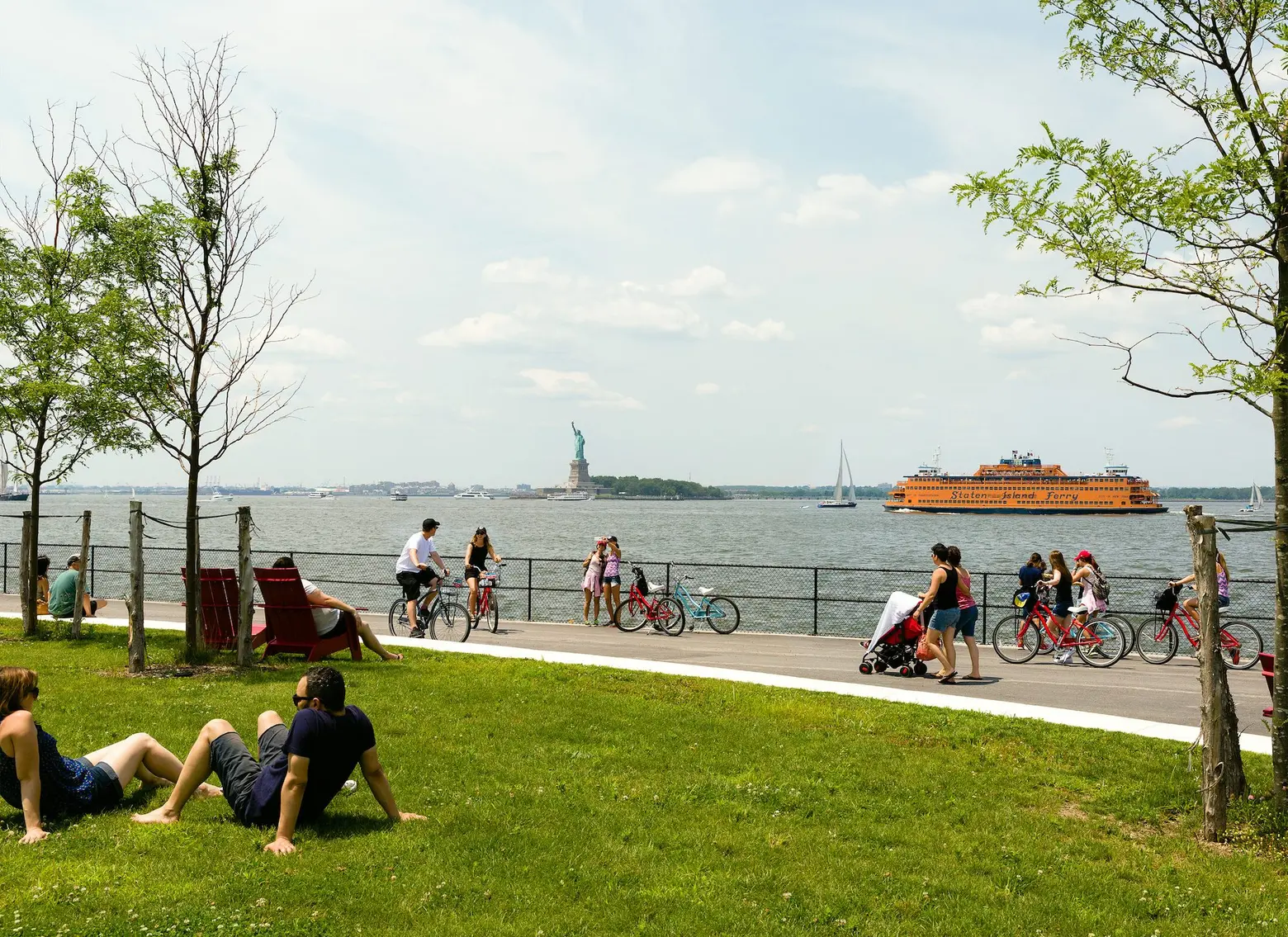 Summer is not totally canceled in New York City. Governors Island will officially reopen to the public next week for passive activities only and with a new reservation system for ferries. The Trust for Governors Island announced on Wednesday a system that lets visitors reserve tickets for ferry trips to the 172-acre site for the first time ever, as a way to allow for social distancing. Originally planned to open for the season in May, the Trust had postponed its opening in April because of the coronavirus.
The pandemic has highlighted who gets access to open space in New York and who doesn't. In response to this inequity, the Trust will offer free ferry rides to all residents of the New York City Housing Authority and other community organizations to serve those in need of open space. And instead of running ferries from Brooklyn Bridge Park's Pier 6 to Governors Island, Brooklyn ferries will depart from Atlantic Basin in Red Hook on Saturdays and Sundays.
"Equitable access to open spaces in our city has never been more important, so we're thrilled to welcome New Yorkers to Governors Island in just a few short weeks," Clare Newman, President and CEO of the Trust for Governors Island, said. "This summer, Governors Island will be an affordable, local getaway for New Yorkers who need it most. We've focused on a plan to make the Island more accessible to New Yorkers in areas underserved by parks this season, and have taken important steps to ensure the health and safety of our visitors."
Starting Wednesday, July 15, ferries will depart daily from the Battery Maritime Building at 10 South Street. Visitors will be able to reserve tickets in advance through the new online system, with a limited number of tickets will be available for purchase in person. Round-trip tickets cost $3 for adults and will be free for riders age 12 and younger, IDNYC holders, current and former military service members, seniors aged 65 and older, NYCHA residents, and members of Governors Island.
Reservations can be made for both 10 South Street and Atlantic Basin ferries starting on Friday, July 10 at 10 a.m. here. The city's NYC Ferry system will offer weekend trips to Governors Island every 30 minutes from Pier 11/ Wall Street for $2.75 each way.
While sports and indoor programs will not yet resume on the island, passive activities like hiking, walking and running, and biking are encouraged. Public art installations will also remain on view, like The May Room from Shantell Martin, and Cabin from Rachel Whiteread. Food and beverage vendors–like Island Oyster, Threes Brewing and the Meat Hook, Makina, Kimchi Taco, Terry & Yaki, and more–will also be open to visitors.
The Trust also said cleaning protocols will be increased on ferries, restrooms, and other high-touch areas with hand sanitize and hand-washing stations installed throughout the Island. Visitors will be required to wear face coverings while riding the ferry and when social distancing is not possible.
"At a time when New Yorkers need good news, I'm thrilled Governors Island will be open this summer," City Council Speaker Corey Johnson said in a statement. "The Council has been fighting to save summer for as many New Yorkers as possible, and to have a gem like this one open and accessible is a big win. The Council is glad to see the Trust for Governors Island has a plan to ensure New Yorkers are able to enjoy this beautiful space safely, and I encourage all New Yorkers to continue practicing social distancing and wearing face coverings as recommended by health officials."
RELATED: