300-unit affordable and supportive housing development coming to Flatbush, Brooklyn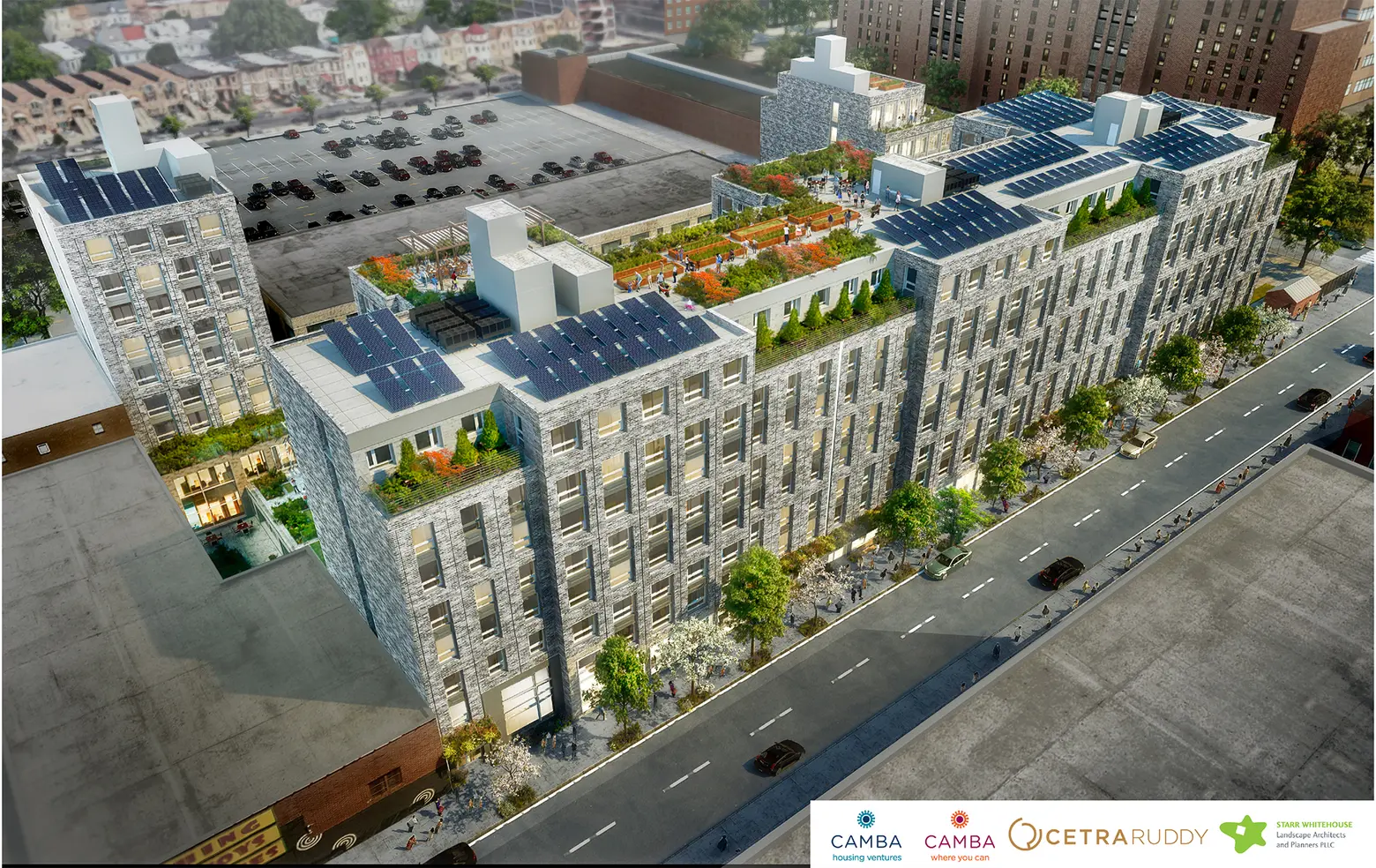 As part of his larger plan to invest $1.4 billion in Central Brooklyn communities, Governor Cuomo unveiled this week a 291-unit affordable housing development in Flatbush. Called the Clarkson Estates, the project will have half of its apartments set aside for "youth aging out of foster care, formerly incarcerated individuals, and formerly homeless young adults," according to a press release. Developer CAMBA Housing Ventures will offer an extensive network of supportive services within a 30,000-square-foot space that the building is calling its "HUB." Many of these facilities will also be open to the public.
The governor announced his Vital Brooklyn plan back in 2017 with the goal of bringing 7,600 jobs and 4,000 new affordable housing units to Central Brooklyn neighborhoods like Brownsville, East New York, Bedford-Stuyvesant, Flatbush, and Crown Heights. Through the initiative, Cuomo's administration hopes to set "a new standard for addressing chronic economic and racial disparities in Brooklyn's high-need communities."
The Clarkson Estates is being constructed on land currently owned by Health Science Center at Brooklyn Foundation. Designed by CetraRuddy, the building boasts many sustainable elements such as green roofs and solar panels. It also emphasizes outdoor space, offering residents a landscaped courtyard with a serenity garden, wooded walk, turf field, communal seating, and a children's play area. In addition, there is a rooftop terrace and community garden, along with planting and seating along the street. There will be outdoor fitness programming and colorful, art-filled stairwells to encourage exercise. The building will be a CSA drop-off point to provide residents with fresh fruit and veggies.
Other amenities include a fitness room, laundry rooms, a training kitchen, library, computer room, bike storage, community room, and free Wi-Fi (a hallmark of Vital Brooklyn). An 80-spot underground parking garage will be set aside for residents and those coming to utilize the community facilities.
The aforementioned HUB is being named in memory of Dr. Roy A. Hastick, a local business leader who founded the Caribbean American Chamber of Commerce and Industry, Inc. and sadly passed away from COVID-19. The HUB will provide:
Childcare services
Health screening center
Small business services incubator and workforce training
Violence prevention and mediation center
Youth education and development center
Technology training center that includes adult education and financial literacy classes
Recording and rehearsal studio, and performance space
Full-sized basketball court for general community use and access, competitive basketball leagues, and community events
Food pantry and café
Design studio and exhibition space
"As the pandemic creates significant hardships for New Yorkers, it's more important than ever that we expand access to safe, affordable housing during these difficult times," Governor Cuomo said. "This project is going to result in nearly 300 new affordable and supportive housing units that will help hundreds of our friends and neighbors in Central Brooklyn, and the State will continue to find ways to support the New Yorkers who need it most as we address the unprecedented challenges of today."
Just last week, the governor unveiled another development in Flatbush. Utica Cresent will have 322 units of affordable housing, as well as a healthcare center and outdoor space.
RELATED: