Delayed pedestrian bridge in Battery Park City will finally open this fall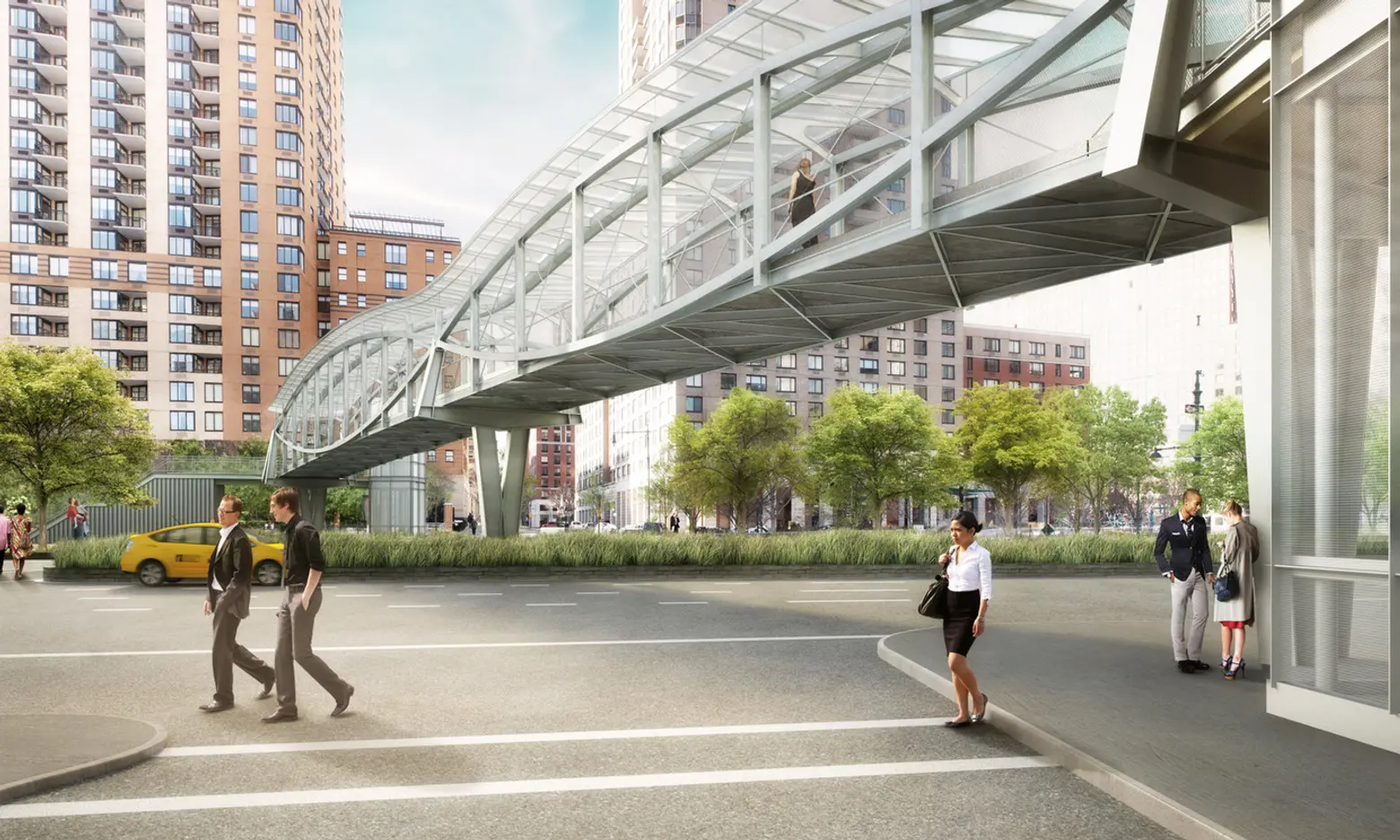 Rendering by WXY architecture + urban design
A new pedestrian bridge in Lower Manhattan will open this fall, more than ten years after it was proposed, the city announced Wednesday. The 230-foot West Thames Street Pedestrian Bridge replaces the Rector Street Bridge, a temporary structure built after two bridges in the area were destroyed during the terrorist attacks on 9/11. Designed by engineer Thornton Tomassetti and WXY architecture + urban design, the $45 million bridge crosses West Street and connects Battery Park City with the Financial District.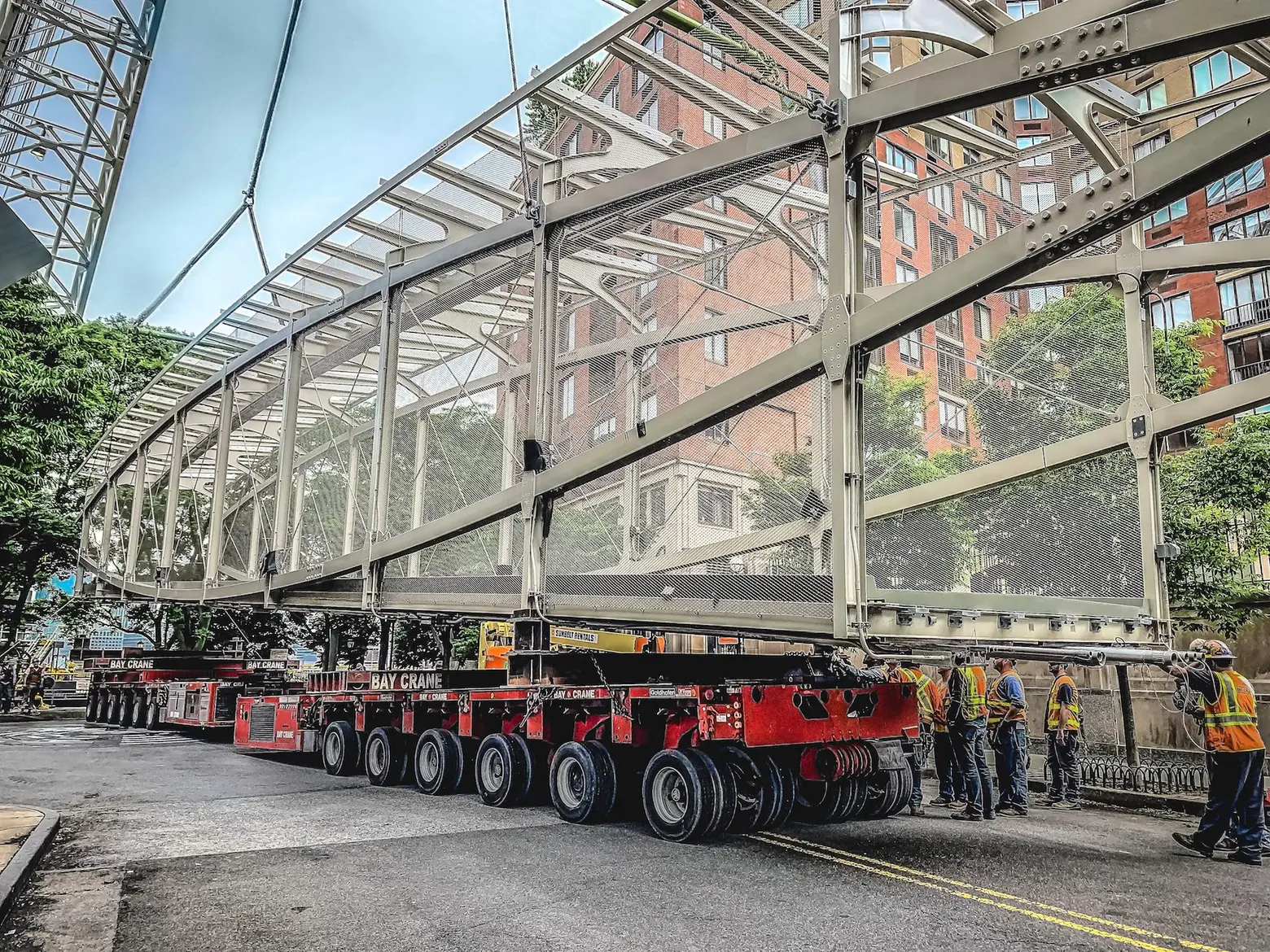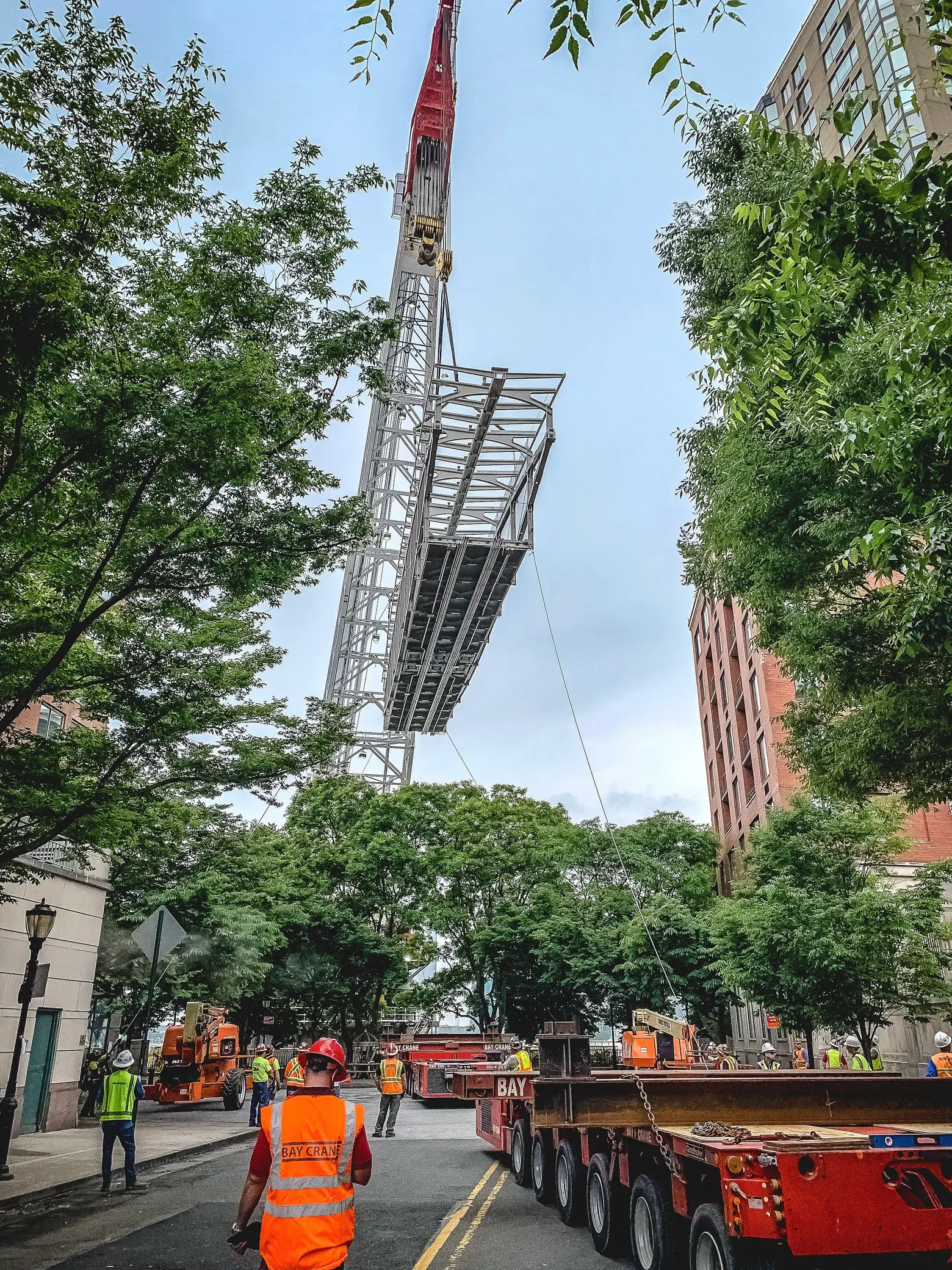 Photos of the installation via NYCEDC
"The West Thames Street Pedestrian Bridge is a welcome addition to New York City's landscape and will improve connectivity between the Financial District and Battery Park City," James Patchett, president of the city's Economic Development Corporation, said in a statement. "The bridge will help support Lower Manhattan's economic vitality and enhance the community fabric."
Before 9/11, there were three bridges that allowed pedestrians to cross West Street, at Liberty, Vesey, and Chambers Streets. When the attacks destroyed the bridges at Vesey Street and Liberty Street, two temporary bridges were constructed, including the bridge at Rector Street.
In 2006, the state's transportation department released a proposal to reconstruct the promenade but chose to renovate the Rector Street Bridge instead. Then, in 2013, WXY proposed a replacement of the bridge with a permanent, light-filled walkway at West Thames Street.
The city had originally expected to open the bridge last fall, but as Crain's reported last August, a "weld defect" was found, delaying the installation. The bridge's price tag also increased from $20 million to now over $40 million.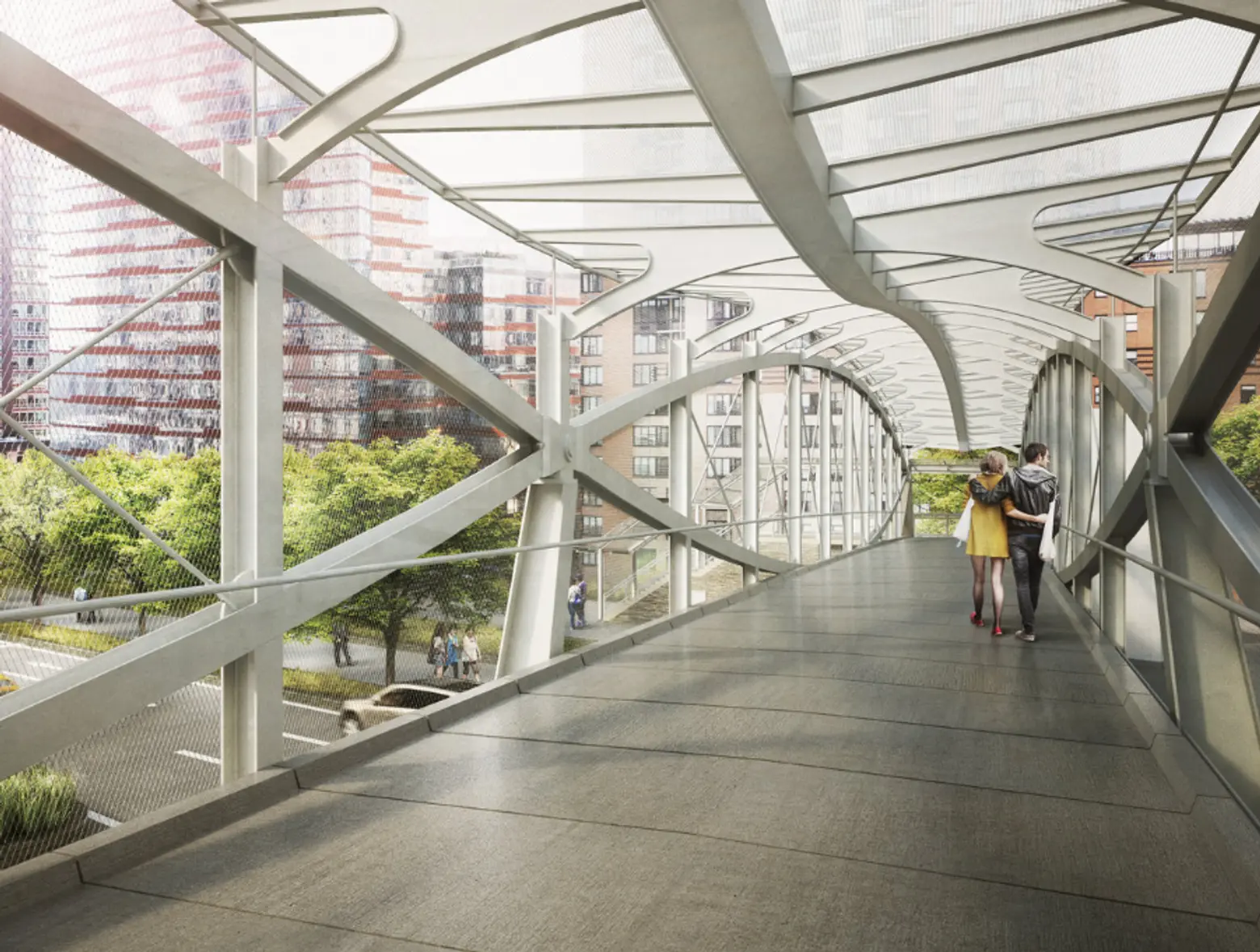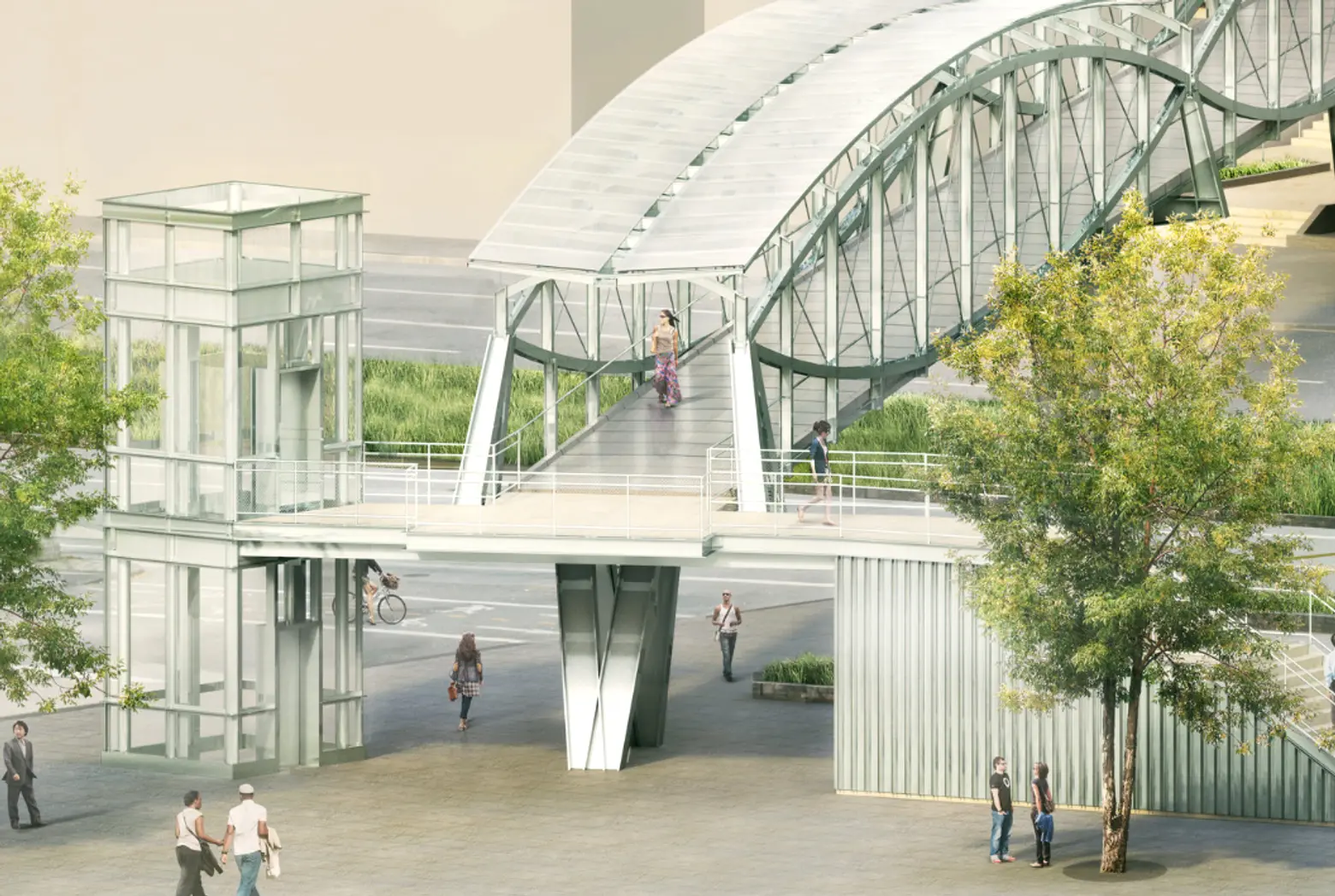 Renderings by WXY architecture + urban design
The new bridge, which will be named in honor of 9/11 recovery advocate Robert Douglass, includes a 12-foot wide walkway with a glass roof, which will allow lots of light to enter and for pedestrians to sightsee as they walk.
"The bridge is designed to maximize daylight and views, reduce maintenance, and offer a safe and enjoyable crossing both in the daytime and during evening hours," Claire Weisz, the founding principal of WXY said in a statement.
RELATED: