Cuomo threatens roll back of outdoor dining in NYC amidst growing crowds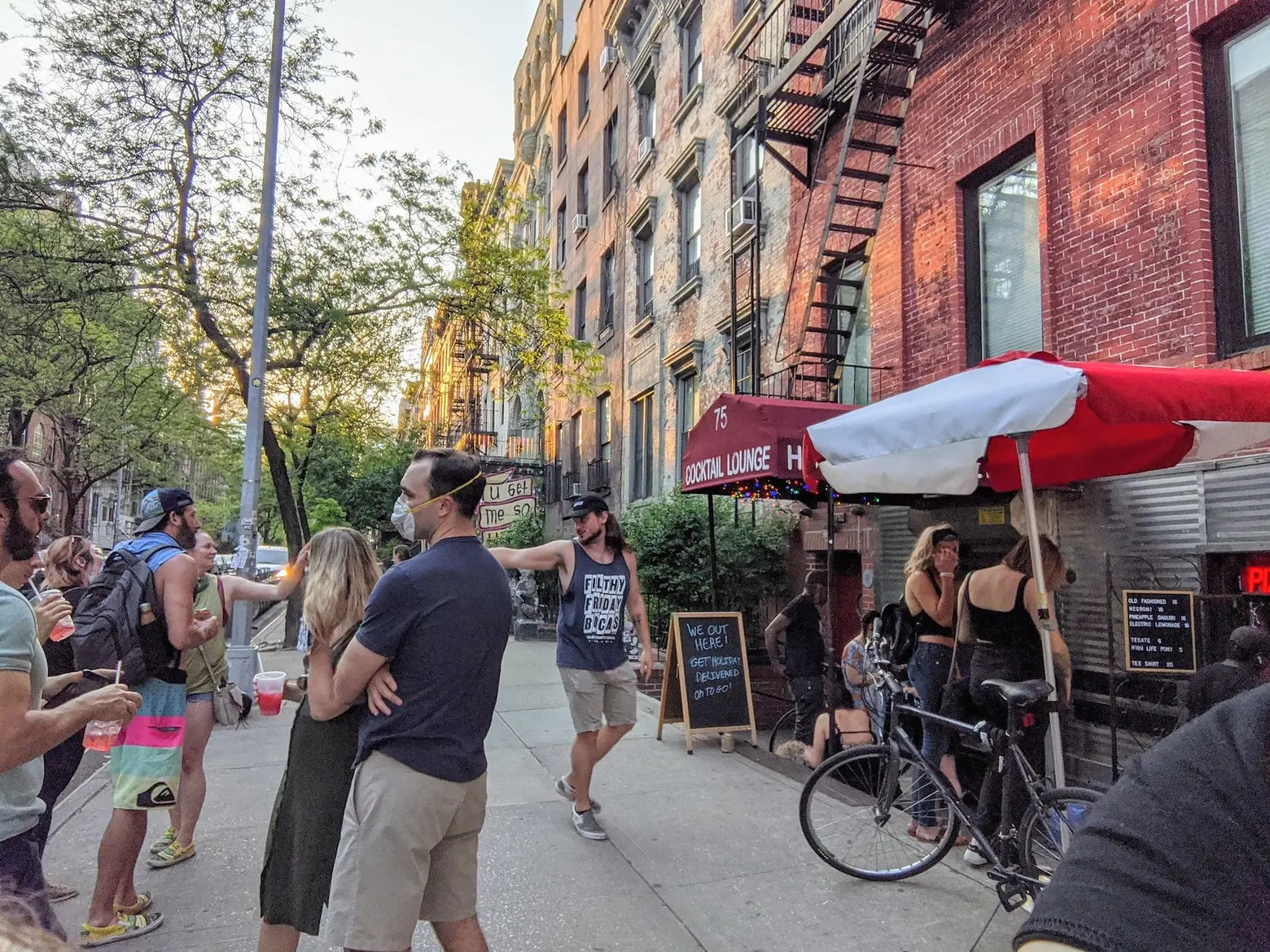 After yet another weekend of social gatherings in New York City, Governor Cuomo said in his press conference this morning that the state may have to roll back the opening of bars and restaurants in the city if the local government and police department does not enact stricter enforcement. The governor emphasized the fact that the NYPD's task is not to inform young people about mask compliance but to enforce the law. "That is the only line between anarchy and civilization," he said." This weekend, Steinway Street in Astoria was flooded with people partying, and the Lower East Side once again saw large crowds.
Party's over.

Dedicated sheriff patrols will be on Steinway until further notice. They'll enforce closing times, issue summonses and work with the NYPD to keep the roadways clear.

We haven't beaten COVID-19 yet. We can't let up now. https://t.co/A7DOoq1RDj

— Mayor Bill de Blasio (@NYCMayor) July 19, 2020
The governor did not explicitly name Mayor de Blasio, but for months now, he has blamed the "local government" for a lack of enforcement on social distancing, face-covering rules, and restaurant laws. Last night, after videos of Astoria went viral, the Mayor tweeted that "dedicated sheriff patrols will be on Steinway until further notice. They'll enforce closing times, issue summonses and work with the NYPD to keep the roadways clear."
"Partiers: KNOCK IT OFF. DON'T BE STUPID," read Governor Cuomo's Powerpoint slide today, aimed specifically at young people. Just last week, the Mayor sent a similar warning after the city saw a rise in positive COVID cases among 20-29-year-olds. De Blasio's course of action was a public outreach campaign in partnership with social media influencers and a "night of action" with mask giveaways at popular bars and restaurants. Cuomo today took aim at mask-awareness tactics and said the local police department doesn't want to enforce the law because they think it's "politically unpopular."
"I'll tell you what's more politically unpopular. When you're going to have to explain to the people why we had to close all bars and restaurants. That's going to be more politically difficult than telling the NYPD to do their job," the governor said.
In a subsequent press conference this morning, the Mayor repeated more broadly what he Tweeted yesterday. "There will be heavier enforcement efforts by the Sheriff's Office and, when needed, by the NYPD as well, around bars and restaurants." He noted that the restaurant in Astoria that was the "focal point" for the weekend crowds has been shut down. "No one wants to shut down bars and restaurants, but if they do not cooperate in our efforts to contain the coronavirus, they will be shut down," he said.
Last week, Governor Cuomo instituted a "Three Strikes and You're Closed" initiative that says any bar or restaurant that receives three violations (for social distancing, face coverings, or alcohol protocols) will be immediately shut down. The State Liquor Authority will begin publicly posting the names of these restaurants.
The governor also implemented a controversial new rule that prohibits walk-up bar service and says alcohol can only be served to those ordering food. As Grub Street explains, the word "food" is a bit fuzzy. When to-go cocktails were approved by the SLA initially, a bar could not merely accompany them with "items such as potato chips, pretzels, peanuts." The SLA's guidance went on to say that, "a tavern license's minimum food requirement is soups, sandwiches, and the like." The SLA has still not updated their page to reflect the new outdoor dining rules.
Restaurants are also feeling the strain since they were not permitted to let diners back indoors when the city entered phase four today, as restaurants across the rest of the state had done back in phase three. The governor has said that the reopening looks different in NYC because of the aforementioned enforcement issues, as well as the surging COVID cases across the country; 40 states and Washington D.C. are currently seeing an increase in infection rates.
New York's infection rates remain low and stable. Hospitalizations across the state are down to 716, a new low since March 18. Of the 49,342 tests performed statewide yesterday, 1.05 percent were positive. In NYC, 1.3 percent were positive.
RELATED: