40+ ways New Yorkers are helping healthcare workers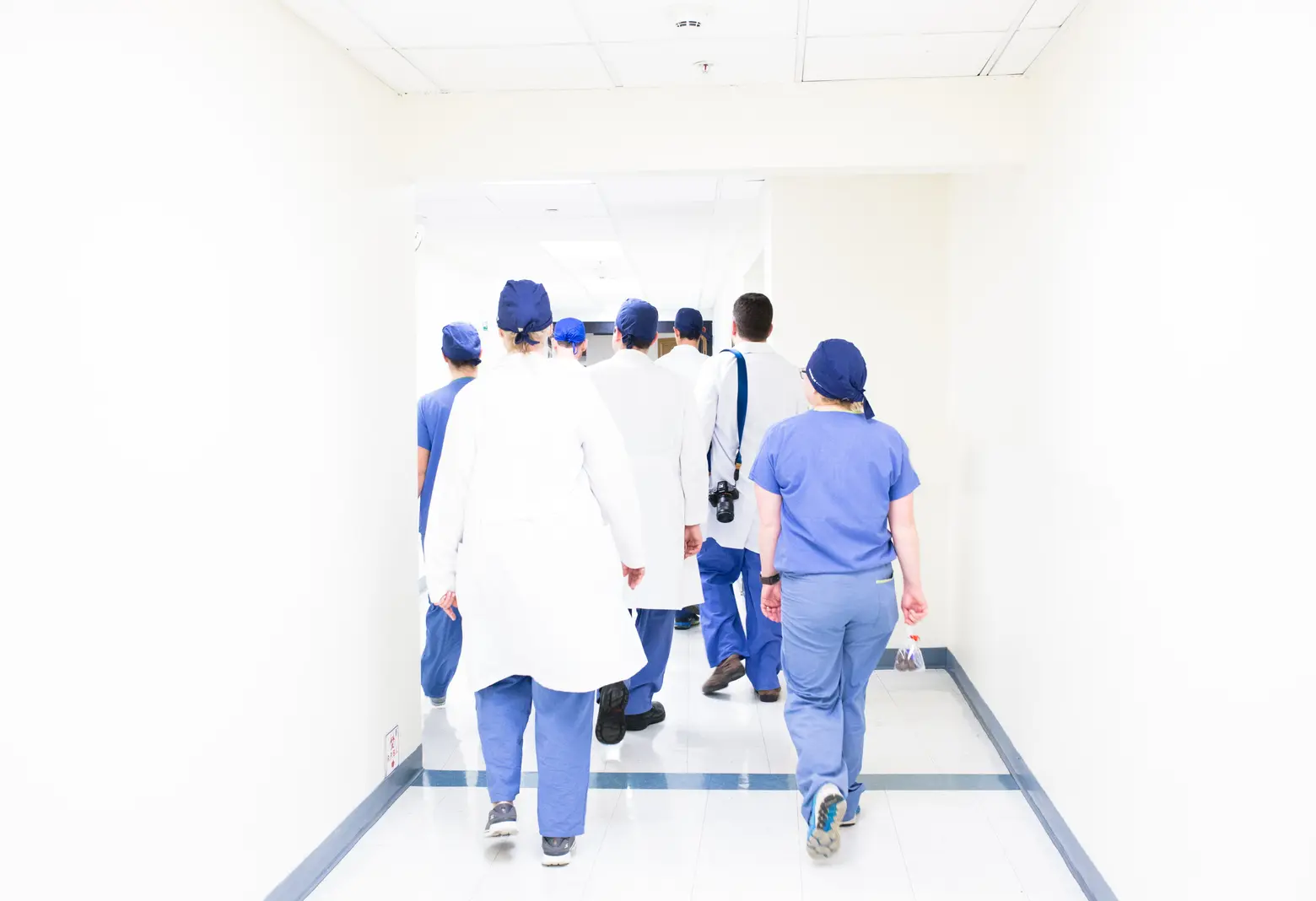 While most New Yorkers are working from home or finding ways to entertain themselves while indoors, our health care community is on the front lines of the coronavirus crisis, with many pulling double shifts and working seven days a week. To show gratitude for this heroic community, many local companies are stepping up to the plate, offering free meals, lodging, transportation, and even footwear. Ahead, 6sqft has begun compiling a list of the resources available to NYC's front-line responders. This list was last updated at 4:30 pm on Monday, May 11, 2020.
FOOD
Sweetgreen
The much-loved salad chain has teamed up with José Andrés' not-for-profit World Central Kitchen the create the Sweetgreen Impact Outpost Fund. Through the program, 100 percent of funds raised will be used to provide free sweetgreen meals to healthcare heroes. After reaching their goal of donating over 100,000 meals, they're now looking to donate 250.000.
Just Salad
Another popular salad chain Just Salad has partnered with Mount Sinai Health System to deliver 10,000 meals a week to hospitals across the Mt. Sinai system.
Honeybrains
Healthy food and juice spot Honeybrains is providing meals to healthcare workers. With a $25 donation, they will deliver their bowls and salads for free.
Eisenberg's 
91-year-old Flatiron luncheonette Eisenberg's is allowing customers to donate meals to medical and essential workers. $20 provides one meal for a NYC healthcare worker; this includes the cost of food, wages, and delivery. Essential workers can also request meals for a minimum of 15 people.
Bread Basket
This Bronx-based business that discovers "the best breads and baked goods from the finest New York bakeries" and delivers them to your doorstep, is now offering a $30 one-time donation box that provides healthcare heroes at Montefiore Medical Center, North Central Bronx Hospital, Hoboken University Medical Center, and Mount Sinai Hospital with delicious bread from Orwashers, BAKED, Amy's Bread, Pain d'Avignon, and more.
Luke's Lobster
Luke's was donating lobster rolls from the beginning, but now that they've closed their shops, customers can donate $34 DIY lobster roll kits to be sent to hospital workers.
Sauce Pizzeria
This East Village pizzeria is asking customers to purchase cheese pies that they will then deliver for free to NYC hospitals. On top of that, for every pie purchased, they are sending one additional! On an average day, they've been delivering 250 pies.
&Pizza
The build-your-own pizza chain has launched the Hero Pies program, where individuals can donate funds to cover the cost of production and delivery of free pizzas to hospital workers.
Pizza vs. Pandemic
The pizza delivery app Slice has teamed up with Slice out Hunger and Pizza to the Polls on this new initiative that allows people and businesses to make a donation to the nonprofit Slice out Hunger. They will then use 100 percent of this money to purchase pizzas through Slice, which will then be delivered to groups of workers at hospitals, clinics, shelters, etc. Since launching on March 21st, they have raised $442,000 from 6,000 donors and have delivered 18,200 pies.
Domino's
The pizza chain announced on April 6 that their 283 stores in the tri-state area will give away 200 pizzas each–totaling 56,000 pizzas–to those in need and those working on the frontline. Nationwide, they are donating 10 million pizzas.
Tacombi
Despite being closed to the public, the local taco chainlet has launched Tacombi Community Kitchen, where they're accepting donations to deliver meals to those in need through various community organizations, as well as Elmhurst Hospital and NYP/Weill Cornell. $25 provides five meals.
Calexico
Mexican restaurant Calexico is delivering hundreds of free meals to hospitals, first responders, and essential workers throughout NYC each week. A $20 donation feeds two people.
Dos Toros
Another local Mexican chainlet, Dos Toros is donating over 1,000 meals a day to healthcare workers. You can help by adding a $4 "Feed the Frontline" burrito bowl to your order.
Feed the Frontlines
A project of Tarallucci e Vino restaurant group founder Luca Di Pietro, this initiative allows New Yorkers to purchase meals that are distributed for free to hospital workers. To date, they've raised $1,335,000 of their $1,775,000 goal and have served 88,133 meals.
Operation Feed Brooklyn
This great organization is feeding healthcare workers in Brooklyn while supporting local restaurants. The suggested donation is $25, which covers about two meals, tax, and delivery. So far, they've raised $92,416 through 895 donations. Participants include Avocaderia, Japan Village, Sahadi's, Hometown BBQ, Gumption Coffee, and One Girl Cookies.
Butterfield Market
This Upper East Side gourmet grocery store is producing and delivering individually packaged meals to its neighborhood hospitals' front line staff. A $10 donation provides one meal.
Ruby's Cafe 
This Australian cafe has started a Go Fund Me called "Empty Your Purse to Feed a Nurse." So far, they've raised $86,101; as of two weeks ago, they'd donated more than 10,000 meals.
Estuary
This Brooklyn Heights restaurant has donated thousands of meals to the Brooklyn Hospital Center, and they've now surpassed their goal and raised $23,382 through Go Fund Me, which they'll be using to set up weekly scheduled donations with the hospital.
GoldBelly
The platform that ships your favorite restaurant food nationwide has created GiveBelly City Subscriptions for New York City, Chicago, Los Angeles, San Francisco, New Orleans, and Miami. You can choose a three- or six-month subscription to send care packages to local healthcare workers. The $79/month initiative also supports restaurants.
The Goods Mart
This snack subscription service is allowing customers to donate a box to the Food Bank For New York or the healthcare teams at Memorial Sloan Kettering, Mount Sinai, NYU Langone, and more. Plus, 10 percent of each box goes to the Restaurant Worker's Community Foundation.
Queens Night Market
Though its normal season has been put on hold, the Queens Night Market has partnered with Queens Borough President Sharon Lee and the Queens Economic Development Corporation on Fuel the Frontlines, an initiative that hires market vendors and provides meals for healthcare workers at all nine hospitals and seven EMS stations in Queens.
Mimi Cheng's
Through its Dumplings for Doctors program, this local restaurant (which has closed to the public) has already donated close to 6,000 meals to hospital workers through nearly $49,205 in donations.
S'MAC
Mac n' cheese spot S'MAC is asking customers to purchase e-gift cards that will be used for donations to hospitals.
Starbucks
The coffee mega-giant is offering free coffee to front line responders through May 3 at all its worldwide locations. They also contributed $10 million to establish the Starbucks Global Partner Emergency Relief Program for partners and their families and donated $1 million to Feeding America.
Brooklyn Roasting Company
The local coffee chain is delivering free coffee to hospitals across the city, as well as to Duggal Greenhouse's mask-making program at the Brooklyn Navy Yard.
Everyman Espresso
Local coffee shop Everyman Espresso has started an initiative called Fuel Frontlines NYC where people can buy coffee for essential workers in NYC.
Girl Scouts of Greater New York
Our local Girl Scouts chapter is offering customers the option to donate boxes of cookies to healthcare workers that they will then safely deliver.
Dough Doughnuts
Through a new initiative called Frontline Sweet Support, the donut chain is providing free boxes of treats to hospitals through donations. So far, they've donated over 5,000 donuts to 60 hospital units.
Uber
Uber Eats has committed to donating 300,000 free meals to first responders and healthcare workers in the US and Canada. They also donated $250,000 worth of promo codes for free meals to the Mayor's Fund to be distributed throughout the NYC Health + Hospitals system.
LODGING
The Four Seasons New York
Located on East 57th Street between Park and Madison Avenues, the Four Seasons New York is providing free hotel rooms for doctors, nurses, and medical personnel for overnight stays or as a place to rest between shifts.
St. Regis Hotel
Located at 55th and 5th, the St. Regis Hotel is providing its facility for non-critical care patients or medical personnel.
The Plaza Hotel
On the southeast corner of Central Park, the iconic Plaza hotel is providing its facility for non-critical care patients or medical personnel.
Room Mate Grace Hotel
On West 45th Street, this hotel is providing its facility to serve as free housing for nurses, doctors, and medical personnel.
Wythe Hotel
In Williamsburg, the Wythe is offering free hotel rooms through April for nurses, doctors, and medical personnel.
Airbnb
The home-share company launched a new global initiative that will provide free or subsidized housing for healthcare professionals, relief workers, and first responders with the goal of helping to house 100,000 workers. Hosts can opt in to provide homes that follow new cleanliness protocols.
TRANSPORTATION
Uber
Uber Health is offering discounted rides for front-line health care workers. They also gave the Mayor's Fund $750,000 worth of free ride promo codes that the non-profit can then distribute to health care workers, first responders, and those in need.
Citi Bike
In partnership with City Hall and the DOT, Citi Bike launched its Critical Workforce Membership Program, which provides the first-responder, healthcare, and transit workforce with a free month of Citi Bike membership. Operator Lyft is also prioritizing valet resources and stepping up disinfecting at stations directly adjacent to hospitals that have already seen significant ridership during the crisis.
Revel
Electric moped service Revel is offering free membership to health care workers and has expanded its service to major hospital centers in Brooklyn, Queens, and Upper Manhattan. These new service areas include Elmhurst Hospital, Maimonides Medical Center, NYU Langone Hospital Brooklyn, and SUNY Downstate Medical Center. In Manhattan, they include Mount Sinai Medical Center, Lenox Hill Hospital, NewYork-Presbyterian/Columbia University Irving Medical Center, NewYork-Presbyterian/Weill Cornell Medical Center, The Javits Center, Bellevue Hospital Center, Veterans Affairs New York Harbor Healthcare System, NYU Langone Tisch Hospital, and Mount Sinai Beth Israel.
TRAVEL
Jet Blue
The airline has been providing free flights for healthcare workers coming to help with the efforts in New York. They also launched the Healthcare Hero program, through which JetBlue is donating 10,000 pairs of tickets to those who work within the Mount Sinai Health System or the public NYC Health + Hospitals system. The remaining 90,000 will be donated based on customer nominations. In addition, the airline is providing roundtrip flight certificates to almost all of its 23,000-member crew to gift to their own personal healthcare heroes.
American Airlines + Hyatt
The airline and hotel chain teamed up to surprise more than 4,000 health care workers at NYC Health + Hospitals/Elmhurst with complimentary three-night vacations "to help them recharge and reconnect with their loved ones, once they are able to take time for themselves."
APPAREL
Nike
Nike has partnered with nonprofit Good360 in the United States and local organizations across Europe to donate more than 140,000 pieces of footwear, apparel, and equipment. They've also teamed up with well-known athletes to donate 30,000 pairs of Nike Air Zoom Pulse to health systems and hospitals in Chicago, Los Angeles, Memphis, and New York City.
Uniqlo
Clothing company Uniqlo is donating 20,000 units of AIRism innerwear to Montefiore Health System and NYC Health + Hospitals. This line "is designed to help them keep cool, dry and comfortable throughout their day."
Crocs
The favorite footwear of many health care professionals is stepping up to donate up to 100,000 pairs of shoes to health care workers across the country through their newly launched "A Free Pair for Healthcare" program.
Allbirds
The comfy sneaker company has already donated $500,000 worth of shoes to the healthcare community, and they are continuing to offer special pricing on donation bundles where customers purchasing a pair of shes for themselves can also donate a pair.
MORE
#ClapBecauseWeCare
It's simple–stick your head out your window every night at 7pm and clap for our frontline workers.
NYC Healthcare Heroes
The Debra and Leon Black Family and Aramark announced a new philanthropic program in partnership with the Mayor's Fund to Advance New York City, Robin Hood, and the American Red Cross that will provide between 300,000 and 500,000 care packages to hospital staff across the city. They'll include food, household cleaning products, and personal care products.
Thank Hospital Heroes
This is an online portal where any New Yorker can submit a message of thanks and support to hospital and healthcare heroes.
For ways to personally get involved in COVID-19-related volunteer opportunities, visit the city's official page.