City releases Bushwick rezoning proposal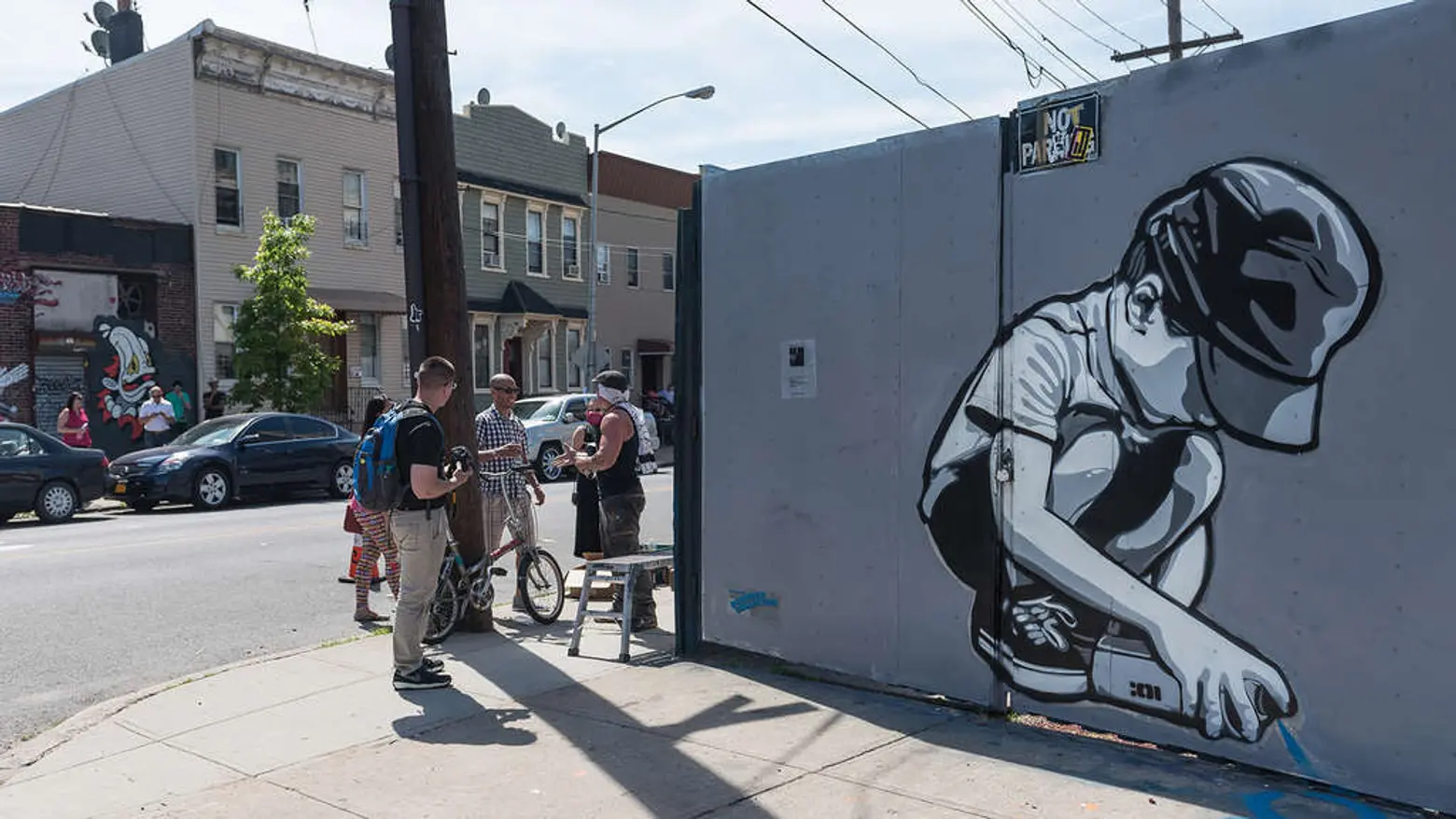 The city unveiled on Tuesday its proposal to rezone Bushwick, five years after local residents and officials called on the Department of City Planning to study the growing out-of-context development in the neighborhood. The Bushwick Neighborhood Plan calls for creating and preserving affordable homes, improving public park space, protecting historic buildings, and supporting small businesses. The plan covers 300 blocks, bordered by Broadway to the south, Cypress Avenue to the north, Flushing Avenue to the west, and Trinity and Broadway Junction to the east.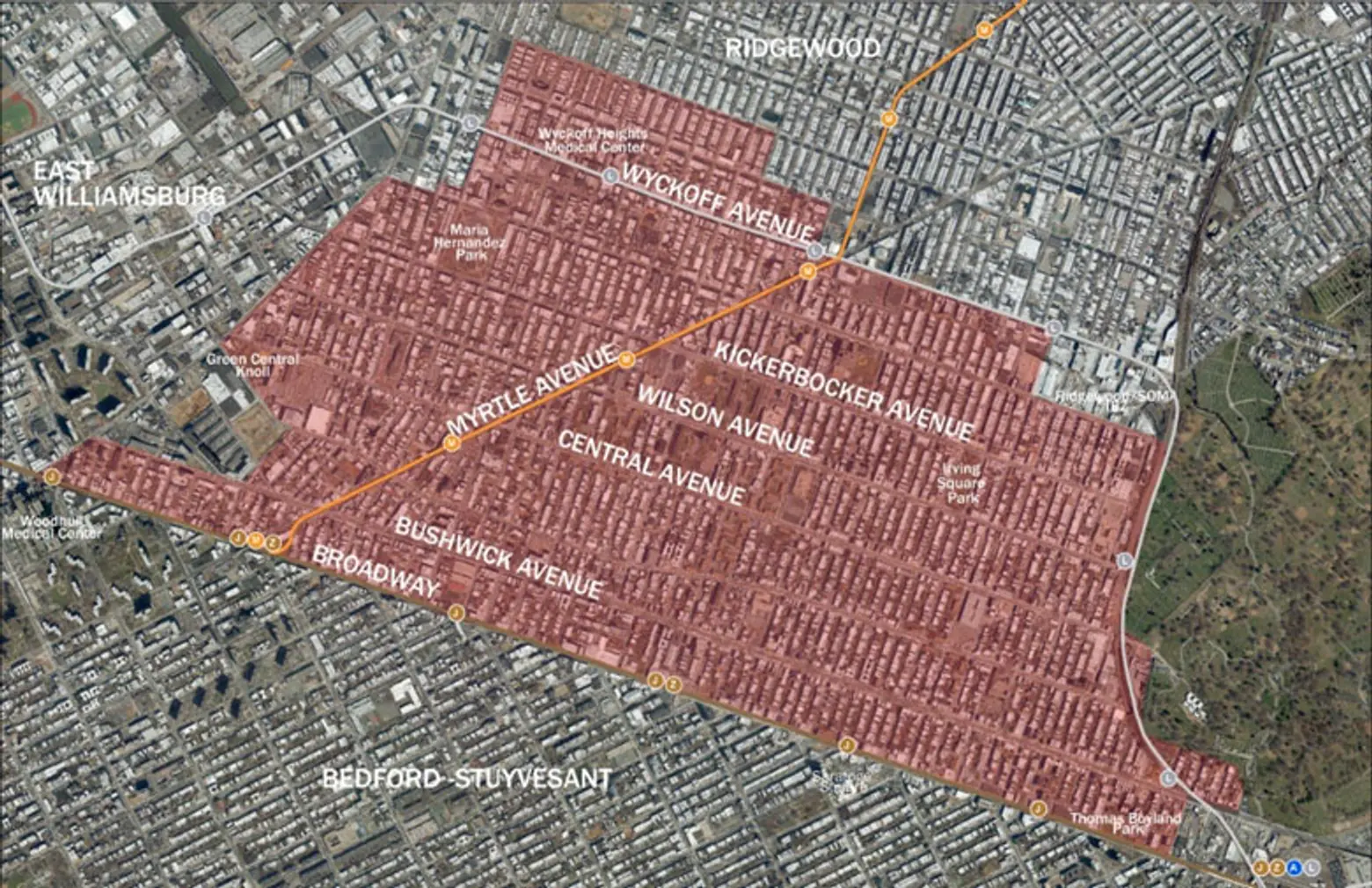 Via DCP
"Bushwick residents are justifiably proud of their dynamic community, one that is home to thousands of diverse families," DCP Director Marisa Lago said in a statement. "As this transit-rich neighborhood continues to thrive, we are determined to preserve and create affordable housing, protect tenants, help grow more good jobs, improve parks, schools and sidewalks."
A major tenet of the plan includes the preservation of affordable housing. According to the city, rent increased in Bushwick by 60 percent between 2000 and 2016, nearly double the citywide rate. In addition to renovating public housing, like at Hope Gardens, the city will develop 100 percent affordable housing on city-owned sites.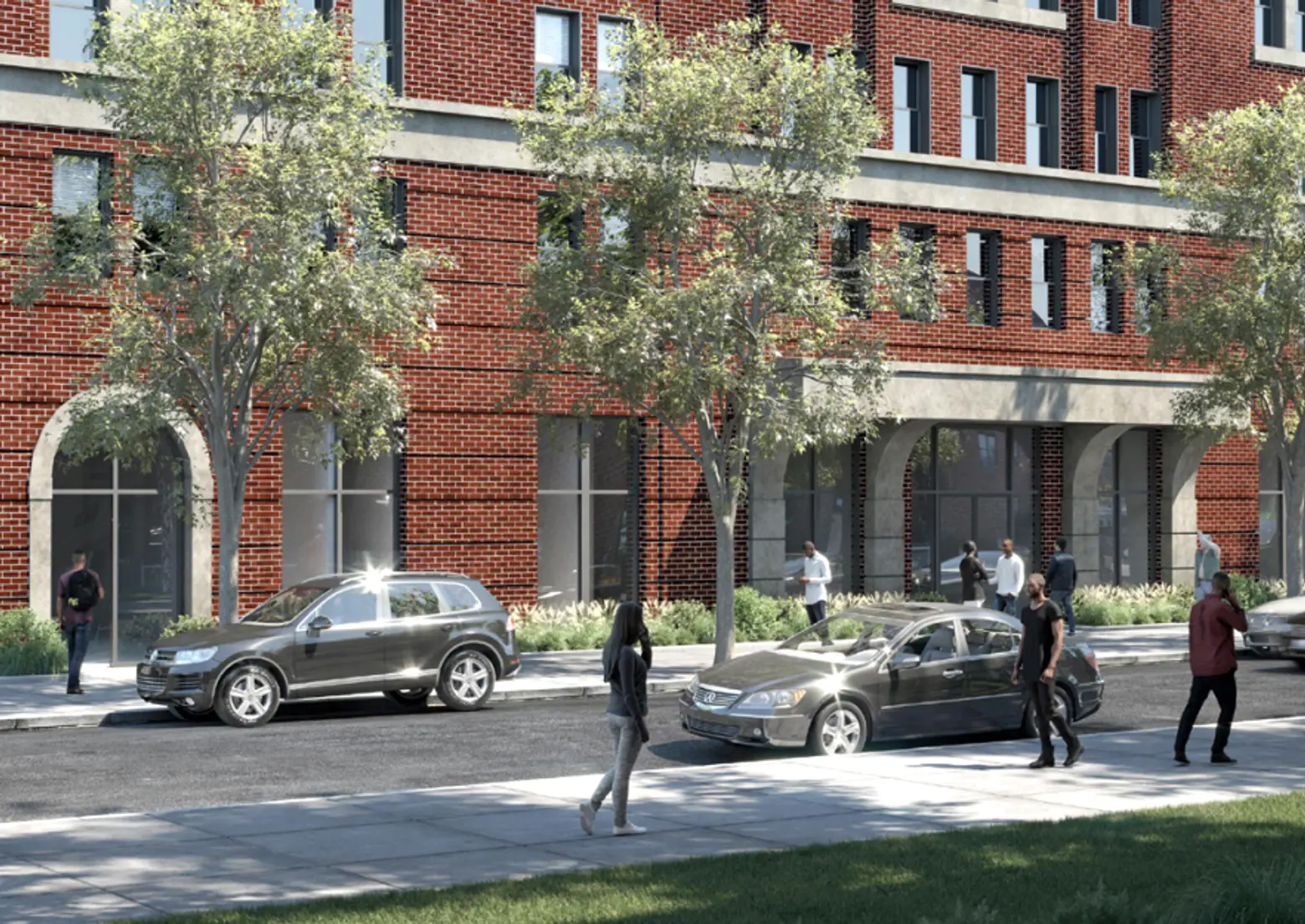 Blue Sea Development and Gilbane Development will build Linden Court, a 13-story building with 154 senior apartments. A Passive House, the building serves residents age 62 and older with incomes capped at 50 percent of the AMI; rendering via DCP
Partnering with RiseBoro and St. Nicks Alliance, the city's housing department plans to build 28 affordable units to serve residents with incomes between 30 and 80 percent of the area median income. At 641 Chauncey Street, there are 16 co-op apartments planned for low-moderate income homeowners on vacant land.
The plan calls for a vacant site at 1531 Broadway to become home to 126 affordable units for family and supportive housing for those formerly homeless or those with disabilities. And the city wants to construct a 13-story building with 154 apartments for seniors at NYCHA's Bushwick II development.
And the city said it will make the affordable housing application process "easier and more equitable" by limiting rejections based on credit history, clarifying eligibility requirements, and adding protections for victims of domestic violence.
The plan is meant to build on the Bushwick Community Plan, first initiated in 2014 by Council Members Antonio Reynoso and Rafael Espinal and Community Board 4. But Reynoso said the city's plan did not go far enough in terms of housing. According to City Limits, the council member said the city "fell short" in meeting the guidelines laid out in the community plan, which did not call for adding market-rate apartments to the neighborhood.
"The introduction of more market-rate is bad for them so they don't see that as a win — they see that as an introduction to gentrification," Reynoso said, referring to the community plan. "And in this presentation, there is more than 8,000 units of market-rate housing."
The projected number of total housing units the city expects to bring to Bushwick will be revealed during the environmental impact study before it moves to public review. DCP representatives said on Tuesday the rezoning would preserve height requirements on 70 percent of residential side streets to "maintain existing character." Towers up to 16 stories would be allowed, with others would be capped at three stories.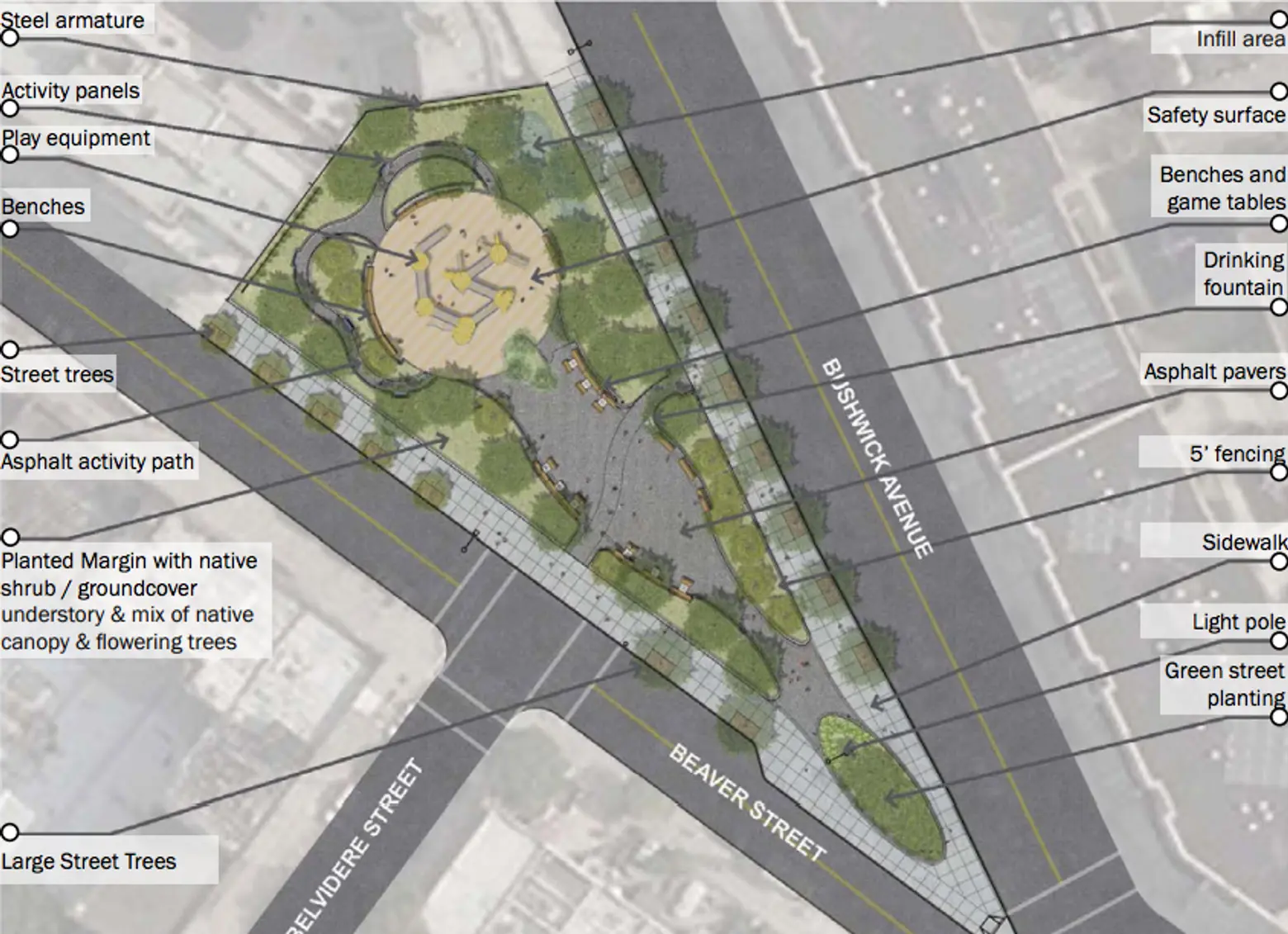 Beaver Noll Park via DCP
On the open space front, NYC Parks is constructing a new, $3 million half-acre park called Beaver Noll Park at the intersection of Bushwick Avenue and Beaver Street. Rudd Playground is getting a new skate park and basketball courts and new turf and fitness area will be added to Maria Hernandez Park sometime next year.
Other parts of the plan include improving pedestrian safety on Myrtle Avenue, adding new Citi Bike stations, expanding the Shop Healthy Program, and boosting access to arts and culture programming. The rezoning draft will be reviewed by Community Board 4 on May 15, followed by a public scoping hearing in June.
Read the full rezoning draft from DCP here.
RELATED: