The best ways to celebrate Halloween 2023 in NYC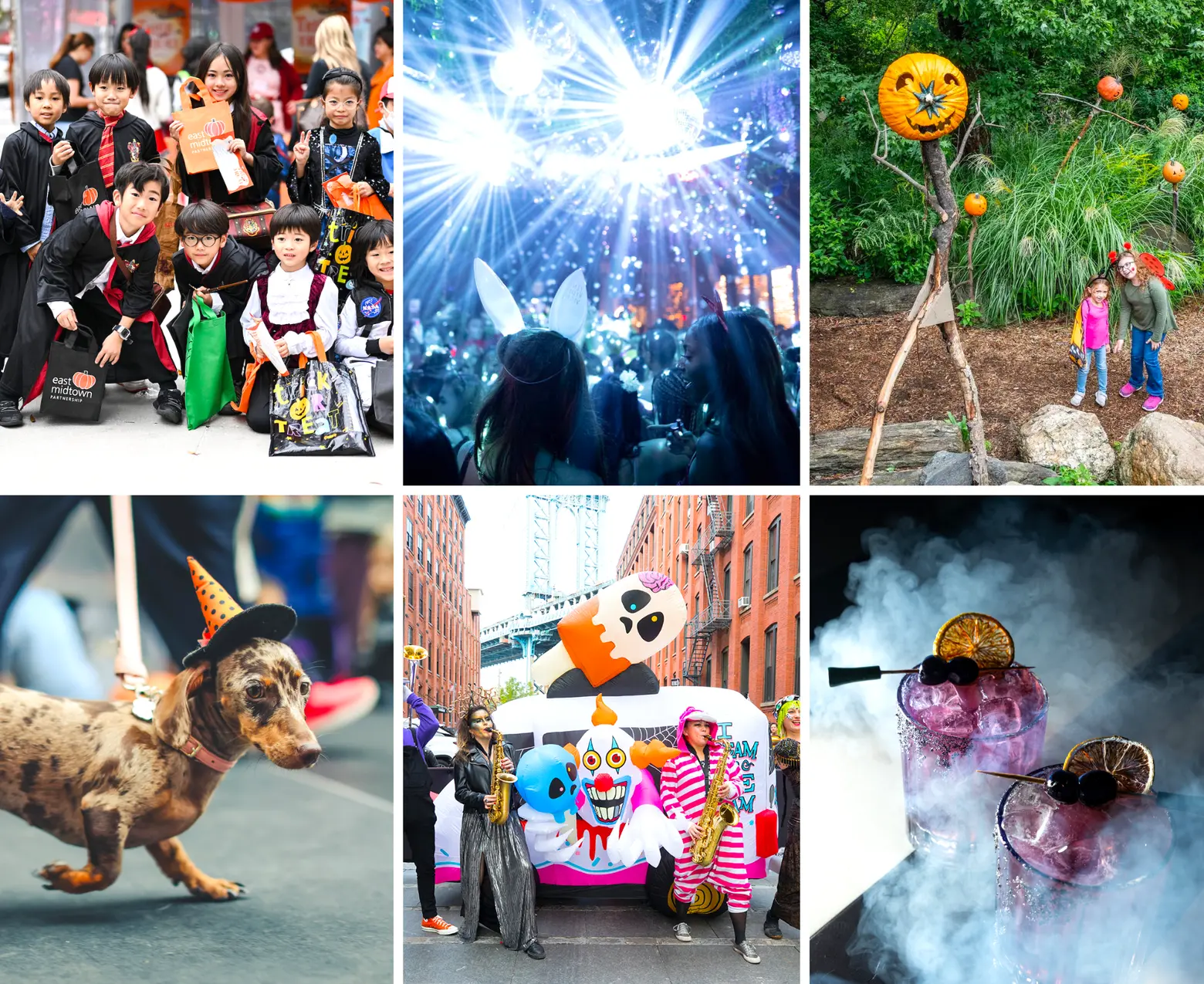 New Yorkers, it's spooky season. New York City is known to go all out for Halloween, with over-the-top parades, epic trick-or-treating, and spirited parties in every neighborhood. Ahead, find some of this year's best-haunted happenings for all ages, from kid-approved activities and dog costume contests to devilish dance parties and brews and booze.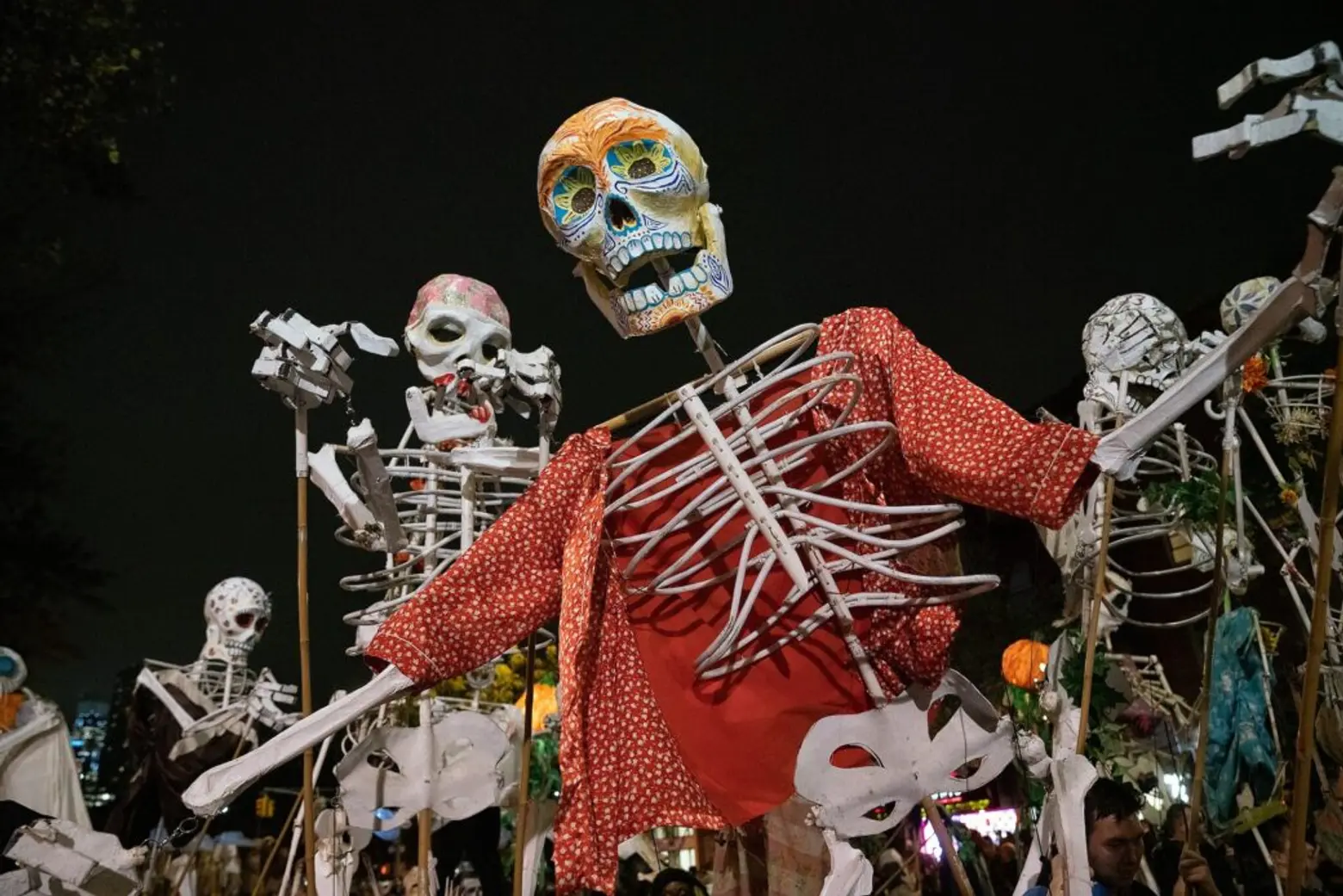 Parades
The Village Halloween Parade
October 31 at 7 p.m.
New York City's crowning Halloween event, the Village Halloween Parade, is celebrating its 50th anniversary this year. The famous event features thousands of revelers who travel to Greenwich Village in striking costumes to march in the parade and hundreds of thousands of spectators who line up along the route to take it all in.
The parade was created in 1974 by the late puppeteer Ralph Lee, who started the event as a moving puppet show for his children and their friends in the courtyard of Westbeth Artist's Housing, a housing complex in the West Village. The event has grown considerably in size since then and is easily the most anticipated event of Halloween in NYC.
Children's Halloween Parade in Park Slope
If you're looking for a more family-centric parade, the annual Children's Halloween Parade in Park Slope is a great option. Both kids and adults alike dress up and march north from 14th Street and 7th Avenue up to Third Street and ending at the Old Stone House. The parade takes place on October 31 and kicks off around 6:30 p.m.
At 6 p.m., line up to march in the parade at 14th Street and 7th Avenue. Floats, bands and marchers follow the Park Slope Civic Council and elected officials for the parade, which starts at 6:30 p.m. The parade route heads north to Third Street, then turns left and ends at Old Stone House.
Jackson Heights Halloween Parade
In Queens, the Jackson Heights Halloween Parade is a can't-miss event. Costumed kids and adults march down 37th Avenue from 86th Street to PS 69, where thousands of bags of candy are handed out to children. This year's parade will begin at 5 p.m.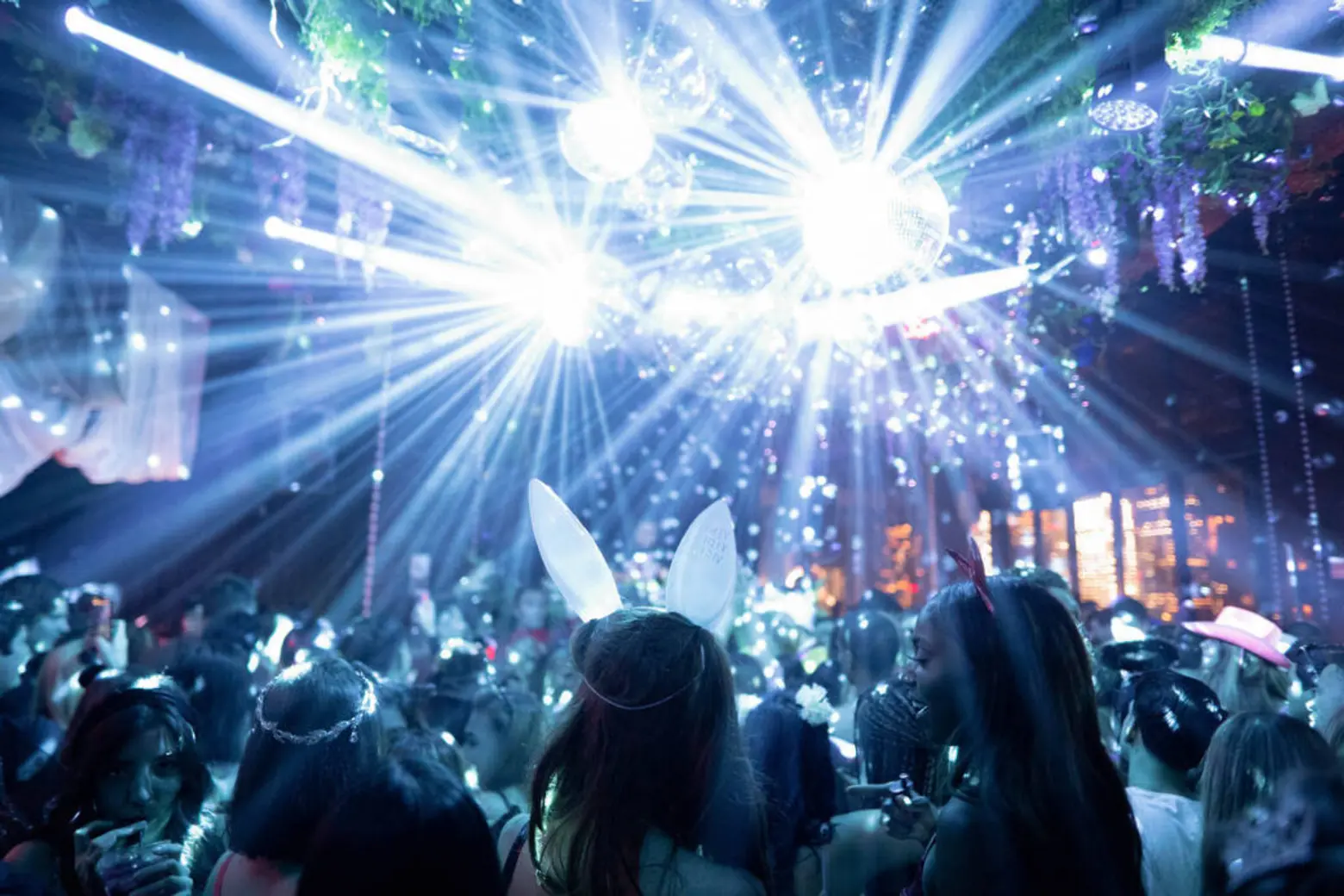 For the 21+ crowd
Y2K-themed Costume Party at Frying Pan BK
51 35th Street, Industry City, Brooklyn
October 27
Industry City's Frying Bank BK is opening up its space for a Y2K-themed costume party. The event will feature music by DJ Max and end with an awards ceremony. Prizes for the best costumes will be awarded in the following categories: best overall (single or group), most specific Y2K theme, the best Y2K couple's costume, and the spookiest costume.
City of Gods by House of Yes
October 27 and 28 at 9 p.m.
Industry City, Brooklyn
House of Yes's annual City of Gods Halloween festival is returning to Industry City for two nights this year. Created by House of Yes and Zero, the event features more than five stages where guests can dance and enjoy the festivities, which include live music, photo booths, food, an art bazaar, and more. Tickets can be purchased here.
Daintree's Fright Night Halloween Party
25 West 38th Street, 29th floor, Midtown South
October 27 at 10 p.m.
Midtown South's Daintree Rooftop & Lounge is inviting guests to Between 10 p.m. and 3 a.m., guests can enjoy bites from Daintree's Australian-Asian-inspired menu, including items like chicken salt and seaweed popcorn, ahi tuna tartare, oysters, and more. Revelers will also be able to sip curated seasonal cocktails while taking in breathtaking views from the rooftop. Tickets can be purchased here.
Somewhere Nowhere
112 West 25th Street, Midtown
October 26 at 11 p.m.
Located atop the Renaissance NY Chelsea Hotel, the nightlife venue Somewhere Nowhere is hosting thrilling, music-filled events all weekend long in celebration of Halloween. Here is Somewhere Nowhere's lineup for Halloween weekend:
citizenM New York Bowery's cloudM Halloween Rooftop Party
189 Bowery Street, Lower East Side
October 28 from 6 p.m. to 11 p.m.
The New York Bowery Hotel is inviting guests to a thrilling Halloween party atop its 20th-floor rooftop deck. Costumed guests can dance the night away with breathtaking views of the Manhattan skyline. The event will also feature endless candy for those with a sweet tooth, specialty cocktails, and Halloween-themed hors d'oeuvres. Tickets start at $45 per person and can be purchased here.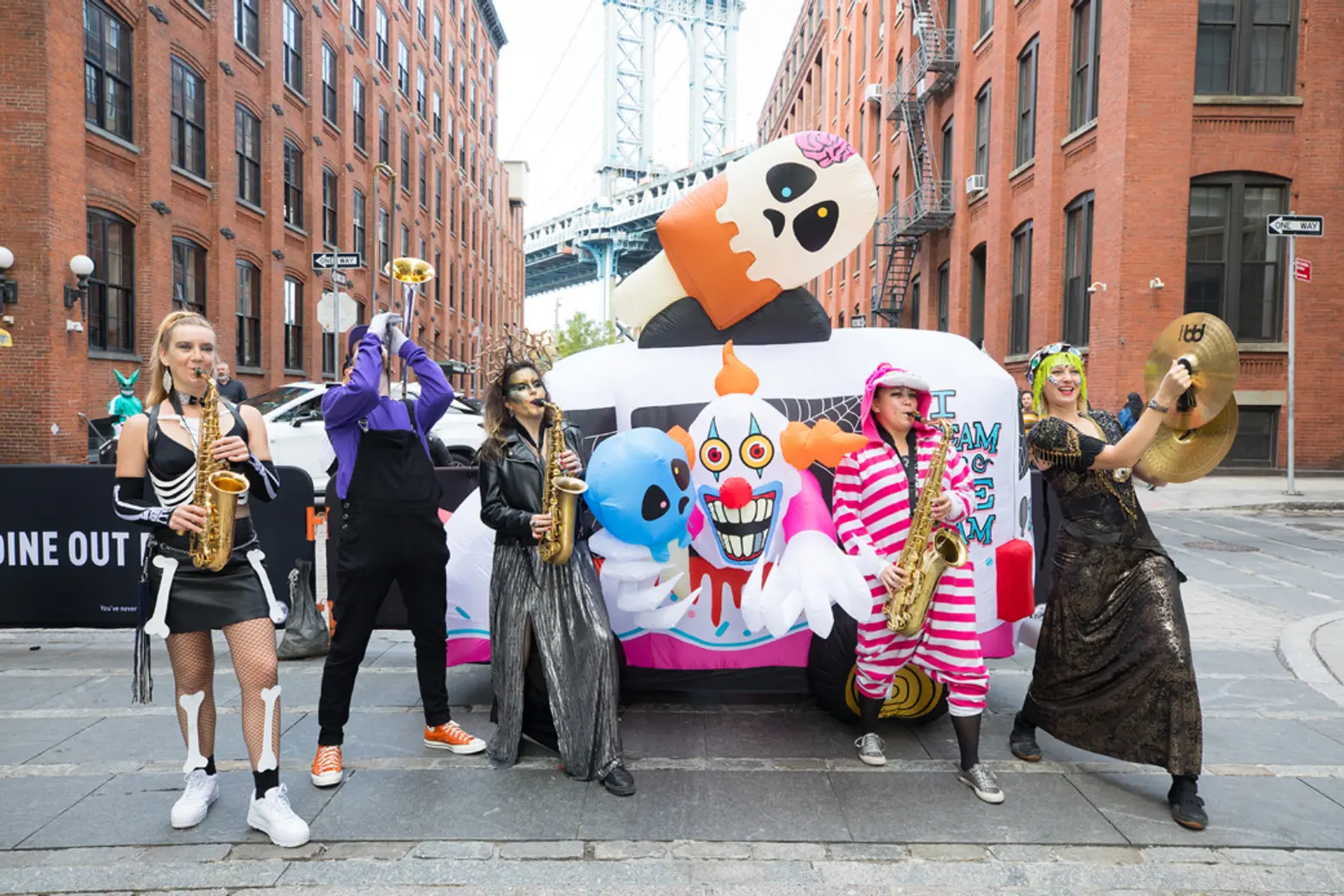 Kid-approved activities
Dumboween
Dumbo, Brooklyn
October 31
The Dumbo Improvement District is beckoning New Yorkers to take part in its annual "March to the Arch," which sees crowds of costumed revelers travel through Dumbo in a parade headed by the Funkrust Brass Band and puppets from Chinese Theater Works. The parade begins on Washington Street between Front and Water Streets and travels to the Dumbo Archway.
After the parade, guests can take part in family-friendly events, including a "spooktacular" photo booth from Self Portrait Project, arts and crafts with Creatively WILD Art Studio, and a costume contest with prizes for the best dressed. The post-parade event, which runs from 4:30 p.m. to 7 p.m., is free and open to the public.
As always, more than 50 Dumbo businesses will be open to trick-or-treaters on Halloween from 4 p.m. to 7 p.m.
Kids Day at Olly Olly Market
601 West 26th Street, Chelsea
October 28 from 11 a.m. to 3 p.m.
Chelsea's Olly Olly Market is hosting a special kid-friendly Halloween celebration. Families are invited to come and take part in the festivities, which include a bounce house, face painting, trick-or-treating, and more. The event is completely free and guests are encouraged to arrive in costume.
Brookfield Place's Halloween Bash
October 28 from 12 p.m. to 3 p.m.
Travel to Brookfield Place for a fun-filled Halloween bash featuring engaging programming and trick-or-treating. Kids will be able to participate in educational activities, such as fun math games, science demonstrations, and more. There will also be arts and crafts stations, a photo booth, temporary tattoos, a costume catwalk, movie screenings, and live entertainers.
Coney Island's 13th Annual Children's Halloween Festival and Parade
October 28 from 12 p.m. to 4 p.m.
Maimonides Park, 1904 Surf Avenue
Coney Island is inviting children ages one to 14 and their families for a free day of Halloween festivities, including inflatable mazes, face painting, a costume contest, book giveaways, and more. The first 1,200 children who arrive will receive a free wristband to Luna Park. The event is being hosted by the Alliance for Coney Island and NYC Health + Hospitals/South Brooklyn Health.
Rock and Roll Playhouse
October 29 from 1 p.m. to 2 p.m.
Courtyard 1/2, Industry City, Brooklyn
Rock and Roll Playhouse is hosting an extra-special event on Saturday. While the Playhouse is known to put on exciting, music-filled events on Saturdays, October 29 will be especially frightening. Guests are encouraged to show up in costume and attend a special Fright City Halloween party. Ticket holders can pick up a trick-or-treat basket and follow a trail through the Industry City campus to find treats.
Children's Museum of the Arts
October 28 from 1 p.m. to 3 p.m. and October 29 from 11 a.m. to 3 p.m.
The Children's Museum of Arts is putting on a fun-filled weekend full of free Halloween festivities at Pier 57. On the 28th, CMA is partnering with Monkey Boys Productions for a free, all-ages workshop to create a float that will be featured in the Village Halloween Parade. Visitors are invited to create their own larger-than-life monster puppet out of felt, wire, google eyes, and other art materials that will be put atop the float. You can RSVP here.
On the 29th, CMA is hosting their Halloween Pier Party, a free community art-making event on Pier 57. Guests of all ages are invited to participate in a variety of activities, including creating puppet murals, monster masks, Dia de los Muertos candles, haunted house dioramas, flying ghouls and ghosts, and more. You can RSVP here.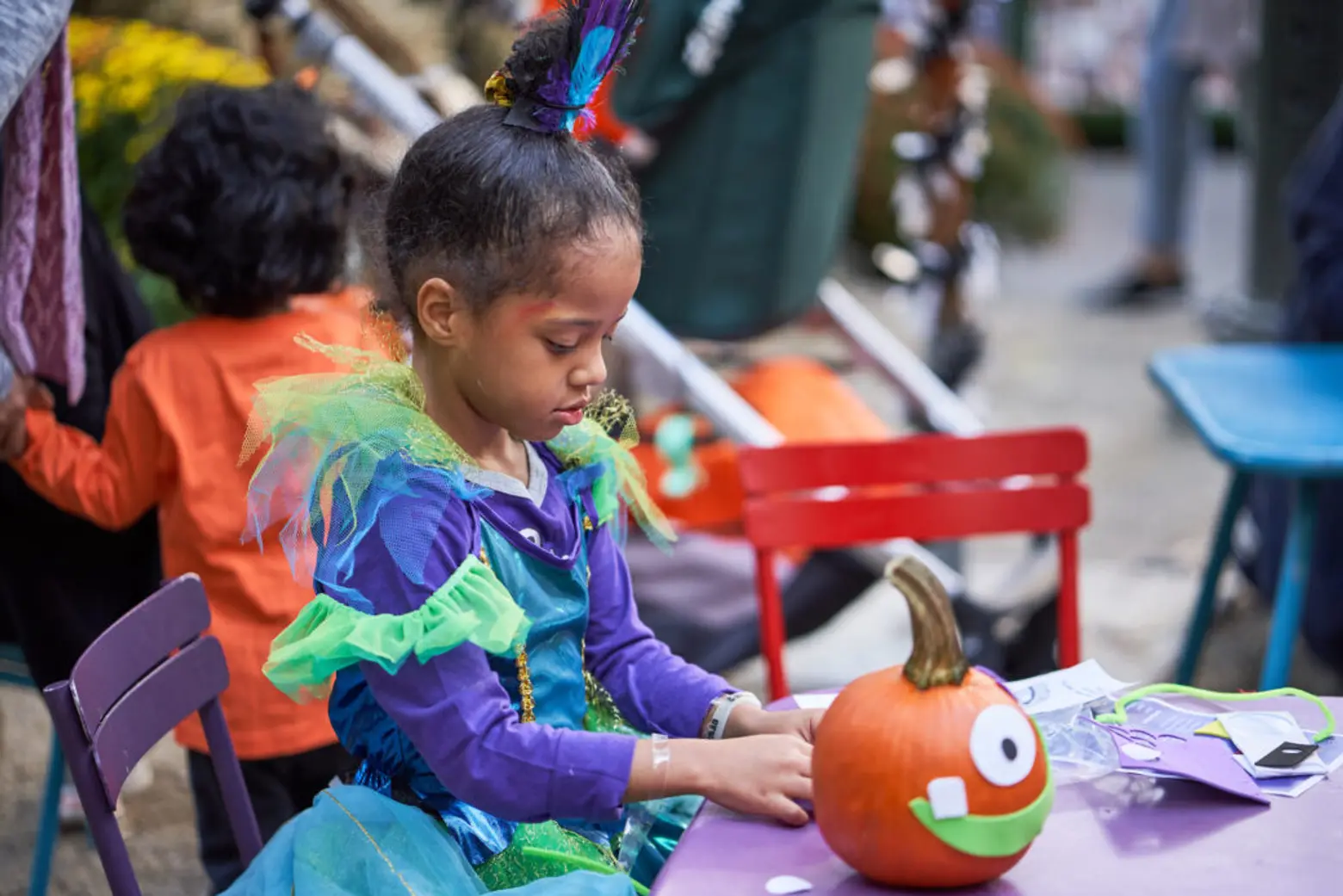 Trick-or-treating
Tricks and Treats at Bryant Park
October 27 from 4 p.m. to 6 p.m
Trick and treat your way through Bryant Park's Winter Village just a few days after it opens for the season. The park's free annual Halloween festival, Tricks and Treats, returns to the Winter Village for another year of spooky festivities. Guests can visit a variety of shops and take part in fun activities, including arts and crafts, face painting, pumpkin decorating, a Halloween parade, and of course, trick-or-treating.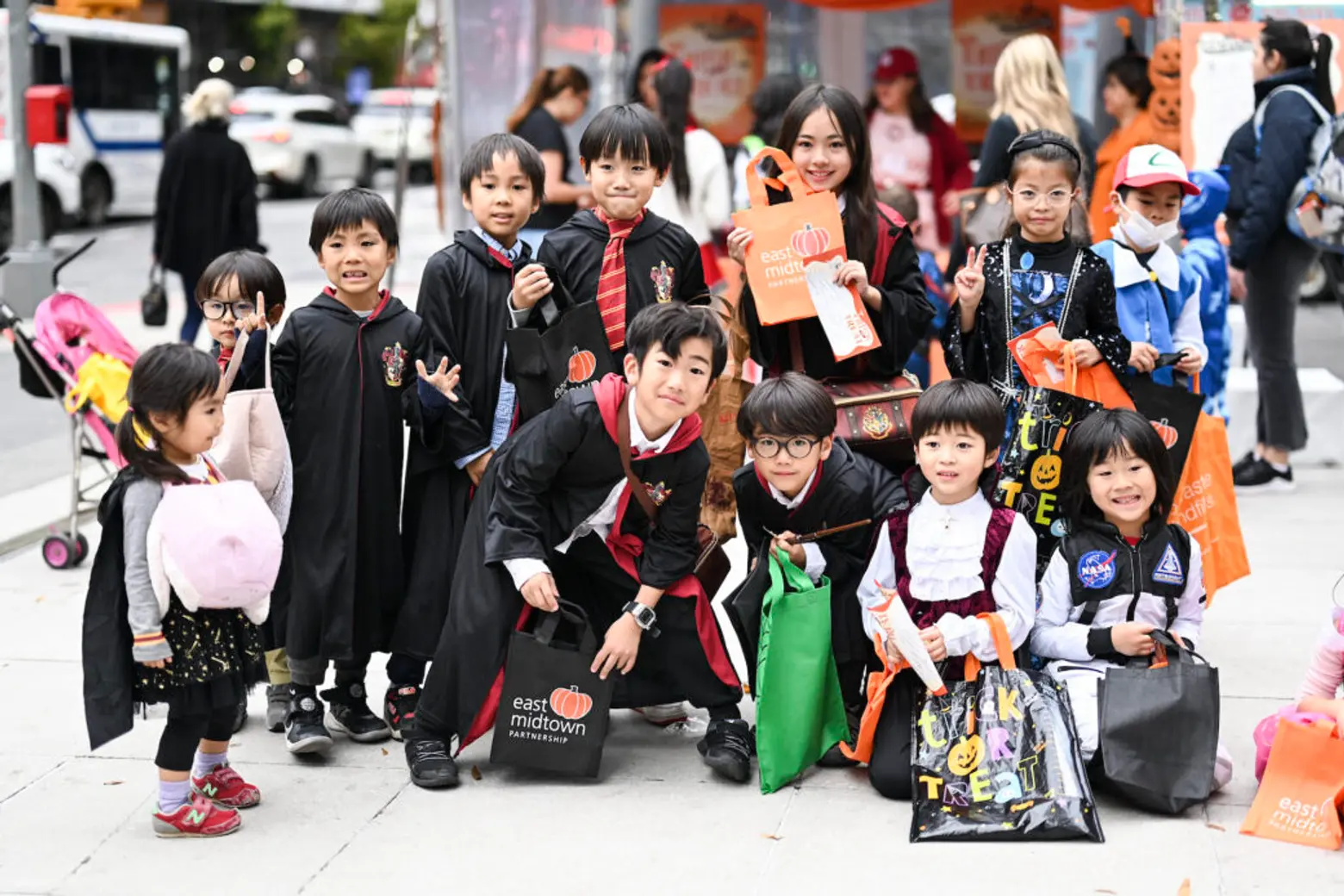 Trick-or-treat in East Midtown
October 31 from 3 p.m. to 7 p.m.
On Halloween, the East Midtown Partnership is welcoming families from across the city to trick-or-treat at dozens of businesses across the neighborhood. Now in its eighth year, the event includes trick-or-treating and special Halloween arts and crafts for children ages 12 and under and their families. Families can enter at either 919 3rd Avenue, with a special themed Jack-O-Lantern display by Maniac Pumpkin Carvers, or 139 East 56th Street, where kids can join seniors from the assisted living facility Sunrise for an arts and crafts activity.
Trick-or-treat Open Streets
After a successful debut last year, the Department of Transportation's "Trick-or-Streets" is returning for 2023. As part of the program, hundreds of streets across the five boroughs are opened for pedestrian use, with a wide variety of fun programming including live performances, festive activities, and more. Here are some of the Halloween Open Streets taking place during the Halloween weekend.
Saturday, October 28:
Audubon Avenue, from West 186th Street to West 188th Street (Manhattan), 12:00 p.m. – 4:00 p.m., sponsored by Connectemos and The Horticultural Society of New York.
West 186th Street, from Audubon Avenue to St. Nicholas Avenue (Manhattan), 12:00 p.m. – 4:00 p.m., sponsored by Connectemos and The Horticultural Society of New York.
Fordham Plaza at Webster Avenue (Bronx), 1:00 p.m. – 6:00 p.m., sponsored by The Bronx is Reading.
Troutman Street, from St. Nicholas Avenue to Irving Avenue (Brooklyn), 6:00 p.m. – 10:00 p.m., sponsored by Mov!ng Culture Projects and Bushwick Foundation for Artists and Merchants.
Beverley Road, from Church Avenue to East 2nd Street (Brooklyn), 3:00 p.m. – 6:00 p.m. sponsored by HONK NYC!
Beverley Road, from Church Avenue to East 2nd Street (Brooklyn), 4:00 p.m. – 6:00 p.m., Trick-or-Streets Brooklyn ride sponsored by WE Bike NYC!
Friday, October 27:
Lafayette Street, from Spring Street to Kenmare Street (Manhattan), 3:00 p.m. – 8:00 p.m., sponsored by Mov!ng Culture Projects and Osteria Morini.
Sunday, October 29:
Frederick Douglass Boulevard, from West 112th Street to West 120th Street (Manhattan), 12:00 p.m. – 11:00 p.m., sponsored by the Frederick Douglass Boulevard Alliance.
Tuesday, October 31:
Dyckman Street, from Broadway to Seaman Avenue (Manhattan), 1:00 p.m. – 9:00 p.m., sponsored by Dyckman Gardens.
Evelyn Place, from Aqueduct Avenue East to Grand Avenue (Bronx), 3:00 p.m. – 7:00 p.m., sponsored by HONK NYC! and I Am My Community.
Jackson Avenue, East 149th Street to Pontiac Place (Bronx), 4:00 p.m. – 8:00 p.m., sponsored by Street Lab and The Horticultural Society of New York.
Minthorne Street, from Bay Street to Victory Boulevard (Staten Island), 4:00 p.m. – 8:00 p.m., sponsored by The Angiuli Group.
A full list of October's Open Streets can be found here.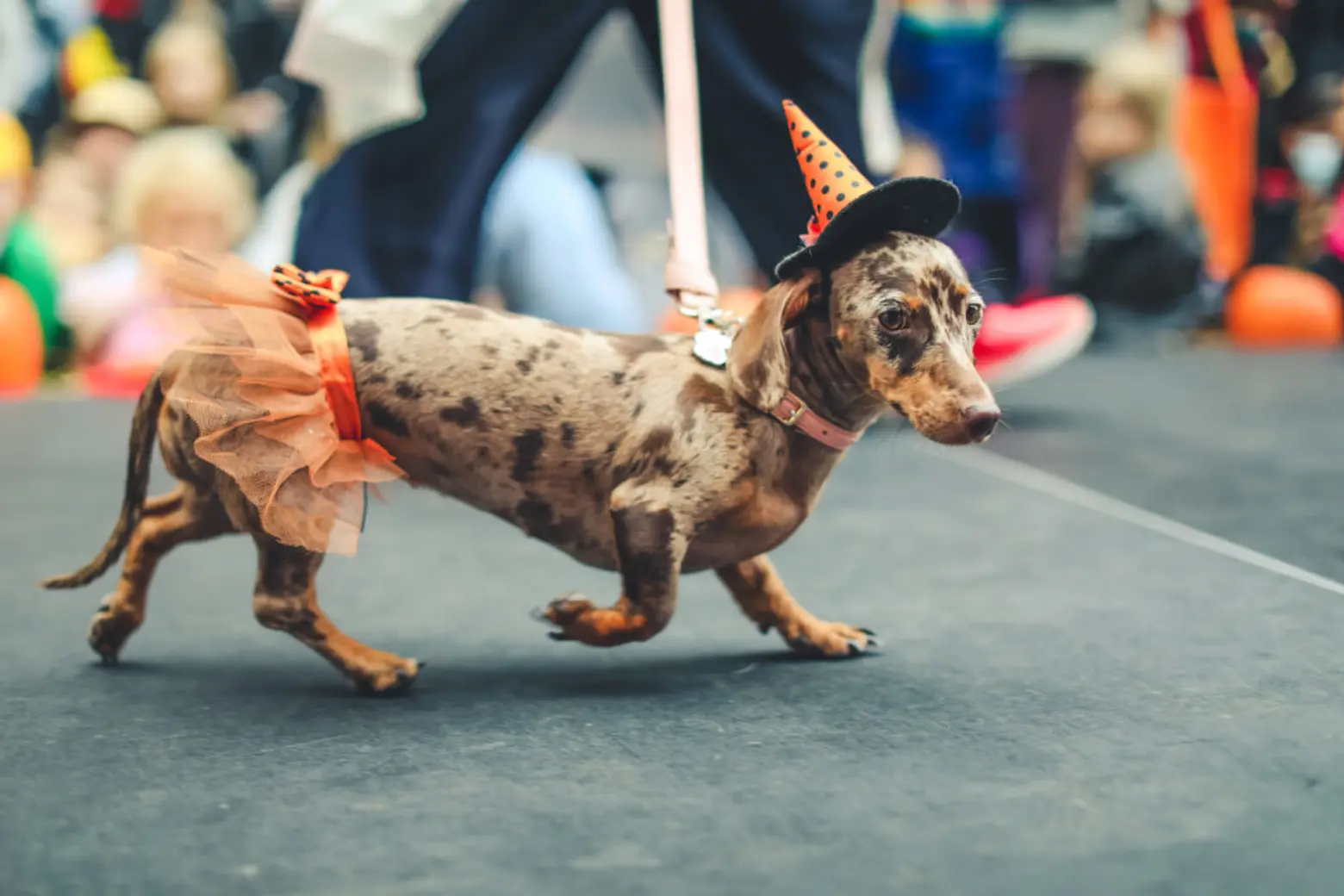 For the pups
Elizabeth Garden's Halloween Pet Parade
October 29 from 2 p.m. to 4 p.m.
Elizabeth Street between Prince and Spring Streets, Nolita
Elizabeth Garden's Halloween Pet Parade is back for another year, inviting local residents to bring their pups and participate in a "rigorously judged" runway costume contest. Participants will have the chance to win raffle prizes from local businesses and restaurants. Click here to RSVP.
Great PUPkin Dog Costume Content
October 28 at 12 p.m.
Fort Greene Park, Fort Greene
Hosted at the bottom of the Prison Ship Martyrs' Monument stairs in Brooklyn's Fort Greene Park, the Great PUPkin Dog Costume Contest is gracing the park for its 25th year. As part of the event, more than 100 hundreds show off their creative costumes with a chance to win prizes. It's free for spectators to watch the show.
Washington Square Park Dog Run Costume Contest
October 28 at 12 p.m.
Washington Square Park, Greenwich Village
Take the journey to Washington Square Park to watch as New Yorkers and their furry friends dress up and compete in an exciting costume contest with a chance to win prizes.
Scary movie screenings
Midnight Theatre
75 Manhattan West, Hudson Yards
Midtown's Gatsby-inspired Midnight Theatre is screening classic Halloween movies in celebration of the spooky holiday. To kick off Halloweekend on October 27 at 7 p.m., the theatre will turn into a haunted mansion and host a cabaret, as well as screen the Rocky Horror Picture Show. Tickets start at $35 per person and can be found here.
The cult-classic movie will also be screened on October 30 at 7 p.m. and 10 p.m. Tickets can be purchased here.
Haunted House at Metrograph
7 Ludlow Street, Lower East Side
For more off-beat film screenings this Halloween, head to the Metograph on the Lower East Side. The independent movie theater will host "Haunted House" programming that will "go beyond jump scares and hidden passages to explore some domestic possessions that are a little different from the usual Halloween bill-of-fare." Showings of "Mekong Hotel" (with the short film "Emerald"), "Grey Gardens," "The Exterminating Angel," and "Psycho" will be available starting Friday, October 28 through Tuesday, October 31.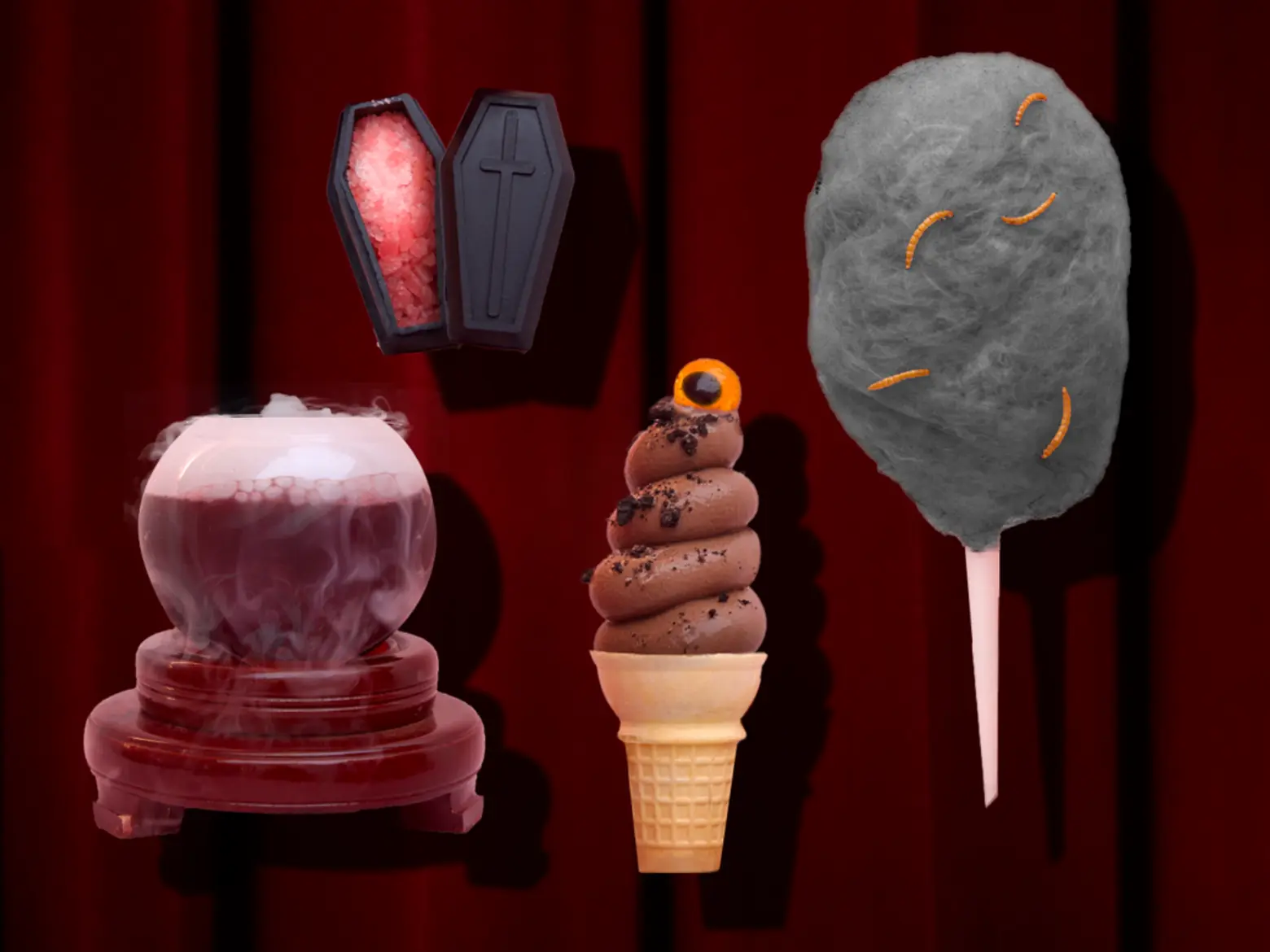 Spirited food & boooze
Museum of Ice Cream
558 Broadway, Manhattan
Soho's Museum of Ice Cream has a few special Halloween-inspired treats for sweet lovers of all ages. The museum's new treats include the Dark Cone, a chocolate soft-serve ice cream topped with Oreo crumbles and a gummy eyeball, cotton candy adorned with candy worms, and a variety of ice cream sundaes featuring spooky toppings like meringue ghosts, gummy bugs, and licorice bats.
Visitors will also be able to purchase Halloween-themed drinks, including the Bloody Shirley Temple, an alcoholic beverage served in an IV bag consisting of lemonade and grenadine, and the Black Widow, a concoction of tequila, Triple Sec, blackberry puree, and sour pucker powder presented in a bubbling cauldron.
Guests can enjoy these delicious treats as they explore more than a dozen different installations throughout the museum, including a three-story slide and the museum's famous sprinkle pool.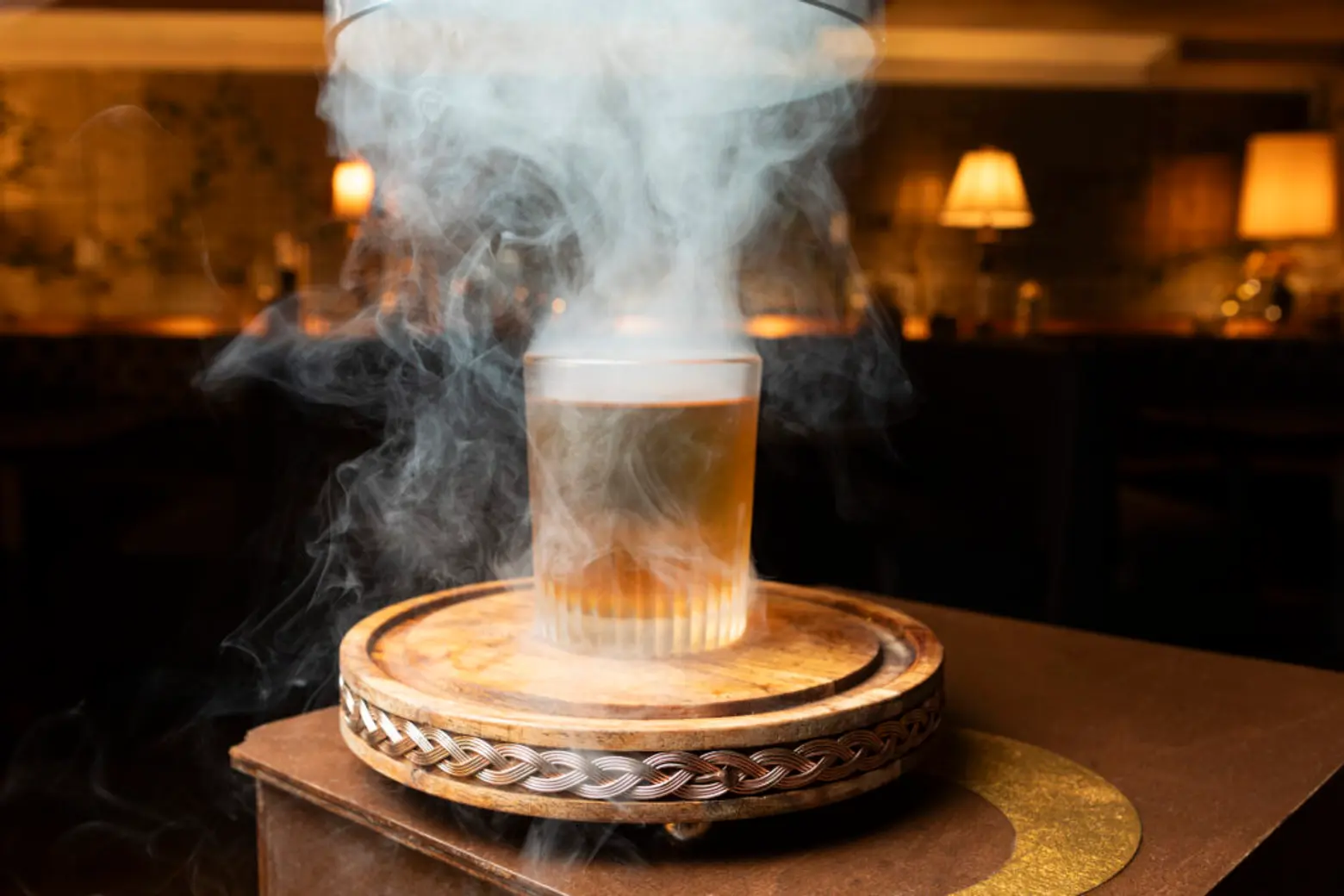 The Cauldron NYC
47 Stone Street, Financial District
The Cauldron's Downtown location is presenting its limited edition potion experience the Veil for the entire month of October. This experience begins with a glass of prosecco upon arrival and concludes with an "Ectoplasm shot." The highlight of the entire experience is the creation of an interactive potion called "the Maleficaria," a peach and bourbon martini served with homemade blackberry-flavored boba.
For the remainder of the fall season, the Cauldron has introduced a brand new interactive potions menu that takes influence from Halloween's eeriness.
Guests can pick two options from the potion menu, which includes the "Monster Mash," a Scotch Old Fashioned with pickled onion and porcini mushrooms, and the "Summoner's Siphon," an apple-cider-like beverage with warm apple and toffee vodka infused with allspice, cinnamon, and fresh ginger.
Non-alcoholic cocktails are also available for younger guests, as well as family-friendly potion-making classes for visitors under the age of 21.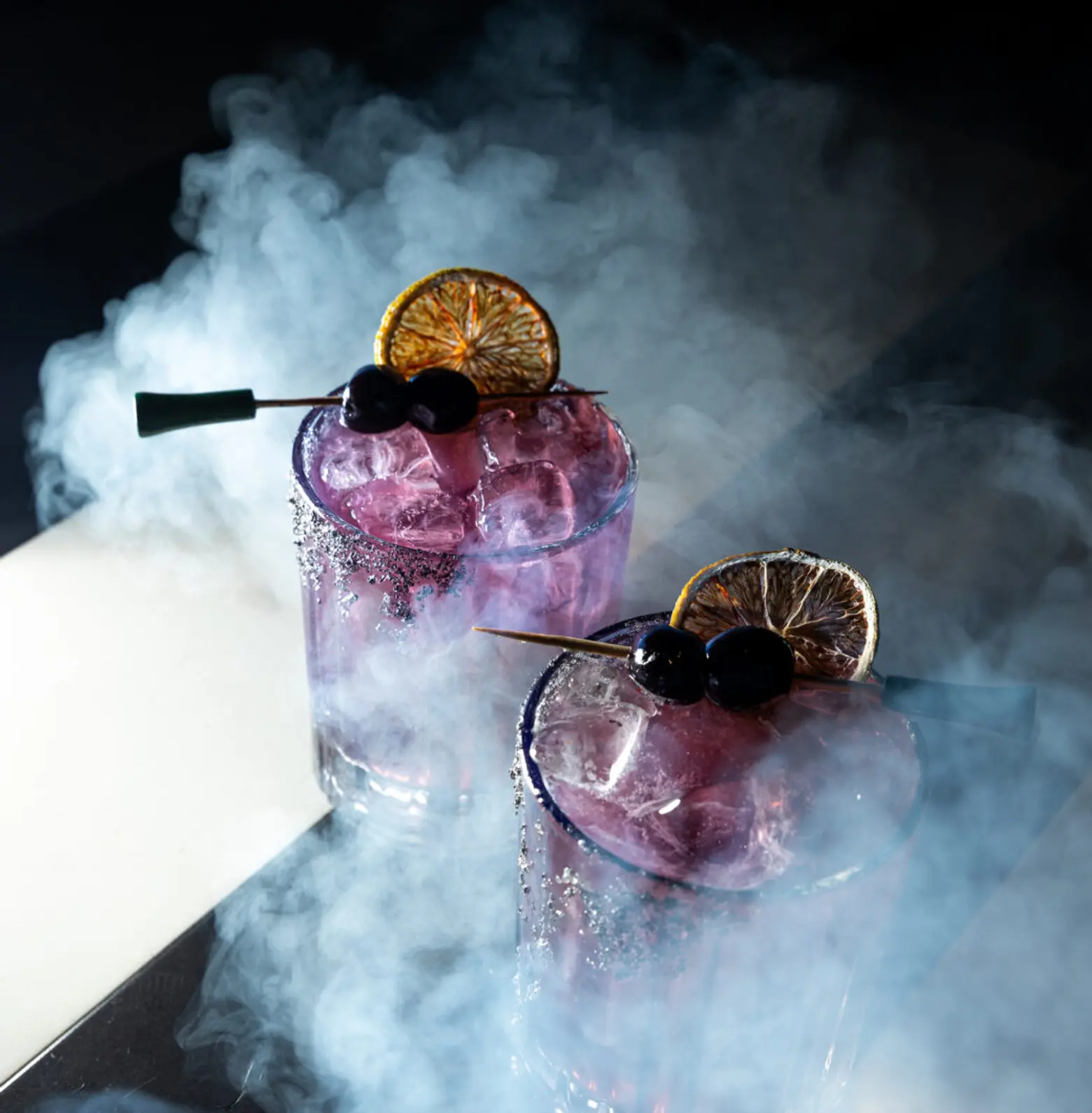 Swingers Crazy Golf
35 West 29th Street, Nomad
October 27 through October 31
Swingers Crazy Golf has an all-new cocktail menu just in time for Halloween. Their 2023 Halloween cocktails include a black margarita with agave, lime, and tart raspberry; the twilight zone, with soft notes of green melon and a slight green apple taste, and the blood orange blossom, a mocktail with sweet, tangy, and spicy notes.
They're also hosting a spooky Sunday brunch, which features bottomless Halloween cocktails, regular brunch drinks, and unlimited crazy golf and street food.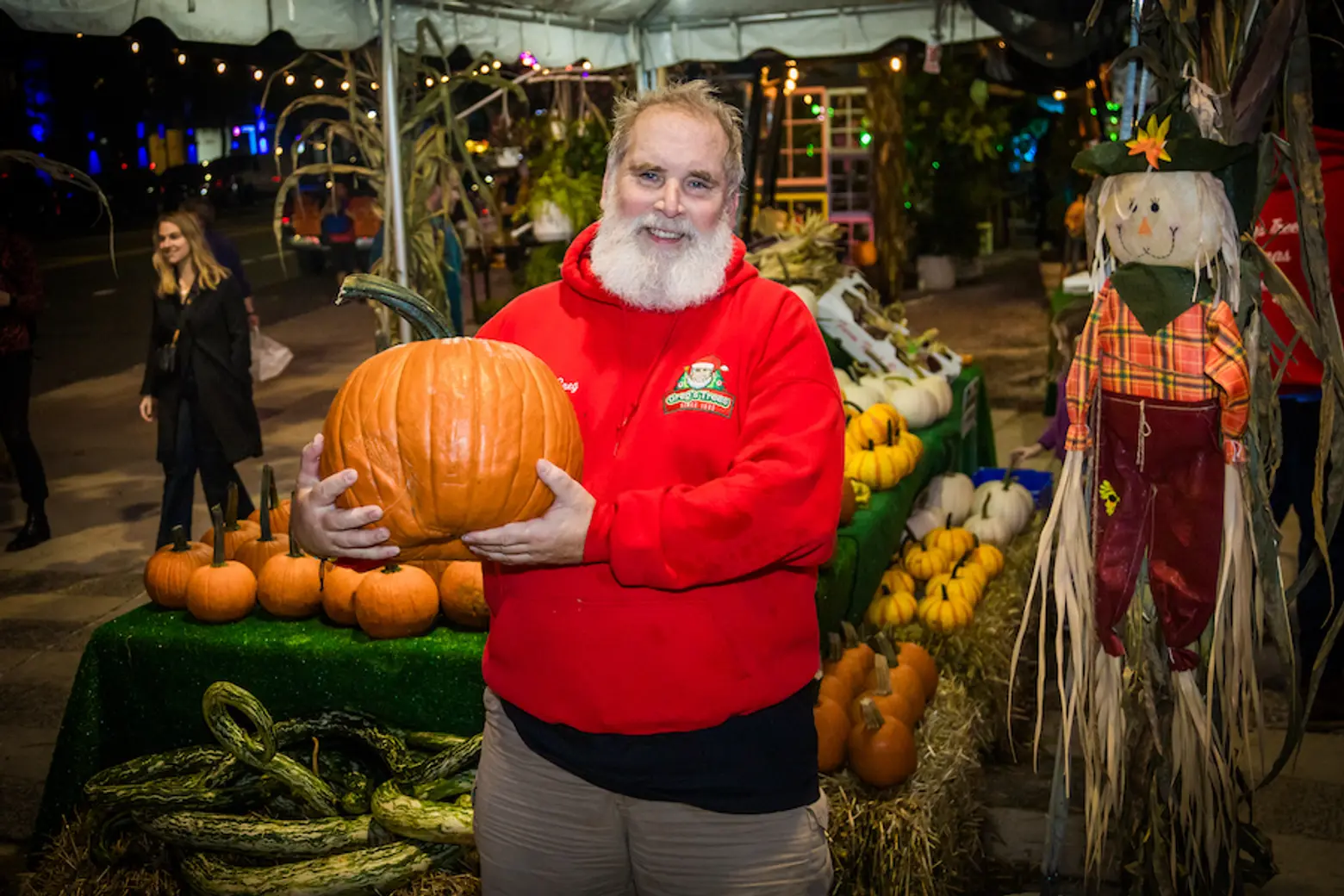 Everything pumpkin
Pumpkin picking at Greg's Trees
Through October 31
115 Broadway, Williamsburg
Located on the corner of Bedford and Broadway, Greg's Trees has transformed Pollyn into a great pumpkin patch. Families are invited to come and browse through a massive selection of pumpkins, gourds, and Halloween decor. There will also be special pumpkin painting activities, photo opportunities, and more.
Halloween Pumpkin Flotilla
October 26 from 4 p.m. to 7 p.m.
Harlem Meer, Central Park
Watch as hundreds of floating jack-o-lanterns light up Central Park's Harlem Meer. The Halloween Pumpkin Flotilla has been a beloved Halloween event for more than three decades and involves the creation of homemade jack-o'-lanterns that are set afloat and sent out into the waters of the Harlem Meer. Participants are encouraged to decorate pumpkins weighing around eight pounds with natural ingredients. The event is free.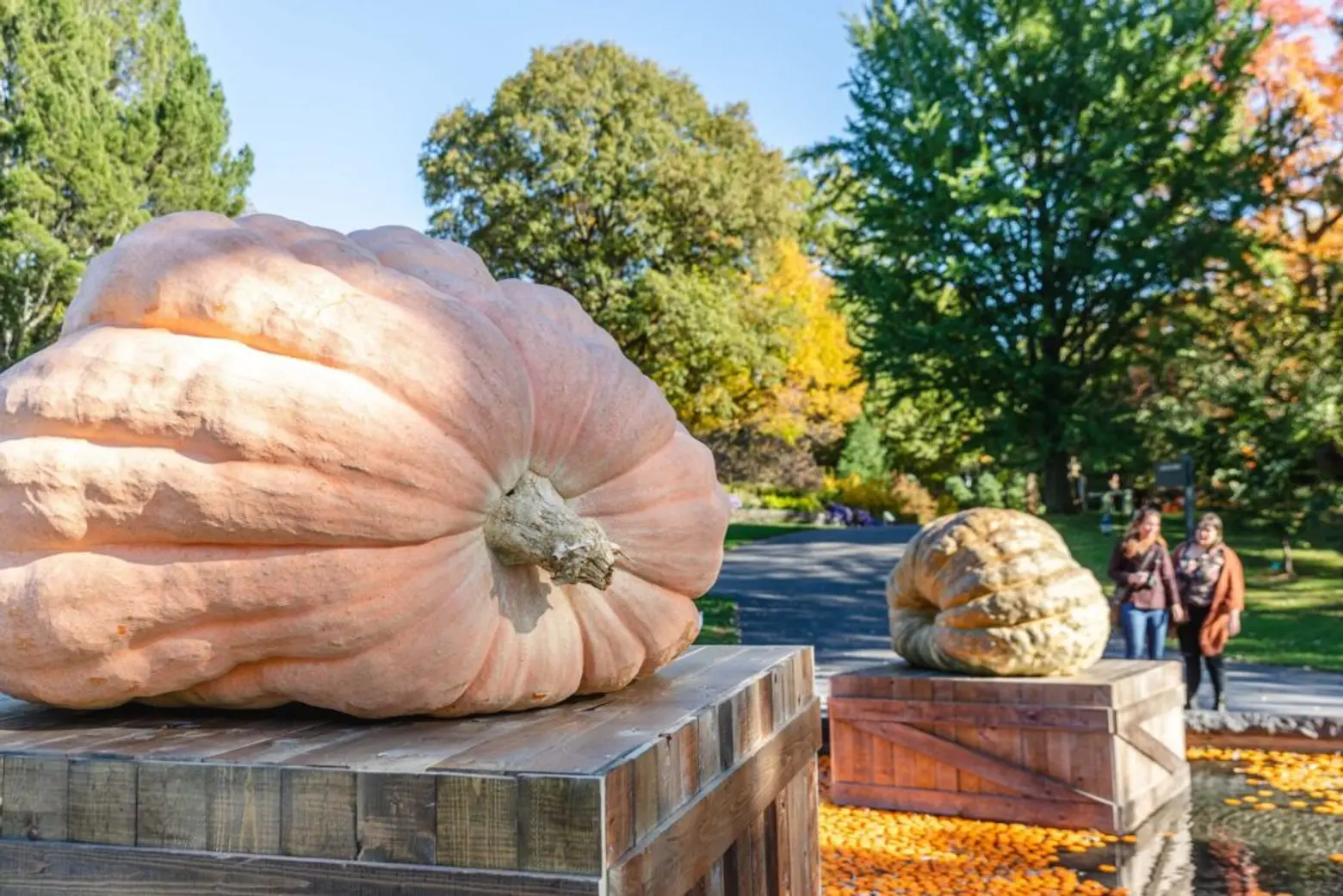 New York Botanical Garden's Fall-O-Ween
Fall-O-Ween offers NYBG visitors an exciting Fall-themed experience with a captivating display of hundreds of pumpkins and gourds. The event also includes engaging demonstrations, tastings, and two family-friendly Spooky Garden nights with Halloween-themed entertainment for guests of all ages. Adam Bierton is returning to NYBG for this year's festivities, showcasing his expert pumpkin carving skills and hosting a master carver competition.
For those who want to bring the fall spirit home, a visit to the "pumpkin patch" at NYBG is a must-do activity. At the shop, visitors can handpick and purchase their ideal pumpkins for decoration or culinary use. On select weekends, they can even select a mini-pumpkin to paint, either at NYBG or in the comfort of their own homes. Fall-O-Ween takes place through November 12.
There's only one more weekend to see the garden's Giant Pumpkins. Three of the world's largest pumpkins are currently on display: a 2,465.5-pound pumpkin grown by Steve Sperry of Rhode Island, a 2,344.5-pound-pumpkin grown by Ron Wallace of Rhode Island, and a 2,245.5-pound pumpkin grown by Scott Andrusz of New York. Check out the giant gourds now through October 29.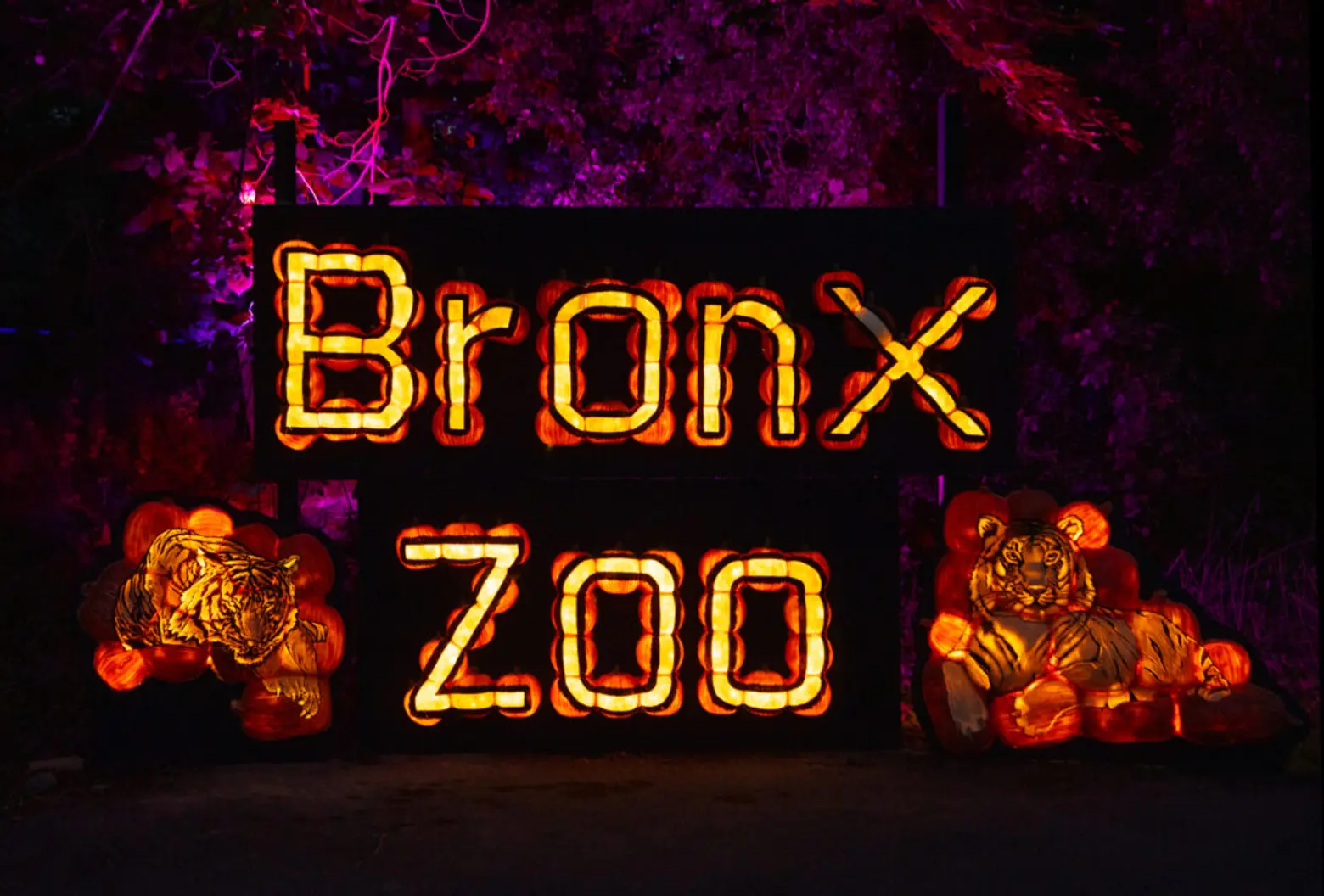 Pumpkin Nights at the Bronx Zoo
Through October 29
The Bronx Zoo's newest family event, Pumpkin Nights, is taking place through October 29 on select evenings. Zoo visitors can embark on a journey through a winding half-mile animal-themed trail featuring breathtaking scenes of more than 5,000 illuminated jack-o'-lanterns. The new Zoo experience is based around the theme "what animals do after dark" and is brought to life with meticulously carved pumpkin sculptures and scenery, special lighting, thematic music, and fun activities before and after guests venture down the trail.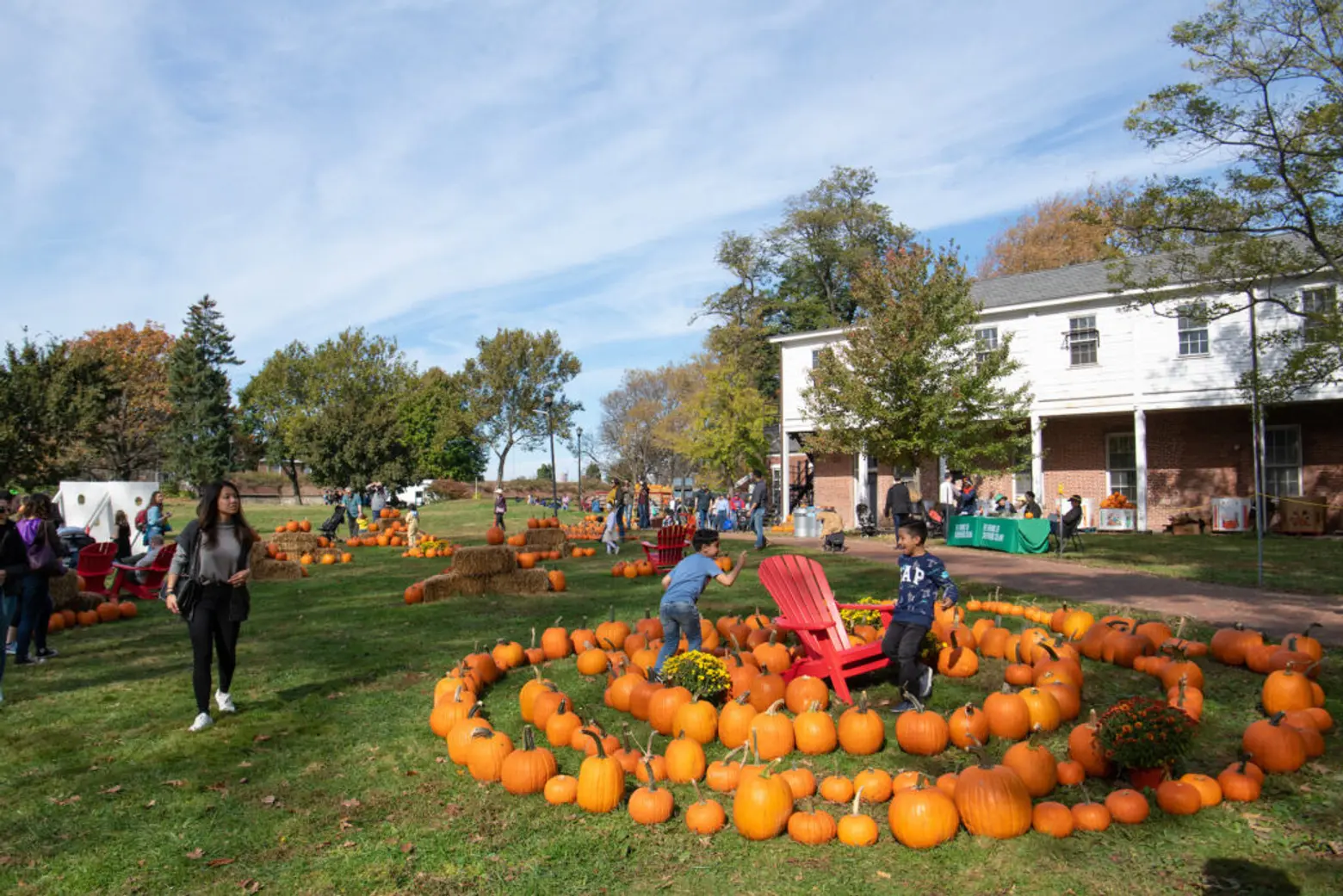 Pumpkin Point on Governors Island
Nolan Park, Governors Island
Through October 29
Governors Island's Pumpkin Point festival is returning to Nolan Park on the weekend of October 28-29, inviting guests to enjoy free pumpkin picking (with a suggested donation), along with a delightful fall festival featuring food vendors and a wide variety of entertaining programming and events. Guests can participate in arts and crafts, trick-or-treating, and try their luck at giveaways.
On the 29th, visitors will have the chance to take home books from Brooklyn Book Bodega, which has teamed up with Pumpkin Point and has run a fall book corner in Nolan Park.
RELATED: