The 15 best NYC holiday markets of 2021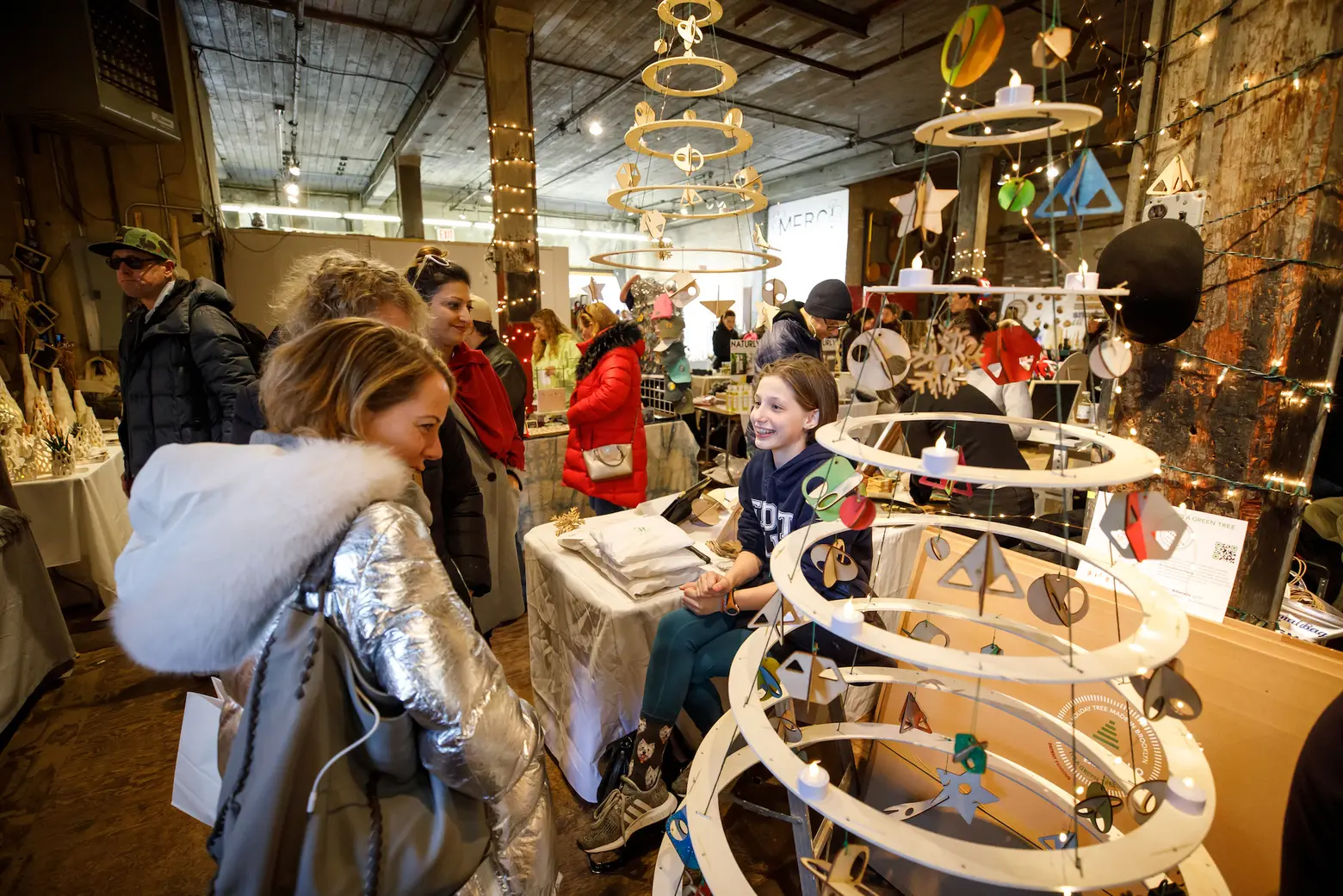 Photo: FAD Holiday Market
Even a pandemic can't keep a New York City shopper down. The city's retail landscape may look different now, but that hasn't dimmed the sparkle of beautiful baubles, clever crafts, and the company of fellow shoppers. While most of the city's holiday markets went virtual last year, many of our favorites have returned in their fabulous original form. The big Manhattan markets at Union Square, Bryant Park, and Columbus Circle are still impressive, but smaller, more intimate neighborhood gems shine brightly on their own. They're all great places to find seasonal delights like ice skating, live music, drinks, food, and family fun designed to keep shoppers' spirits bright.
The Manhattan mainstays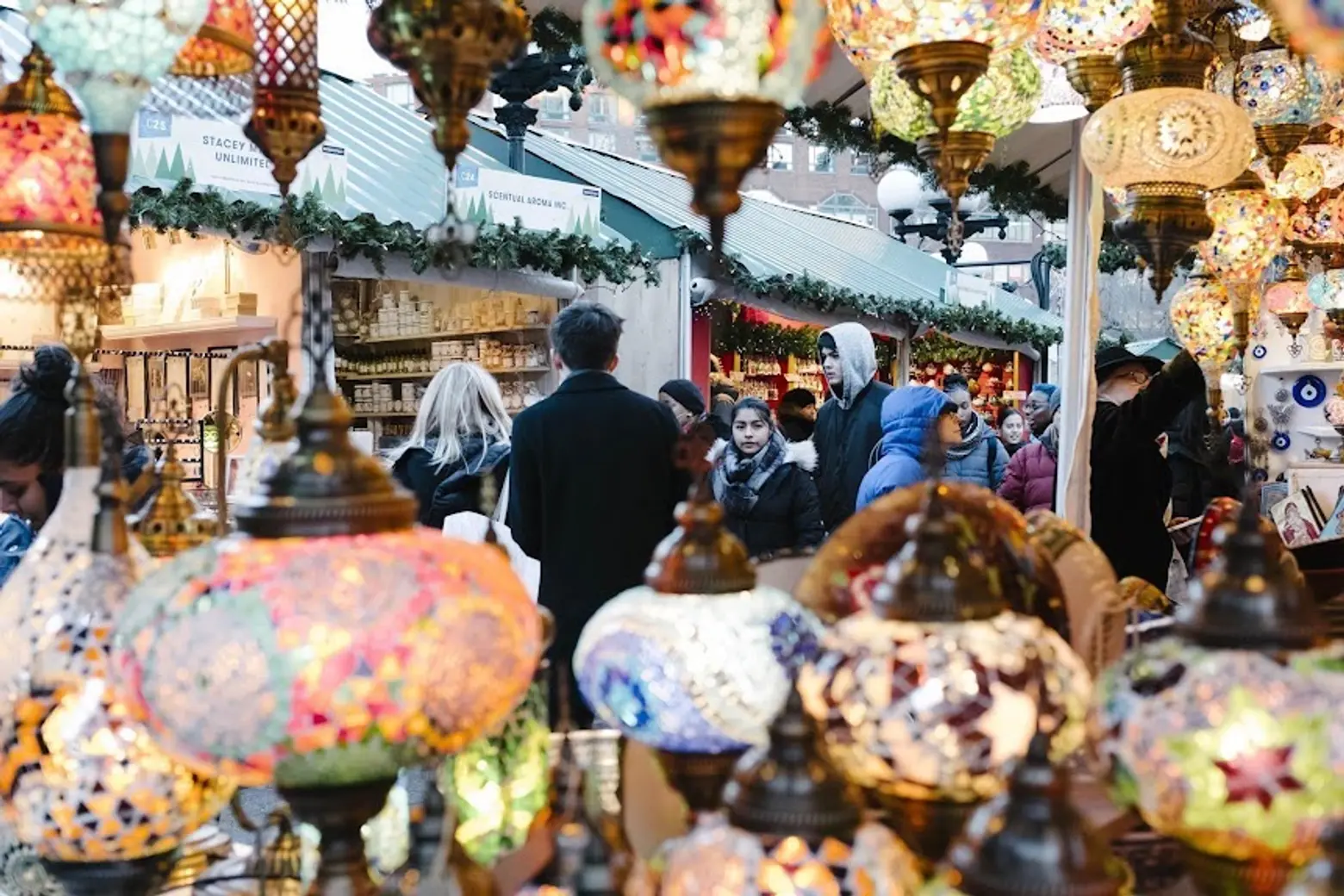 Photo credit: Laura Fontaine
The Union Square Holiday Market
Union Square Park, southern side
November 18 – December 24
Urbanspace's massive downtown holiday market is back with a vengeance after a pandemic hiatus. More than 150 vendors will offer a cornucopia of global cuisines, original art, and handcrafted accessories from local crafters, artists, and entrepreneurs at the site of Manhattan's best-known farmer's market. Food vendors include Ukrainian fave Veselka, Breezy Hill Orchard cider, and Piccolo Cafe. New retail talent will get its moment in the spotlight, with offerings from Gizmo Vintage, Challah Dolly, Prince Peacock, Em and Ahr, and Dan's Parents House with week-long showcases at the iconic seasonal market.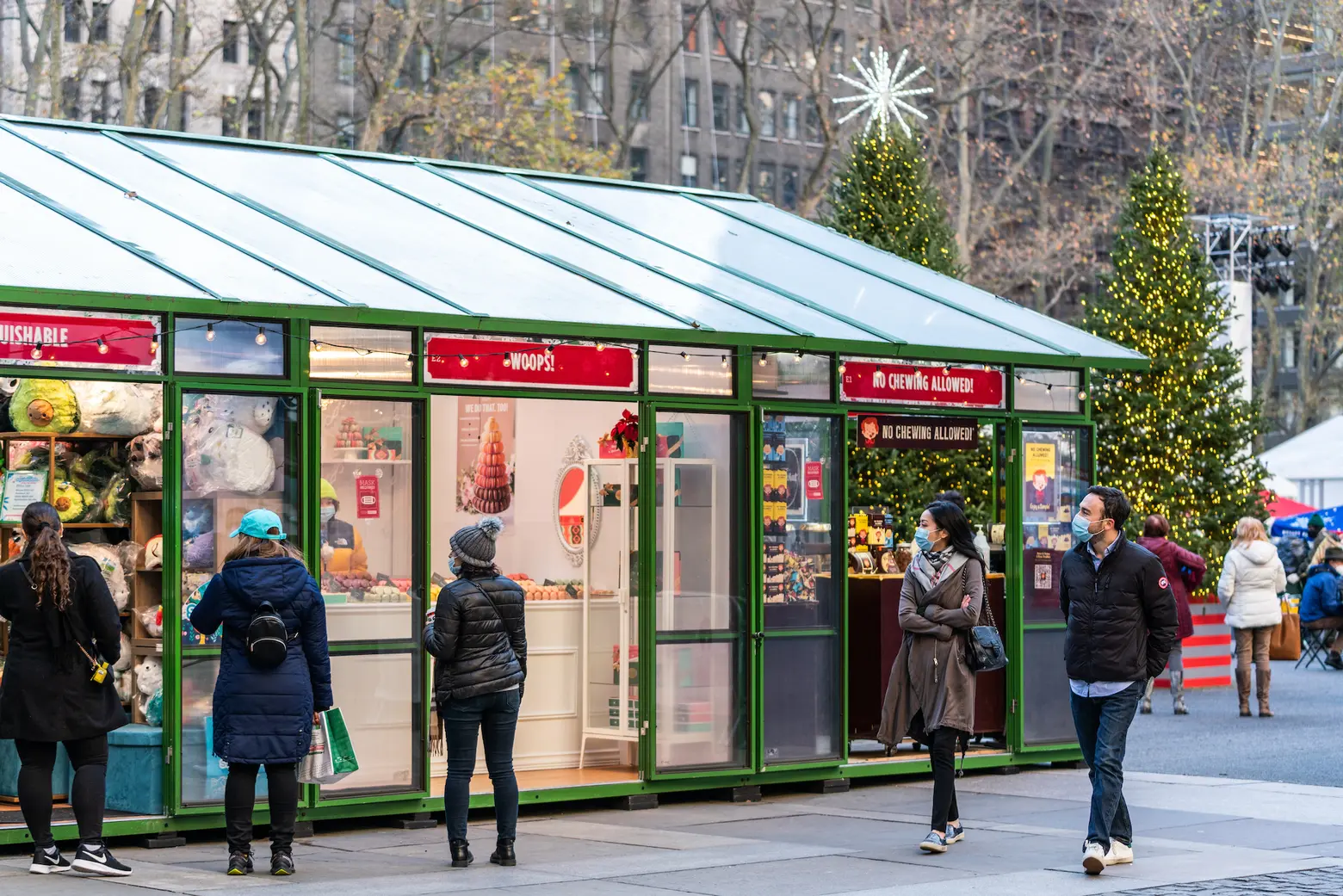 Photo credit: Angelito Jusay Photography
Holiday Shops at Bank of America Winter Village at Bryant Park 
Bryant Park, 42nd Street and 6th Avenue
October 29 – January 2, 2022
The Urbanspace Midtown winter extravaganza will once again host New York City's only free ice skating rink, offering seasonal cocktails and snacks at The Lodge bar and food hall.  The Holiday Shops will feature over 170 vendors. This year's Small Business Spotlight will feature four New York City minority-owned small businesses with annual revenue of $1 million or less, who will be able to showcase their wares in a rent-free booth.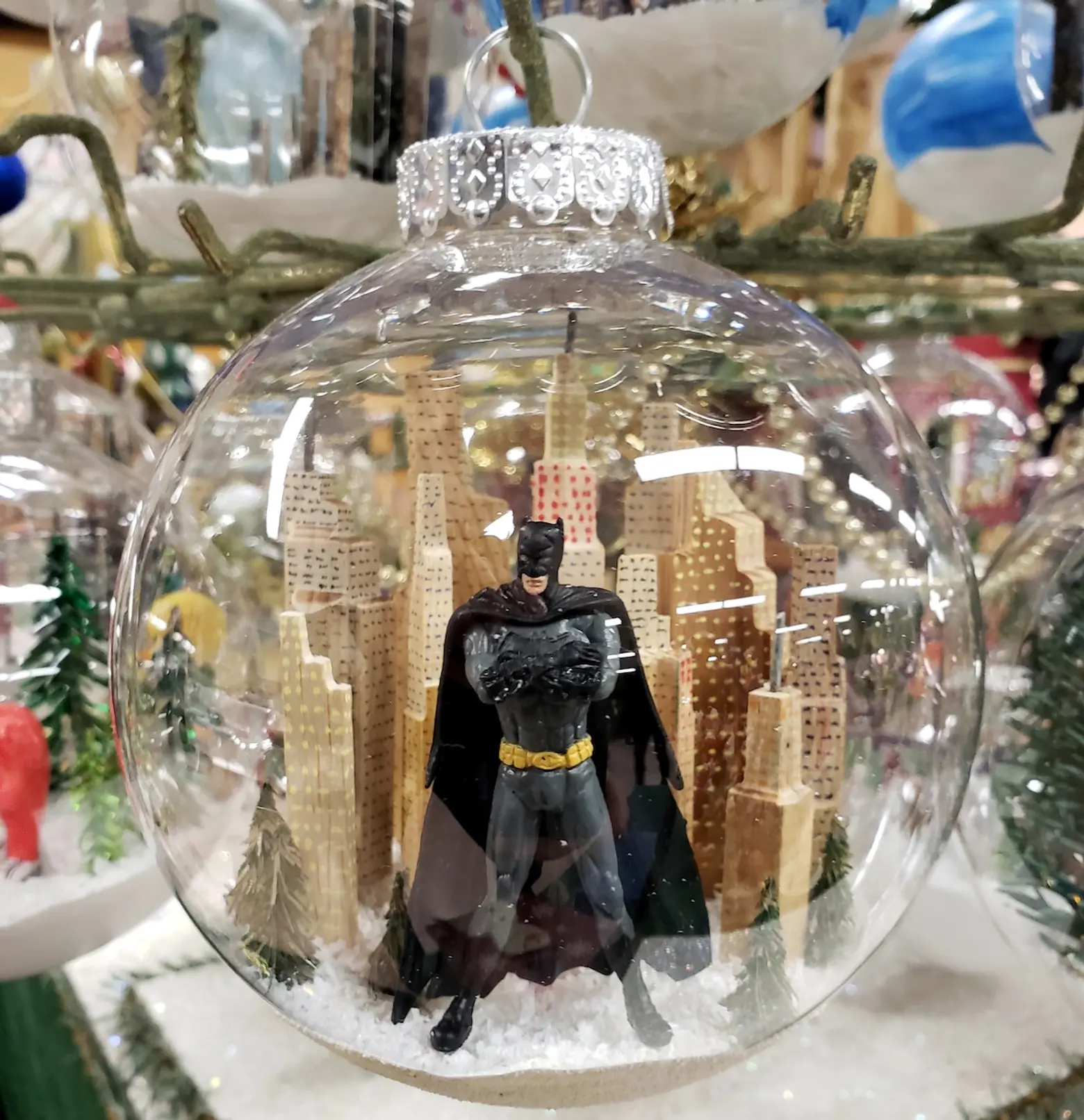 Image courtesy of Grand Bazaar
Grand Holiday Bazaar 
100 West 77th Street at Columbus Avenue
November 28, December 5, 12, and 19
This Upper West Side stalwart has been offering a fine sampling of artisans, antiques, and edibles since 1982, making it one of the longest-running markets in the city, with 100 percent of profits going to four public schools, funding arts, enrichment, and classroom essentials. At holiday time, the every-Sunday market is the place for unique finds from 150+ independent artisans and dealers, plus edible treats. On Sundays from Opening Day through to December 19, arrive ready to shop, eat and mingle for a good cause. Also for a good cause: December 26 is  #TreatYourself Day.
Columbus Circle Holiday Market 
Columbus Circle, 59th Street and Central Park West
November 29 – December 24
The Urbanspace uptown sibling beckons this year from its classic Manhattan spot at the entrance to Central Park at 59th street and Central Park West. Get lost in the winter-in-New York vibe while scooping up jewelry, home goods, and culinary delights.
Alternative and neighborhood markets and pop-ups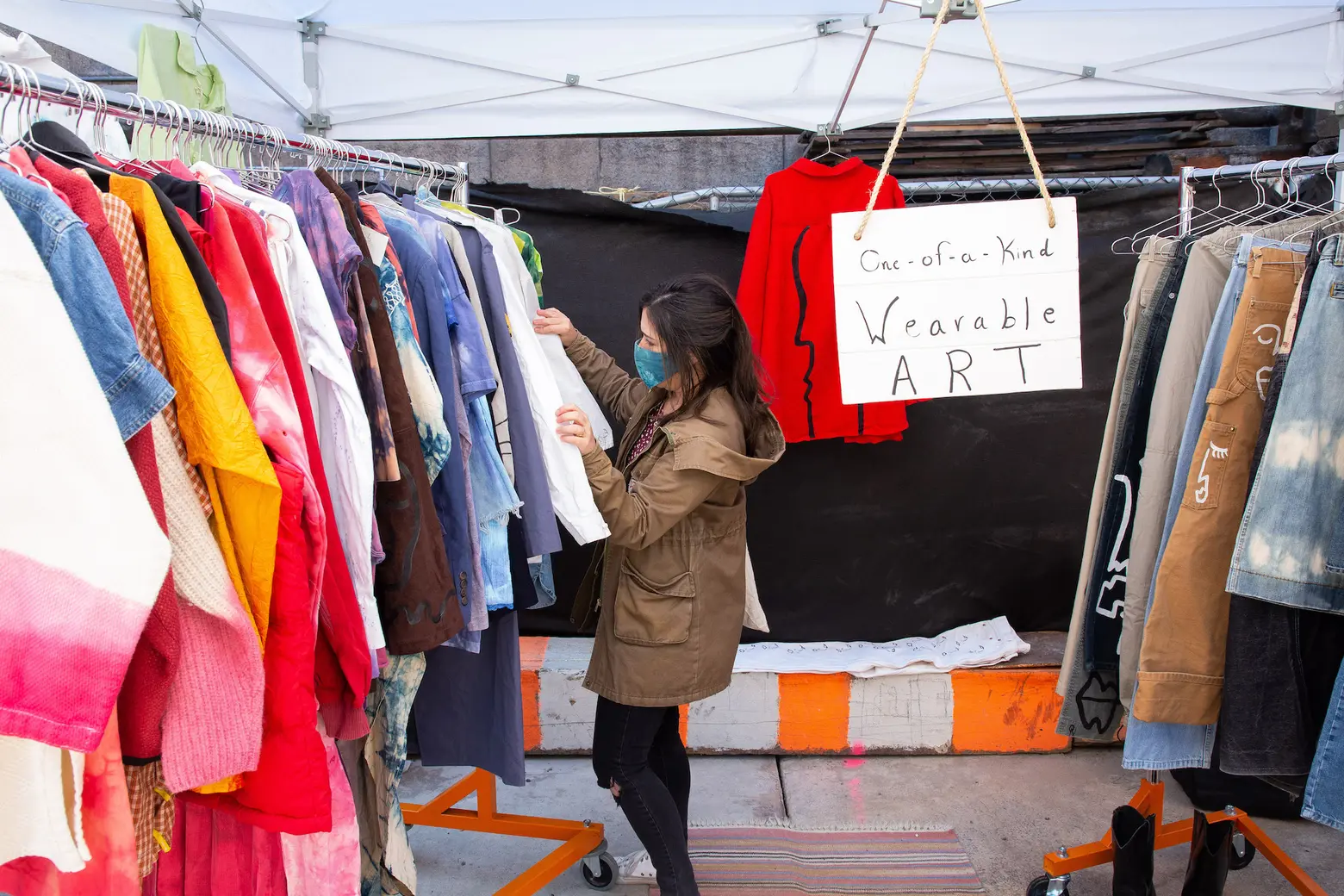 Image credit: Sam Hollinshead via Brooklyn Flea
Brooklyn Flea Dumbo Holiday Market
80 Pearl Street
Sundays from November 7 to December 19
The famed Flea has changed over the years, but we still love it as a spot for shopping, eating, and people-watching. The holiday version offers the usual treasure trove of vintage clothes and shoes, locally-made fashions, jewelry, furniture, lighting, home goods, stationery, collectibles, and much more with a seasonal focus on holiday fare from decorations to gifts.
Brooklyn Navy Yard 4th Annual Holiday Market
Building 77 (141 Flushing Ave. at Vanderbilt Ave.)
December 4 & 5, 12 p.m.- 6 p.m.
After going virtual last year, this design-centric holiday market is once again open for browsing; it's the perfect place to find unique Brooklyn-made gifts for everyone on your shopping list. You'll also find home goods, fashion and accessories, art and design, and food and wine tastings from Yard-based businesses and local Brooklyn makers. There will also be food and drink, holiday music, workshops–and a pop-up ice skating rink. Sunday is family day with activities for kids, like festive card-making and holiday ornament decorating. Visit the online shop on Black Friday (November 26) to get a sneak preview. RSVP here for details on workshops and more, and to be entered into a drawing for door prizes.
Image courtesy of Renegade Craft Fair
Renegade Brooklyn Winter Marketplace 
Brooklyn Expo Center, 79 Franklin Street
December 4 & 5, 11 a.m.-5 p.m.
The Renegade Craft Fair is a curated indie-craft marketplace showcasing the brightest talents in contemporary craft and design. Sip on a warm seasonal cocktail as you shop from 230+ makers and designers, groove to holiday DJ sets, snack on local eats, and enjoy interactive events.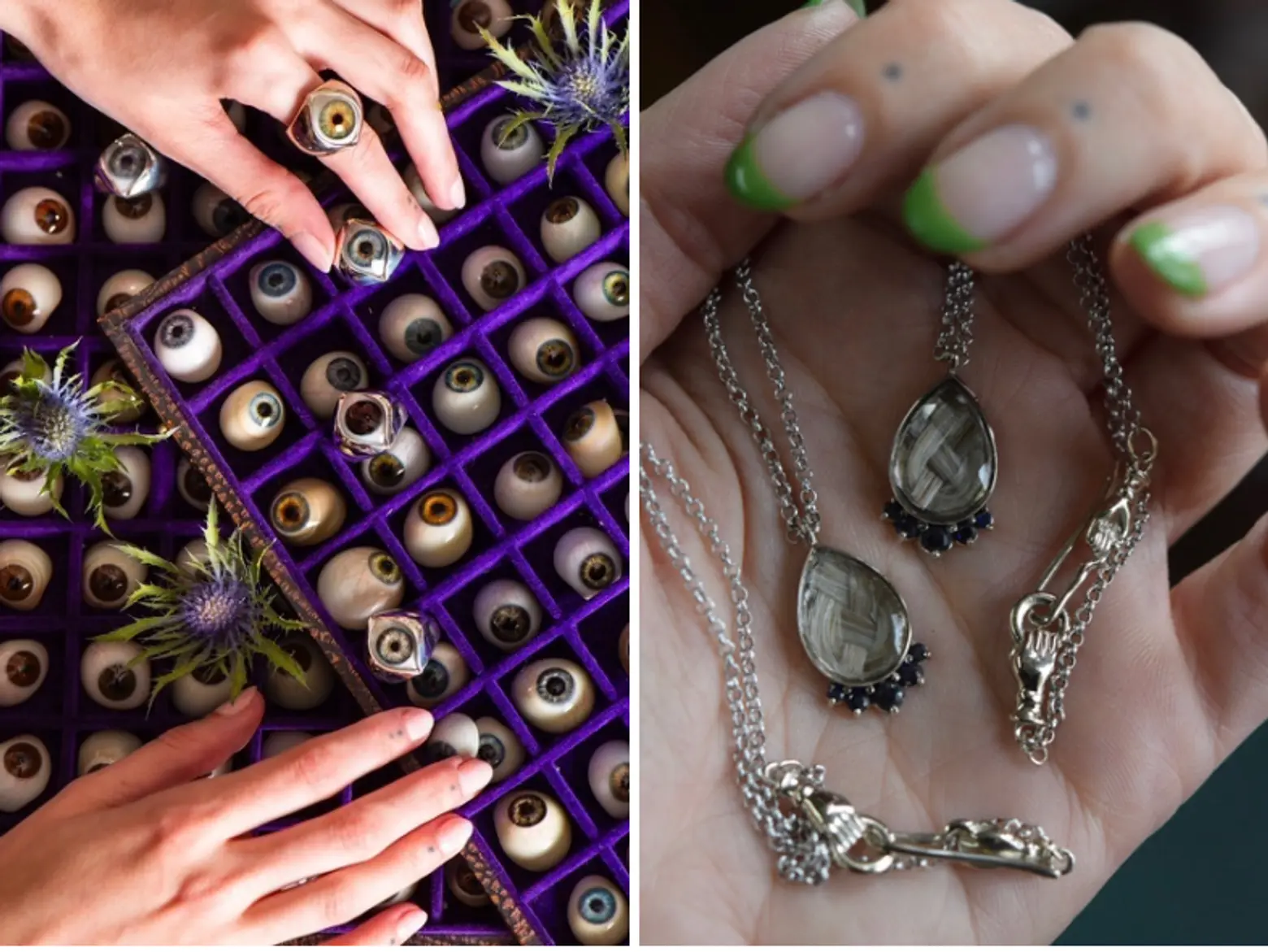 Image courtesy of Oddities Flea Market.
The Oddities Flea Market
Metropolitan Pavilion, 125 West 18th Street
December 4th; 12 a.m.-7 p.m.
Curated by Ryan Matthew Cohn and a fabulously interesting haute oddball crew, the Oddities Flea Market holiday edition is back in black, this time in a Manhattan venue. This curated collection of curiosities represents hand-picked purveyors of the odd and unique, the macabre, and the strange. Inside, you'll find vendors from across the country offering medical history ephemera, anatomical curiosities, natural history items, osteological specimens, taxidermy, obscure home decor, jewelry, one-of-a-kind dark art, and more. Though admission isn't free (tickets available here), the odds are good that the goods are odd–but good.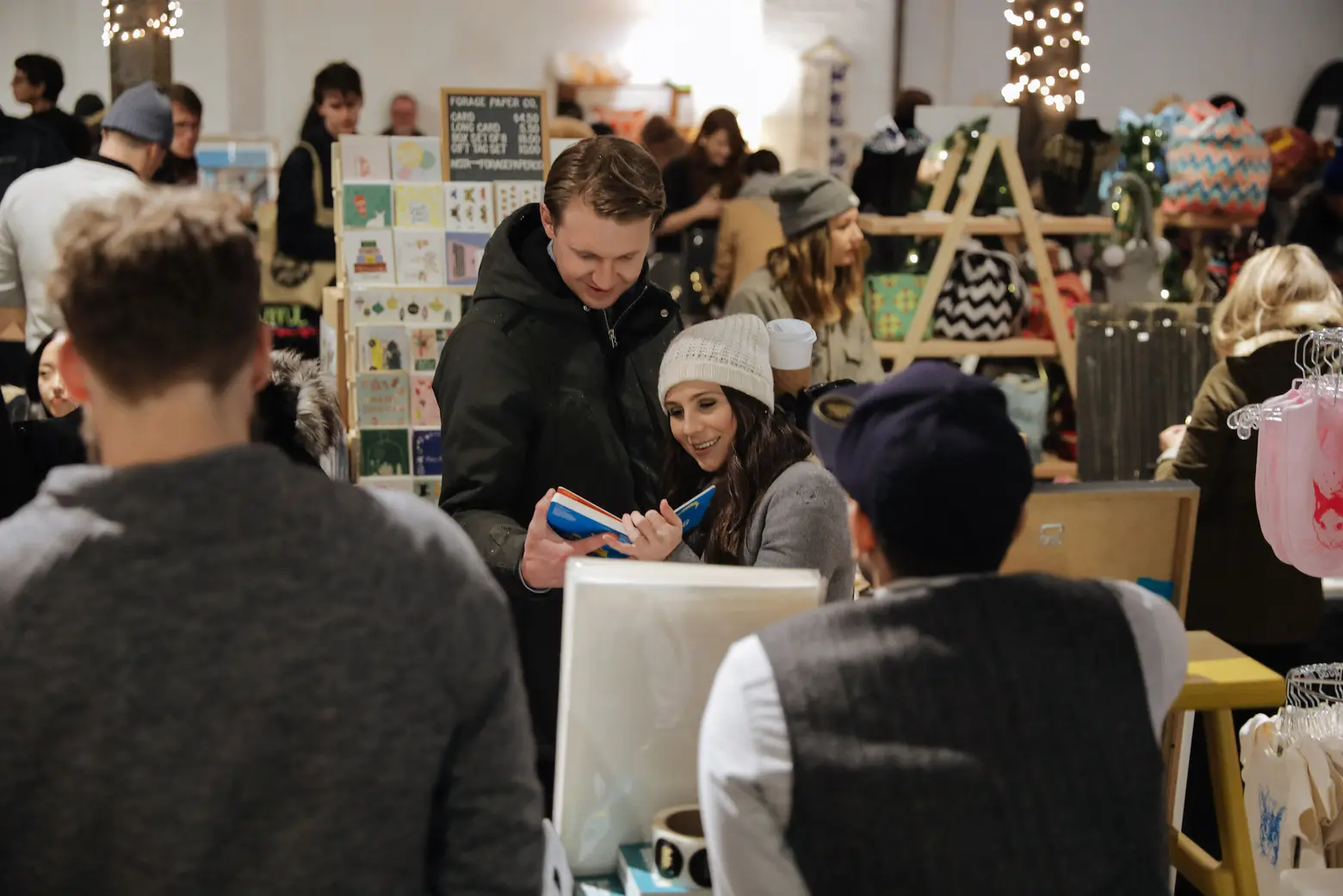 FAD Market at Invisible Dog Arts Center. Image: FAD Market
FAD Holiday Pop-up Markets
The Invisible Dog Art Center, 51 Bergen Street
St. Paul's Church, 190 Court Street
December 4-5, 11-12 & 18-19, 11 a.m. to  6 p.m.
FAD Market is back in Brooklyn's BoCoCa neighborhood (Boerum Hill, Cobble Hill, and Carroll Gardens) for the holidays. The curated fashion, art, and design pop-up marketplace is hosting holiday markets at two locations—The Invisible Dog Art Center on Bergen Street in Boerum Hill and St. Paul's Church on Court Street in Cobble Hill—on the first three weekends of December. Each weekend will include over 80 of the region's most talented makers, designers, and entrepreneurs, offering a curated selection of handmade items as well as artisanal food and beverage offerings.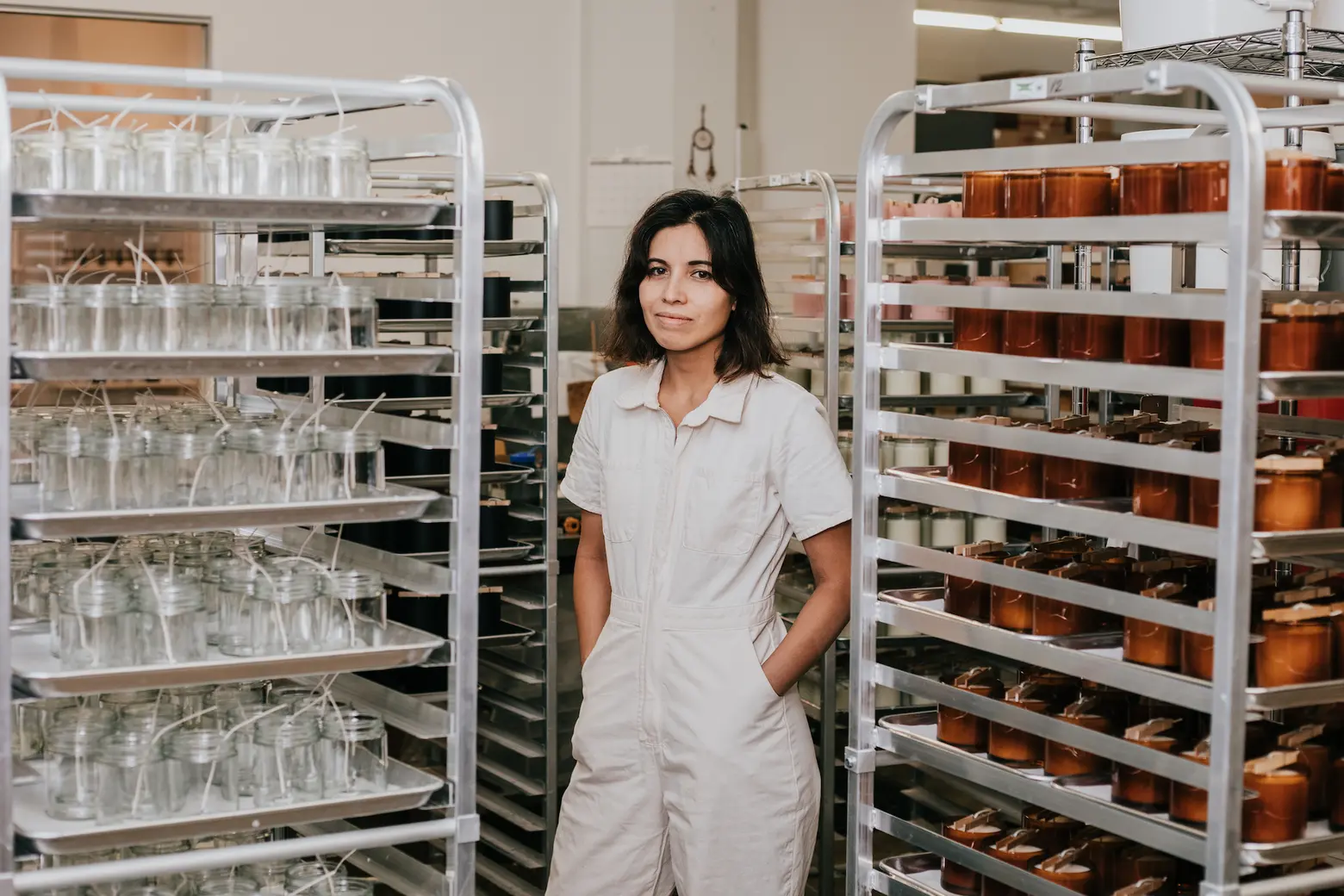 Image: Industry City Makers Guild
Industry City Makers Guild
51 35th Street, Brooklyn
Design studio meets retail at this unique, immersive shopping destination within Industry City's 16-building campus; nearby at the complex are countless dining options, a holiday ice rink, ongoing pop-ups and art installations, and a constellation of design-related shops (West Elm, Porcelanosa, Restoration Hardware), for one-stop shopping. The Maker's Guild features small businesses like Brooklyn Candle Studio, Saskia, and Micol Ceramics.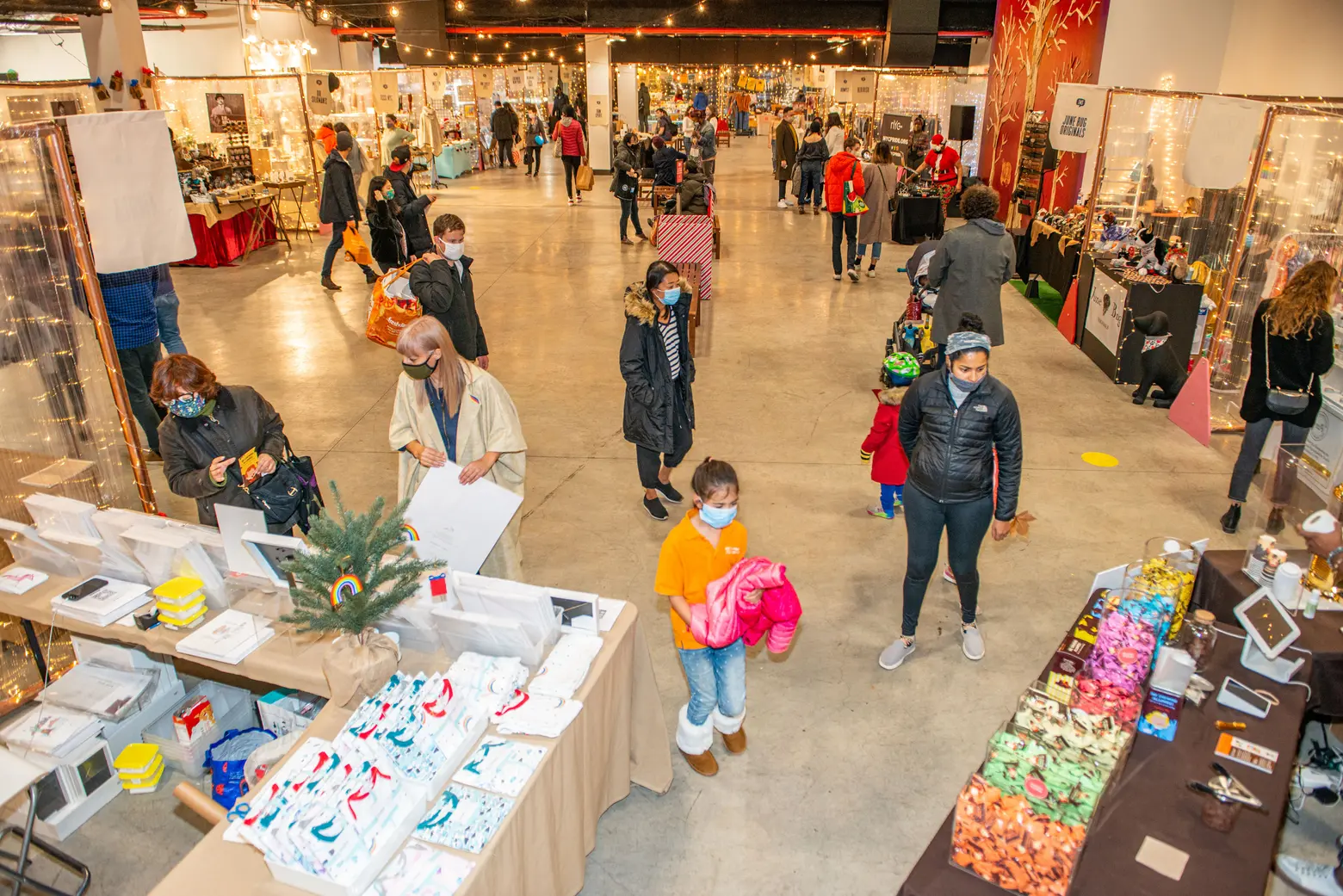 Image courtesy of the Holiday Makers Show
The Holiday Makers Show at City Point
445 Albee Square W, Downtown Brooklynn
Every Friday, Saturday, and Sunday, November 26 – December 19; December 20-23
The Holiday Makers Show at City Point returns to Downtown Brooklyn bringing plenty of cheer along with 40 vendors featuring Black-owned and women-owned businesses. From a visit from hip Brooklyn Santa to Gingerbread house decoration–and all the food at Dekalb Market Hall, the market promises fun for all comers.
Sunday Holiday Market
Hub 17, 73 Wave Street, Staten Island, NYC
November 14 – December 12
This Staten Island holiday market will feature artists,  local vendors, and open mic events at Hub 17 in Stapleton.
Holiday Market with Black-Owned Brooklyn
Weeksville Heritage Center, 158 Buffalo Avenue, Brooklyn
December 11 & 12
Find the perfect holiday gift at this outdoor holiday market from vendors selling gifts from Black-owned brands, from pots and plants to clothes and candles, and enjoy food, music, and live performances while you shop. Hot food and beverages will be able for purchase and in addition to the live performances and music, there will be tours of Weeksville's Hunterfly Road houses.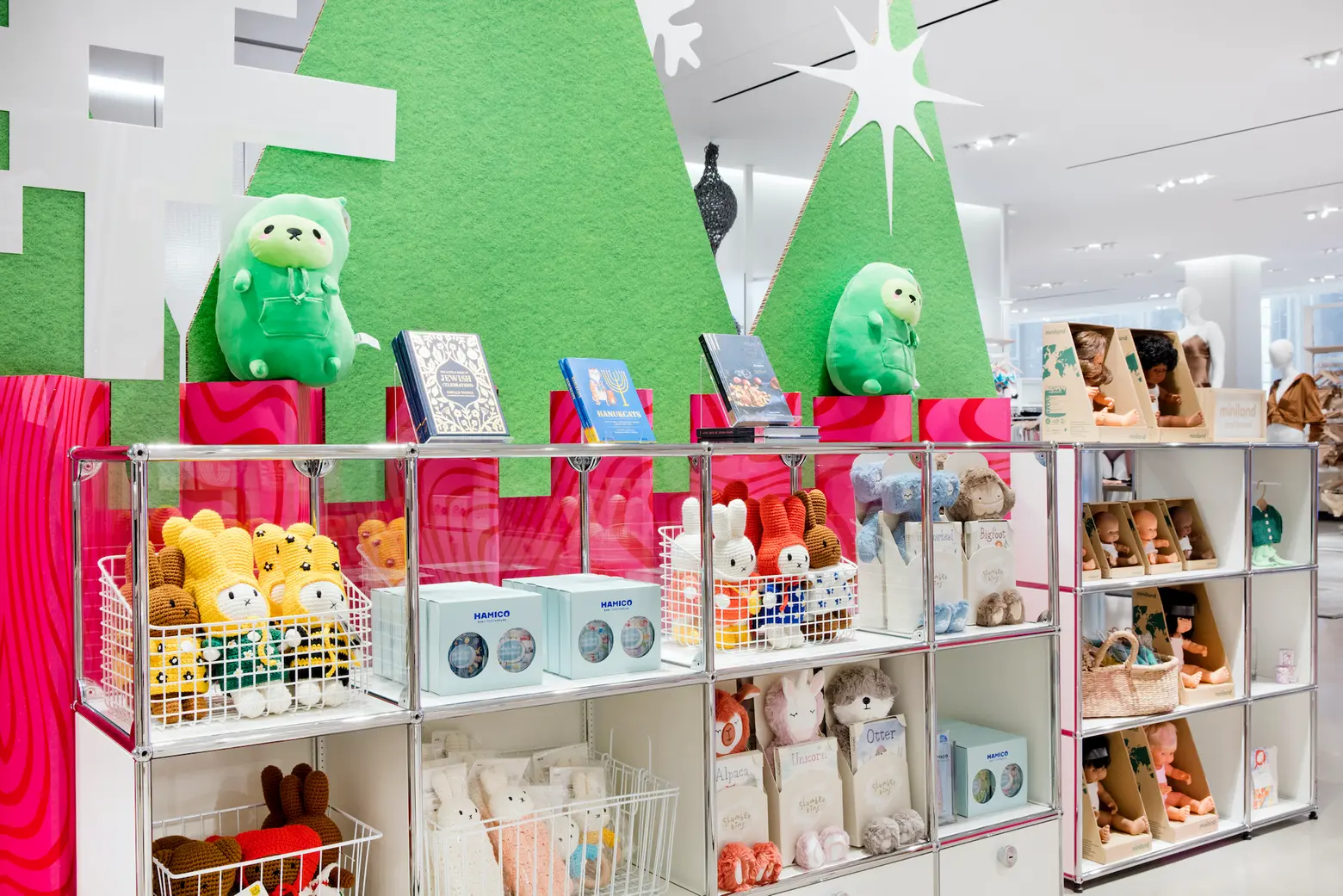 Photo credit: Nordstrom/Connie Zhou
Pop-in @ Nordstrom
Nordstrom NYC flagship location, 225 West 57th Street
Through January 9, 2022
Pop-In@Nordstrom is an ongoing series of limited-time pop-up shops curated by Olivia Kim, the store's VP of Creative Projects and Home. Each shop presents new and exclusive products, designers, and content built around a different theme or collaboration. During the gifting season, expect unique goodies you won't find around the corner or on Amazon.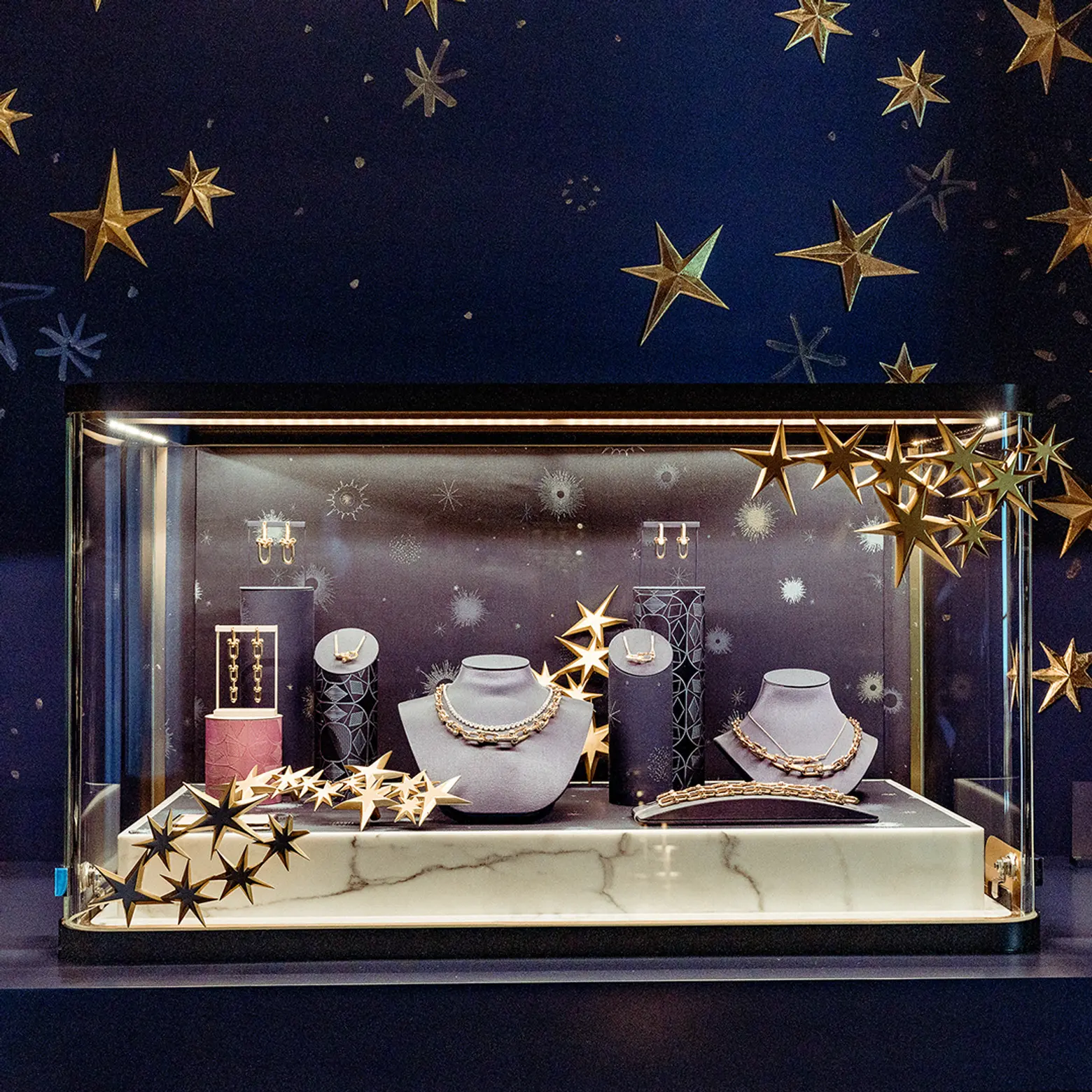 Image courtesy of Tiffany
Tiffany West Village Pop-up
301 West 4th Street
Honoring its original Downtown roots, the iconic robin's-egg-blue-hued jewelry emporium has opened a pop-up in Manhattan's West Village for the holiday season, where the bejeweled brand will be hosting events like gift-box painting and tarot readings.
RELATED: