19 places to order takeout Thanksgiving dinner (and dessert) in NYC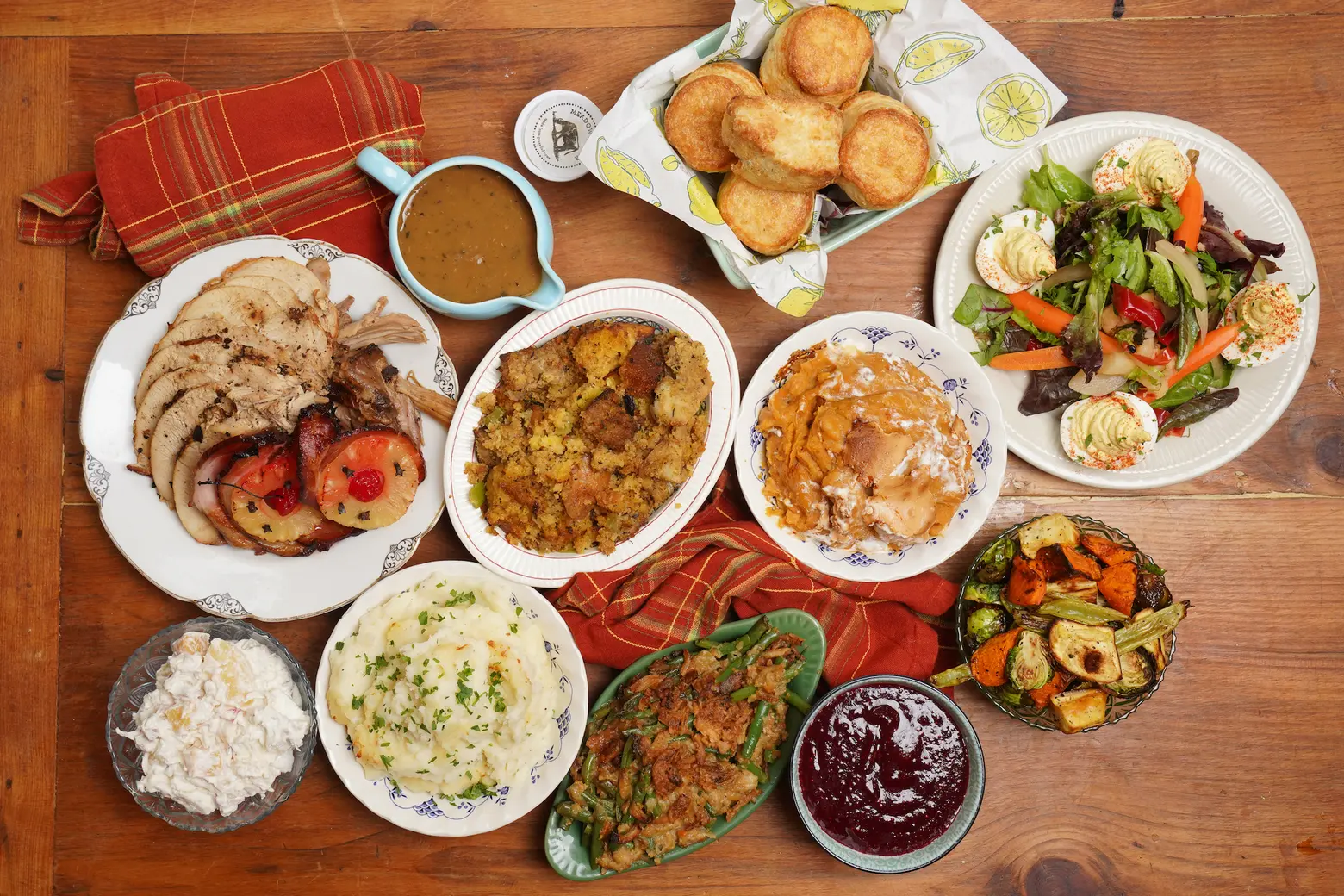 Photo: Alexander Stein for Bubby's
This Thanksgiving, why not leave the big meal to the experts? If you didn't gather with family and friends in 2020, make the holiday this year even more special, and less stressful, by bringing a chef-curated dinner to your celebration. From traditional turkey and all the fixings from Bubby's to a Lebanese twist on the meal from the restaurant ilili, here are just some takeout Thanksgiving dinner (and dessert!) options from restaurants in New York City.
Aquavit
Michelin star restaurant Aquavit is offering their Thanksgiving to-go menu again this year, putting a Nordic twist on the classic American meal. Serving four, the Midtown restaurant's special menu includes a smoked turkey leg, fennel-and-caraway spiced turkey breast, and sides like sweet potato puree, truffle mac and cheese, sourdough bread, Danish rye loaf, and pecan pie with vanilla custard for dessert. The package costs $495 and orders must be placed online by November 17.
Bubby's
Always a go-to for to-go Thanksgiving, Bubby's (which opened its door on Thanksgiving Day in 1990), is accepting orders for ready-to-eat packages for local pickup. The restaurant's Thanksgiving at Home take-out boxes cost $140 and have enough food for two people. Inside, find starters like deviled eggs, market salad, pickled market vegetables, and buttermilk biscuits, mains like a roasted Pallman Farms turkey and glazed ham, and can't-miss sides like cornbread stuffing, green bean casserole, candied sweet potatoes, roasted root vegetables, and more. Bubby's beloved homemade pies, with mouth-watering flavors like sour cherry, apple whiskey crumble, and pecan maple, are also available to be shipped to all 50 states. Order by 4 p.m. on November 19 to get your pie delivered the day before the big meal; local pick-up is also available.
Casa Ora
Located in Williamsburg, Casa Ora is a Venezuelan-American fine dining restaurant led by a mother-son chef duo. This Thanksgiving, the restaurant is rolling out an exclusive holiday menu that features traditional Venezuelan dishes, including pan de jamón, hallaca, pernil, quesillo traditional, and ponche crema (Venezulean egg nog with rum).
Citarella
Serving New Yorkers for the last 100 years, the gourmet market Citarella is offering an impressive selection of chef-prepared meals for the big day, as well as individual turkeys, side dishes, and baked goods. The handcrafted feasts, which cost $219 for four and $399 for eight, include a turkey dinner with several accompaniments, like pumpkin bisque, glazed sweet potatoes, wild rice stuffing, pumpkin pie, and more. If you've got the bird and sides covered but need some pre-meal munchies, Citarella is selling appetizers like Autumn Lasagna, crab cakes, and Beluga hybrid caviar. See the full menu here. Orders can be placed in person, over the phone, or online here.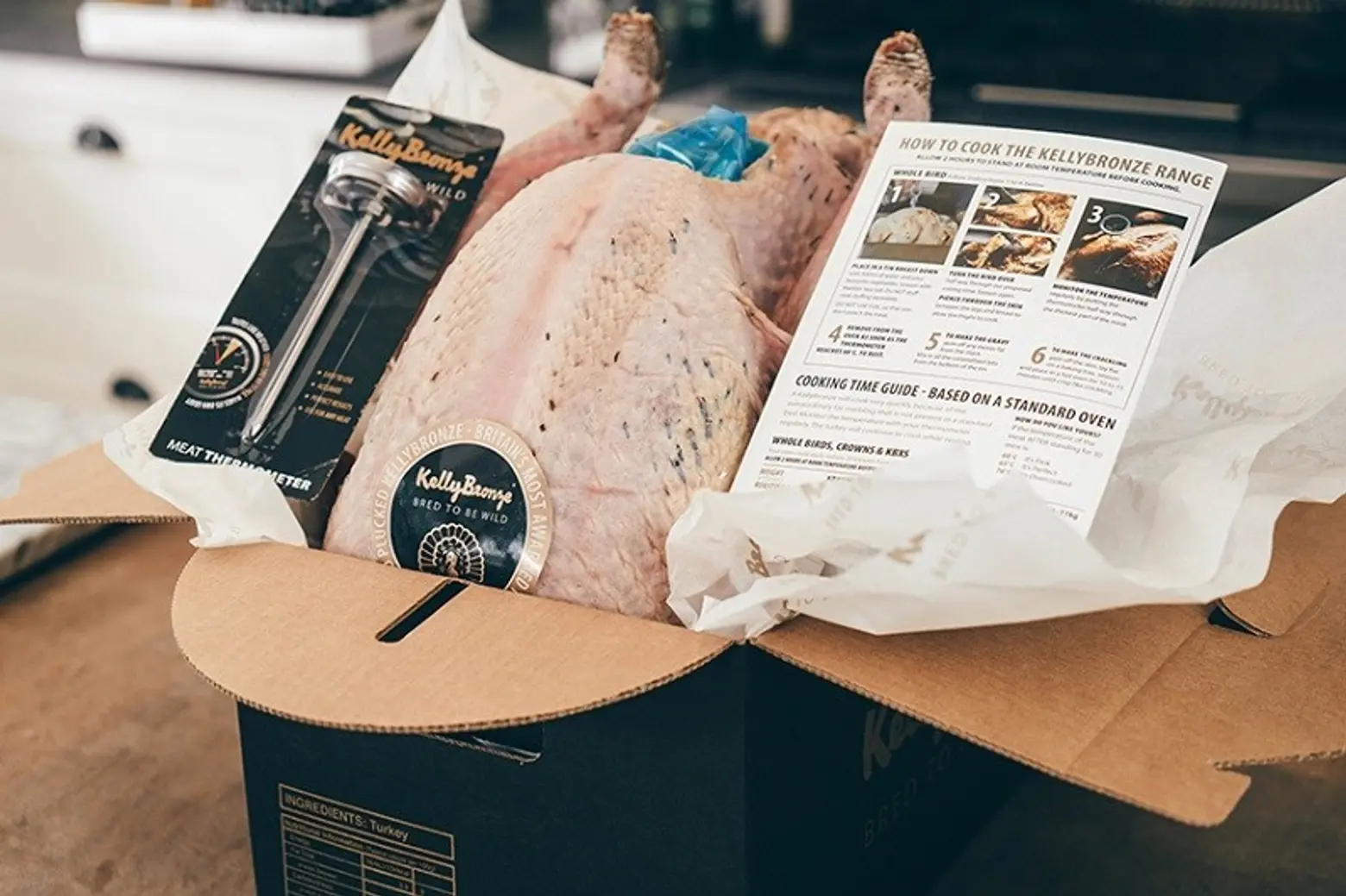 Photo courtesy of Dickson's Farmstead Meats
Dickson's Farmstand Meats
There's no turkey shortage at Dickson's, a butcher shop in Chelsea Market. Options include a $96 fresh bone-in turkey breast, a $160 fully cooked dry-brined rotisserie turkey, and a $179 pasture-raised KellyBronze turkey, a rare find in New York. Complete the meal with their ready-to-cook stuffing kit, giblet gravy, cranberry-apple sauce, mac & cheese, and plenty of other sides.
Kimika
Christine Lau, the chef at Kimika, a Japanese-Italian restaurant in Nolita, is preparing a Thanksgiving Feast available for pickup. Serving up to six people, the meal kit costs $445 and includes Turchetta or Porchetta, crispy mixed beans, spicy olives, seasonal tsukemono, seaweed focaccia, greenmarket salad, roasted rainbow carrots, kabocha squash, Japanese sweet rice stuffing, crispy rice cake lasagna, and warm apple crostata. Pre-orders can be placed on Kimikanyc.com until Sunday, November 21.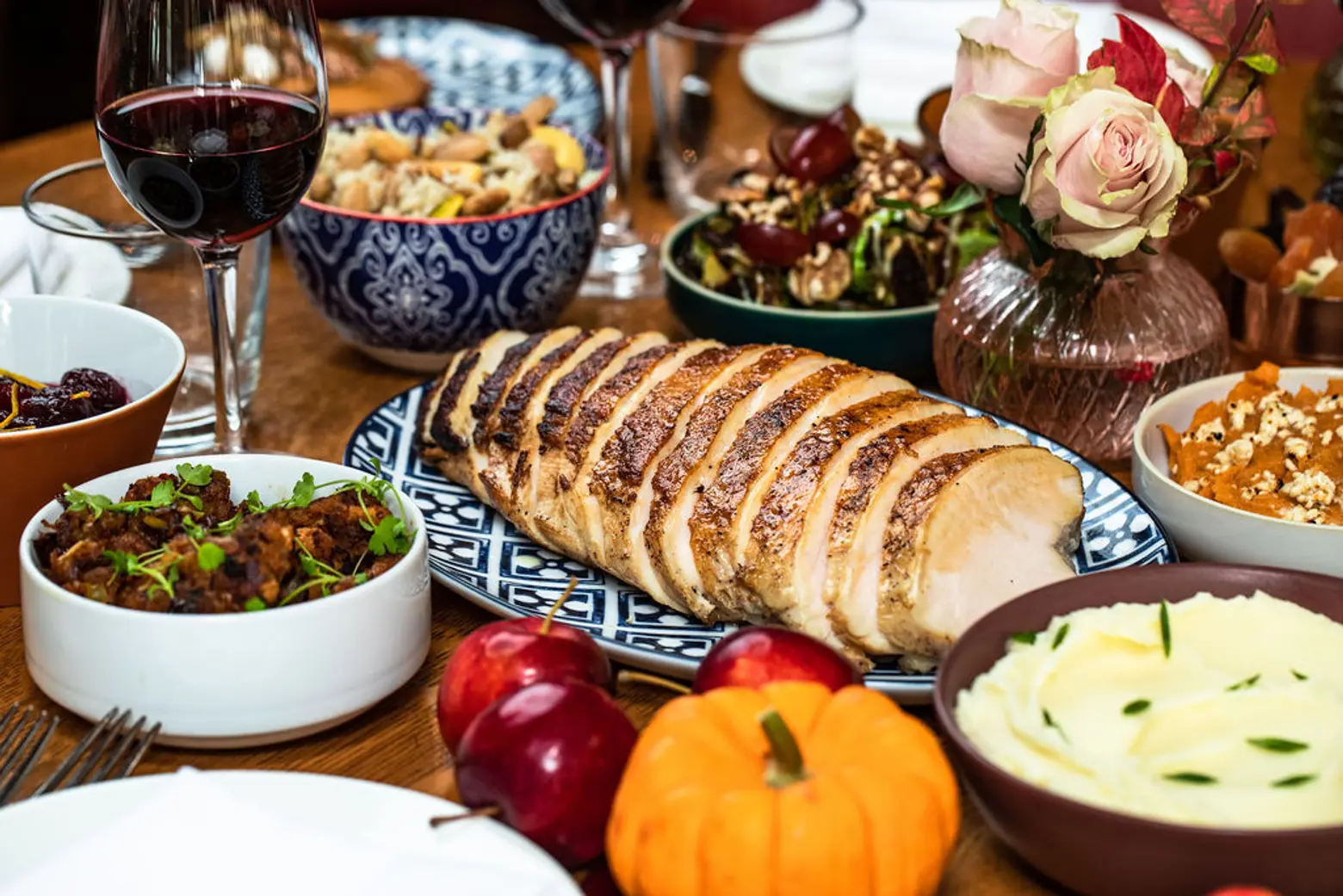 Photo courtesy of ilili
ilili
Lebanese restaurant ilili is putting a new spin on the American meal, like roasted sweet potato with halva, Aleppo, and maple; cherry tabbouleh, and a roasted heritage turkey with pomme purree and cranberry sauce for an in-person dinner. The Flatiron restaurant's Thanksgiving to-go package for two includes turkey breasts, stuffing, cranberry sauce, mashed potatoes, signature brussels sprouts, and a pumpkin pie, for $150. A feast for four to six is available for delivery nationwide on Goldbelly and costs $299.
Morgan's Brooklyn Barbecue
At the start of the year, a three-alarm fire broke out at Morgan's Brooklyn Barbecue and forced the restaurant to close. Following renovations, and a new location in New Prussia, the smokehouse recently returned to Prospect Heights this month, operating through a new ghost kitchen, Tiny's Cantina. Another sign of their comeback, Morgan's is offering catering packages this Thanksgiving. For $275, the to-go meal (which includes enough food for 10 to 12 people!) you'll get a 16-18 pound whole smoked turkey, green beans, stuffing, sweet potatoes, cranberry sauce, and gravy. An assortment of pies (pecan, apple, and pumpkin) are available as well. Orders must be placed by November 22 at 4 p.m.
Olmsted
Prospect Heights favorite Olmsted is known for creating a menu based on what ingredients are available, often using what's found in the restaurant's own lush back garden. This year, you can take Olmsted home for the holidays, with their to-go feast for four. Each $375 per takeout box includes a Heritage turkey two ways, Castelfranco radicchio salad, cornbread, shaved brussels sprouts, black truffled mashed potatoes, and a choice of pumpkin, apple strudel, or maple pecan pie. The restaurant is also selling fresh cornbread, pumpkin spice bread, jumbo spelt chocolate chip cookies, and pies to complete the meal. Pickups at Olmsted will be available on Wednesday, November 24 from 3 p.m. to 5 p.m. and on Thanksgiving, November 25 from 10 a.m. to 12 p.m.

Photo courtesy of Estuary
Estuary
The Brooklyn Bridge Park restaurant Estuary is cooking up a take-home Thanksgiving dinner, prepared by Executive Chef Jonathan Rodriguez. Options start at $270 for a meal that serves four to six people and includes a whole turkey, cranberry sauce, turkey gravy, mushroom stuffing, roasted rosemary potatoes, roasted baby Brussel sprouts, and one pie (brown butter pumpkin, chocolate pecan, or salted caramel apple). There are packages that feed a group of eight to ten people for $340 and a smaller turkey-only option (with cranberry sauce, gravy, and mushroom stuffing) for $175.
Rolo's
In Ridgewood, Rolo's, the restaurant opened by four Gramercy Tavern alums, is selling a $220 to-go Thanksgiving dinner. The wood-fire cooking-focused bar and grill offers a complete prepared dinner, including a smoked and roasted turkey breast, old-school turkey gravy, Fresno chili relish, mac & cheese, sweet corn and pickled green tomato salad, chili miso brussels sprouts, and rosemary and sage focaccia. Add a pie (sour cream apple crumble or pumpkin sweet potato!) baked by pastry chef Kelly Menchin for $44. Pre-order until November 23 and pick up on November 24.
Scampi
The executive chef of Southern Italian-inspired restaurant Scampi, PJ Calapa, has put together a to-go Thanksgiving meal, "Everything but the turkey," for those tackling the big bird themselves this year. The kit, which costs $250 and serves four to six people, takes care of the rest, with a little gem salad, delicata squash with burrata and hot honey, brioche and Italian sausage stuffing, brussels sprouts with pancetta vinaigrette, baked potato casserole, and white bolognese lasagna.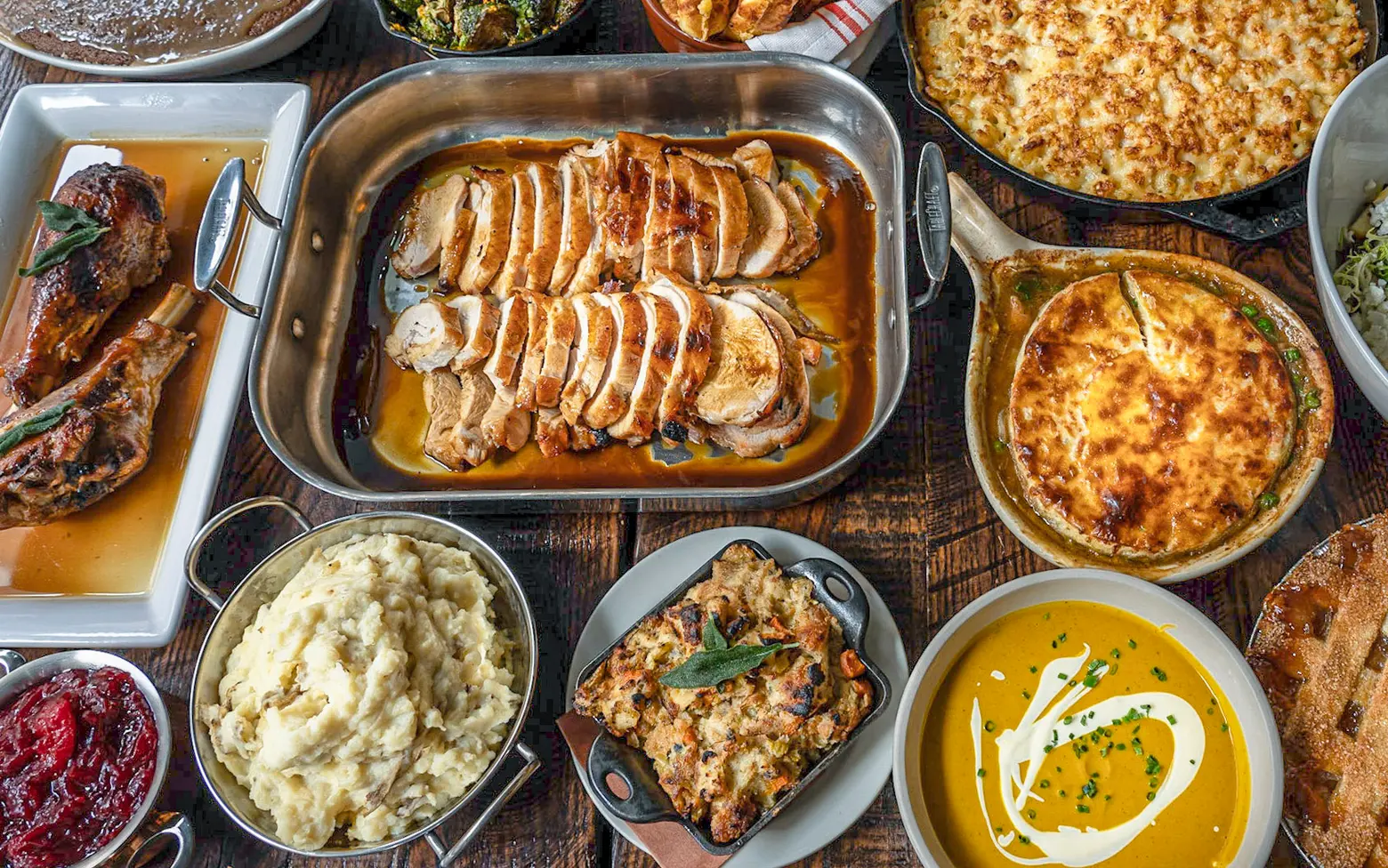 Photo courtesy of The Smith
The Smith
For a classic meal, whether it's Thanksgiving or not, The Smith is a reliable choice. The brasserie, which has four locations in New York, is priced at $72 per person, with several individual options available. For the main course, diners can choose a turkey three ways,roasted breast, braised leg, or turkey pot pie, with a butternut squash spaghetti and salmon option for non-meat eaters. Included in the holiday dinner are a kale and quinoa salad, ricotta gnocchi, and all of the fixings (apple brioche stuffing, mac & cheese, cranberry-orange jam), and apple pie in a jar.
Virgil's Real Barbecue
If you're craving a Southern-influenced meal this season, Virgil's Real Barbecue is offering Thanksgiving takeout meals at both the Times Square and Upper West Side locations. The traditional feast feeds six to eight diners and costs $275. The feast includes all of the standards but with a smoky edge, including one 18-pound smoked turkey with giblet gravy, mashed potatoes, cornbread and sausage stuffing, sweet potatoes with marshmallows, homemade cranberry sauce, creole green beans, buttermilk biscuits, and candied brussels sprouts with pecans and bacon. Add an apple or pumpkin pie to your order for $25.
Yoon Haeundae Galbi
This popular Korean Barbecue spot in Midtown is selling a Thanksgiving kit that serves up to four people. Priced at $160, meal kits include meats like dry-aged ribeye, prime strip loin, marinated short-rib, and sides like soybean stew, potato noodles, lettuce ssam, and four banchan sides. Preorders will be accepted starting November 21, with pick-up delivery dates available November 23 through 26. The delivery area spans from Houston to 59th Street. Orders can be placed by emailing [email protected].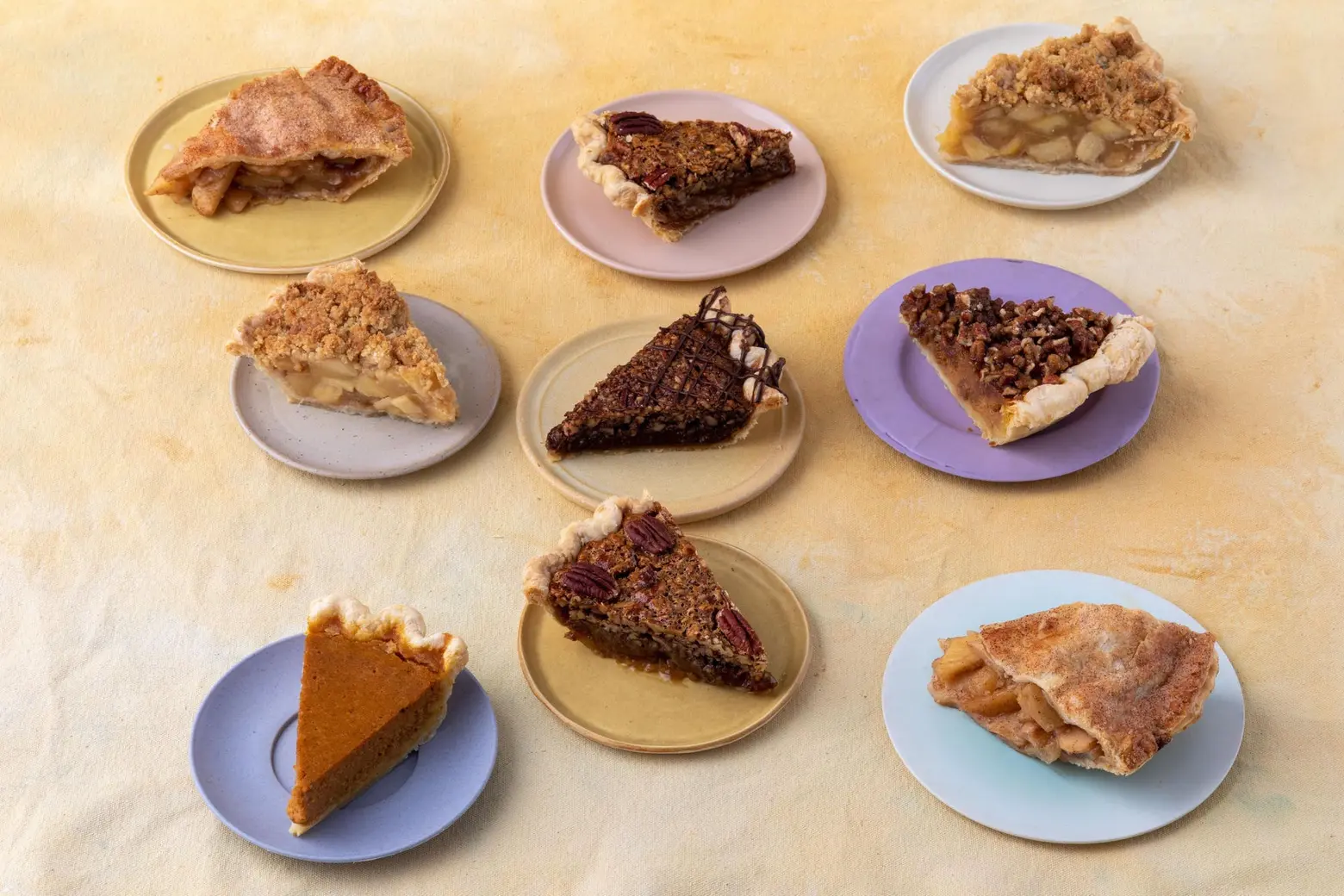 Photo courtesy of Magnolia Bakery
Pies, cakes, & festive desserts
Breads Bakery
New York-favorite Breads Bakery is ready to meet all of your pie, tart, and roll needs this holiday. For dessert, there's Lemon Ricotta, Pumpkin, and Chocolate Babka pie. If you're looking for a savory add-on to your meal, check out the squash tarts, cranberry gouda rolls, and sweet potato rolls. The bakery also sells premade cranberry sauce and a stuffing mix made of cubed challah and harvest babka with herbs and spices. Orders will be available for pickup and delivery from November 19 through November 24.
Magnolia Bakery
Be the hero this holiday by bringing sweet treats to your meal from Magnolia Bakery. To make things even more special, the famed bakery launched its first-ever non-banana-based pudding. Made with apples and covered with a sweet crisp topping, the apple crisp pudding will only be available for the month of November. Might as well pick up a pie too; Magnolia Bakery's fall pies include Apple Crumb, Black Bottom Pecan, and Pumpkin Praline, all priced at $35. Even better, you can pick up the Thanksgiving Sampler, which includes classic banana pudding with a pecan or apple pie for the dream combination.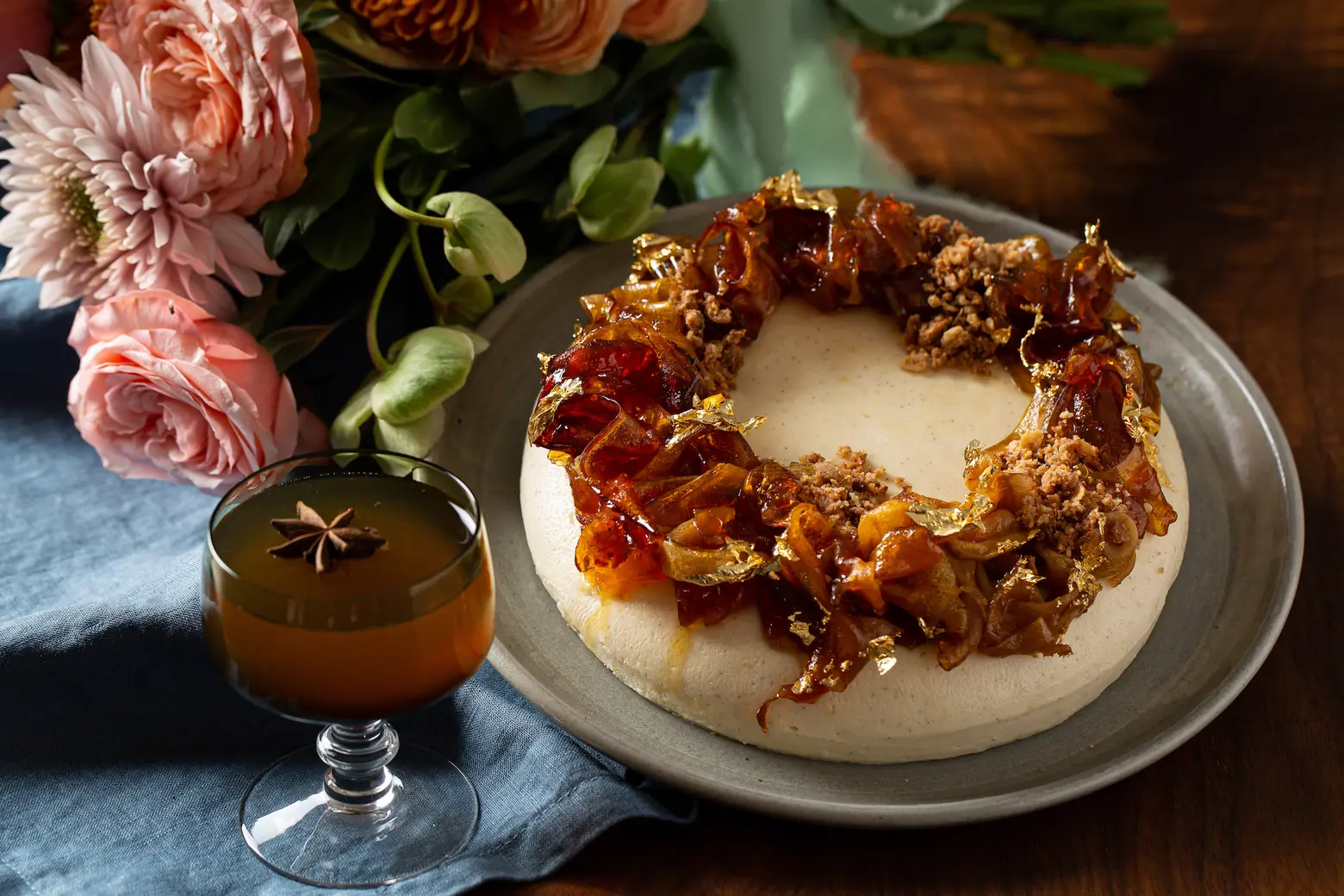 Photo: Nitzan Keynan for Musket Room
The Musket Room
For less conventional dessert options, try Michelin-starred Musket Room. Created by Pastry Chef Camari Mick, this year's Thanksgiving treats include a blackstrap rum bundt cake, an apple tatin cheesecake, a pecan cranberry loaf, and pumpkin pie bao buns. For $90, get the holiday pie set, which includes a festive bouquet, spiced cider, and a choice of pie.
Milk Bar
If you're like us and look for any excuse to buy a sweet treat from Milk Bar, Thanksgiving is a pretty good one. The award-winning bakery is serving up all of its fall favorites this season, including its fudgy twist on pumpkin pie, apple cider doughnut truffles, and an apple cider doughnut cake.
RELATED: