Vending machines selling at-home COVID tests are headed for NYC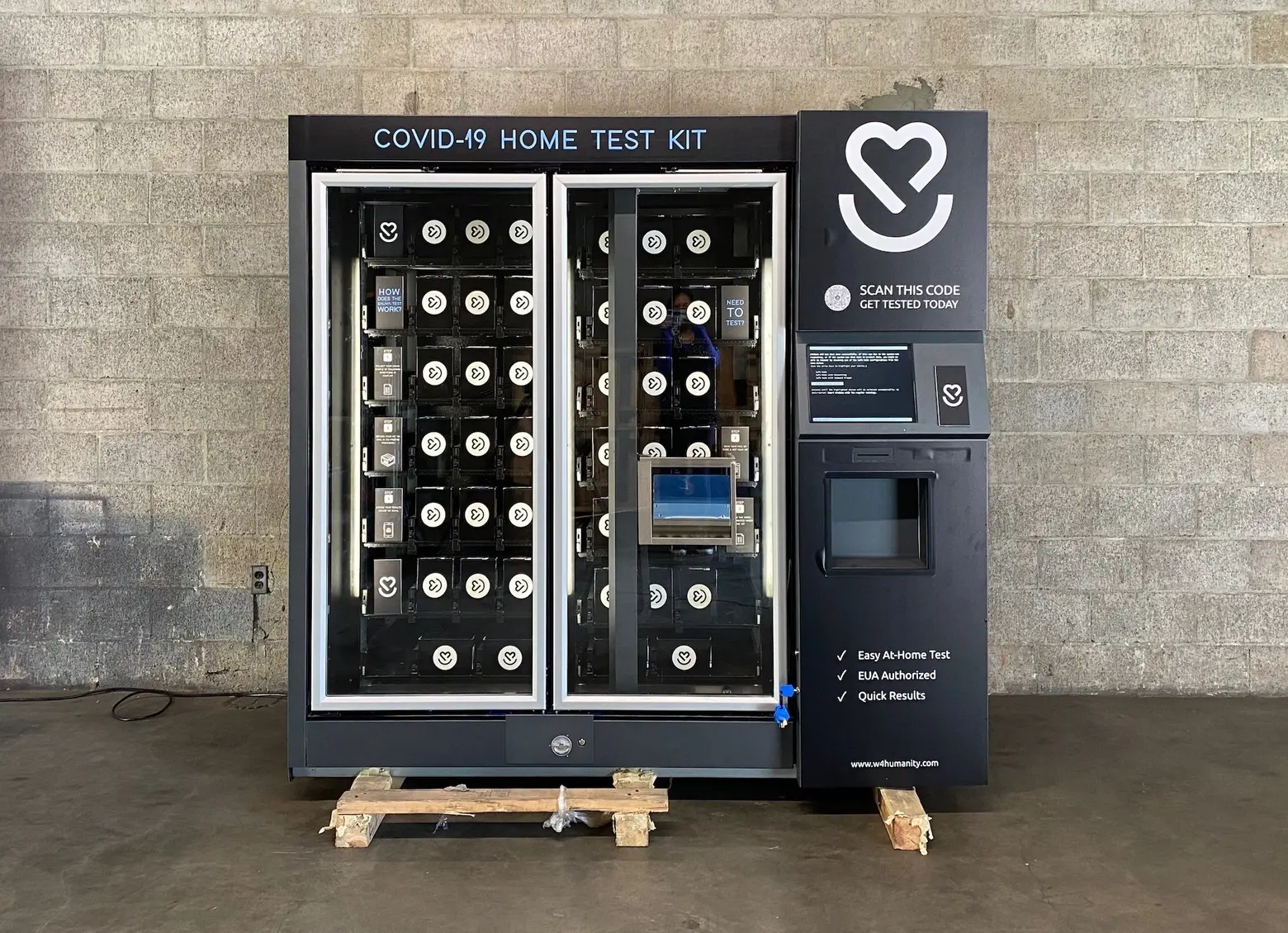 Image courtesy of Wellness 4 Humanity
When the pandemic hit, health startup Wellness 4 Humanity pivoted its mission to aid in providing COVID-19 tests to the public. Unlike many other tests, theirs were all created to be taken at home, including the more standard saliva test, as well as a rapid test that gets results in 15 minutes. The Houston-based company has now broadened its reach with its vending machines, which will be selling at-home tests starting at $119 across cities nationwide. Here in New York City, the first machine is expected to pop up at the office building 225 West 34th Street, but W4H co-founder Pavel Stuchlik told 6sqft that we can expect more machines in easily accessible spots throughout the city.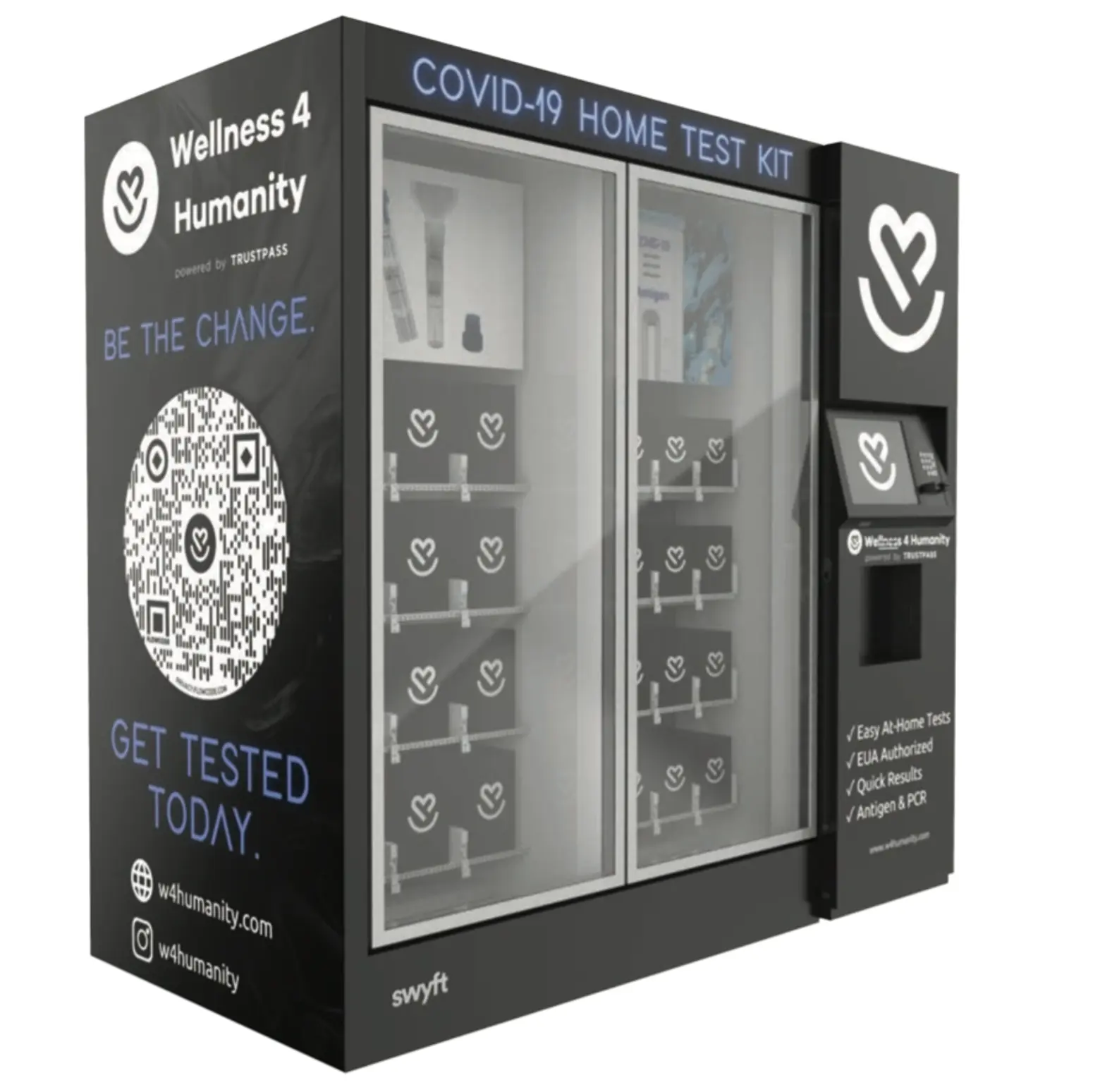 In a press release, Lian Nguyen Pham, CEO and co-founder of Wellness 4 Humanity, explained: "We've seen similar vending machines placed in highly populated, highly trafficked areas of Hong Kong and the United Kingdom to help contain the spread of the virus and, given the surge in cases the U.S. is currently experiencing, we hope to roll out our vending machines as soon as possible."
The vending machine will offer two tests:
At-Home Saliva RT-PCR Test. Simply spit into a tube (as opposed to having your nose swabbed), and send this to a lab using a prepaid FedEx shipping label that provides results within 24 hours of receipt. The company considers this 99.99% accurate.
The Rapid Antigen At-Home Test Kit, a nasal swab test that provides results in 15 minutes. The swab is mixed with a solution and added to a rapid cassette. The company considers this test 97.4% accurate.
The purchasing system is completely contactless; there's a QR code on the vending machine, which customers scan to place an order and pay. From there, download the Trustpass app, which registers the patient and tracks results. This is especially helpful for the at-home PCR test, as it shows when the lab received your test and what the results are.
The Midtown Manhattan location is also W4H's brick-and-mortar outpost. It's three floors of in-person testing. The vending machine here will be the first fully-branded one for the company (there is one in co-partnership at the Oakland Airport). Their initial trial run includes 25 vending machines strategically deployed in cities across America.
In a conversation with 6sqft, Mr. Stuchlik said: "Our goal is to make sure that these first 25 are well-oiled machines so that way we can bring them into grocery stores, shopping malls, subway stations, airports… Our goal is to also bring them into buildings of downtowns of cities in America for a way to come back."
The company also hopes that their rapid testing technology will be employed at large gatherings like corporate events and music festivals.
This is not the first time we've seen a vending machine response to the pandemic. In July, the MTA began installing vending machines selling PPE (reusable face masks, gloves, hand sanitizer, and sanitizing wipes) in subway stations. For some of their vending machines, the MTA partnered with AI-driven vending machine company Swyft, the same partner Wellness 4 Humanity is working with.
RELATED: