A New York Minute With Veselka Restaurant Owner Tom Birchard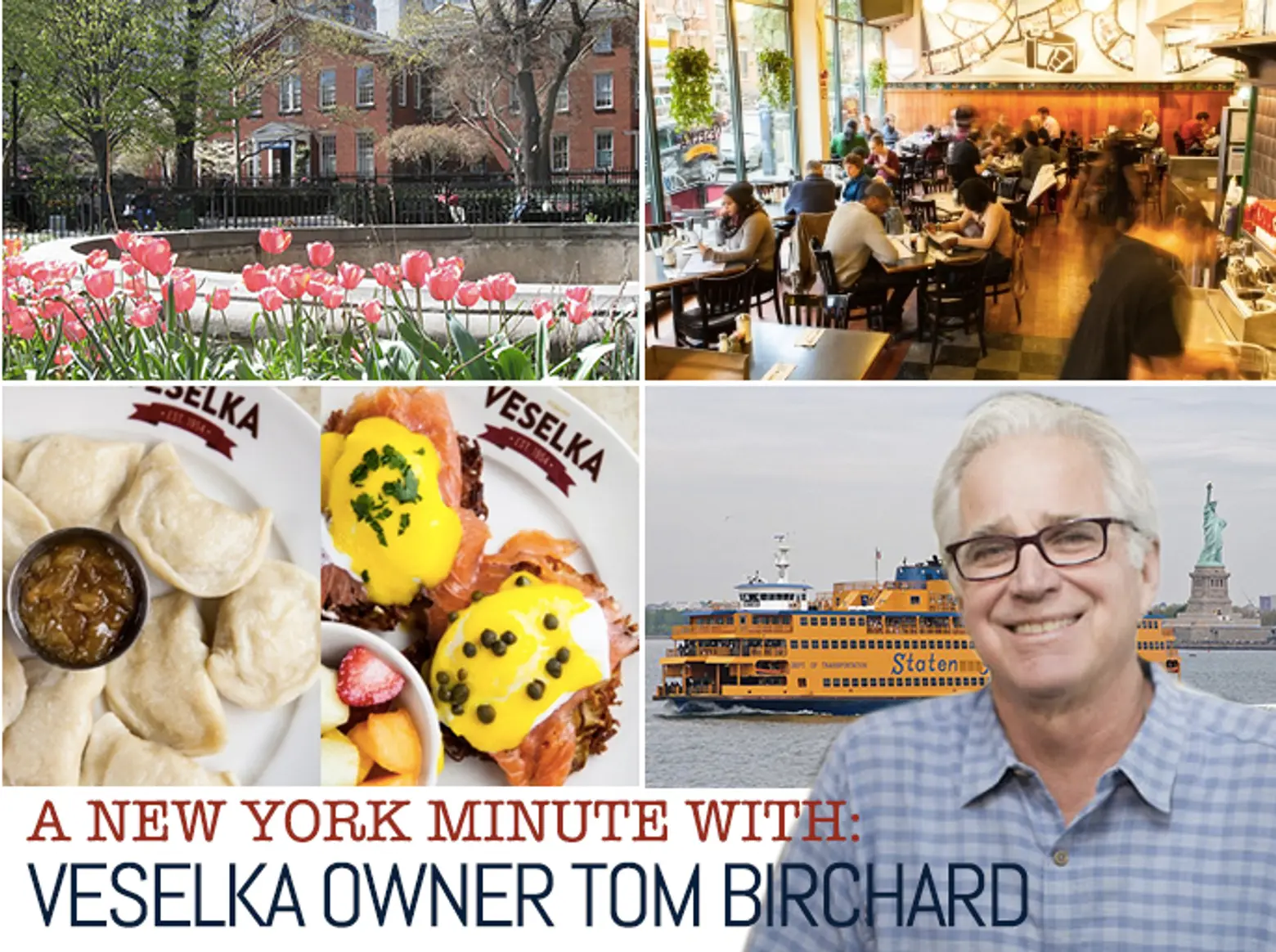 In 6sqft's fun new series A New York Minute we ask influential New Yorkers spitfire (and sometimes very random) questions about their life in the big city. Want to nominate yourself or someone you know? Get in touch!
In 1965, Tom Birchard was busy studying business administration at Rutgers University when he met Marta, daughter of Wolodymyr Darmochwal, at a fraternity party. Her father owned the Ukrainian restaurant Veselka at Second Avenue and Ninth Street in what was then a largely Easter European community. Tom and Marta married the following year, and ever since then Tom started working at the restaurant part time, helping it grow into the iconic establishment it is today, famous for its 24-hour pierogis and borscht.
Though he and Marta eventually separated (Tom is now married to Dr. Sally Haddock who owns St. Marks Veterinary Hospital), Tom took ownership of the business in 1975, and has since been at the helm, living in the East Village, which he describes as "young, funky, artsy." Not only does he keep the Ukrainian spirit alive, but he's active in the community, serving on the board of the Greenwich Village Society for Historic Preservation and actively sponsoring local performance artists.
6sqft: How do you take your bagel?
Tom: Sesame bagel with a schmear, tomato, onion, one slice of smoked salmon. Heaven!
6sqft: Where do you go for a little peace and quiet?
Tome: For a little peace and quiet I take my dogs to Stuyvesant Park on the west side of Second Avenue. It's a nice little oasis that is supported by SPNA, a group of neighbors who raise funds to help with the maintenance of the park.
6sqft: If you had to pick one touristy thing to do what would it be?
Tom: I never get tired of a nice ride on the Staten Island Ferry. The price is right and it's always nice to pay respects to our lady in the harbor.
6sqft: Where was your first apartment in the city?
Tom: First apartment was at 428 East 9th Street in 1977. Rent was $125 and everybody told me at the time that I was paying too much. I had a loft bed and big tub in the kitchen. Very cozy bachelor pad.
6sqft: Can you name three people who make NYC a better and more interesting place?
Tom: I have to think about this one. There are so many. Certainly Andrew Berman of GVSHP. Danny Meyer for revolutionizing the restaurant industry in NYC. Handsome Dick Manitoba for being totally himself, a product of the Bronx and East Village and a really interesting and outspoken guy. A bigger Yankee fan doesn't exist.
6sqft: Where do you do your grocery shopping?
Tom: I get in my car and go to New Jersey or I stock up when I'm in Vermont at my second home. Sometimes Trader Joe's. Food is way too expensive here.
+++
RELATED:
Photo of Tom Birchard courtesy of GVSHP