A guide to the 2023 New York City Marathon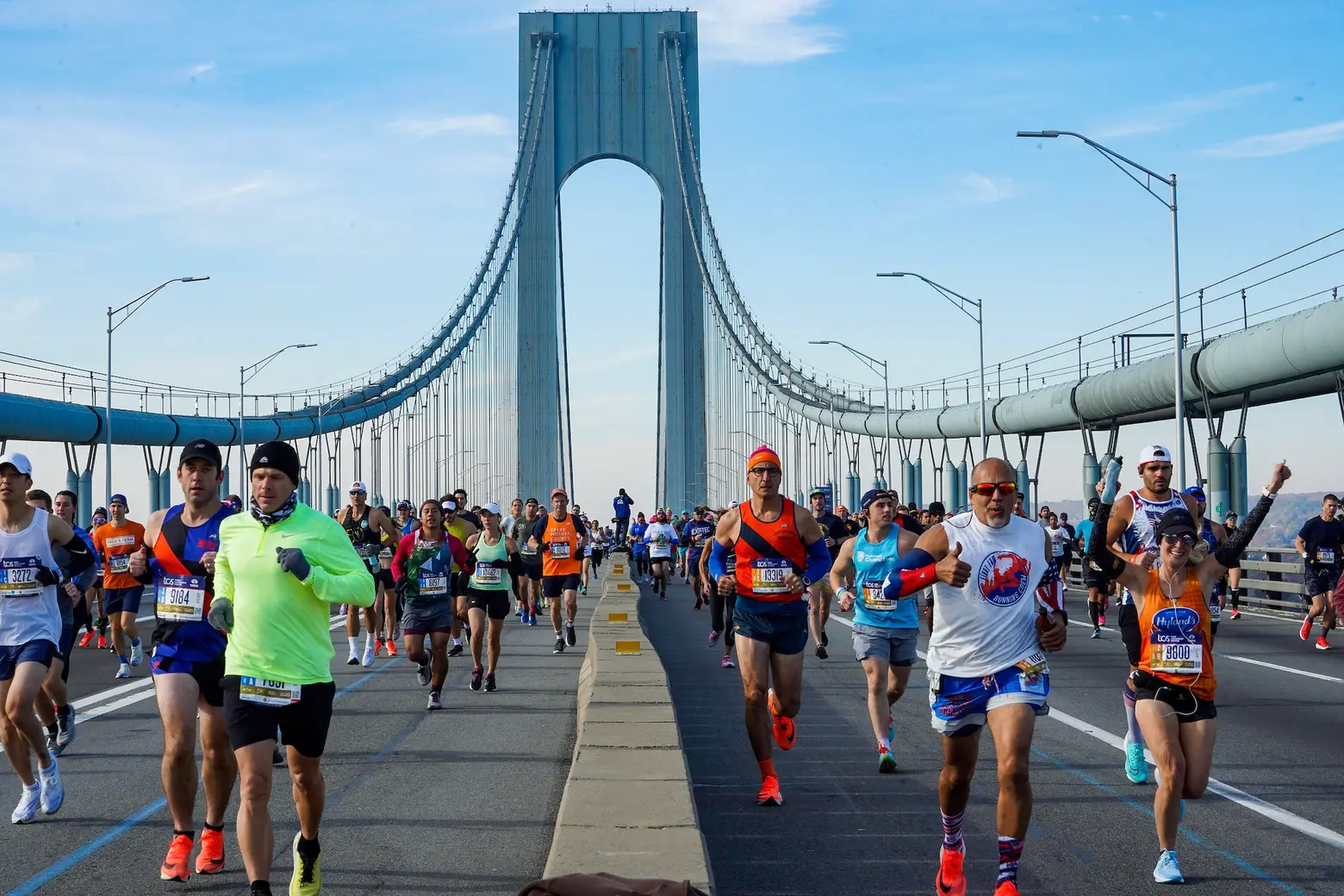 The 2021 NYC Marathon. Photo by Marc A. Hermann/ MTA on Flickr.
The largest marathon in the world returns to New York City this Sunday. On November 5, 50,000 runners will participate in the annual TCS New York City Marathon, a race that travels 26.2 miles and runs through every borough, starting on the Verrazzano-Narrows Bridge and ending in Central Park. Ahead, learn everything you need to know about this year's event, from the route and start times to the best viewing spots for spectators and scheduled road closures.

Start time
The marathon will kick off on Sunday in different waves, with each group of contestants beginning at different times. The professional wheelchair division sets off at 8 a.m., followed by the handcycle category and select athletes with disabilities at 8:22 a.m. According to New York Road Runners, the average finish time in 2022 was just over four hours and 50 minutes.
8:00 a.m. Professional Wheelchair Division
8:22 a.m. Handcycle Category and Select Athletes with Disabilities
8:40 a.m. Professional Women's Open Division
9:05 a.m. Professional Men's Open Division
9:10 a.m. Wave 1
9:45 a.m. Wave 2
10:20 a.m. Wave 3
10:55 a.m. Wave 4
11:30 a.m. Wave 5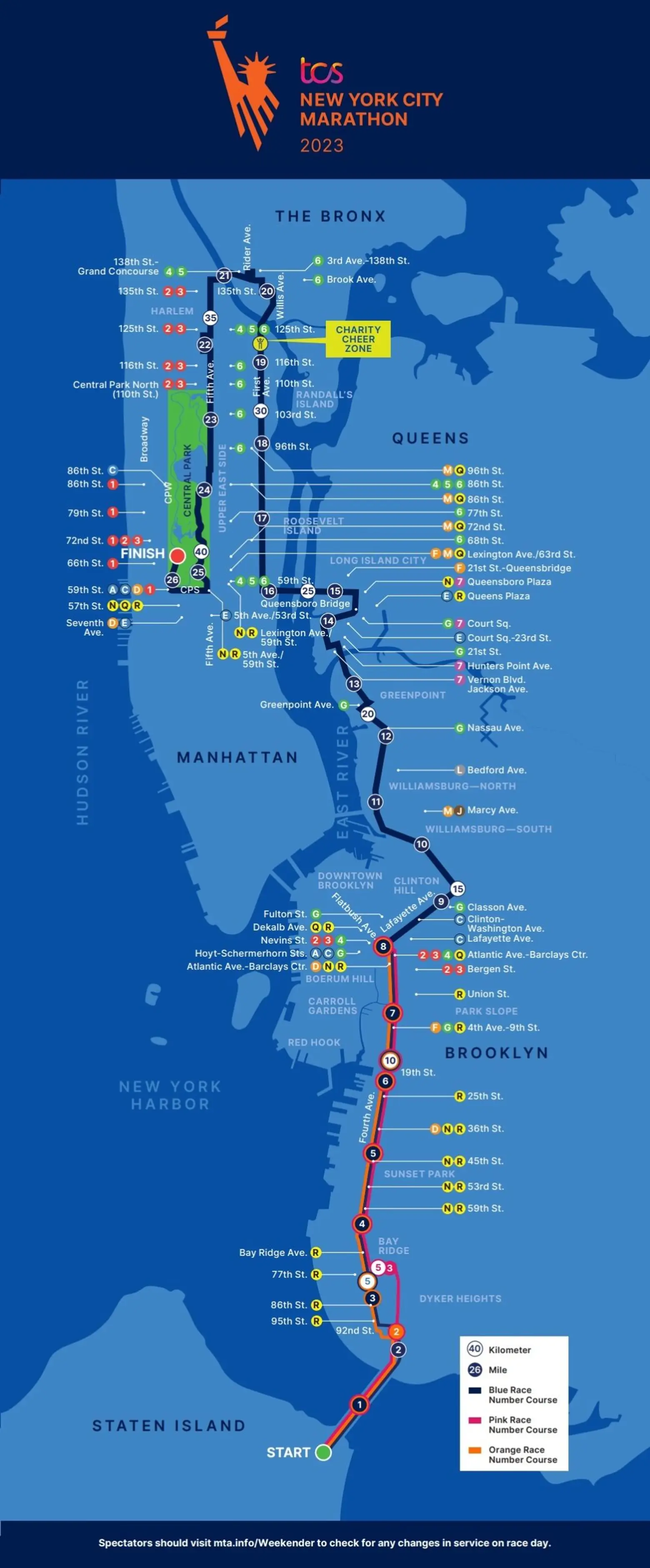 The route
A canon blast kicks off the marathon for runners, who begin by crossing the Verrazzano from Staten Island to Brooklyn. The race travels through Bay Ridge, Sunset Park, Park Slope, Fort Greene, Bed-Stuy, and Williamsburg before reaching the Pulaski Bridge and into Long Island City, which is halfway into the journey. Runners then cross the Queensboro Bridge into Manhattan, marking miles 15-16, moving north up First Avenue where lots of people line both sides of the course to cheer on participants. Over the Willis Avenue Bridge and through the Bronx for mile 20, which is known to have energetic cheerleaders and fun music. Runners return to Manhattan after traveling over the Madison Avenue Bridge before moving south down Fifth Avenue and entering Central Park for the final push and finish line.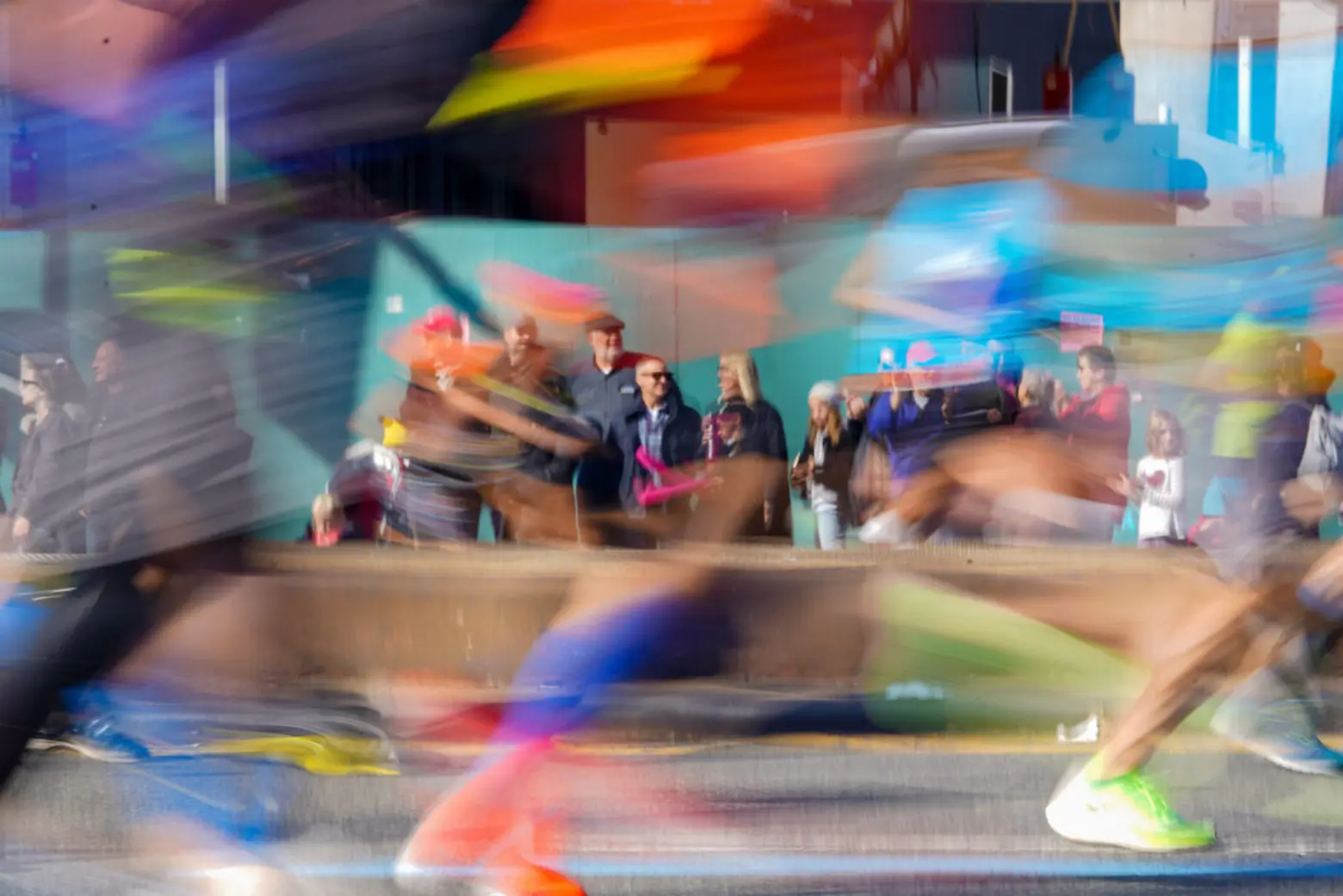 Best spots for spectators
Most of the course is open to spectators from mile 3 to mile 26. Some of the most popular spots to cheer on the runners include:
Mile 3 in Bay Ridge
Mile 8, along Lafayette Avenue in Fort Greene
Mile 13, the halfway point, at the Pulaski Bridge
Miles 16 to 18, the Upper East Side along First Avenue
Mile 20, The Boogie Down Bronx
Miles 23 to 24, along Museum Mile
Finish line! Tickets are available for seats in the grandstands at the finish line but sell out quickly.
How to watch from home
You can also admire the runners from your couch. The race will be broadcast locally on ABC and nationally on ESPN2 and via the ESPN app. A Spanish-language broadcast of the marathon will air live on ESPN3.
Road closures
There will be street closures in every borough for a large chunk of the day on Sunday. Closure of the Verrazzano will begin Saturday night, with the upper level closed in both directions from 11 p.m. until 4 p.m. on Sunday. See the full list of closures here.
Celebrity runners
Sheinelle Jones – TODAY correspondent
Nev Schulman – Host of MTV's Catfish: The TV Show; supporting Achilles International
Matt James –The Bachelor; supporting ABC Food Tours
Zac Clark – The Bachelorette; supporting Release Recovery
Joe Amabile – The Bachelorette; supporting Release Recovery
Patina Miller – Grammy and Tony Award winning singer and actress; supporting Komera
Luke MacFarlane – Actor; supporting Beyond Type 1
Zdeno Chara – NHL legend; supporting Team New Balance
Steve Mesler – U.S. Olympic bobsled gold medalist; supporting Classroom Champions
Samantha Judge – Wife of MLB all-star Aaron Judge; supporting Kulture City
Emily Rizzo – Wife of MLB all-star Anthony Rizzo; supporting Anthony Rizzo Family Foundation
Amy Robach – Television personality
T.J. Holmes – Television personality
Casey Neistat – YouTube star filmmaker; supporting Project Healthy Minds
Laura Dreyfuss – Actress and singer; supporting Team New Balance
Harry Hudson – Singer/Songwriter; supporting Team New Balance
RELATED: