6 of New York's Spookiest, Scariest and Downright Strangest Homes
Every day at 6sqft we pretty much find ourselves in awe saying "We can't believe people live like this!" But every so often we come across a home that has us muttering "People live like this??" In celebration of All Hallow's Eve, we've rounded up six spooky and scary Manhattan and Brooklyn residences. One is filled to the brim with dead animals, another hides a secret underground portal, and another harbors an incredible tale of murder and deceit. Jump ahead to see all six them all—and if you'd ever dare live in one of these petrifying pads, you're in luck because several of these homes are for sale. Lucky you?

Creepy Co-Ops and Apartments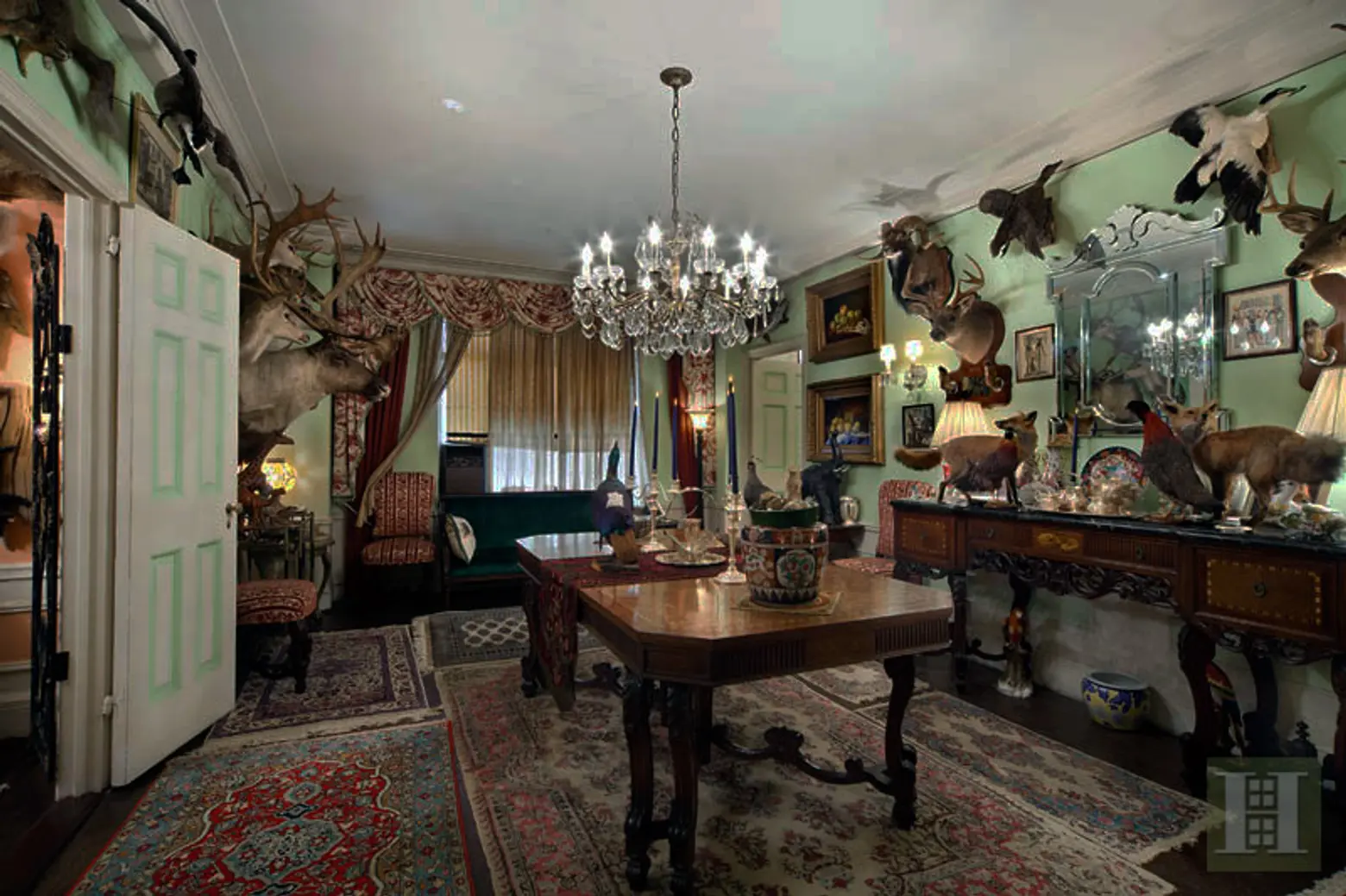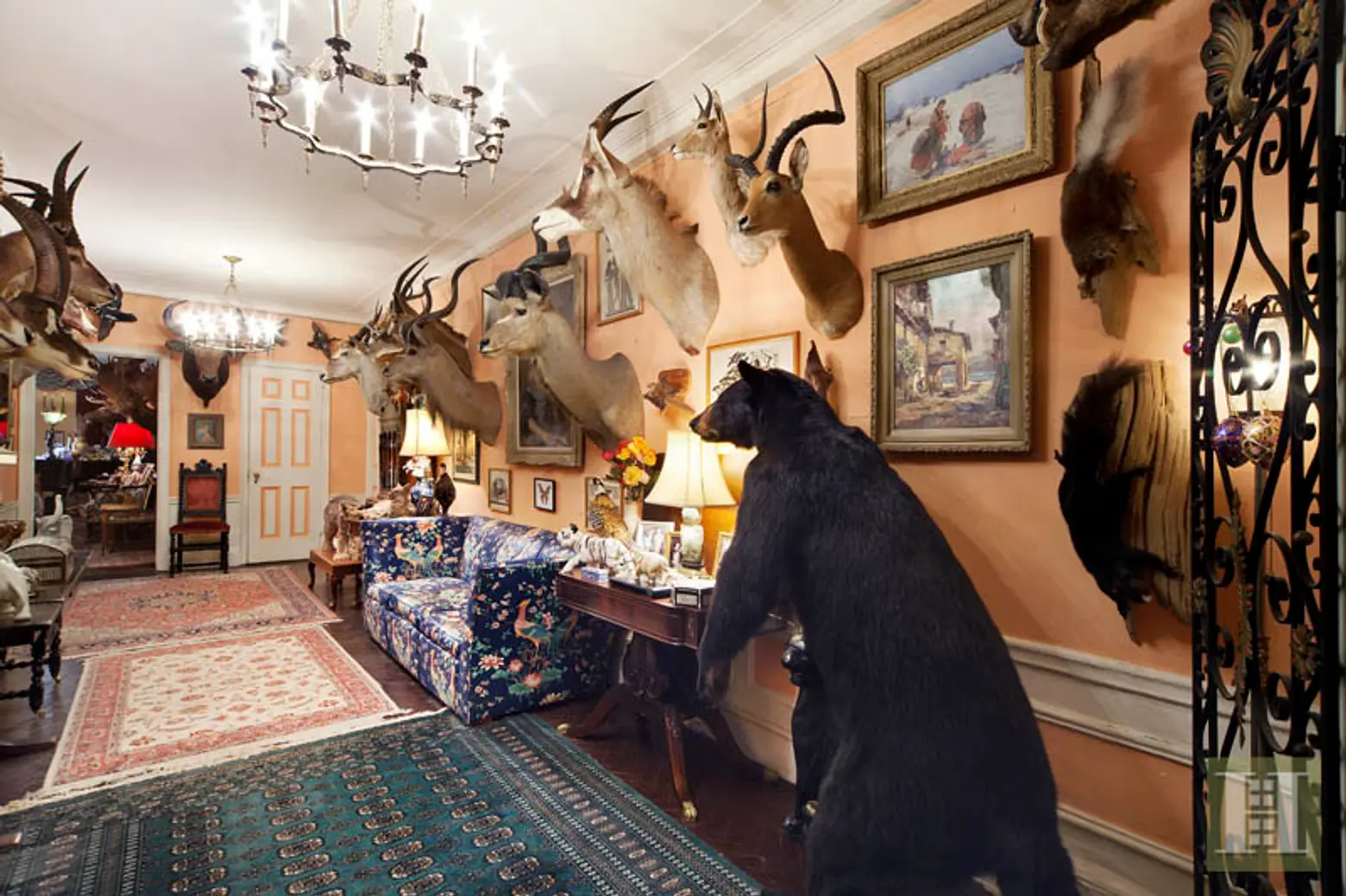 A Central Park West Pad Packed with Dead Animals
The Beresford is one of the city's most well-known residences. Opulent and ornate best describe the homes that make up this building. But we wonder, do neighbors know of the terrifying third-floor apartment decorated with taxidermied animals? In this home, you can expect to see a set of glassy eyes staring at you at every turn, and believe us, there are plenty. The apartment is a sprawling unit with a 27-foot living room, a 28-foot gallery, and 10-foot ceilings. Were not sure why the owner would want to leave all of this (running out of space, perhaps?), but this anti-PETA palace is going for $3.395 million. More photos here >>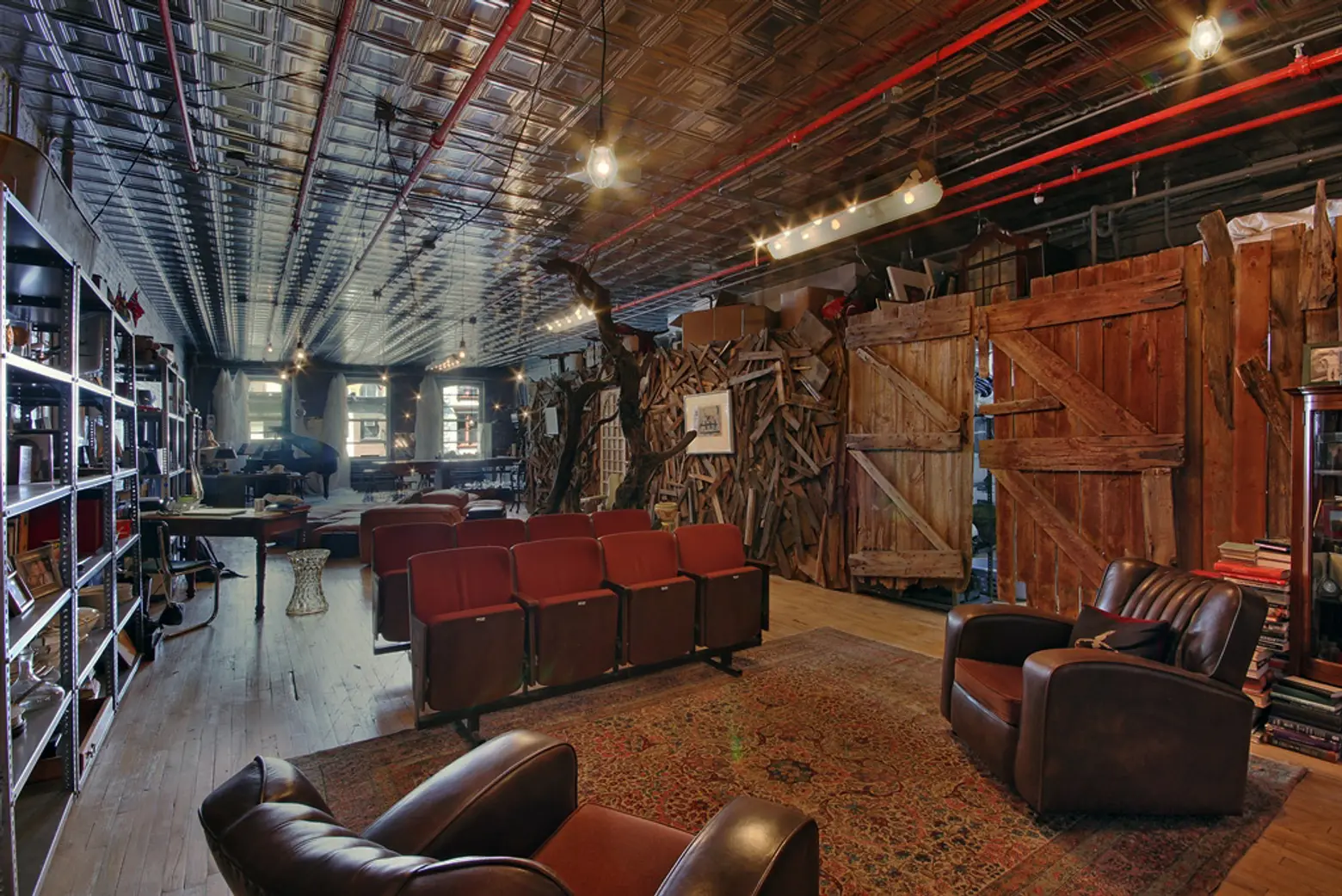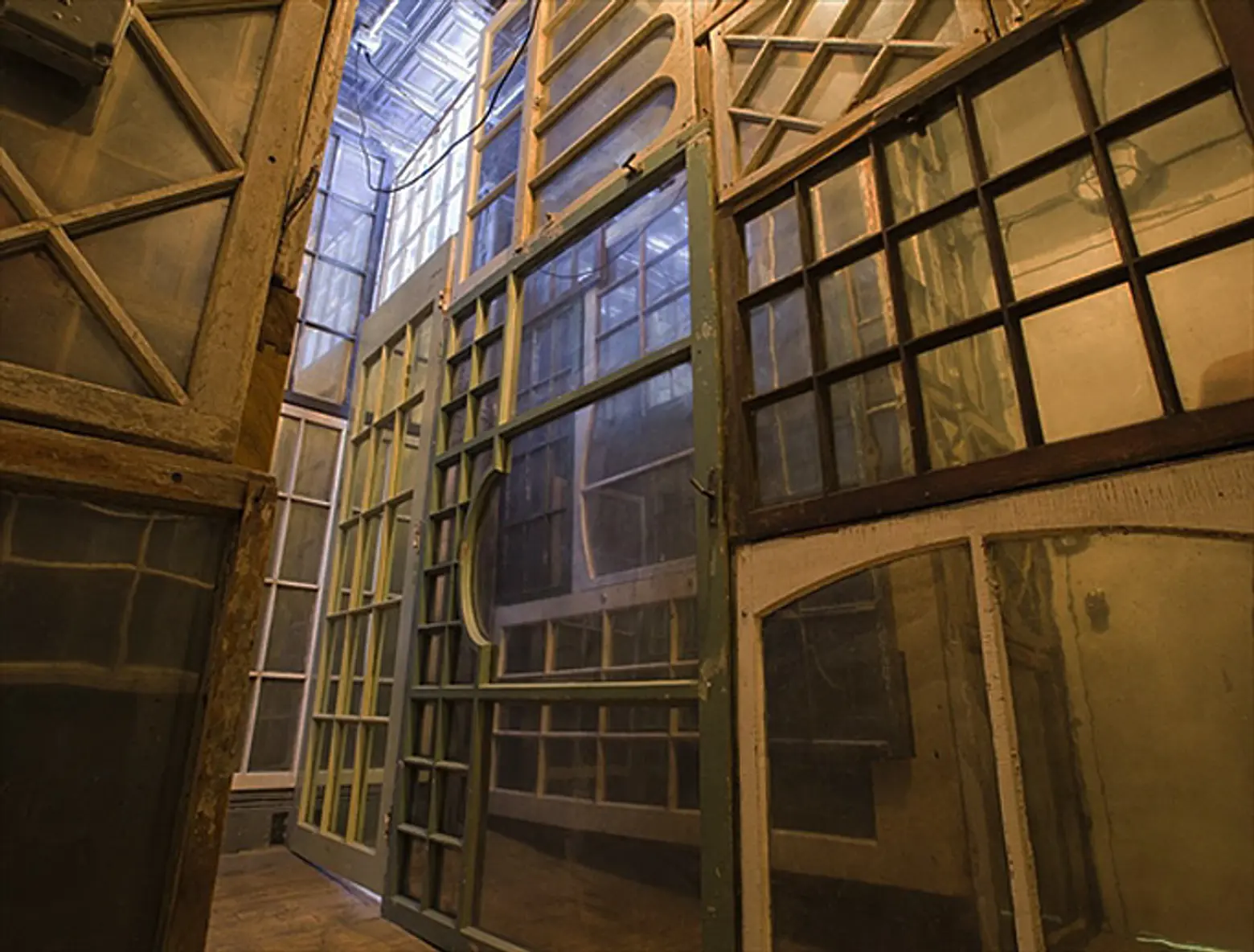 A Soho Loft with a Wood Shed
We're not really sure what the owner of this loft was going for when he decided to construct a massive wood shed in the middle of his loft, but the effect is certainly something out of a horror movie. Barn doors lead visitors through a shed constructed from walls of piled up reclaimed planks and branches, while low light offers up an even more eerie effect. And if the shed isn't creepy enough for you, there's a hallway built from mirrored reclaimed doors that "welcomes" you into the home. This peculiar loft at 49 Howard Street is asking for $1.8 million, and believe it or not, it's in contract. More photos here >>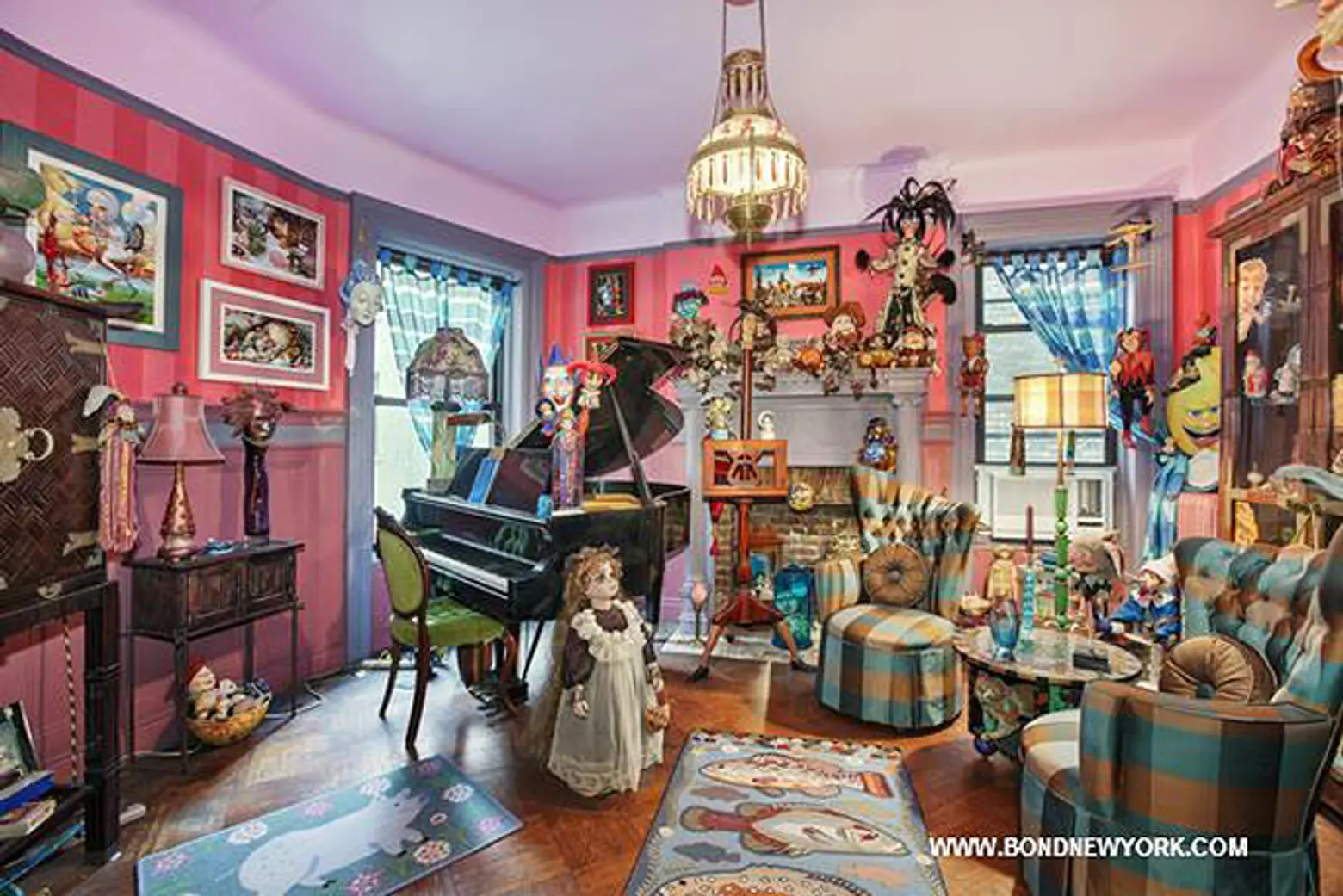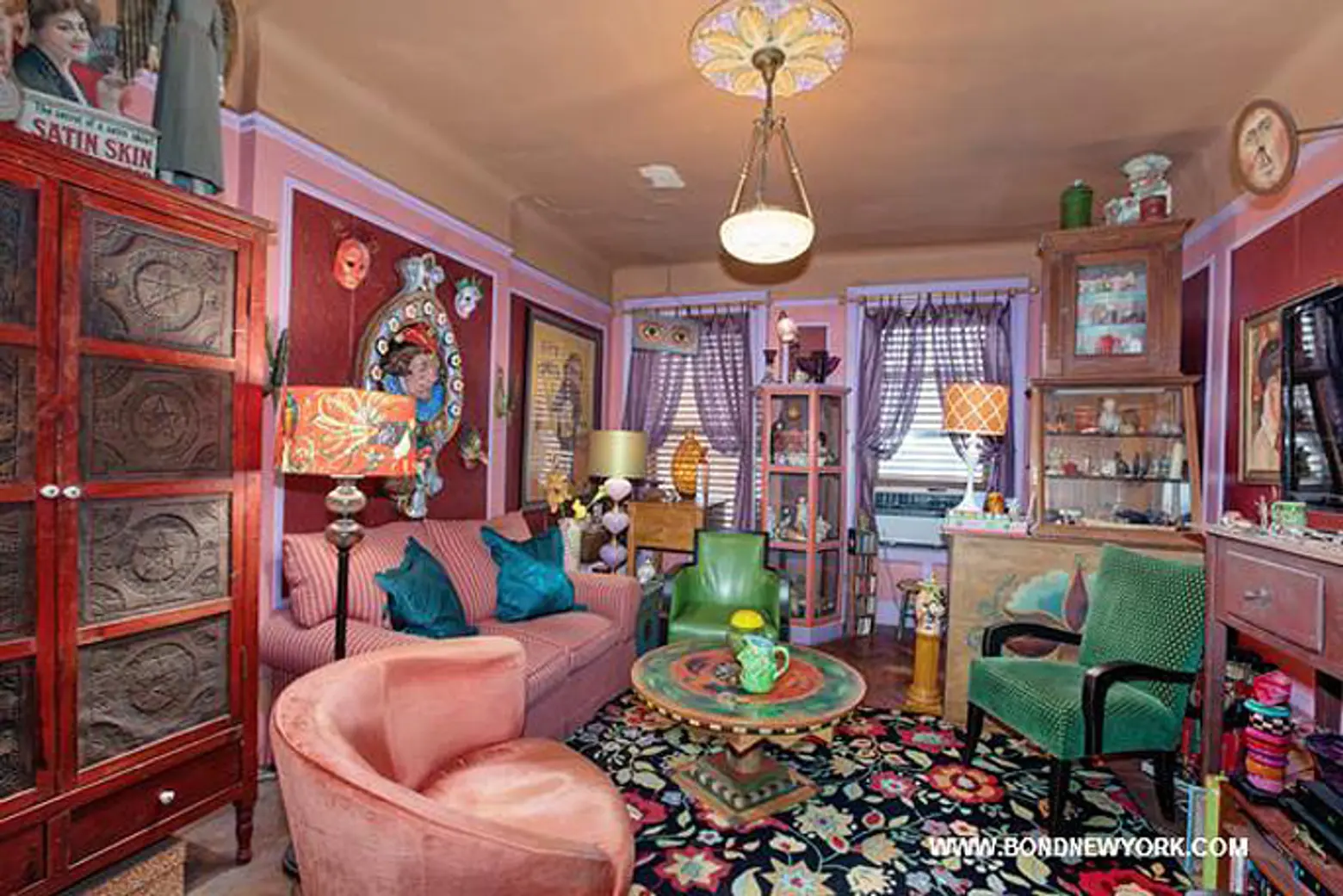 Welcome to the Dollhouse
This strange home appears to be an amalgamation of Pee-wee's playhouse and the dream home of Chucky. Filled with a hellish dreamscape of dolls, marionettes and clowns, the three-bedroom unit at 243 West 98th Street is certainly, umm, unique. If you've even wanted to own a nightmare, this apartment is going for $1.295 million. The catch? You'll never get to live here. Though it's priced a million dollars below market value, buying into the this house means playing landlord to not only hundreds of horrifying dolls but a rent stabilized tenant paying just $830 a month. More photos here >>
Hair-Raising Homes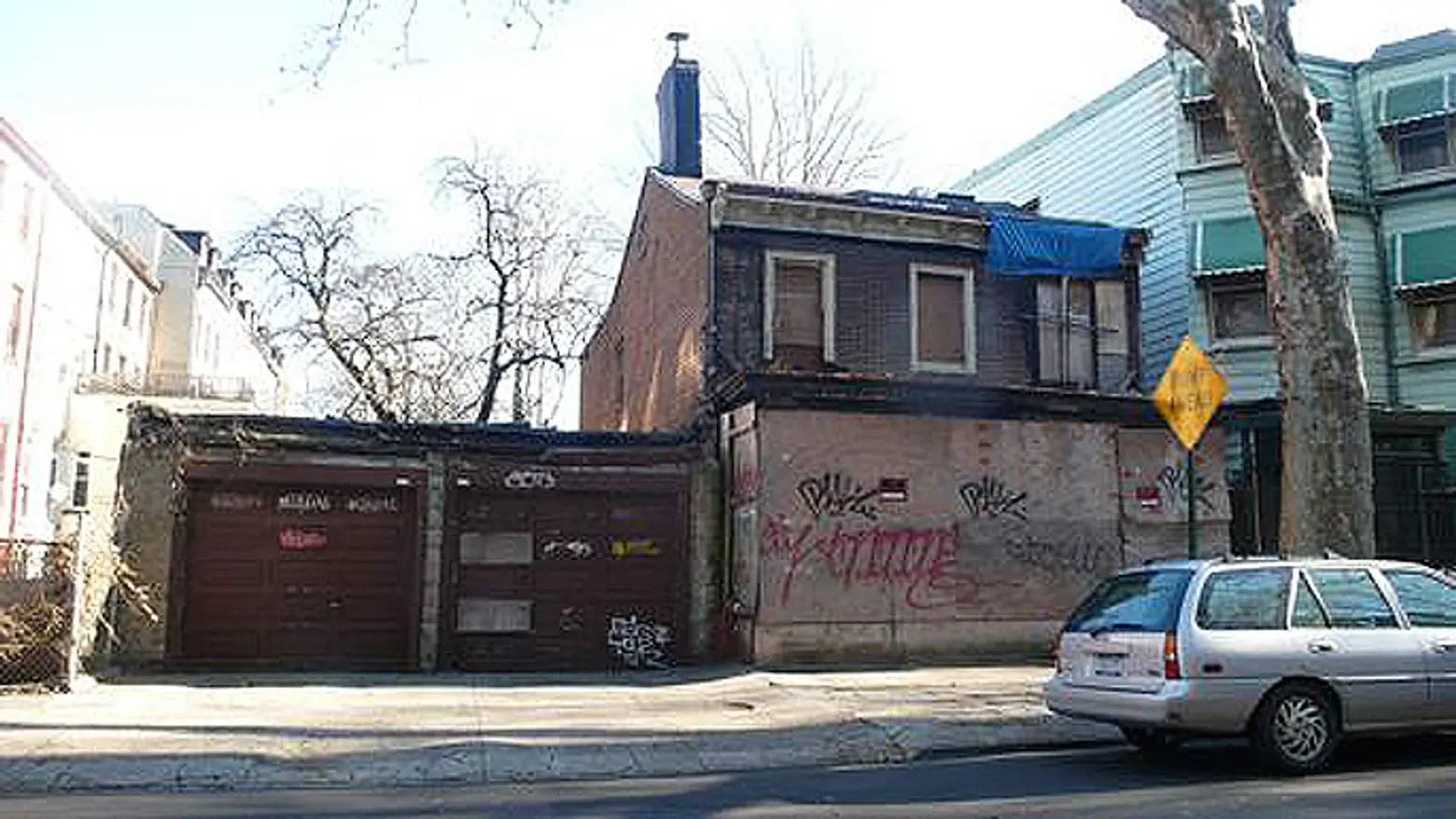 Image via Brownstoner
Clinton Hill's Feral Cat House
This home in Clinton Hill would make even a cat lady scream in fright. Located at 173 St. James Place, this crumbling wood structure is said by neighbors to be a haven for feral cats. The home, originally built in 1850, was damaged by a fire years ago and has remained uninhabited (by humans) ever since. The owner of the building applied to demolish it in 2005 and hoped to put up a four-story building in its place. Of course, the new plan requires Landmarks approval and not much movement has been made. So until then, this two-story structure will remain a creepy cat mansion.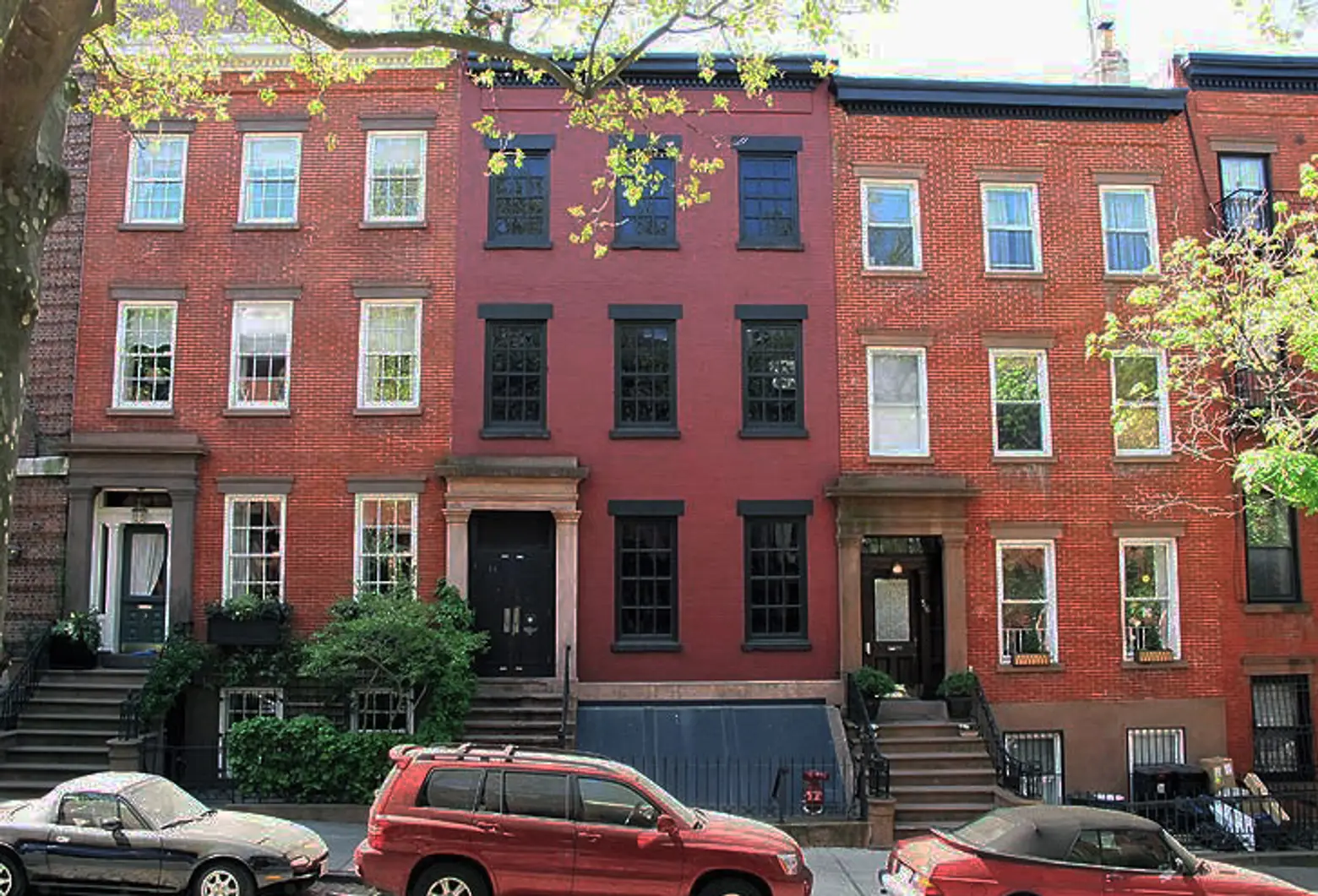 A Brooklyn Heights Home with a Secret Underground Portal
Blacked out windows? A massive steel door with an equally intimidating padlock? What's going on here? While you may think these are tell-tale signs of a paranoid NYC shut-in up to no good, this red brick row home at 58 Joralemon Street in Brooklyn Heights has an incredible secret: It hides a portal to the underground. The row house was actually used as a residence up until 1846, but in 1908 was transformed a ventilation station to accommodate the air flow of the newly constructed tunnel connecting to the 4 and 5 trains.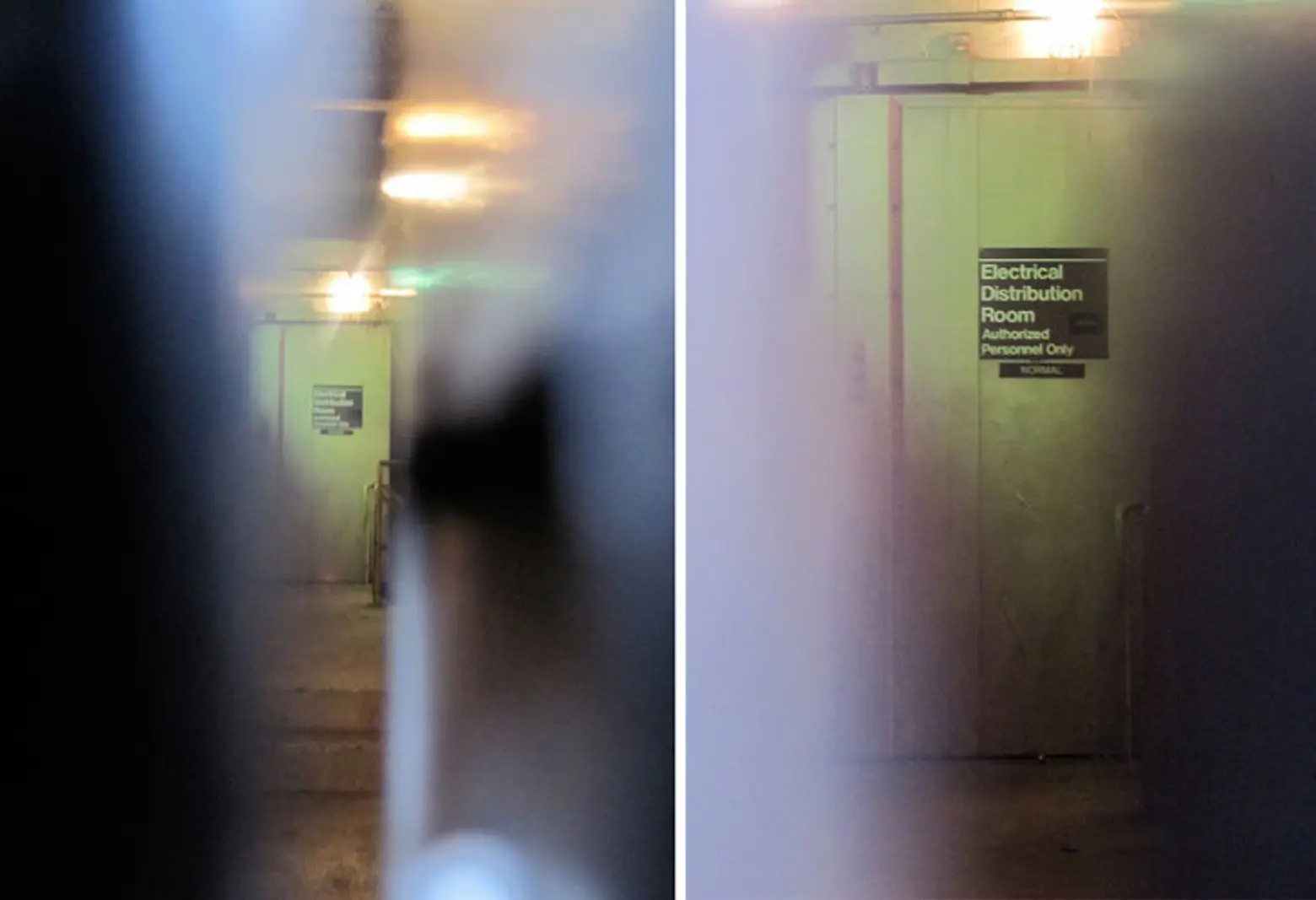 With air blowing from the windows without caution, in 1999 neighbors put pressure on the MTA to restore the facade of the home to meld with the rest of the area. Improvements were on the whole successful, and the home, for the most part, blends with its neighbors. Every so often you can catch MTA workers hanging out on the stoop. And even cooler, if you peek through the crack between the entrance doors you can catch a glimpse of the electrical room and stairway leading to the tunnel.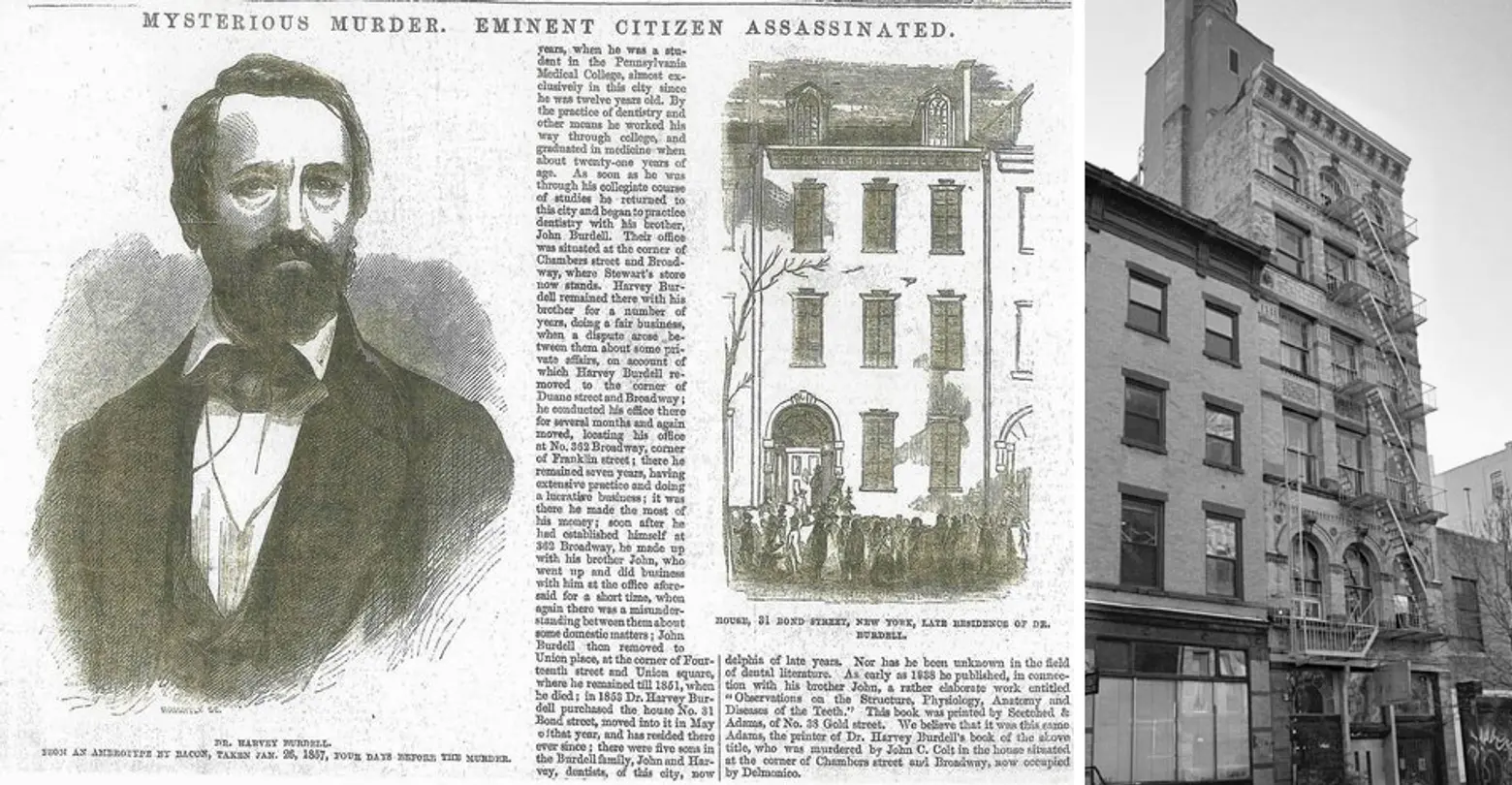 A Noho Home with an Epic Tale of Murder
And finally we have a townhouse that comes with a tale of murder. Located at 31 Bond Street, here, during a crime wave in the winter of 1857, dentist Harvey Burdell was found in his office strangled and stabbed 15 times.
His mistress Emma Cunningham immediately fell under suspicion when it came out that Burdell allowed her and her five children to live in his home. Cunningham was in dire straights financially and Burdell had apparently taken ruthless advantage of her state. He routinely raped her and impregnated her twice, terminating the two pregnancies by performing abortions on her himself.
Cunningham remained with Burdell because she needed the money and notoriety a husband would bring, so to try to remedy the situation she hired an impostor to stand in for him at their wedding. Her plan failed, and then she decided to murder him. After his death, she continued to lay claim that she was entitled to his fortune because she was pregnant with his child. She even went as far as stuffing a pillow under her dresses and asked a friend to "borrow" a newborn for her at Bellevue Hospital. Cunningham went to trial for the murder, but was found not guilty in large part due to Burdell's shady status.
More details on the 31 Bond's sordid past can be found in the book Butchery on Bond Street. And for those unafraid of what spirits may lurk, there will be a chance to make a home here. Developer Joshua Gurwitz is turning this building into luxury condos.
An illustration of Cunningham's trial.