31 literary icons of Greenwich Village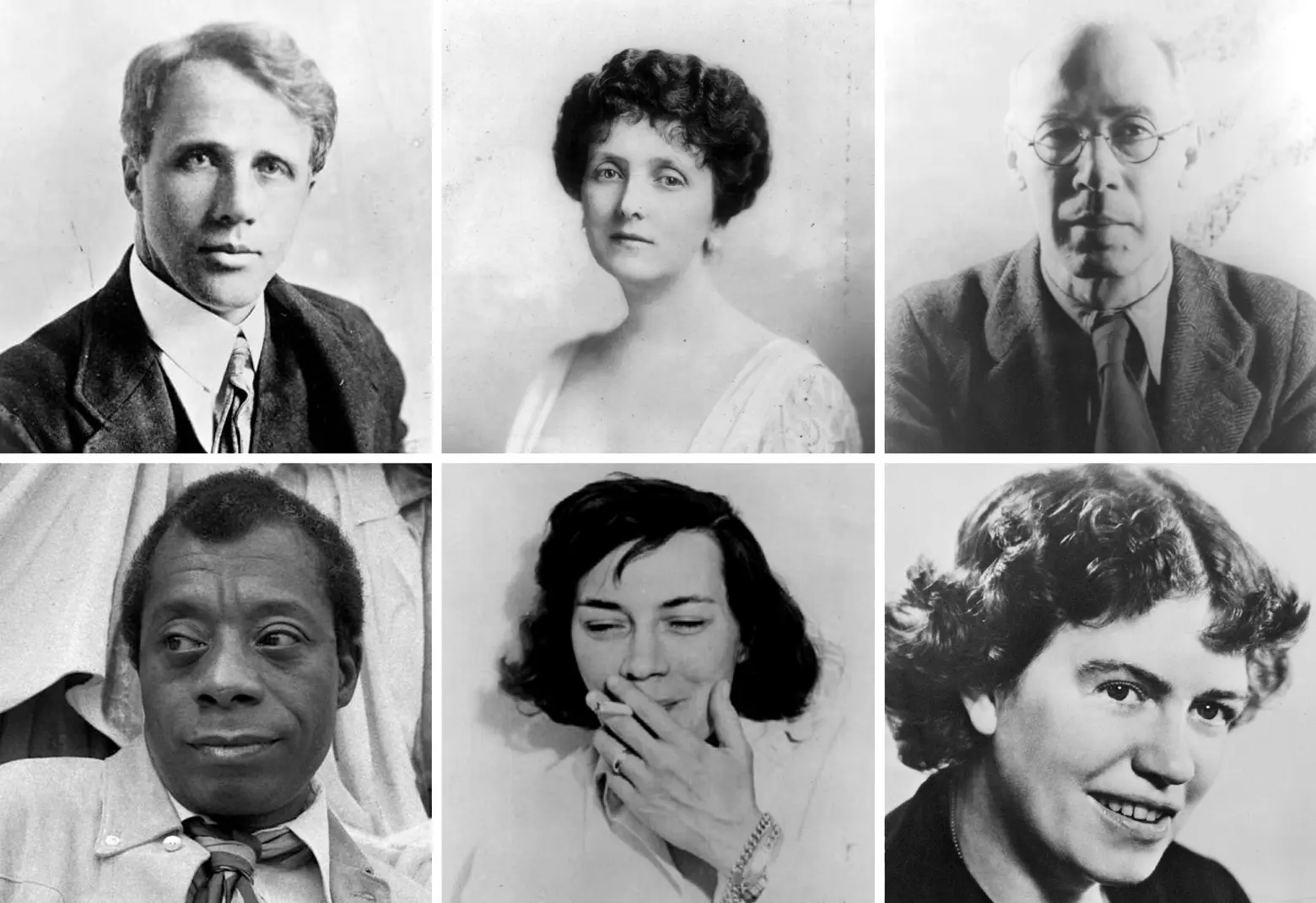 From top left: Photo of Robert Frost via Wikimedia, Photo of Emily Post via Library of Congress, Photo of Henry Miller via Wikimedia; From bottom left: Photo of James Baldwin by Allan Warren via Wikimedia, Photo of Patricia Highsmith via Wikimedia, and Photo of Margaret Mead via Smithsonian Institution Archives Wikimedia
This year marks the 50th anniversary of the designation of the Greenwich Village Historic District. One of the city's oldest and largest landmark districts, it's a treasure trove of history, culture, and architecture. Village Preservation is spending 2019 marking this anniversary with events, lectures, and new interactive online resources. This is part of a series of posts about the Greenwich Village Historic District marking its golden anniversary.
Greenwich Village, specifically the historic district at its core, has been described as many things, but "literary" may be among the most common. That's not only because the neighborhood has an air of sophistication and drama, but because it has attracted some of the nation's greatest writers over the last 200 plus years. Ahead, learn about just some of the cornucopia of great wordsmiths who have called the Greenwich Village Historic District home, from Thomas Paine to Lorraine Hansberry.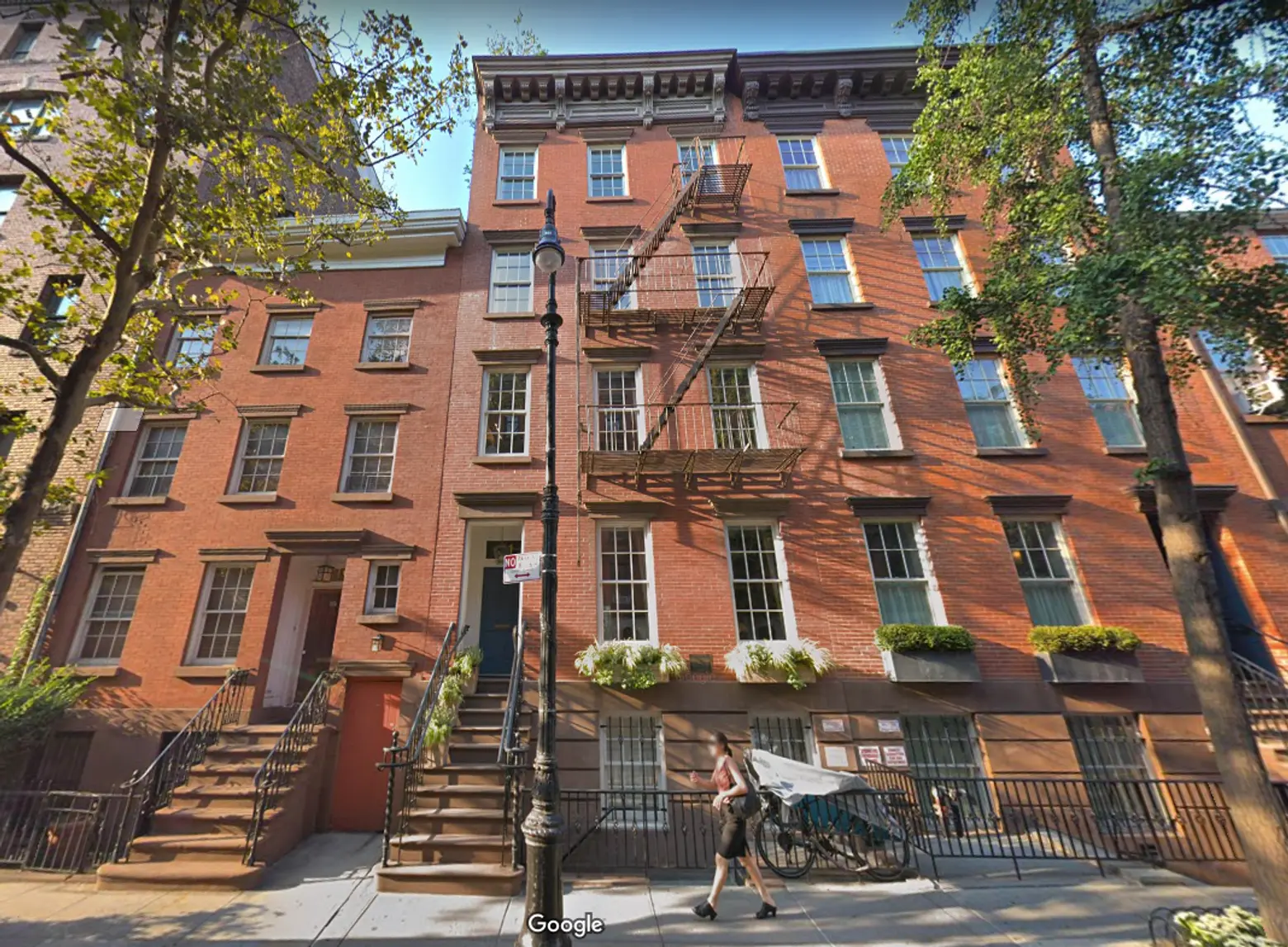 Streetview of 81 Horatio Street, where Baldwin lived from 1958 to 1961; Map data © 2019 Google
1. James Baldwin, 81 Horatio Street
Through his writing, televised debates, and public speaking across the globe, author and activist James Baldwin had a profound impact upon 20th-century culture beyond just the written word. He was part of the 1963 March on Washington for Jobs and Freedom, as well as the 1965 Selma-to-Montgomery voting rights march. From 1958 to 1961 he lived in Greenwich Village at 81 Horatio Street, and for many years before and after that, he frequented and drew inspiration and comradery from many of the literary and bohemian clubs and cafes of Greenwich Village.
A prolific and award-winning writer, some of his most noted works include Go Tell It on the Mountain (1953); Notes of a Native Son (1955); Giovanni's Room (1956); Another Country (1962); The Fire Next Time (1963); Blues for Mister Charlie (1964); and If Beale Street Could Talk (1974). His works had an unheard of frankness about race and sexuality. Greenwich Village is frequently referenced in his novel Another Country, published in 1962 just after his residency there.
2. Djuna Barnes, 5 Patchin Place, 45 Grove Street, and 86 Greenwich Avenue
Born in 1892, Djuna Barnes first came to Greenwich Village in 1915, soon becoming a central figure of the burgeoning bohemian and feminist community. Barnes shared an apartment on Greenwich Avenue with Berenice Abbott, Kenneth Burke, and Malcolm Cowley. She was involved with the Provincetown Players, served as a member of the radical feminist Heterodoxy Club, reported for the Brooklyn Daily Eagle, and was openly bisexual.
Barnes left Greenwich Village in 1921 for Paris. There, she lived with her lover, Thelma Wood, and met James Joyce. In 1936, she published Nightwood, now her most famous work. Although it was well-reviewed, it did not sell, and Barnes made almost no financial profit from it. She began relying upon her friends for financial assistance and continued to drink heavily. After a suicide attempt in 1939 and a brief stint in Arizona, she finally returned to Greenwich Village. She moved into 5 Patchin Place in 1941, where she wrote The Antiphon. She became a recluse, living out the last forty-two years of her life at Patchin Place. e.e. cummings, who lived at 4 Patchin Place, was known to check up on her by shouting through his window: 'Are you still alive, Djuna?' She died in 1982, the last surviving English-language modernist.
3. Margaret Wise Brown, 121 Charles Street
The Goodnight Moon author never actually lived at 121 Charles Street, but she lived in the house which has been located there for the last 52 years. Also known as Cobble Court, this anachronistic wooden house was moved in 1967 from 1335 York Avenue on the Upper East Side to Charles Street to save it from demolition. Prior to the move, Brown, who also wrote the best-selling children's story, The Runaway Bunny, used the house as her residence and writing studio. Throughout the 1940s, she shared the home with her partner, socialite Blanche Oelrichs, who used the pen name Michael Strange.
Brown wrote a number of titles, including Don't Frighten the Lion (1942) based on a trip to the Central Park Zoo, and Robin's House (1944), The Dark Wood of the Golden Birds (1949), and Mister Dog (1951). Brown is credited with popularizing the picture book and helping to reimagine children's literature by centering stories on a child's reality rather than on an imaginary reality.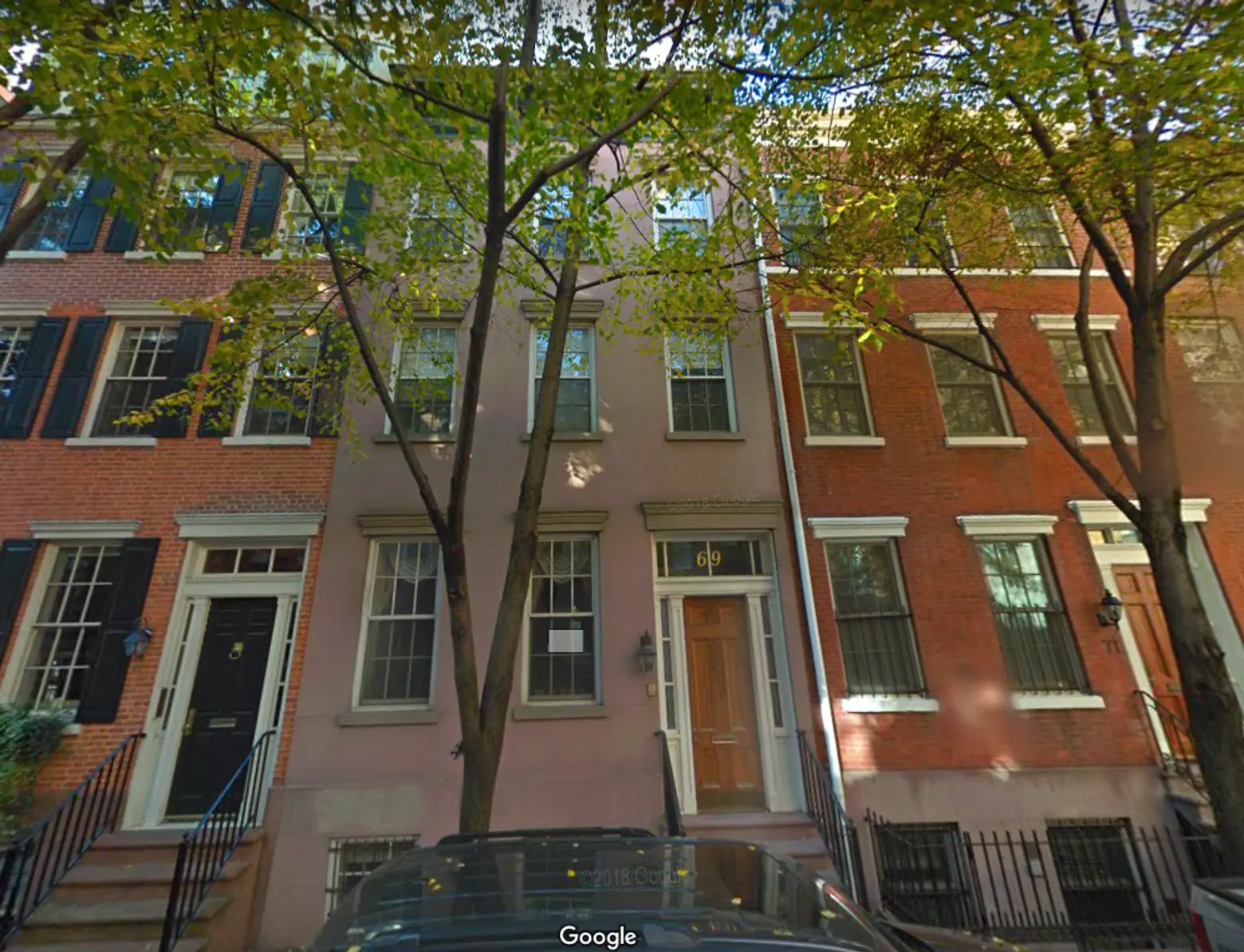 Streetview of 69 Bedford Street; Map data © 2019 Google
4. William S. Burroughs, 69 Bedford Street
William S. Burroughs moved to New York in 1943, calling 69 Bedford Street home. During this time he tried morphine, met Allen Ginsberg, Jack Kerouac, and Lucien Carr, and later became a regular heroin user. Using his experience as an addict, Burroughs wrote Naked Lunch, his most well-known novel, completed in 1959 after going through rehabilitation treatment. The morning after Lucien Carr killed David Kammerer in 1944, Carr confessed to Burroughs and Kerouac and then gave himself up to the police. Burroughs and Kerouac were arrested as material witnesses but were released on bail. Carr was convicted of manslaughter but only served two years jail time claiming as his defense that he was defending himself against the unwanted sexual advances of Kammerer. In 1945, Burroughs and Kerouac co-wrote a fiction version of these events entitled And the Hippos were Boiled in Their Tanks, but it was not published until 2008.
5. Willa Cather, 5 Bank Street and 35 Fifth Avenue
Cather was an American writer who achieved recognition for her novels of frontier life on the Great Plains, even though she spent most of her career living in Greenwich Village. Her works include O Pioneers! (1913), The Song of the Lark (1915), My Ántonia (1918), and the World War 1-set One of Ours (1922), for which she received the Pulitzer Prize in 1923. Cather and her partner, Edith Lewis, moved to the Hotel Grosvenor apartment hotel at 35 Bank Street after they were forced to move out of their home at 5 Bank Street.
They lived here from 1927 to 1932. However, Cather traveled frequently at this time due to her father's passing, her mother falling ill, and the growing demands of her career, which was at its peak. Nonetheless, she published Shadows on the Rock (1931), a historical fiction novel about a Québécois family in the 1690s. Cather didn't enjoy living at the apartment hotel, which became an NYU dorm in the 1960s, and even considered relocating out of the city entirely, but Lewis, a magazine editor, wanted her to stay for the sake of her career. The couple eventually moved to an apartment at 750 Park Avenue.
6. John Cheever, 76 Bank Street and 31 West 8th Street
Novelist, short story writer, and Pulitzer Prize-winner John Cheever lived at 76 Bank Street in the late 1930s and, followed by 31 West 8th Street around 1940. He was born in Quincy, Massachusetts and despite struggling in school (reportedly he was ultimately expelled from high school), Cheever was a self-taught writer who began reading Marcel Proust and other modernist authors when he was 14. His sardonic account of his expulsion, "Expelled," was published in The New Republic in 1930, his first published short story. During the mid-1930s, he moved to New York City, where he worked as a "biographer" according to the 1940 census.
He wrote for The New Yorker and also had stories published in Collier's, Story and The Atlantic. The main themes of his writing included the duality of human nature. Sometimes called "the Chekhov of the suburbs," his work was mostly set in the Upper East Side of Manhattan, the Westchester suburbs, old New England villages, and Italy. While Cheever is best remembered for his short stories, including "The Enormous Radio", "Goodbye, My Brother", "The Five-Forty-Eight", "The Country Husband", and "The Swimmer", he was also the author of four novels: The Wapshot Chronicle, which won a National Book Award, The Wapshot Scandal (1965), Bullet Park (1969), Falconer (1977), as well as a novella Oh What a Paradise It Seems (1982).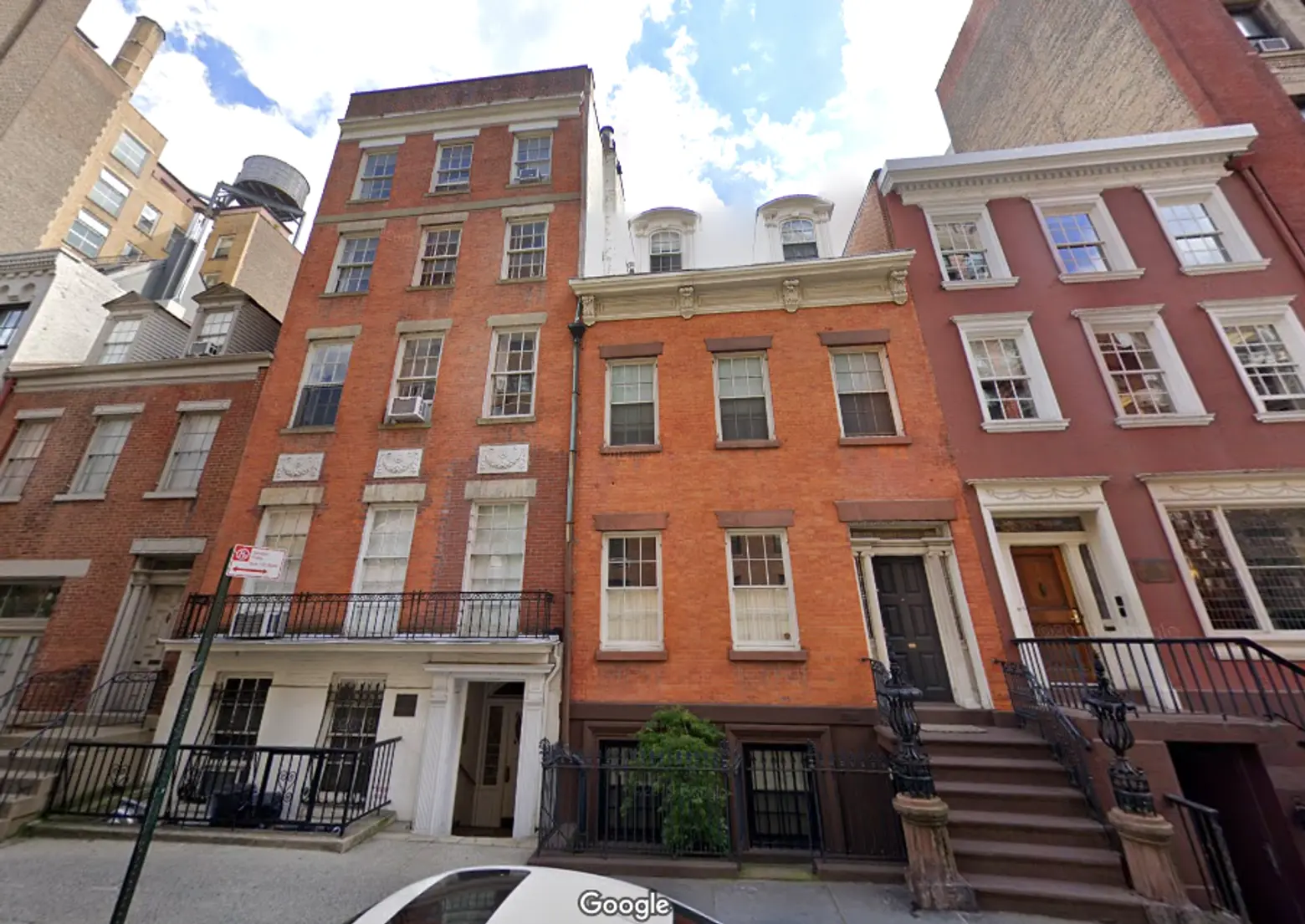 Streetview of 54 West 10th Street; Map data © 2019 Google
7. Hart Crane, 25 East 11th Street, 54 West 10th Street, 79 Charles Street, and 45 Grove Street
At 17 years old, modernist poet Hart Crane moved to New York City from Garrettsville, Ohio. Although he never finished high school, he convinced his parents, to let him prepare for college in the city. Between 1917 and 1924, he shifted back and forth between New York, where he worked as a copywriter for advertising agencies, and Ohio, where he worked at his father's candy factory. Because of his transient lifestyle, he was frequently moving from one apartment to the next.
One of the first places he lived was 25 East 11th Street in 1917. He later lived at 54 West 10th Street, 79 Charles Street, and 45 Grove Street. Crane's most ambitious and well-known work, The Bridge, was conceived while living on Grove Street, although it would take him seven years to complete the modernist epic poem. During this time, he began to drink heavily, finding that when he was drunk and had recently had a sexual encounter he was able to conjure poetic phrases that he would not otherwise be able to do. After its publication, Crane received a Guggenheim fellowship and traveled to Mexico in 1931 to work on another project. While on a ship heading back to New York City in 1932, Crane committed suicide by jumping off the deck somewhere in the Gulf of Mexico. Inspired by T.S. Elliot, Crane himself is cited as an inspiration for later writers like Tennessee Williams.
8. ee cummings, 4 Patchin Place
The great modernist poet-playwright and author ee (Edward Estlin) cummings lived at No. 4 Patchin Place for four decades, until his death in 1962. cummings is most known for his idiosyncratic use of grammar and syntax, most notably his disinclination to use capitalization, even (or especially) for the pronoun "I." Patchin Place was a cul-de-sac of small workingmen's houses off of West 10th Street between Sixth and Greenwich Avenues, across from the Jefferson Market Courthouse (now the Jefferson Market Library). It was during his years on Patchin Place that cummings was his most prolific. While clearly the Village was a source of inspiration for cummings, as it was for so many in those years of the early and mid-20th century, the Village only makes very few explicit appearances in his poetry. cummings was involved with efforts to save the Jefferson Market Courthouse from demolition in the 1950s, which was located just outside his home.
9. Jon Dos Passos, 11 Bank Street
Author John Dos Passos lived at 11 Bank Street from 1924 to 1925 while working on Manhattan Transfer, one of his first books to receive critical acclaim. Dos Passos left Bank Street for an apartment in Brooklyn Heights, coincidentally the same building that poet Hart Crane was living in at the time. Prior to living in New York, Dos Passos spent time in Europe and the Middle East working as a newspaper correspondent. Dos Passos wrote dozens of novels and biographies but is perhaps best known for his U.S.A. trilogy, which includes the novels The 42nd Parallel (1930), 1919 (1932), and The Big Money (1936). This set of works was ranked by the Modern Library as one of the 100 best English-language novels of the 20th century. Written in experimental, non-linear form, the trilogy blends elements of biography and news reports to paint a landscape of early 20th-century American culture.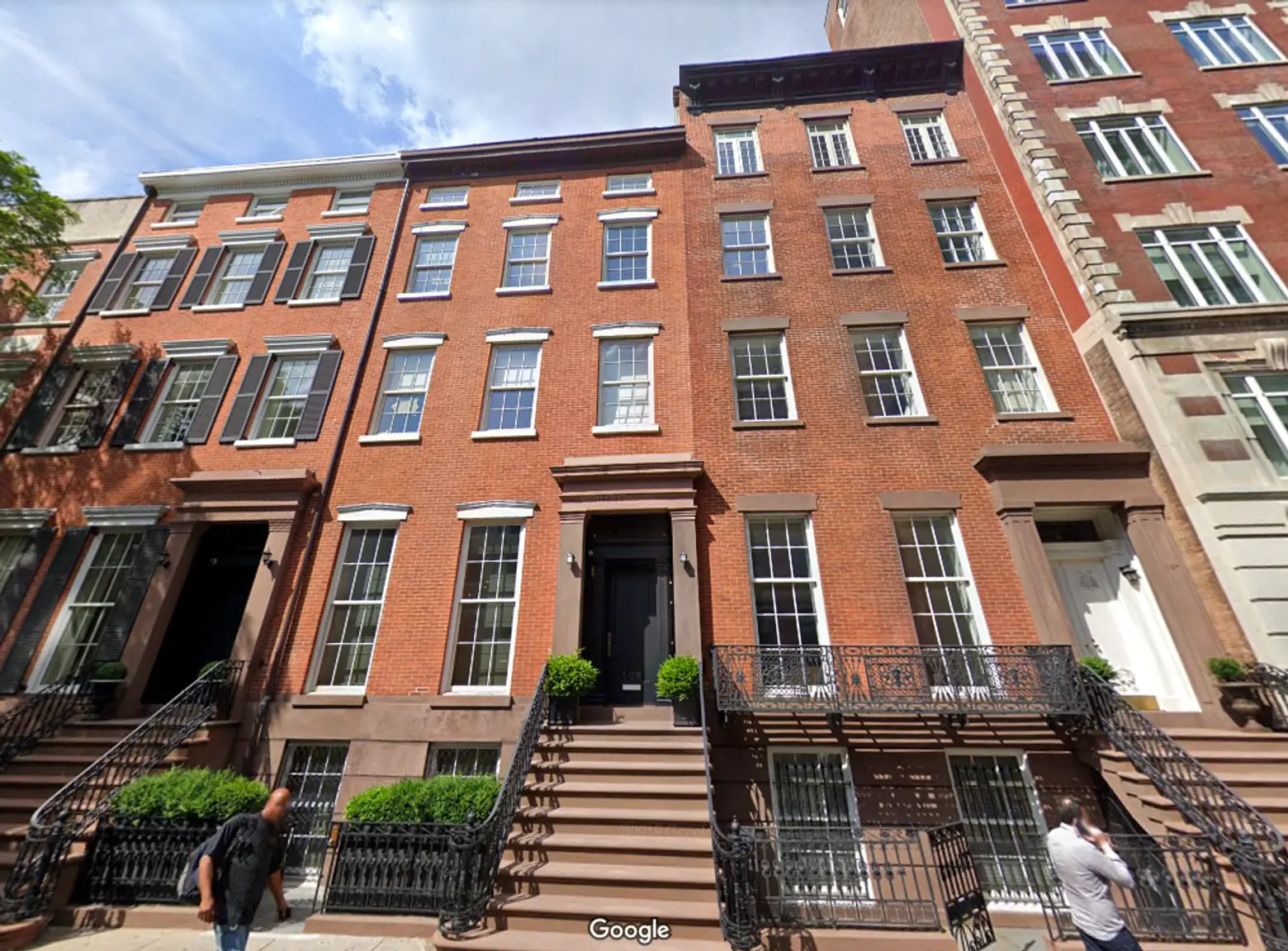 Streetview of 107 Waverly Place; Map data © 2019 Google
10. Robert Frost, 107 Waverly Place
American poet Robert Frost made his home at 107 Waverly Place in 1920. While living in the building, Frost met another poet, Percy MacKaye. It was through this chance meeting that MacKaye informed Frost of his fellowship as a poet in residence with Miami University in Ohio. This reportedly influenced Frost to seek the same position at the University of Michigan, where he was the poet in residence there from 1922 to 1924. Frost received many honors during his lifetime for his poetry, and he is the only person to receive four Pulitzer Prizes for Poetry. He also was awarded the Congressional Gold Medal in 1960 for his work, and on July 22, 1961, he was named poet laureate of Vermont. Although he never graduated from college, he received 40 honorary degrees, including from Harvard, Princeton, Oxford, Cambridge, and two from Dartmouth.
11. Khalil Gibran, 51 West 10th Street (demolished)
Lebanese poet and artist Khalil Gibran lived at 51 West 10th Street (the Tenth Street Studio) for the last 20 years of his life. During that time wrote his most enduring work, The Prophet. Kahlil's family immigrated to Boston in 1895 where he studied English and began to take an interest in the arts. His literary career began in 1904 when he started writing articles in Arabic for the New York-based newspaper Al Muhajir (The Emigrant). After experiencing some success in the Arabic speaking world, Khalil wanted to translate some of his works into English. It was friend, patron, and confidant Mary Cantwell who encouraged him to write new material in English instead of translating his already published works. The Prophet (1923), a series of prose poetry fables, has been translated into 100 different languages and has never gone out of print. On April 10, 1931, Gibran died at St. Vincent's Hospital.
12. Lorraine Hansberry, 112 Waverly Place and 335-337 Bleecker Street
Trailblazing playwright, author, and activist Lorraine Hansberry's first apartment in the Village was at 337 Bleecker Street (above what is now a hat shop), where she lived from 1953 to 1960. After that, with the success of her award-winning Broadway play, A Raisin in the Sun (the first Broadway play ever written by an African American woman), she bought and moved to 112 Waverly Place. Village Preservation unveiled in 2017 a plaque at 112 Waverly Place in celebration of Hansberry's time there.
13. Patricia Highsmith, 1 Bank Street, 48 Grove Street and 35 Morton Street
Author Patricia Highsmith, called the "Dark Lady of American Letters" by her biographer Joan Schenkar, was born on January 19, 1921. She was the author of over 22 books including Strangers on a Train, The Talented Mr. Ripley, and the romance novel The Price of Salt, published under a pseudonym. While she was born in Texas and died while living in Europe, she spent her formative years in Greenwich Village, and many of her books are set in the neighborhood.
Highsmith has long intrigued audiences with her talent, her fascination with crime and the anti-hero, and her many romantic relationships with both women and men. Highsmith's writing is notorious for convincing the reader that crime in society is necessary and logical. After living with her maternal grandmother for her first six years, she moved to Greenwich Village to live with her mother and stepfather. The family lived at 1 Bank Street and, later in 1940, in a one-bedroom apartment at 48 Grove Street. She then sublet an apartment at 35 Morton Street after high school to escape her mother. As a student at Barnard, she would often hang out at Marie's Crisis and the Village Vanguard.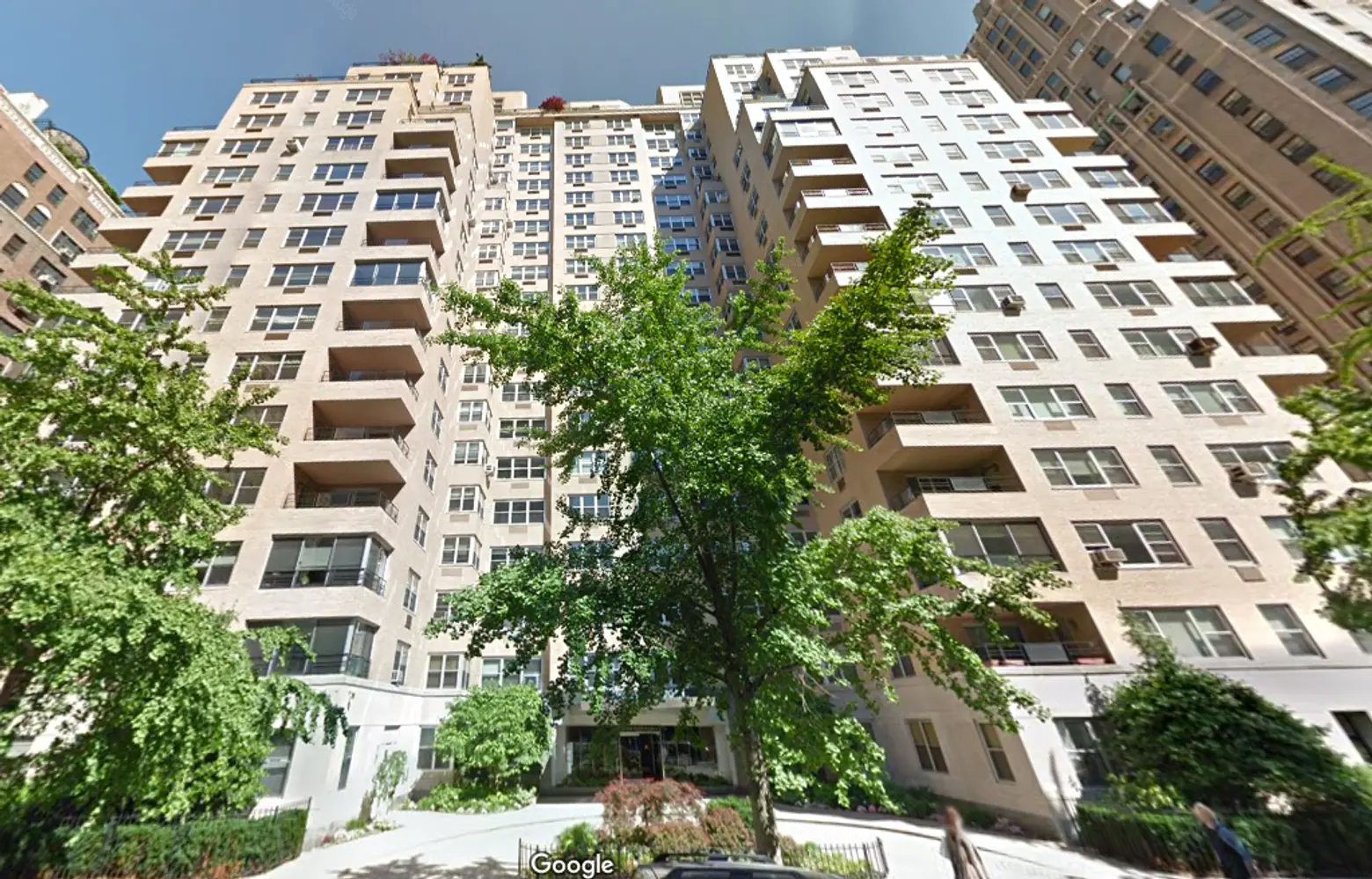 Streetview of 11 Fifth Avenue; Map data © 2019 Google
14. Henry James, 11 Fifth Avenue
Upon returning to New York City from Albany in 1847, novelist Henry James and his family moved into an apartment at 11 Fifth Avenue. They lived there for about a year before relocating to an apartment on 14th Street. His grandmother lived in a townhouse at 18 Washington Square North, which, much to his dismay, was demolished by NYU while he was living in Europe. The apartment at 11 Fifth Avenue was also razed, much later, to make way for the 1 Fifth Avenue apartments. He wrote about the area in his novel, Washington Square (1881).
15. Norman Mailer, 73 Perry Street
Author and journalist Norman Mailer moved to 73 Perry Street in 1958. Mailer had just helped establish the Village Voice three years earlier in 1955 with John Wilcock, Ed Fancher, and Dan Wolf, and written his controversial essay, "The White Negro." At a party in the Perry Street apartment in 1960, Mailer stabbed his wife Adele Morales with a penknife. Although she did not press charges, they divorced two years later. This incident did not seem to affect his productivity or popularity, as he published 17 books between 1962 and 1972. The Armies of the Night (1968) is a nonfiction narrative of the anti-Vietnam War March on the Pentagon for which he won the National Book Award, the Pulitzer Prize, and a Polk Award.
16. Carson McCullers, 321 West 11th Street
Novelist Carson McCullers moved into the house at 321 West 11th Street in 1940. Her first novel, The Heart Is a Lonely Hunter, had just been published and its success immediately launched her into literary stardom. Born in Columbus, Georgia, McCullers often wrote about the lives of outcasts in the South. She and her husband, Reeves McCullers, separated many times and even got divorced and remarried. Nevertheless, they shared the same sense of wanderlust and moved around to various places in the South and Europe together until he ultimately committed suicide in 1953.
17. Margaret Mead, 72 Perry Street
Anthropologist Margaret Mead lived at 72 Perry Street from 1941 until 1955. It was a communal household; Mead, her husband (and colleague) Gregory Bateson, and their daughter shared the house with social scientist and colleague Larry Frank and his family. After receiving her master's degree from Columbia University in 1924, Mead took a trip to the South Seas where she gathered material for her first book, Coming of Age in Samoa (1928). When she was not traveling, Mead worked as a curator at the Museum of Natural History in New York from 1926 until 1969. When she retired she received the title of curator emeritus.
18. Edna St. Vincent Millay, 75 1/2 Barrow Street
The writer of "My candle burns at both ends" lived in "the narrowest house in the Village," 75 1/2 Bedford Street. Her house, a three-story building with an unusual stepped gable where she lived from 1923 to 1924, is reminiscent of the Dutch tradition. According to the Millay Society, "In the immediate post-World War I era, Millay emerged as a major figure in the cultural life of Greenwich Village, when the Village served as an incubator of every important American literary, artistic, and political movement of the period. As part of this milieu, Millay's work and life came to represent the modern, liberated woman of the Jazz age, free of the restrictions of the past…"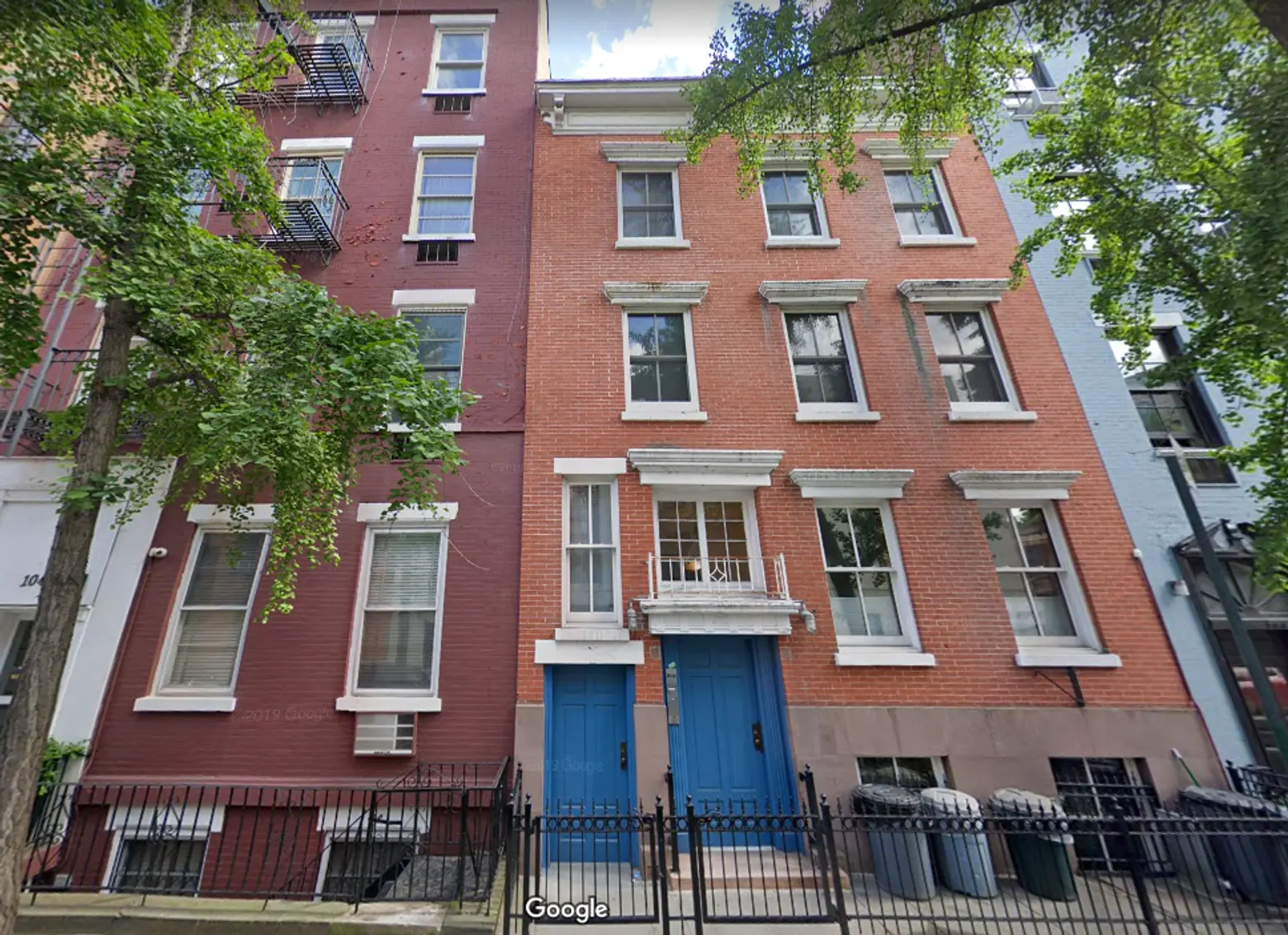 Streetview of 106 Perry Street; Map data © 2019 Google
19. Henry Miller, 106 Perry Street
Author Henry Miller was born in the Yorkville section of Manhattan and grew up in Brooklyn. Many of his novels were semi-autobiographical; among his best known are Tropic of Cancer, Black Spring, Tropic of Capricorn, The Colossus of Maroussi, and The Rosy Crucifixion. The Tropic of Cancer was based on his time in Paris in the 1930s. It was published there in 1934, but banned in the United States until 1961 when it was published by Grove Press.
This led to a series of obscenity trials in which ultimately Grove Press prevailed, in the case of Grove Press, Inc., v. Gerstein before the Supreme Court in 1964. Miller and his second wife, June Miller, lived at 106 Perry Street beginning in 1925. The couple was perpetually broke, as Miller had only recently decided to commit himself to be a writer full time, so they attempted to run a speakeasy out of the apartment. Miller wrote about the experience in Plexus, the second novel of The Rosy Crucifixion trilogy. By 1926 their patrons, most of whom were June's admirers, stopped coming, and the Millers were evicted from the apartment.
20. Anaïs Nin, 215 West 13th Street
The French-born novelist, short-story writer, and diarist Anaïs Nin moved to the top floor skylight studio at 215 West 13th Street with her husband Hugh Guiler in September 1940. She described the room in her diary: "Five flights up. A very large, high-ceilinged room, half of the ceiling an inclined skylight, the whole length of it, twelve windows in all. A small kitchen, with barely enough room for stove and icebox. A small bathroom. A door opening on a back of a factory, but one can smell the Hudson when there is a breeze." After struggling to publish her fiction, Nin purchased a printing press, Gemor Press, at 17 East 13th Street. Here she printed her own books, which incorporated Guiler's artwork under the name Ian Hugo.
21. Thomas Paine, 59 Grove Street and 309 Bleecker Street (both demolished)
One of the early literary celebrities of Greenwich Village was Thomas Paine, author of Common Sense and The Rights of Man. Common Sense (1776) was an early call for the independence of the American colonies from Britain. Widely distributed with more than 500,000 copies sold, the pamphlet had a big influence on the Declaration of Independence. Another sign of the pamphlet's great influence was the hugely negative Loyalist reaction to it. The Rights of Man (1791), was a reply to Burke's critique of the French Revolution. Although he was a best-selling author in the 1770s, by the time of his death in the early 19th century Paine was largely forgotten in America. He was often referred to as "The Infidel" and was not understood by many of the petty-bourgeois who surrounded him.
Paine first lived in Greenwich Village in a house at 309 Bleecker Street, which was demolished in 1930. He later moved into a house at 59 Grove Street, where he died on June 8, 1809. That house also no longer stands, but a plaque on the existing house marks Paine's residence there, as does the century-old bar located in the building, known as 'Marie's Crisis,' partly in tribute to Paine.
22. Edgar Allan Poe, 137 Waverly Place
Dubbed "America's first bohemian," the author of The Cask of Amontillado, The Pit and the Pendulum, the Purloined Letter, The Tell-Tale Heart, The Raven, Annabel Lee, and The Bells' first home in New York was at 137 Waverly Place. He took up his residence, at the corner of Sixth Avenue and Waverly Place, with his wife Virginia and his mother-in-law, Mrs. Clemm. They did not stay for long, moving in the spring of that year to 113-1/2 Carmine Street. He would return, however, to Waverly Place in later years to attend Ann Charlot Lynch's famous literary salons with the likes of William Cullen Bryant, Fitz-Greene Halleck, Horace Greeley, Margaret Fuller, R. H. Stoddard, and Bayard Taylor.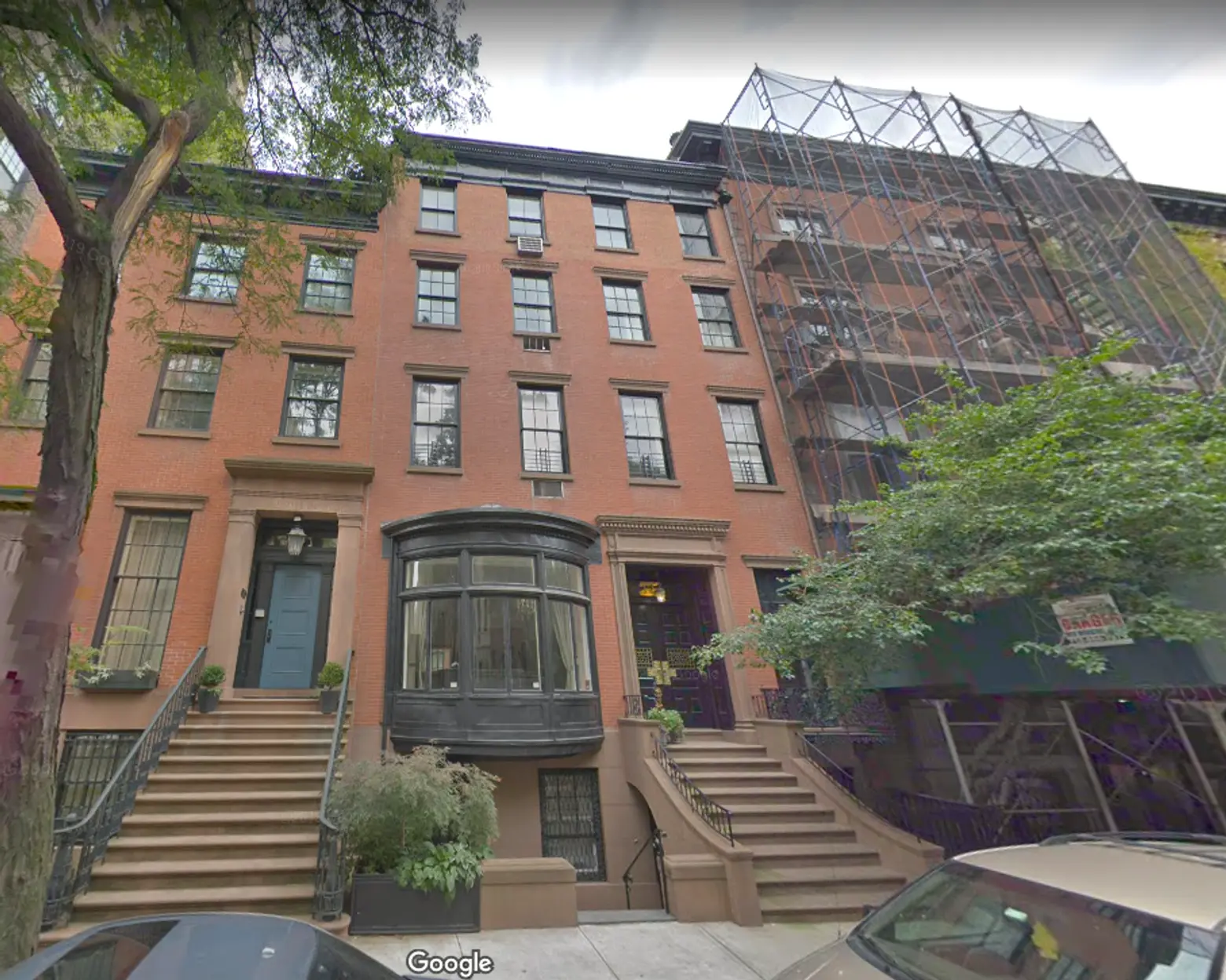 Streetview of 12 West 10th Street; Map data © 2019 Google
23. Emily Post, 12 West 10th Street
Perhaps somewhat counterintuitively, the decorous author Emily Post lived in the notoriously freewheeling and convention-defying Greenwich Village. Post moved from Baltimore, Maryland to 12 West 10th Street with her family in the 1880s. Her father, Bruce Price, was a well-known architect. While Post wrote articles about architecture and interior decorating for magazines like Harper's, Scribner's, and the Century, along with several novels, she is best known for her book, Etiquette in Society, in Business, in Politics, and at Home (1922). Etiquette was an immediate hit and Post would update it as the years went on and social practices changed. The guide went through 10 editions and 90 printings before her death.
24. John Reed, 1 Patchin Place
John "Jack" Silas Reed was an American journalist, poet and communist activist in the early 20th century whose writing about revolutionary events and radical causes made him a very polarizing figure in this country and abroad, and whose life was the subject of the film Reds. He is probably best known as the author of Ten Days That Shook the World, his account of the Bolshevik Revolution which he reportedly wrote from his home at 1 Patchin Place. On a trip to Russia where he was received as a hero, he developed typhus and died at the age of 33 in 1920. He is one of three Americans buried at the Kremlin Wall Necropolis.
25. Maurice Sendak, 29 West 9th Street and 40 Fifth Avenue
In the early 1960s, American illustrator and writer Maurice Sendak lived in a basement apartment at 29 West 9th Street. While living there, he wrote and illustrated one of America's most beloved children's books, Where the Wild Things Are (1963). Born and raised in Brooklyn, Sendak studied at the Art Students League of New York. At age 20, Sendak began working at F.A.O. Schwarz creating window displays. It was through his work at the shop that he met his editor. In 1972, he moved to Ridgefield, Connecticut but maintained a pied-à-terre at 40 Fifth Avenue.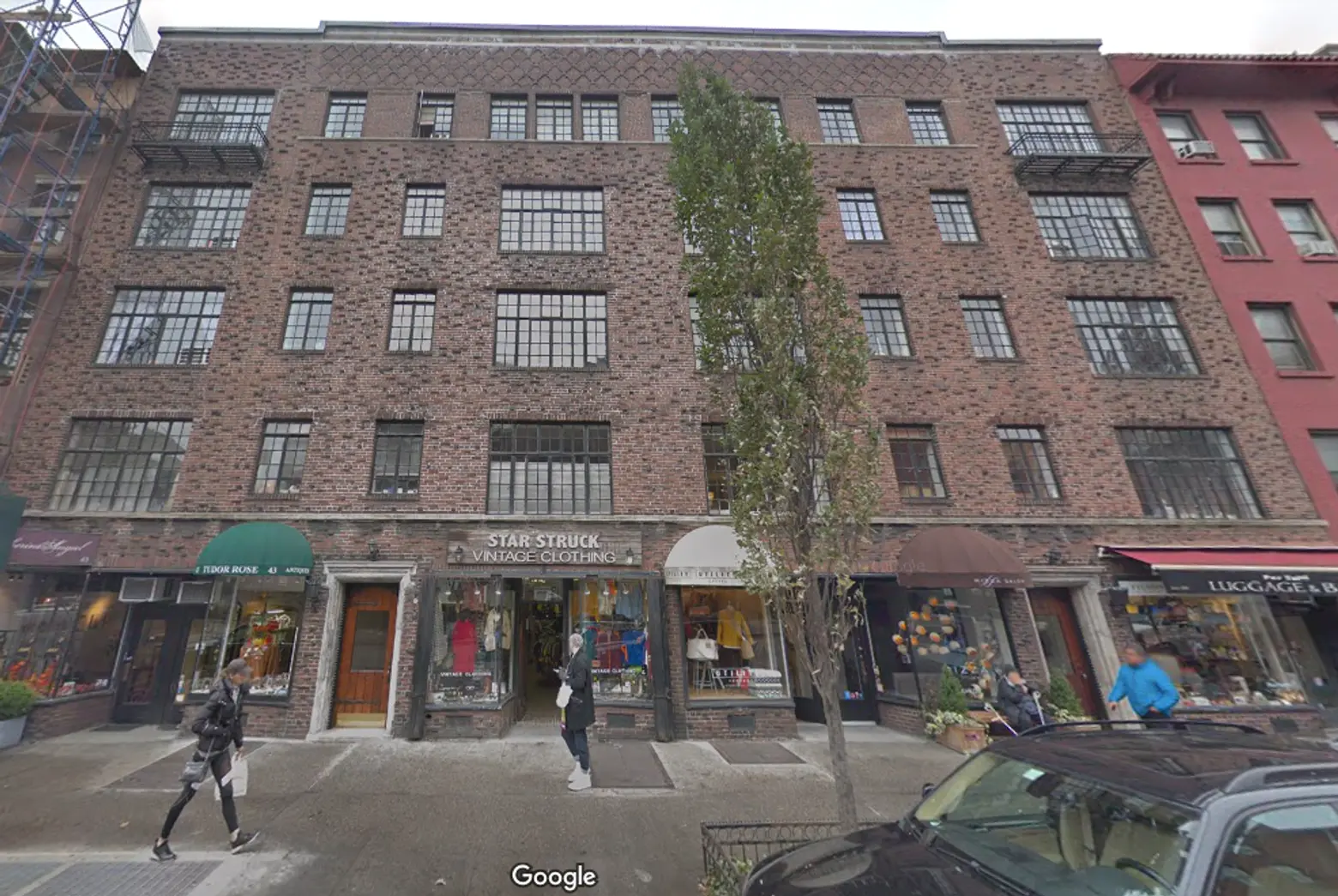 Streetview of 45 Greenwich Avenue; Map data © 2019 Google
26. William Styron, 45 Greenwich Avenue
Author William Styron lived at 45 Greenwich Avenue during his early career as a writer. Styron moved to New York after serving in World War II to pursue his writing career. He studied under author and editor Hiram Haydn at the New School for Social Research. Haydn would guide him in writing his first novel, Lie Down in Darkness, published in 1951, the same year he moved to Greenwich Avenue.
The novel, which follows the troubles of a young Virginian girl in a dysfunctional family, received numerous awards including the American Academy's Prix de Rome. While living in the Village, Styron frequented the San Remo Cafe in the South Village, joining Gore Vidal, William S. Burroughs, Jack Kerouac, Dylan Thomas, James Agee, Frank O'Hara, Miles Davis, and Allen Ginsberg. Styron would go on to write the award-winning but controversial novels The Confessions of Nat Turner and Sophie's Choice.
27. Mark Twain, 14 West 10th Street and 21 Fifth Avenue (demolished)
Mark Twain lived at 14 West 10th Street from 1900 to 1901. A prolific writer who often chose the American scene as his theme, Twain was equally renowned as a raconteur and public speaker. He spent the last decade of his life as a New Yorker, moving his family to West 10th Street – the first in a series of homes in New York in which he lived. Twain, the pseudonym used by Samuel Langhorne Clemens, acquired international fame for his travel narratives, especially The Innocents Abroad (1869), Roughing It (1872), and Life on the Mississippi (1883), and for his adventure stories of boyhood, especially The Adventures of Tom Sawyer (1876) and The Adventures of Huckleberry Finn (1885).
28. E.B. White, 16 East 8th Street and 112 West 13th Street
Elwyn Brooks White famed author of the children's novels Stuart Little and Charlotte's Web lived in Greenwich Village from the mid-1920s until 1935. Better known as E.B. White, the author moved to a two-room apartment on the third floor of the four-story row house at 112 West 13th Street in the mid-1920s. It was around this time that White began writing for the recently founded New Yorker; he became a regular contributor in 1927. White also wrote for Harper's Magazine, publishing poetry and prose before he began writing for children.
In addition to his most famous children's books, White wrote Here is New York in 1949, co-authored Elements of Style in 1959 with his former professor William Strunk Jr., and published Trumpet of the Swan in 1970. White received the National Medal for Literature in 1971, and two years later was elected to the American Academy of Arts and Letters. He was honored with the National Medal for Literature, a special Pulitzer award, and the Laura Ingalls Wilder Medal. White died of Alzheimer's in 1985.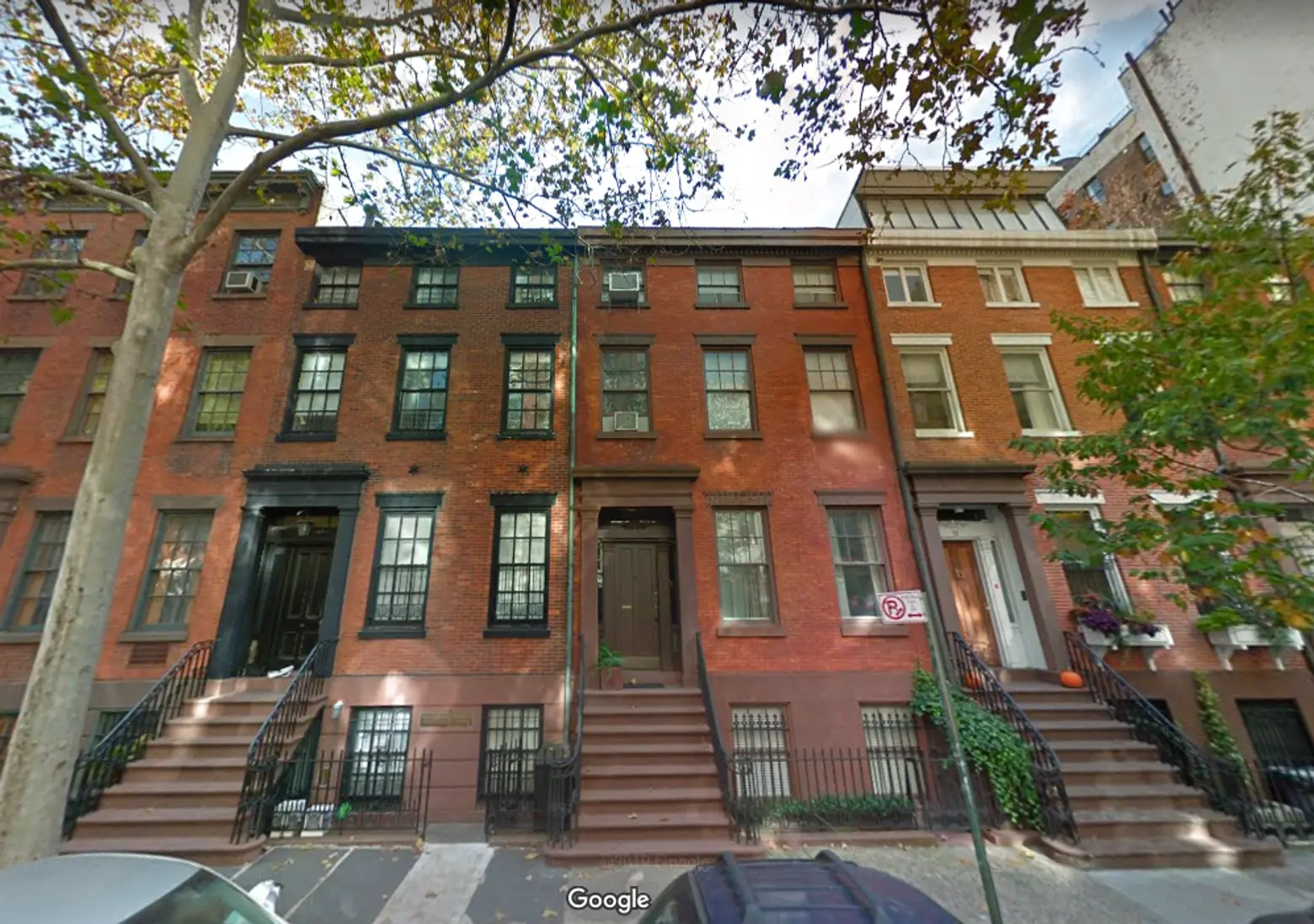 Streetview of 48 West 11th Street; Map data © 2019 Google
29. Oscar Wilde, 48 West 11th Street
Irish writer Oscar Fingal O'Flahertie Wills Wilde was born on Oct. 16, 1854. The author of many short stories, plays such as The Importance of Being Earnest and The Duchess of Padua,  and the novel The Picture of Dorian Gray, Wilde was a popular writer during his lifetime and continues to be so today. Wilde stayed at 48 West 11th Street during a visit to New York City, perhaps when his first play ever staged, Vera; or the Nihilists opened at the Union Square Theater. Wilde also posed for Napoleon Sarony, the most famous portrait photographer in the country at the time, whose studio was located at 37 Union Square. He posed once at the start of his tour in 1882 and again in 1883.
Perhaps the most lasting tribute to the author in the Village is the now-closed Oscar Wilde Bookshop, which was opened by Craig Rodwell in 1967 and is believed to be the country's first gay bookstore. During his lifetime, Wilde was put on trial, convicted of sodomy, and jailed for two years, an experience the author wrote about in the poem The Ballad of Reading Gaol.
30. Thomas Wolfe, 13 East 8th Street and 263 West 11th Street
Author Thomas Wolfe moved to 13 East 8th Street in 1925 while teaching at NYU and working on his novel, Look Homeward Angel. The fourth-floor walk-up garret was financed by his lover, Aline Bernstein, a married costume and theater set designer. Their tumultuous affair went on for several years and they eventually relocated to a larger apartment on 263 West 11th Street. When Wolfe finished the first draft of the novel in 1929, Bernstein was the one to hand distribute the manuscript to publishers for him. Although he dedicated the book to her (initials A.B.) when it was published, he quickly began seeing other women. By 1931 he had moved to a place of his own in Brooklyn. Other notable works include You Can't Go Home Again. Wolfe would exert a huge influence upon the Beat writers which followed him into Greenwich Village a generation later.
31. Richard Wright, 13 Charles Street (demolished)
Novelist Richard Wright bought a townhouse for his family at 13 Charles Street in 1945, which was demolished in the early 1960s to make way for the large apartment building at 15 Charles Street. Wright's work largely concerns the treatment of African Americans in the United States. He was one of the first African American authors to protest this treatment through his writing. In an effort to escape the extreme racial prejudice of the South, where Wright had spent most of his life, he and his aunt moved to Chicago in 1927. Although he had little formal education due to frequent moves throughout the South and the need to help support his family, Wright educated himself by reading the works of H. L. Mencken, Theodore Dreiser, Sinclair Lewis, Sherwood Anderson, and Frank Harris.
By the time Wright purchased the house at 13 Charles Street, he had been living in the city for five years, working as the Harlem editor of the Communist paper, Daily Worker. He was also an active member of the communist party since his days in Chicago, although he left by 1940. In 1940 his second novel, Native Son, was published and received international acclaim. It was adapted into a play in 1941 which Orson Wells directed. When Wright's daughter was born in 1942, he and his wife were living in Brooklyn, a place they considered to be fraught with racial tension. In an effort to escape this racism and to ensure better educational opportunities for their daughter, they had Wright's lawyer purchase the house at 13 Charles Street in his name.
Unfortunately, Greenwich Village was not entirely devoid of racism and after a couple of years they decided to move to Paris. While living in the Village, however, Wright was a patron of the famous Cafe Society nightclub, along with Walter White, Ralph Bunche, E. Franklin Frazier, Sterling Brown, Langston Hughes, and Paul Robeson. Along with Native Son, his works Uncle Tom's Children, Black Boy, and The Outsider drew attention to racism and the plight of African Americans in the mid-20th century.
RELATED:
+++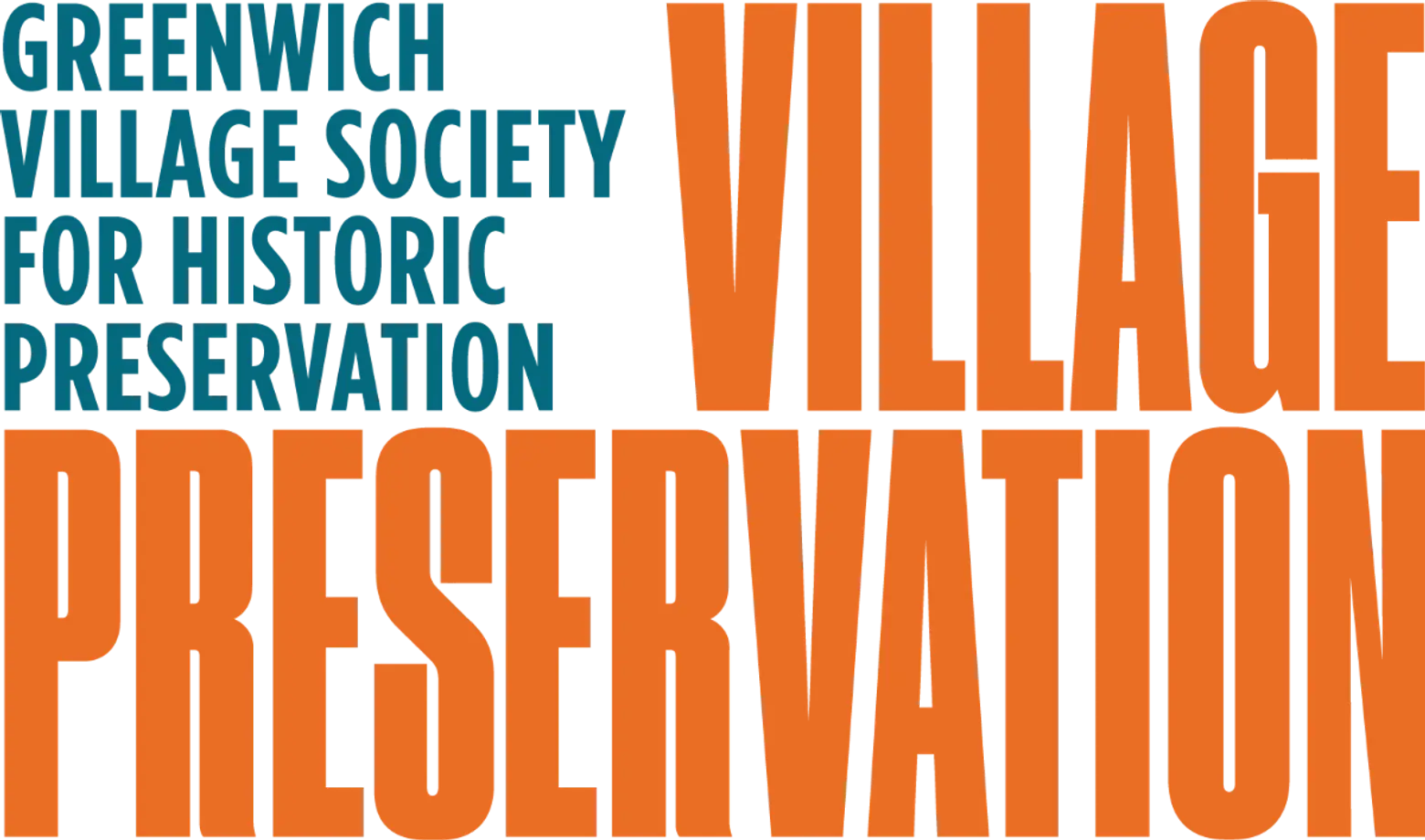 This post comes from Village Preservation. Since 1980, Village Preservation has been the community's leading advocate for preserving the cultural and architectural heritage of Greenwich Village, the East Village, and Noho, working to prevent inappropriate development, expand landmark protection, and create programming for adults and children that promotes these neighborhoods' unique historic features. Read more history pieces on their blog Off the Grid