Where to order takeout Easter and Passover meals in NYC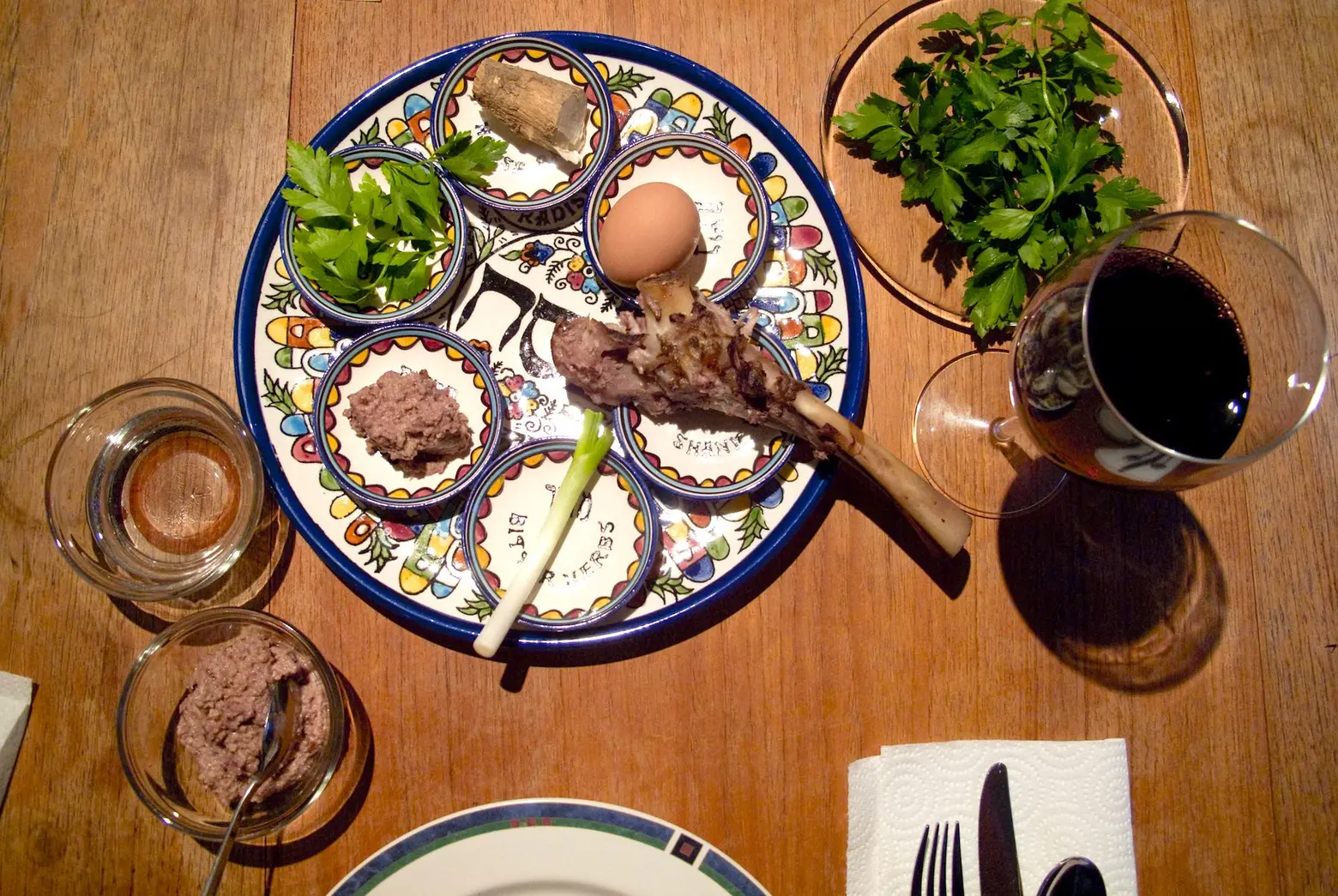 Though restaurants are now open, many New Yorkers are still choosing to spend Passover and Easter at home. And thanks to local restaurants, catering companies, and delicatessens, handmade holiday meals can be delivered to your doorstep or picked up from your favorite spot. Ahead, find places for to-go Seder dinners and Easter brunch and baskets.
Passover
Butterfield Market
The Upper East Side's longrunning Butterfield Market is offering prepared Passover meals for pick up and delivery. Packages include dinners for two ($150) and six ($350) and include main courses of brisket with gravy, a whole roasted chicken, or cedar plank salmon. Sides include matzoh stuffing, traditional gefilte fish, potato pancakes, and more, with a dessert of flourless chocolate cookies and coconut macaroons. Customers can also purchase a traditional Seder plate for $24 that comes with egg, roasted shank bone, parsley, haroset, and horseradish root.
Elegant Affairs
NYC and Hamptons-based catering company Elegant Affairs is known for serving dinners at high-end social events. Now the company, run by Andrea Correale, will bring its home-cooked catering options to your home for the holidays. The large Passover menu includes a "Seder Plate" option for $40, as well as platters of appetizers, entrees, sides, and desserts.
Eli's Market
Eli Zabar's grocery has a huge catering menu for Passover. There are traditional items like a Seder plate ($32), handmade matzo ($20 for a half-pound), and Eli's chunky chopped liver ($24/pint). There are also dinner options like gefilte fish with carrots (Eli's mother's recipe!), whole-roasted brisket, and a whole-roasted capon with
rosemary and shallots. And, of course, there are all the sides and desserts you could think of.
Citarella
This much-loved food market has Seder plates, gefilte fish, and a yummy brisket dinner that includes a Seder plate, Streit's matzoh, chopped chicken liver, matzoh ball soup, tzimmes, gefilte fish, red horseradish, sautéed green beans, potato kugel, brisket gravy, haroseth, chocolate flourless cake, and assorted coconut macaroons. It feeds four people and is $219.
Russ & Daughters
All of your Jewish comfort food needs can be met thanks to Russ & Daughters, a New York City institution for over a century. Their Passover meals can be delivered locally in Manhattan or Brooklyn and also shipped nationally. There are plenty of a la carte options, as well as the Passover Essentials meal that comes with chopped liver, gefilte fish, charoset, matzo ball soup, grated horseradish, matzo, assorted macaroons, Haggadah, and a limited edition Russ & Daughters seder plate. It's $160 for 4-6 people and $245 for 8-10 people. And if you have a sweet tooth, there's a $70 dessert sampler that includes assorted macaroons, flourless chocolate cake, chocolate toffee matzo, and fruit slices.
The Ribbon
Passover classics from The Ribbon can be delivered straight to your door, with dinner starting at just $34.95 per person. In addition to the traditional pre-made options, like gefilte fish and brisket, the Upper West Side restaurant is also selling DIY Seder plates.
Breads Bakery
Breads Bakery is providing all your Seder needs with matzah ball soup, haroset, and two delicious types of matzah brie (mushroom/herb or spring sunchoke/gruyere). A number of flourless desserts, from macaroons to brownies, are also available for purchase. And for the first time, they are offering a full-course Seder for $295 (it serves 4-6 people). Order through services like Postmates or Caviar for delivery.
Gertie
This modern Jewish deli in Williamsburg has a special Passover Seder feast for two people for $125 ($50/additional guest). It comes with matzoh ball soup, house-made gefilte fish, the big salad, sweet-and-sour brisket, sautéed asparagus, potato kugel, orange almond cake, and a bottle of funky red wine.
Katz's Deli
You can always buy Katz's legendary pastrami or corned beef, but for the holiday they have a special dinner package that comes complete with gefilte fish, matzoh ball soup, brisket, potato kugel and a special Kosher for Passover honey cake. It's $175 and serves 6-8 people.
Dickson's Farmstand
Located at Chelsea Market, this neighborhood butcher shop has a special Passover pot roast for $45. It feeds four people and comes with tomato, carrot, red wine, beef stock, and aromatics. There's also whole and local NY state beef brisket, roasted lamb shank bone, and a haroset plate.
Zucker's Bagels and Smoked Fish
Forget the bagels (just this week) and order a Passover brunch from Zucker's. The holiday package includes matzo, hand-sliced Nova lox, choice of three cream cheese, and Zucker's famous everything seasoning. The package, which costs $140 with free shipping, serves about 12 people. Order it here.
BKLYN Larder
This cheese and provisions shop has some lovely gift box options for the holiday. There's a $110 Passover cheese box or the $65 Passover gift box that comes with the Matzo Project everything chips and salted matzo flats, Larder-made matzo toffee squares, and larder-made macaroons.
Easter
Butterfield Market
Butterfield is also selling meal packages for Easter brunch and dinner for delivery and pickup. Brunch options include ham and swiss or vegetable quiche, a salad, smoked salmon canapes, deviled eggs, and fresh fruit salad, priced at $85 for two and $255 for groups of six. For dinner, choose from main courses such as rosemary-roasted leg of lamb, glazed spiral ham, and grilled cedar plank salmon. There are bubbly beverage options you can add on, too.
Citarella
For Easter, Citarella has a fun Easter bread, challah bread decorated with dyed eggs and topped with colorful sprinkles. They also have a delicious spring lamb feast that includes baked clams, pizza Rustica, stuffed artichokes, stuffed mushrooms, sautéed string beans, roasted carrots, potato purée, pea soup, cheesecake, and cannoli dip. For eight people it's $359 (or just $45/person).
Bubby's
This neighborhood spot in Tribeca is always a go-to for brunch, and their traditional favorites–famous sourdough pancakes, flaky buttermilk biscuits, avocado toast, fried chicken, and of course pie–are all available on Easter Sunday for takeout. There will also be a special Easter ham plate. Another fun offering is their DIY Pie Kits. Equipped with frozen pie dough, apple or sour cherry filling, a disposable pie tin, and a branded fluted pastry wheel, you'll have everything you need to make your own Bubby's pie at home ($50).
Dickson's Farmstand
For the holiday, Dickson's has a special heritage smoke Easter ham for $50.97 that's been brined for seven days and smoked for 20 hours with hickory and applewood. For smaller gatherings, they have a mini holiday ham or $33.98, and of course, there are all their regular lamb offerings like lamb shoulders, shanks, racks, loin chops, and meatballs.
Baldor Speciality Foods
Baldor Specialty Foods has partnered with three top NYC caterers to deliver Easter dinner straight to your door:
Abigail Kirsch's Easter Dinner includes pickled veggie crudites, dips and deviled eggs to spring lamb ragout, boneless lamb Osso Bucco chunks, and berries and cream crostata. ($260. Serves 4)
Relish's Ham Dinner features a packed salad with greens, cheese, nuts, and cheddar biscuits, followed up with a spiral ham (bone-in, and mustard glazed), alongside roasted carrots and garlic-laced mashed potatoes and finished with a lemon layered sponge cake. ($215. Serves 4.)
Great Performances Easter Dinner includes pink, pickled deviled eggs, honey glazed Easter ham with mustard jus, thyme rubbed fingerling potatoes, and a salad packed with a rainbow of vegetables, and a deeply colored blackberry dressing. For dessert, they're including a generous lemon and toasted coconut layer cake. ($240. Serves 4)
Rainbow Room
This iconic restaurant is offering a pre-fixe Easter dinner for four to six people for $325. It includes apricot and pistachio stuffed lamb leg or beef wellington with Madeira jus, appetizers like a Caesar salad, Tuscan soup, and parmesan shortbread or crab cakes with romesco sauce and fennel salad, vegetable sides like grilled asparagus, potato and leek gratin, collard greens with smoked ham, Hasselback carrots, and pineapple stuffing, cheddar biscuits and parker house dinner rolls, and your choice of dessert. A la carte options are available, as well. All orders for pickup or delivery must be placed online through Toast by Tuesday, March 30 at 5:00 p.m.
Malibu Farm
This California-inspired restaurant at the South Street Seaport is offering its a la carte brunch and dinner menus with additional Easter specials for pickup and delivery. A Swedish Brunch Board comes with gravlax with mustard dill sauce, new potatoes, and jammy eggs, and there's also a Swedish meatballs special and a "duck and grains" option that comes with duck egg, forbidden rice, purple sweet potatoes, and pea shoots.
The Fulton by Jean-Georges
If you want to go a bit more upscale, this other South Stree Seaport restaurant has a seasonal five-course Easter menu that's $298 for two people. Available for pickup or delivery, it comes with deviled eggs with caviar; warm asparagus with a morel vinaigrette; lamb rack with crusted herbs, artichokes, and spring onions; potato puree with lemon confit and chives, and an almond layer cake with fresh strawberries and strawberry sorbet.
Balade
This East Village restaurant blends Lebanese cuisine with flavors from across the Middle East and is serving an Easter Special of Mloukhiye (mallow leaves cooked with chicken, cilantro, vinaigrette topped with toasted pita chips, served with rice) and will include hard-boiled eggs for egg tapping for Easter Dinner.
Via Vai
You'll have to order it in advance, but Astoria's Via Vai has a special Italian-style Easter dinner that's a four-course prix fixe menu for $75/person. The menu includes: a choice of baked eggs with porcini mushrooms and fontina cheese or Fois Gras al Torcion; pappardelle with lamb ragù, asparagus, and black truffle sauce or mushroom and potato gnocchi with rabbit and sundried tomato pesto; almond-encrusted lamb chops or seared duck breast; and bombolone or maritozzo for dessert.
Murray's Cheese
For those who prefer cheese over chocolate, check out Murray's Cheese Easter Baskets.  The store is selling build-your-own gift crates stuffed cheese, charcuterie, and specialty foods. Plus, Murray's offers premade cheese boards for a taste of everything, from pickles and cheese to flower-coated cheese in their "spring bouquet" board.
Economy Candy Easter Pack
Candy connoisseurs would enjoy an Easter Basket tailor-made by the Lower East Side favorite, Economy Candy. This Easter the store is offering unique candy packs that include an assortment of chocolate eggs, toys, and jelly beans, starting at $35 and costing up to $100 for the "ultra bunny" option. The store's full selection of individual Easter candy can be found here.
Li-Lac Chocolates
Give the gift of handmade chocolate this Easter with an impressive basket from Li-Lac Chocolates, Manhattan's "oldest chocolate house." Gourmet goodies range from chocolate Easter bunny pops for $4 to a giant chocolate Easter egg for $295. The "jumbo" basket goes for $185 and is filled with only the best jelly beans and chocolate.
Maman
French bakery and café Maman will be celebrating Easter with a pop-up at their soon-to-open Brooklyn location (154 Court St.) every day from March 27th through April 4th. Guests can build their own Easter boxes (with an arrangement of handmade desserts such as Vanilla Blueberry Bunny Macarons, "Eggs In a Nest" Brown Butter Coconut Oatmeal Cookies) or pick up other sweet treats like lemon olive oil cake, a cookie decorating kit, or three seasonal chocolate drinks. In addition, Maman has festive cookie boxes including the Cottontail Tea Party Box, Easter Cookie Assortment Gift Box, and Dough which are available for national shipping.
BKLYN Larder
For Easter, BKLYN Larder has a candy box, a chocolate box, or a cheese box.
Chip City
At all six of their stores (Astoria, Ditmars, LIC, Sunnyside, Williamsburg, and West Village) from Thursday, April 1 through Sunday, April 4, Chip City will have three special Easter flavors–Carrot Cake (spiced cookie made with carrots and toasted pecans filled with sweet cream cheese icing), Cadbury Chocolate Chip (Chip City's famous chocolate chip cookie topped with Cadbury Mini Eggs), and Bunny Funfetti (vanilla sugar cookie mixed with rainbow sprinkles and topped with bunny sprinkles).
The Nonchalant Cook
These sweet grazing boards can be picked up or delivered locally in NYC, including Brooklyn and Queens. The Easter Board comes in two sizes —medium ($195, serves 10 people) or large ($365, serves 20+ people). It includes bunny sugar cookies, French macarons, fresh fruit, chocolate eggs, marshmallows, and chocolate-covered pretzels and coconut, all in the beautiful pastel colors of Easter.