'Welcome' sign will soon replace the iconic Watchtower sign in Brooklyn Heights
Rendering courtesy of Columbia Heights Associates
The Brooklyn skyline will soon get a new sign to replace the iconic 'Watchtower' one that was put in place by the Jehovah's Witnesses in 1970 and removed in 2017. The 15-foot-tall red sign crowned the building at 25-30 Columbia Heights for nearly five decades while the Jehovah's Witnesses owned the campus, which served as their headquarters. The new sign will read 'Welcome' in similar red lettering and will be installed before the end of the month, as first reported by the New York Post.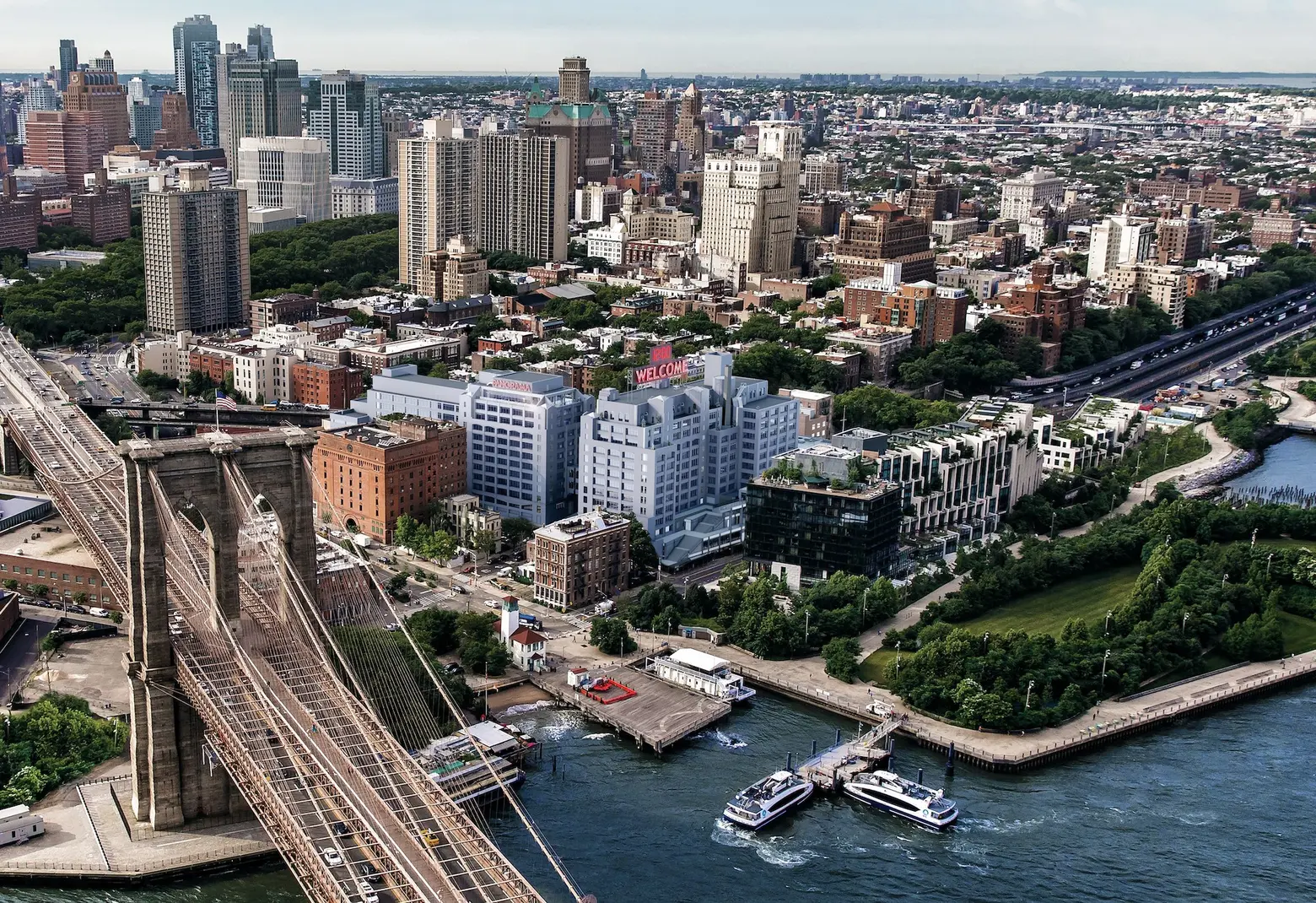 When Columbia Heights Associates (a consortium of developers including LIVWRK and CIM Group) bought the property in 2016, the Department of Buildings didn't want the sign to be replaced, claiming that it had been put up illegally in the first place. The 'Watchtower' sign itself replaced a sign put up by the E.R. Squibb pharmaceutical company, who owned the building first. The DOB maintained that sign was also illegally erected, but lawyers were able to find several documents showing that approvals had been granted. The new sign was approved last November.
The sign will adorn the top of Panorama, a new office and retail campus being developed by Columbia Heights Associates. Encompassing two city blocks, the 750,000-square-foot mixed-use campus will include five interconnected buildings and feature 20 outdoor terraces, collaborative workspaces, a retail plaza, a parking garage, and fitness center.
The sign "reinforces the idea that Brooklyn is an inviting place for companies to set up shop," according to a recent statement from the developers.
"For decades these buildings and their surroundings were closed to the public, and we wanted our renovation to celebrate Panorama becoming an accessible and vital part of the new fabric of the Brooklyn waterfront," said Jason Schreiber, principal of investments at CIM Group. "To our neighbors, tenants and the entire city, 'Welcome' reflects this message."
But the new sign won't necessarily be a permanent fixture. "A Panorama flagship tenant will have the ability to replace the sign and use it as a major branding opportunity," the developers added.
RELATED: