Was Hemingway's Beloved Memoir 'A Moveable Feast' Finished Within These Walls?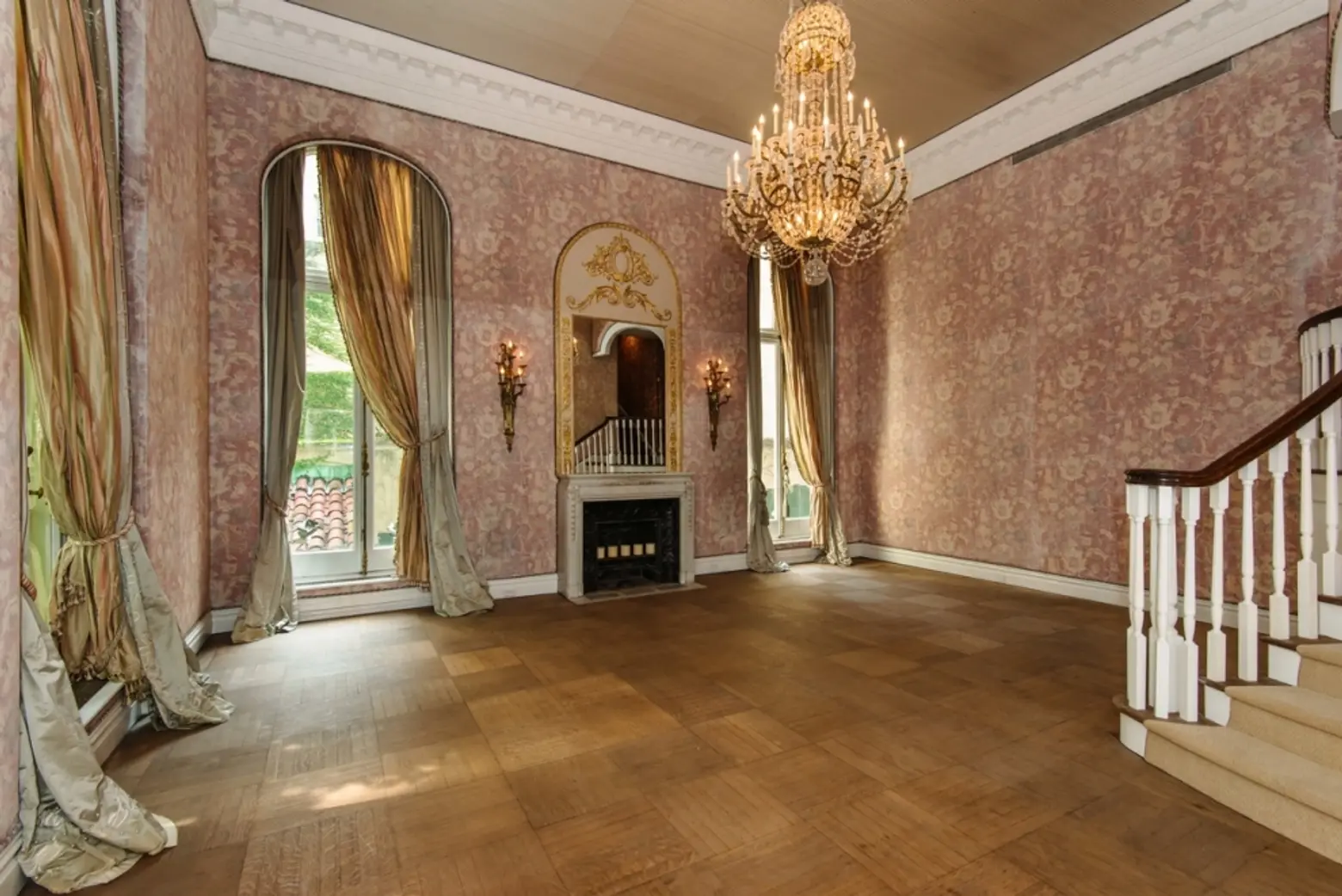 In the fall of 1959 American author Ernest Hemingway rented a small apartment at 1 East 62nd Street, just off Fifth Avenue, in an attempt to achieve some privacy on his visits to New York City. Although eventually published posthumously, A Moveable Feast, was scheduled to be released the following year, and Hemingway spent the better part of 1959 completing this tale of his early days spent among writing giants the likes of F. Scott Fitzgerald, Gertrude Stein and James Joyce.
We may never know if the walls of the now Spencer Condominium got to see those finishing touches, but we're pretty sure they've witnessed a great deal of history since the limestone mansion was built at the turn of the century for John Drexel, grandson of the founder of Philadelphia banking house Drexel & Co.
Though the exterior remains much as it did back then, the house was delicately carved into multiple apartments in the 1930s, one of which is this two bedroom, two bath duplex whose description is worthy of a literary masterpiece all its own.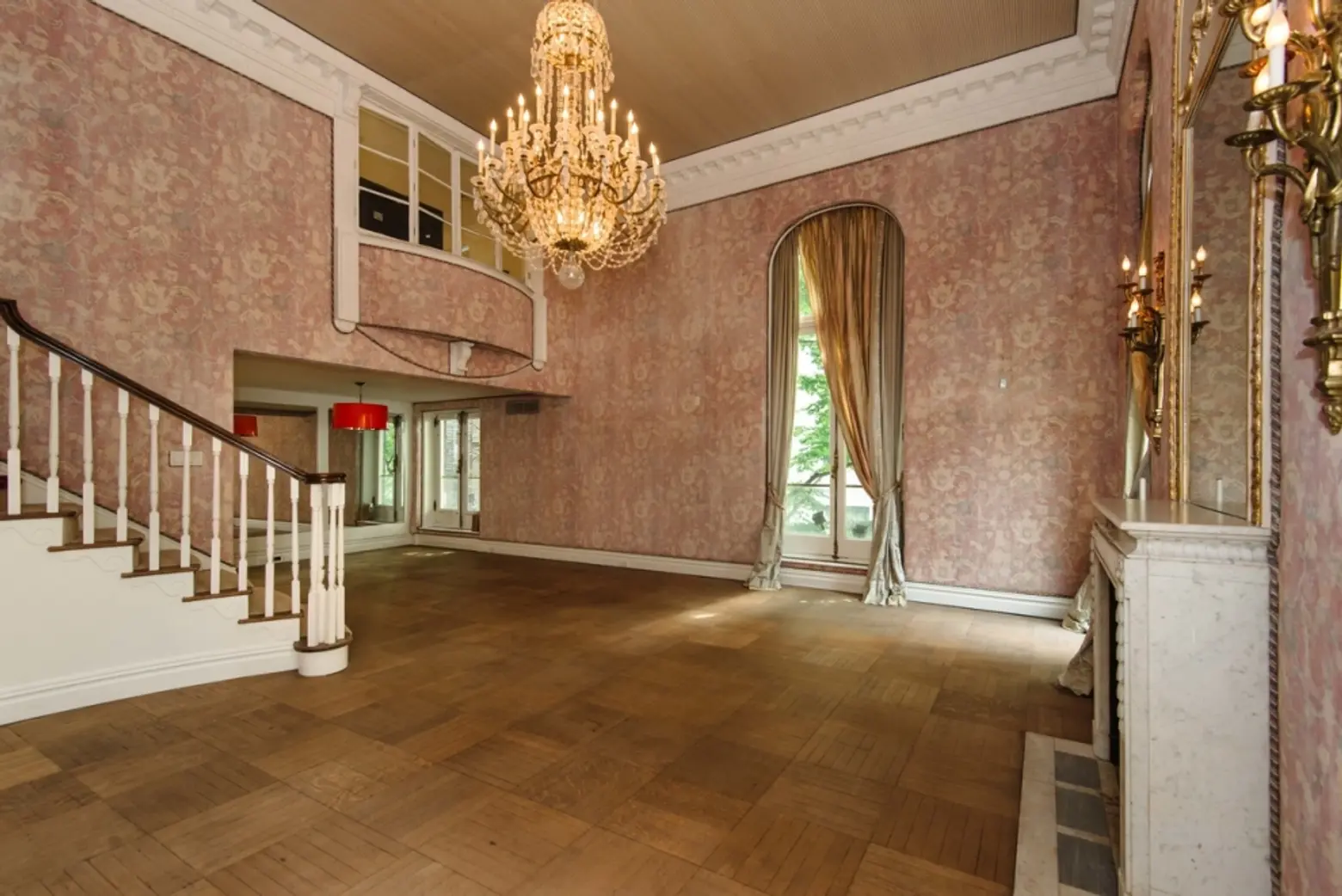 The minute we saw the parlor floor's graceful living room, with its soaring 19-foot ceilings, wood burning fireplace, oversized crown moulding, and floor-to-ceiling arched windows, we could picture a young, elegantly attired debutante slowly making her way down the dramatic staircase to attend her first cotillion. The classic beauty of the room almost appears untouched by time, yet still feels right at home in the 21st century.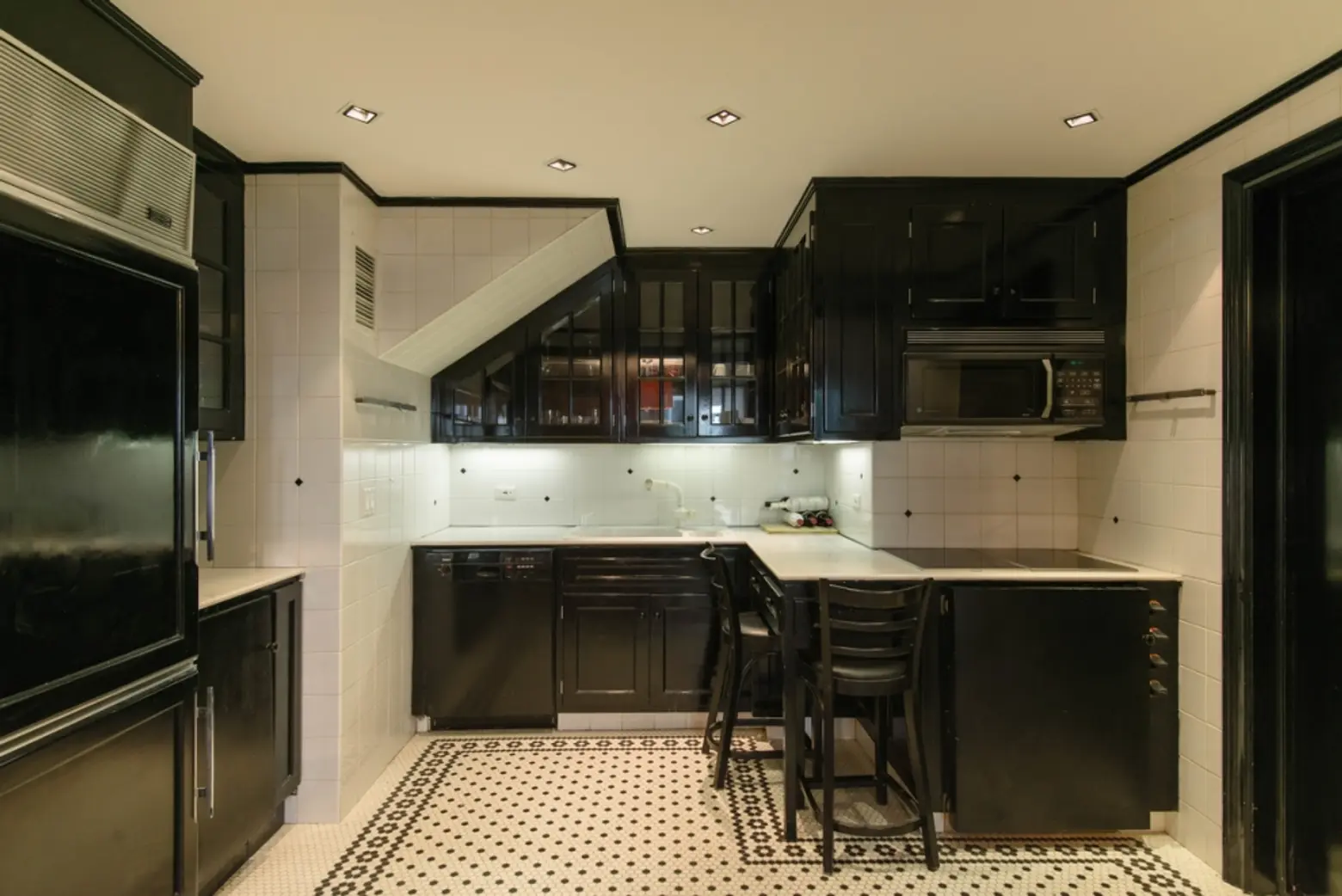 The rest of the residence's look has been thoroughly modernized. The main kitchen (we say main because there are two!) is done in black and white and features plenty of cabinet space, a made-for-two eating bar, and a vintage-patterned tile floor that perfectly sets the tone for the space. The second – and very blue – kitchen is tucked away in a small but functional mezzanine overlooking the living room. To be honest, we're not exactly sure how to best use this additional area but it is completely adorable with black wood floors and black and white accents against blue cabinetry; perhaps a great staging and prep area when the main floor is being used for entertaining – a different kind of movable feast one might say!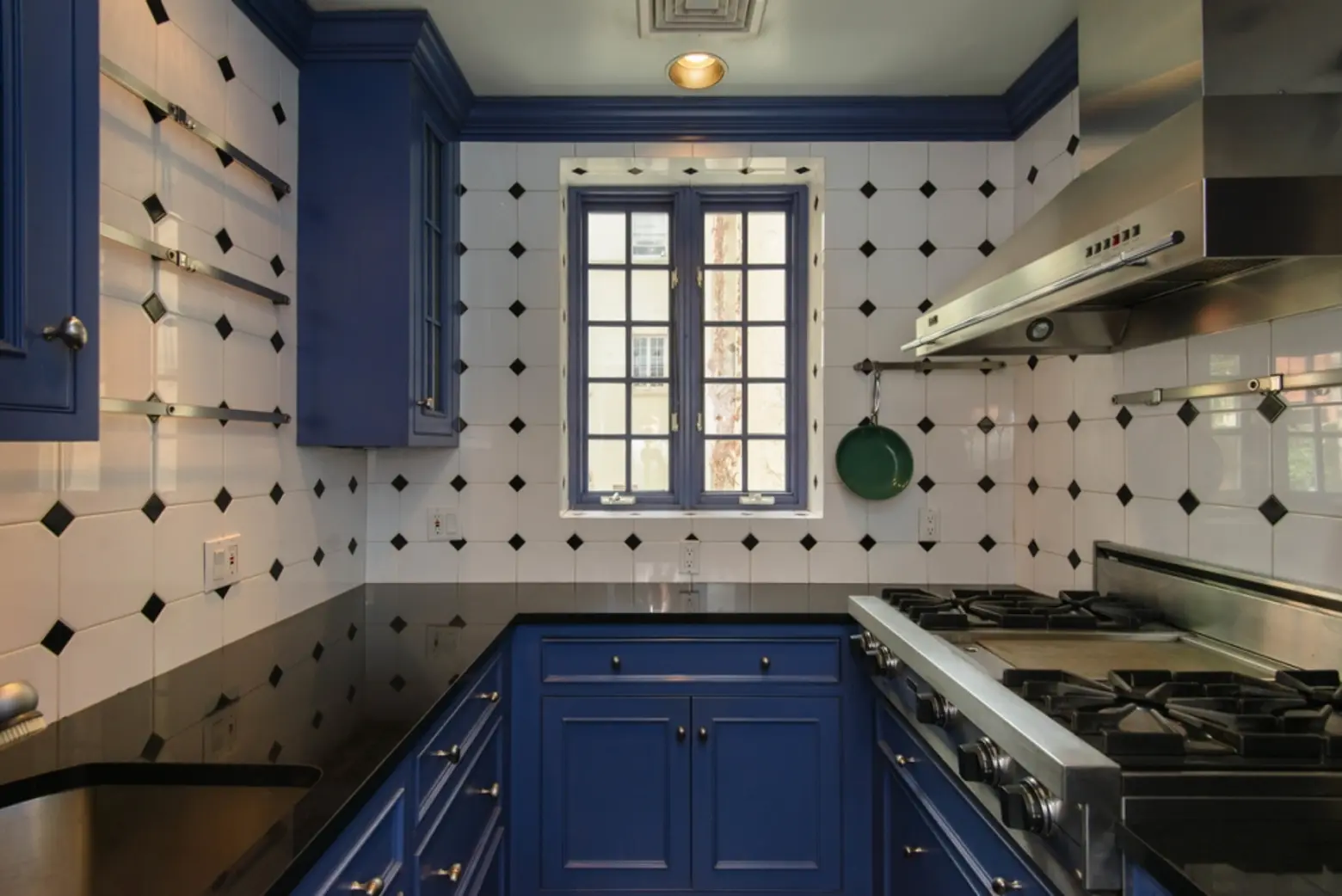 Situated between the living room and the kitchen is a separate corner dining room completing the well-designed flow of the parlour floor.The upstairs bedrooms each boast clean lines, crisp white walls, recessed lighting, and plenty of room for a king-sized bed and lots of furniture; both have their own en suite bathrooms and an abundance of closet space.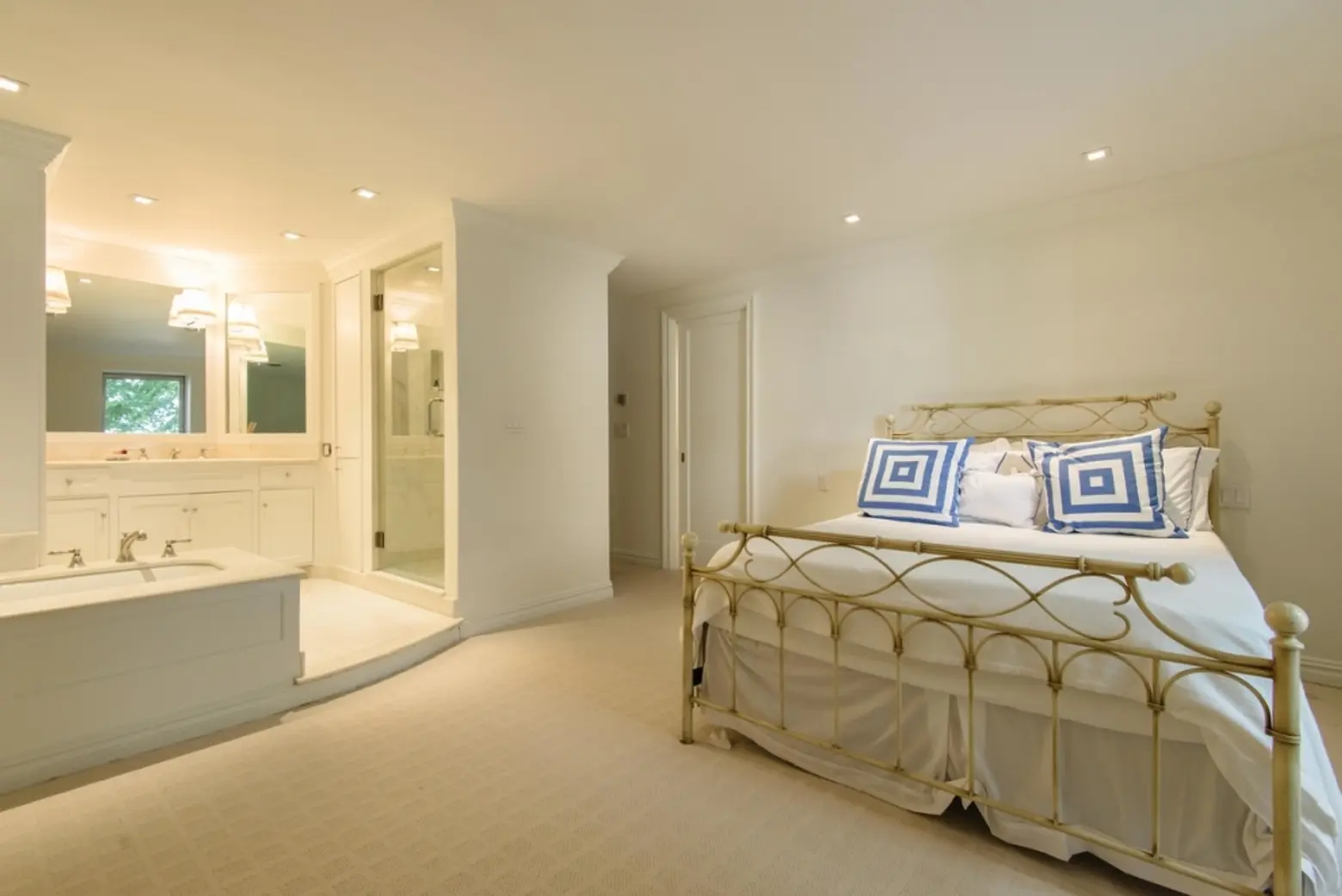 Whether or not Mr. Hemingway completed the last of his classics here, this $27,500 per month rental is more than okay in our book; but you can decide for yourself.
[Listing: 1 East 62nd Street Unit 2B by Robby Browne, Chris Kann and Jennifer Ireland at Corcoran]
[Via CityRealty]
Photos courtesy of Corcoran.