Amazing NYC Office Interiors That Inspire and Promote Innovation
Workplace designers are always trying to find new ways to make offices a more inspiring and productive place, especially for professional creatives. A beautiful work space can keep employees excited when they clock in every day, and make sure that the water cooler talk is about new ideas, not the shoddy carpet. These new NYC offices are pretty to look at and to work in.
WeWork Soho West
Images © WeWork
WeWork offers collaborative work environments throughout New York and Chicago, D.C., London, and even Israel. You can rent and use these stunning workplaces for your business, getting a taste of upper-echelon workplace design. The picture above is from their Soho location, which looks a little bit like a modern Mad Men set. This super locale even hosts an incredible screening room.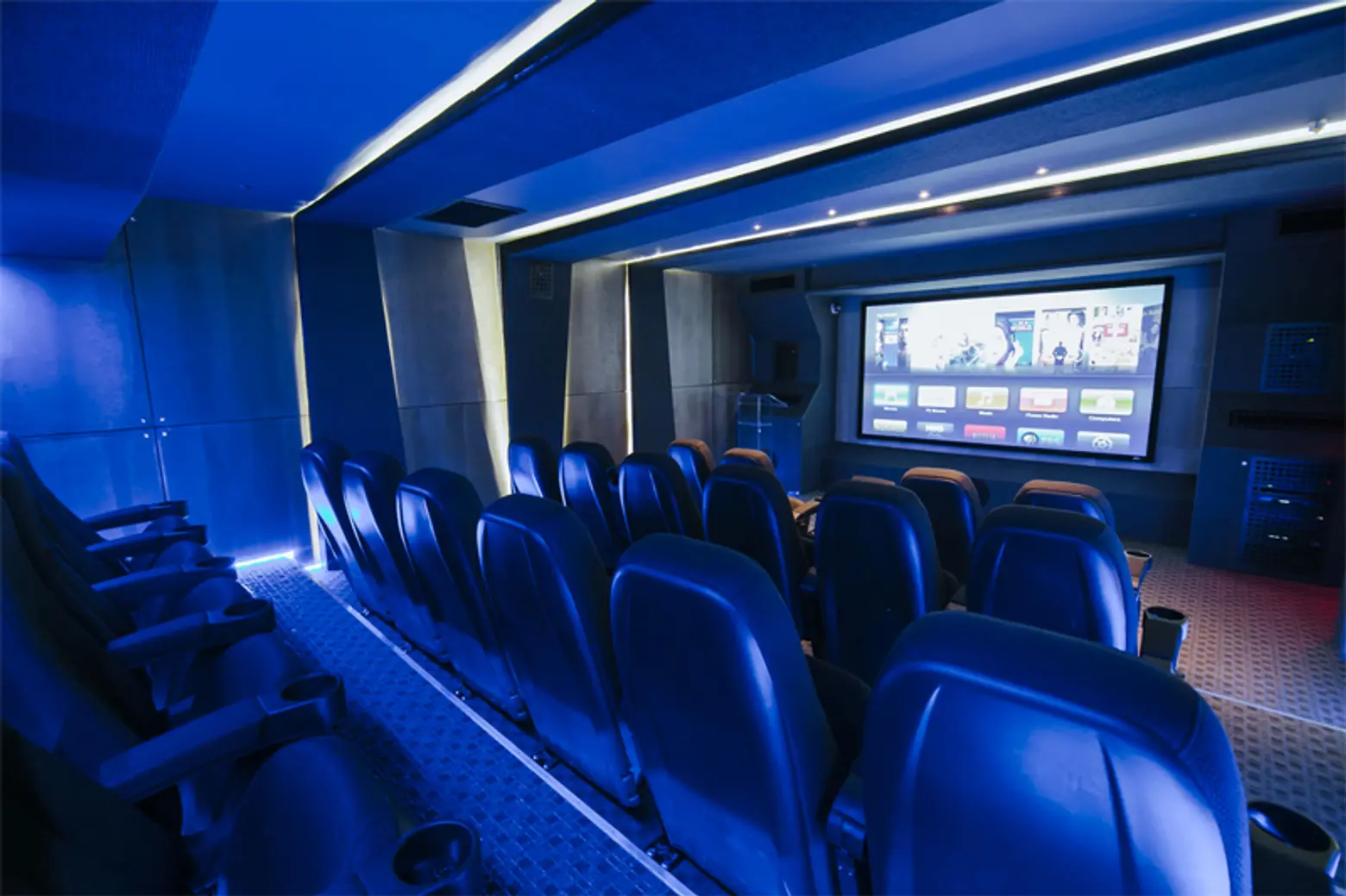 ***
WeWork Park South
Images © WeWork
WeWork's uptown location matches up well with its Park Avenue address. This co-working space shows off some of its luxury amenities in the photo above, with a cafe-atmosphere collaborative space decorated by chandeliers.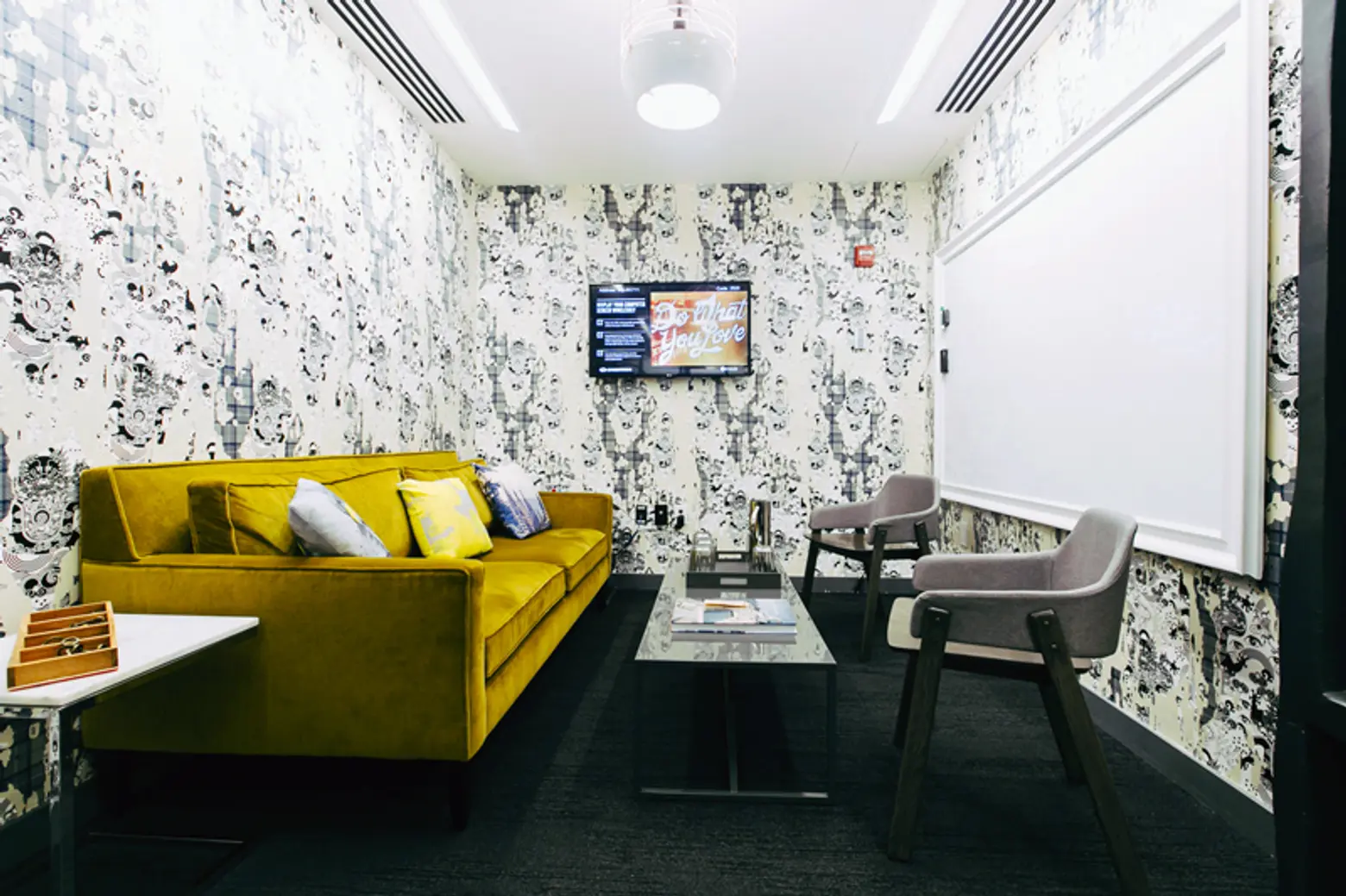 ***
Google's Chelsea Headquarters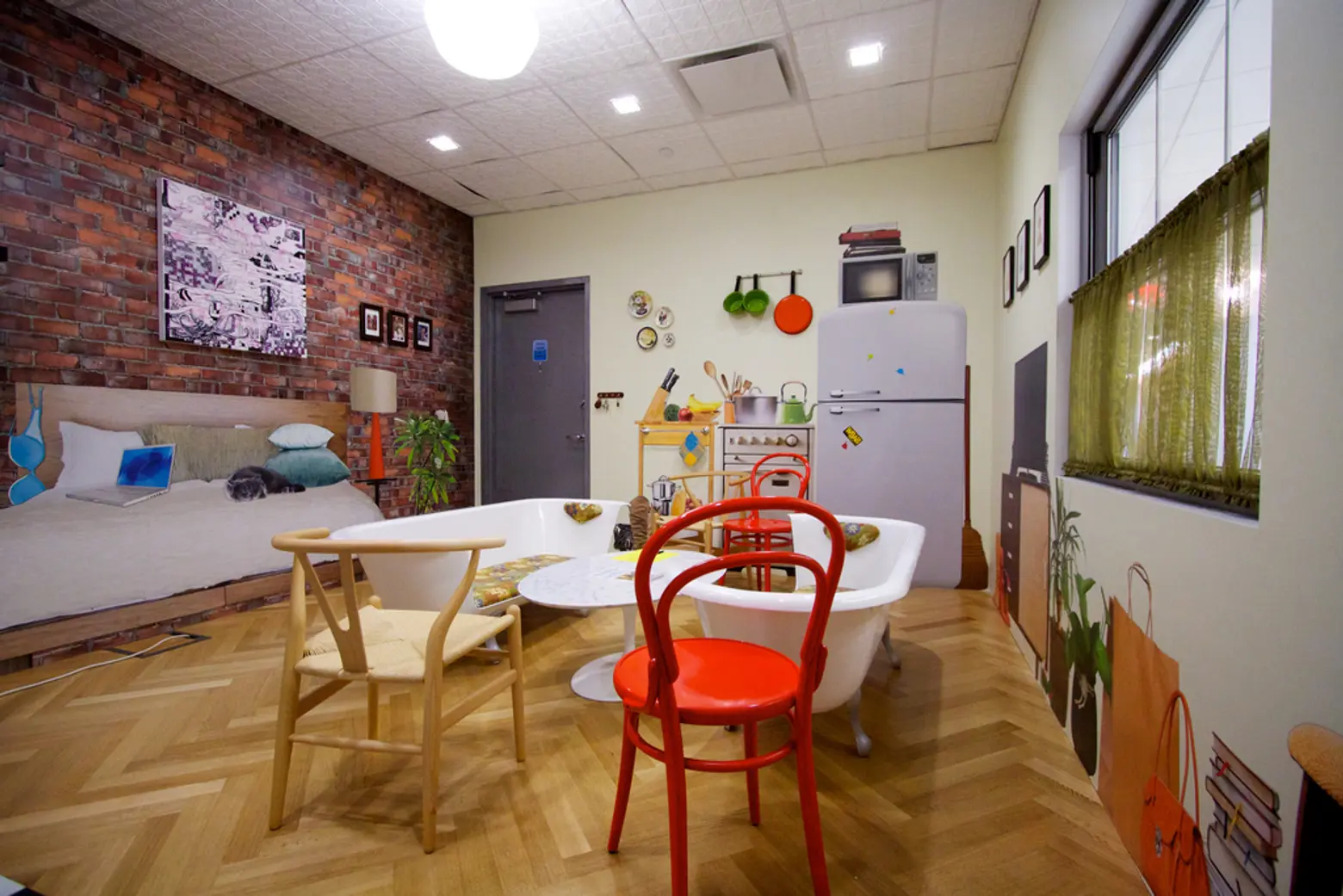 Image © Marcin Wichary
It might look like some kind of pop art installation, but this is actually a conference room in Google's Chelsea headquarters. This faux studio apartment includes bisected bathtub loveseats, flat and 3D apartment-themed illustrations on all the walls, and, helpfully for Google's employees, a half-camouflaged electric plug hub in the floor.
The Wall Street Journal took a private tour of the space back in 2012 and caught it all on video, which we've included. We're sure you'll love the Google HQ library and jungle room.
***
A NYC Designer's Home Office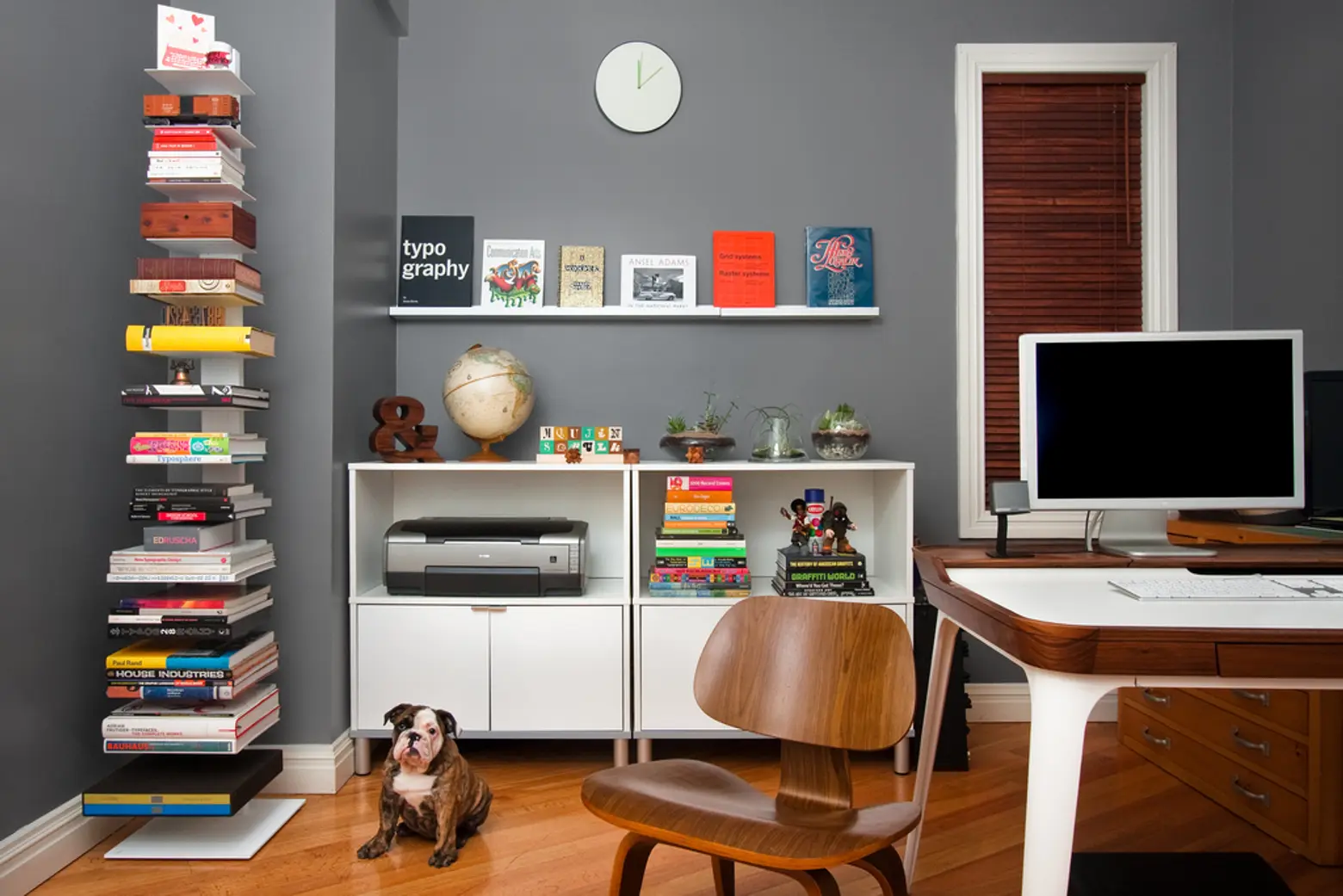 Images © Nick Keppol
What's the equivalent of kerning for everything else besides text? This home office has it, spacing and composing every last detail perfectly. And the dog really ties the whole room together. This is the home office of Nick Keppol, a NYC designer and illustrator, and you can see the reverse view of the room below. Hopefully this designer puts the same level of care and expertise into every space he works with.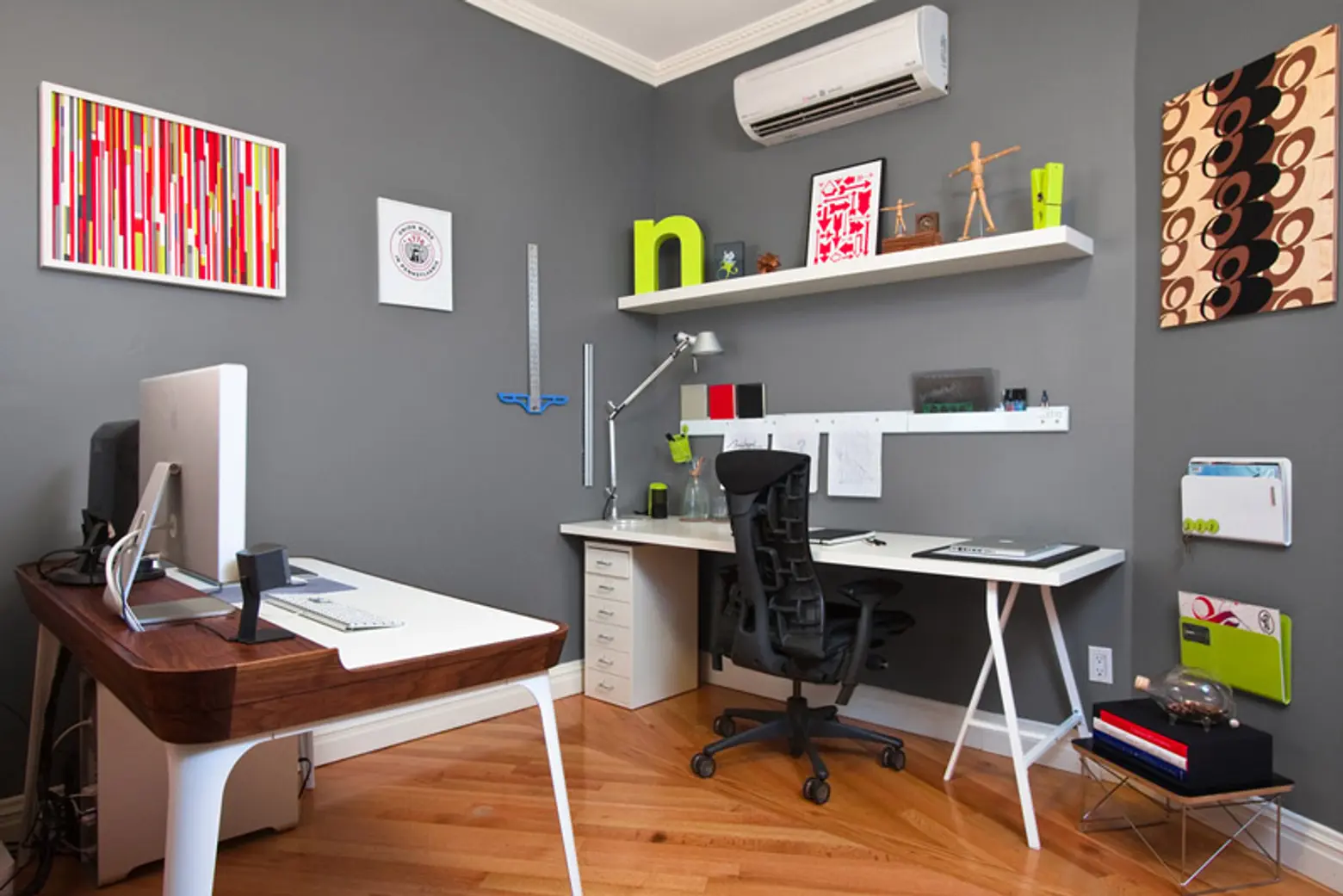 ***
Wieden+Kennedy Creative HQ
Images courtesy of WORKac
WORKac designed this headquarters for New York ad agency Wieden+Kennedy, the firm responsible for "Just Do It" and other ads for Nike, Coke, Microsoft, and more. The photo above is an intricately designed office reading space, but you can find more angles of this beautiful office in the gallery below.