Tour Tommy Hilfiger's Lavish Plaza Penthouse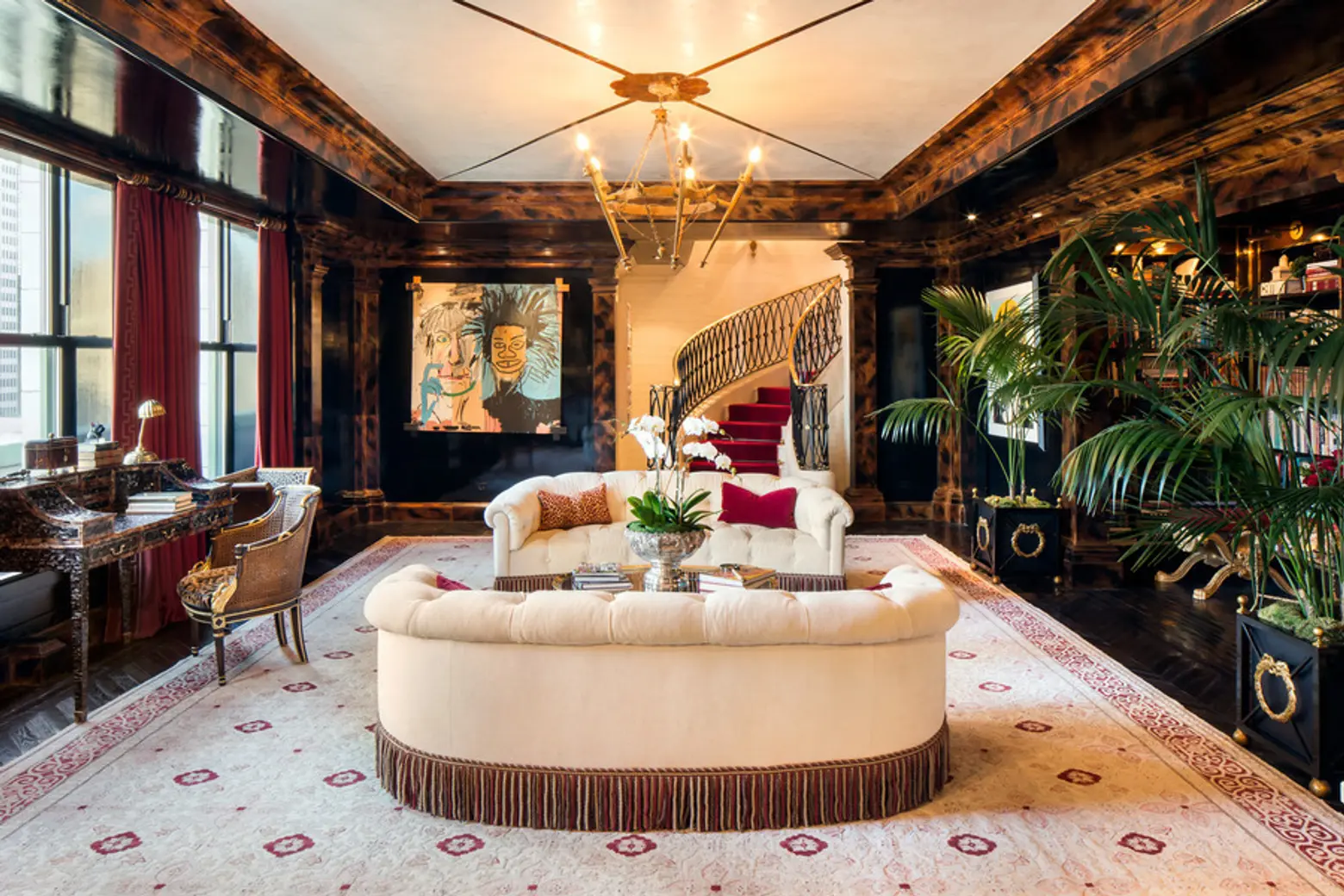 When we think of Tommy Hilfiger we might imagine him in an all-American, red-white-and-blue outfit, standing in a nautical seashore cottage, but his penthouse at the Plaza couldn't be any more the opposite than this vision. Instead of paintings of beach scenes there are Basquiats and Warhols (20 of the latter, to be exact); rather than white-washed walls there are entire rooms clad in marble; and instead of simple, shabby chic bedrooms there are opulent personal retreats that could fit entire NYC apartments within their footprint.
In short, Mr. Hilfiger's city residence is nothing short of regal. He and his wife Dee Ocleppo purchased and combined three separate units in 2008, and they then embarked on a massive renovation of the duplex to emulate the old-world style of the landmarked building.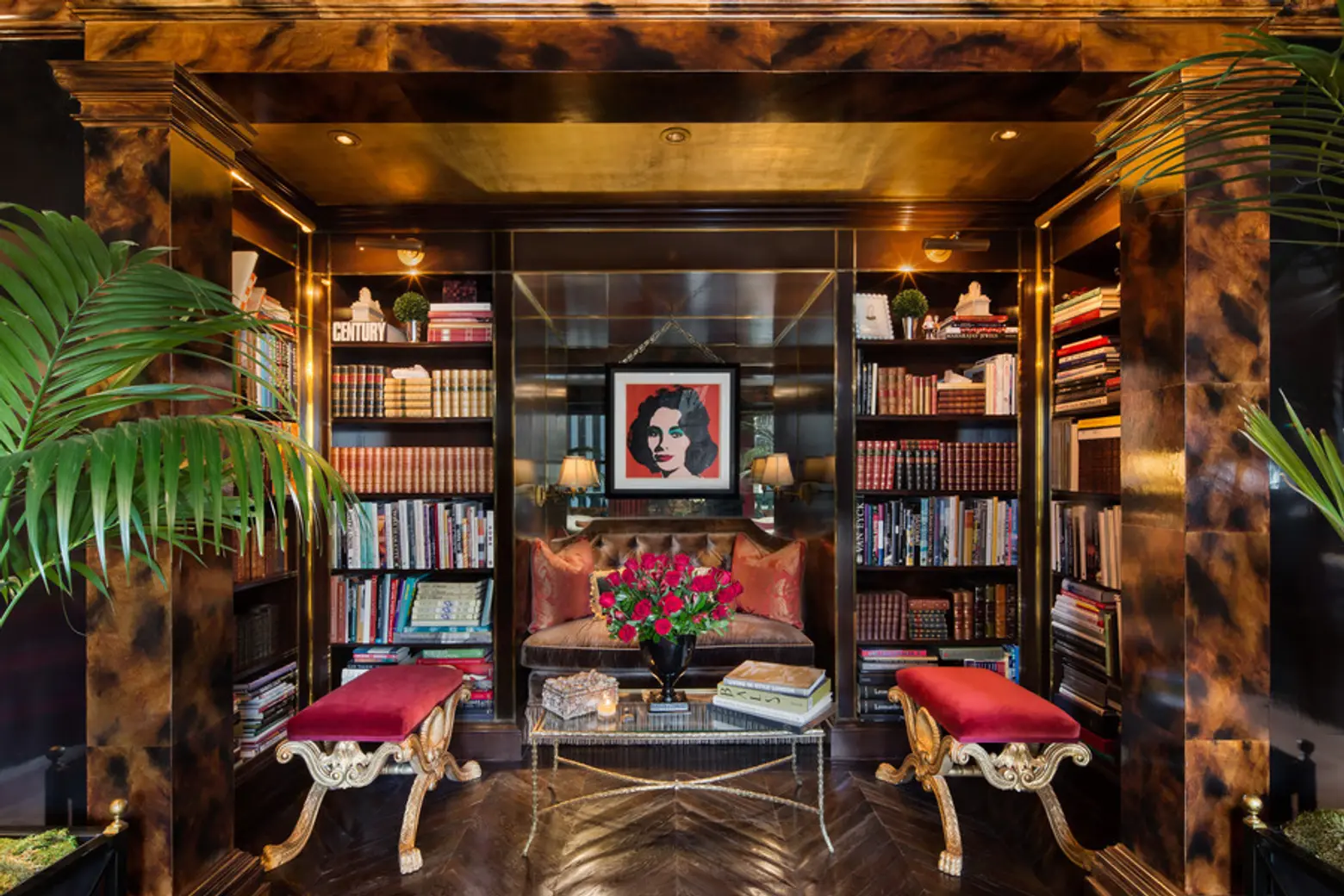 The living room oozes glamour with its gilded furniture, polished herringbone hardwood floors, and tortoise shell walls. Elizabeth Taylor by Andy Warhol is front and center in the cozy alcove.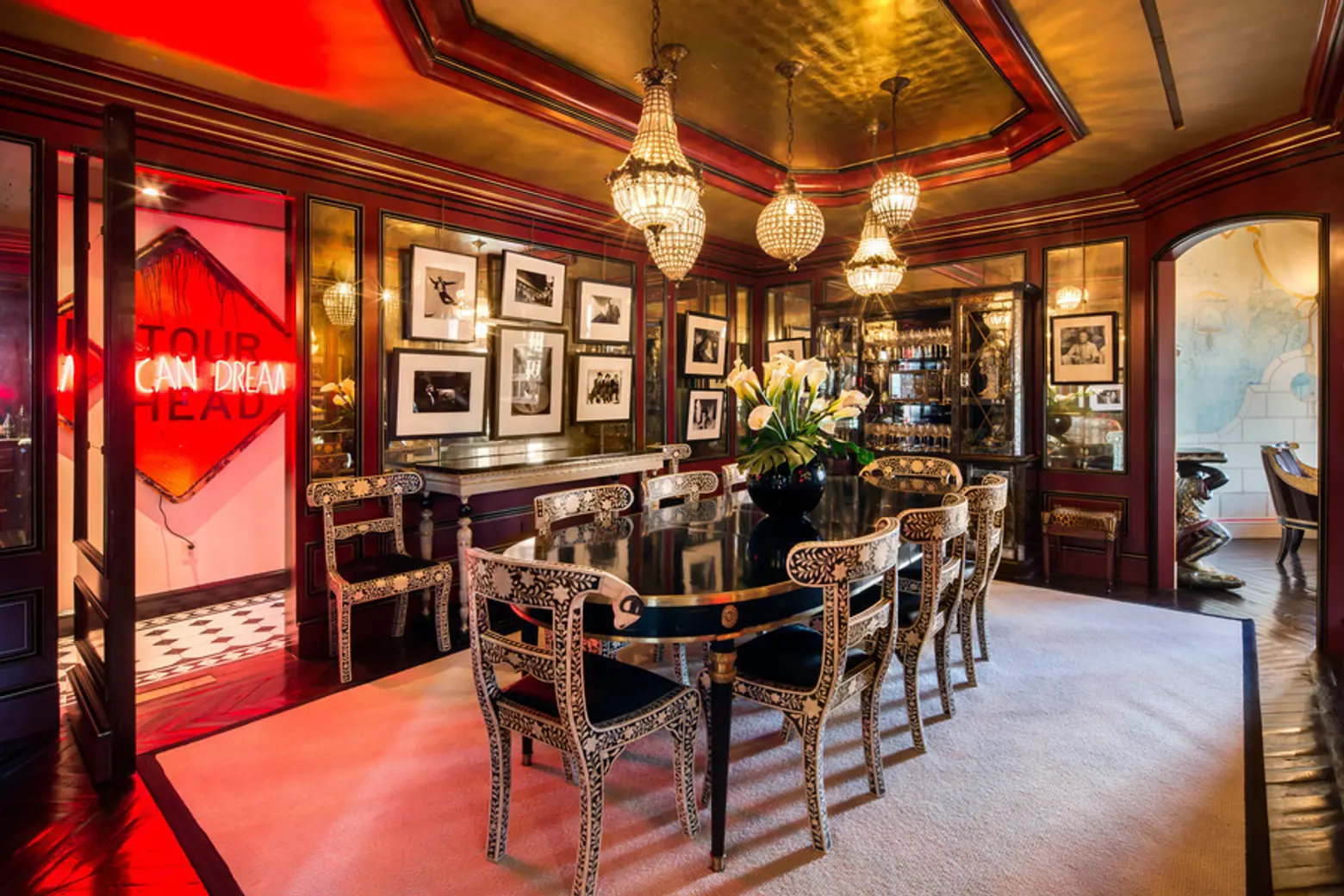 In the dining room, a cluster of crystal, Art Deco chandeliers hang from the gilded tray ceiling. The luxe room also features mirrored walls, ivory-inlaid chairs, and a collection of Harry Benson photographs from Truman Capote's 1966 Black and White Ball at the Plaza.
Off the dining room is the original French Renaissance-style turret. The 35-foot-high domed room is definitely every little girl's dream thanks to its original Eloise mural by Hilary Knight.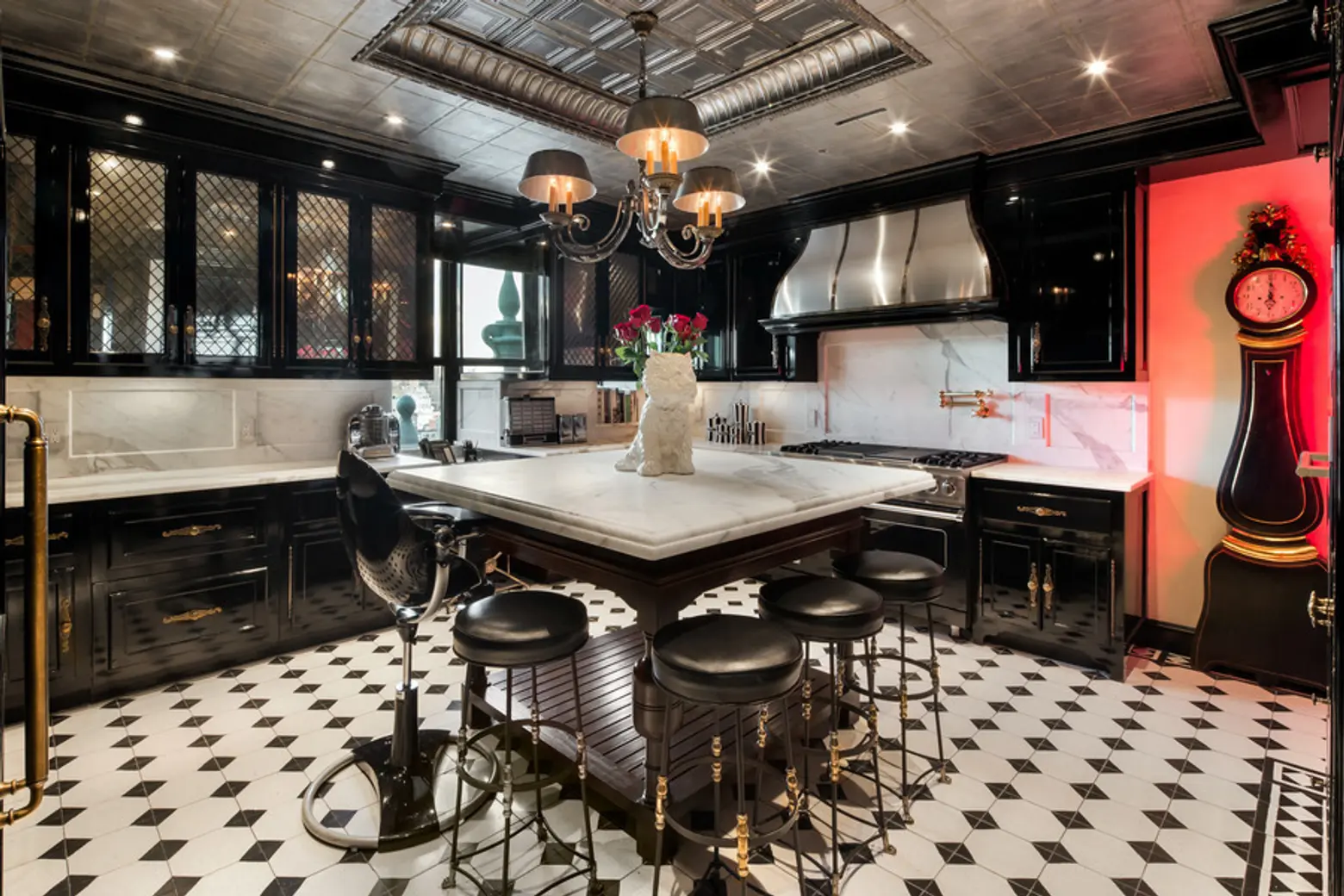 The black-and-white, bistro-style kitchen looks like it came straight from Paris with its beautiful marble countertops, aluminum tray ceiling, and gold hardware.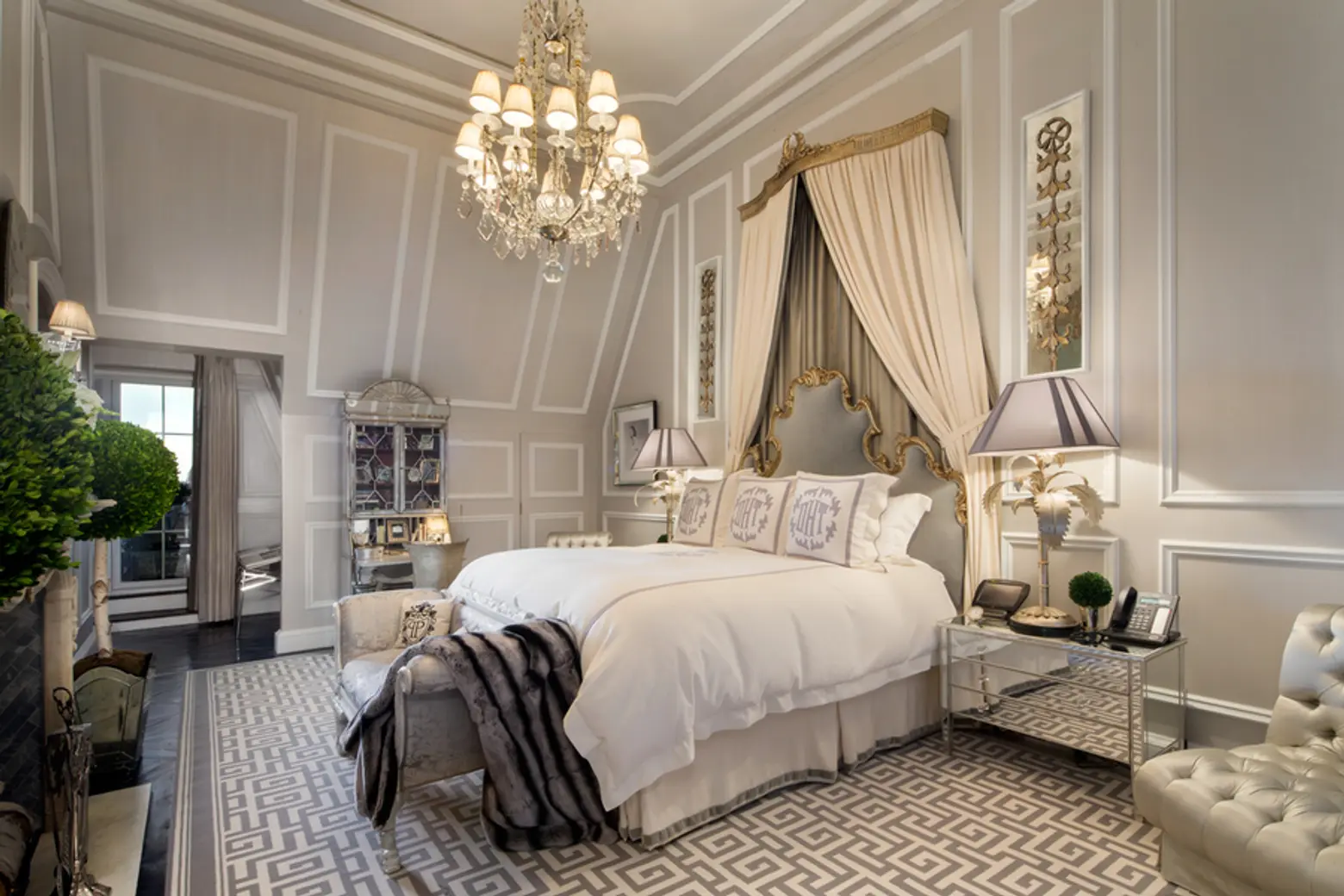 The posh master bedroom shimmers from mirrored furniture, an ornate crystal chandelier, and luxurious fabrics like satin and velvet. The sloped ceilings are accentuated by picture moldings. Though the room has a lot of feminine touches, its crisp lines and geometric details add more masculine touches.
The children's bedrooms play to the tikes' genders. In the son's room, we finally see the trademark red-white-and-blue nautical inspiration, as well as a custom-built circular shelving system. The lavender girl's bedroom is a beginner's guide to glamour, but still maintains a young feel.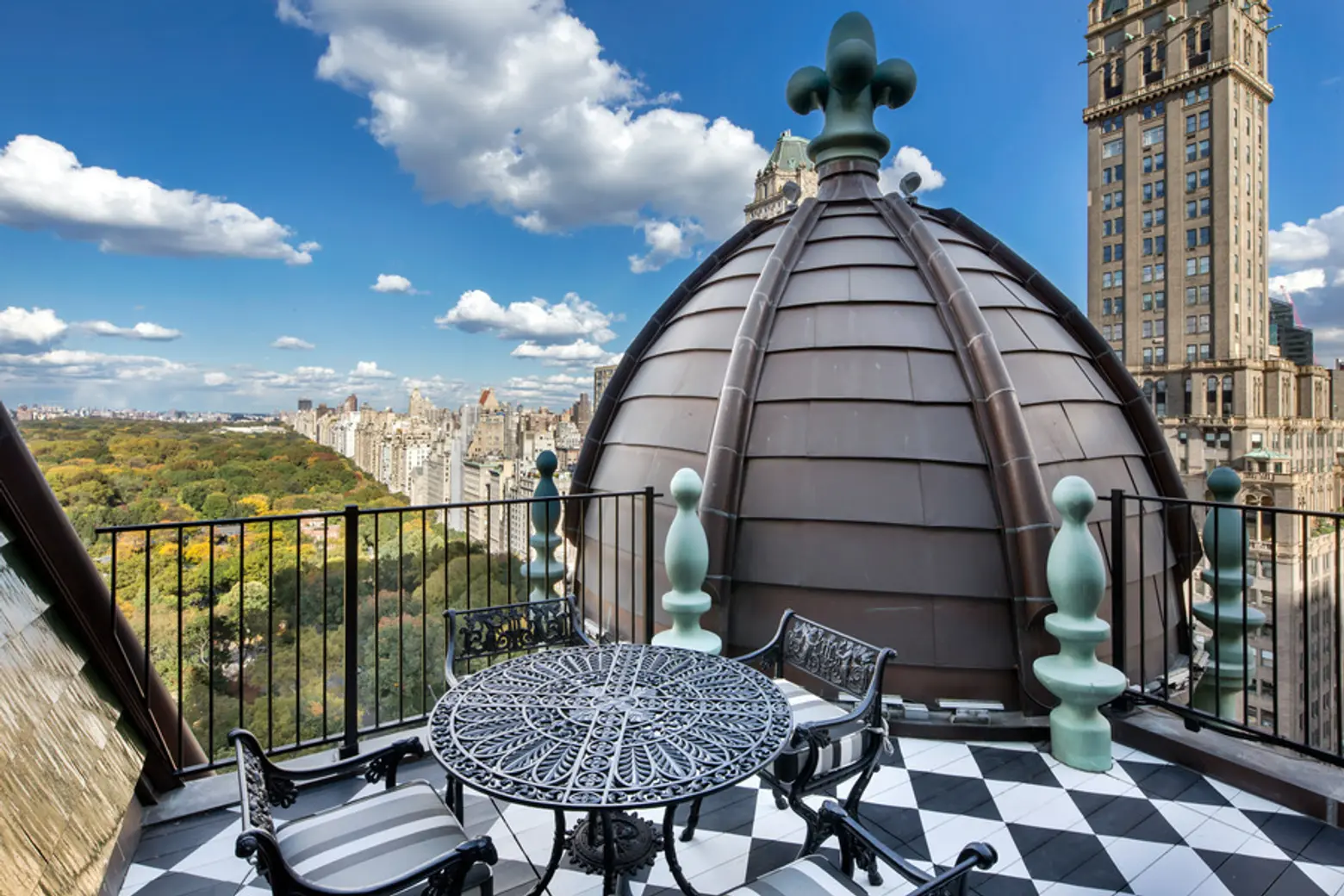 The crowning jewel (literally!) of this majestic penthouse is the private terrace that sits alongside the historic turret dome. It offers expansive views to the north end of Central Park, as well as up-close glimpses of the Plaza's roofline architecture.
The Hilfigers purchased the then-separate three units in 2008 for $25 million. Two months later, after combing the apartments, they briefly listed the 6,000-square-foot, four-bedroom space for $50 million, but then took it off the market and spent an additional $20 million to renovate the home. It went back on the market in 2013 for $80 million, where it remains today. We think if Tommy throws in a couple Warhols to sweeten the pot, he'll find himself a buyer in no time.
[Listing: 1 Central Park South #1809 by Dolly Lenz Real Estate LLC]
Photos courtesy of Dolly Lenz Real Estate LLC