The 10 best plant shops in NYC
At long last, it appears springtime's on its way to New York, transforming streets of sad, wilted grey and brown into, er, slightly less sad-looking grey and brown. If the little buds starting to sprout on tree branches in the parks and on the streets aren't enough green for you, there are plenty of plant shops in the city that'll help introduce some oxygenating goodness into your own apartment, no matter how small, dark, or pet-filled it may be. Note that for the sake of this list, we've stuck with plant shops, not florists, though you'll find arrangements at some of these shops—this one, though, is for home gardeners and lovers of succulents, which it turns out you do need to water from time to time, a lesson some of us first-time plant parents learned the hard way.
1. Natty Garden
636 Washington Avenue, Prospect Heights, Brooklyn
383 Marcus Garvey Boulevard, Bed-Stuy, Brooklyn
What started out as a table of plants in an open lot has turned into a year-round garden store with two Brooklyn locations. Natty Garden, found in Prospect Heights and Bed-Stuy, offers a variety of apartment-friendly indoor plants and trees, as well as a nice collection of different pots. There's also no shortage of outdoor plants available for any sized space and all of the necessities needed to make your plant happy, like soil, mulch, and the proper planter.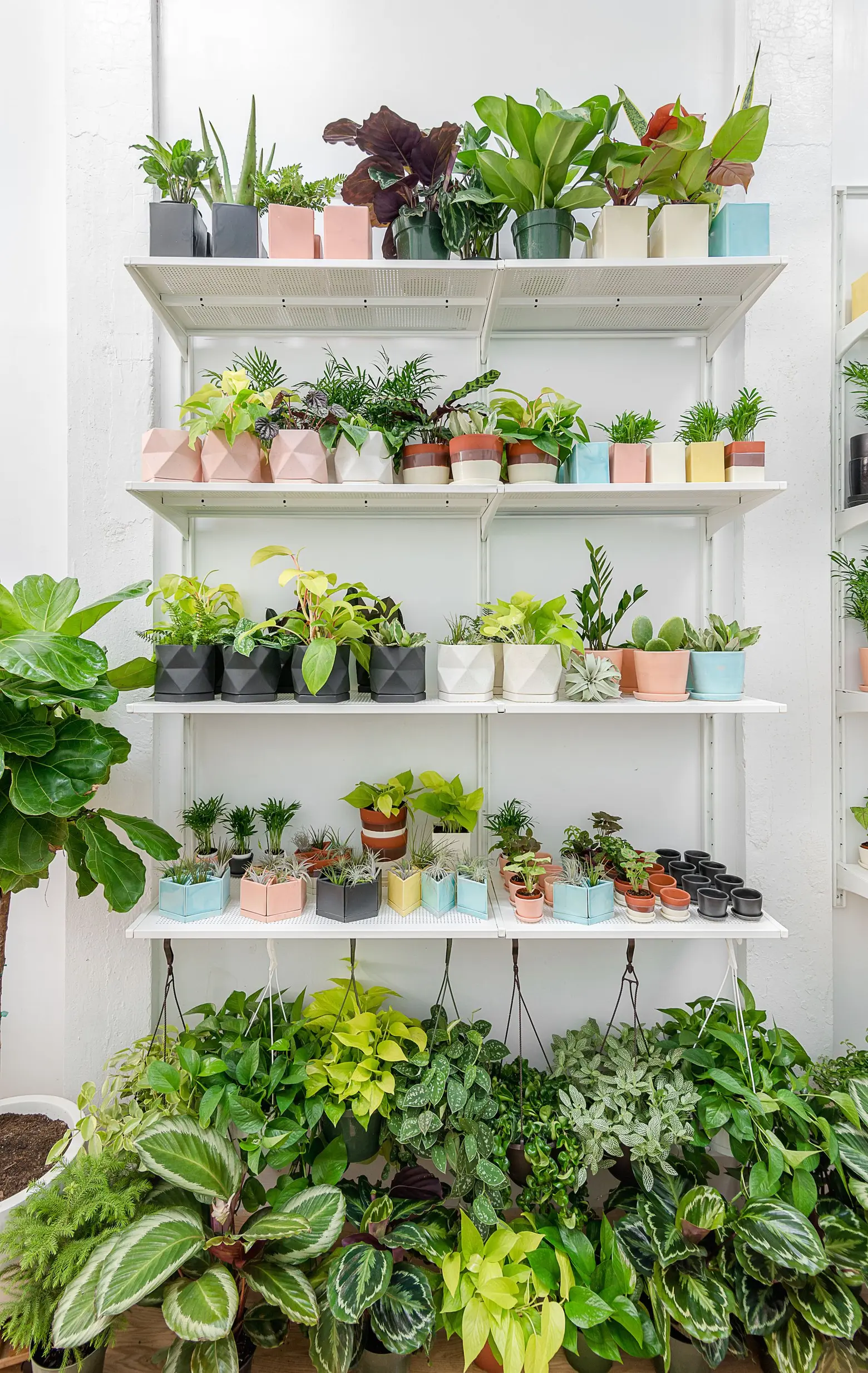 The Sill's Upper West Side store © The Sill
2. The Sill
84 Hester Street, Chinatown, Manhattan
448 Amsterdam Avenue, Upper West Side, Manhattan
195 Pacific Street, Cobble Hill, Brooklyn
The Sill has been helping New Yorkers repopulate the oxygen in their homes since 2012 when Eliza Blank launched the company as a home delivery plant service. Now, the Sill sells elegant and unusual indoor plants out of its Chinatown and Upper West Side brick-and-mortars, having opened the latter outpost in 2017. Banks and her team organize plants with apartment-friendly labels like "Best for Beginners," "Low Light" (for the sunless spots), and whether or not they're good for homes with pets. They also offer weekly plant care and crafting workshops, and send new plant parents home with individual care cards, which certainly cuts down on the chances of you killing your new $50 Croton Gold Dust, though no promises.
3. GRDN 
103 Hoyt Street, Boerum Hill, Brooklyn
This Boerum Hill specialty standby sells everything from houseplants to more backyard- and roof-friendly fare for lucky Brooklynites with lush outdoor space. They've also got bouquets and fresh-cut flowers that rotate weekly, and you can order arrangements in advance for special occasions and events. The shop also boasts a number of plant-themed home goods, like bee raw honey, watering cans, bespoke planters, and candle holders, and you can peruse their collection of gardening books, should you need some visual inspiration for your own greenery.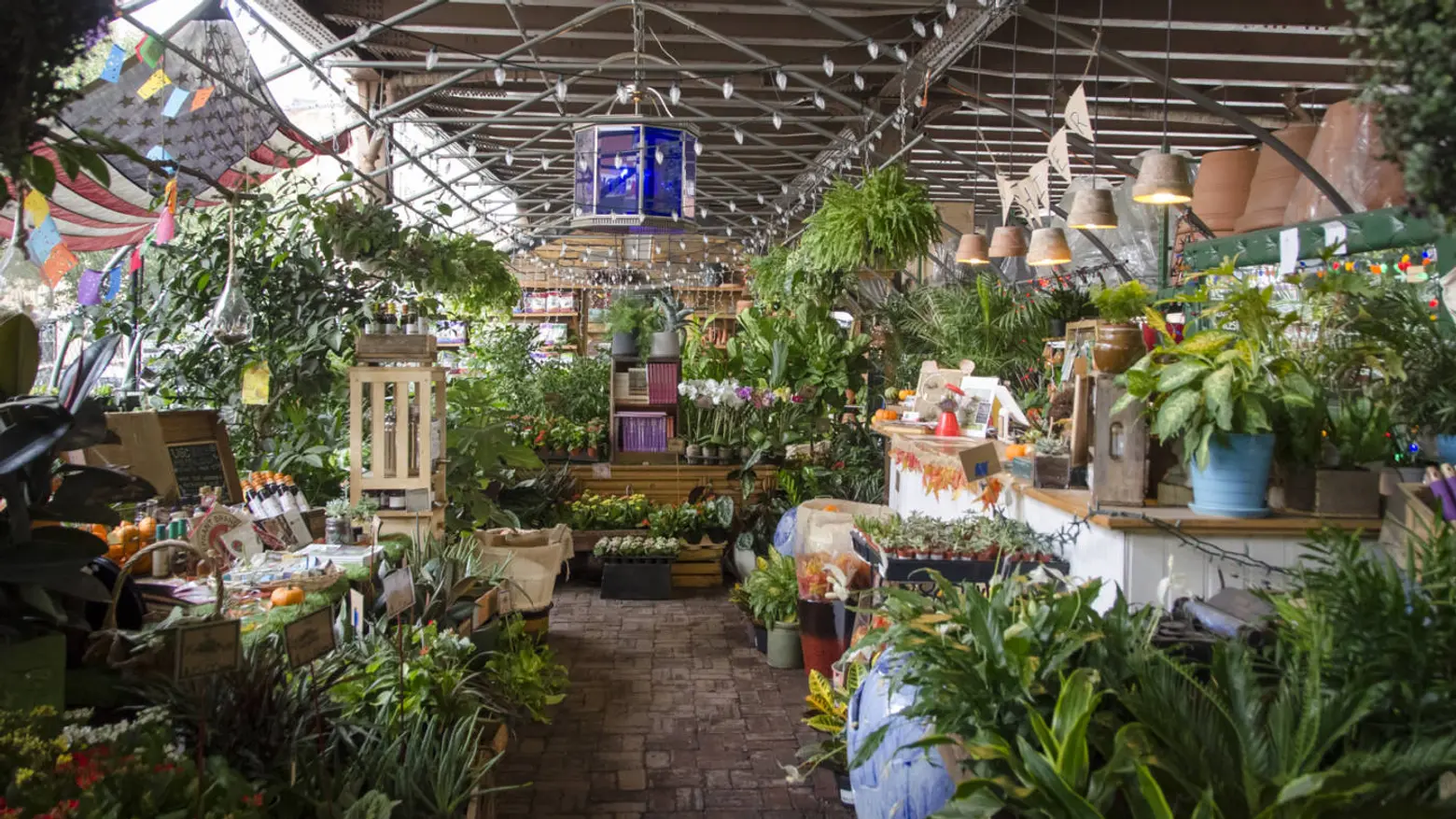 © Urban Garden Center
4. Urban Garden Center
1640 Park Avenue, East Harlem, Manhattan
The Urban Garden Center is more of a gardening store than a plant shop, but if you've got the space for more complicated greenery, or just want to spend a few hours walking through a veritable garden, it's a good spot to check out. The East Harlem mainstay has a fairly vast collection of plants, which can make it a tad intimidating for first-time plant parents. Thankfully, the store is staffed by knowledgeable gardening enthusiasts who are quick to point out which plants your cats won't eat, plus they've got an entire install and design team that'll landscape your space for you, should you have the room and the funds for it.
5. Noble Planta
106-A West 28th Street, Nomad, Manhattan
This Flower District shop specializes in beautiful, healthy succulents and cacti that might even manage to survive my windowsill, along with trees and other greenery. Prices here are a little lower than they are at some of the city's fancier shops, but the owners are no less helpful when it comes to getting tips (or full-on lessons) on plant care, plus they've got supplies available for purchase to help you keep your greenery alive.
6. Botanica Garden Center
545 Atlantic Avenue, Boerum Hill, Brooklyn
This lovely green oasis near the Barclays Center boasts a huge variety of plants for homes and backyards, with staff ready to offer tips on care and which ones will survive best in your east-facing bedroom. You can also purchase pots, potting soil and other supplies, plus it's a nice space to walk through even if you don't want a plant, particularly when the shop's backyard is stocked up in good weather.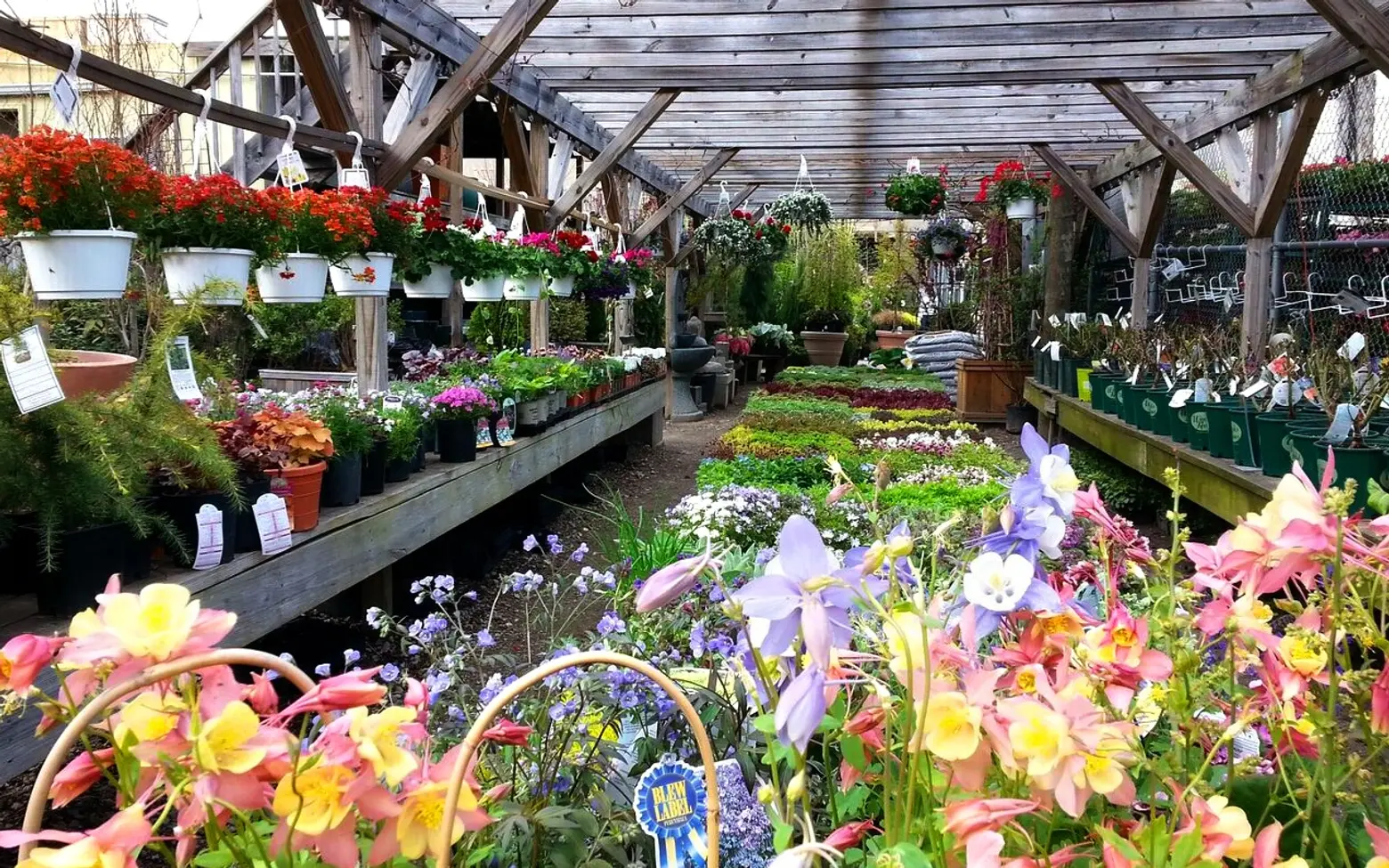 Chelsea Garden Center's Red Hook location © Chelsea Garden Center
7. Chelsea Garden Center
87 Havemeyer Street, Williamsburg, Brooklyn
444 Van Brunt Street, Red Hook, Brooklyn
Founded over 30 years ago, this gardening shop features nurseries upon nurseries of thriving greenery, with plants sourced from local growers. There are plenty of indoor plants to behold here, though folks with outdoor space will find plants here too, and staff will go above and beyond to ensure you don't kill your new purchase immediately upon placing it next to your television. They've also got terracotta pots, furniture, birdhouses, and other plant ephemera for sale, and you can commission their design team for landscaping and other projects.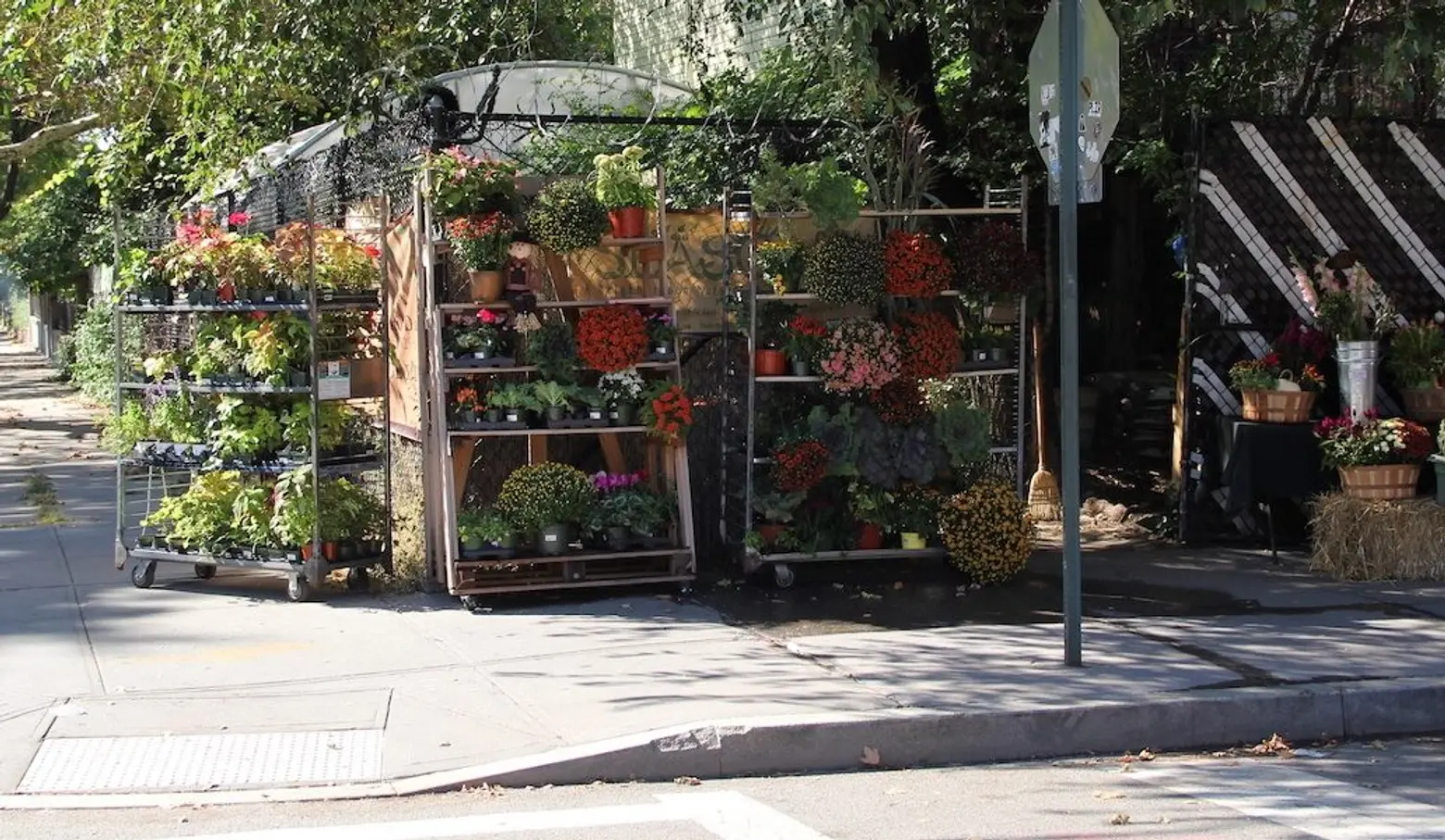 © Seasons
8. Seasons
358 Stuyvesant Avenue, Bedford Stuyvesant, Brooklyn
This lovely Bed-Stuy spot sells a slew of indoor and outdoor plants, trees, soil, succulents, and other goods necessary to green up a tiny (or large, lucky you) Brooklyn apartment. Owner Deborah Young, who grew up in the neighborhood, wanted Seasons to be a sanctuary of sorts for plant shop-starved Bed-Stuy residents, and so far she's been successful. Staffers are quick to offer tips for care and design, wares are reasonably priced, and seasonal staples like pumpkins, wreaths, and evergreen trees are available when appropriate.
9. Dahing Plants
289 Grand Street, Chinatown, Manhattan
This family-owned plant shop stocks thriving greenery that bests some of the wares you'll find in the Flower District, at fair prices. Staffers are helpful and friendly, and they've got plenty of rare big and small plants you might not find elsewhere in Manhattan, in addition to ornaments and other accessories that'll help dress up your flora and fauna. In 2018, a member of the Dahing Plants family started a new plant shop called Pafe Plants that works out of a massive greenhouse in New Jersey and ships around the Garden State and New York City.
10. Twig Terrariums
If you want to swap the pot for a class glass vessel, look no further than this Ditmas Park shop dedicated to terrariums. Friends Michelle Inciarrano, "a lifelong plant nerd," and Katy Maslow, "a skeptical poet," opened their store after spending a year experimenting with (and filling their tiny apartments with!) terrariums. They now sell all types–moss, plant, succulent, and air plant–as well as DIY kits and unique gifts. Plus, they host private workshops, group classes, parties, and date nights.
RELATED:
Editor's note: The original version of this post was published on April 18, 2018, and has since been updated.